Happy Labor Day to those of you celebrating!!
I was actually not even going to post today. And I had originally planned to not even post about these potatoes. But then I ate them. And I loved them. And I decided that you need to try them.
The end.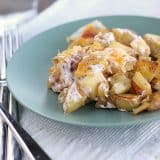 Cheesy Ranch Potato Bake
---
Author:
Prep Time: 15 minutes
Cook Time: 1 hour 10 minutes
Total Time: 1 hour 30 minutes
Yield: 12 servings 1x
Scale
Ingredients
4 pounds potatoes, cut into 1/4–1/2 -inch cubes
2 teaspoons chili powder
1 teaspoon salt
1/2 teaspoon ground pepper
2 tablespoons butter, cut into small cubes
8-ounces Colby-Jack cheese, shredded
8-ounces Ranch dressing
1/2 pound bacon, cut into small pieces and cooked
---
Instructions
Preheat the oven to 400F. Lightly grease a 9×13-inch baking dish.
Put the potatoes in the baking dish. Sprinkle on the chili powder, salt and pepper. Mix lightly. Top with the small cubes of butter.
Cover with foil and bake in the preheated oven for 1 hour, or until the potatoes are tender.
Remove the potatoes and sprinkle on the cooked bacon. Cover evenly with the ranch dressing, then top with the shredded cheese. Return to the oven and cook until the cheese is melted and bubbly, about 10 minutes.