No need to visit the fancy bakery when you can make this Artisan Bread Recipe at home!! The dough comes together in 5 minutes and can be refrigerated for 14 days, making it easy to have freshly baked bread every night!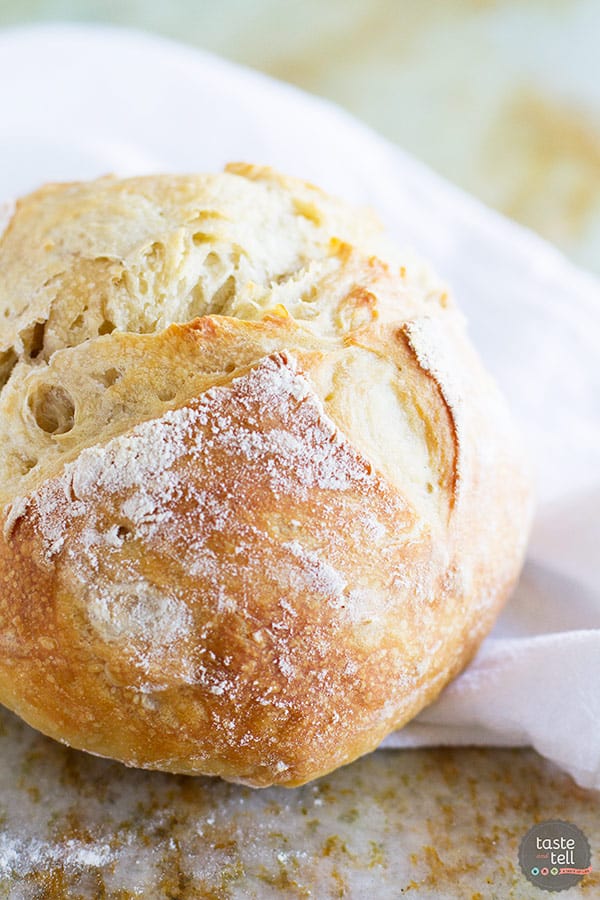 Photos Updated November 2014
We are surrounded by many different "trends" every day. Fashion is a big one. And there are financial trends, and weather trends, and definitely food trends. Before I discovered food blogging, I never really knew there were food trends. I just kind of made what I wanted, without realizing what the world around me was doing. But my eyes have been opened – in a good way. There are 2 big trends I've noticed in the food blogging world lately. The first is Dorie Greenspan. I think her newest book has taken over the blogging world. I'd be surprised to find more than a handful of food bloggers that haven't heard about her, or that don't have the book. The second trend that has hit us lately is the book Artisan Bread in Five Minutes a Day by Jeff Hertzberg and Zoe Francois. It's like the no-knead bread that took the world by storm a while back, but everyone claims this is even better. So when I was lucky enough to win a copy of this book from Steamy Kitchen awhile back, I was ecstatic. When I received the book, I read all of the beginning instructions many times. But being the procrastinator that I am, it took me a couple of weeks until I finally decided to try it out.
I love bread. I could eat it with every meal. But then I'd have to buy a whole new wardrobe, because unfortunately, I don't have a metabolism that can handle bread at every meal! So while I love to make bread, I don't do it a whole lot. And since there are only 2 of us, I thought I'd be safe making a half batch of this artisan bread recipe. I mixed everything up and stuck it in the fridge to be made another day.
I got 2 loaves out of a half recipe. The first loaf I made to serve with our Valentine's Day dinner. And do you know what? It really does take 5 minutes or less of hands on time, and I was able to make this after work and have hot bread on the table for dinner. I did have a little problem with that first loaf, though. From the front, it looked really pretty. But from the back? I don't know what happened, but part of the underside did something funky and blew out the bottom!! I had a good laugh about it, but it didn't affect the taste at all. My husband and I ate the whole loaf at dinner that night, still hot from the oven. We dipped it in some olive oil, and it was almost like we were eating out!
The second loaf turned out better all the way around. As much as I enjoyed the first loaf, the second one was even better!! I was able to shape and slash it a little better (I'm getting better at this every time!) and I loved the taste of it even more. It says in the book that the longer the dough sits in the fridge, the more of a sourdough flavor it will take on, and it really does.
So is this artisan bread recipe really worth all of the hype around it?? You bet it is! Not only is it way easier than traditional bread making, but it is way faster, and the only way I can have fresh bread on the table for dinner while working all day long!!
Check out these other breads made from this book. And if these posts don't make you want to run out and buy the book, I don't know what will!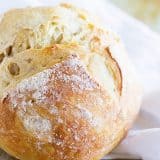 Artisan Bread Recipe
---
Author:
Prep Time: 5 mins
Cook Time: 30 mins
Total Time: 35 mins
Yield: 4 1-lb loaves 1x
Description
No need to visit the fancy bakery when you can make this Artisan Bread Recipe at home!! The dough comes together in 5 minutes and can be refrigerated for 14 days, making it easy to have freshly baked bread every night!
---
Scale
Ingredients
3 cups lukewarm water, about 100ºF
1 1/2 tablespoons granulated yeast
1 1/2 tablespoons kosher or other coarse salt
6 1/2 cups unsifted, unbleached, all-purpose white flour
---
Instructions
To make the dough:
Add the yeast and the salt to the water in a large bowl (5 quart) or container with a resealable lid. Add the flour all at once. Mix with a wooden spoon until the mixture is uniform. (You can also mix it in a heavy duty stand mixer.) If it becomes to hard to mix, you can mix it with wet hands until it all comes together. It is finished when there are no dry patches and everything is uniform – kneading is not necessary.
Cover the container with a non-airtight lid. Allow the dough to rise at room temperature until it flattens on top or starts to collapse, about 2 hours (depending on the temperature and water temperature.)
You can use the dough at this point, or refrigerate the dough if not using right away.
To bake the bread:
Sprinkle the surface of the dough with flour. Pull up on the dough, and using a serrated knife, cut off a 1-pound piece of dough (the size of a grapefruit). Hold the dough in your hands and add a little more flour if needed so that it doesn't stick to your hands. Stretch the dough around to the bottom on all sides, rotating the dough as you do. (The bottom of the ball will look like a bunch of bunched ends.) Do this until the ball is smooth.
Place the ball of dough on a pizza peel sprinkled with cornmeal or lined with parchment paper. Allow the dough to rest for 40 minutes.
30 minutes before the resting time is over, preheat a baking stone in the oven set to 450ºF.
Dust the top of the dough with flour, then slash the top with a serrated knife, going about 1/4" deep. (More instructions on different designs in the book.) Place an empty broiling pan on a rack below the baking stone.
Slide the dough off of the pizza peel onto the baking stone. Quickly pour about 1 cup of water into the broiling pan and close the oven door quickly to trap the steam.
Bake the loaf for about 30 minutes, until the crust is browned. Allow the loaf to cool completely, preferably on a wire rack, for best flavor and texture.
Store the remaining dough in the refrigerator for up to 14 days. The flavor and texture will improve over time.
Recipe Notes:
*The dough is less sticky when it's cold, so refrigerating at least 3 hours (preferably overnight) is recommended.
Total time does not include refrigeration time.
Recipe from Artisan Bread in 5 Minutes a Day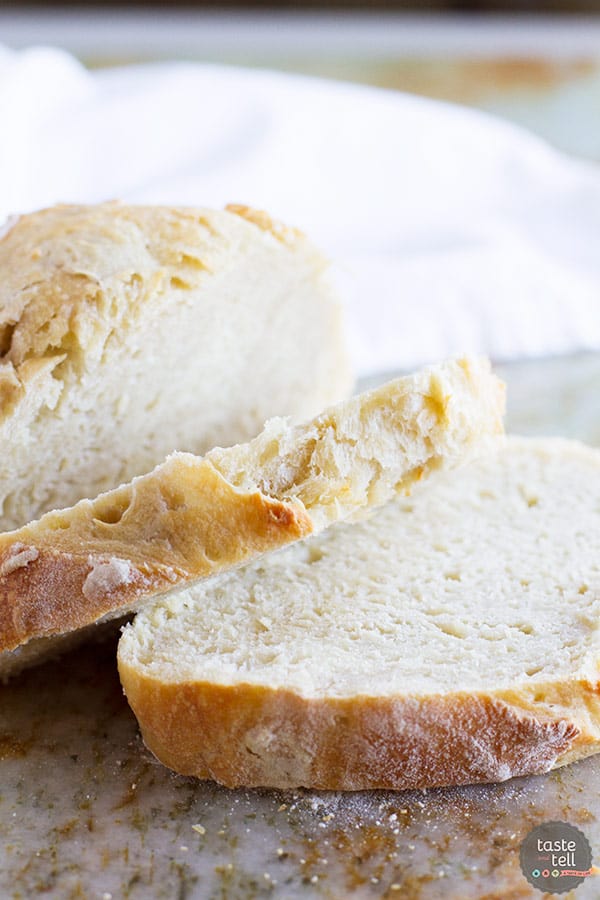 More bread recipes perfect for dinnertime: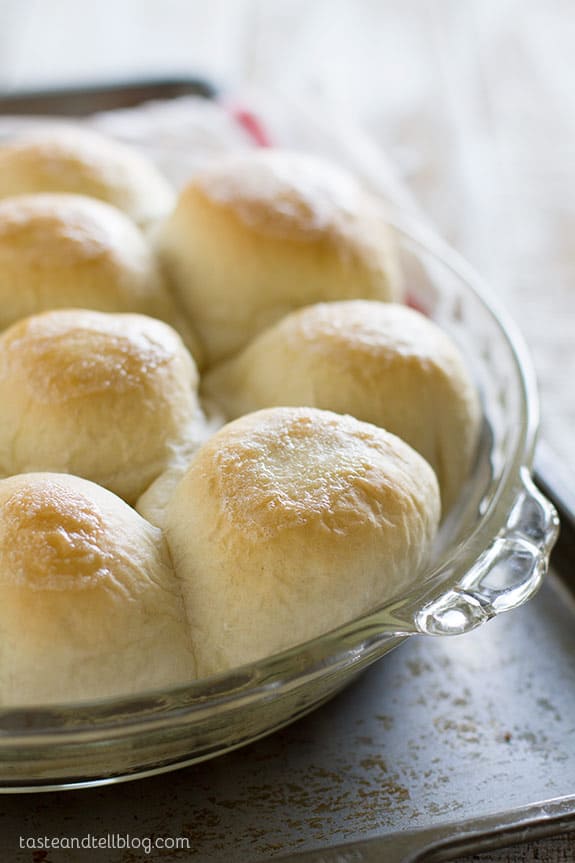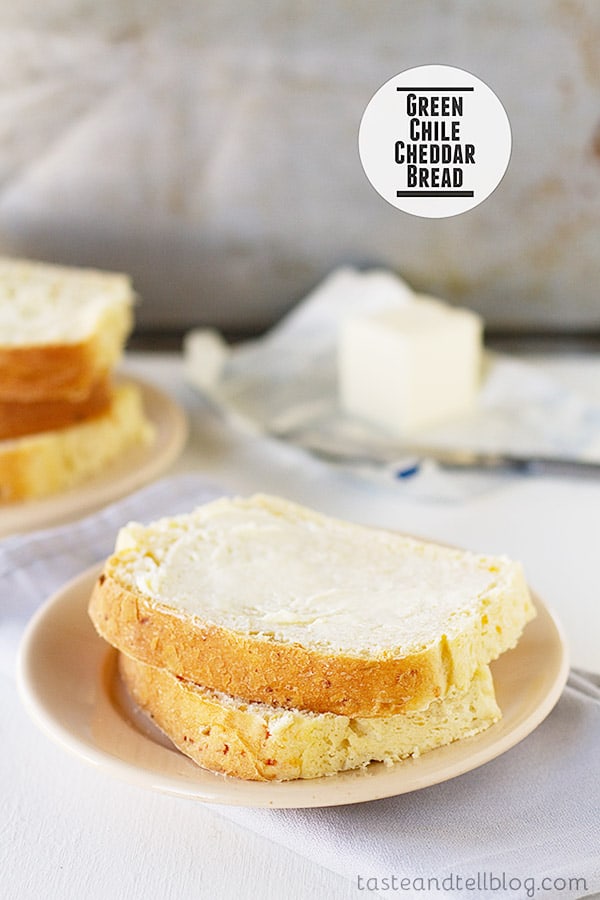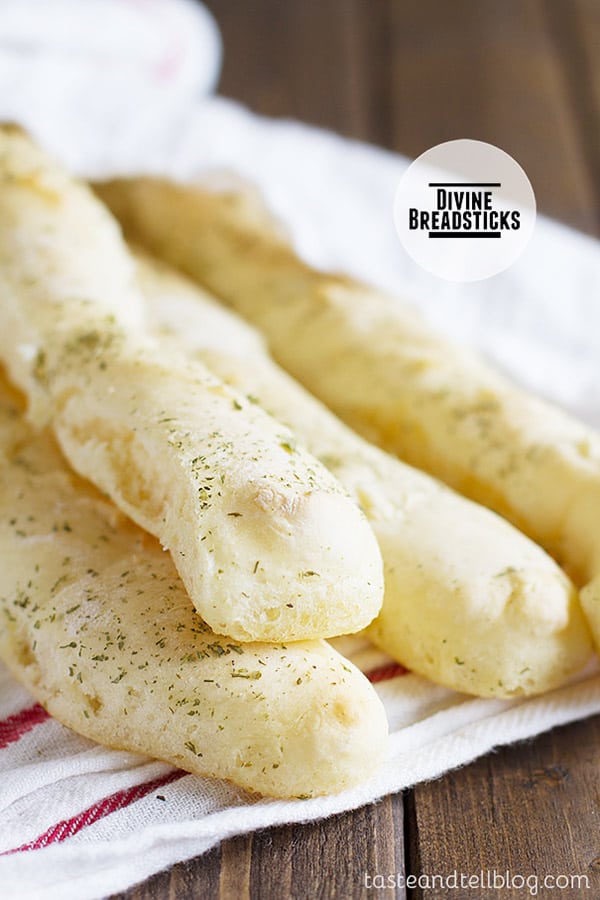 Around the Web:
Potato Rolls from Chef in Training
Savory Garlic and Thyme Buttermilk Biscuits from Foodness Gracious
Foolproof Homemade Pretzel Bread from With Salt and Wit
Don't miss a thing! Follow me on Pinterest to see what I'm pinning!
Visit Taste and Tell's profile on Pinterest.