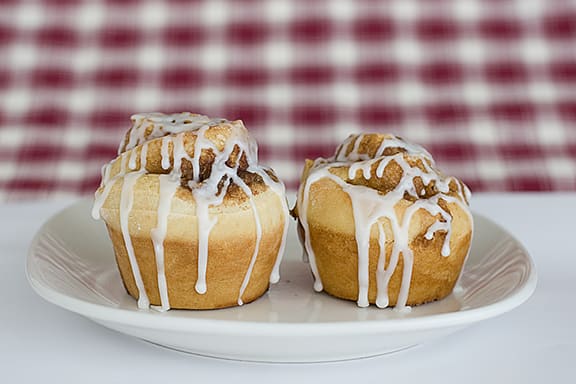 Look at me – 2 sweet recipes in a row!! I normally try to just post one sweet recipe a week, but I'm tired right now and this picture was already up and waiting to go!
This is another one of those recipes that I saw on a blog that came from another blog that came from another blog. (I love it when that happens!!) I saw them on Cassie Craves, where they were actually featured as a guest post from Fake Ginger, who got them from A Dash of Sass, (who found them on a website – Rubyglen.com). But like I've said before, you know that if a recipe has been through a few food bloggers, you know it's a good one!!
Want to know why I really liked these? Because I love cinnamon rolls, but these days, I just don't have the time to make them. These are a little more labor intensive than your regular muffins, but they are way easier than a batch of cinnamon rolls. Sure, you don't get that yeasty softness, but in a pinch, these sure to fill that craving!!
Rolled Cinnamon Roll Muffins
originally found on rubyglen.com
makes 1 dozen muffins
1 cup buttermilk, or 1 cup milk with 1 tablespoon of lemon juice or vinegar added to it
1/2 cup brown sugar
1 tsp baking soda
1/2 tsp salt
1/2 tsp vanilla
1 egg
3 to 3 1/2 cups flour
Filling:
2 TBL butter, room temperature
2/3 cup brown sugar
3/4 tsp ground cinnamon
Icing:
1 cup powdered sugar
1-2 tbsp milk or cream
Directions:
Pour milk into a measuring cup and add the lemon juice or vinegar. (Skip this step if you are using buttermilk.)
Measure the brown sugar, baking soda, salt, vanilla and egg into a mixing bowl. Add the milk. Add the flour. Stir until thoroughly combined.
Turn dough out onto a lightly floured surface and knead for a minute or two.
Roll the dough into a 12-inch by 24-inch rectangle. Spread with butter. Sprinkle with sugar and cinnamon.
Roll the dough into a log beginning at the wide side. Stretch the log slightly. Cut into two-inch pieces and put the pieces into greased muffin tins or muffin tins lined with cupcake papers.
Bake at 375° Fahrenheit for 20 minutes or until golden brown.
Allow the muffins to cool for 5 minutes and then remove from the muffin tins.
Drizzle with icing (if using) when cool.