Craving cinnamon rolls but you don't have the time? These Cinnamon Roll Muffins are so delicious and on the table in no time flat.
If you love cinnamon, you'll also want to try these Cinnamon Muffins!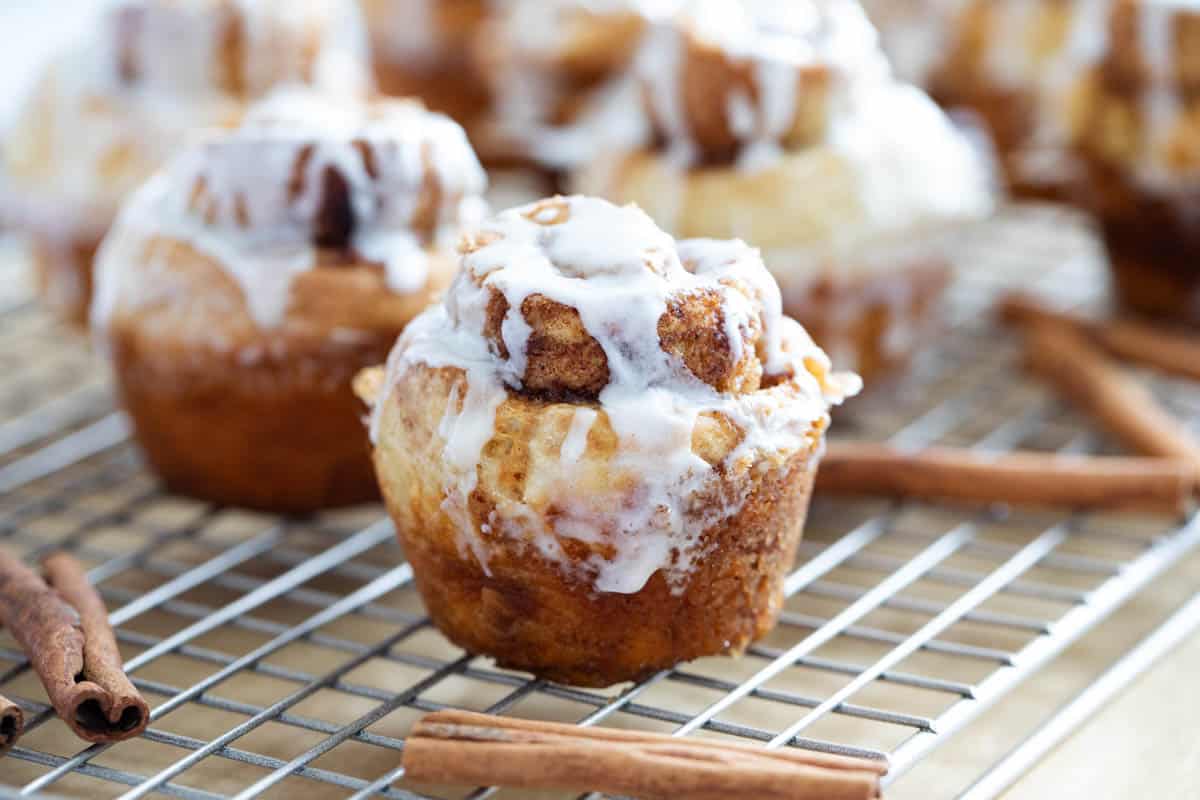 We had a crazy storm come through a couple of days ago, so I had the rare occasion to make breakfast for my kids. (Usually it's something quick since we've got different school start times.)
I found myself craving cinnamon rolls, but I knew we wouldn't be eating them until afternoon since they take a few hours.
So instead, I dug into the archives and found this recipe that I originally posted in 2010. I made a batch, and my kids ate them all! So I had to make a second batch for my husband and I to be able to have some as well.
So I can say they definitely went over well.
Why We Love Them
*Traditional cinnamon rolls are one of my very favorite things ever, but I love that you get those familiar cinnamon roll flavors in these muffins. The texture is different, since they don't have yeast in them, but they are still delectible!
*40 minutes! You can't beat that for when the cinnamon roll craving hits.
*I keep all of these ingredients on hand, so I love that these can be made from pantry staples. I don't always have buttermilk, but that is easy to substitute. (See my trick in the ingredient section below!)
*They are very family friendly. Delicious for both the kids and the adults.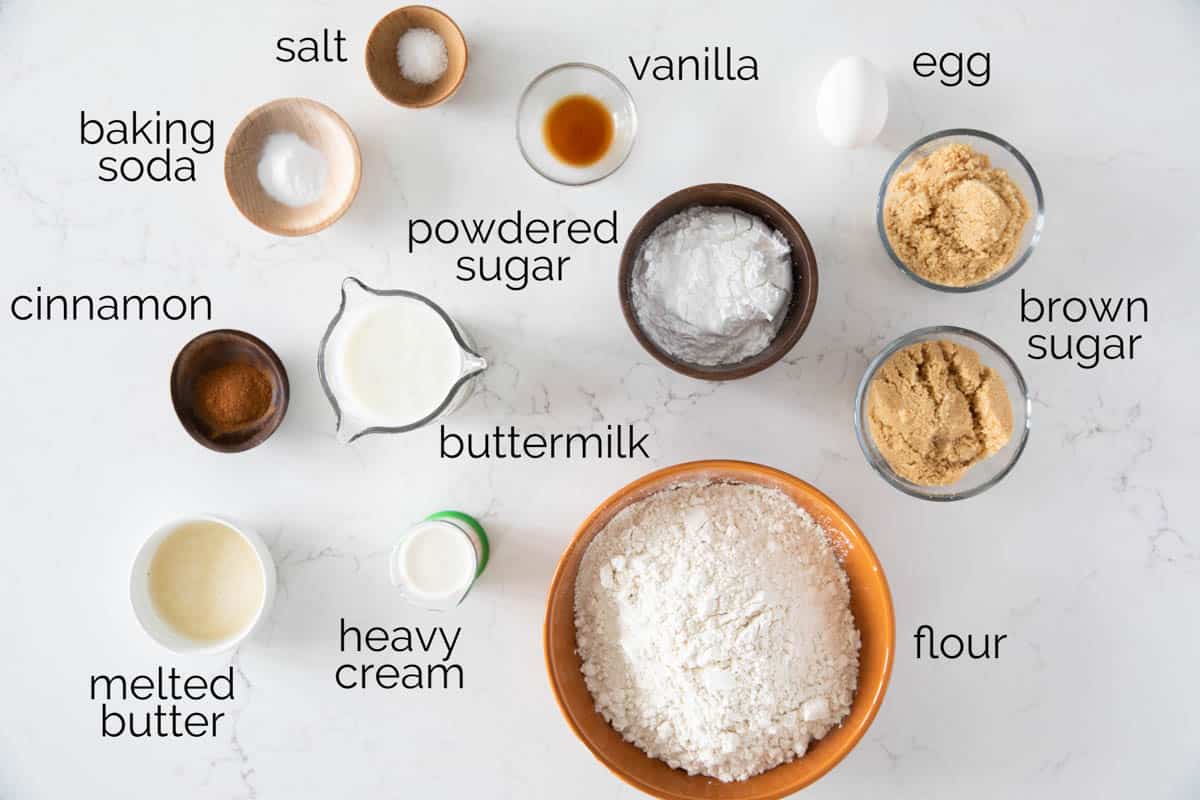 Ingredients
Don't forget to get the full ingredient list and instructions in the recipe card below.
Buttermilk: I really like to use buttermilk in a lot of recipes, so I tend to keep it on hand. But I know not everyone does. If you don't have buttermilk, this recipe works well with a buttermilk substitute. It is simply milk with either lemon juice or vinegar.
Brown Sugar: You need brown sugar for both the muffins and the filling. I like to use light brown sugar.
Egg: You need one large egg, preferably at room temperature.
Vanilla: I like to use a pure vanilla extract.
Flour: I have only tested this using regular, all-purpose flour.
Baking Soda: The baking soda interacts with the buttermilk to help the muffins to puff up and rise.
Salt: The salt balances the flavors.
Butter: I think it's best to use melted butter, but softened butter will work, as well.
Cinnamon: I think this is the perfect amount of cinnamon, but feel free to add more or less depending on your preference.
Powdered Sugar: This is for the glaze.
Cream: If you don't have cream, you can use milk. If using milk, start with only 2 tablespoons and work your way up from there.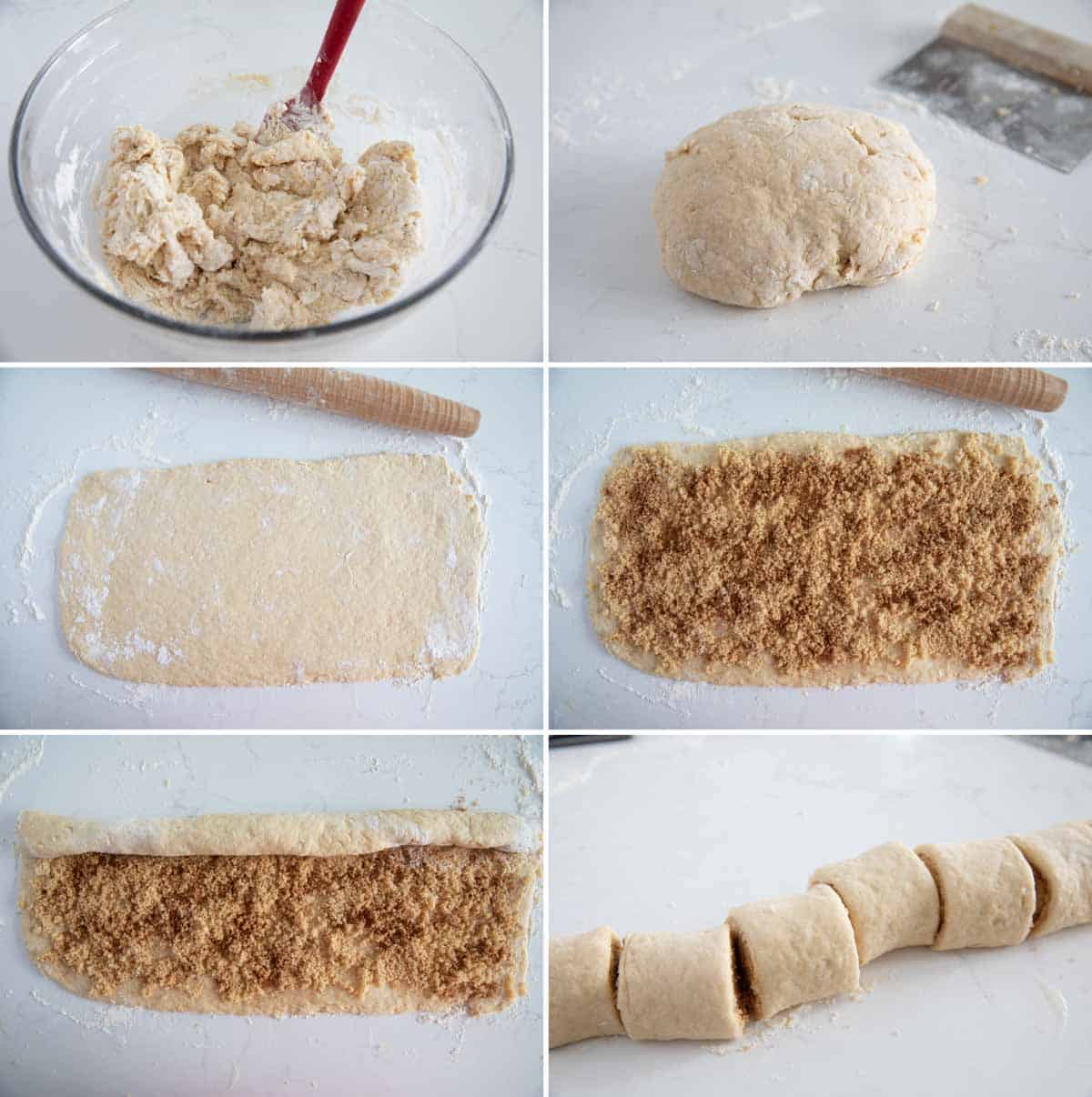 How to Make Cinnamon Roll Muffins
1: Start by making your dough. Mix together the wet ingredients, then add in the dry ingredients. Stir it together until it is all mostly incorporated.
2: Turn the dough out and knead until it is not sticking to your hands.
3: Roll the dough into a large rectangle.
4: Spread the butter over the dough, then sprinkle on the brown sugar and cinnamon.
5: Roll the dough up into a long log.
6: Cut the dough into 2-inch pieces.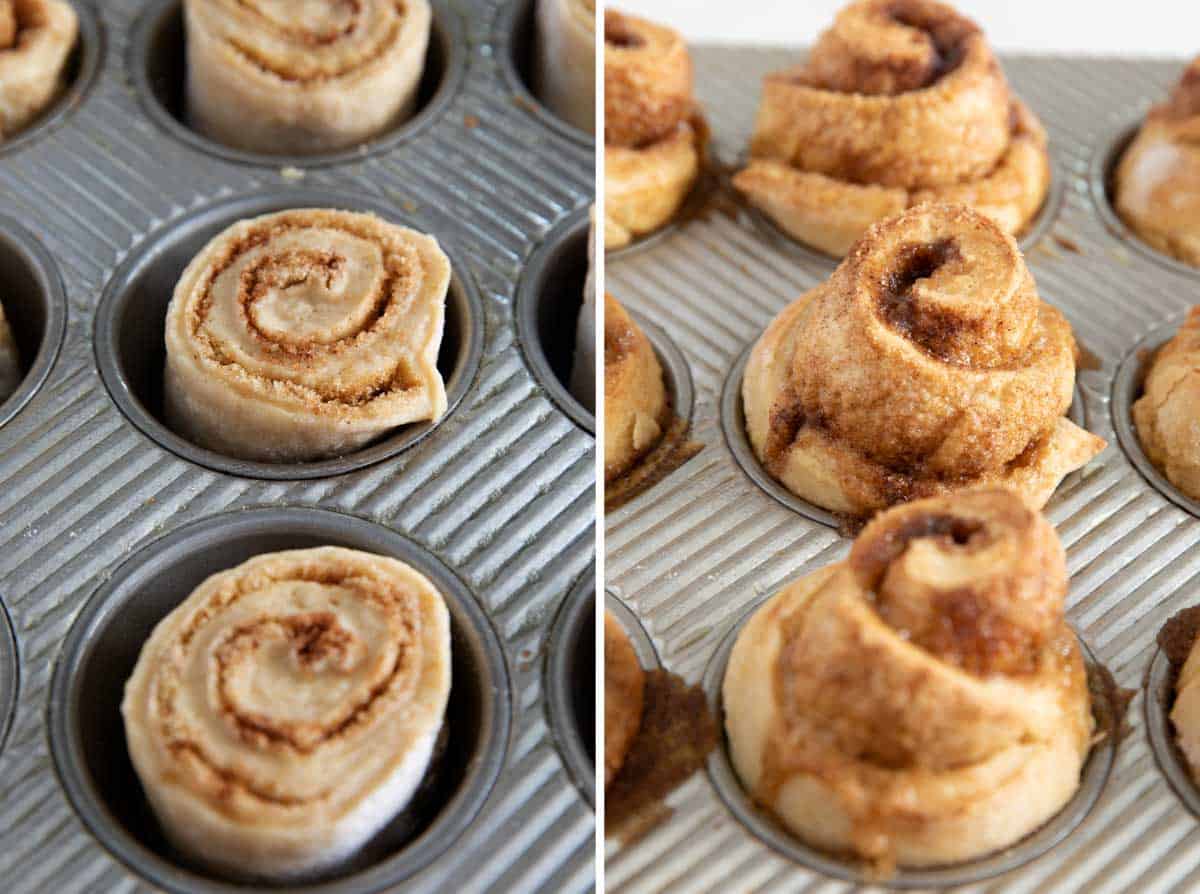 7: Place the pieces in a greased muffin tin.
8: Bake until golden brown.
9: Let the muffins cool 5 minutes, then drizzle on the glaze.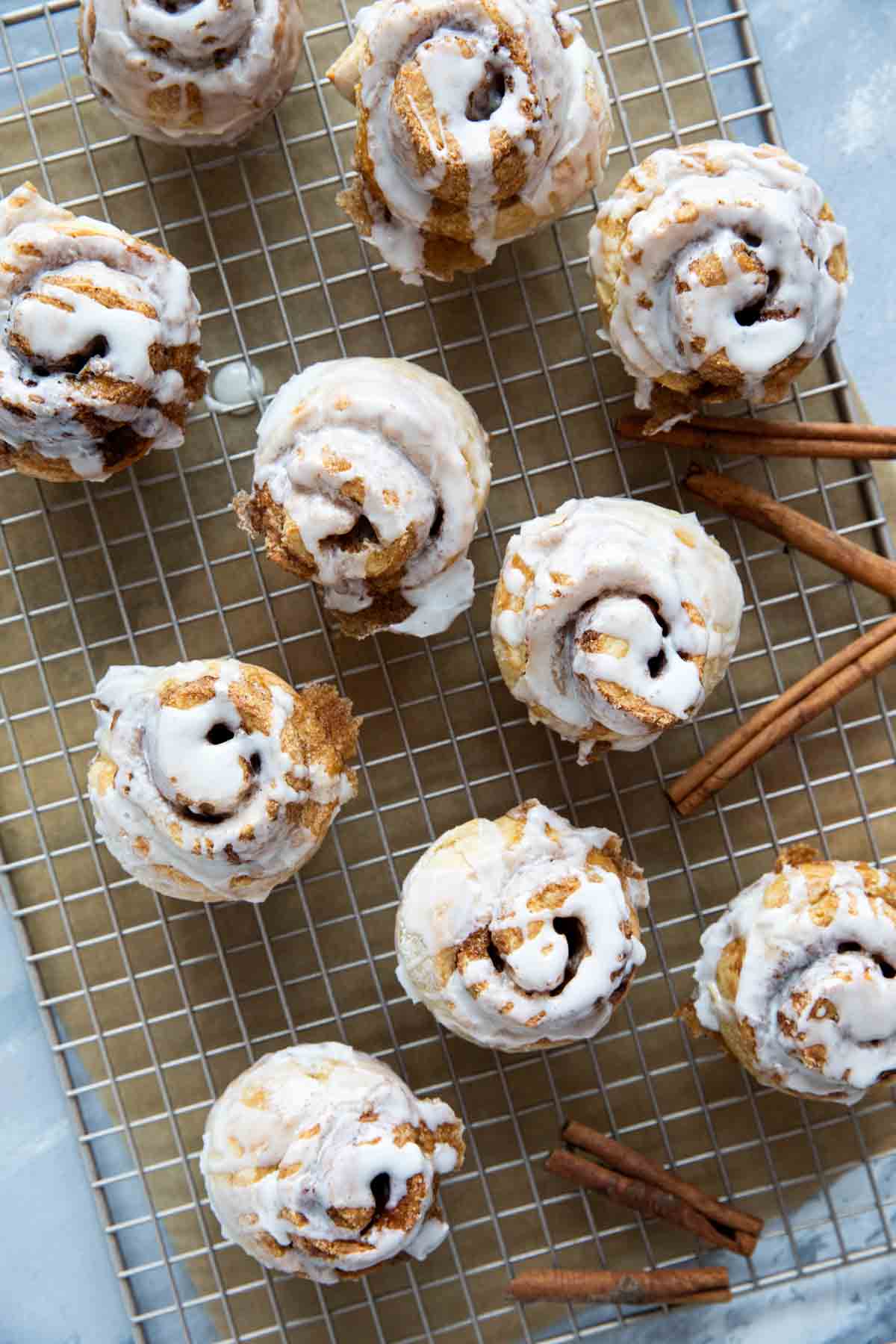 Tips and Tricks
I like to make these nice and big, so I only make 10 muffins. But you can cut them into 12 pieces so that you fill the entire muffin tin.
This recipe makes a pretty generous amount of the glaze. I usually use about 3/4 of it, and then serve the rest on the side for if people want to add more glaze to theirs.
Feel free to get creative and add different spices to the filling. I love cardamom and nutmeg!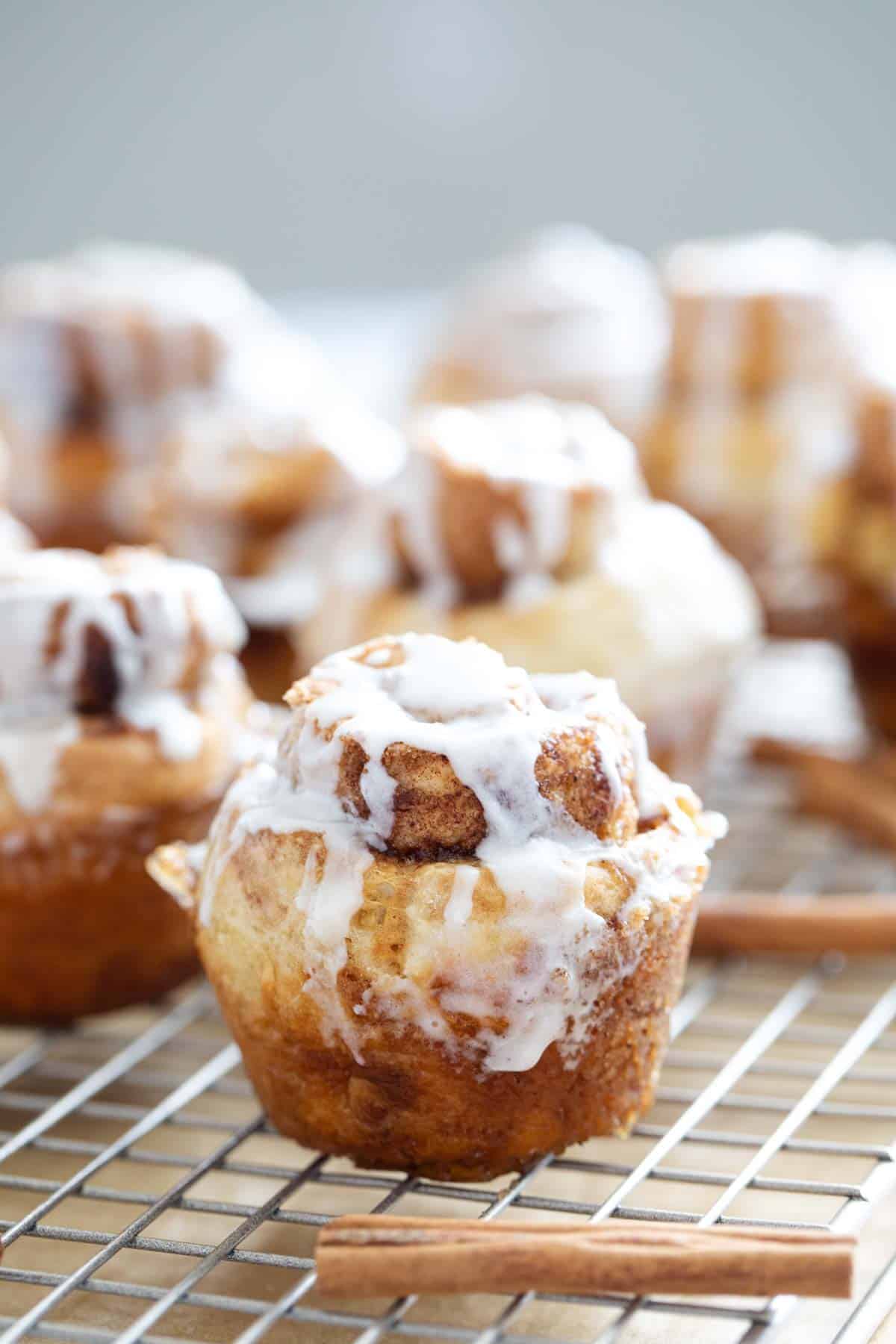 Storage Instructions
These muffins are best when they are eaten the day they are made, but they will last a few days. Store any leftovers in an airtight container at room temperature.
If you are making them ahead of time, I would suggest popping them into the microwave or the air fryer for a few minutes to warm them slightly before serving.
If you plan on freezing the baked muffins, it's best to do it before they are glazed, then you can glaze them when you are ready to serve them.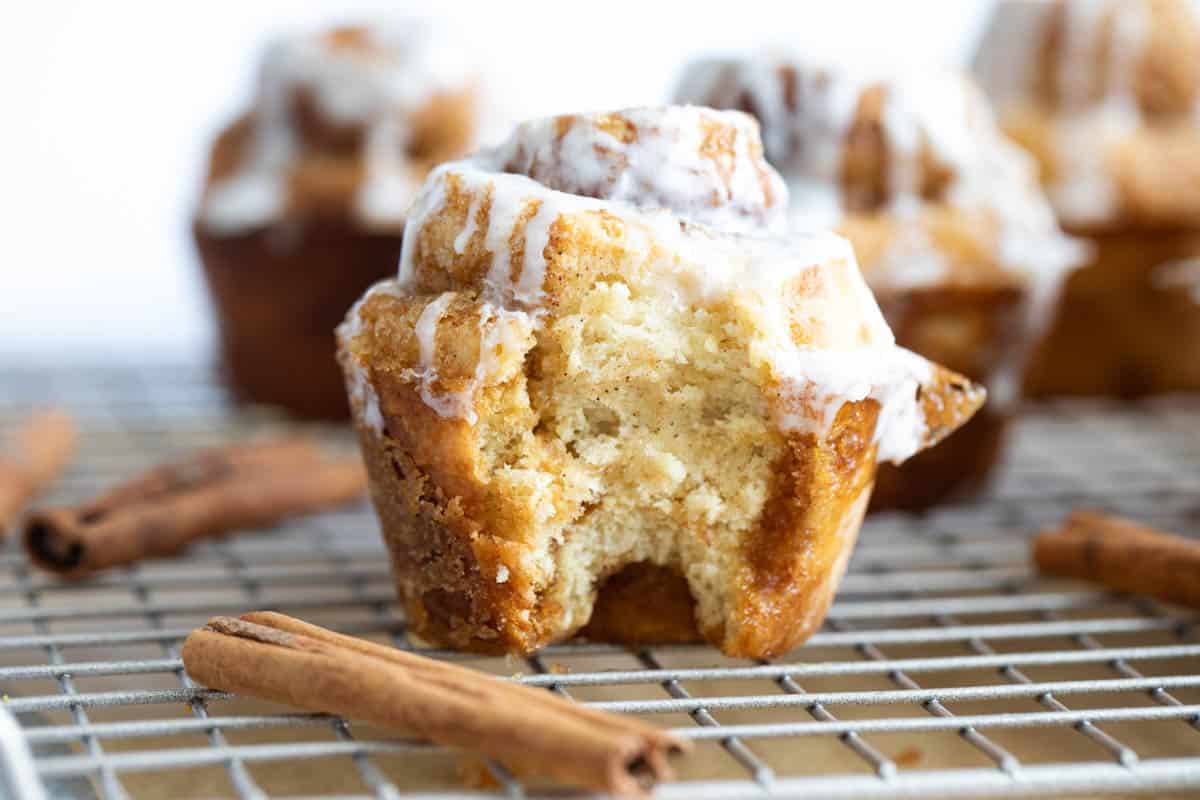 More Muffin Recipes
Zucchini Muffins
Banana Muffins
Chocolate Chip Muffins
Morning Glory Muffins
Lemon Muffins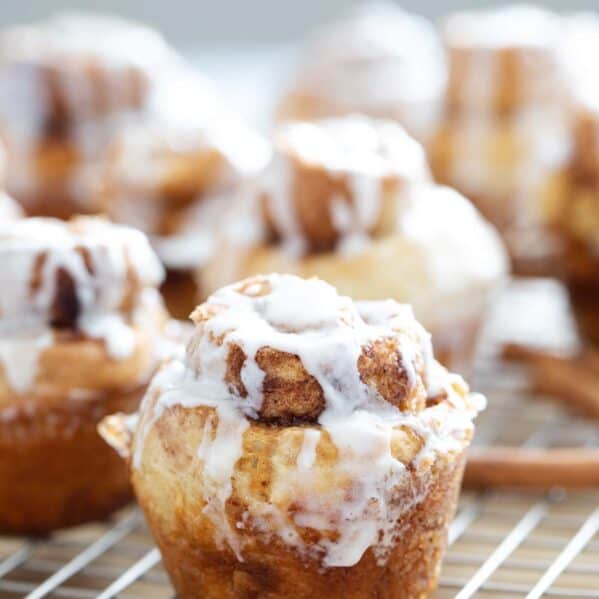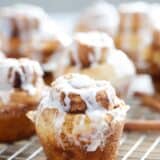 Cinnamon Roll Muffins
---
Author:
Prep Time: 15 minutes
Cook Time: 20 minutes
Total Time: 40 minutes
Yield: 10 muffins 1x
Category: Breakfast
Method: Baked
Cuisine: American
Description
Craving cinnamon rolls but you don't have the time? These Cinnamon Roll Muffins are so delicious and on the table in no time flat.
---
Scale
Ingredients
1 cup buttermilk
1 cup light brown sugar, divided
1 egg
1/2 teaspoon vanilla extract
3 cups all-purpose flour (plus more for rolling the dough)
1 teaspoon baking soda
1/2 teaspoon salt
2 tablespoons melted butter
1 teaspoon ground cinnamon
1 cup powdered sugar
3–4 tablespoons heavy cream
---
Instructions
Preheat the oven to 375ºF. Spray 10 regular muffin tins with nonstick cooking spray.
In a large bowl, mix together the buttermilk, 1/2 cup of the brown sugar, the egg, and the vanilla.
Once fully combined, add the 3 cups of flour, baking soda, and salt. Mix until the dough comes together. It will be a stiff dough, and it will still have some shaggy edges. There may be a bit of the flour that is not mixed in yet.
Flour a counter or a work surface. Turn the dough out onto the surface. Knead a few times until the dough is fairly smooth and not sticking to your hands.
Roll the dough out into a 10-inch by 20-inch rectangle. Spread the butter on top of the dough, then sprinkle over the remaining 1/2 cup of brown sugar and the cinnamon.
Roll the dough into a 20-inch log. If needed, cut the edges off (if they are ragged) then pull the log back to 20 inches long. Cut the dough into 10 2-inch slices.
Place each of the rolls in a muffin tin, cut side up.
Bake until the muffins are golden brown, about 20 minutes.
While the muffins are baking, make the glaze by whisking together the powdered sugar and the cream. Start with 3 tablespoons of cream, and add more as needed, until you reach your desired consistency.
Once the muffins are baked, let them sit for 5 minutes, then drizzle the glaze over the top.
Recipe Notes:
Nutrition information provided as an estimate only. Various brands and products can change the counts. Any nutritional information should be used as a general guide.
Nutrition
Serving Size: 1 muffin
Calories: 315
Sugar: 14 g
Sodium: 295 mg
Fat: 5 g
Saturated Fat: 3 g
Unsaturated Fat: 1 g
Trans Fat: 0 g
Carbohydrates: 62 g
Fiber: 1 g
Protein: 5 g
Cholesterol: 32 mg
Keywords: cinnamon roll muffins