Soft and slightly sweet, this Hawaiian Bread is the perfect side dish to any Hawaiian meal. Serve it up as a side with butter, and save a loaf for French toast the next day!
If you can't make it to Hawaii, bring the flavors of Hawaii to you with this Hawaiian Bread alongside some Huli Huli Chicken and Hawaiian Macaroni Salad.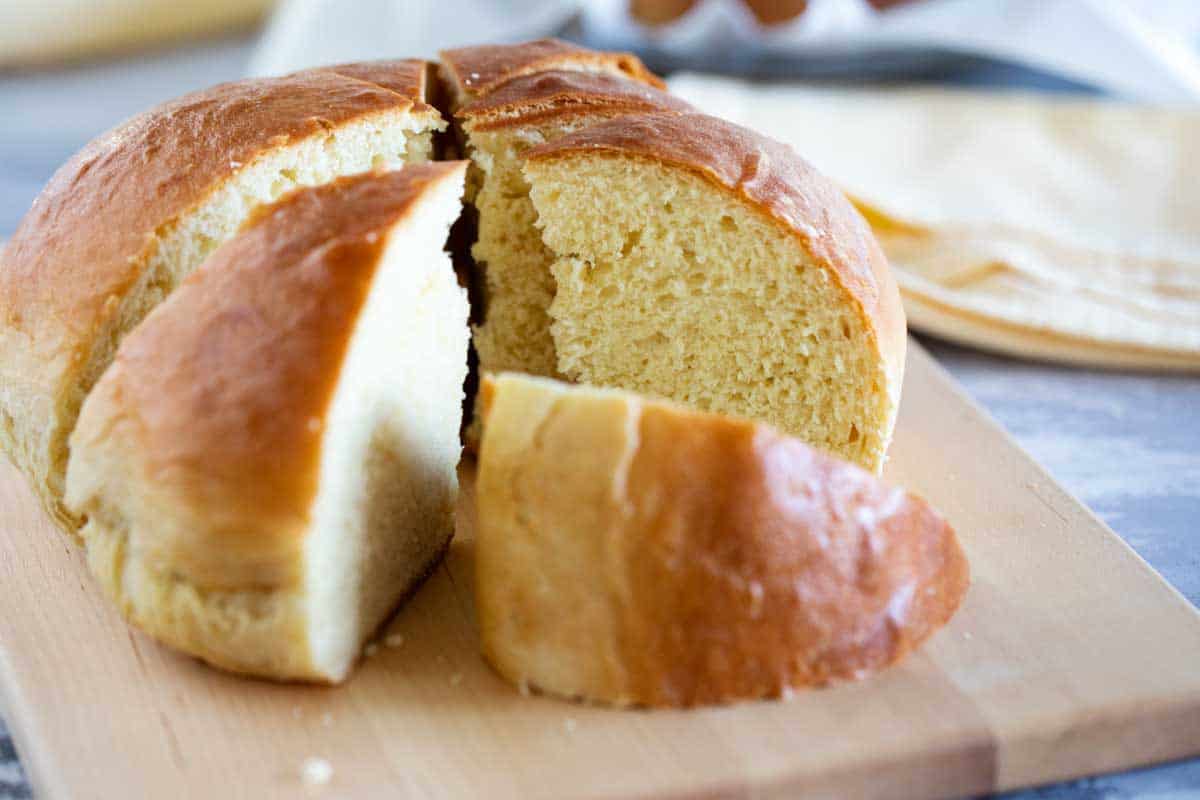 I have always said that no matter what my death bed meal consists of, there will for sure be bread. And now I'm thinking there will be a whole loaf of this Hawaiian Bread there that I get all to myself.
It really is that good.
When I recently made this bread, I made two batches in two days. Which gave me 6 loaves of bread. I was desperately trying to give it away because I had absolutely no self-control around it and knew I would eat it all myself if it was in front of me. (And I heard that it disappeared quickly for those who I gave it to, so I wasn't the only fan!)
This Hawaiian Bread is slightly sweet with a soft, velvety texture. It's similar to brioche (because of the eggs and butter) and has the perfect amount of sweetness. Not too overpowering – it didn't taste like dessert – but sweet enough for you to know that it is something special.
Ingredients
Full amounts and instructions are located in the recipe card at the end of the post.
Water: You want warm water – around 110ºF. If you don't have a thermometer, that's ok. It should be warm to the touch, not hot enough to have to pull your hand away.
Yeast: This recipe calls for active dry yeast.
Butter: You'll want unsalted butter.
Pineapple Juice: Your bread won't taste like pineapple, but part of its sweetness comes from the pineapple juice. Use 100% juice not from concentrate if possible for the best flavor, but juice from concentrate will also work if that is what you have.
Milk: I use 2% because that is what I keep on hand, but whole milk would be even better.
Bread Flour: I love using bread flour for this recipe, but if you don't have it, all purpose flour could be substituted.
Instant Mashed Potato Flakes: I love a good potato bread, and by using potato flakes, you get a lot of the same benefits. You get a lovely soft texture and a moist bread – largely due to the potato flakes.
Sugar: This is a sweet bread, so I wouldn't cut back on the amount of sugar.
Salt: I like to use sea salt or kosher salt.
Eggs: You'll want room temperature large eggs.
Vanilla: This brings in some of the sweet. It's not an overwhelming flavor, but adds just the right amount of vanilla in the background.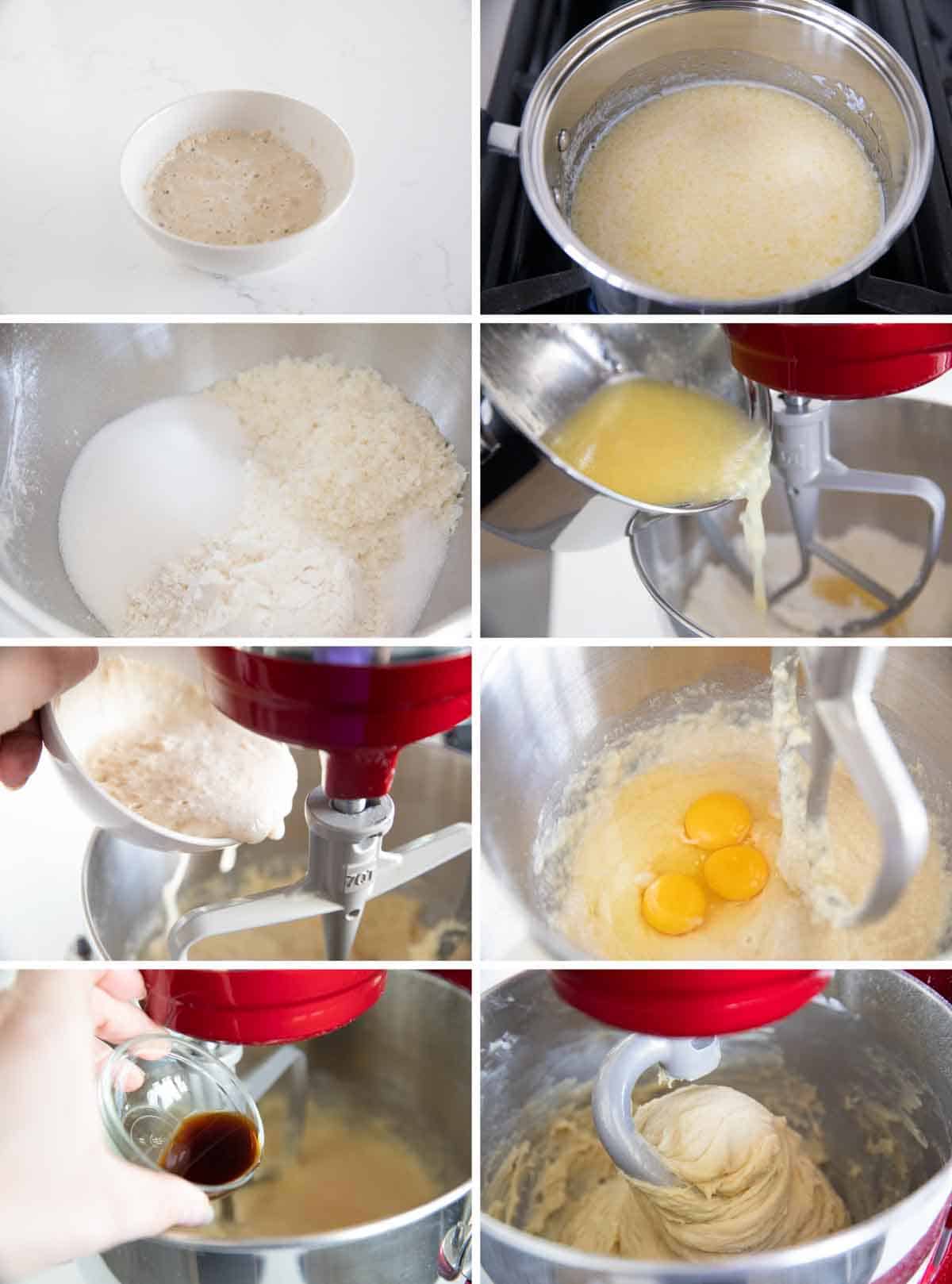 How to Make Hawaiian Bread
1 – Combine the yeast and the water and let them sit until it starts to foam.
2 – Melt the butter, then add the pineapple juice and milk and heat until it's about 110ºF.
3 – Mix together 4 cups of the flour, the potato flakes, the sugar, and the salt.
4 – Add the butter mixture.
5 – Then add in the yeast mixture.
6 – Add the eggs and beat to combine.
7 – Mix in the vanilla extract.
8 – Start adding in the remaining flour 1/2 cup at a time. Add until the dough starts to pull away from the sides of the bowl, then switch to the dough hook and knead the dough for 5-6 minutes. The dough should be smooth, and still tacky but not sticky.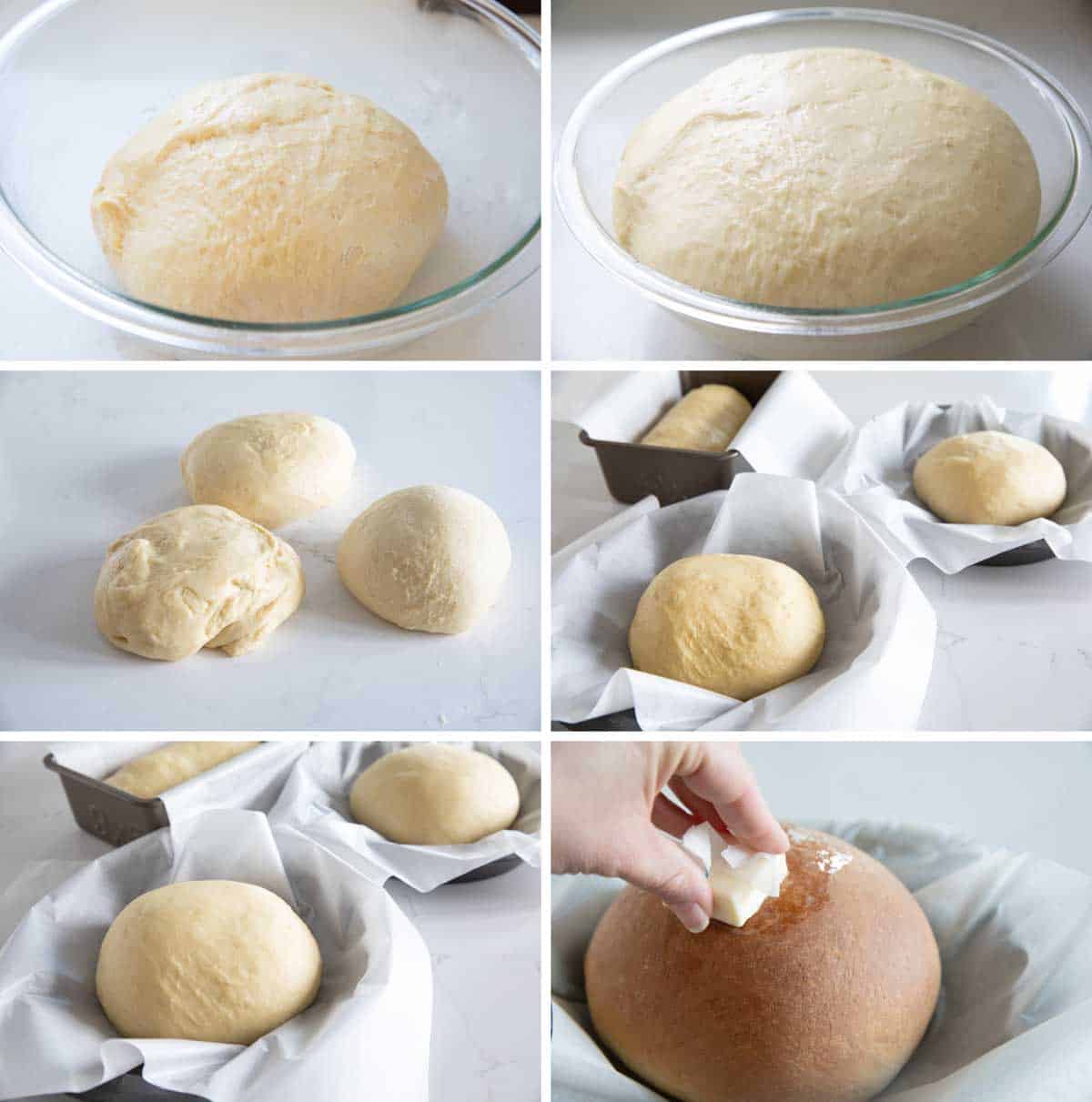 9 – Transfer the dough to a bowl that has been sprayed with nonstick cooking spray. Cover and let it rise.
10 – Let it rise until it has doubled.
11 – Turn the dough out and divide it into 3 equal pieces.
12 – Shape the dough and place it in a parchment lined pan. See below for more information about shaping the bread.
13 – Cover the dough again and let it rise until doubled a second time.
14 – Bake the bread until golden brown. Remove from the oven and spread butter over the top of the hot loaf. Be careful to not burn your fingers!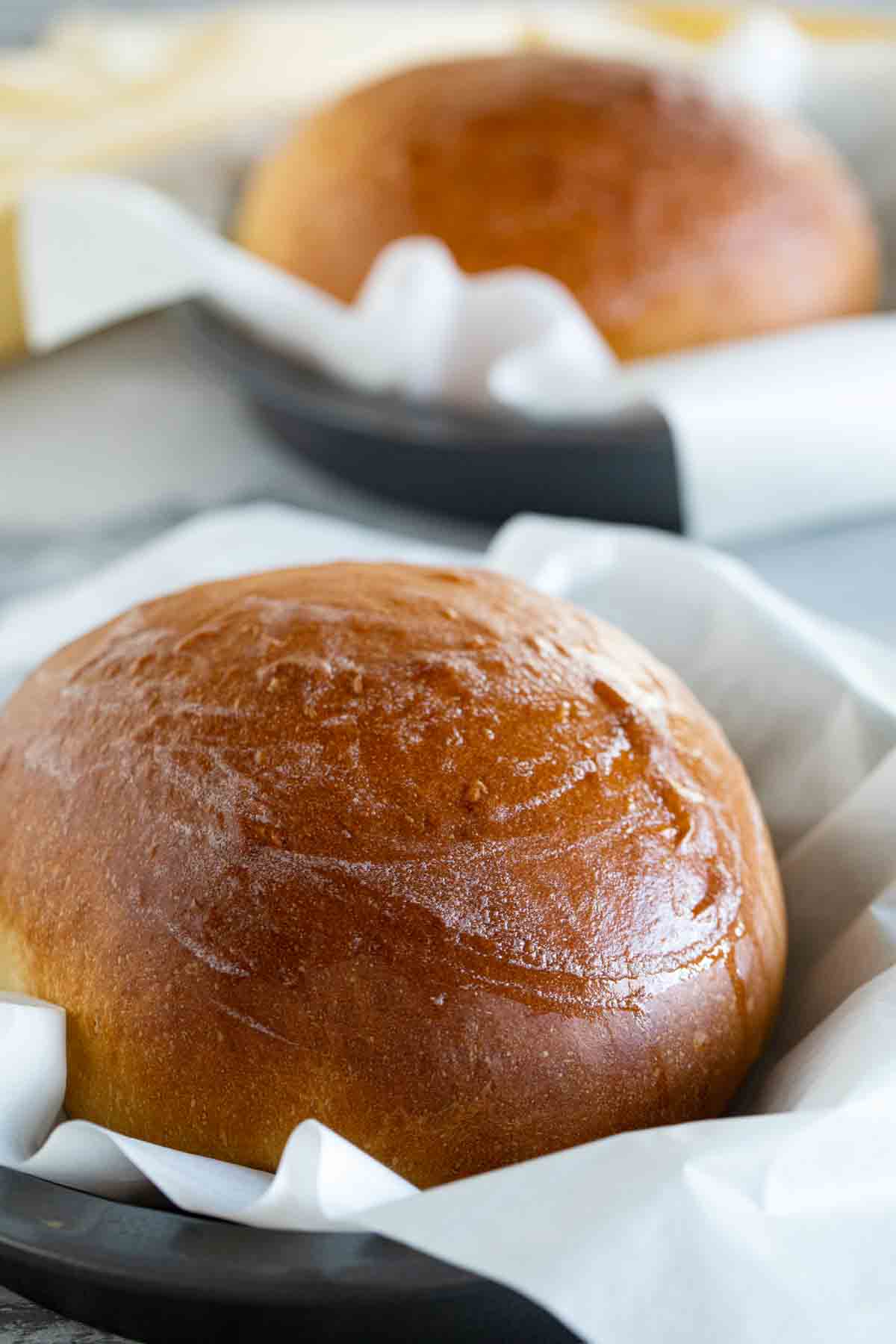 Shaping Hawaiian Bread
A lot of times, you'll see Hawaiian bread shaped into boules, or round loaves. I also like to bake it in a traditional loaf, as well. (This bread makes amazing French toast, so a loaf is perfect for slicing.) The good thing is that this recipe makes 3 loaves, so you can mix and match!
For a Round Loaf
Place your dough on a lightly floured surface. Flatten it slightly (to de-gas) into a circle. Take one edge and fold it into the middle. Holding that piece in the middle, work your way around until you have all the ragged edges in the middle. Turn the dough over so that the ragged side is on the bottom. The top should be smooth. Place this in a 9-inch pan (I use a cake pan) that is lined with parchment paper. I don't cut the parchment to fit – I just place the piece in the pan and place the loaf on top.
For a Traditional Loaf
The easiest way to make a loaf is to take your dough on a lightly floured surface and roll it into a rectangle about 11 inches by 8 inches. Roll the dough up tightly on the long side. Once it is rolled, pinch the edge into the bread to seal. Now take the edges and fold them over slightly, pinching again to seal. This will help so that the bread does not come open while baking. Do this on both sides so that the loaf is the same length as your loaf pan. Transfer the loaf to a loaf pan that is greased or lined with parchment.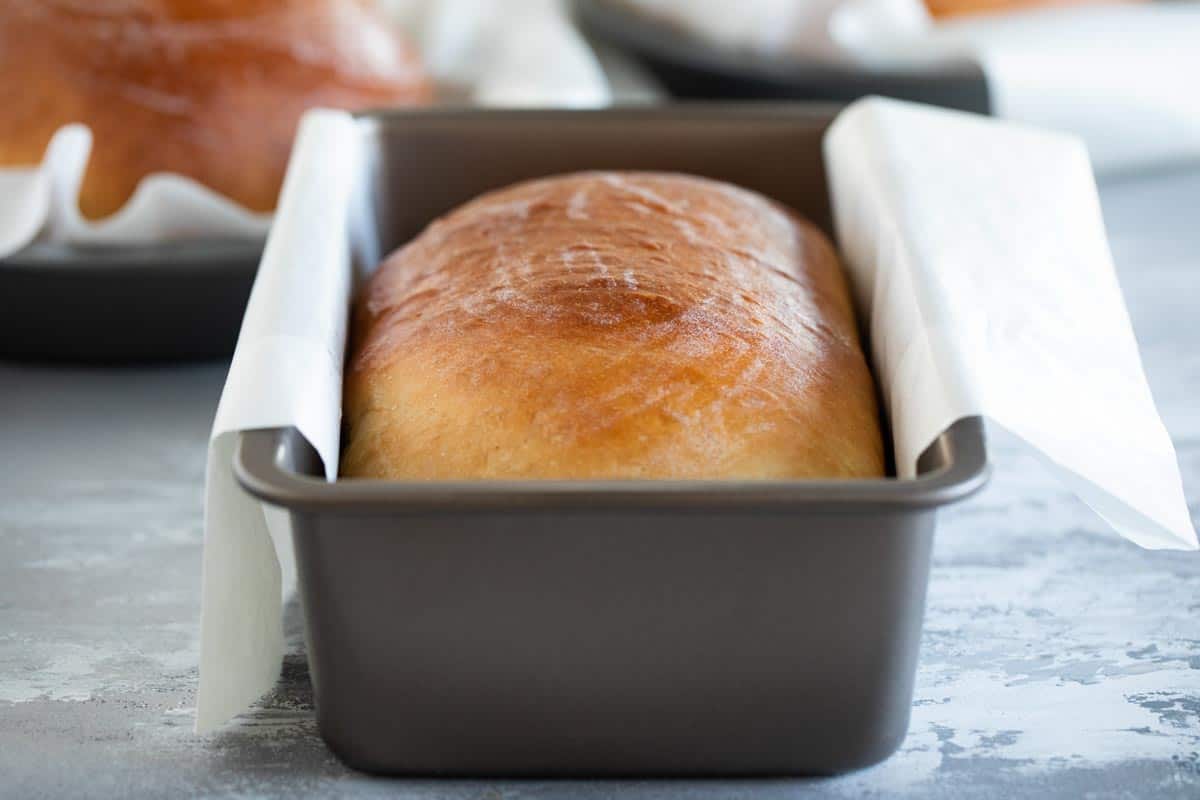 How to Know if Your Bread is Done
This is often the hardest part of the recipe!
And it doesn't help that this bread gets nice and brown during baking because of the amount of sugar. So you may be tempted to pull it out of the oven when it is lightly golden.
But no one wants a gooey center to their bread.
The easiest way to know if your bread is done baking is to test it with an instant read thermometer. The interior temperature should be 200ºF. If you don't have a thermometer, use a wooden spoon to tap on top of the loaf. If it sounds hollow, it should be done.
If your bread is getting darker than you'd like, lightly cover it with foil during the last 10 minutes of baking.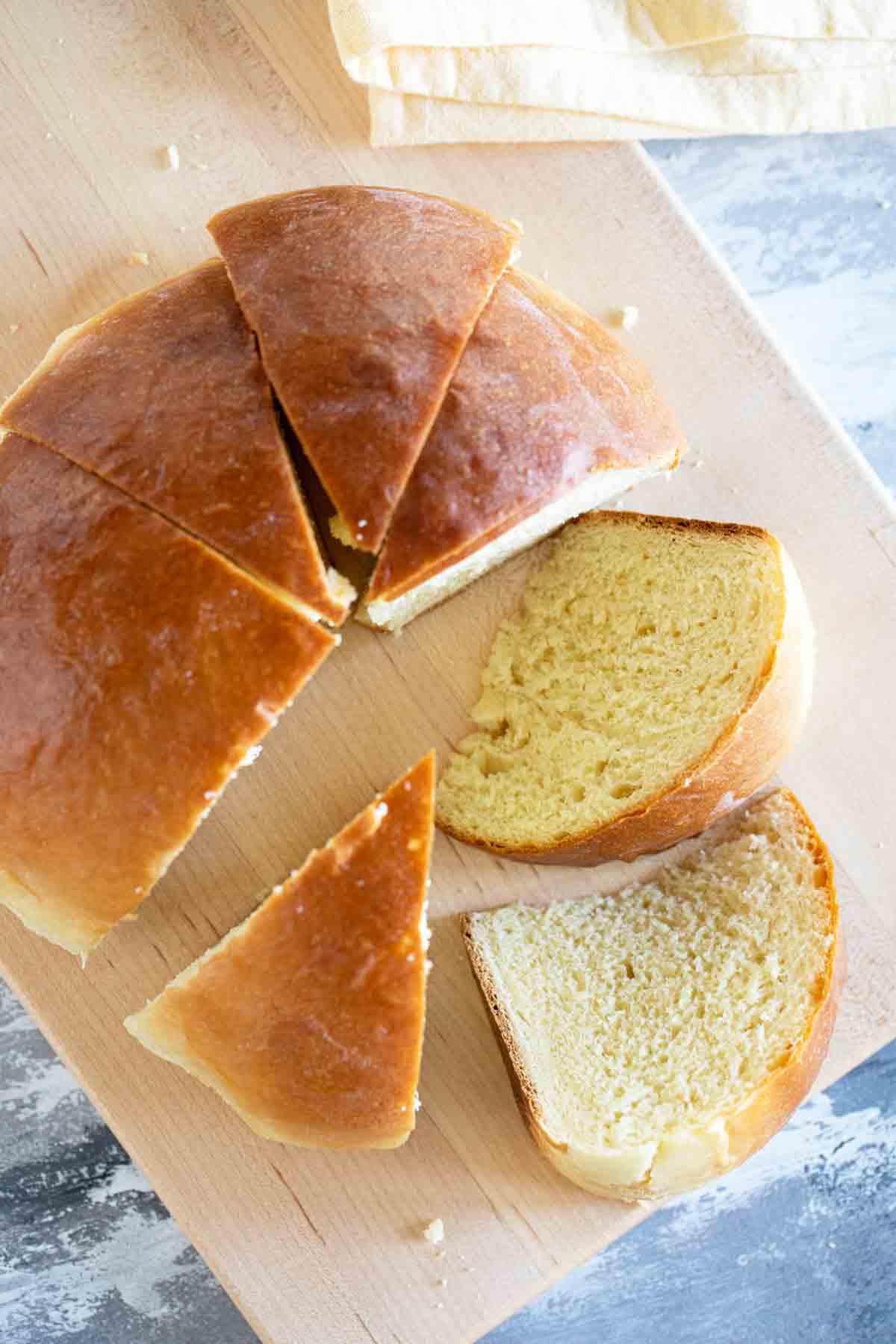 Storing
This bread can be stored at room temperature in a bread bag or in an airtight container for 3-4 days. If you want it to last longer, you can put it in the refrigerator, but the refrigerator tends to suck the moisture from bread.
You can also freeze the baked loaves. Since this does make 3 loaves, it is a good way to not inhale all three right after making them. Let the bread cool completely then wrap tightly in foil or plastic wrap. Then I will put it in a freezer safe ziplock or another freezer safe container. Freeze for up to 6 months. Let it thaw overnight at room temperature, but leave it covered until it is thawed.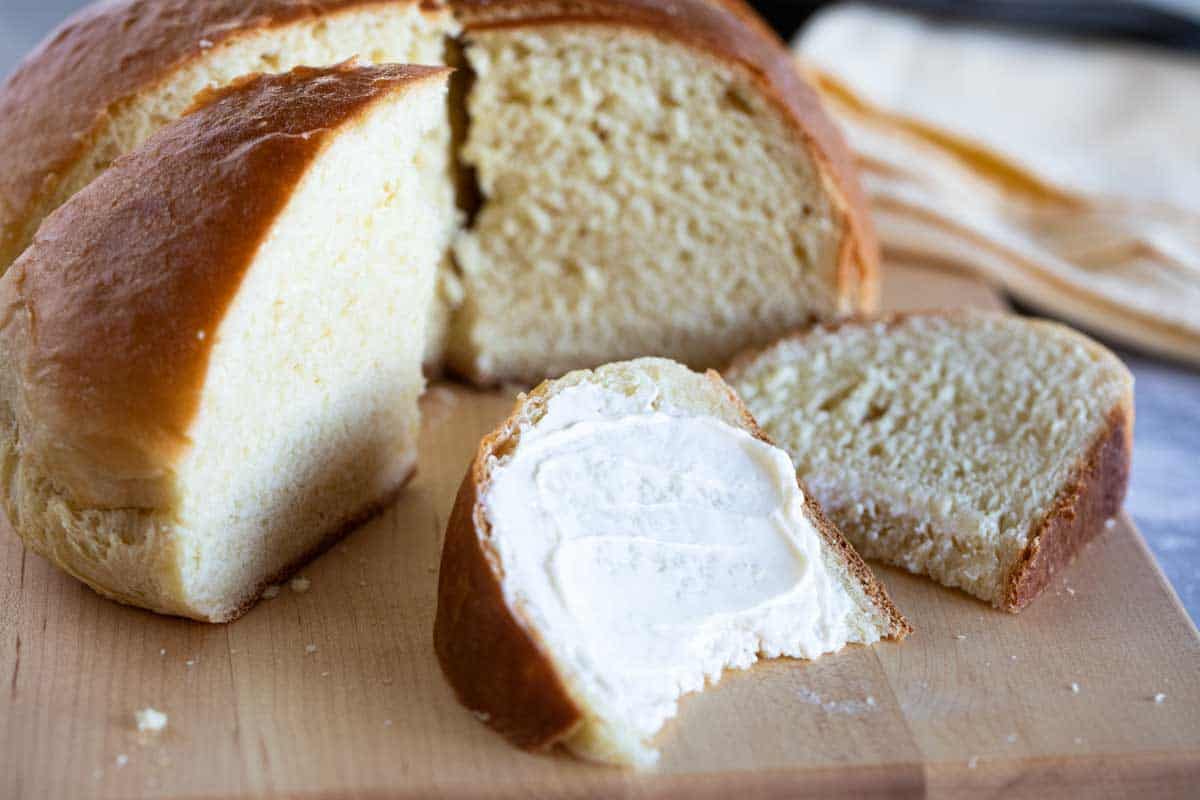 Love Baking Bread? Try These Bread Recipes:
White Bread Recipe
Brioche Bread
Artisan Bread Recipe
French Bread Recipe
Focaccia Bread Recipe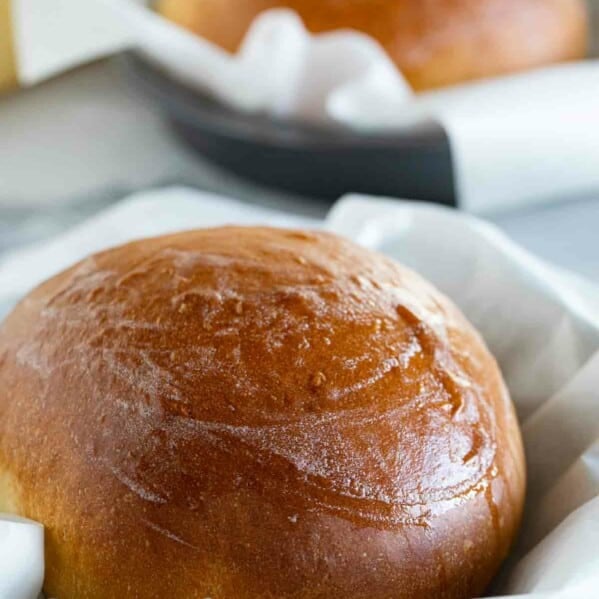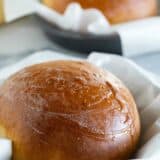 Hawaiian Bread
---
Author:
Prep Time: 20 minutes
Rise Time: 2 hours 15 minutes
Cook Time: 35 minutes
Total Time: 3 hours 30 minutes
Yield: 3 loaves, 12 slices each 1x
Category: Bread
Method: Baked
Cuisine: American
Description
Soft and slightly sweet, this Hawaiian Bread is the perfect side dish to any Hawaiian meal. Serve it up as a side with butter, and save a loaf for French toast the next day!
---
Scale
Ingredients
1/2 cup (114 g) warm water
4 1/2 teaspoons (1/2 oz) active dry yeast
1/2 cup (113 g) unsalted butter, softened
1 cup (8 oz) pineapple juice
1 cup (8 oz) milk
7 1/2 to 8 cups (900 g – 960 g) bread flour
3/4 cup (50 g) instant mashed potato flakes
2/3 cup (150 g) sugar
1 teaspoon salt
3 eggs
2 teaspoons vanilla extract
1 tablespoon unsalted butter
---
Instructions
In a small bowl, combine the water and yeast. Let it sit until the yeast foams, about 5 minutes.
Meanwhile, melt the butter in a small pot. Add the pineapple juice and milk and heat until it reaches 110ºF. (If it gets hotter than that, set it aside until it has cooled to 110ºF – 115ºF so that you don't risk killing the yeast.)
In a large bowl, or the bowl of a stand mixer, combine 4 cups of the flour, the potato flakes, sugar, and salt.
Add the butter mixture to the bowl, followed by the yeast mixture. Mix to combine.
Add the eggs, mix, then add the vanilla. Start adding the remaining flour, 1/2 cup at a time, until it starts to come together. Switch to the dough hook and continue to knead for about 5-6 minutes, adding flour as needed, until the dough is soft and smooth – it will still be tacky, but shouldn't be overly sticky. (Alternately, turn the dough out onto a surface and knead, adding flour as needed, until smooth and soft.)
Spray a large bowl with nonstick cooking spray. Add the dough, and turn once to coat. Cover and let rise until the dough has doubled, about 1 1/2 hours.
Once the dough has risen, punch it down and turn it out onto a lightly floured surface. Divide the dough into 3 equal portions. If making round boules, shape into balls and place in 9-inch pans that have been lined in parchment paper. If making loaves, shape and place in 9×5-inch loaf pans. Cover and let rise again until doubled, about 45 minutes.
Preheat the oven to 350ºF. Bake the loaves until golden brown, about 30-35 minutes. If the bread starts to become too dark, cover lightly with foil in the last 10-15 minutes.
If desired, rub the loaves with butter as soon as they come out of the oven. Let cool before slicing.
Recipe Notes:
This recipe was revised and updated from the recipe posted originally in 2010.
Nutrition information provided as an estimate only. Various brands and products can change the counts. Any nutritional information should be used as a general guide.
Nutrition
Serving Size: 1 slice
Calories: 149
Sugar: 5 g
Sodium: 75 mg
Fat: 3 g
Saturated Fat: 2 g
Unsaturated Fat: 1 g
Trans Fat: 0 g
Carbohydrates: 24 g
Fiber: 0 g
Protein: 4 g
Cholesterol: 24 mg
Keywords: hawaiian bread, hawaiian sweet bread, sweet bread recipe