Straight from Hawaii – this Hawaiian Sweet Bread Recipe is light and slightly sweet and goes well with any Hawaiian meal.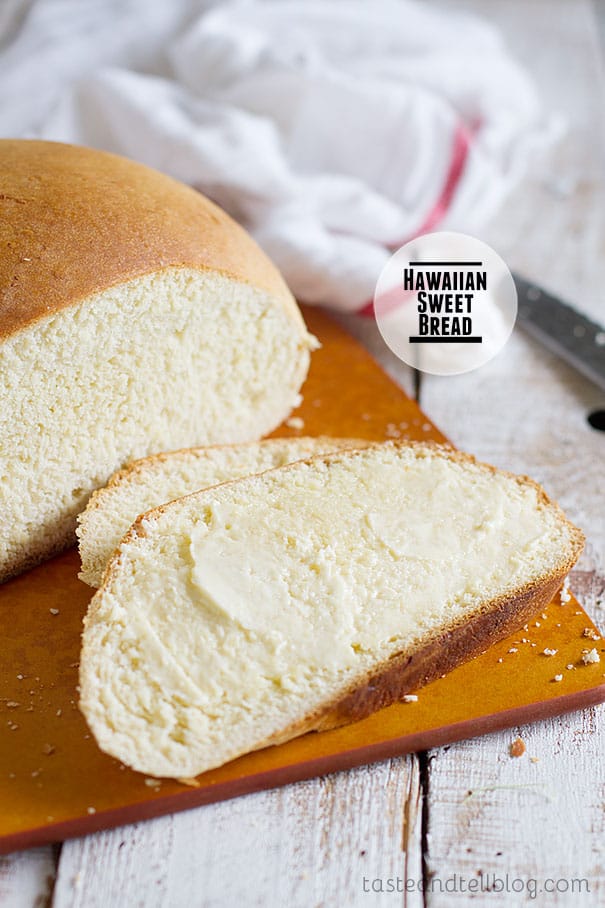 Photos Updated March 2014



One of my favorite questions from my Blogger Spotlight series is "What would you eat as your last supper?" And not surprisingly, many of the bloggers that I've spotlighted answer with one thing I know would be at my last supper – bread. It sounds like there are a lot of carb lovers out there!!
So when I picked up this month's Cookbook of the Month about Hawaiian food, I was really hoping there would be a Hawaiian Sweet Bread recipe. And I got lucky, because there was!! I've never made a Hawaiian Sweet Bread recipe before, but I will admit that I'm always drawn to those King's Hawaiian Sweet Bread rolls at the grocery store!!
This recipe was a bit vague straight from the book, so I'm glad that I'm fairly comfortable with making bread. There is only one thing I think is wrong with this recipe. The full recipe makes 1 very large loaf of bread. But I have found that the larger the loaf, the more dry the bread usually is – probably because of the time it takes to bake it. So I wish I would have made this into rolls or divided it into 2 loaves. But it was delicious!! And not too sweet – I could totally use it to make sandwiches with. It also makes great French toast the next day!! I'm so glad I finally made some Hawaiian sweet bread at home!!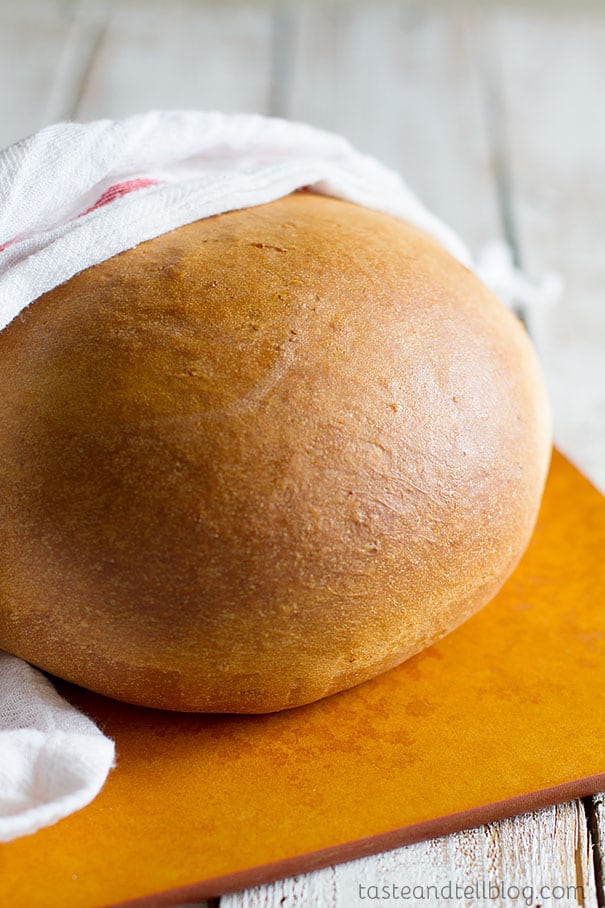 Like what you see here? Make sure you are following Taste and Tell for more great recipes and ideas!!

Facebook ** Pinterest ** Twitter ** Instagram ** Google+
or you can subscribe to my newsletter or Feedly or Bloglovin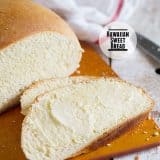 Hawaiian Sweet Bread Recipe
---
Prep Time: 15 mins
Cook Time: 50 mins
Total Time: 1 hour 5 mins
Yield: 1 large loaf 1x
Description
Straight from Hawaii – this Hawaiian Sweet Bread Recipe is light and slightly sweet and goes well with any Hawaiian meal.
---
Scale
Ingredients
1/2 cup milk, warmed
3 1/2 teaspoons dry yeast
1/2 teaspoon sugar
1 cup evaporated milk or light cream
5 tablespoons butter
large pinch nutmeg
1 cup sugar
1 teaspoon grated lemon peel
4 cups bread flour
4 eggs, lightly beaten, plus 1 egg beaten for glaze
1 teaspoon salt
---
Instructions
Mix milk, yeast and 1/2 teaspoon sugar. Allow to stand until the mixture is bubbly.
In a saucepan, warm the evaporated milk. Add the butter, nutmeg, sugar and lemon peel. Stir until the butter is melted.
Place the flour in a large mixing bowl. Add the eggs, the yeast mixture and the salt. Add enough of the evaporated milk mixture just to form a soft dough. Knead for 15 minutes.
Allow the loaf to rise to double it's size. Punch it down and let it rise again. Form into a round loaf and allow to rise one more time.
Preheat the oven to 325F. Mix the egg with 1 tablespoon of water and brush it on top of the loaf of bread.
Bake in the preheated oven for about 50 minutes.