This savory version of a quick bread is filled with cheese and lots of black pepper for a little kick.
This is technically a redo of an old recipe, first published back in November of 2009. But my OCD/wanting to get everything on the blog organized has been kicking in in high force lately, and the original post where this bread was first published also has a recipe for Amazingly Moist Salmon. Which is fine – I ate them together originally, so it only makes sense that I blogged them together.
But I've been a little obsessed with my recipe index lately. (And one of these days, I'll have it all fixed so that they all show a photo!) For each post, I can only choose one photo for the "main" photo that is pulled into the archives. So before today, when you would look under Muffins/Quick Breads, the post for this bread had a photo of fish.
These kinds of posts have been driving me crazy, so I'm slowly working my way through the posts with multiple recipes, and moving one of the recipes to it's own post. And this one, well – I'm a sucker for bread, so I couldn't resist remaking the recipe and taking a new photo while I was at it!!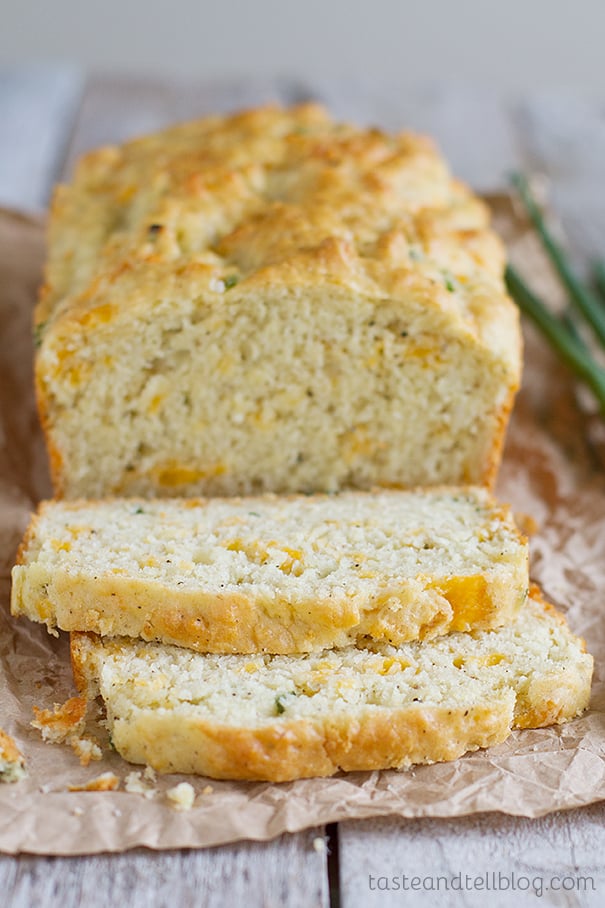 I do love to work with yeast, but a lot of the time, you need something easy and faster. This bread is exactly that. I don't run across savory quick breads very often, and I don't know why, because this is so good. Especially if you are a black pepper lover. (And if you aren't, I would suggest cutting back on the amount of pepper in the recipe.) This is so easy that my almost 5 year old practically made this by herself.
This is a great bread to serve along soup, or pasta, or even just a chicken dinner. I loved it and loved all of the flavors running through it. A definite winner!!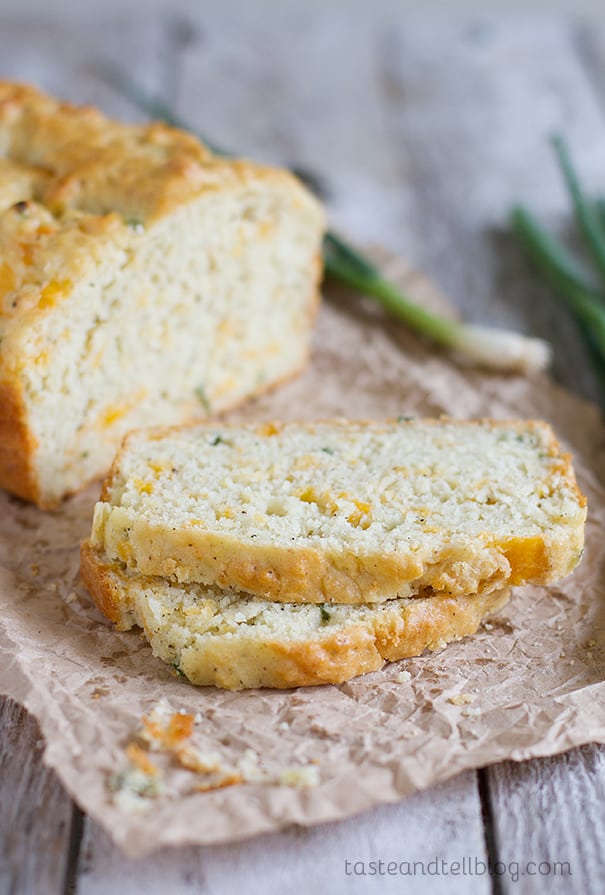 Like what you see here? Make sure you are following Taste and Tell for more great recipes and ideas!!

Facebook ** Pinterest ** Twitter ** Instagram ** Google+
or you can subscribe to my newsletter or subscribe through your favorite reader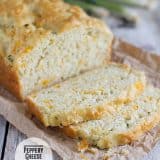 Peppery Cheese Bread
---
Prep Time: 15 minutes
Cook Time: 50 minutes
Total Time: 1 hour 15 minutes
Yield: 1 9x5 loaf, about 12 servings 1x
Description
This savory version of a quick bread is filled with cheese and lots of black pepper for a little kick.
---
Scale
Ingredients
2 1/2 cups all-purpose flour
1 tablespoon sugar
1 1/2 to 2 teaspoons cracked black pepper
1 teaspoon baking powder
3/4 teaspoon salt
1/2 teaspoon baking soda
2 beaten eggs
1 8–ounce carton plain low-fat yogurt
1/2 cup cooking oil
1/4 cup milk
1 tablespoon spicy brown mustard
1 cup shredded cheddar cheese (4 ounces)
1/4 cup thinly sliced green onions
---
Instructions
Preheat the oven to 350F. Spray a 9×5-inch loaf pan with nonstick cooking spray.
In a large bowl, combine the flour, sugar, pepper, baking powder, salt and baking powder. In another bowl, combine the eggs, yogurt, oil, milk, mustard, cheese and green onions. Add the wet ingredients to the dry ingredients and stir just until combined. Pour into the prepared loaf pan.
Bake until a tester inserted in the middle comes out clean, 45-50 minutes. Allow to cool for 10 minutes, then remove from pan to a wire rack to cool completely. Store any leftover bread wrapped in the refrigerator.
Recipe Notes: