As easy as a box mix but a lot tastier, this homemade Cornbread Recipe is the perfect side dish. Serve it up with chili, beans, or with a pat of butter and a drizzle of honey.
Want to make cornbread muffins instead? Try this Corn Muffin recipe!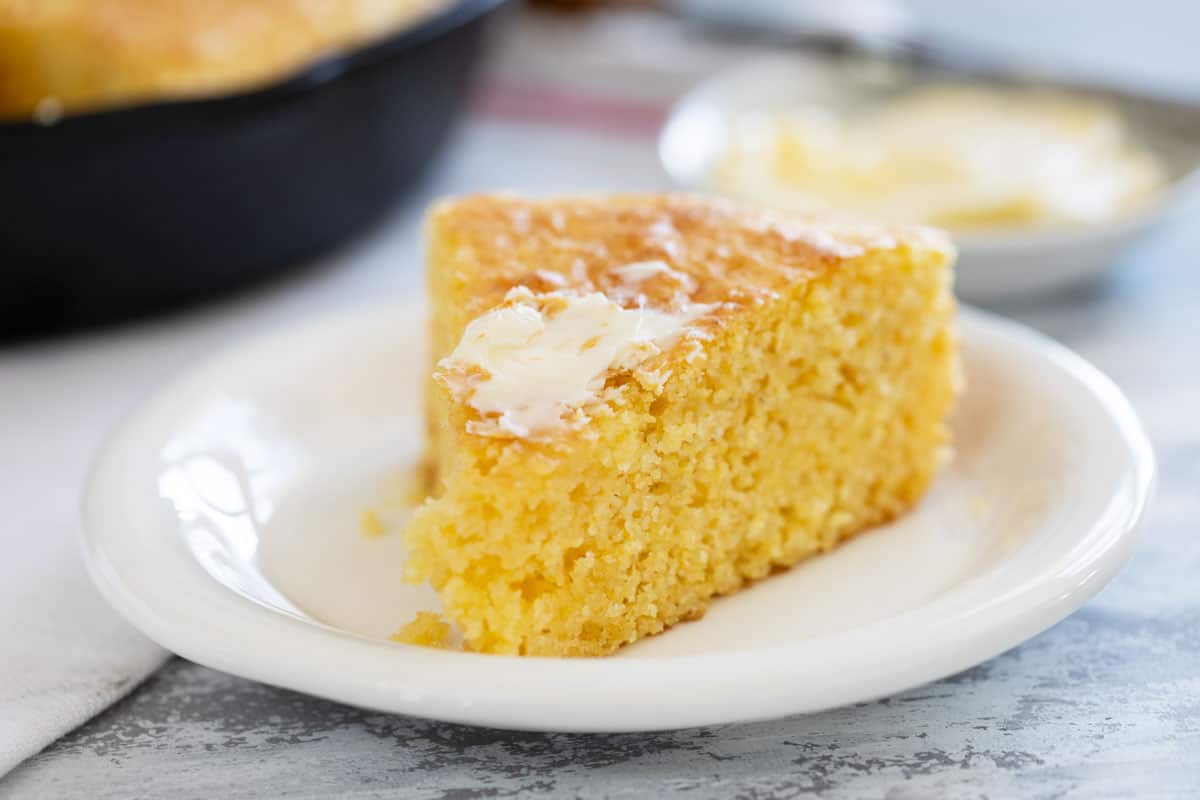 Easy Cornbread Recipe
To me, nothing says comfort food like a big bowl of chili and some cornbread.
And for the longest time, I would just grab a box mix to make cornbread. Until I realized that making it from scratch is almost just as easy! Plus, you know exactly what goes into it, and that always makes me feel better.
This is the perfect, basic cornbread recipe. A little bit sweet with a great texture, this goes with so many different meals. Or just eat it with some butter and honey, or some honey butter. That's always my favorite!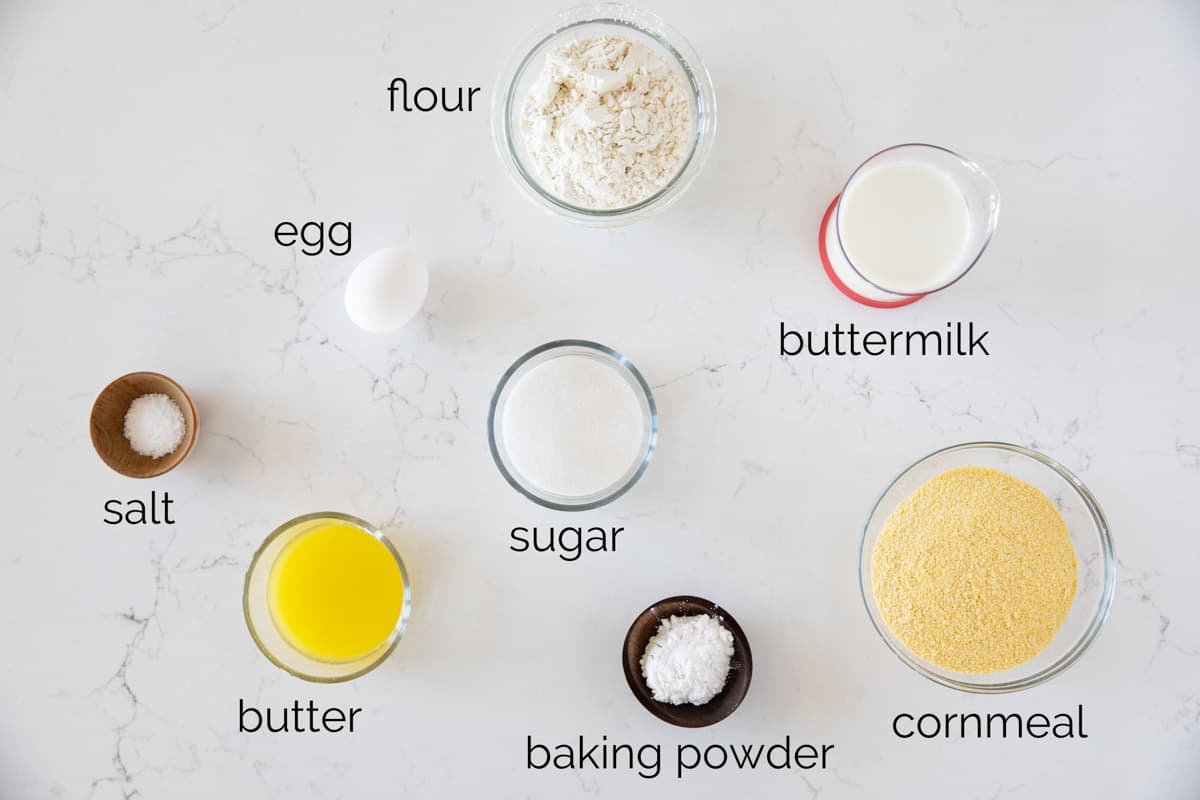 Ingredients
Flour: I have only tested this recipe using all-purpose flour. If you want to experiment with whole wheat, I would do half whole wheat and half all-purpose.
Cornmeal: I found that for me, the perfect ratio of cornmeal to flour was 1:1. You still get the texture from the cornmeal, but it's a little softer instead of a bread that just crumbles apart.
Sugar: Sweet or not sweet – it is the eternal cornbread debate. I actually really like a sweet cornbread, and while this recipe does have a bit of sweetness, it's not overpowering. (If you like a really sweet cornbread, try this Boston Market Cornbread recipe.)
Baking Powder: This is what gives the cornbread some rise and helps with the texture.
Salt: Salt is always important for balance.
Buttermilk: I have made this with both regular milk and buttermilk. Both work great, but when you use buttermilk, it makes it a bit more moist.
Butter: For this recipe, you want to melt the butter but then let it cool slightly. If you try to add it when it is too hot, the butter will clump up.
Egg: The egg helps to bind everything together.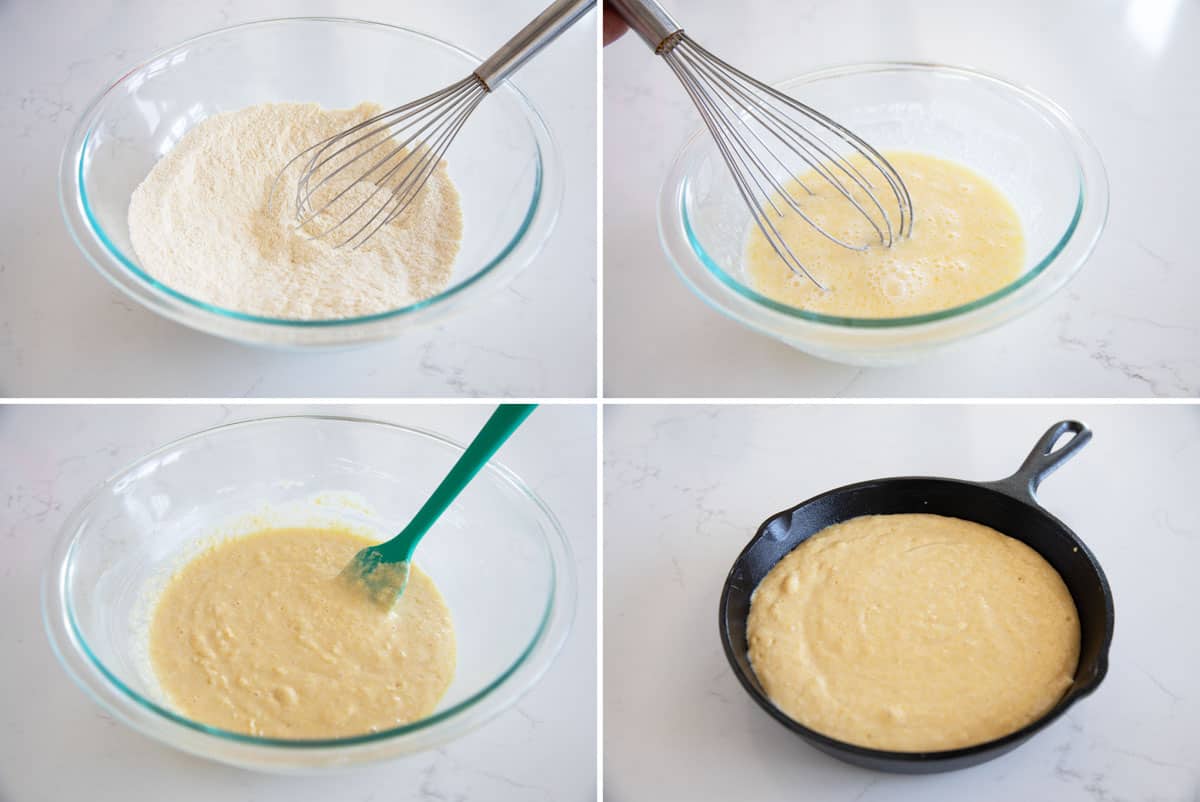 How to Make Cornbread
Whisk your dry ingredients together.
In another bowl, whisk together the buttermilk, butter, and egg.
Combine the wet ingredients and the dry ingredients and stir just until everything is combined.
Pour into a prepared baking dish and bake until golden brown.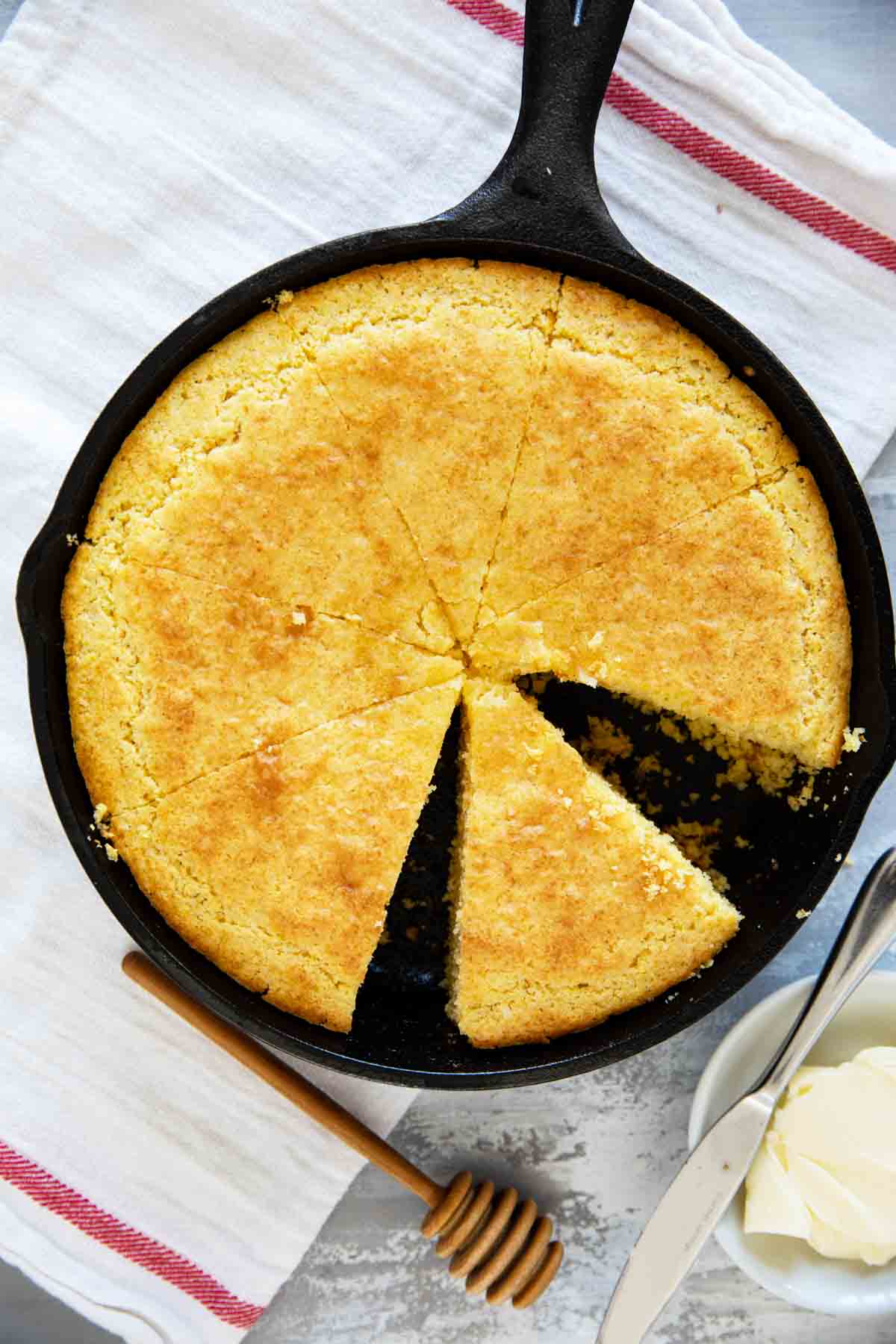 Tips and Tricks
You can use a round, 9-inch baking pan or a square baking pan. But my favorite it a cast iron skillet. You can cook it normally in a cast iron skillet, but to get really crispy edges, preheat the skillet in the oven and add the batter to a hot pan. Let the cornbread sit for about 10 minutes before trying to remove it from the skillet.
This recipe is perfect for serving with a savory dinner or for eating with butter and honey. If you do want to make it more savory, try adding in some cooked, chopped bacon, or diced jalapenos. Or stir some shredded cheddar cheese into the batter.
Want to make it more sweet? Use up to 1/2 cup of sugar.
Cornbread is somewhat crumbly, but if yours is too crumbly, you may be baking it too long. Or you may just need to let it cool a little longer.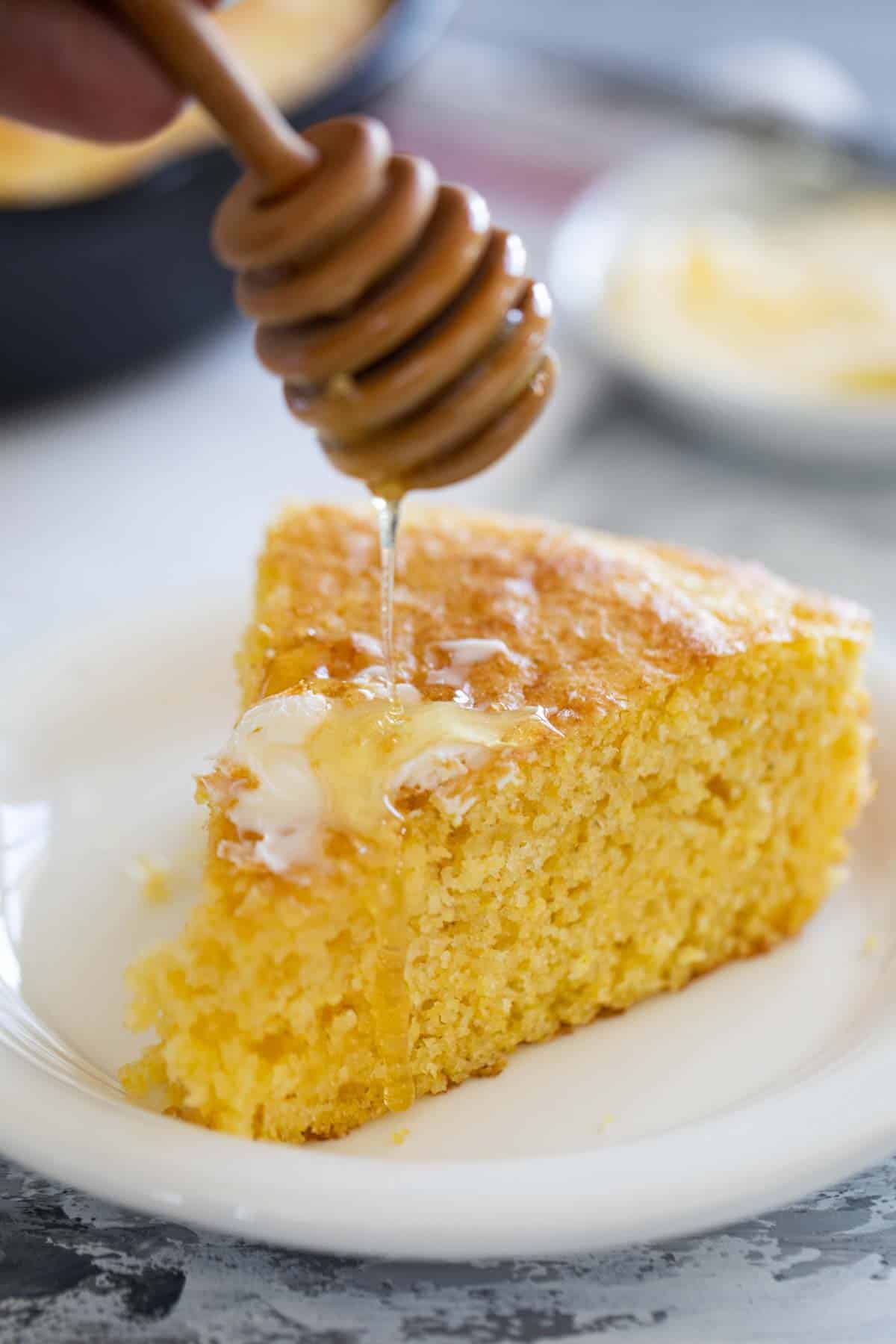 Homemade Cornbread Recipe FAQs
Can I use oil instead of butter?
You can! I like the flavor and texture that the butter gives, but oil will work, as well.
What kind of cornmeal do you use in cornbread?
I like to use yellow, fine ground cornmeal. This is the most common kind of cornmeal that you see at the grocery store. You could also use a white cornmeal, but it doesn't have that great color. If you want to use a medium grind cornbread, that will work – the texture will just be a little different.
Can you make cornbread ahead of time?
Technically, yes you can. But I do prefer the texture of fresh cornbread, so I always like to make it fresh. If I'm eating leftovers, I like to toast it a bit in the oven before eating.
Can you freeze cornbread?
Yes – cornbread freezes well. Let it cool completely before freezing. It can be frozen for up to 3 months.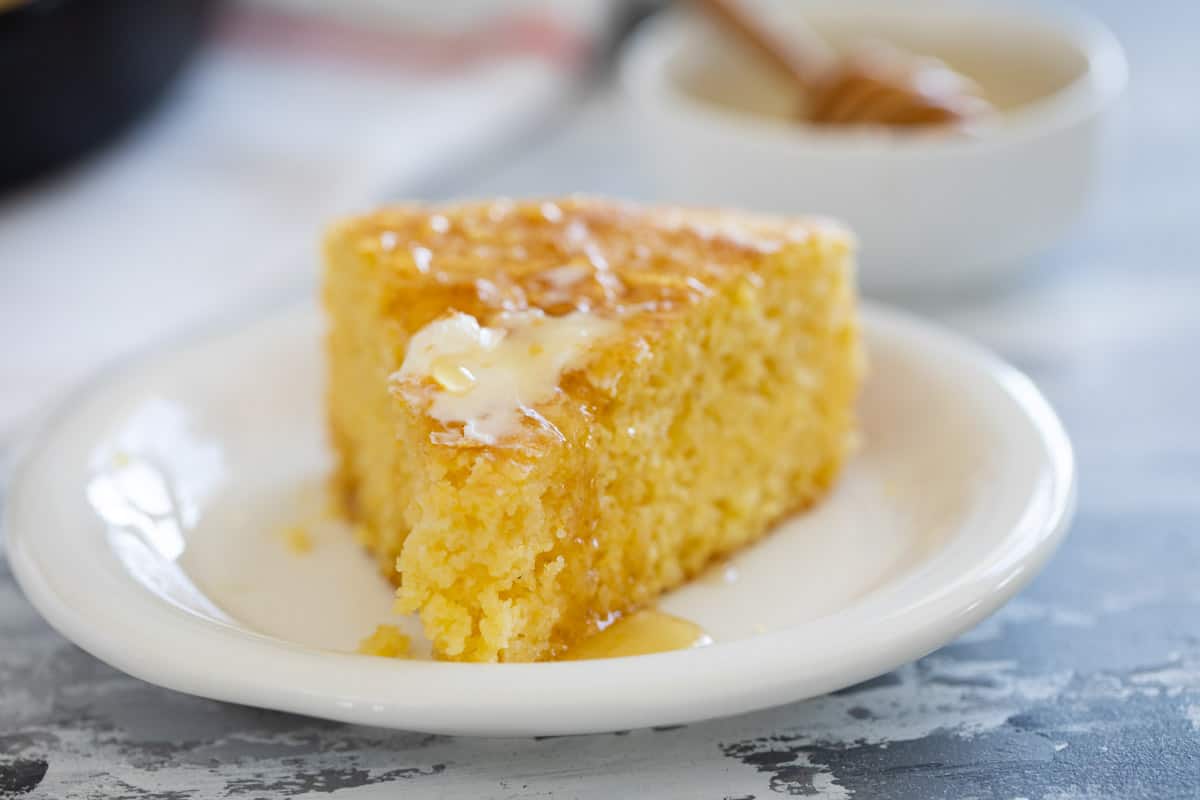 Recipes to Serve Cornbread With
Crock Pot Chili
Homemade Beef Stew
Instant Pot Pinto Beans
Crispy Baked Chicken Drumsticks
Taco Soup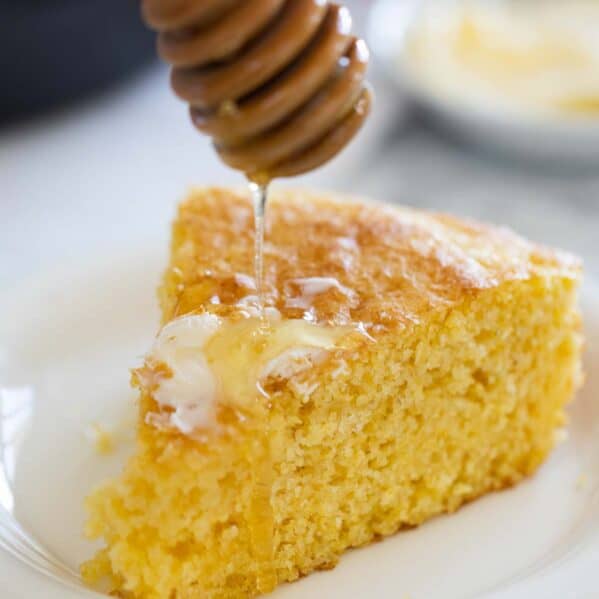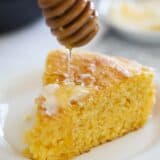 Cornbread Recipe
---
Author:
Prep Time: 10 minutes
Cook Time: 25 minutes
Total Time: 35 minutes
Yield: 8 servings 1x
Category: Bread
Method: Bake
Cuisine: American
Description
As easy as a box mix but a lot tastier, this homemade Cornbread Recipe is the perfect side dish. Serve it up with chili, beans, or with a pat of butter and a drizzle of honey.
---
Scale
Ingredients
1 cup all-purpose flour
1 cup yellow cornmeal
1/3 cup granulated sugar
3 1/2 teaspoons baking powder
1 teaspoon salt
1 cup buttermilk
1/3 cup melted butter, slightly cooled
1 large egg
---
Instructions
Preheat the oven to 400ºF.
Grease a 9-inch round cake pan or 9-inch cast iron skillet with butter.*
In a bowl, whisk together the flour, cornmeal, sugar, baking powder, and salt.
In another bowl, whisk together the buttermilk, melted butter, and egg.
Combine the wet ingredients with the dry ingredients and stir just until combined. Pour the batter into the prepared baking dish or skillet.
Bake in the preheated oven until golden brown and a toothpick inserted in the center comes out mostly clean or with just a few moist crumbs, abbot 20-25 minutes.
Let cool slightly before serving.
Recipe Notes:
*If you are using a cast iron skillet and want really crispy edges, try preheating the skillet in the oven, then adding the batter to the hot skillet before baking. Once removing from the oven, let it sit for at least 10 minutes before slicing and removing.
Nutrition information provided as an estimate only. Various brands and products can change the counts. Any nutritional information should be used as a general guide.
Nutrition
Serving Size: 1 slice
Calories: 207
Sugar: 4 g
Sodium: 685 mg
Fat: 18 g
Saturated Fat: 9 g
Unsaturated Fat: 4 g
Trans Fat: 0 g
Carbohydrates: 6 g
Fiber: 0 g
Protein: 7 g
Cholesterol: 49 mg
Keywords: Cornbread, cornbread recipe, homemade cornbread