A simple refried beans recipe that will make you ditch the can!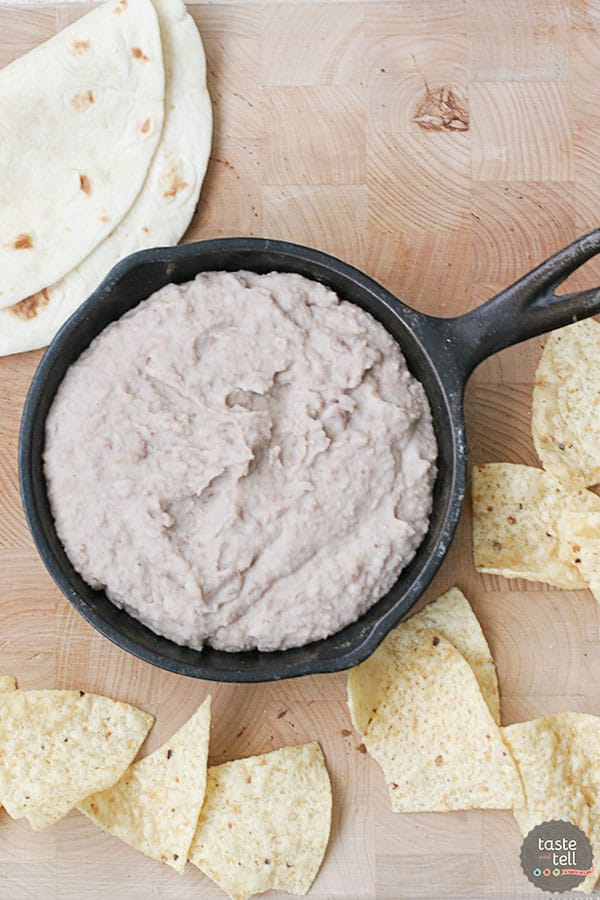 I have a long list of foods that I want to one day learn how to make from scratch. Over the years, I've made many of them – hamburger buns, corn dogs, crackers, Junior Mints – and lately, I've been trying out more of these foods on my list. The latest? A refried beans recipe.
Not only are refried beans from scratch easy, but they are super inexpensive as well. Do you know how cheap it is to buy a big bag of beans? They are one of the last bargains in the grocery store!!
At a recent family dinner, we were having Mexican food, and I decided that it was the time to try out a refried beans recipe at home. I only ran into one problem with these beans. The recipe says to cook them for 2 1/2 hours – but just be warned that this could be different depending on your beans. I had just bought a brand new bag of beans, but I'm guessing that they may have been on the store shelf for some time because I started my beans before I went to church, and when I got home 3 hours later, they still weren't done. I was able to let them cook for another 45 minutes, but I think they could have still used some time on the stove. They still tasted good, but the texture was off a little bit. With the leftovers, I brought out my immersion blender, and this actually helped with the texture quite a bit – although I didn't end up with the traditional chunky beans.
What are some things you've wanted to try making from scratch at home?
Like what you see here? Make sure you are following Taste and Tell for more recipes and ideas!
Facebook | Pinterest | Instagram | Twitter | Google+ | Weekly Newsletter | Feedly | Bloglovin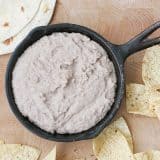 Refried Beans Recipe
---
Prep Time: 10 mins
Cook Time: 2 hours 45 mins
Total Time: 2 hours 55 mins
Yield: about 6 cups 1x
Description
A simple refried beans recipe that will make you ditch the can!
---
Scale
Ingredients
2 1/2 cups dry pinto beans
3 quarts water
1/2 cup chopped onion
2–4 tablespoons pork lard, bacon fat or olive oil
1/4 cup water
salt to taste
---
Instructions
Rinse the beans and remove any small stones or bad beans.
Put the beans in a large pot and cover with the 3 quarts of water. The beans should be covered by at least 3 inches. Bring the water to a boil, then lower to simmer and cook, covered, for about 2 1/2 hours. The beans are done when they are soft and the skin is beginning to break open.
Remove the beans from the heat and strain.
in a large frying pan over medium heat, cook the lard/bacon fat/oil and the onion until the onions are translucent. Add the strained beans and the 1/4 cup of water. Mash the beans with a potato masher while you are cooking them until they are a rough puree. If the beans are getting dried out, add more water. Add salt to taste.
Don't miss a thing! Follow me on Pinterest to see what I'm pinning!