A homemade Refried Beans recipe that is perfect as a side dish or to use as an ingredient in other recipes. Ditch the can and get restaurant quality refried beans at home!
Planning a Mexican feast? Serve these refried beans alongside Chicken Chimichangas, Smothered Chicken Burritos, or White Chicken Enchiladas.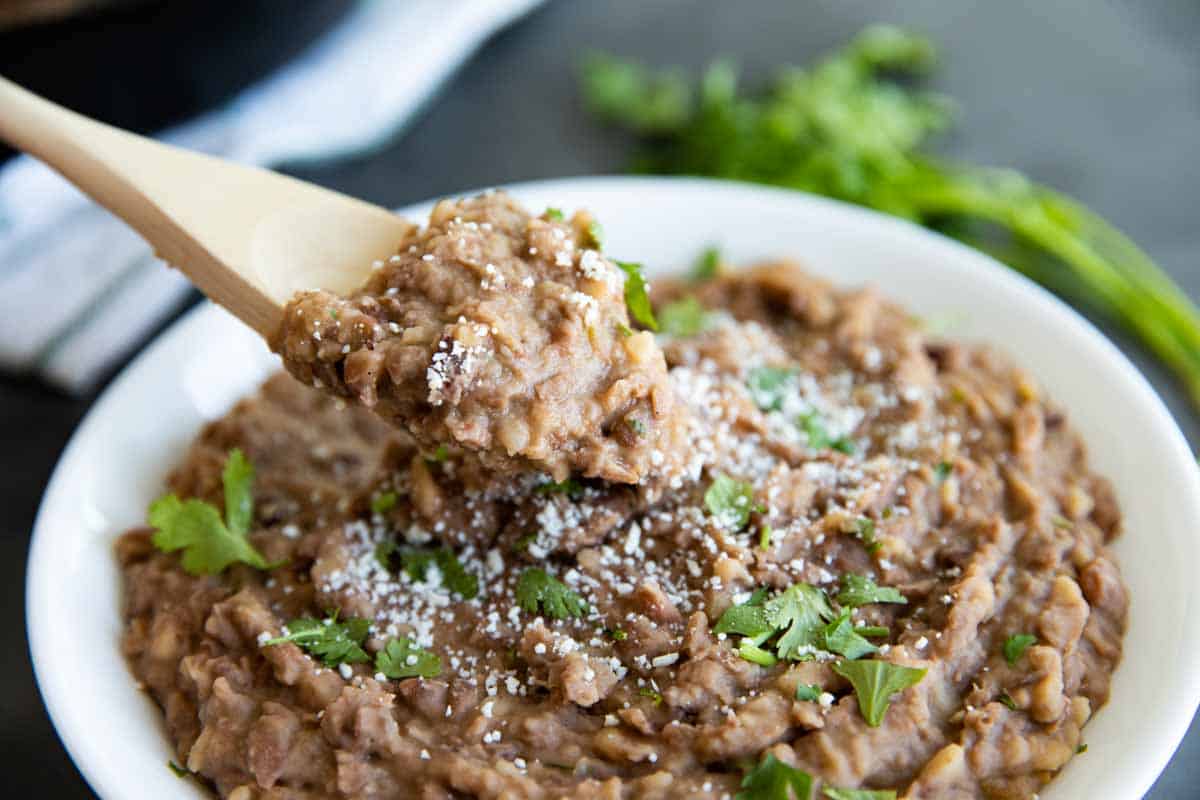 When I first started learning how to cook, I had a long list of things that I wanted to learn to make from scratch. Hamburger Buns, Corn Dogs, White Bread, and even Naan Bread.
One of the other recipes was this recipe for Refried Beans.
Now, I know that refried beans in a can are great. And they aren't even very expensive. But once you've had homemade refried beans, you'll know why they are so much better than the canned ones.
Think about the refried beans that you get alongside your meal at a Mexican restaurant. I love this recipe, because it rivals those beans, and you have way more control over what goes in them and what kind of texture you end up with.
Plus, they are done in 30 minutes, so it is definitely a winning side dish!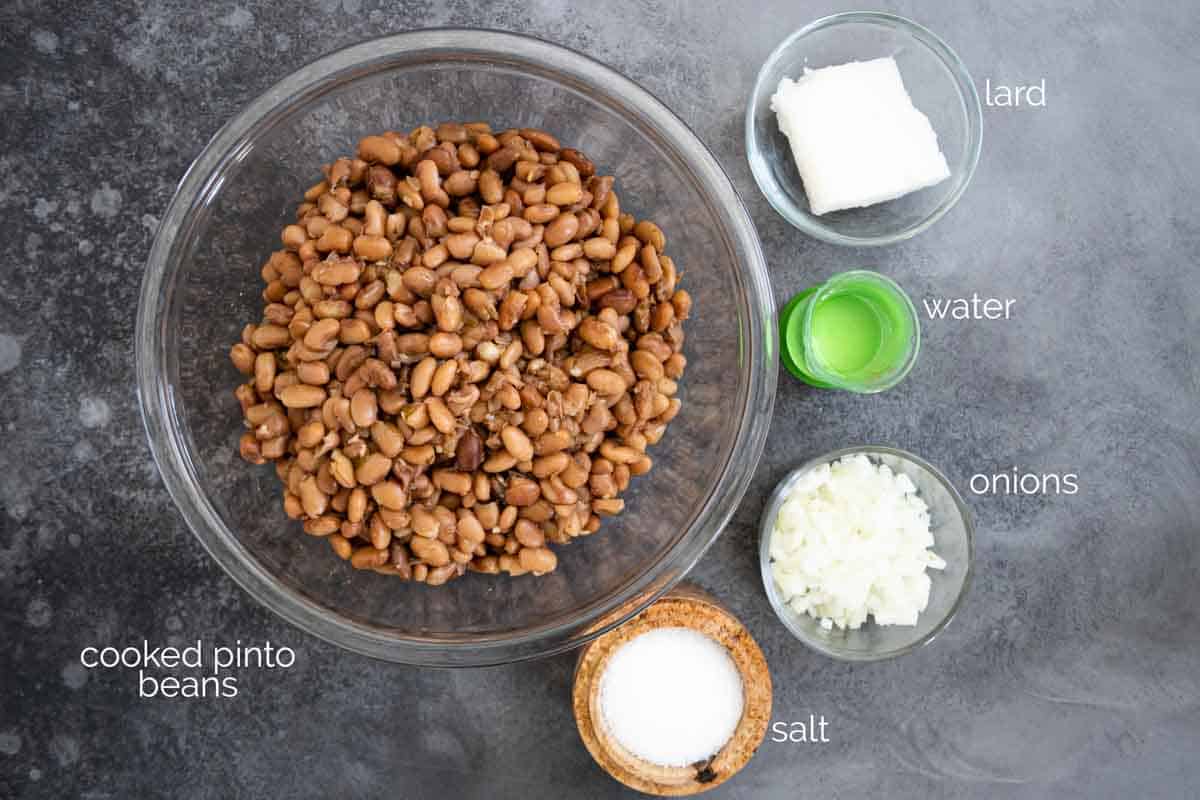 Ingredients
This recipe only takes a handful of ingredients!
FAT: To make these "refried", you'll need some sort of fat. The recipe calls for lard, bacon grease, or olive oil. If I have lard on hand, I'll use that, simply because that is the most traditional way to make them. My second choice is bacon grease because it adds tons of flavor. And I'll use olive oil when I don't have either of the other two on hand. You could also use vegetable oil, if desired.
ONION: You'll use about half a cup of chopped onion, just to give the beans some flavor. Feel free to throw in some garlic as well, or some chopped jalapeno for some spice.
BEANS: I like to use these Instant Pot Pinto Beans – they are super easy to make and way faster than cooking them on the stove top. If you don't want to cook up your own beans, though, you can use canned pinto beans. You'll need 4 cans of pinto beans to make a full recipe of these refried beans.
WATER: One reason I love making refried beans at home is because you can control how thick they are. I usually use between 1/4 cup and 1/2 cup, but if you like your beans thicker or thinner, just use more or less water. For an even deeper flavor, you can sub in chicken or beef broth.
SALT: Do not forget to taste your beans and use salt to season to your beans. I like them salty, so I'm a bit heavy handed with the salt, but use as much as you need to make the flavors sing.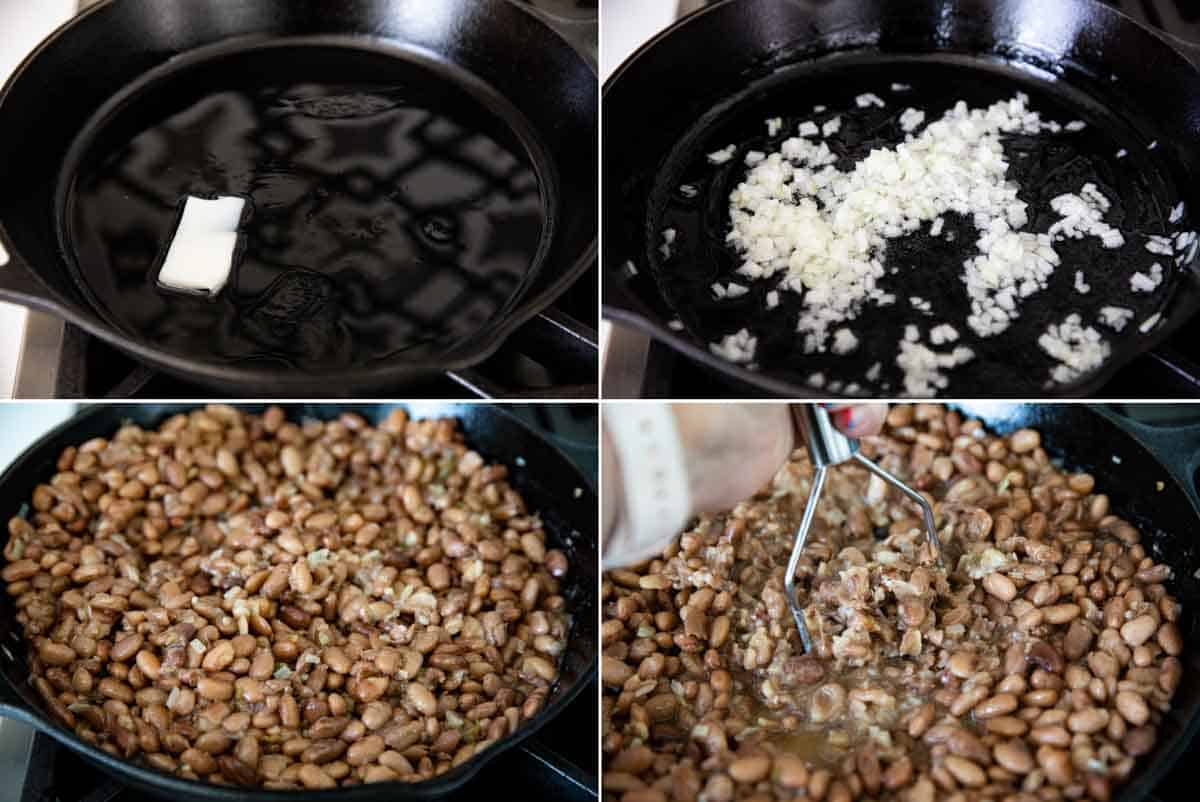 How to Make Homemade Refried Beans
Melt the fat: Start by melting whatever fat you are using in a large skillet over medium heat. I like to use a cast iron skillet because it holds the heat really well.
Cook the onion: Add the onion and cook until it is soft and translucent.
Add the beans: Next your drained beans go in with the onions. Start smashing them with a potato masher. The beans are already cooked, so they should smash pretty easily.
Add water: I like to add water about a tablespoon at a time, mashing as I go, until I reach the consistency that I like. I like to have chunks of beans in there, but for it to be a little bit loose overall. If you like them thicker, add less water. If you like them smoother, mash more or you can even transfer them to a food processor and process them until they are smooth.
Salt to taste: Taste the beans and add salt as needed.
Tips and Tricks
You can serve these as is, or top them. I'll usually add cilantro and cotija cheese, but they are great with some shredded cheddar (place a lid on top for the cheese to melt) or with a bit of hot sauce.
Store any leftovers in an airtight container in the refrigerator for up to 4 days.
You can also freeze the refried beans for up to 4 months. I like to freeze it in portions in ziplock bags.
Don't feel like you have to stick with pinto beans! You could use black beans, or even your favorite white beans.
I think these refried beans are the perfect side dish, but they also work great as a filling. I have listed some of my favorite recipes below that use refried beans.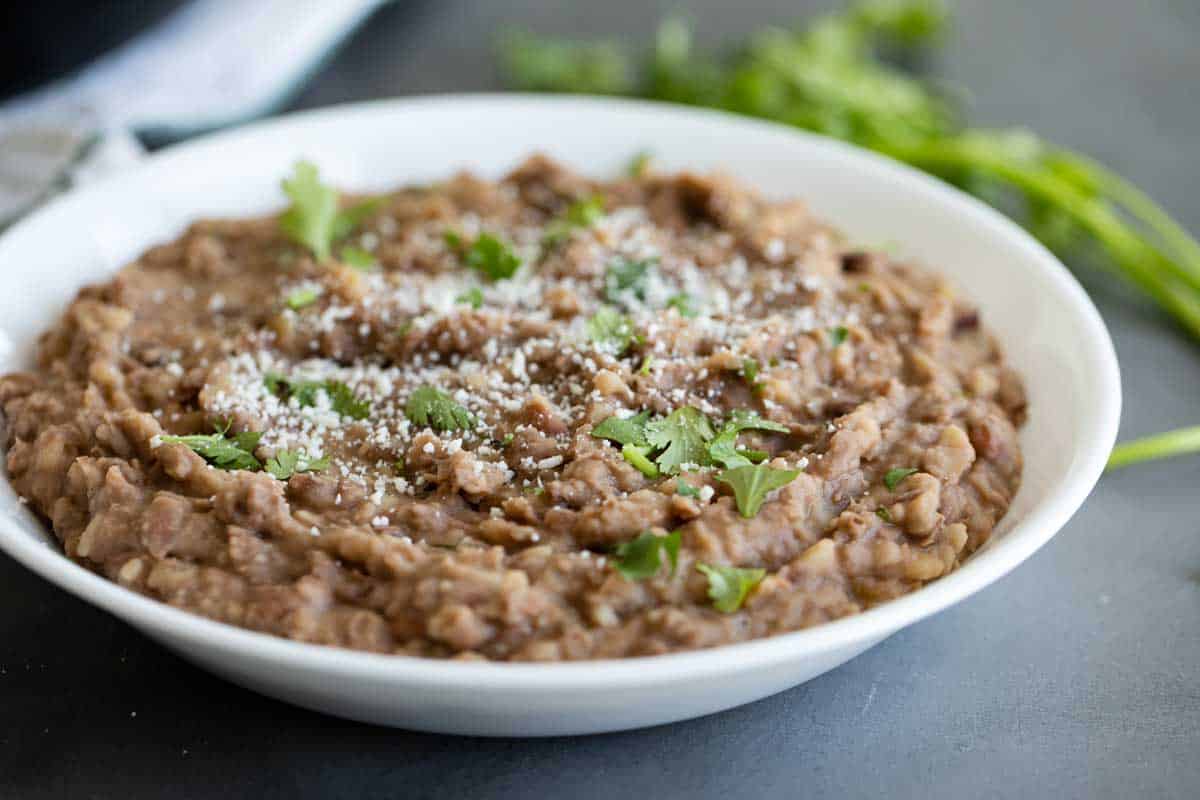 Recipes That Use Refried Beans
Beef Tostadas
Rio Grande Chicken Quesadilla Recipe
Breakfast Tostadas
Vegetarian Wraps with Beans and Cheese
Hot Beef and Bean Dip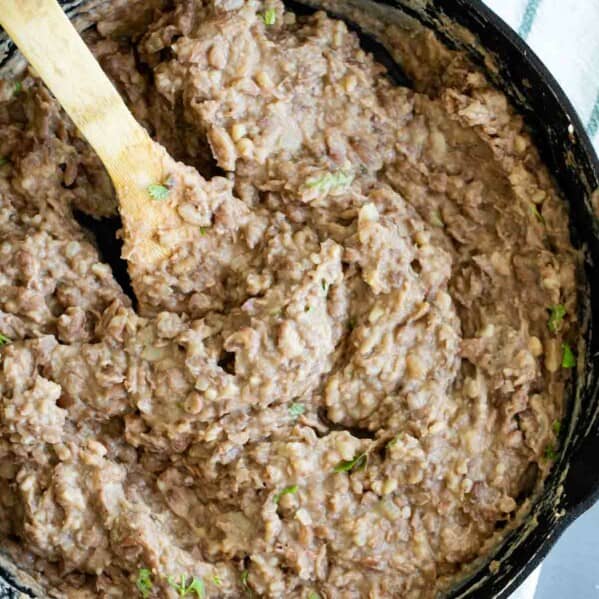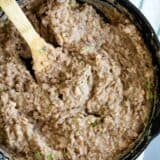 Refried Beans
---
Author:
Prep Time: 5 minutes
Cook Time: 25 minutes
Total Time: 30 minutes
Yield: about 6 cups 1x
Category: Side Dish
Method: Stove Top
Cuisine: Mexican
Description
A homemade Refried Beans recipe that is perfect as a side dish or to use as an ingredient in other recipes. Ditch the can and get restaurant quality refried beans at home!
---
Scale
Ingredients
2–4 tablespoons pork lard, bacon fat, or olive oil
1/4 cup chopped onion
6 cups cooked pinto beans
1/4 – 1/2 cup water
Salt, to taste
---
Instructions
In a large frying pan over medium heat, melt the lard. (If using bacon fat, melt over medium heat. If using olive oil, heat until shimmering over medium heat.) Add the onion and cook until it is translucent and soft, 3-5 minutes.
Add the beans, and stir to mix. Using a potato masher, start mashing the beans as they are cooking until they are a rough puree. Add water as needed to keep the beans from getting dried out and to bring them to your desired consistency.
Add salt to taste.
Serve as is, or top with cilantro and/or cheese.
Recipe Notes:
You can use homemade Pinto beans or canned. Either way, you will need about 6 cups of cooked beans. A 15 ounce can of pinto beans has about 1 1/2 cups of beans.
You can use other beans, as well! Refried black beans are great, or you could use a white bean.
Nutrition information provided as an estimate only. Various brands and products can change the counts. Any nutritional information should be used as a general guide. Nutrition information does not include toppings.
Nutrition
Serving Size: 1/2 cup
Calories: 151
Sugar: 0 g
Sodium: 1 mg
Fat: 4 g
Saturated Fat: 1 g
Unsaturated Fat: 0 g
Trans Fat: 0 g
Carbohydrates: 23 g
Fiber: 8 g
Protein: 8 g
Cholesterol: 3 mg
Keywords: refried beans, homemade refried beans, refried beans recipe