You will not want to save these Easy Breakfast Tostadas just for breakfast! This flavor-packed recipe is great for breakfast, lunch or dinner.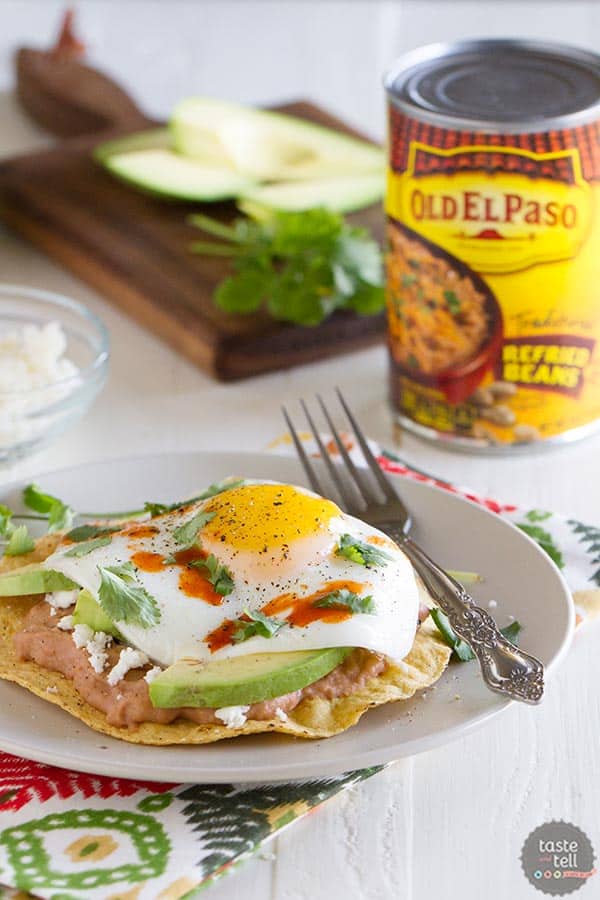 Most recipes fall into a few categories to me.
The worst – the ones that are just so bad that you end up making peanut butter sandwiches for dinner. The ones where you say – no way, I will never make that again.
Then there are the recipes that are pretty bad, but edible. Despite what you see here on Taste and Tell, a good chunk of the recipes I try go into this category. Sad, but true.
The next group are the recipes that are actually pretty good. But maybe not standout. The ones you say that you'd make again, but they get lost in the shuffle and then in the back of the recipe book, probably to never see the light of day again.
And what about the recipes that you really do love, and you actually do add to the rotation and your family is familiar with them and asks for that recipe often.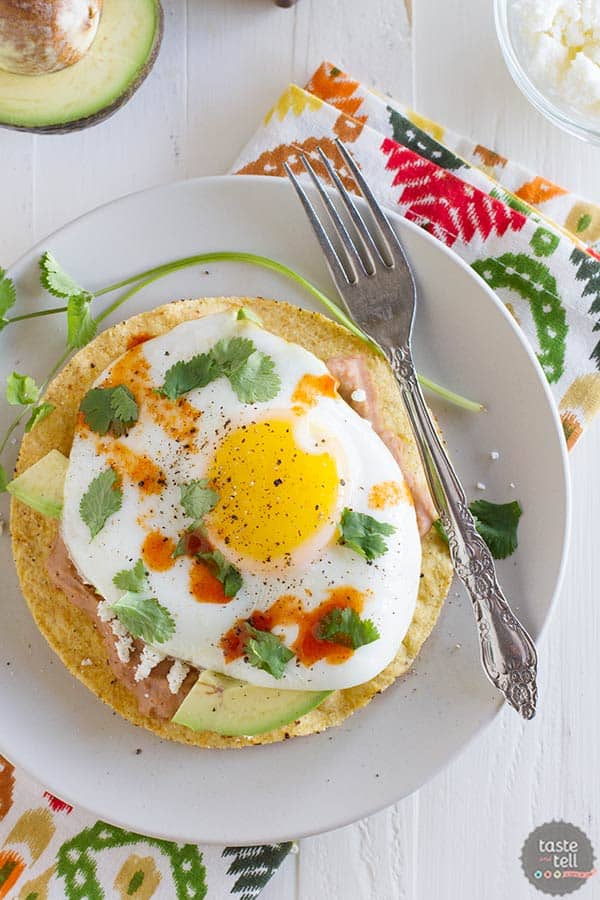 But my favorite kind of recipe – and probably the most rare to come across – is that recipe that you make and then cannot get it out of your head. You obsess over it. You make it over and over and you swear that you won't ever get sick of it. You make it for breakfast, and then again for lunch. (Not that I've ever done that. Totally hypothetical…)
This, right here, is one of those recipes. And it's crazy, because it's pretty stupid simple. I made these Easy Breakfast Tostadas for the first time, and then totally made it again for lunch that day. And then I had it again the next day. And this continued for a few days. In fact, I just had it again for lunch yesterday, but didn't have any more avocados on hand but did add some leftover bacon that was in the fridge. Holy. Yum.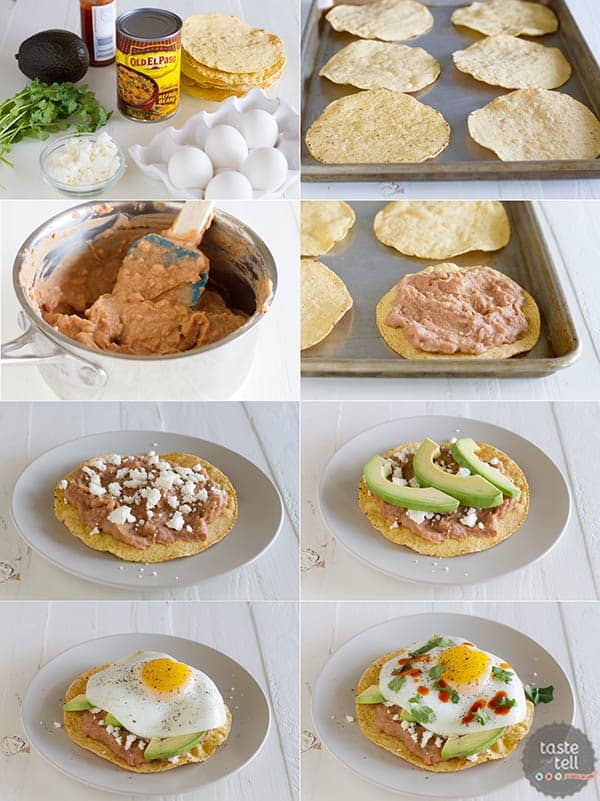 And when I say it's an easy breakfast, I mean it's an easy breakfast. Perfectly crispy Old El Paso™ tostada shells. Slather on some Old El Paso™ Refried beans. I'm totally going to try this with Old El Paso™'s Black Bean Refried Beans next time. Can't wait!!
Top it with some queso fresco, sliced avocado, and then a perfectly cooked egg. For me, that means sunny side up. But really, anything will work here – even scrambled eggs! A little bit of cilantro and hot sauce goes on top to really make this breakfast dish shine.
I know that these Easy Breakfast Tostadas are going to be making a showing at my table for a long time to come!!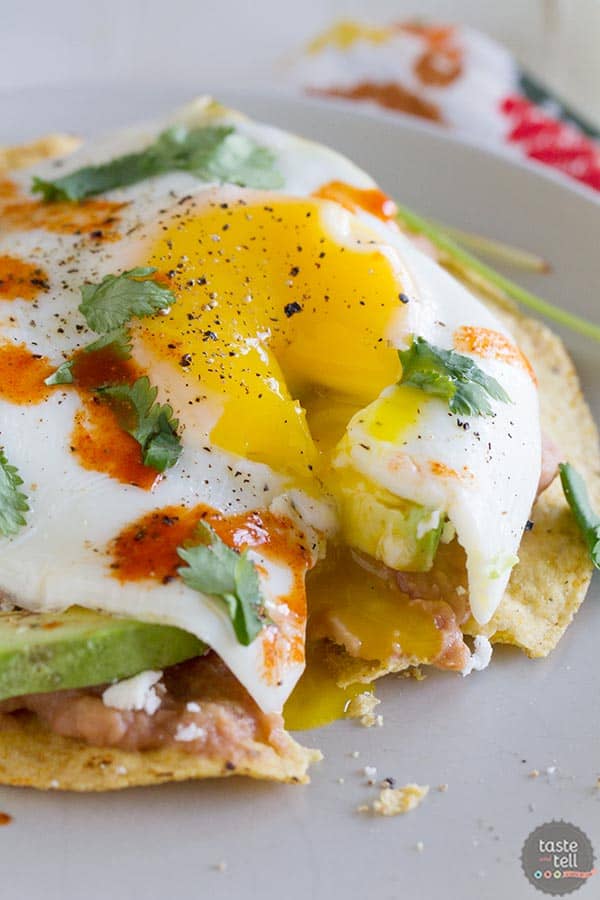 Like what you see here? Make sure you are following Taste and Tell for more great recipes and ideas!!

Facebook ** Pinterest ** Twitter ** Instagram ** Google+
or you can subscribe to my newsletter or Feedly or Bloglovin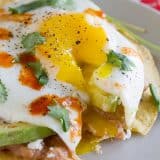 Easy Breakfast Tostadas
---
Prep Time: 10 mins
Cook Time: 7 mins
Total Time: 17 mins
Yield: 6 servings 1x
Description
You will not want to save these Easy Breakfast Tostadas just for breakfast! This flavor-packed recipe is great for breakfast, lunch or dinner.
---
Scale
Ingredients
1 can (16-oz) Old El Paso™ Traditional Refried Beans
6 Old El Paso™ tostada shells
6 eggs
1/4 cup crumbled queso fresco
1 avocado, sliced
cilantro
hot sauce
---
Instructions
Preheat the oven to 325ºF. Place the tostada shells in a single layer on a baking sheet. Bake for 6 to 7 minutes or until crisp.
Meanwhile, place the refried beans in a 1-quart saucepan. Heat over medium heat until warmed through.
Cook the eggs according to your preference.
To assemble the tostadas, divide the refried beans between the 6 tostada shells and spread evenly. Top each with some queso fresco, followed by a few slices of avocado. Layer an egg on each tostada and season with salt and pepper. Top with cilantro and a few dashes of hot sauce, if desired. Serve warm.
I am in a working relationship with Old El Paso, and this post has been sponsored. I'm so glad to be able to work with companies and organizations that I truly believe in. Thank you for supporting them, too.