An Indian style flatbread, this Easy Naan Recipe is easy enough to make at home. Serve it with a curry for a delicious meal.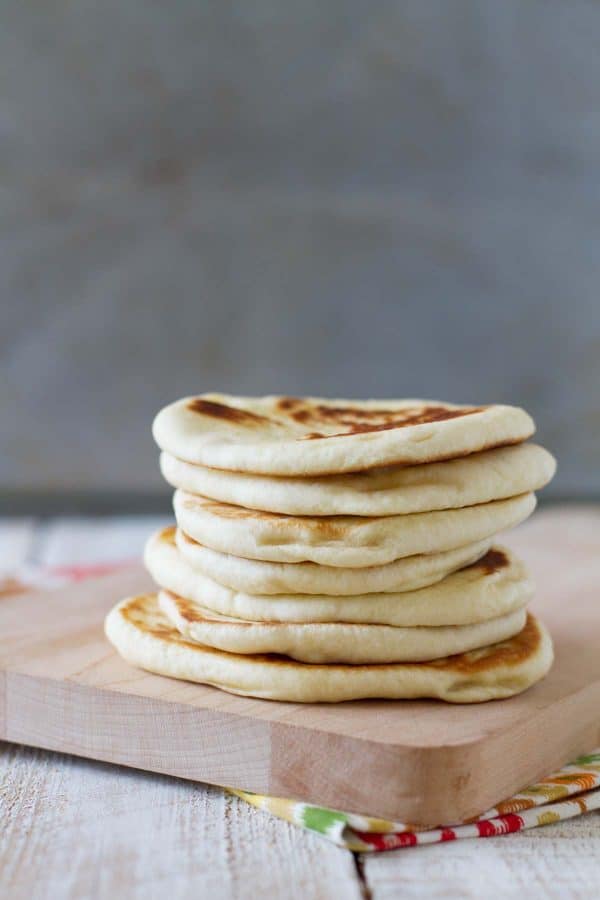 Since my husband isn't a fan of ethnic foods, I don't get to eat them often. The exceptions are if we have a girls night out, or if my husband isn't going to be home and I can make my own at home. Since I can't very well suggest Indian food every time I go out with the girls, I figured I should try to make some of my favorites at home.
And you can't have Indian food without naan. It's hard to exactly replicate this famous bread at home without a tandoori oven, but this recipe is pretty amazing anyway. I won't even tell you how many of these I eat when I make this!!
If you don't know what naan is, it is an Indian flatbread. It is also found in different parts of Asia, Iran and the Caribbean. It is a soft flatbread, kind of similar to a pita. It is a yeasted dough that is flattened and traditionally cooked in a tandoori oven. In some places, you can find it used as a wrap for different meats, but I love it when it is served with a curry. I think it's the best way to get all of the delicious juices from the dish.
This Naan Bread Recipe is easy enough to make at home, although it does take a little bit of time for the the dough to rise, so keep that in account. This recipe makes 30 smaller sized pieces, which I think is great for serving alongside curry. But you can always make them larger, as well.
This recipe is pretty straight forward, but feel free to change it up according to your needs. I think it would be great to brush with butter and herbs once it's cooked!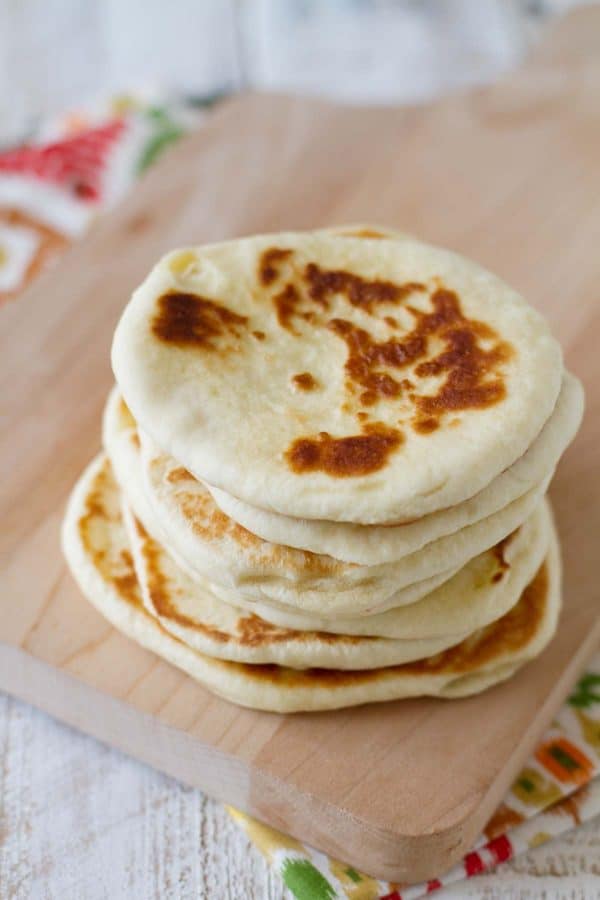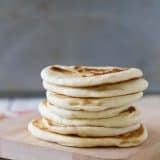 Easy Naan Bread
---
Author:
Prep Time: 15 minutes
Cook Time: 30 minutes
Total Time: 3 hours
Yield: makes about 30 smaller sized pieces 1x
Category: Bread
Method: Stove Top
Cuisine: Indian
Description
An Indian style flatbread, this Easy Naan Recipe is easy enough to make at home. Serve it with a curry for a delicious meal.
---
Scale
Ingredients
1 (.25 ounce) package active dry yeast
1 cup warm water
1/4 cup white sugar
3 tablespoons milk
1 egg, beaten
2 teaspoons salt
3 1/2 – 4 cups bread flour
1/4 cup butter, melted
---
Instructions
In a large bowl or the bowl of a stand mixer, combine the yeast, water, and a pinch of the sugar. Let sit until the yeast blooms, about 10 minutes. Stir in the rest of the sugar, milk, egg and salt. Add in the flour, 1/2 cup at a time, until the dough pulls away from the sides of the bowl. Knead for 6-8 minutes, or until smooth.
Place the dough in an oiled bowl, cover with a towel, and allow to rise in a warm place until doubled, about 1 hour.
Punch down the dough. Pinch off pieces about the size of a golf ball and roll into balls. Place on a baking sheet and cover with a towel. Allow to rise until doubled in size, about 30 minutes.
Preheat a griddle or grill to medium-high heat.
Roll one ball into a thin circle. Lightly oil the grill and place the dough on the grill. Cook for 2 to 3 minutes, or until lightly browned. Brush the uncooked side with butter, then flip over and cook the second side. Remove from the grill and continue with the remaining dough.