Pillowy soft and perfect alongside any curry, this naan bread is so easy that you'll wonder why you haven't been making it yourself all along!
You can't beat a piece of this naan bread alongside Coconut Curry Chicken or Butter Chicken. It's so easy and delicious and way fresher than what you can get at the grocery store!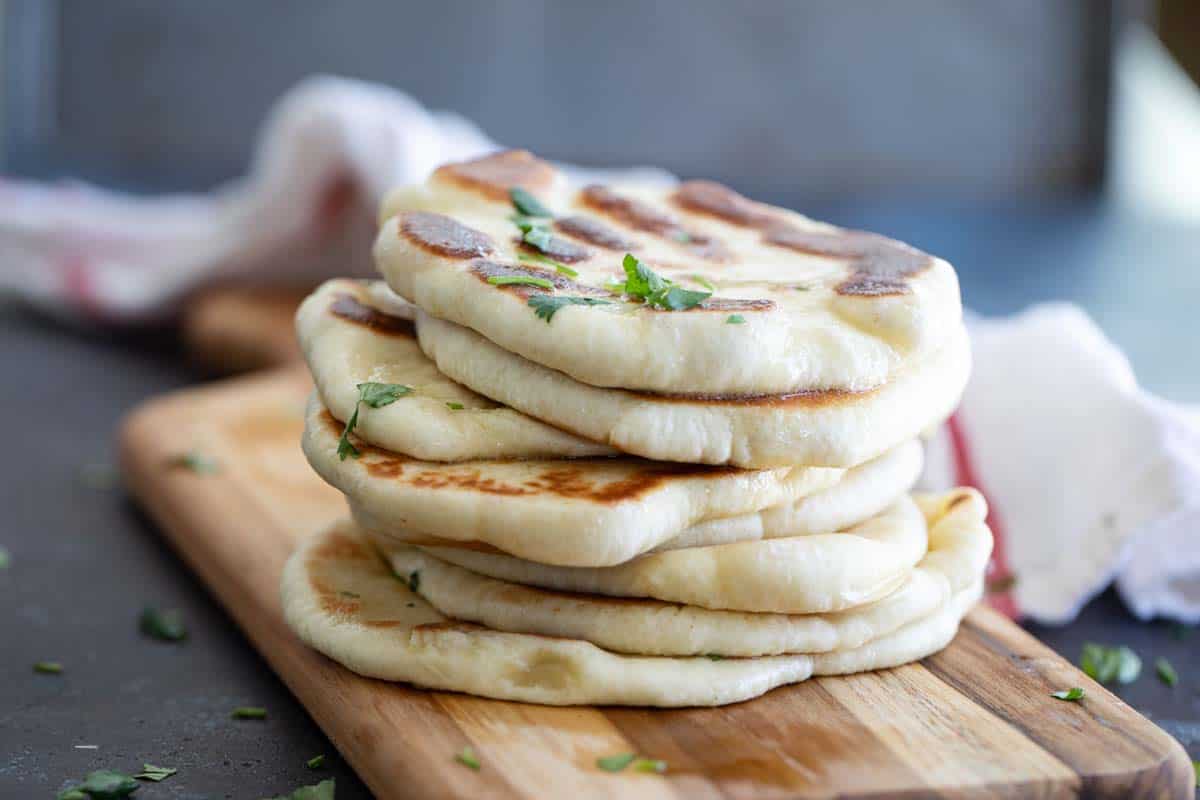 If you know me, you know I have a soft spot for anything yeasted. And this naan bread is no exception.
It is perfect alongside any Indian food, but I also love to use it as a flatbread for easy pizzas or even slather it with nutella for a treat. I really wouldn't complain if I had a batch of this on hand at all times!
What is Naan Bread?
Naan bread is an Indian flatbread. It is also found in different parts of Asia, Iran and the Caribbean. It is a soft flatbread, kind of similar to a pita. It is a yeasted dough that is flattened and traditionally cooked in a tandoori oven. In some places, you can find it used as a wrap for different meats, but I love it when it is served with a curry. I think it's the best way to get all of the delicious juices from the dish.
Now I don't have a tandoori oven at home, and I'm assuming 99.9% of you don't either, so of course this won't be completely authentic. But I do have to say I'll take this over the grocery store naan any day.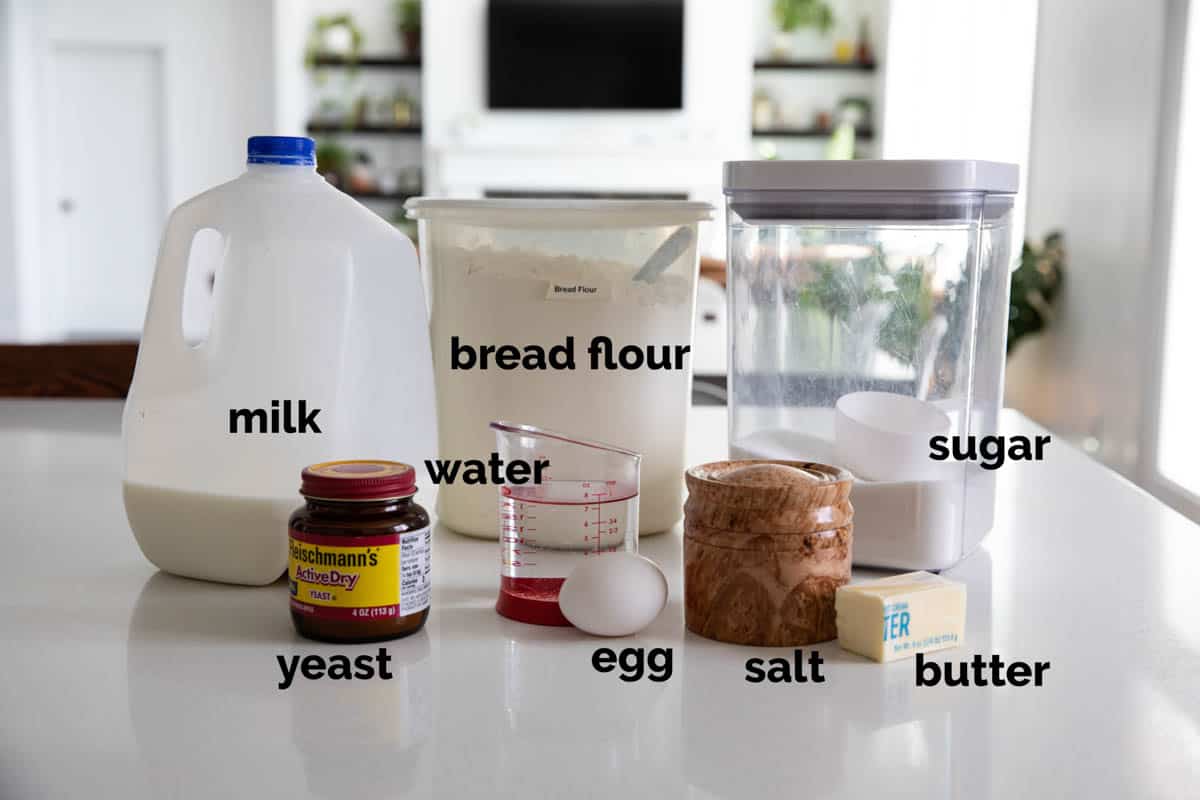 Ingredients for Naan Bread
This bread takes just a few ingredients – and I have them on hand at all times, so it's easy to whip up a batch!
Active Dry Yeast – you could use instant yeast if that is what you have. If using instant, you don't need to proof the yeast first, so you can skip that step.
Warm Water – the water should be just warm to the touch. Too hot and you'll kill the yeast.
Sugar – the sugar helps to activate the yeast. It also helps to flavor the naanm as well as give it some color when it cooks.
Milk – I use 2% because that's what we keep on hand, but you could probably use any milk and be fine.
Egg – I always use large eggs.
Salt – don't skip this. It brings a lot of flavor to the bread.
Bread Flour – using bread flour is important for naan because it helps with the chewier texture. You could use all-purpose flour and the naan will be delicious, still, but I think bread flour gives you superior results.
Butter – the butter gets brushed on the naan as it cooks. I have actually made this and left off the step to add the butter, and it was still delicious, although not quite as luxurious. The instructions state to brush it on the one side, but I will often brush the butter on both sides.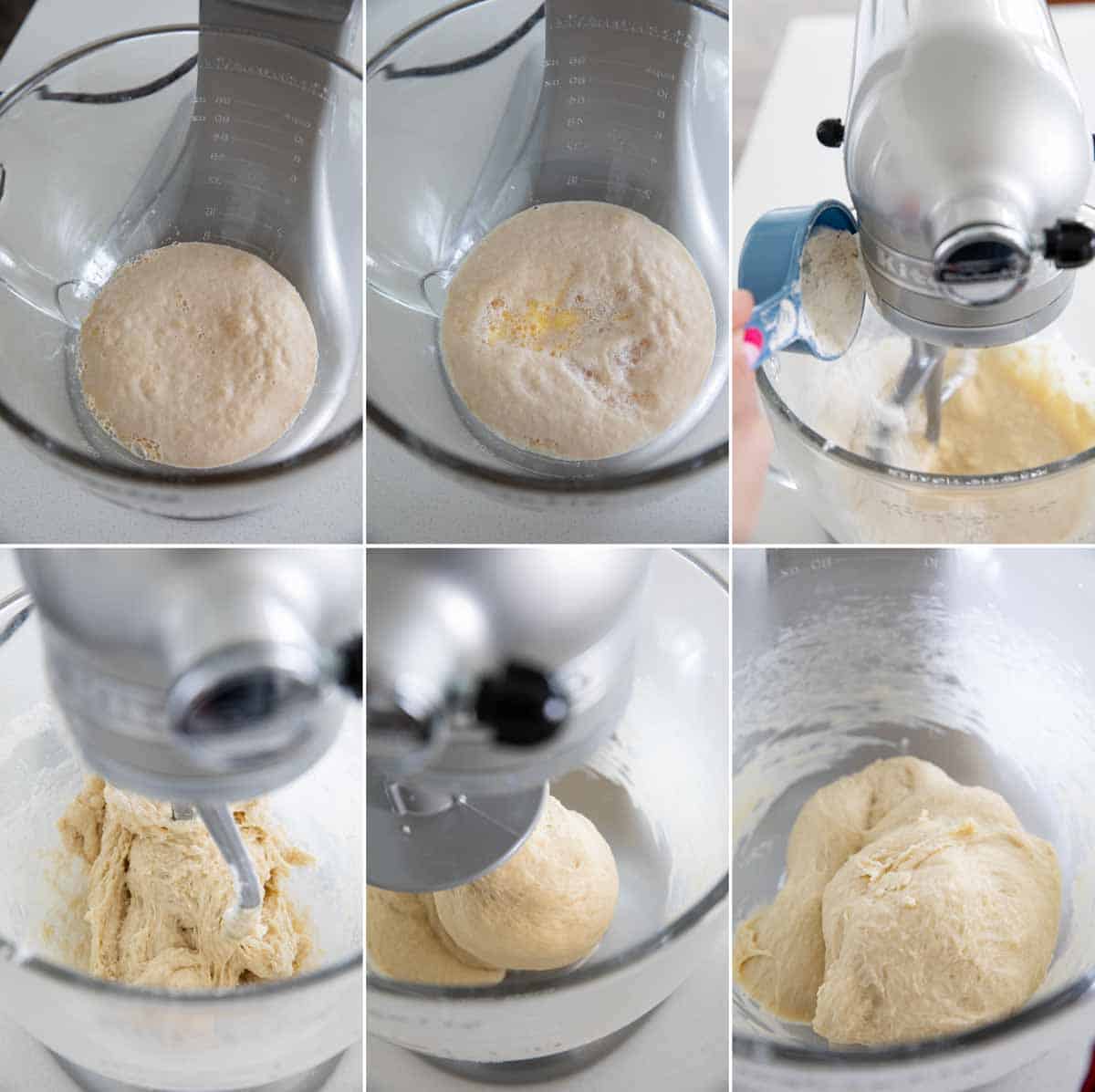 How to Make It
Make sure to check out the recipe card below for ingredient amounts and full instructions!
1 – Proof the yeast in the warm water with a bit of the sugar.
2 – Add the rest of the sugar, the milk, egg and salt.
3 – Start adding in the flour, 1/2 cup at a time.
4 – Continue to add flour until the dough starts to pull away from the sides of the bowl.
5 – Switch to the dough hook and knead until the dough is smooth.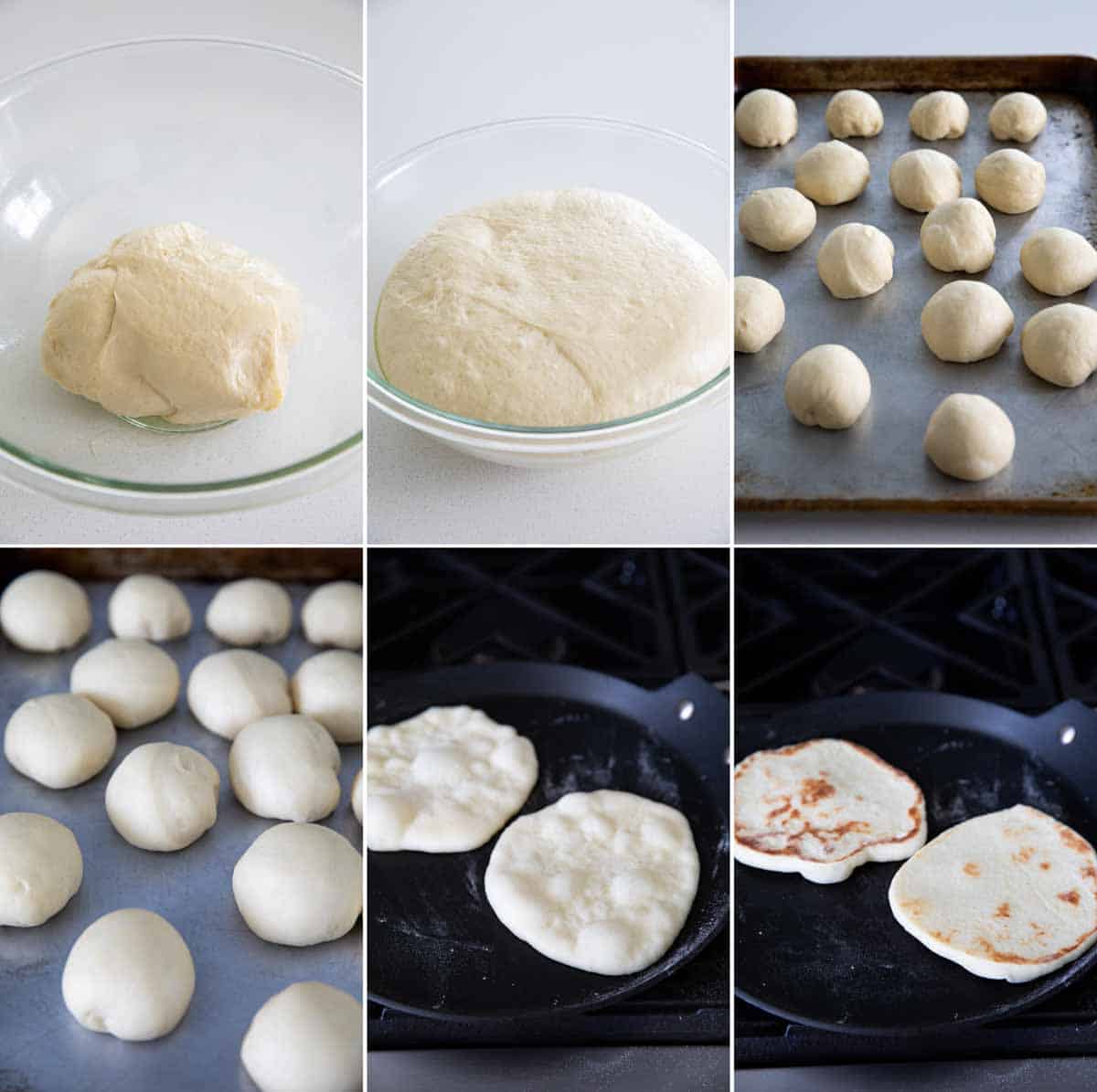 6 – Place the dough in a greased bowl and cover with a towel to rise.
7 – Let the dough rise until doubled.
8 – Divide the dough into 16 equal pieces and form into balls. Set on a baking sheet and cover.
9 – Let the balls rise until doubled.
10 – Roll the dough into thin rounds.
11 – Place in a hot skillet, griddle or grill and cook until the bottom is browned and the top is bubbling.
12 – Brush the top side with butter, then flip over and cook until browned.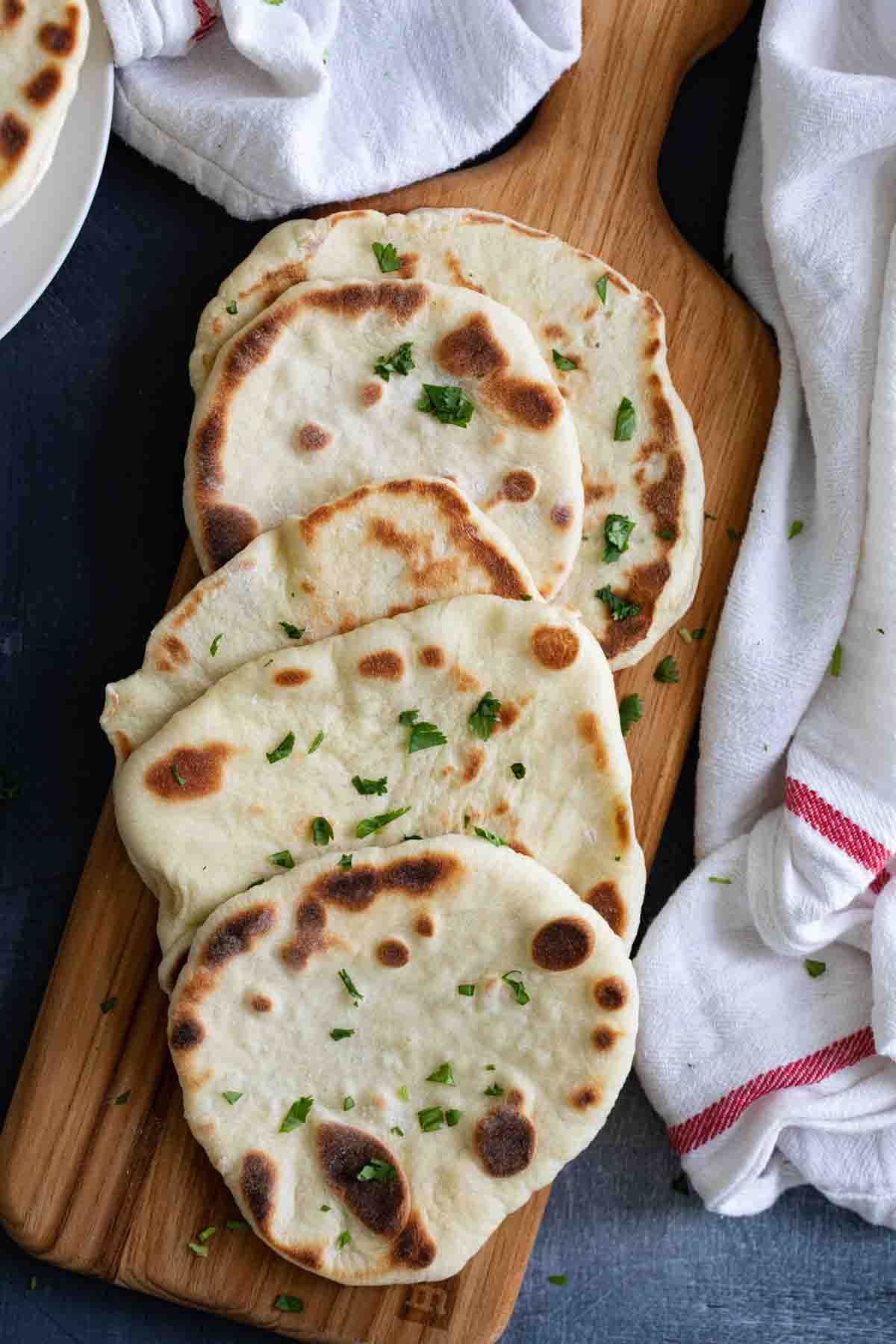 Tips and Tricks
You can use a grill, griddle or a skillet to make these. I like to use either a griddle or a cast iron pan.
For the best results, roll the dough very thin.
Feel free to make it your own and add spices or garlic into your dough. Or top it with a garlic infused butter.
You can definitely make these bigger, if desired. I feel like this size is the perfect individual size, but I never complain about a bigger piece of bread! And when I originally posted this recipe, I made it into 30 small pieces, which works well for kids.
Make it ahead! This naan bread freezes well and can be taken out of the freezer one at at time, or as needed.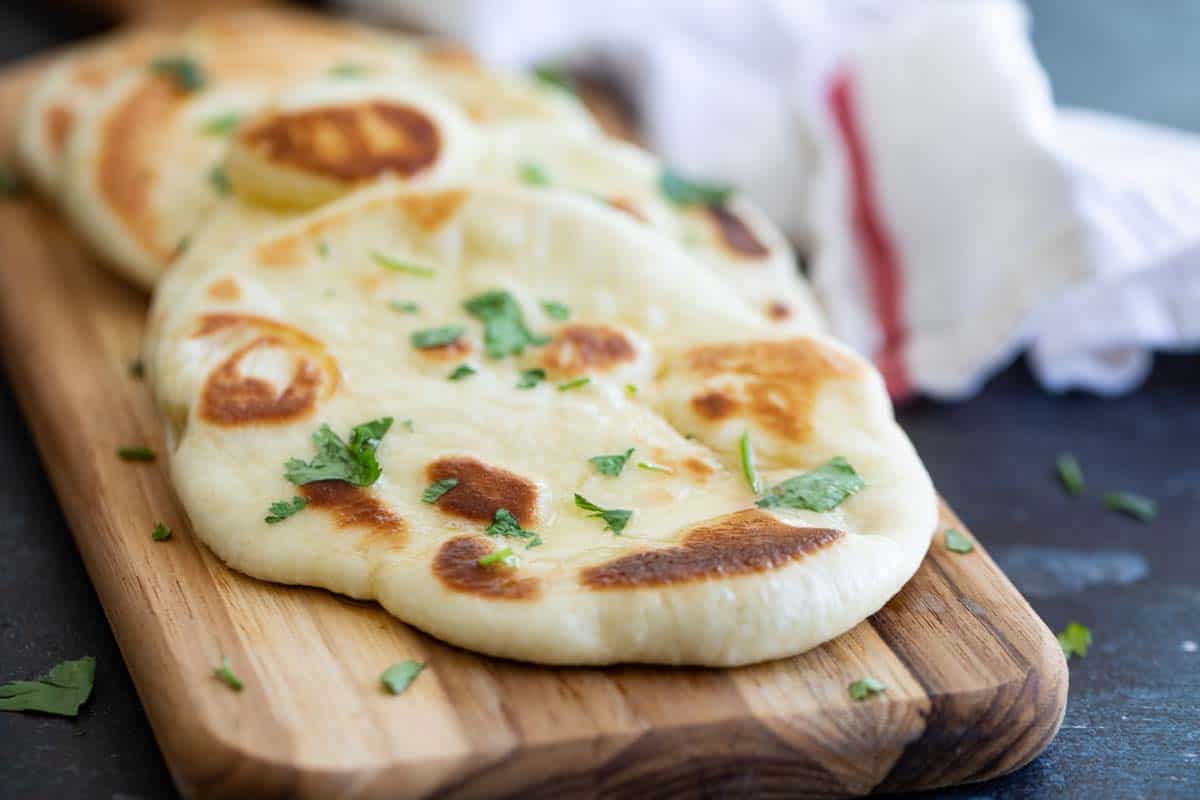 More Fun Bread Recipes to Make at Home
My Homemade Pizza Dough is one of the most popular recipes here on Taste and Tell for a reason! My kids never even ask for take out anymore.
Crumpets at home? You bet!
These homemade Hamburger Buns really take that burger to a new level.
There is nothing better than a fresh loaf of Homemade White Bread coming from the kitchen.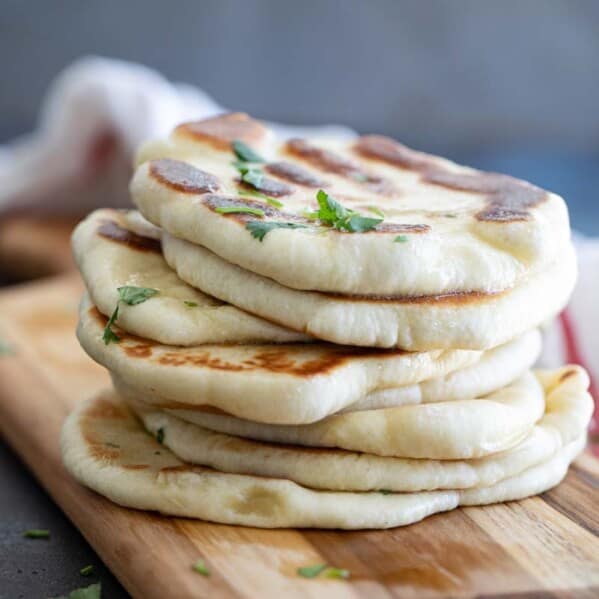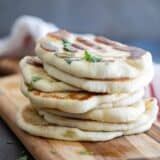 Naan Bread
---
Author:
Prep Time: 15 minutes
Rising Time: 1 hour 30 minutes
Cook Time: 30 minutes
Total Time: 2 hours 15 minutes
Yield: 16 1x
Category: Bread
Method: Stove Top
Cuisine: Indian
Description
Pillowy soft and perfect alongside any curry, this naan bread is so easy that you'll wonder why you haven't been making it yourself all along!
---
Scale
Ingredients
1 (.25 oz) package active dry yeast (or 2 1/4 teaspoons)
1 cup warm water
1/4 cup white sugar
3 tablespoons milk
1 egg, slightly beaten
2 teaspoons salt
3 1/2 – 4 cups bread flour
1/4 cup butter, melted
---
Instructions
In a large bowl or the bowl of a stand mixer, combine the yeast, water and a pinch of the sugar. Let sit until the yeast blooms, about 10 minutes.
Stir in the rest of the sugar, the milk, egg and salt. Start adding in the flour, 1/2 cup at a time, until the dough pulls away from the sides fo the bowl. If using a stand mixer, switch to the dough hook and knead for 6-8 minutes, or until smooth. If making by hand, pour the dough out onto a lightly floured surface and knead by hand until smooth.
Place the dough in an oiled bowl, cover with a towel, and allow to rise in a warm place until doubled, about 1 hour.
Punch down the dough. Divide the dough into 16 equal pieces and roll into balls. Place on a baking sheet and cover with a towel. Allow the dough to rise until doubled in size, another 30 minutes.
Preheat a griddle or grill to medium-high heat.
Roll one ball at a time into a thin circle. Lightly oil the griddle and place the dough on the griddle. Cook for 2 to 3 minutes, or until slightly browned on the bottom and bubbles form on top. Brush the uncooked side with the melted butter, then flip over and cook the second side.
Remove from the griddle and continue cooking the remaining dough.
Recipe Notes:
If desired, you can butter the second side once the naan has come off the griddle.
Adapted slightly from allrecipes
Nutrition information provided as an estimate only. Various brands and products can change the counts. Any nutritional information should be used as a general guide.
Nutrition
Serving Size: 1 piece
Calories: 145
Sugar: 3 g
Sodium: 296 mg
Fat: 3 g
Saturated Fat: 2 g
Unsaturated Fat: 1 g
Trans Fat: 0 g
Carbohydrates: 24 g
Fiber: 0 g
Protein: 4 g
Cholesterol: 19 mg
Keywords: naan bread, indian food, bread