Take advantage of sweet summer corn with this Mexican Corn Salad – filled with Mexican cheese, lime, cilantro and a zing of spiciness.
This Mexican Corn Salad is the perfect side dish for meals like these Fried Fish Tacos, this Taco Pie, or White Chicken Enchiladas.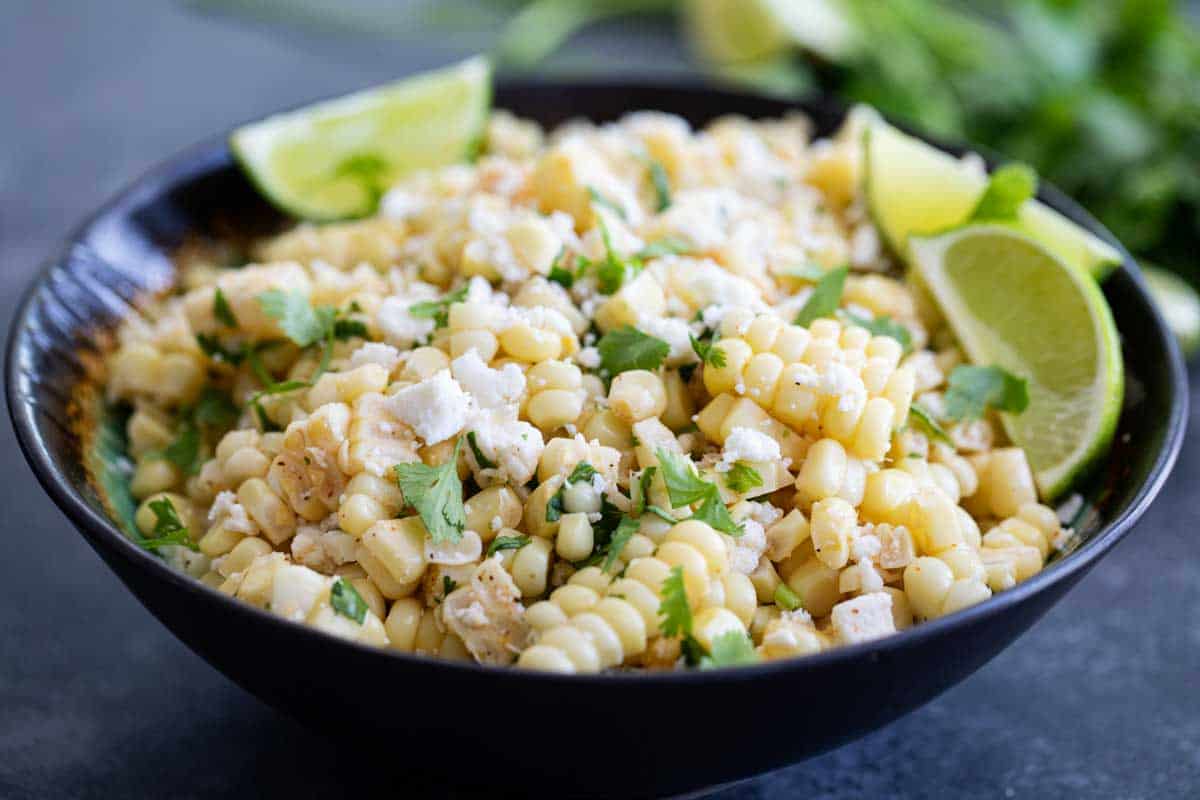 Mexican Corn Salad Recipe
If there is one vegetable we consume more than anything else all summer long, it is corn. I'll take it in any form that I can get get it, but grilled corn has got to be right up there on my list of favorites. But add in some Mexican flavors and you know I'll be first in line!
This is a great salad to take to family dinners and summer bbqs, as well, because it is great both warm and cold. Perfect for pretty much any situation!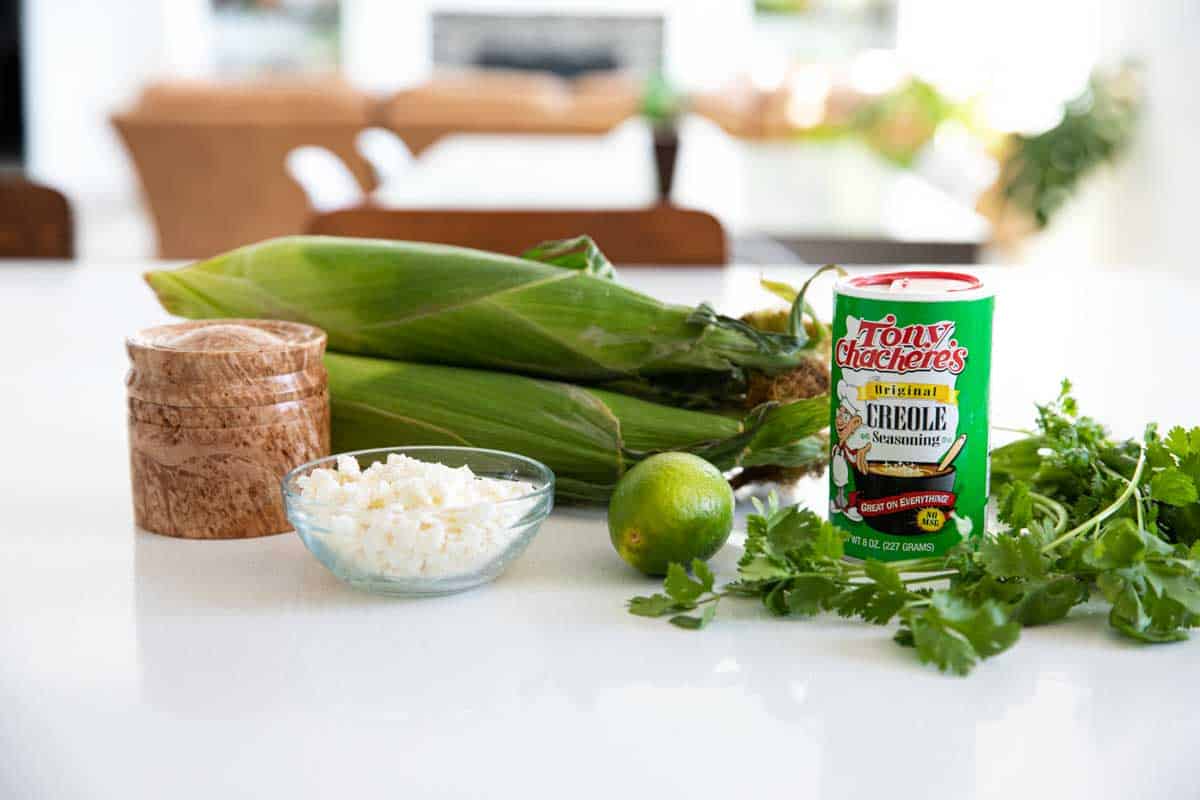 Ingredients
Corn on the Cob – I like to grill my fresh corn, but this recipe would work with frozen corn in a pinch. I have heard great things about the frozen grilled corn from Trader Joe's, so that would be a great substitution – especially when fresh corn isn't available.
Creole Seasoning – Now, I know I'm calling this a Mexican Corn Salad. And it's seasoned with Creole seasoning. No, my salad is not having an identity crisis. I actually watched a video awhile back where they used Creole seasoning on corn, and I had some one hand, so I decided to try it out one day. It gives a great amount of flavor and spice and pairs well with the other Mexican flavors. If you want to go more traditional, try adding in some chili powder, cumin, and paprika. But trust me and at least try it with the Creole seasoning!
Salt – I start with 1/2 teaspoon, but always taste and add more if needed.
Cotija Cheese – you can find this by the other Mexican cheeses in the grocery store. Most major grocery stores carry it. I have also substituted queso fresco. You could also use feta or parmesan.
Fresh Lime Juice – this is a must. And while bottled lime juice will work in a pinch, I definitely suggest using a fresh lime.
Cilantro – this is another ingredient that really brings out the Mexican flavors. If you aren't a cilantro fan, I would at least add in some parsley or chives for some freshness.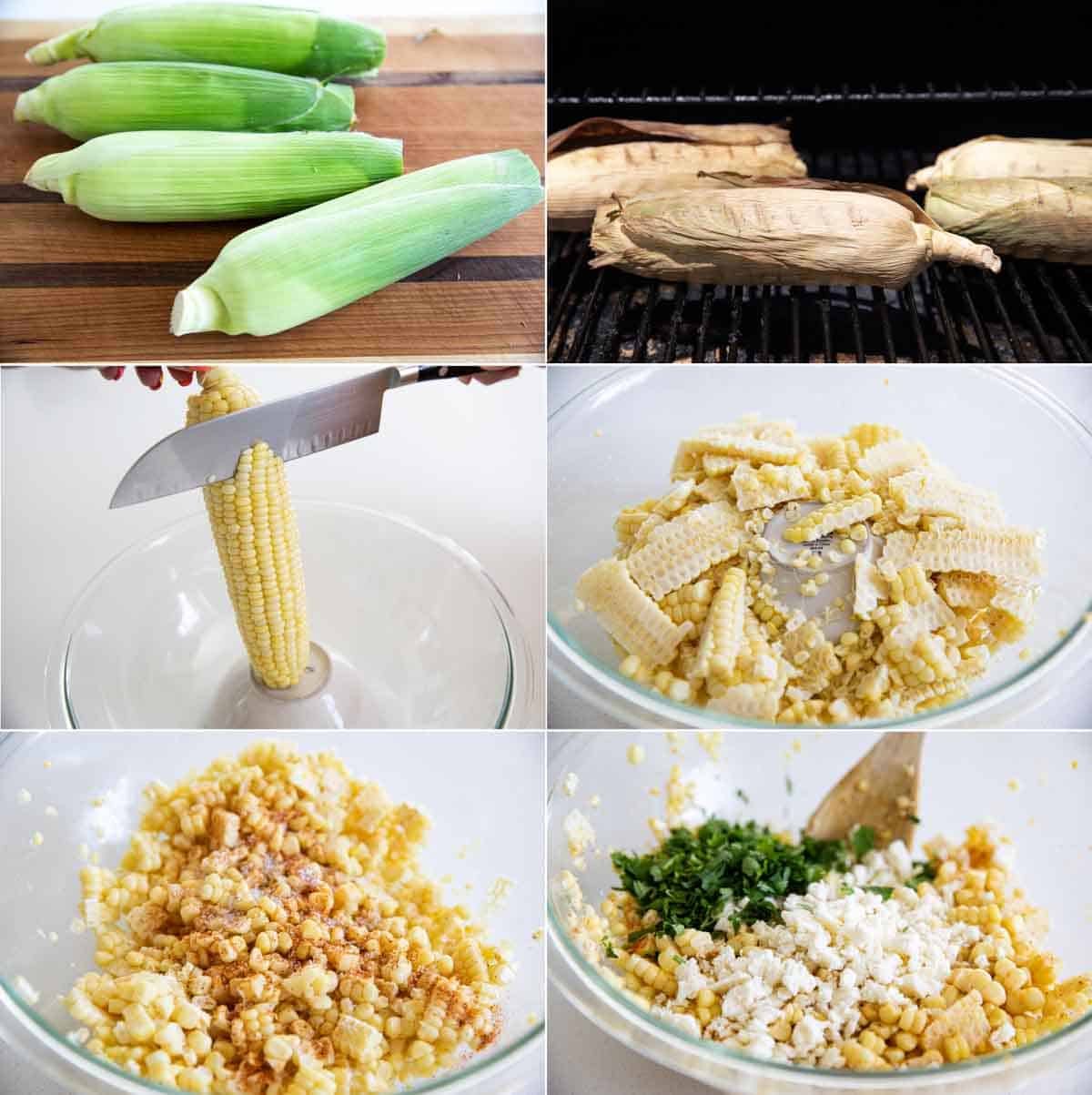 How to Make It
GRILL: Soak and grill the corn. I only soak mine as long as it takes to heat up the grill.
CUT: Let the corn cool slightly, then use a sharp knife to cut the corn kernels from the cob. I find that the easiest way to do this is to turn a small bowl upside down in a large bowl, and use that small bowl as a "stand" for the corn. Carefully cut the kernels from the cob, and the larger bowl catches them all (plus any juice that comes from the corn or the cob).
MIX: Season with the Creole seasoning and salt, then stir in your cheese, lime juice, and cilantro.
SERVE: Serve it warm as is, or refrigerate it for later.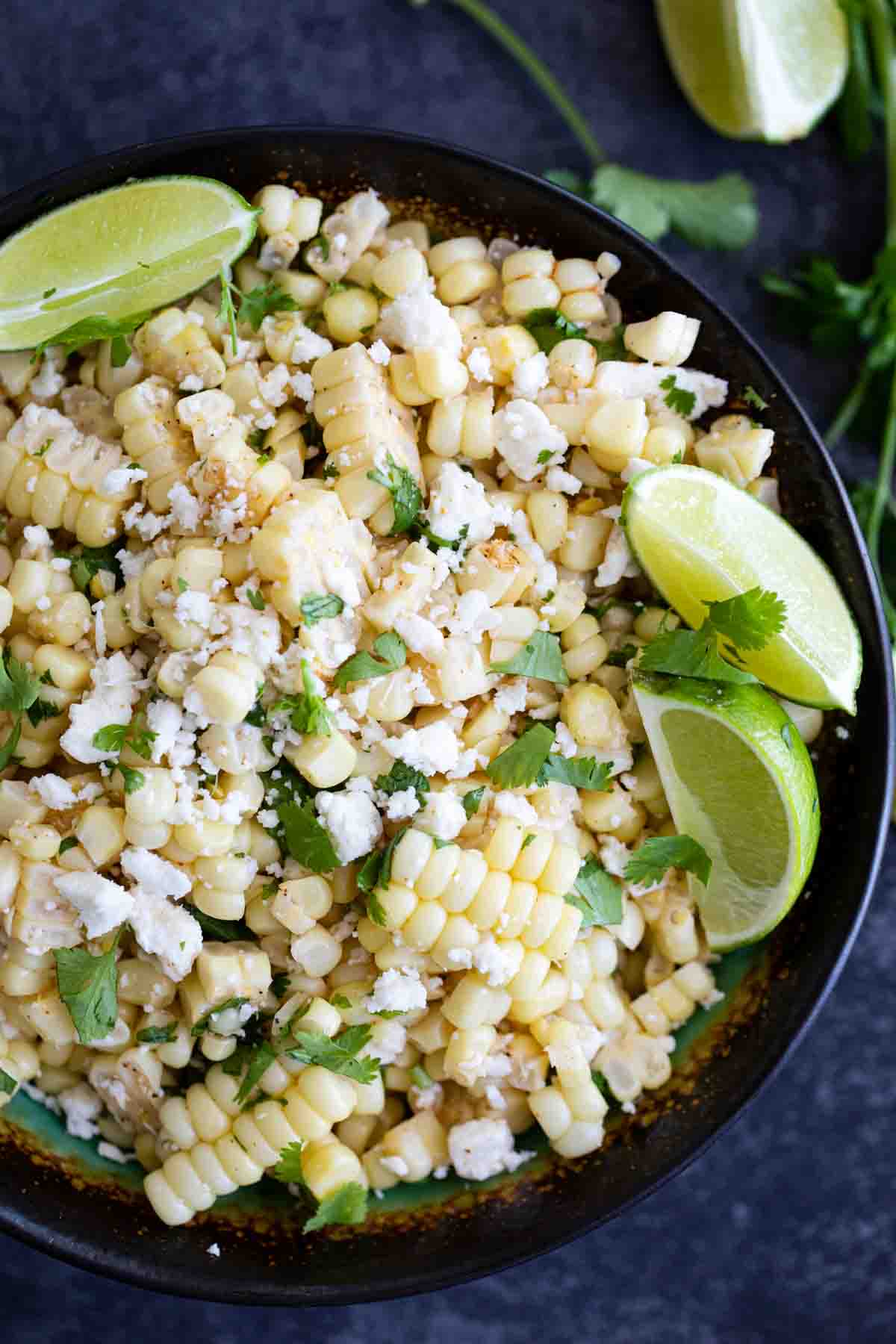 Tips and Tricks
I used to always grill corn after it had been shucked, but I've started giving it a quick soak and then grilling with the husks still on. You don't get the pretty grill marks right on the corn, but it is so juicy when you keep the husks on. Some people like to peel back the husks and clear out the silk before grilling, but I don't even bother with that. Call me lazy, but I just wait until it's cooked and I clean the whole thing all at once.
This salad can be made ahead of time. Just put in an airtight container and refrigerate until serving. I still like to make it the same day that it is served, as the corn will start to dry out some, but it will stay good for a couple of days. Leftovers can also be stored in teh
The Creole seasoning is a bit on the spicy side, so feel free to use less for less spice, or add more if you like the heat. I make this as written and still find that it is mild enough for most kids still.
You can also change things up by adding cherry tomatoes, diced jalapeno, red onion, or diced peppers, but I think it is pretty perfect as it is!
The biggest difference between this Mexican corn salad and esquites is that esquites usually has mayonnaise and/or Mexican crema. You can definitely add either of those to this salad, but I love that this is a little bit lighter and fresher.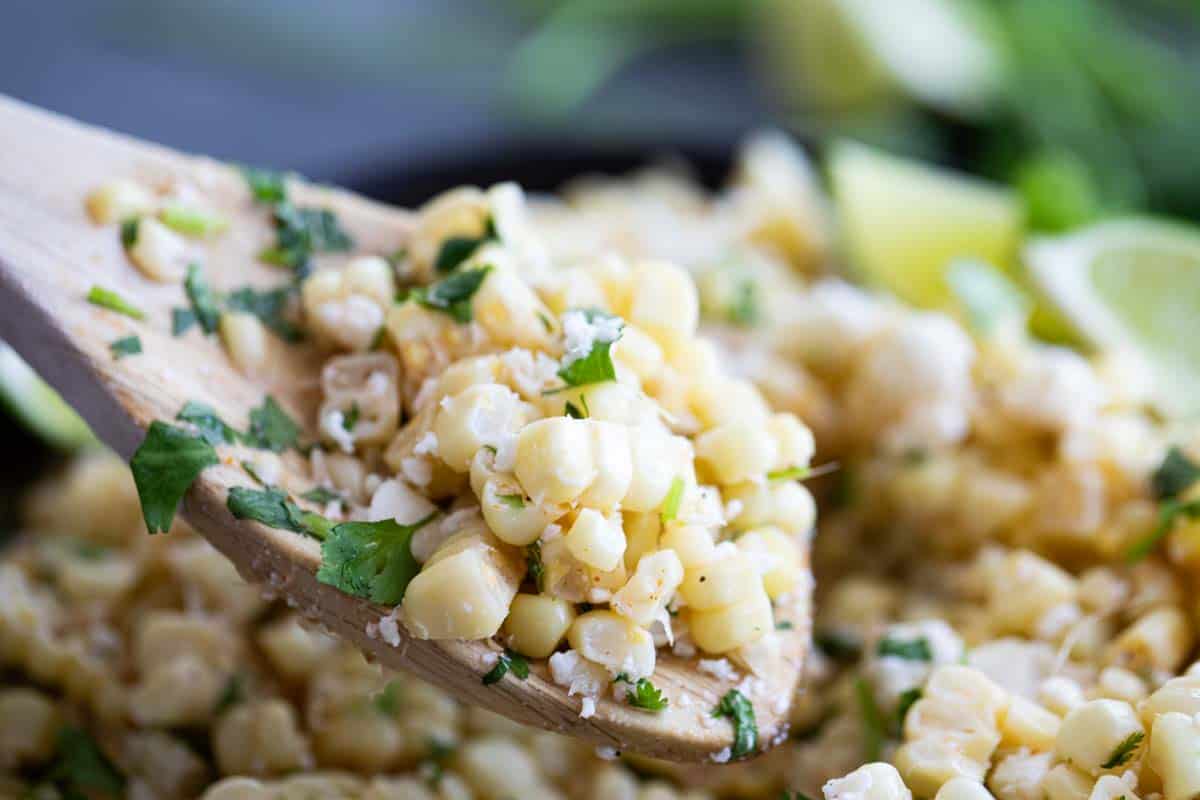 More Fresh Corn Recipes
Grilled Corn Salad
Cheddar Corn Fritters
Grilled Mexican Corn on the Cob
Stuffed Poblano Peppers with Chicken and Corn
Corn Dip Recipe with Green Chiles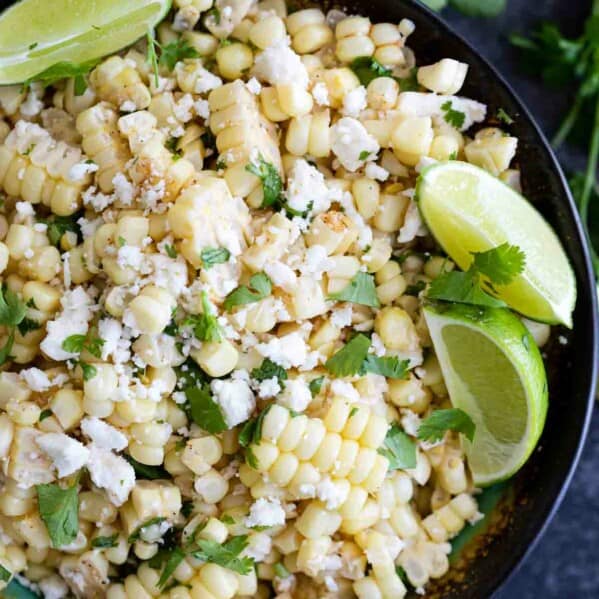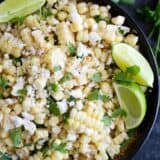 Mexican Corn Salad
---
Author:
Prep Time: 15 minutes
Cook Time: 20 minutes
Total Time: 35 minutes
Yield: 8 servings 1x
Category: Side Dish
Method: Grill
Cuisine: Mexican
Description
Take advantage of sweet summer corn with this Mexican Corn Salad – filled with Mexican cheese, lime, cilantro, and a zing of spiciness.
---
---
Instructions
Preheat a grill to medium heat.
Cut the top 1/2-inch off the top for he cobs fo corn and remove any outer husks that may be coming off. Soak the corn in a large bowl or tray of water with 1 tablespoon of salt for 10 minutes. Remove from the water and pat dry.
Place the corn on the grill and cover. Cook until the kernels are tender, 15-20 minutes, turning the corn a time or two. Remove from the grill and allow to cool enough to handle.
Cut the kernels of corn off the cob. Place in a bowl. Season with the Creole seasoning and salt. Taste and add more seasoning if desired.
Stir in the cheese, lime juice and cilantro.
Serve warm or cold.
Recipe Notes:
Nutrition information provided as an estimate only. Various brands and products can change the counts. Any nutritional information should be used as a general guide.
Nutrition
Serving Size: 1/8 of recipe
Calories: 63
Sugar: 3 g
Sodium: 443 mg
Fat: 2 g
Saturated Fat: 1 g
Unsaturated Fat: 0 g
Trans Fat: 0 g
Carbohydrates: 9 g
Fiber: 2 g
Protein: 3 g
Cholesterol: 6 mg
Keywords: Mexican corn salad, Mexican street corn salad, grilled corn salad, Mexican corn, summer salad