Take advantage of sweet summer corn with this Mexican Corn Salad – filled with Mexican cheese, lime, cilantro, and a zing of spiciness.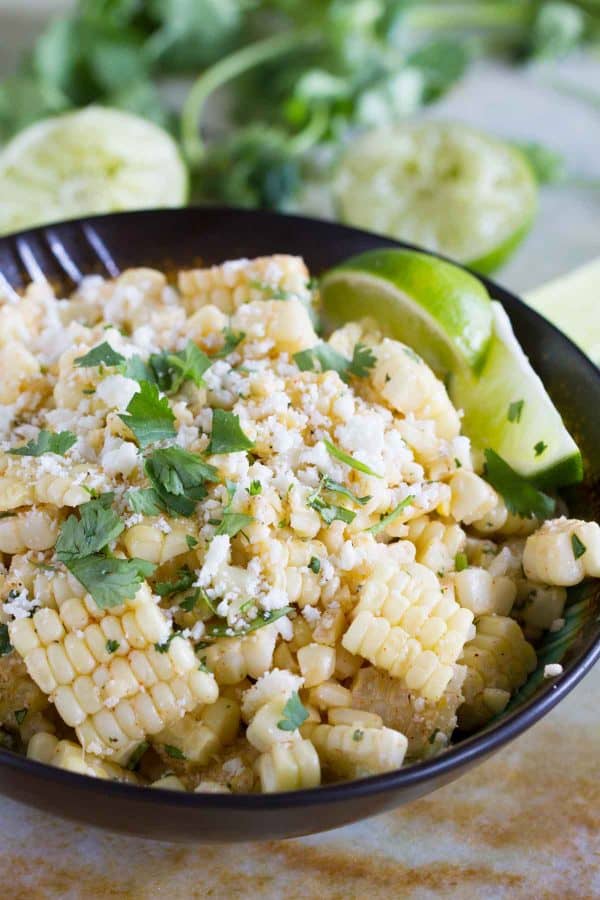 The other night at dinner, I jokingly said to my husband that it wouldn't even do us any good to plant our own corn in our future garden, because it would never be able to keep up with my husband's corn consumption. And I'm not even kidding.
I have a lot of obsessions that I talk about here on this blog. But my husband's obsessions are not as common as mine. But fresh corn on the cob all summer long? Yep – totally obsessed.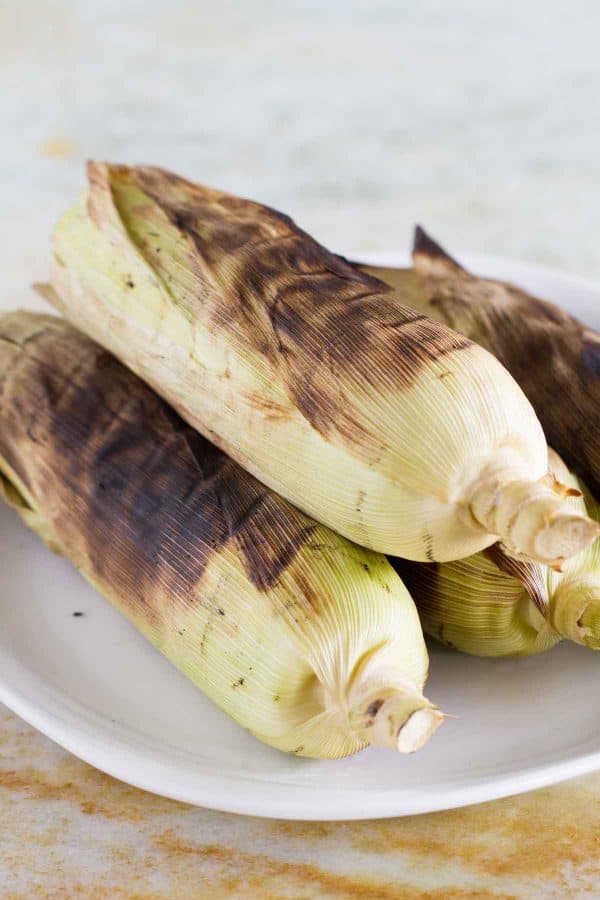 Since we've been grilling so much lately, it's only natural that grilled corn is a favorite around here. I love the smoky flavor that it gets, and it is so easy. I used to always grill corn after it had been shucked, but this year, I've started giving it a quick soak and then grilling with the husks still on. You don't get the pretty grill marks right on the corn, but it is so juicy when you keep the husks on. I'm a convert. Some people like to peel back the husks and clear out the silk before grilling, but I don't even bother with that. Call me lazy, but I just wait until it's cooked and I clean the whole thing all at once.
Now, I know I'm calling this a Mexican Corn Salad. And it's seasoned with Creole seasoning. No, my salad is not having an identity crisis. 🙂 I actually watched a video awhile back where they used Creole seasoning on corn, and I had some one hand, so I decided to try it out one day. It gives a great amount of flavor and spice, and the Cotija cheese, lime and cilantro give it that Mexican twist. Just trust me on this one. I'm guessing that you'll be addicted to this Creole seasoning in all kinds of things after trying this Mexican Corn Salad.
I won't be surprised if this salad makes a showing on our table all summer long. It's a great way to take advantage of corn season!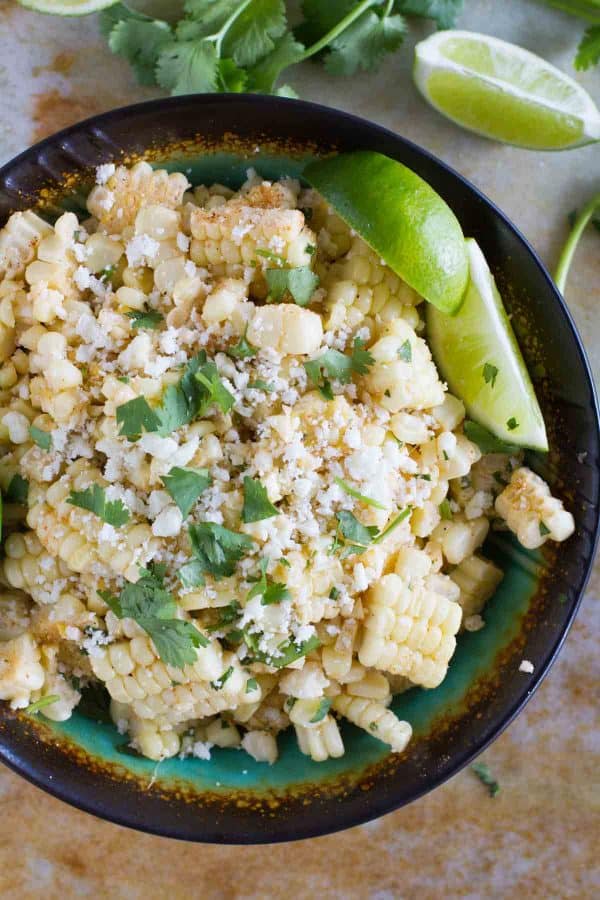 More Fresh Corn Recipes:
Chicken and Corn Stuffed Chiles
Cheddar Corn Fritters
Penne with Grilled Summer Squash and Corn
Potato Salad Recipe with Corn and Poblanos
Grilled Corn and Black Bean Salad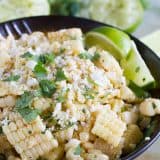 Mexican Corn Salad
---
Author:
Prep Time: 10 mins
Cook Time: 20 mins
Total Time: 30 mins
Yield: 6 servings 1x
Category: Side Dish
Method: Grill
Cuisine: Mexican
Description
Take advantage of sweet summer corn with this Mexican Corn Salad – filled with Mexican cheese, lime, cilantro, and a zing of spiciness.
---
---
Instructions
Preheat a grill to medium.
Soak the corn in a bowl of water with 1 tablespoon of salt for 10 minutes. Remove from the water and pat dry. Cut off the top 1/2 inch of the cob and any outer husks that may be coming off.
Place the corn on the grill and cover. Cook until the kernels are tender, 15-20 minutes, turning the corn every 5 minutes. Remove from the grill and allow to cool enough to handle.
Cut the kernels of corn off of the cob. Place in a bowl. Season with the Creole seasoning and salt. Taste, and add more seasoning, if desired.
Stir in the cheese and lime juice, then stir in the cilantro. Serve warm or cold.