Homemade black beans that are as soft as canned beans! These Slow Cooker Black Beans are easy, inexpensive, and better for you than canned. They freeze well so you'll always have beans on hand.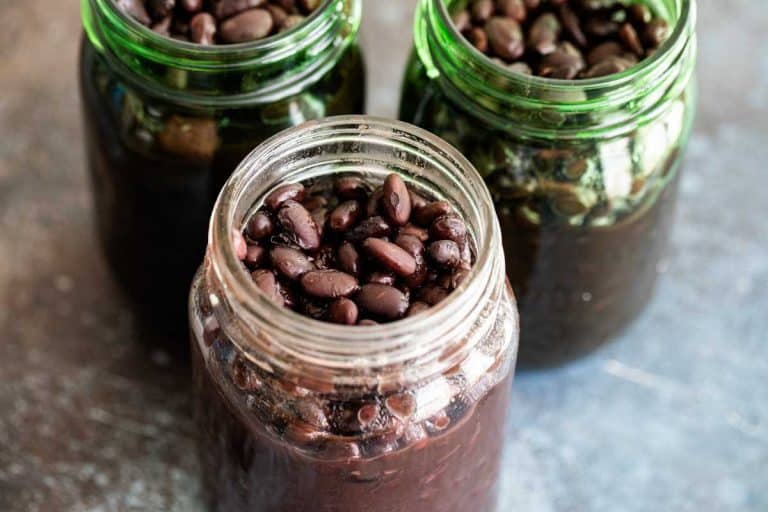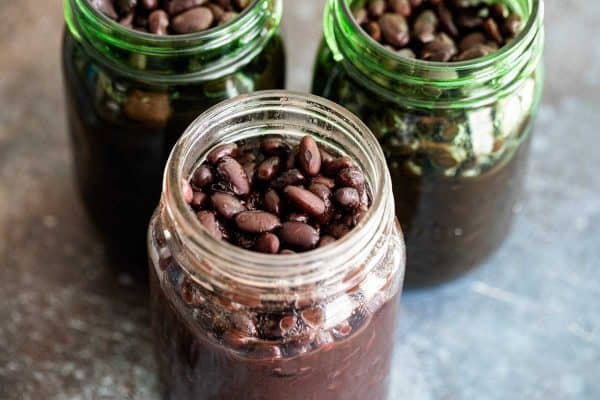 I know what you are thinking – black beans? In the slow cooker? Do you really need a recipe for that?
Well, truth of the matter is that I have been getting so frustrated. Every time I try to make anything with dry beans, I can never get them to get soft. Soaking, no soaking. Cooking on the stove top, in the slow cooker, by themselves, in a soup. No matter what I would do, my beans would still be semi-hard. Cook them for 3 hours, 8 hours, 10 hours, 12 hours. No such luck.
I was seriously almost ready to give up. I'm not against using canned beans – I have a pantry full of them – but dry beans are just so darn cheap, and I always feel a sense of satisfaction when I am making something completely from scratch.
How to Make Homemade Black Beans as Soft as Canned
But then I remembered something that I read somewhere. I don't remember when, I don't remember where, but I remember reading to cook your beans in distilled water instead of tap water, because sometimes, the tap water will have too many minerals in it, making it so that the beans will never soften.
It was a last ditch effort, but I had to try it. And guess what?
The best black beans I have ever had.
All because of distilled water.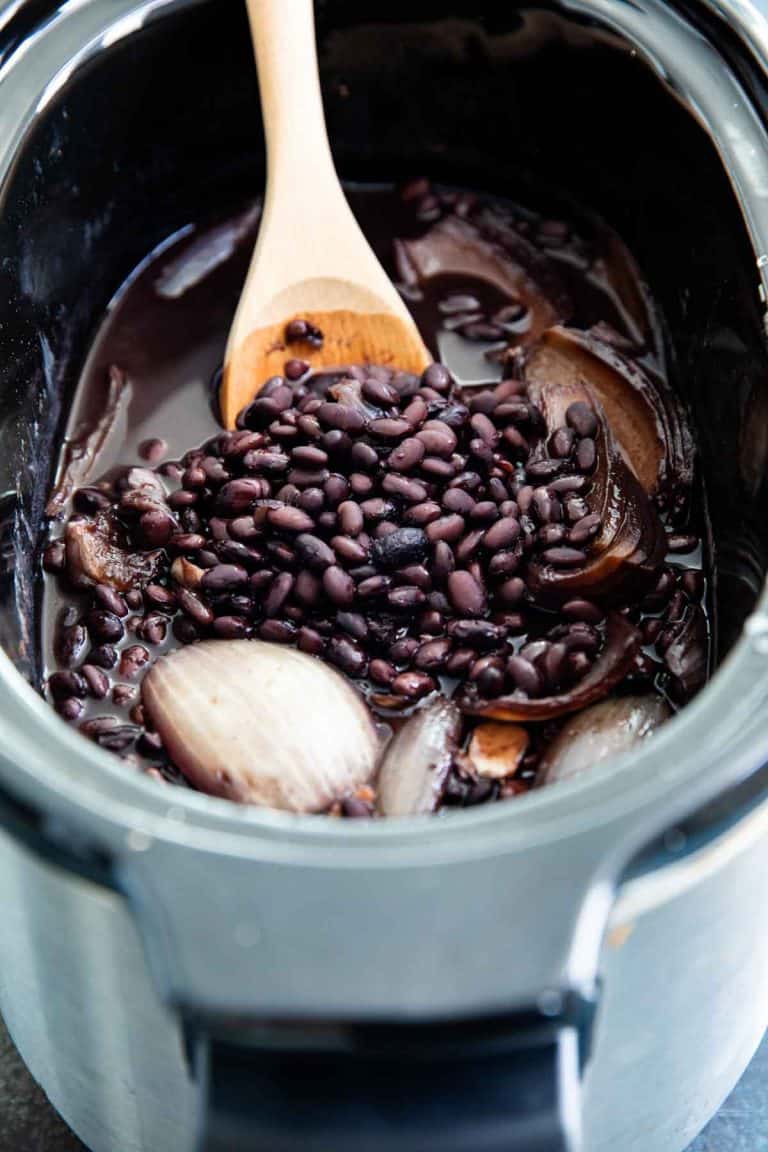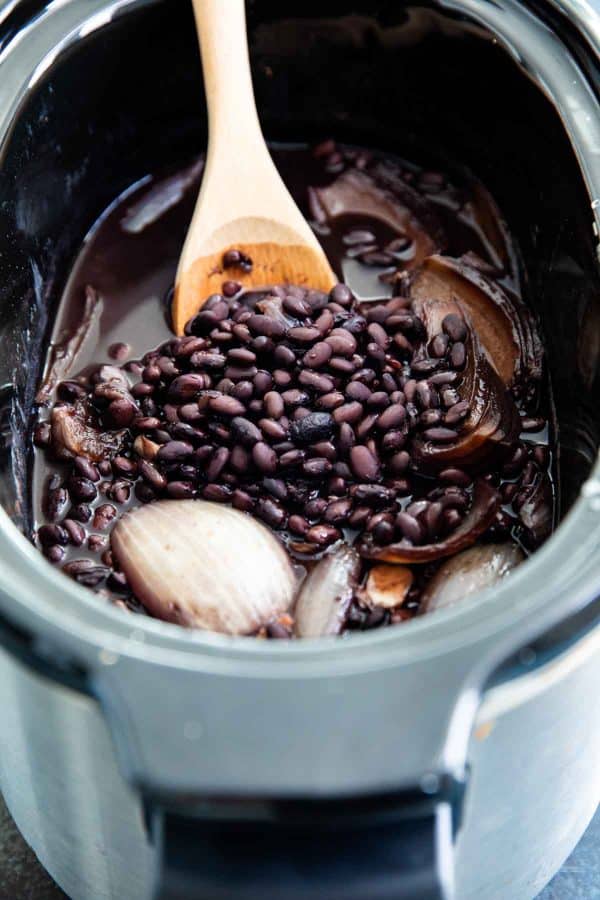 How to Flavor Homemade Black Beans
I also decided to go a little different than the norm and cook the beans in the same water that they were soaked in. Some people will say that this causes the beans to cause a little more gas, (ahem), but I decided that it was worth the sacrifice for extra flavor.
2 other things that give them perfect flavor – adding in the onion and garlic to add some extra flavor, and not salting until the beans are almost done. Some people will say to wait until they are completely done because the salt will make it so the beans don't soften, but I think that adding them in 1 hour before the beans are done makes sure that the beans are seasoned perfectly.
How to Store Homemade Black Beans
One pound of dried beans doesn't make a huge amount of prepared beans. You can easily double the amount as long as your slow cooker is large enough, but I find that one pound makes enough to freeze the extra and not take up too much room in my freezer.
I like to freeze my beans in jars, but you can also use ziplock bags. I try to keep the amount close to what you would get from a 15 oz can of beans, so just short of 15 oz of beans plus some of the liquid. I get almost 4 jars of beans this way.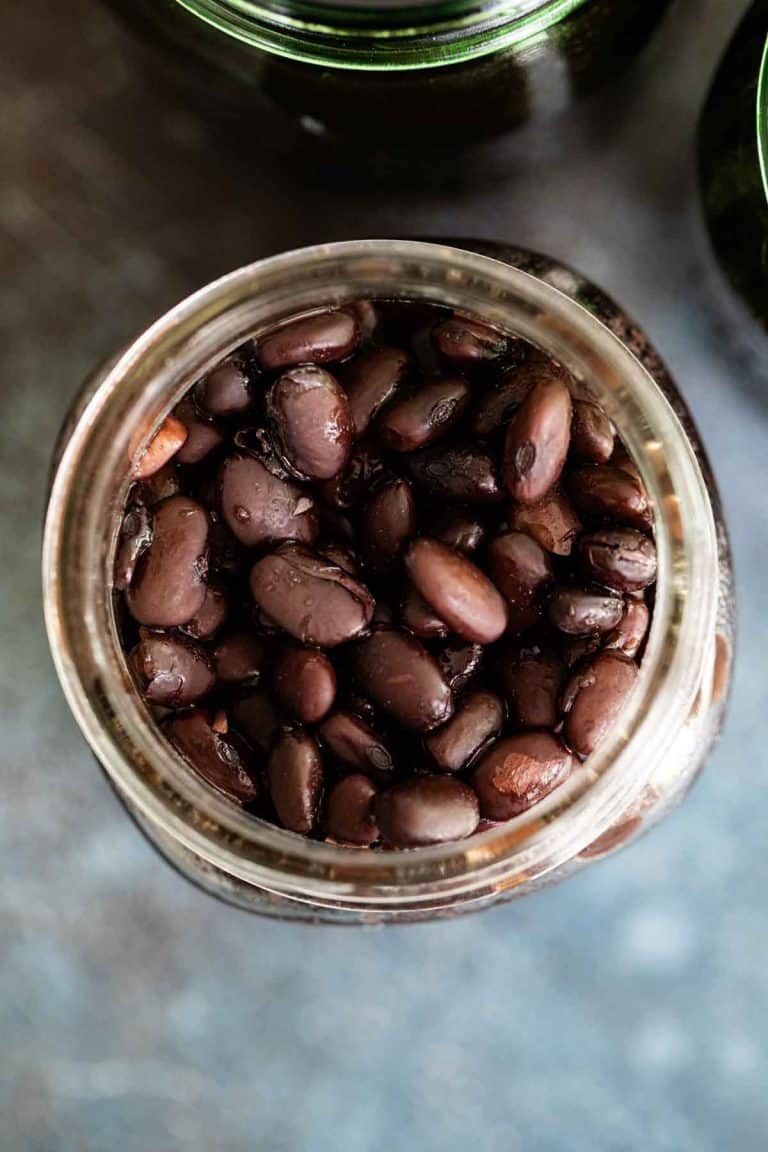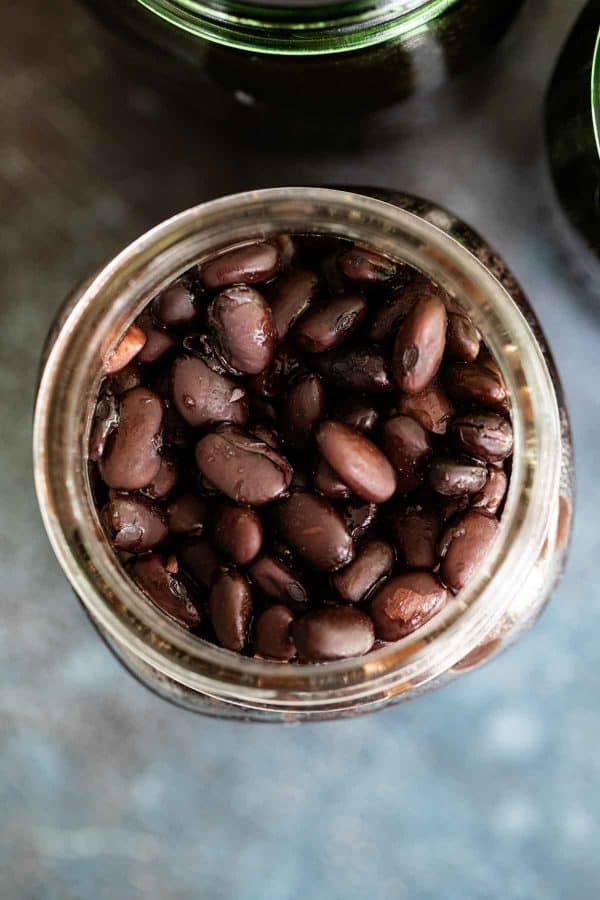 Is it really worth it to make beans from scratch?
I'm usually a "time is money" kind of person. As much as I'd love to always have homemade bread, I just don't have the time for it. I occasionally use a cake mix when I don't have time to fuss. And yes, I do often have canned beans in my pantry. But these black beans really do take so little hands on time. They are cheaper than buying canned beans, even if it's not a lot. But mostly, I love knowing exactly what is going into my food, and when you make it from scratch, you have so much more control. If you need to cut back on the sodium, you can cut back on the salt. If you want some extra flavor, add in a bay leaf or a bell pepper. I like having that kind of control.
These Slow Cooker Black Beans are the perfect way to stock your freezer.
Recipes That Use Black Beans
Grilled Corn and Black Bean Salad
Chicken, Black Bean and Zucchini Enchiladas with Creamy Green Chile Sauce
Easy Enchiladas
Southwestern Egg Rolls with Avocado Ranch Dipping Sauce
Spaghetti Squash Tostadas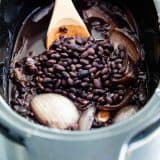 Slow Cooker Black Beans
---
Author:
Prep Time: 5 minutes
Cook Time: 8 hours
Total Time: 16 hours
Yield: 13 servings 1x
Category: Side Dish
Method: Slow Cooker
Cuisine: American
Description
Homemade black beans that are as soft as canned beans! These Slow Cooker Black Beans are easy, inexpensive, and better for you than canned. They freeze well so you'll always have beans on hand.
---
Scale
Ingredients
1 lb dry black beans
distilled water
1 large onion
1–2 garlic cloves, smashed
1 tablespoon salt, or to taste
---
Instructions
Place the beans in a slow cooker and cover by several inches with distilled water.  Let soak overnight.
Cut the onion into quarters and add to the beans, along with the garlic cloves.  Add more water to the beans, if needed, and cook on low until soft, about 8 hours.  When there is about 1 hour left for the beans to cook, add the salt.
Beans can be used immediately or refrigerated for a couple days.  To freeze, I like to divide them into portions about the size of a 15 oz can and freeze them in jars.  I add the liquid from the beans for freezing.  To use, defrost overnight in the refrigerator, or on defrost in the microwave.
Recipe Notes:
Nutrition information provided as an estimate only. Various brands and products can change the counts. Any nutritional information should only be used as a general guideline.
Nutrition
Serving Size: 1/2 cup cooked beans
Calories: 77
Sugar: 1 g
Sodium: 503 mg
Fat: 1 g
Saturated Fat: 0 g
Unsaturated Fat: 0 g
Trans Fat: 0 g
Carbohydrates: 20 g
Fiber: 11 g
Protein: 8 g
Cholesterol: 0 mg
Keywords: crock pot black beans, slow cooker black beans,