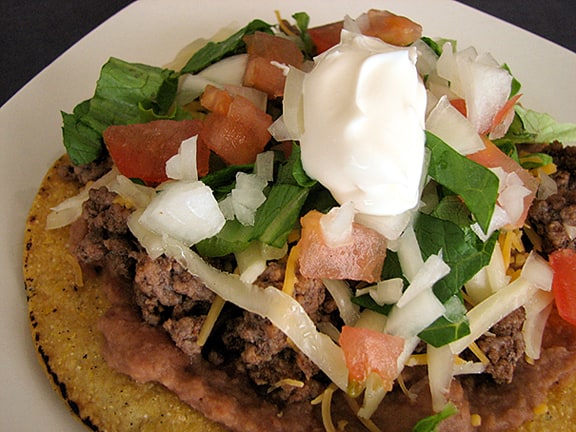 I almost forgot to post today. The whole post a day for a month has been pretty easy, but the weekends are the hardest for me. I know that's probably when I should have the most time to post, but I am sitting in front of a computer all week at work, so I usually like to go computer-free as much as possible on the weekends. But here I am!!
Today's recipe is another "not really a recipe" meal. This is probably the most eaten thing at our house. We rarely have tacos, but tostadas are a regular!! It's kind of funny, too, because my husband will only eat tacos with flour tortilla shells, not the hard shells, but he loves tostadas. Go figure…
I just use warmed up (in the oven on a very low temp for a few minutes) store bought tostada shells, then some warmed up refried beans. Cook up some ground beef with a little bit of taco seasoning, and top as you would like. We like onions, lettuce, tomatoes, cheese and sour cream. We also usually have homemade guacamole, but avocados were really pricey when I made these. And we usually have salsa – I'm not sure why there is not any in the picture!! These are great because they come together in minutes and I usually have everything on hand. A great alternative to taco night!!