Covered in red, green and white (the Mexican flag colors), this Chicken Burrito Recipe brings the flavors of Mexico to your dining room table.
Love some good Mexican food? Make sure to also try this Mexican Corn Salad or this Tomatillo Salsa Verde.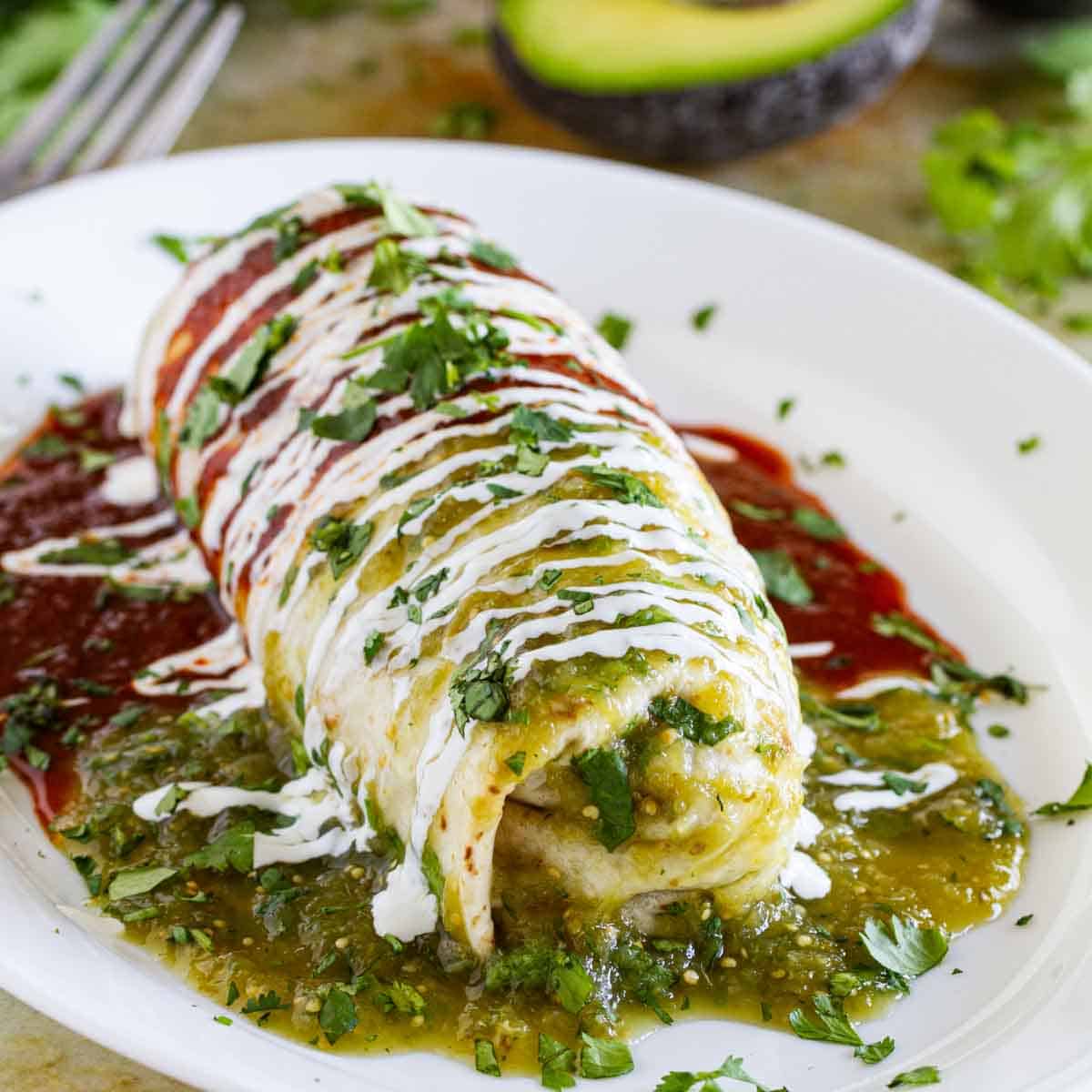 Growing up in New Mexico, it's a given that Mexican food is one of my very favorites. Granted, there is a difference between Mexican food and New Mexican food, but I can definitely appreciate all of it. And if you check to see how many taco recipes are on my blog, you'll see just how deep my love runs.
So it's a given that I would pick up a copy of The Best Mexican Recipes from America's Test Kitchen, right? It was worth it just for this burrito recipe.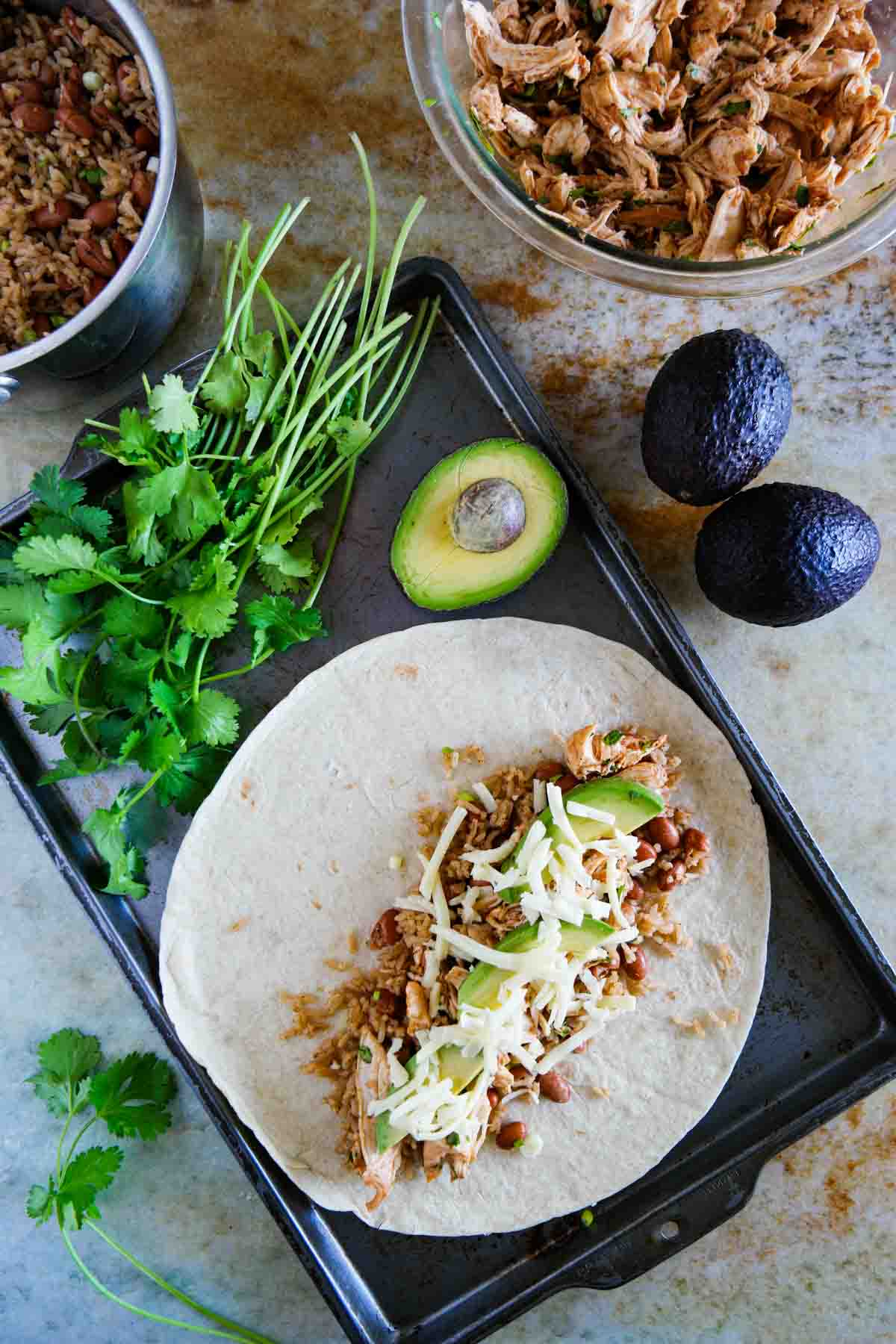 How To Make These Burritos
When I first saw these chicken burritos, I knew I wanted to make them. I will admit, though, that I kept putting it off because the recipe seemed quite involved, just looking at it.
But I was wrong.
While there are a few different components and steps, these actually came together way faster than I imagined they would. Yes, there are several steps, but nothing is very difficult.
Here are the steps to make them:
Start by making the rice. This is a little unconventional, as you combine chicken broth, rice, beans, plus seasonings. This cooks the rice and the beans at the same time! Bring this to a boil, then cover and let it cook over low until the rice is tender. When it's finished, you'll also stir in the green onions.
While that is cooking, you'll make the red sauce and the chicken. By cooking the chicken in the sauce, you cut back on time and steps. Heat up your olive oil and cook the garlic and chili powder until it's super fragrant. Then stir in chicken broth and tomato sauce (that's all there is to it!) Place the chicken in the skillet, cover the skillet, and let it cook until the chicken is cooked through.
When the chicken is done, remove it from the sauce, let it cool slightly, then shred the meat.
Time to assemble! Warm your tortillas, then place some of the rice and bean mixture, chicken, avocado and shredded cheese down the center of the tortillas. Roll them up and place them on a baking sheet. When you're finished rolling all of the burritos, these will go into the oven to heat through.
While the burritos are in the oven, combine the tomatillo salsa with some fresh cilantro and heat it up in the microwave.
Time to serve – place a burrito on your plate, then spoon some of the tomatillo salsa over one side, some of the red sauce over the other, then drizzle the whole thing with Mexican crema.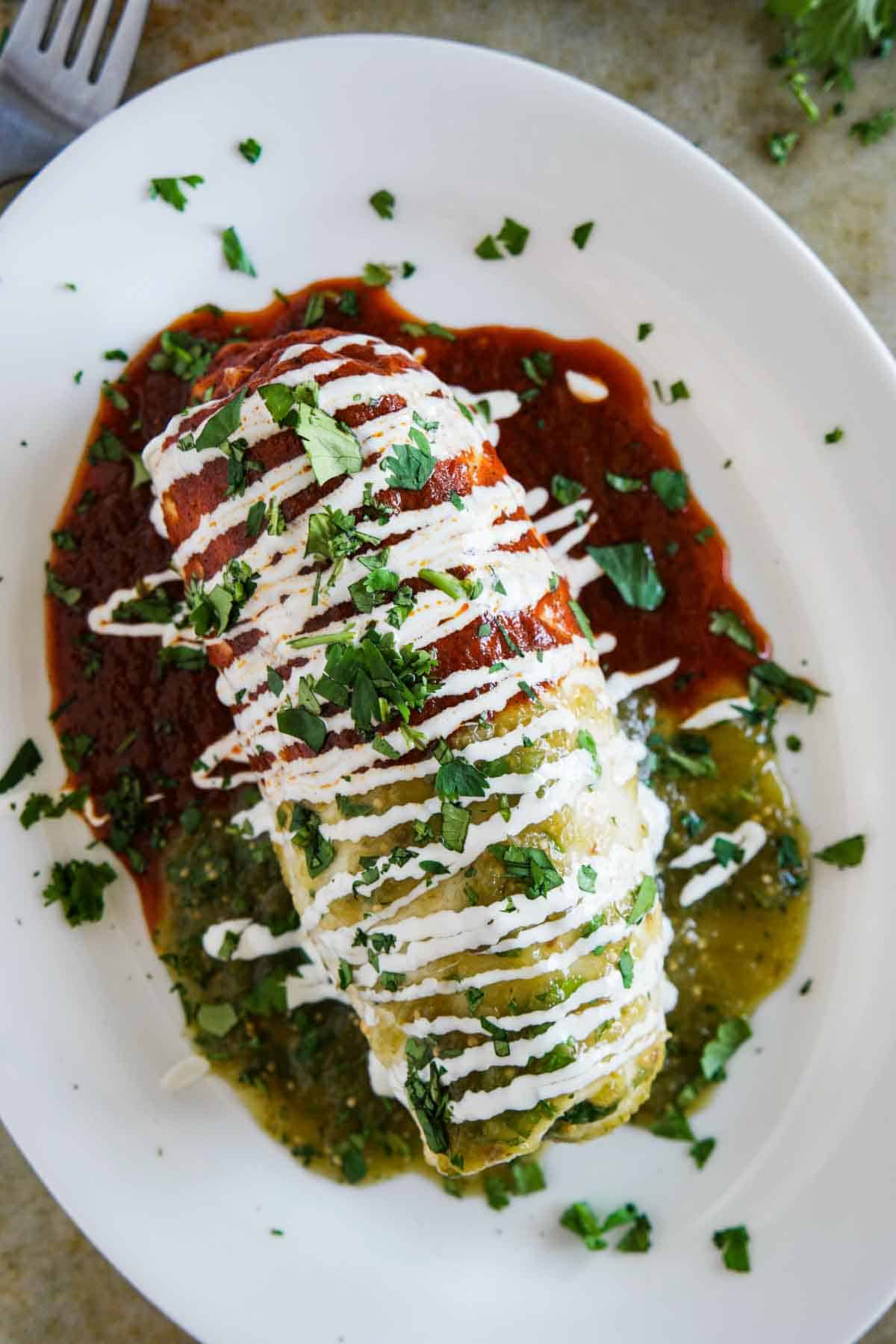 Make Ahead Instructions
Wondering if you can make this chicken burrito recipe ahead of time?
Yes! This is especially beneficial if you are feeding company.
You can make and wrap the burritos, then refrigerate them until just before it's time to serve. You'll need to add a few extra minutes of time in the oven to heat them through when you put them in the oven.
Heat both sauces and loosen with water as needed.
I wouldn't make these too far in advance, as the tortilla may get soggy and the avocado will brown. But they are totally doable to make the morning before serving. If you need more time than that, I would suggest making each component and not assembling until ready to cook.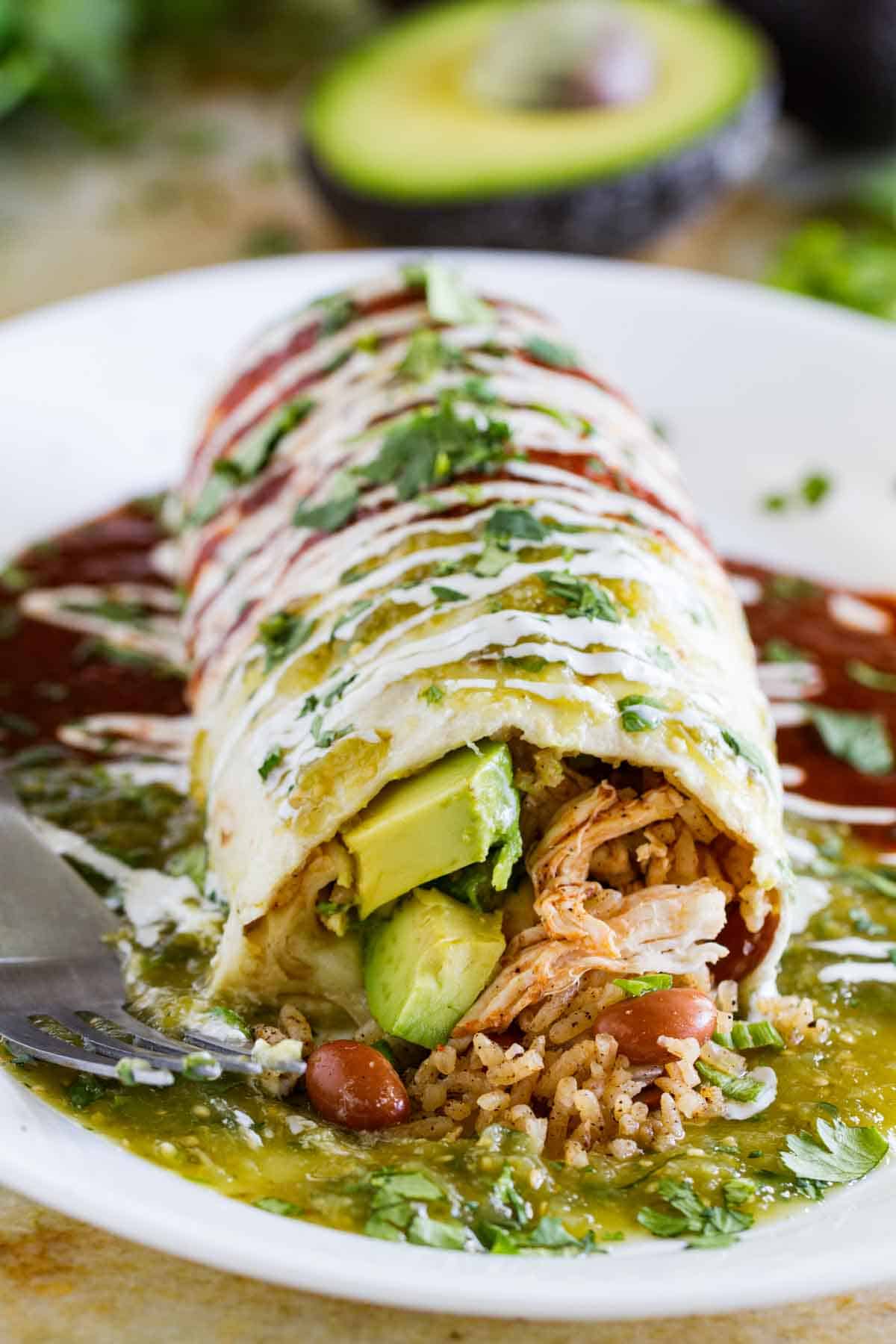 More Burrito Recipes
Camping Breakfast Burritos – these are great to freeze and serve at home, as well!
Bean, Sausage and Beef Burrito Recipe – one of my favorite weeknight meals.
Frito Pie Burrito – so perfect for when you are wanting something a little bit different.
Chicken and Broccoli Grilled Burritos – keep cooked, shredded chicken on hand to make these in a flash!
Pork Carnitas Burrito Bowl – the burrito minus the tortilla!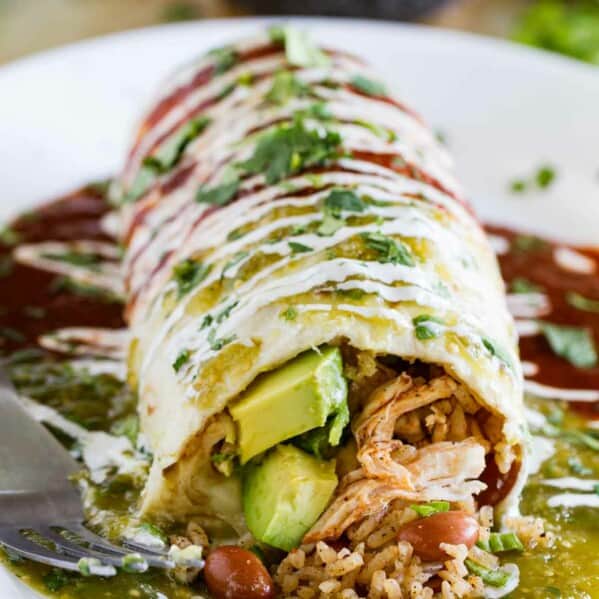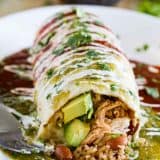 Chicken Burrito Recipe with Red and Green Sauce
---
Author:
Prep Time: 15 minutes
Cook Time: 45 minutes
Total Time: 1 hour
Yield: 6 servings 1x
Category: Main Dish
Method: Bake
Cuisine: Mexican
Description
Covered in red, green and white (the Mexican flag colors), this Chicken Burrito Recipe brings the flavors of Mexico to your dining room table.
---
Scale
Ingredients
2 1/4 cups chicken broth
3/4 cup long grain rice, rinsed
1 (15-ounce) can pinto beans, drained and rinsed
3 1/2 tablespoons chili powder
salt and pepper
2 green onions, thinly sliced
2 tablespoons vegetable oil
3 cloves garlic, minced
2 (8oz each) cans tomato sauce
1 1/2 pounds boneless, skinless chicken breasts
6 tablespoons minced fresh cilantro
6 (10-inch) flour tortillas
2 avocados, halved, pitted and cut into 1/2-inch pieces
8 oz Monterey Jack cheese, shredded
1 1/2 cups tomatillo salsa
water, as needed
1/2 cup Mexican crema
---
Instructions
In a medium saucepan, combine 1 1/4 cups of the broth, the rice, beans, 1 1/2 teaspoons of the chili powder, and 1/2 teaspoon salt. Bring to a boil over medium-high heat. Cover the pan and reduce the heat to low. Cook until the rice is tender and the liquid has been absorbed, about 20 minutes. Remove from the heat and let the pan sit, covered, for 10 minutes. Add the green onions and fluff with a fork. Cover to keep warm.
Meanwhile, combine the oil, garlic and remaining 3 tablespoons of chili powder in a large saucepan set over medium-high heat. Cook until fragrant, 1-2 minutes. Stir in the tomato sauce and remaining 1 cup of chicken broth. Bring to a simmer. Nestle the chicken into the sauce, then cover and reduce the heat to medium-low. Cover and cook until the chicken registers 160ºF, 10 to 15 minutes, flipping the chicken halfway through cooking.
Transfer the chicken to a cutting board and allow to cool slightly. Use 2 forks to shred the chicken. Place the chicken in a bowl then toss the chicken with 1/4 cup of the cooking sauce plus 2 tablespoons of cilantro. Set the remaining sauce aside.
Place the oven rack in the middle of the oven and preheat the oven to 450ºF. Line a baking sheet with aluminum foil.
Wrap the tortillas in a damp towel and microwave until they are soft and pliable, about 1 minute. Lay the tortillas on a work surface, then place a mound of rice down each tortilla, close to the edge. Top with some of the chicken, avocado, and Monterey Jack cheese. Fold the sides then the bottom over the filling, rolling tightly into a burrito. Place the burritos seam side down on the baking sheet, cover with foil, and cook until heated through, 20-30 minutes.
Before serving, whisk the salsa and 2 tablespoons of cilantro together in a bowl. Cover and microwave on high for 1 minute. Reheat the red sauce in the saucepan over medium heat until hot, adding water as needed to loosen the sauce.
Arrange the burritos on individual plates. Pour the tomatillo sauce over one half of each burrito, and the red sauce over the other half. Drizzle the top with Mexican crema and sprinkle on additional cilantro to serve.
Recipe Notes:
Recipe source: America's Test Kitchen The Best Mexican Recipes
Nutrition information provided as an estimate only. Various brands and products can change the counts. Any nutritional information should only be used as a general guideline.
Nutrition
Serving Size: 1 burrito
Calories: 708
Sugar: 7 g
Sodium: 1407 mg
Fat: 36 g
Saturated Fat: 12 g
Unsaturated Fat: 14 g
Trans Fat: 0 g
Carbohydrates: 58 g
Fiber: 12 g
Protein: 43 g
Cholesterol: 112 mg
Keywords: chicken burritos, burrito recipe, chicken burrito recipe