Made from scratch, this Homemade White Bread Recipe is perfect for sandwiches, toast, or simply with butter and jam. You won't believe just how easy it is!
If you like to make bread at home, make sure you try my French Bread Recipe or for something a little different, this Polenta Bread is one of my favorites!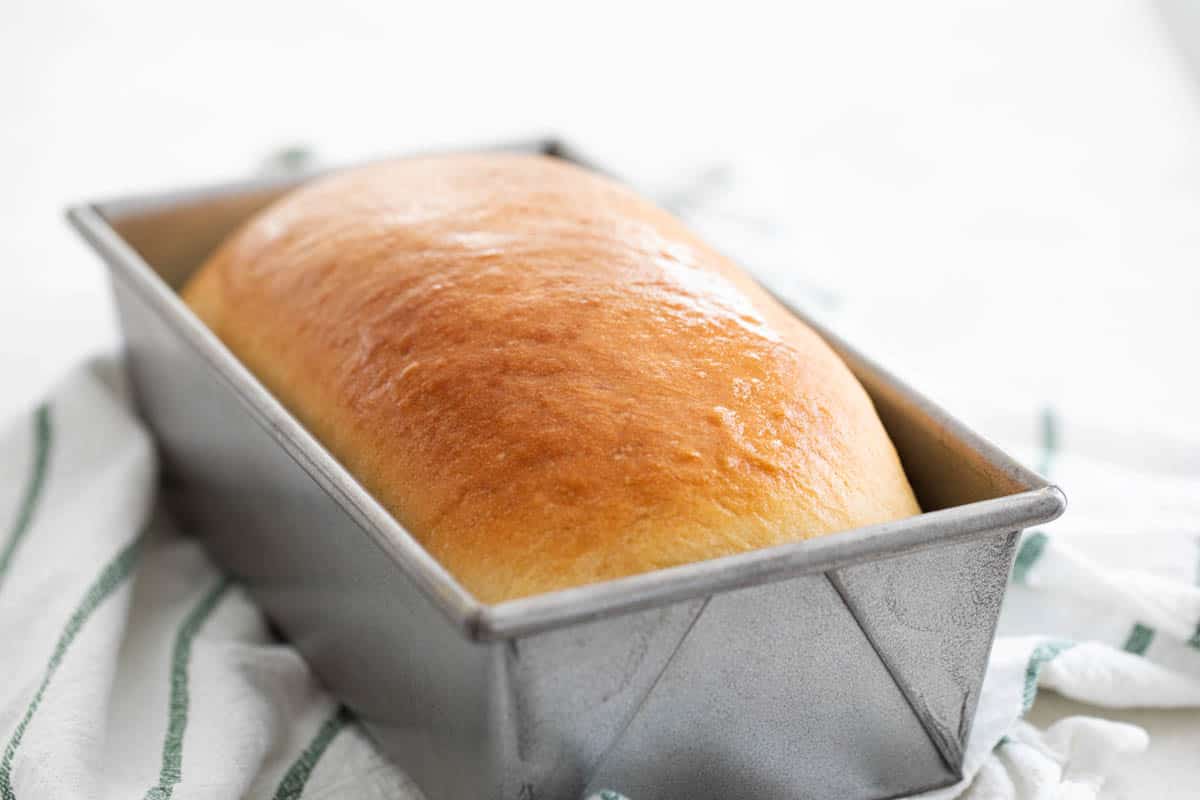 One of my favorite memories from college is when my roommate would come back from being home and bring her mom's homemade white bread back with her. We'd toast it up and lather it with butter and jam and sit out on our balcony, talking and people watching. I love how foods bring back memories.
This White Bread Recipe may not have come from my roommate's mom, but it's just as delicious. And it is the perfect sandwich bread. I used to be intimidated by making homemade bread, but it's actually quite easy! It does take some time, but the hands on time is pretty minimal. And I truly believe that anyone could make this recipe!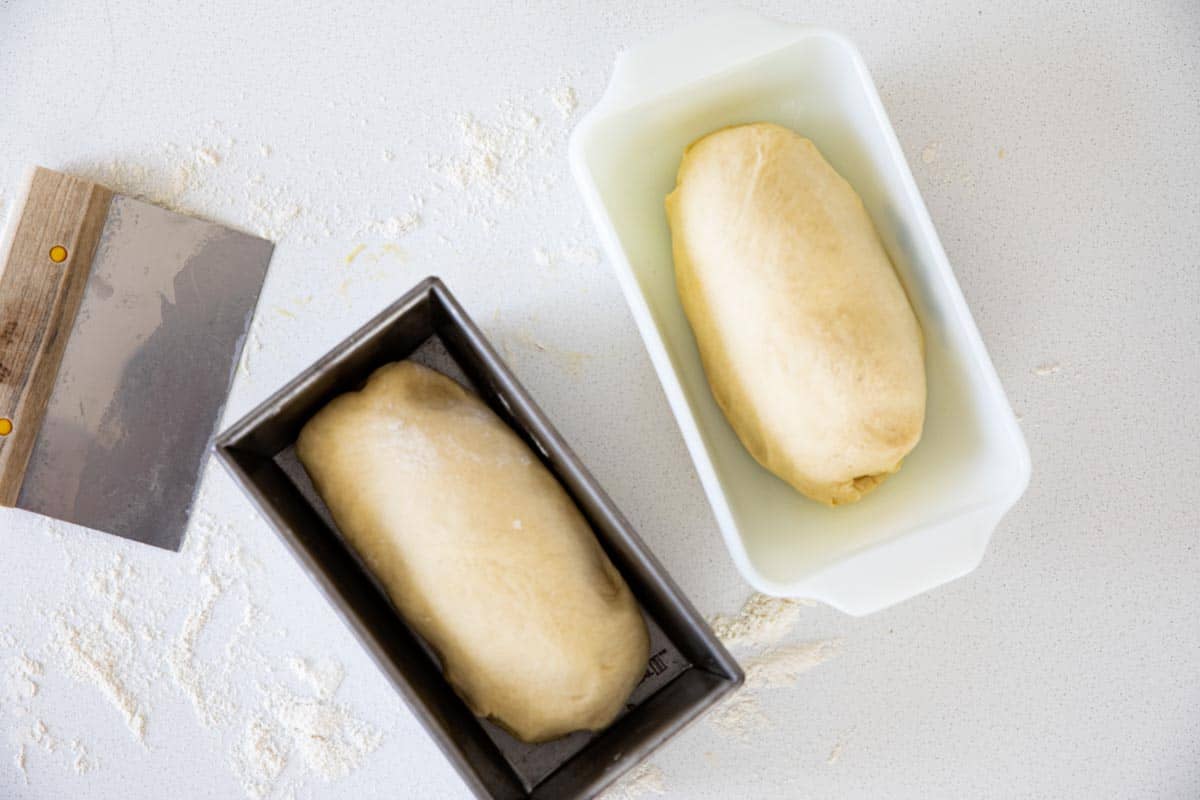 Ingredients
Let's start with the ingredients – which are few and basic. This is one of those recipes that can be made from pantry staples!
Flour – I usually just use all-purpose unbleached flour in this recipe. You can definitely use bread flour, but I know this isn't something everyone keeps on hand. I also only buy unbleached flour. Because unbleached flour is bleached naturally instead of chemically, it has a denser grain which makes it better for bread making than bleached all-purpose flour.
Sugar – There are a few reasons you use sugar in this white bread recipe. First, it helps to activate the yeast faster. It also absorbs some of the liquid, which makes the bread softer. If you don't want to use sugar, you can sub in honey.
Instant Yeast – The kind of yeast to use can be a little confusing. This recipe calls for instant yeast, but active dry yeast will work just as well. I don't have any experience with fresh yeast, but it should work in this recipe as well.
Salt – I used just regular table salt, but sea salt would be perfect as well.
Egg – Not all white bread recipes call for an egg, but I love the richness that it brings to this recipe.
Butter – You need fat for a softer bread. You'll notice that Artisan Bread recipes don't have any fat in the dough – that's because they are a more structured, hearty bread. For soft sandwich bread, you need that fat.
Milk – again, you'll use milk for a softer bread. The more fat in the milk (whole milk vs 2% milk) will make a slightly softer bread. For super soft bread, try using buttermilk.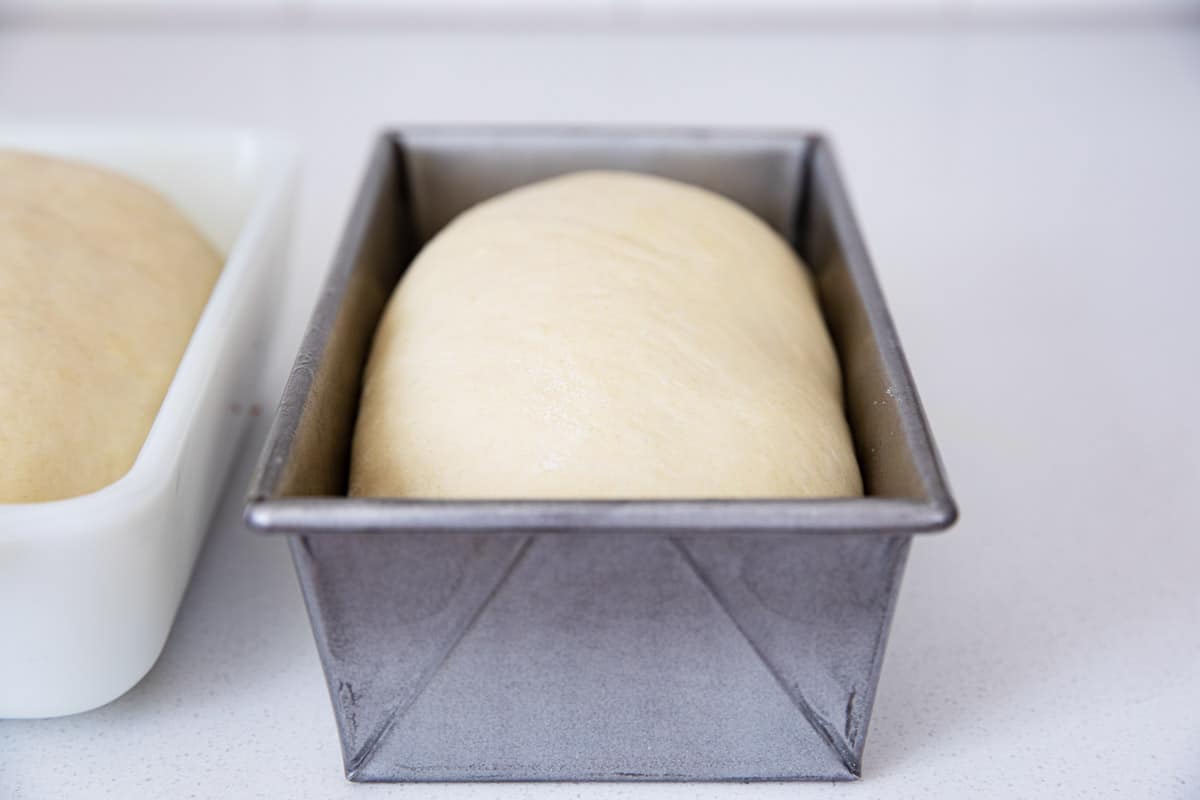 How to Make Homemade White Bread
Combine your flour, sugar, yeast and salt. This is easiest to do in a stand mixer, but you can make it by hand, as well.
Add the egg, butter, and milk. Mix this together until there are no more dry patches.
Knead the dough for 6-8 minutes. The dough should be soft and supple, but not sticky, so add flour or milk as needed.
Lightly oil a large bowl, then turn the dough into the bowl. Turn the dough over so that it is coated in the oil, then cover the bowl and let the dough rise until doubled.
When the dough has doubled, pour the dough out of the bowl and cut the dough into 2 equal pieces. Let it rise for 20 minutes.
Spray 2- 8 1/2 x 4 1/2″ loaf pans with nonstick cooking spray.
Shape the dough into 2 loaves, and place one in each loaf pan. Cover and let the loaves rise until nearly doubled.
Bake the loaves in a 350ºF oven until browned on top and cooked through, about 35 minutes.
Let the bread cool, then slice and enjoy!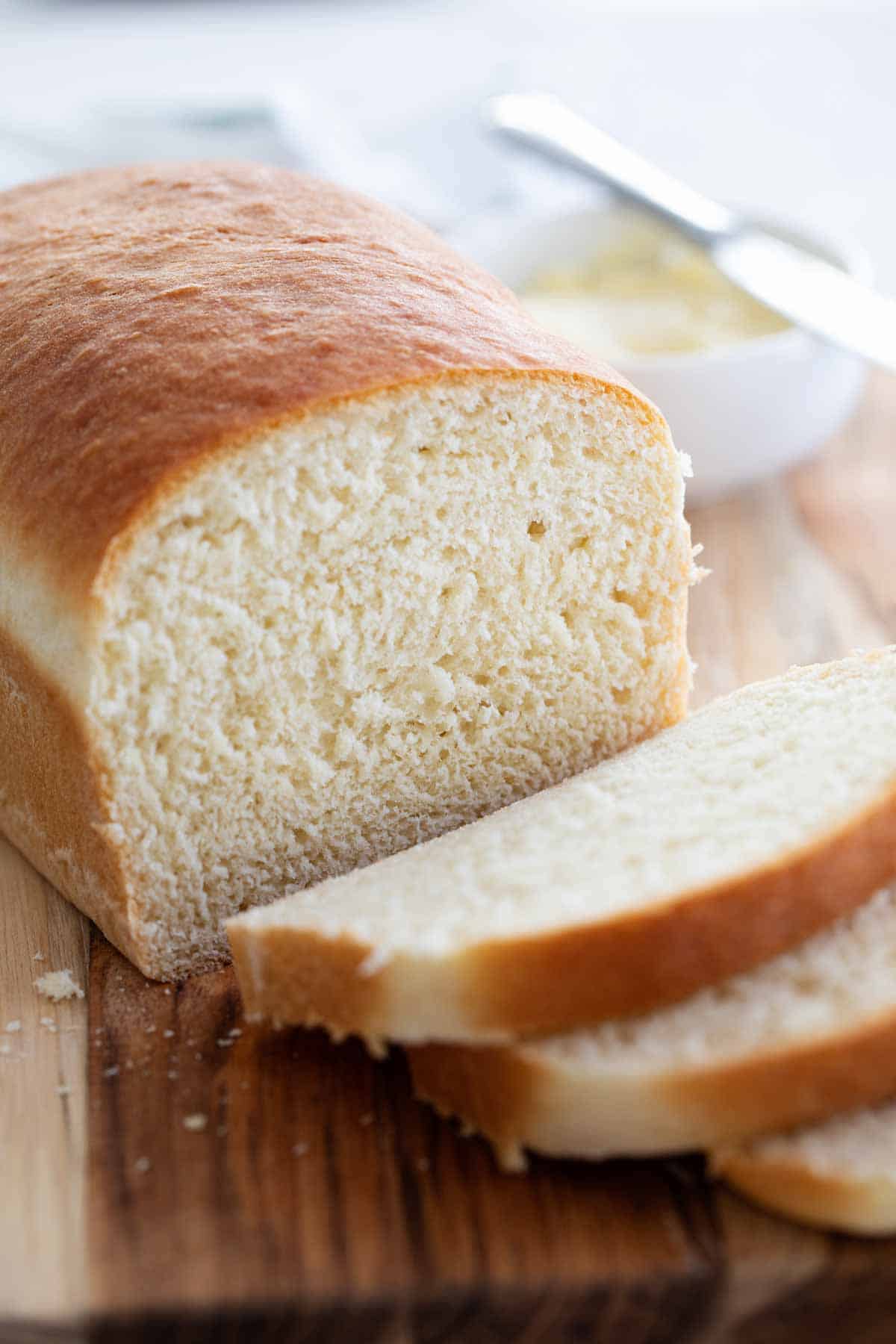 Tips for Baking Bread
Don't go overboard on the flour. You can always add more, but you can't take it away. The bread dough should always be a bit tacky.
Allow your bread time to naturally rise. Don't rush it, and don't move on to the next step until the bread has risen fully.
For a more golden crust, brush the loaves with an egg wash before baking.
This recipe calls for 8 1/2 x 4 1/2 -inch loaf pans. I keep this size on hand just for homemade bread. Most people have 9×5-inch pans, which will also work. Your loaves will just be wider and shorter.
Watch the bread as it is baking. If one side is browning faster (or if one loaf is browning faster), rotate the pans.
Be forgiving – and practice! Shaping bread has never been easy for me, but has gotten a lot better (and easier) with practice.
Storing and Freezing Instructions
The only bad thing about homemade bread is that it is not super shelf stable. Follow the following tips to have the best results:
Store your bread at room temperature in an airtight container. I do what they do for commercially produced bread – store it in a bag with a twist tie. But you could use any airtight container. You can store it for 2-3 days.
Avoid storing it in the refrigerator as it will go stale quite easily.
To make it last the longest, you can freeze the bread. You can freeze a whole baked loaf in an airtight container for up to 3 months.
If I want some bread but don't think we'll make it through a whole loaf, I'll cut the bread into slices and then freeze it. That way, you can just take out how many slices you will be using.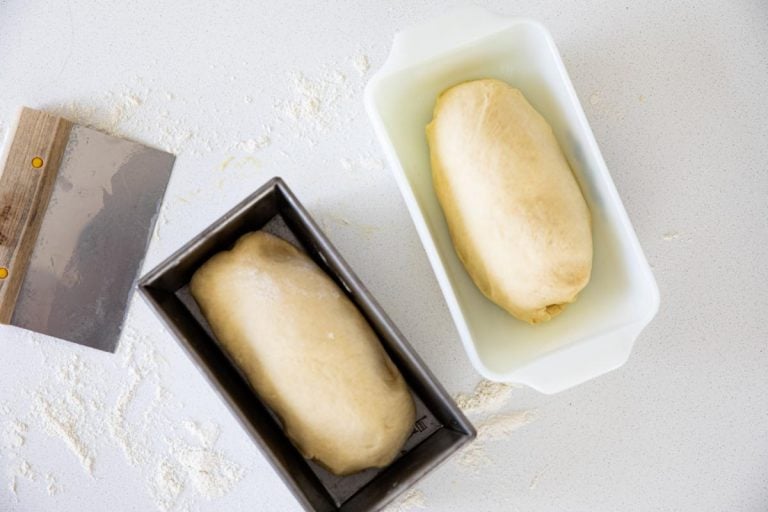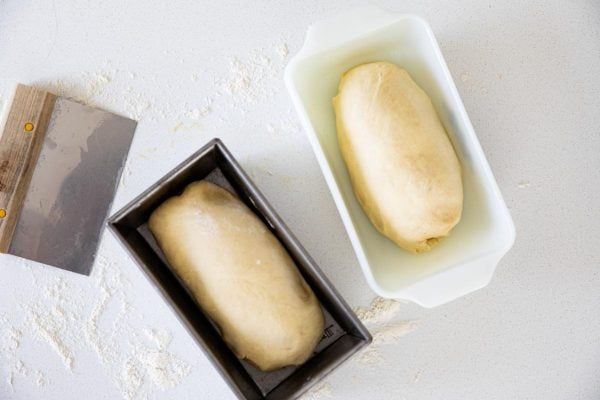 More Bread Recipes to Make at Home
Lion House Dinner Rolls
Focaccia Bread
Butternut Squash Bread
Potato Bread Recipe with Rosemary and Roasted Garlic
Brioche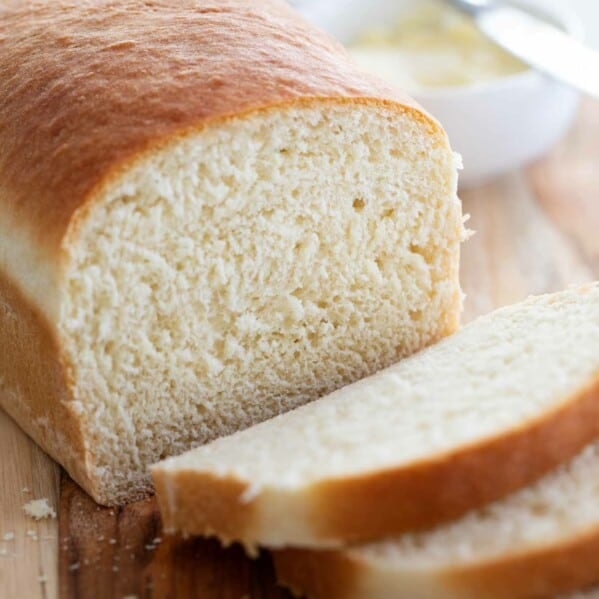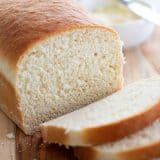 White Bread Recipe
---
Author:
Prep Time: 20 minutes
Cook Time: 45 minutes
Total Time: 5 hours
Yield: 2 loaves, 16 slices each 1x
Category: Bread
Method: Bake
Cuisine: American
Description
Made from scratch, this Homemade White Bread Recipe is perfect for sandwiches, toast, or simply with butter and jam. You won't believe just how easy it is!
---
Scale
Ingredients
4 1/4 cups unbleached white flour
3 tablespoons sugar
2 teaspoons instant yeast
1 1/2 teaspoons salt
1 large egg, at room temperature, slightly beaten
1/4 cup butter, at room temperature
1 1/2 cups milk, at room temperature
---
Instructions
In a large bowl, combine the flour, sugar, yeast and salt. (If making with an electric mixer, do this in the mixer bowl.)
Pour in the egg, butter and milk. Mix until all of the flour is absorbed and no dry spots remain. The dough should be soft, so if needed, you can add more milk.
If making by hand, flour a counter and pour the dough onto the surface and begin kneading, adding more flour as needed, until you have a soft, supple dough that is tacky but not sticky. Continue to knead the dough for 6-8 minutes.
If making by mixer, mix on medium speed with the dough hook, adding flour as needed, until the dough clears the sides of the mixer but still sticks to the bottom. Continue to mix on medium-low for 6-8 minutes.
Lightly oil a large bowl and transfer the dough to the bowl. Turn the dough over to coat with the oil. Cover the bowl with plastic wrap and allow it to rise until doubled, about 1 1/2 to 2 hours, depending on external circumstances.
When the dough has doubled, remove it from the bowl and divide it in half. Spray it lightly with nonstick cooking spray and cover with a towel or plastic wrap and let it rest for about 20 minutes.
Oil two 8 1/2 x 4 1/2 inch loaf pans. 
Shape each of the pieces of dough into loaves. Place the loaves in the pans.
Spray the tops of the loaves lightly with nonstick cooking spray and loosely cover with a towel or plastic wrap. Let the dough rise again until nearly doubled, 1 to 1 1/2 hours.
Preheat the oven to 350ºF.
Once the loaves have risen, remove the towel or plastic wrap and place the loaves in the oven. Bake for about 35 to 45 minutes, until the tops of the loaves are golden brown. The sides of the loaves (when removed from the pan) should also be golden brown and the loaves should sound hollow if you tap on the bottom. If you have an instant read thermometer, the internal temperature should be 190ºF.
Remove the loaves from the oven and cool on a wire rack for at least an hour.
Recipe Notes:
Very slightly adapted from The Bread Baker's Apprentice
Nutrition information provided as an estimate only. Various brands and products can change the counts. Any nutritional information should only be used as a general guideline.
Nutrition
Serving Size: 1 slice
Calories: 86
Sugar: 1 g
Sodium: 113 mg
Fat: 2 g
Saturated Fat: 1 g
Unsaturated Fat: 0 g
Trans Fat: 0 g
Carbohydrates: 15 g
Fiber: 1 g
Protein: 3 g
Cholesterol: 10 mg
Keywords: white bread, white bread recipe, sandwich bread, homemade white bread