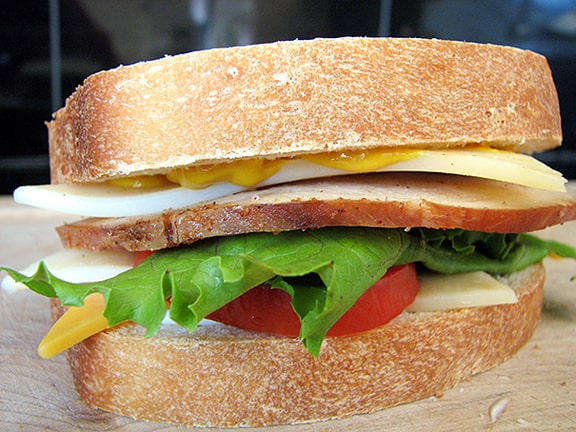 I really didn't have any intentions of making white bread when I started this month's Cookbook of the Month. But earlier this week, I wasn't feeling well, and when I came home from work for lunch, I decided to not go back and lie down to try to feel better. Well, that afternoon, I realized that I didn't have any bread to make my husband's lunch for the next day. And even though some people would differ, I knew it would take less energy to make some bread at home instead of having to go out and go to the store to buy some. I have found that bread making (for the most part) is quite easy. At least the steps are easy – making a perfect loaf and making it look pretty – that's a different story!!
So I got out my cookbook, and going through the recipes, I figured that I would go with the plain old white bread since I had all of the ingredients on hand. I really would like to try a whole grain or wheat bread one day, but I didn't have the right ingredients at home that afternoon to try that out. Peter Reinhart gives 3 different variations of white bread, and I chose to do the second variation.
This was actually probably the best white bread I have ever made. I didn't get the shaping quite right, so it wasn't that pretty, and my loaf pans are much to big, so my loaves ended up kind of wide and short. So it wasn't the perfect sized sandwich bread, but it made cute little half-sized sandwiches instead!!
White Bread – Variation 2
From The Bread Bakers Apprentice by Peter Reinhart
4 1/4 cups unbleached bread flour
1 1/2 teaspoons salt
3 tablespoons sugar
2 teaspoons instant yeast
1 large egg, slightly beaten (at room temperature)
1/4 cup butter, margarine, or shortening (at room temperature)
1 1/2 cup buttermilk or whole milk (at room temperature)
Mix together the flour, salt, sugar and yeast in a 4-quart bowl (or the bowl of an electric mixer). Pour in the egg, butter, and milk and mix until all of the flour is absorbed and the dough forms a ball. If the dough seems very stiff and dry, add more milk until the dough is soft and supple.
Sprinkle flour on the counter, transfer the dough to the counter, and begin kneading (or mix on medium speed with the dough hook), adding more flour, if necessary, to create a dough that is soft, supple, and tacky but not sticky. Continue kneading (or mixing) for 6 to 8 minutes. (In an electric mixer, the dough should clear the sides of the bowl but stick ever so slightly to the bottom.) The dough should pass the windowpane test and register 80F. Lightly oil a large bowl and transfer the dough to the bowl, rolling it to coat it with oil. Cover the bowl with plastic wrap.
Ferment at room temperature for 1 1/2 to 2 hours, or until the dough doubles in size.
Remove the fermented dough from the bowl and divide it in half. Mist the dough lightly with spray oil and cover with a towel or plastic wrap. Allow to rest for 20 minutes.
Shape boules into loaves. Lightly oil two 8 1/2 by 4 1/2 inch loaf pans and place th loaves in the pans.
Mist the tops of the dough with spray oil and loosely cover with plastic wrap or a towel. Proof the dough at room temperature for 60 to 90 minutes, or until it nearly doubles in size.
Preheat the oven to 350F. Brush with egg wash (if desired).
Bake loaves for 35 to 45 minutes, rotating 180 degrees halfway through for even baking. The tops should be golden brown and the sides, when removed from the pan, should be golden. The internal temperature should be close to 190F and the loaves should sound hollow when thumped on the bottom.
When the loaves have finished baking, remove them from the pans and cool on a wire rack for at least 1 hour before slicing or serving.