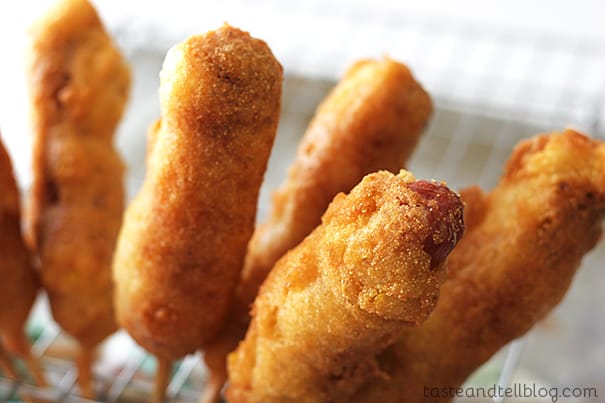 While a lot of people tend to turn towards lighter foods – like salad – during the summertime, I tend to want fried foods. Maybe it's because of the feeling of the State Fair in the air, but nothing says summer to me like a corn dog!
When I came across this recipe in this month's Cookbook of the Month, I knew I wanted to try it. The recipe comes from Alton Brown – and although he is definitely one of my favorite tv cooking personalities, I can't think of a single recipe of his that I have tried. Such a shame!
My biggest complaint with this recipe is that the batter didn't stick to the dogs as much as I think that it should have. You can tell in my picture – you can see a bit of the hot dog sticking through. I wish I would have coated them, fried slightly, and then added another coating. The batter also ended up a bit crispy, which was unexpected – but then again, this probably would have been changed by double "dipping" them.
Would I make them again? They were delicious, but they are a bit of work. I do want to try them again to see if I can perfect this recipe, and I think it would be even easier to do mini corn dogs without the sticks. I'm sure once my little girl gets older, these would be a real treat for a special occasion!
Recipe Rating: 3.5 out of 5
Corn Dogs
adapted from Food Network Favorites
Makes 8 corn dogs
Peanut oil, for frying
1 cup yellow cornmeal
1 cup all-purpose flour
2 teaspoons salt
1 teaspoon baking powder
1/4 teaspoon baking soda
1/2 teaspoon cayenne pepper
1 8.5-ounce can cream-style corn
1/3 cup grated onion
1 1/2 cups buttermilk
4 tablespoons cornstarch – for dredging
8 beef hot dogs
8 sets wooden chopsticks, not separated*
Pour oil into a deep fryer or large heavy pot and heat to 375F.
In a medium mixing bowl, combine the cornmeal, flour, salt, baking powder, baking soda and cayenne pepper. In a separate bowl, combine the corn, onion and buttermilk. Add the dry ingredients to the wet ingredients all at once and stir only enough to bring the batter together; there should be lumps. Set batter aside and allow to rest for 10 minutes.
Scatter cornstarch in a dry pie pan. Roll each hot dog in the cornstarch and tap well to remove any excess.
Transfer enough batter to almost fill a large drinking glass. Refill the glass as needed. Skewer each hot dog on a pair of chopsticks and quickly dip in and out of the batter in the drinking glass. Immediately and carefully place each hot dog into the oil and cook until the coating is golden brown, about 4 to 5 minutes. With tongs, remove to cooling rack and allow to drain for 3 to 5 minutes.
* I separated the chopsticks, since I didn't have enough. I think they were plenty sturdy, but there was a bit of an issue with splinters!