Perfect for when you can't make it to the fair or carnival, this Homemade Corn Dog Recipe will definitely fill that craving! Crisp on the outside, these corn dogs are loved by both kids and adults.
If you love corn dogs but don't want to bother with frying, you can also try out this Corn Dog Casserole!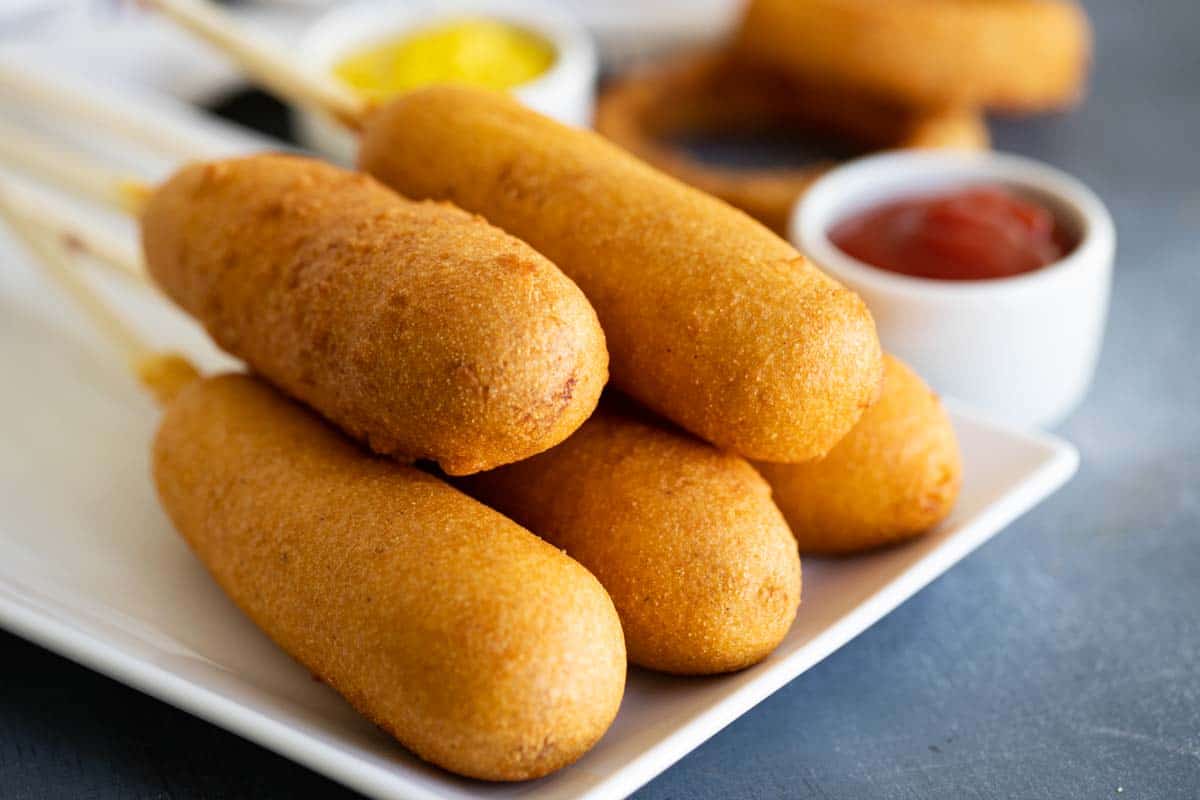 If there's one thing I have to get every time I go to a carnival or fair, it's a corn dog. I don't know what it is – but they rank right up there at the top of my favorite fried foods. (Especially when it comes to the best corn dog out there – at Disneyland!)
My kids seem to love them just as much I do. I have been trying to get them involved in my menu planning, and one of my boys wanted corn dogs one night. And ever since I made this corn dog recipe, it has been high on the list of requests for a repeat over and over again!
The good thing is that I've figured out how to make the best homemade corn dog. And I'm sharing all my tips and tricks with you!
Ingredients
Hot Dogs: I like to use all beef hot dogs. My favorites are the bun length beef hot dogs from Costco.
Cornmeal and Flour: I like the mixture of these two ingredients to give you the perfect flavor and texture. I just use yellow cornmeal and all-purpose flour.
Sugar: This doesn't make the batter sweet, but helps to balance the flavors.
Baking Powder: The baking powder is important so that the batter is nice and soft and fluffy on the inside.
Salt and Pepper: Both for seasoning.
Milk: I use 2% milk.
Egg: The egg is important to give the batter the right consistency and will give the corn dog breading a great texture.
Oil: I usually use vegetable oil, but any neutral, high temperature oil will work, like canola or peanut oil.

How To Make Homemade Corn Dogs
I'm going to walk you through the steps here, but make sure to read the tips and tricks below, as well!
Start by prepping your hot dogs. You can use a skewer (like you would for kabobs), but we have started using chopsticks.
Mix together your dry ingredients in a bowl. I like to use a whisk to make sure it's all evenly mixed.

Add the wet ingredients to the dry ingredients. You want the batter thick enough to stick to the hot dogs, but if it's too thick, it will be too heavy and fall off. You can add more milk to make it the right consistency.
Transfer the batter to a tall cup that is taller than your hot dog, and dip the hot dog into the batter.

You don't want too much batter on the hot dog, so let any excess drip off.
Place the hot dog into the hot oil and spin it so that the batter will not only cook evenly, but will stay evenly on the hot dog. If you just add the hot dog to the oil without spinning, you'll get uneven parts of the crust. The spinning keeps it all even and uniform.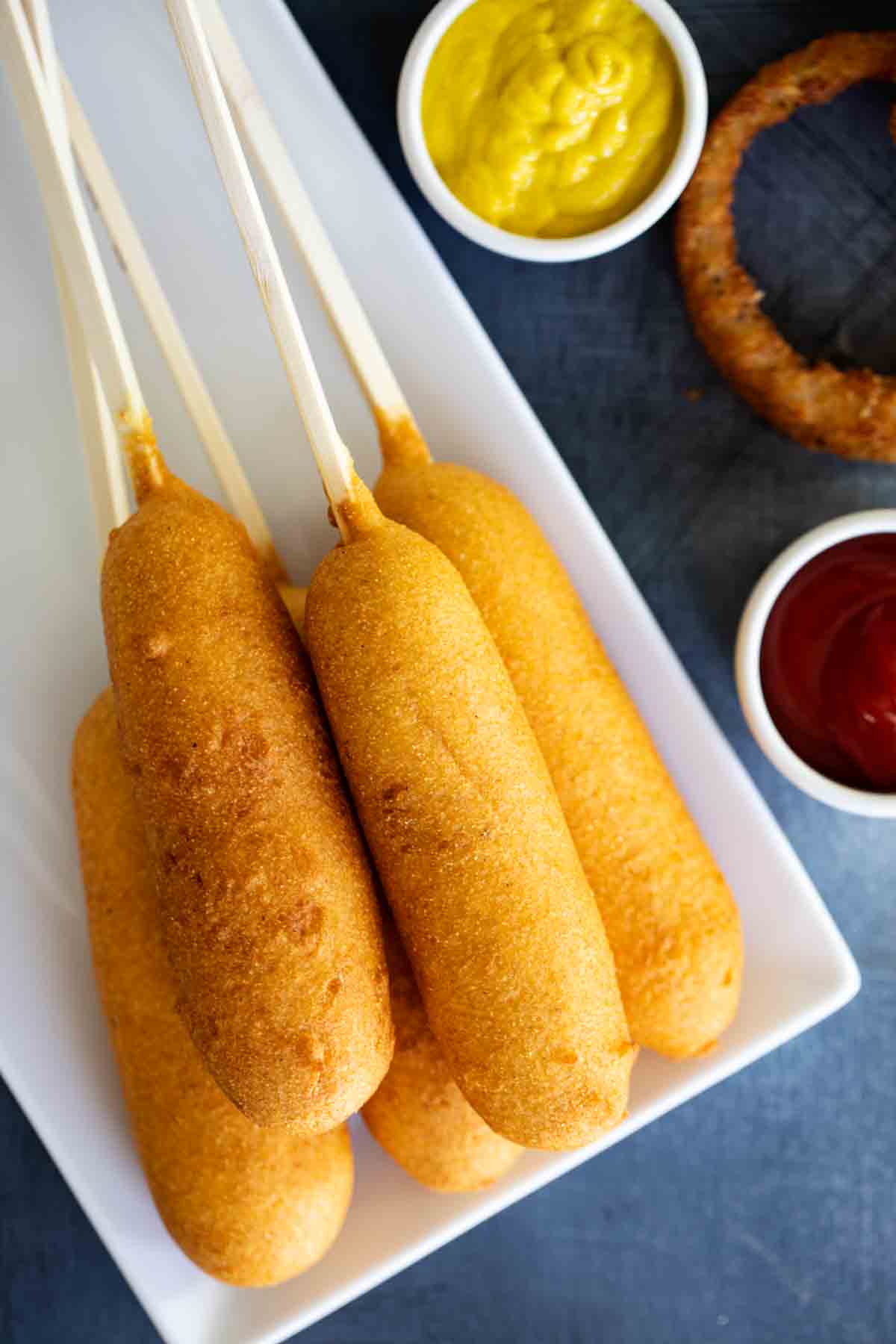 Tips and Tricks
I have used skewers before for the sticks, but I find that they aren't usually as sturdy. I read a tip years ago to use chopsticks, and have stuck with that since then. I had always used the cheap kind (like the kind you'll get at a take out restaurant) but this last time, I ordered groceries online and was given some that were about 12″ long. I actually really loved having that extra length!
The consistency of the batter is really important. If your batter isn't sticking to the hot dog, add a little more milk.
I got my tall cup at the dollar store years ago and I use it all the time. Having a cup that is tall enough makes it easiest to evenly and completely cover the hot dog with batter.
I make these one at a time so that I can make sure they cook evenly. It takes a little bit of time, but the spinning makes them perfect, and it's really hard to spin two at the same time. (Believe me – I have tried it! But if you can do it, then go for it!)
Make sure you leave the corn dogs in the hot oil long enough to get a nice browned crust. You want it to heat the hot dog through, as well, so don't try to rush it. It takes me about 3 minutes per corn dog.
These freeze really well! I doubled this recipe last time and stuck half in the freezer. We baked them in the oven from frozen. You will need to cover the stick with foil to prevent it from burning, but they were great from frozen, too!
Other Favorite Fried Recipes:
Southwest Egg Rolls
Chicken Chimichanga Recipe
Apple Cider Donuts
Cheddar Corn Fritters
Chicken Fried Steak Fingers
Easy Egg Roll Recipe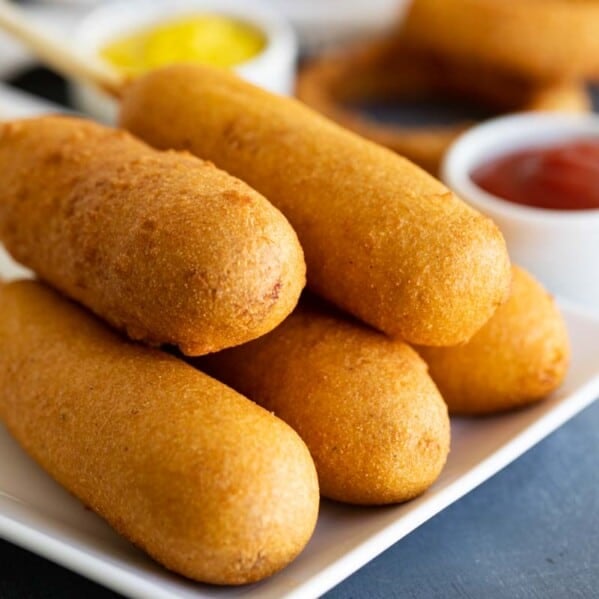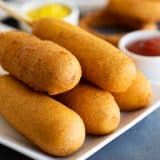 Corn Dog Recipe
---
Author:
Prep Time: 20 mins
Cook Time: 25 mins
Total Time: 45 minutes
Yield: 8 corn dogs 1x
Category: Main Dish
Method: Fried
Cuisine: American
Description
Perfect for when you can't make it to the fair or carnival, this Homemade Corn Dog Recipe will definitely fill that craving! Crisp on the outside, these corn dogs are loved by both kids and adults.
---
Scale
Ingredients
8 beef hot dogs
1 cup yellow cornmeal
1 cup all-purpose flour
2 tablespoon white sugar
4 teaspoons baking powder
1/4 teaspoon salt
1/4 teaspoon pepper
1 cup mik
1 egg
1 quart Vegetable oil, for frying
---
Instructions
Using skewers or long chopsticks, thread the hot dogs. Make sure to leave enough of the handle to keep ahold of while frying. Set aside.
In a large bowl, whisk together the cornmeal, four, sugar, baking powder, salt and pepper.
In another bowl, whisk together the milk and egg.
Add the wet ingredients to the dry ingredients and stir to combine. The batter should be fairly thick, but if it's too thick, add in a little extra milk, a tablespoon at a time.
Heat several inches of oil in a large saucepan over medium-high heat. The oil needs to be around 350ºF.
Transfer the batter to a tall cup. It's easiest to dip the hot dogs if the cup is deeper than the hot dog is long.
Working with one hot dog at a time, dip the dog into the batter, twisting it to coat it with the batter. Lift the hot dog out and let any excess drip off (but make sure the hot dog is still completely coated).
Place the dipped hot dog into the hot oil and start to twirl the hot dog by the stick. I'll usually rest the stick on the side of the pan, but make sure that the hot dog is completely covered by hot oil. Once the coating has started to brown a bit, you can stop twisting the hot dog, but you'll want to make sure the hot dog browns evenly on all sides.
Once the hot dog is golden brown, remove it from the oil and place on a paper towel covered plate.
Repeat with the remaining hot dogs.
Recipe Notes:
You will end up with extra batter. You can try to do more hot dogs to use all of the batter, but it's harder for the batter to stick to the hot dogs if you can't dip it into the batter.
Nutrition information provided as an estimate only. Various brands and products can change the counts. Any nutritional information should only be used as a general guideline. Nutritional value of the oil for frying is based on a retention value of 10% after cooking. Cooking time and temperature can cause this number to change.
Nutrition
Serving Size: 1 corn dog
Calories: 338
Sugar: 5 g
Sodium: 595 mg
Fat: 20 g
Saturated Fat: 5 g
Unsaturated Fat: 10 g
Trans Fat: 0 g
Carbohydrates: 32 g
Fiber: 1 g
Protein: 20 g
Cholesterol: 41 mg
Keywords: corn dog recipe, corn dogs, homemade corn dogs