Last year, we got into some bad habits.
If you've been following me for awhile, you would have read my story about when my husband lost his job and we moved in with my parents. I am so, so grateful for the generosity that my parents showed, but when you aren't living in your own space, it's hard to set boundaries. Even hard to keep things normal sometimes.
I think I had a mindset that things were just temporary, and I just needed to do what I needed to do to get by. To bide my time. So we started doing things like having cereal for breakfast every morning. Eating too many snacks. My son developed a chocolate milk addiction. And he also became a very picky eater.
When we moved last November, I made a promise to myself. To my family. That our ways would change and we would get back on track with what we were eating. Well, then there were more excuses. 🙂 We had just moved – things were a mess. I was working crazy hours and was so tired in the mornings that I didn't have the energy to make breakfast, so cereal it was. I guess that's why they call them habits. And sometimes, they are hard to break.
Well, things are changing.

We have been taking baby steps, which is sometimes the only way to go when you have a small family. But one of my biggest things that I wanted to improve was that I wanted to get my kids to love vegetables. But that can sometimes get difficult when you are in the dead of winter. Sure, there are veggies at the grocery store, but how are you supposed to love something that doesn't taste like anything? That's what I think about most produce you can find in the winter – especially tomatoes.
Enter Del Monte® canned tomatoes.
Seriously. These things are lifesavers. Not only are they canned from tomatoes that are picked at their peak of ripeness, but the majority are canned the same day they are picked. You can't even get fresh like that when it's prime tomato season! Plus, 95% of Del Monte's fruits, canned tomatoes and vegetables are preservative free. By stocking your pantry full of canned fruits and vegetables, you have a garden in your pantry with great products just waiting to be used.
For recipes and information about Del Monte, make sure you are following them on Facebook!!
If there is one thing that my kids can't leave alone, it's when mom or dad are dipping chips into anything. And salsa (as long as it's not too spicy) is one of their favorites. During our move, I came across a piece of paper with a version of this recipe on it that I had been given from some girls at church. The youth were doing a fundraiser and selling salsa, and luckily, they handed out the recipe as well, because the salsa didn't last long at all. So when I came across the recipe, I knew I needed to make up a batch for my kids and I to share. I love this salsa recipe because it's perfect year round, and it literally only takes minutes to make.
I also decided to take the healthy-factor one step further and bake some of my own tortilla chips. I love this method because I can make just as many as I need, and I don't have to worry about a whole bag of chips, sitting in my pantry and tempting me. I like to make these simply with some coarse kosher salt, but they are great when you sprinkle them with spices as well.
Now this is a healthy snack the whole family loves!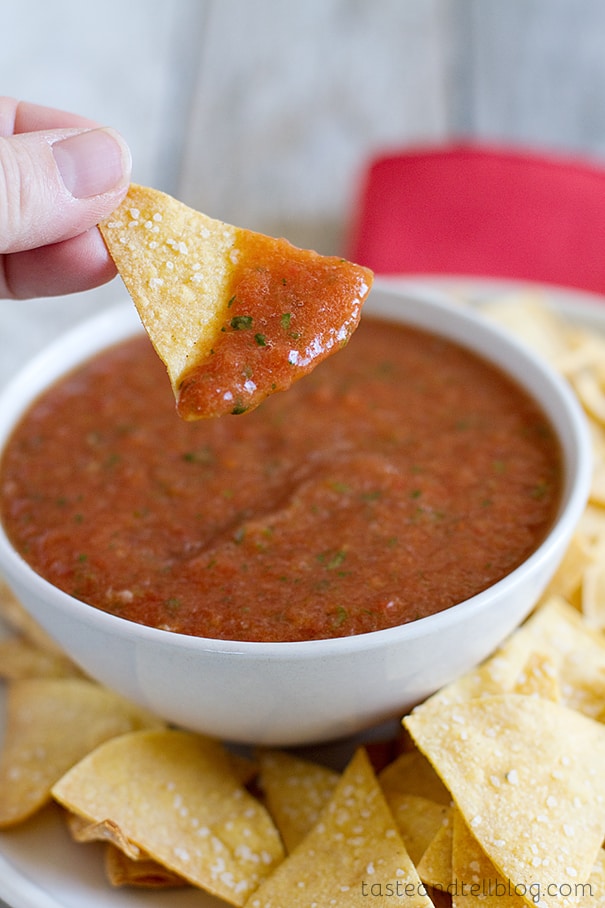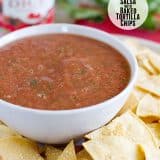 Quick and Easy Salsa with Baked Tortilla Chips
---
Prep Time: 15 minutes
Cook Time: 15 minutes
Total Time: 30 minutes
Yield: 1 1/2 quarts of salsa 1x
Description
It doesn't get much easier than this Quick and Easy Salsa! Pair it with these Homemade Baked Tortilla Chips for a healthy snack.
---
Scale
Ingredients
Salsa
2 (14.5 oz) cans Del Monte diced tomatoes
1 (14.5 oz) can Del Monte stewed tomatoes
6–8 green onions
1/2 – 1 jalapeno pepper, seeds and ribs removed for less heat
1 large handful cilantro
juice from 1 lime
1 teaspoon garlic powder
1 teaspoon salt
1/4 teaspoon cumin
Baked Tortilla Chips
12 corn tortillas
1 tablespoon olive oil
salt
---
Instructions
To make the salsa:
Combine all of the ingredients in a blender and pulse until you reach the desired consistency.
To make the chips
Arrange the oven racks in the top third and bottom third of the oven. Preheat the oven to 350F.
Lay the tortillas out on a work surface and brush with oil. Sprinkle with salt. Stack the tortillas, then cut the whole stack into 8 wedges. Arrange on 2 baking sheets in a single layer. Place the chips in the oven and bake for 7 minutes, then rotate the trays and bake an additional 7 minutes, or until the desired doneness.* Remove from the oven and allow to cool before serving.
Recipe Notes:
*The chips can go from underdone to overdone very quickly, so keep an eye on them. Take them out of the oven when they are still a little pale, as they will continue to brown a bit as they cool.
Reader Interactions