A white cheese dip with a Mexican flare.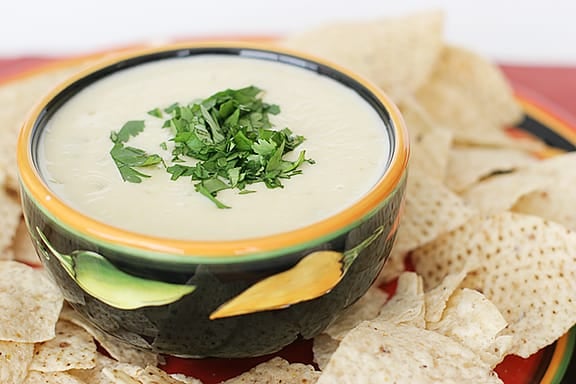 Cinco de Mayo is tomorrow, do you know what you are serving? This dip would be a great last minute addition to your menu! Cheesy with a little spice, this will be addicting and a crowd pleaser!
Queso Blanco
A white cheese dip with a Mexican flare.
Ingredients
1 tablespoon vegetable oil
¼ cup chopped onion
1-2 jalepenos, chopped
1 4-ounce can of chopped green chiles
8 ounces shredded white American cheese
8 ounces shredded Monterey Jack cheese
½-3/4 cup milk
2 tablespoons of juice from a jar of pickled jalepenos
cilantro, for garnish
Instructions
In a large pan, heat the vegetable oil. Add the onions and jalepenos and saute over medium heat until tender, about 5 minutes. Mix in the remaining ingredients (except cilantro) and whisk over medium heat until the cheese is melted and smooth. Garnish with cilantro and serve.
Nutrition Information
Serving size:
10-12 servings