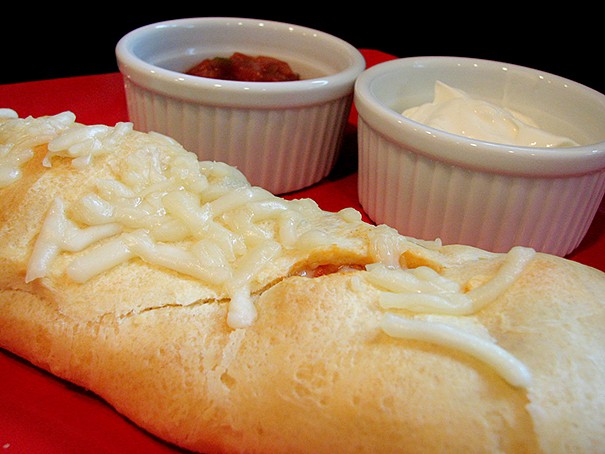 The reason I first started this blog was purely just for me. I never would have imagined that I would become so addicted to reading other food blogs and wanting to share what I make with the world. It was originally just a way to keep track of what I made (with pictures) so that if I was ever looking at the same recipe or cookbook again, I would have a reference of how it went the first time around. I could also keep track of any changes I made, or suggestions for changes if I wanted to make that recipe again.
Why do I mention this? Because of this recipe. It's nothing spectacular. In fact, although it wasn't horrible, I wouldn't recommend it to anyone else. But I want to remember – so that next time I am flipping through the pages of this particular cookbook, and if this recipe catches my eye again, I can go back and read about it and remember that it is not really worth making again.
This comes from the 50th anniversary edition of the Pillsbury Best of the Bake-Off Cookbook. I have actually made a few recipes out of this cookbook that I have really liked. It's one of those cookbooks that are fun to flip through – along with lots of pictures, there are lots of profiles of home cooks that entered their creations in the Pillsbury Bake Off competitions over 50 years. It's always fun to read about how regular, normal people came up with some of these creations. (Maybe that's why I like reading food blogs so much!)
If you're not familiar with the Bake Off, it is a competition that Pillsbury sponsors. You can submit a recipe, but it must use eligible products (a list of eligible products is given.) These days, you have to use at least 2 of the products on the list in your recipe, but I wonder how it worked back in the 50's when the store shelves weren't packed with so many pre-made items. This recipe uses refrigerated crescent dinner rolls. It was great for an easy weeknight meal, but not something that really stood out to me or begged to be made again.
I did make a couple of changes. I had some Monterey Jack cheese, so I substituted the Cheddar. I also mistakenly bought the extra large crescent rolls, so instead of 8 chimichangas, we had 6 larger ones. One serving was plenty for each of us, so I wrapped up the remaining ones and put them in the freezer for a quick dinner or lunch another day.
Chicken and Cheese Crescent Chimichangas
from Pillsbury Best of the Bake-Off
Yield: 8 servings
1/2 cup chopped onion
2 garlic cloves, minced
3 tablespoons oil
2 1/2 cups shredded cooked chicken
2 (8 oz) cans refrigerated crescent dinner rolls
1/2 cup picante salsa
8 oz (2 cups) shredded Cheddar cheese
Sour Cream
Salsa
Heat oven to 350 F. Grease large cookie sheet. In large skillet, cook onion and garlic in oil until onion is tender. Add chicken; cook over low heat until thoroughly heated, stirring occasionally. Remove from heat.
Separate dough into 8 rectangles; firmly press perforations to seal. Spread about 2 teaspoons of the salsa on each rectangle to within 1/2 inch of edges. Stir 1 cup of the cheese into chicken mixture. Spoon heaping 1/3 cup chicken mixture onto half of each rectangle. Starting at shortest side topped with chicken, roll up; pinch ends to seal. Place seam side down on greased cookie sheet.
Bake at 350 F for 16 to 21 minutes or until golden brown. Remove from oven; top each with about 2 tablespoons of the remaining cheese. Bake an additional 1 to 2 minutes or until cheese is melted. Serve with sour cream and additional salsa.