This Chicken Chimichanga Recipe has flour tortillas that are filled with chicken, beans and cheese and then fried until they are golden and crispy. This is such an easy and fun Mexican recipe that you can make at home!
Serve these chimichangas alongside some Instant Pot Pinto Beans, Cilantro Lime Rice, or Grilled Mexican Corn on the Cob for the perfect Tex-Mex meal!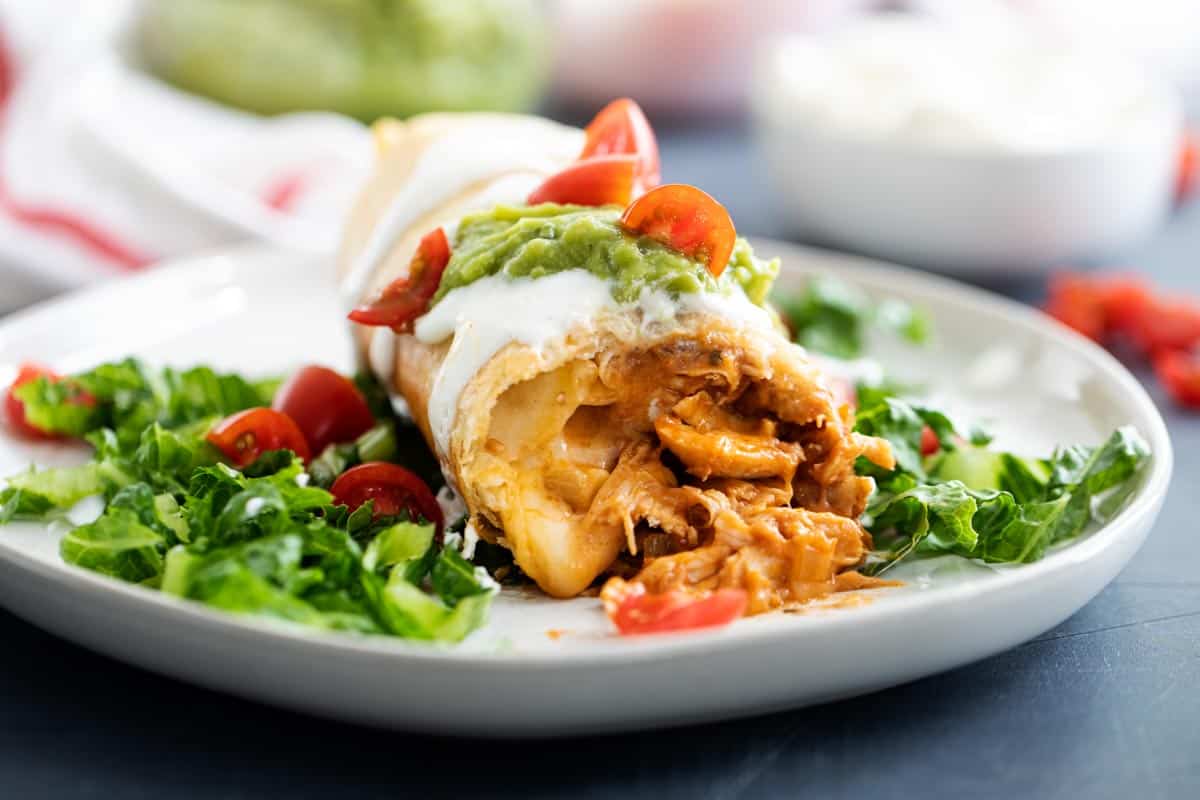 As a native New Mexican, chimichangas were part of my childhood. We love our Tex-Mex, and going out to a restaurant and getting a chimichanga was always a good thing.
And today, I love them just as much. From the Disneyland chimichangas to a smothered chimichanga at a restaurant, I'll take them all.
But guess what? Chimichangas are actually really easy to make at home. (Yes, even the frying part.) And even better – this is a 30 minute meal!
What is a Chimichanga?
In case you've never had the chance to try a chimichanga, it is basically a fried burrito. I've seen all kinds of fillings, from beans to chicken to beef. The story goes that they were invented in Tucson, Arizona, when a chef accidentally dropped a burrito into a fryer. And that's all it took. This Tex-Mex phenomenon spread throughout the southwest, and now you can find them everywhere from a gas station to a fancy restaurant.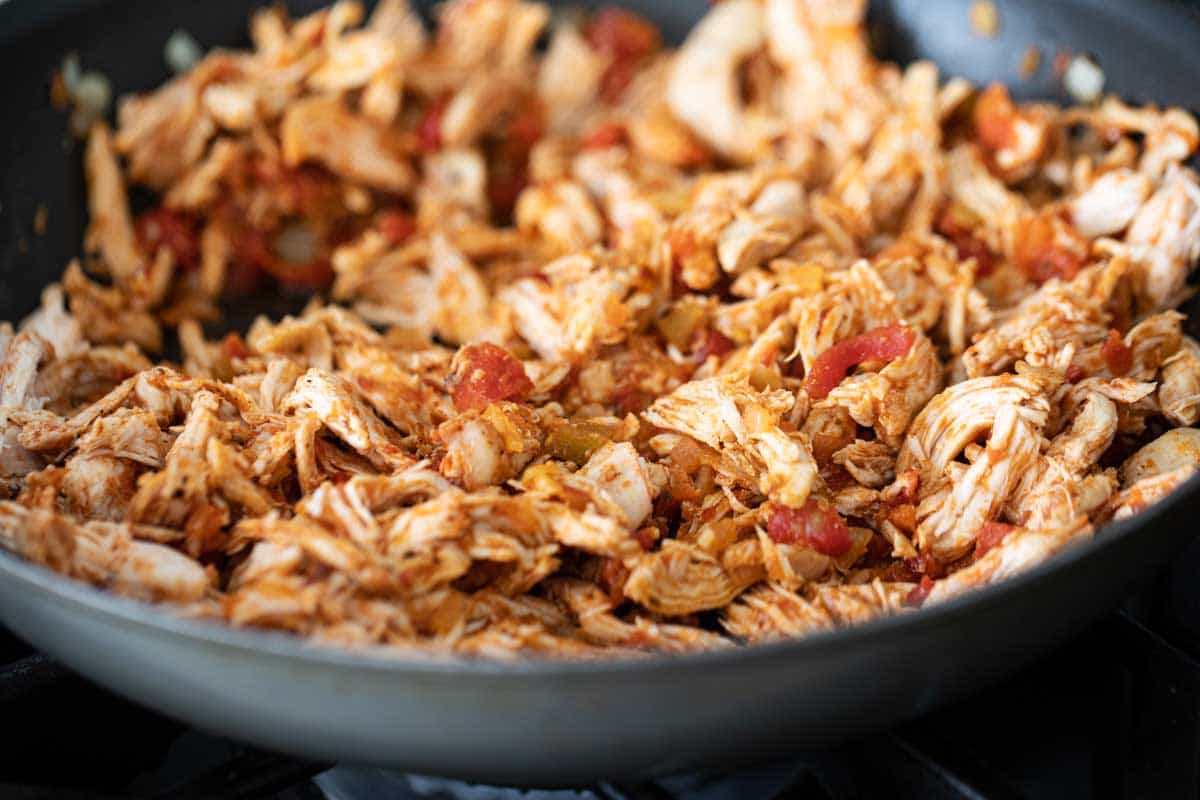 Ingredients
Olive Oil – you could also use another oil with a high smoking point.
Onion – I like to use either white or yellow onion for this.
Garlic – I like using fresh garlic.
Cooked, Shredded Chicken – I always keep cooked, shredded chicken in my freezer, but you could also use a rotisserie chicken.
Salsa – the most important thing is to use a salsa that you like.
Cumin, Paprika and Salt – these are all used for seasoning. Feel free to add in some chili powder if you want to add some heat.
Refried Beans – you can use one can of refried beans, or if you are feeling adventurous, you can make homemade refried beans.
Vegetable Oil – this is for frying the chimichangas. You can use another neutral oil if there is one you like better.
Shredded Cheese – I like using a mixture of monterey jack and cheddar, but any cheese that melts easily would be great here.
Tortillas – you'll need burrito sized tortillas. If you get smaller tortillas, they are harder to fold together.
How to Make Chimichangas
Believe it or not, this is a recipe I go to when I don't have a lot of time to make dinner. It looks way more complex than it actually is. My shortcut here is to use cooked, shredded chicken. If you have been around here awhile, you know that this is my most used trick that I have done many times in the past, and I'm sure you'll be seeing it from me for a long time to come. It cuts off so much time and makes your weeknight a breeze.
1 – Start by cooking an onion and garlic, then add in your shredded chicken, salsa and some spices. This is the base to your chimichanga filling.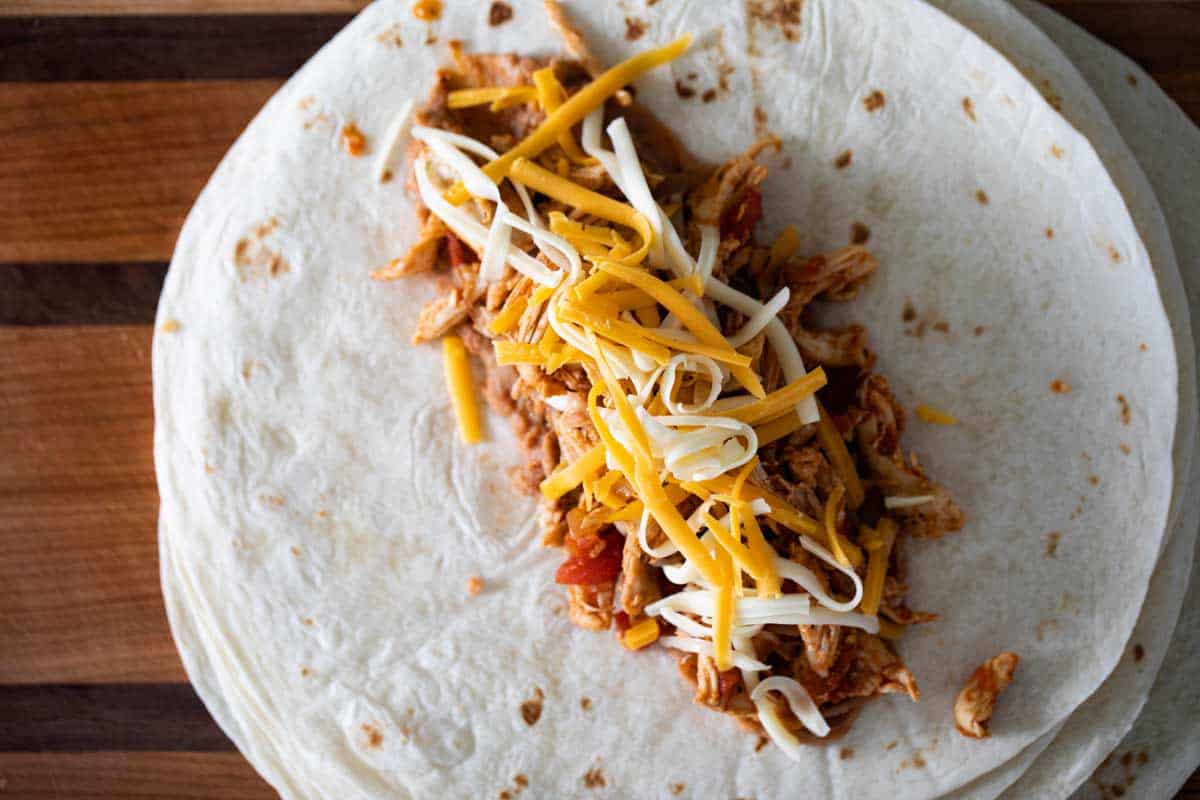 2 – Once your filling is done, you'll spread some refried beans on a tortilla, then top that with some of your chicken mixture and some shredded cheese.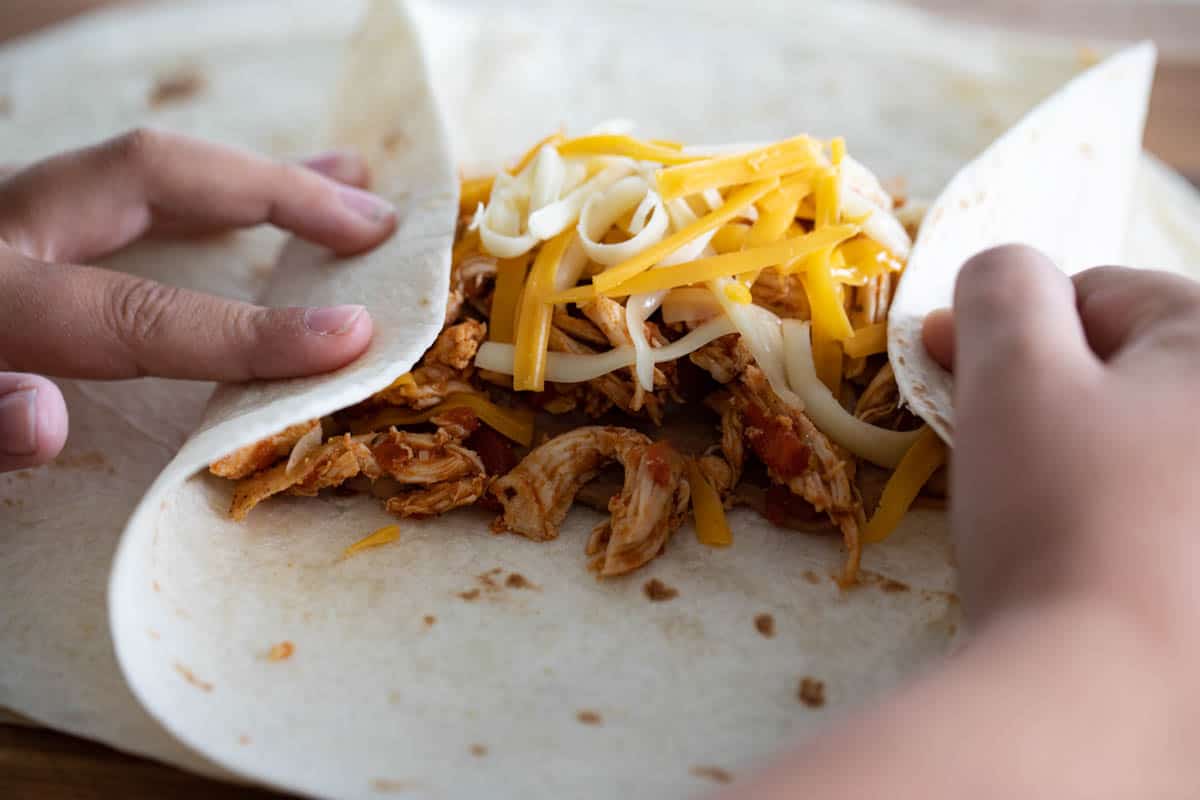 3 – To roll the chimichanga, fold the sides of the tortilla over the edges of the filling. This will hold everything in. Then start on the other side and roll the tortilla, closing all of the filling in the tortilla.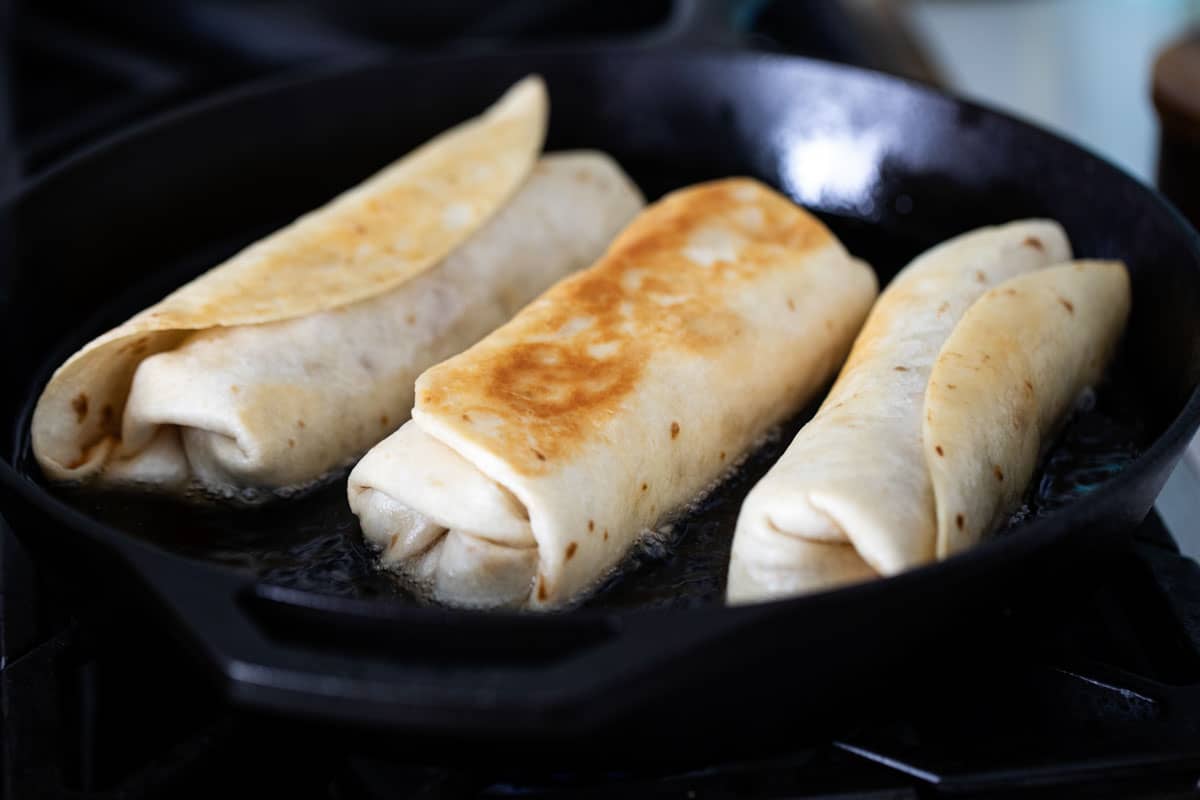 4 – Now it's time to fry the chimichangas. This really is easy, so don't be intimidated by this step. Heat about an inch of oil in a large skillet. I like to use cast iron because it holds the temperature really well. When the oil is hot, carefully place your chimichangas in the hot oil, seam side down so that they will be sealed and won't open up. I have to cook mine in batches because they don't all fit in the pan and you don't want to crowd them.
Cook the chimichangas until they are golden brown, then turn them over using a pair of tongs and continue to cook them until they are browned and crispy on all sides.
They really should be heated through at this point, but I like to transfer them to a cooling rack on a baking sheet and bake them for about 5 more minutes to make sure they are completely heated through.
Tips and Tricks
Serving:
You can really eat and serve these just as they are, even picking them up after they have cooled a bit and eat them by hand.
But I like them smothered.
I like to add sour cream and guacamole and sometimes salsa or lettuce or tomatoes. Pile them all on top of my chimichanga and eat the with a fork and knife.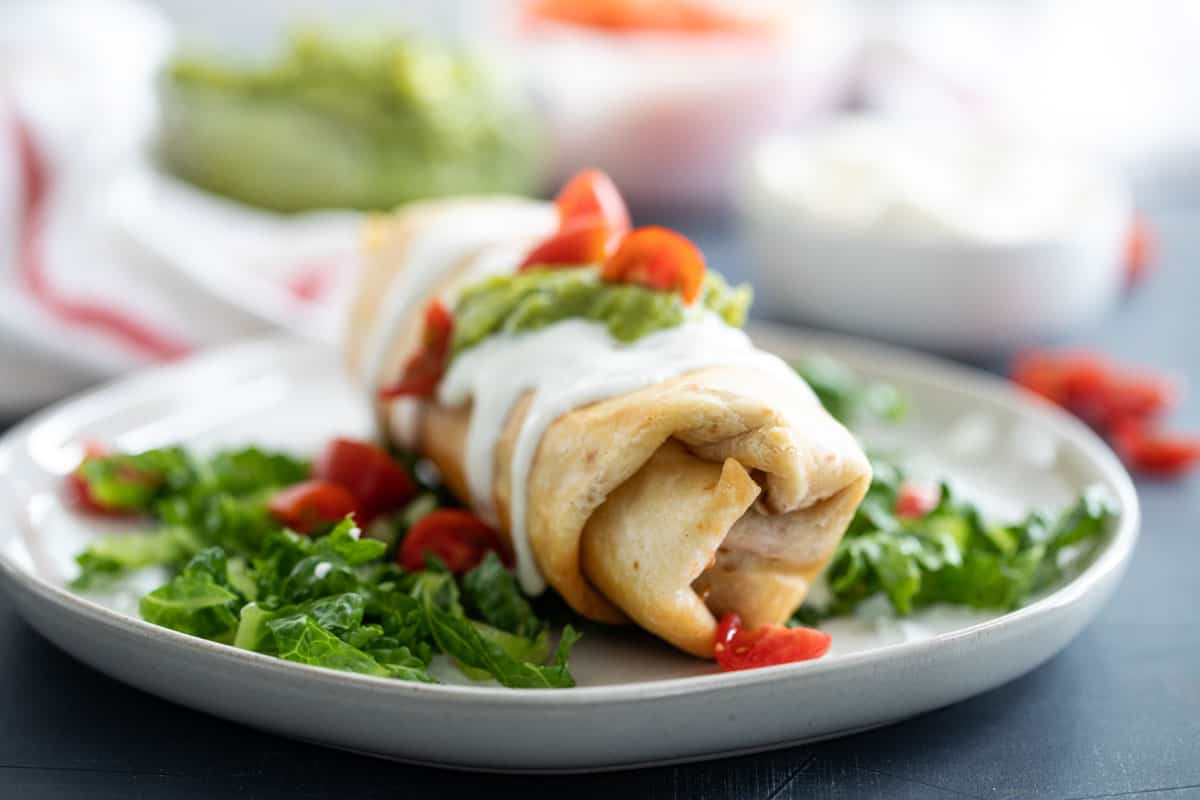 Baking:
If you really don't want to fry these, they can be baked. Instead of placing them in the hot oil, simply place them on a cooling rack over a baking sheet. Brush them with a little bit of olive oil (or you can spray them with nonstick cooking spray) and bake them at 400ºF for about 20-25 minutes. Just keep an eye on them and take them out when they are golden brown.
Freezing:
If you want to freeze these Chimichangas, I like to make them completely through, then let them cool completely. Place them on a baking sheet and place in the freezer. When they are frozen, you can transfer them to a freezer safe container. To reheat, wrap the chimichanga in foil, then bake in a 350ºF oven for about 45 minutes. Remove the foil for the last 5 minutes and cook until the outside is a bit crispy.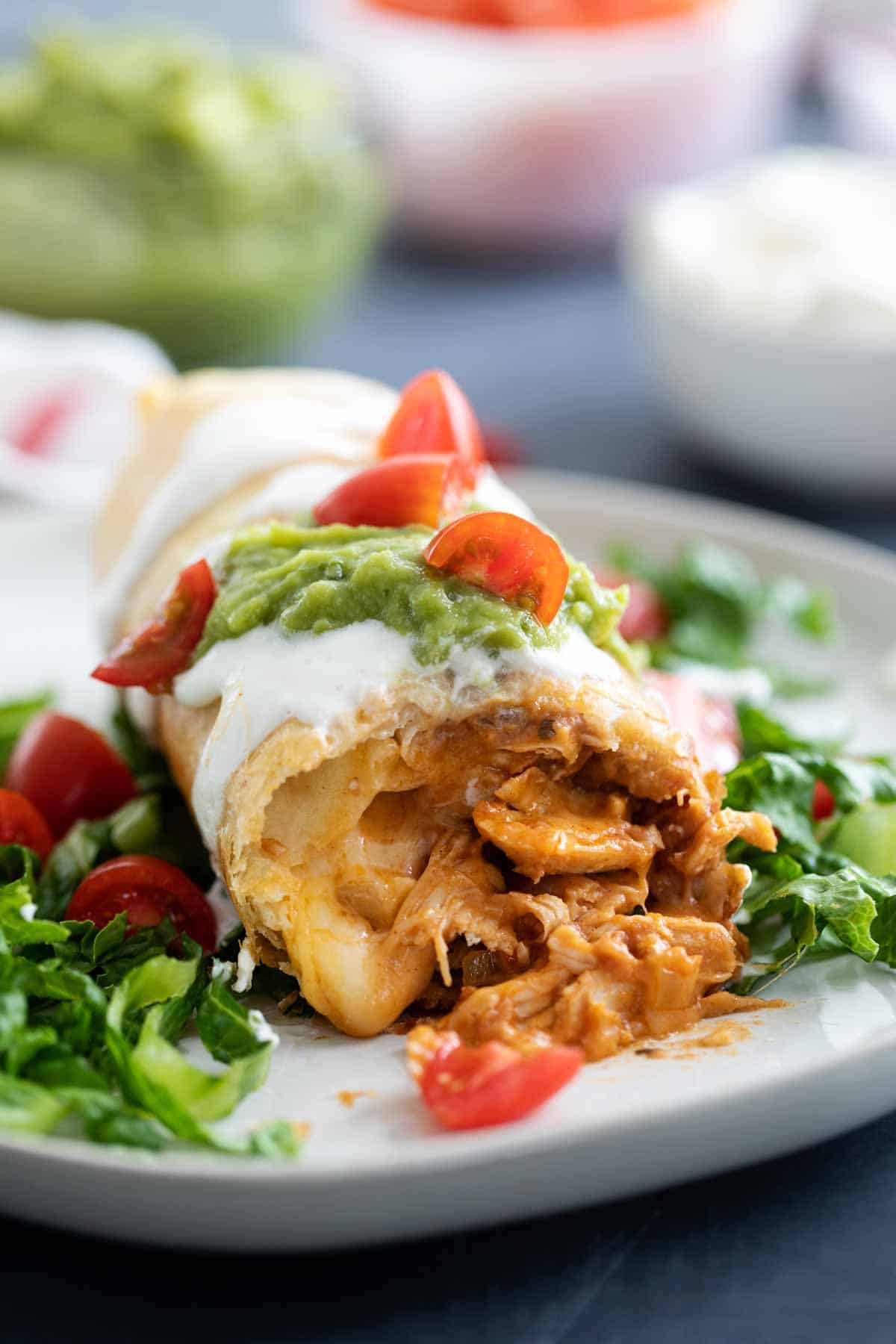 More Easy Mexican Recipes
Taco Casserole
Smothered Chicken Burritos
White Chicken Enchiladas
Camping Breakfast Burritos
Creamy Chicken Tortilla Soup
Taco Pie
Beef Enchilada Casserole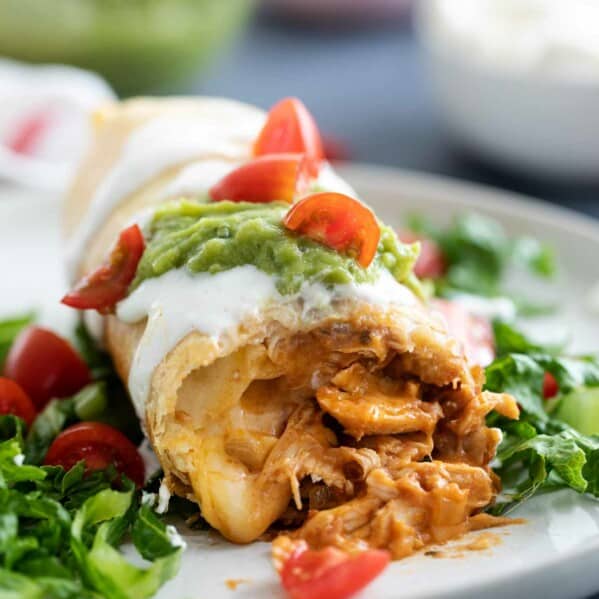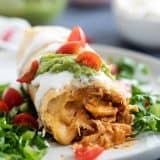 Chicken Chimichanga Recipe
---
Author:
Prep Time: 15 mins
Cook Time: 15 mins
Total Time: 30 minutes
Yield: 6 servings 1x
Category: Main Dish
Method: Fry
Cuisine: Mexican
Description
This Chicken Chimichanga Recipe has flour tortillas that are filled with chicken, beans and cheese and then fried until they are golden and crispy. This is such an easy and fun Mexican recipe that you can make at home!
---
Scale
Ingredients
1 tablespoon extra virgin olive oil
1/2 cup chopped onion
2 cloves garlic, minced
4 cups cooked, shredded chicken
3/4 cup prepared salsa
1 teaspoon cumin
1 teaspoon smoked paprika
1/2 teaspoon salt
1 can (15 oz) refried beans
Vegetable oil, for frying
8 oz (2 cups) shredded cheese (I used a mix of cheddar and Monterey Jack)
6 burrito sized tortillas
Toppings – sour cream, guacamole, lettuce, tomatoes, etc.
---
Instructions
Preheat the oven to 350ºF. Place a cooling rack on a baking sheet and set aside.
In a large skillet, heat the olive oil over medium heat. Add the onion and cook until translucent, about 3-4 minutes. Add the garlic and cook until fragrant, about 30 seconds.
Stir in the shredded chicken. Add the salsa, cumin, smoked paprika and salt. Cook a few minutes until heated through, then turn the heat down to low to keep warm.
Meanwhile, in a small pot, mix the refried beans with a splash of water to thin them out a bit. Place over medium heat and heat through, stirring as needed.
In a large skillet, I like to use a cast iron skillet, add enough oil to go up about 1 inch. Heat until the oil reaches around 350º.
Wrap the tortillas in a paper towel and microwave on high for 30 seconds, or until they are pliable.
Working with 1 tortilla at a time, spread 1/6 of the heated beans down the center of the tortilla. Top with 1/6 of the chicken mixture, then 1/6 of the shredded cheese. Fold the edges of the tortilla over the ends of the filling, then roll the tortilla up like a burrito.
Continue with the remaining tortillas and filling.
Working in batches, if needed, add the chimichangas to the hot oil, seam side down. Cook just until golden brown and crispy, then flip and cook the opposite side. This should only take a couple of minutes on each side.
Transfer the chimichangas to the cooling rack over the baking sheet, and place in the oven.
Bake until the chimichangas are heated all the way through, about 5 minutes.
Serve with desired toppings.
Recipe Notes:
Nutrition information provided as an estimate only. Various brands and products can change the counts. Any nutritional information should only be used as a general guideline. Nutrition does not include toppings, such as sour cream and guacamole.
The nutritional value for the frying oil is based on a retention of 1/4 cup oil. Cooking time and temperature can cause this number to change.
Nutrition
Serving Size: 1 chimichanga
Calories: 665
Sugar: 4 g
Sodium: 1344 mg
Fat: 35 g
Saturated Fat: 12 g
Unsaturated Fat: 17 g
Trans Fat: 0 g
Carbohydrates: 48 g
Fiber: 6 g
Protein: 40 g
Cholesterol: 37 mg
Keywords: Chimichanga recipe, chicken chimichanga