Chicken enchiladas with a creamy white sauce.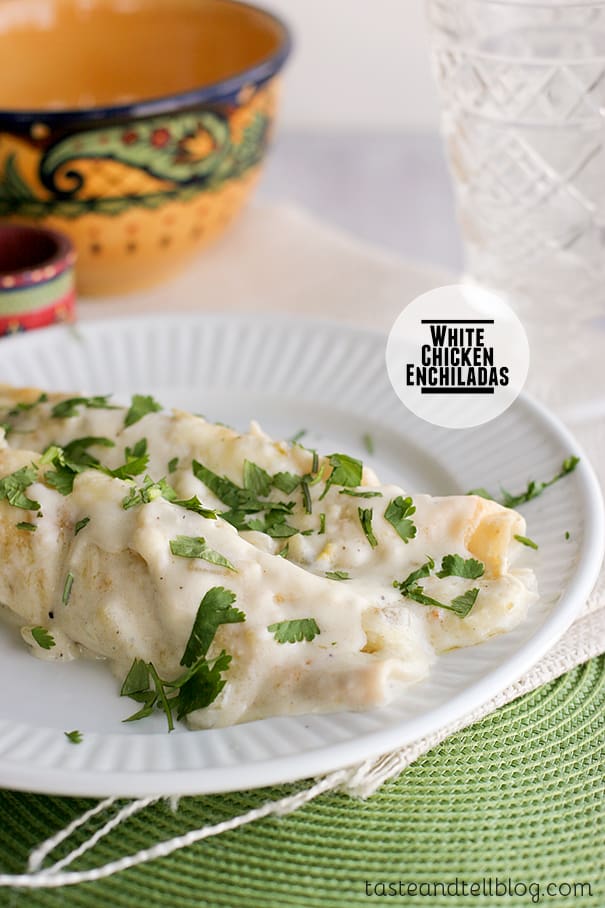 Call me crazy, but I have to admit that I really am starting to miss being in the kitchen. Don't get me wrong – it's been great having some time off – not having to worry about what to make, having the energy to make it, and even having to go to the grocery store. But it's been over a week now since I've cooked anything, and I am so blessed to have family and friends bringing food this week. My body is telling me to take it easy, but my mind keeps going to different recipes I want to try. And yes – I've found myself flipping through a Rachael Ray magazine or a cookbook more than once these last few days. At least I know that when the time is right, I'll be jumping right back into the kitchen!!
This is a recipe that I've wanted to try forever.  It's from one of my favorite blogs – Cassie Craves – and is listed as one of her most popular recipes.  And I can see why, because these are absolutely fabulous.  But I've found that some of the best recipes that have come out of my kitchen are from other food blogs!!  If you are an enchilada fan, this is one that you need to put on your menu right away!
Like what you see here? Make sure you are following Taste and Tell for more great recipes and ideas!!

Facebook ** Pinterest ** Twitter ** Instagram ** Google+
or you can subscribe to my newsletter or Feedly or Bloglovin


White Chicken Enchiladas
Chicken enchiladas with a creamy white sauce.
Ingredients
8-10 soft taco size flour tortillas
2 cups shredded Monterey jack cheese, divided
2 cups shredded cooked chicken
3 tablespoons butter
3 tablespoons flour
1 can chicken broth
1 cup sour cream
1 7-ounce can diced green chiles
Cilantro for garnish, if desired
Instructions
Preheat oven to 425 degrees. Prepare a 9×13-inch pan by spraying with cooking spray.
Mix together 1 cup of the cheese and the chicken. Place an equal amount of the mixture into each tortilla. Roll the tortilla up and place seam side down in the prepared pan.
Melt the butter in a skillet. Stir in the flour and cook for 1 minute. Whisk in the chicken broth. Cook over medium heat until thickened. Stir in sour cream and green chiles. Pour the mixture over the enchiladas and sprinkle with the remaining cheese.
Bake in the preheated oven for 20 to 25 minutes, or until the cheese is melted and bubbly. Sprinkle with cilantro if desired.
-------------------
Adapted from Cassie Craves