If you are intimidated by making your own pasta sauce, this Easy Alfredo Sauce is for you! This sauce comes together in minutes and is basically fool proof!
Serve this easy pasta dinner up with some Cheesy Garlic Bread and a salad (I would suggest this Antipasto Salad) for an easy weeknight dinner.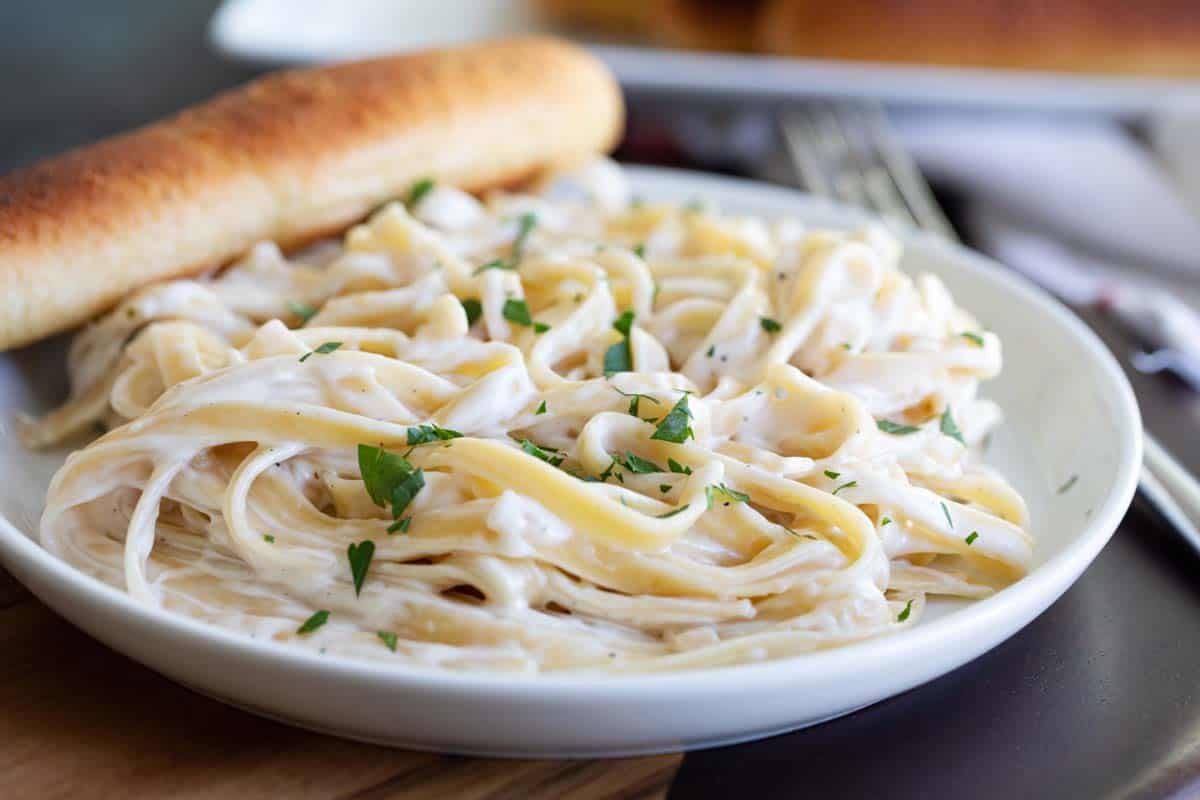 This is one of those recipes that bring back all the memories. I first posted it here on Taste and Tell over 12 years ago – when I was pregnant with my oldest. I was always so tired, and making meals was not at the top of my list of priorities. So it was all easy recipes, all the time.
This recipe came from my sister, and since my husband loves fettuccine alfredo, this started to become a regular.
Over the years, I've tried lots of other sauces. Authentic alfredo sauce, the kind with just cheese and butter, the more Americanized version with lots of cream – and every time, I end up coming back to this one.
Authentic, it is not. But I'm totally ok with that, because it's easy, it's fast, and it's practically fool proof!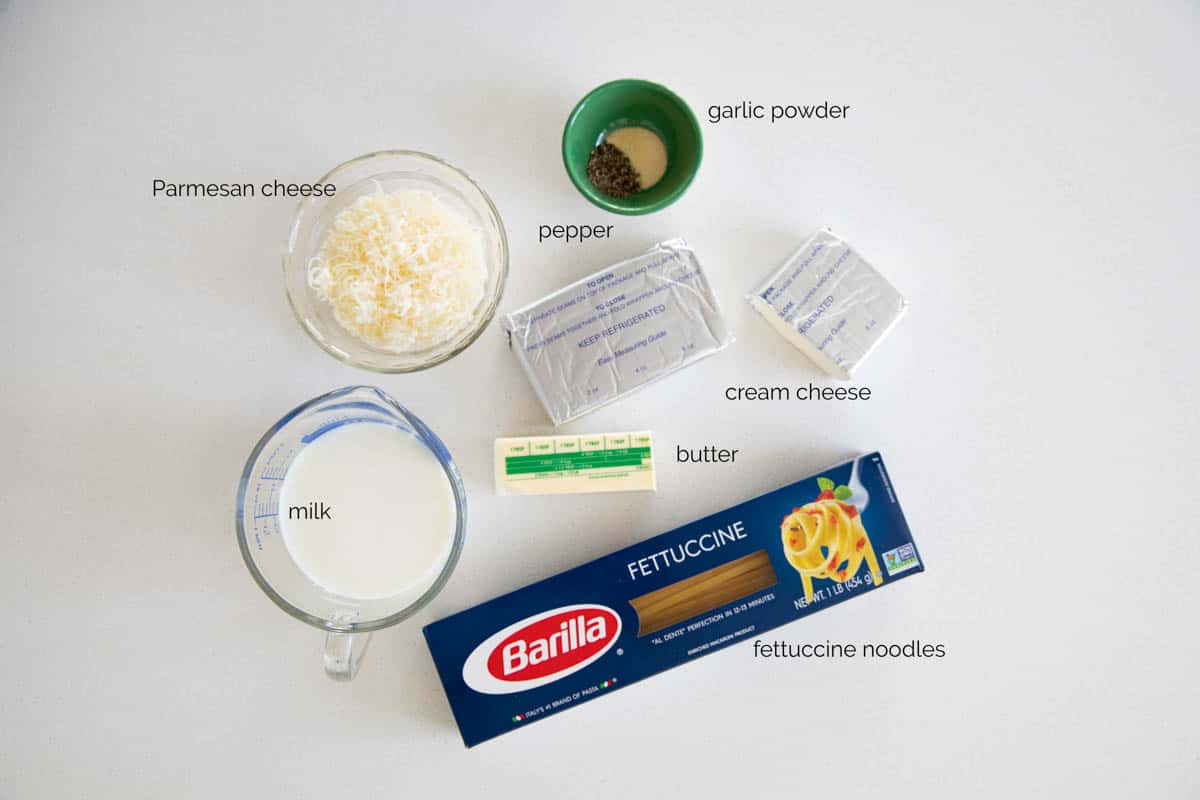 What You'll Need:
Before I start, I'll note that the original recipe posted here was the same, but 2/3 the amount of each ingredient. But we like the pasta to be nice and coated, so the amounts were upped until we thought it was the perfect amount of sauce for 1 pound of pasta.
Cream Cheese – yep, this is where you get the creaminess. I haven't tried low fat, so I'm not sure how it would work.
Milk – you don't need cream for this recipe. You could probably use cream, but the sauce is pretty thick as is, so it might be too thick if you used cream.
Parmesan – I definitely suggest freshly grated, otherwise, the cheese might not melt in smoothly.
Butter – I never said this was a low calorie recipe!
Garlic Powder – You could for sure add fresh garlic, but I would saute it first.
Pepper – this is an ingredient that has been added in the last few years. It makes a big difference (for the better!)
Fettuccine Noodles – so you could actually use any noodles you want. I think this is a perfect amount of sauce for 1 lb of pasta.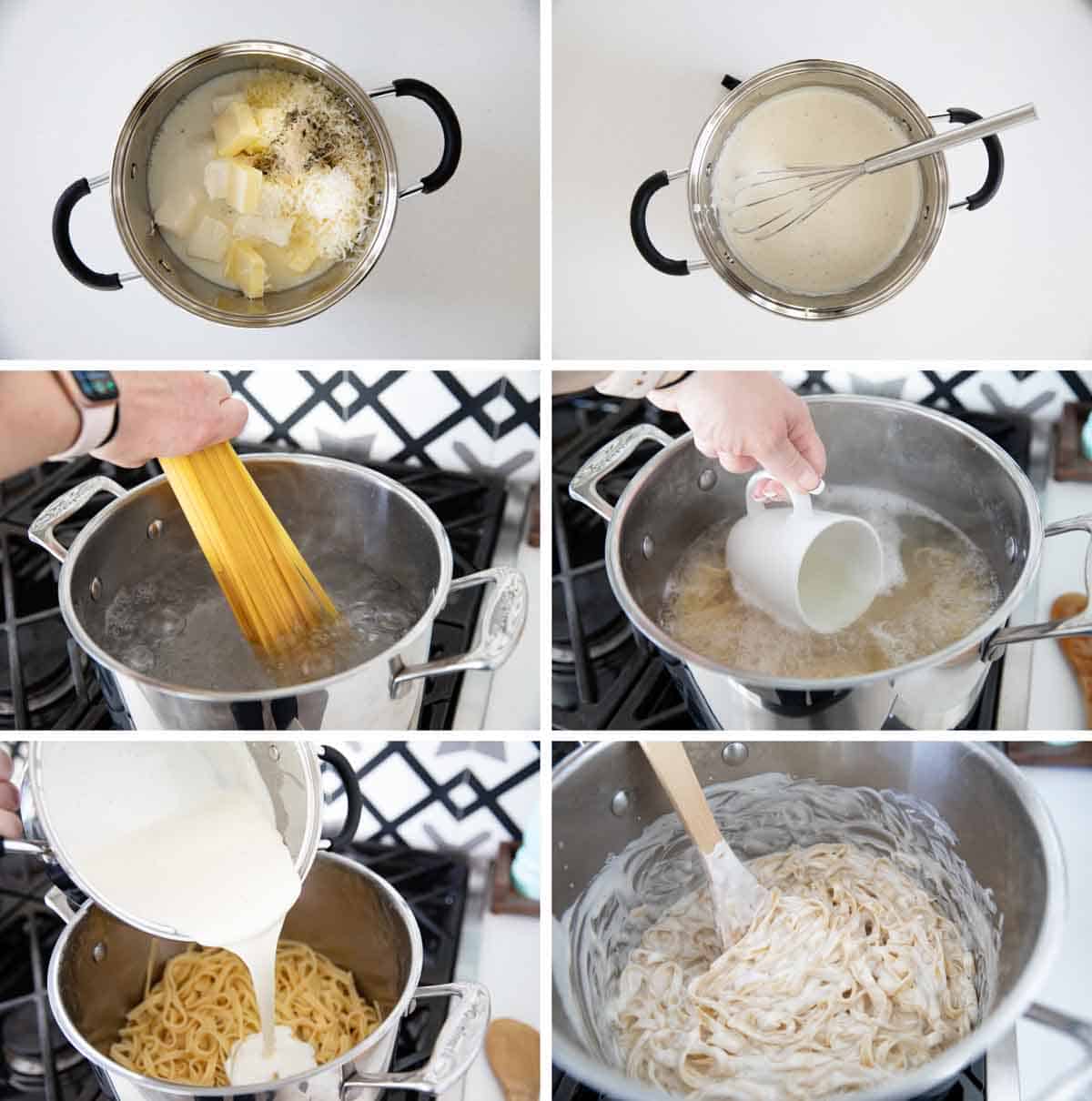 How to Make It
I wasn't lying when I said this may be the easiest alfredo sauce ever!
Combine all the ingredients (except the pasta) in a pot.
Place the pot over medium heat and cook, whisking often, until everything has melted and it all comes together. It will continue to thicken up as it cooks, so once it is smooth, reduce the heat to low.
Meanwhile, bring a large pot of water to a boil and cook the pasta.
Just before draining the pasta, save a mug full of the pasta water. Drain and return the pasta to the pot.
Pour the sauce over the pasta.
Stir everything together, adding as much of the pasta water as needed to fully coat the pasta.
Tips and Tricks
If the sauce looks like it is separated as it is cooking, just keep whisking. As the cream cheese starts melting, it can look like the sauce is separated, but if you keep whisking it, it will all come together.
Taste the sauce (before and after adding the pasta) and season accordingly. I don't usually add salt, but you may want some. And I'll usually add more garlic powder and pepper.
The longer the pasta sits in the sauce, the more it will absorb. I will keep the pasta water and keep adding as needed. In fact, I'll take any pasta water that I have left and save it to mix in with leftovers!
Once the sauce is added to the pasta, it is best served right away. If you want to make it ahead of time, make the sauce and store it in the refrigerator. Warm it back up (whisking often) before adding it to the pasta.
Additions
As good as this alfredo sauce is on its own, we will often add in something extra. Here are a few suggestions:
Chicken – this is our most common addition. I'll add in leftover chicken that we have on hand, or I'll dice up a breast or two and cook it in some olive oil. I usually keep it super simple!
Bacon – you can't go wrong with bacon!
Ham – if you have leftover ham, dice it up and throw it in. It's delicious!
Peas – there was actually an alfredo dish at a chain restaurant many, many years ago that had both ham and peas in it, and I loved it. But even without the ham, the peas are a delicious addition!
Red Pepper Flakes – if you want a little bit of heat and another dimension of flavor, add in a pinch or two of red pepper flakes.
Vegetables – I know I already mentioned peas, but many veggies are actually good in this. Asparagus, broccoli, even some wilted spinach! Just make sure to cook or blanch them, if they are a tougher vegetable.
Pesto – have you ever stirred a couple of spoonfuls of pesto into your alfredo sauce? It's a great way to easily change it up!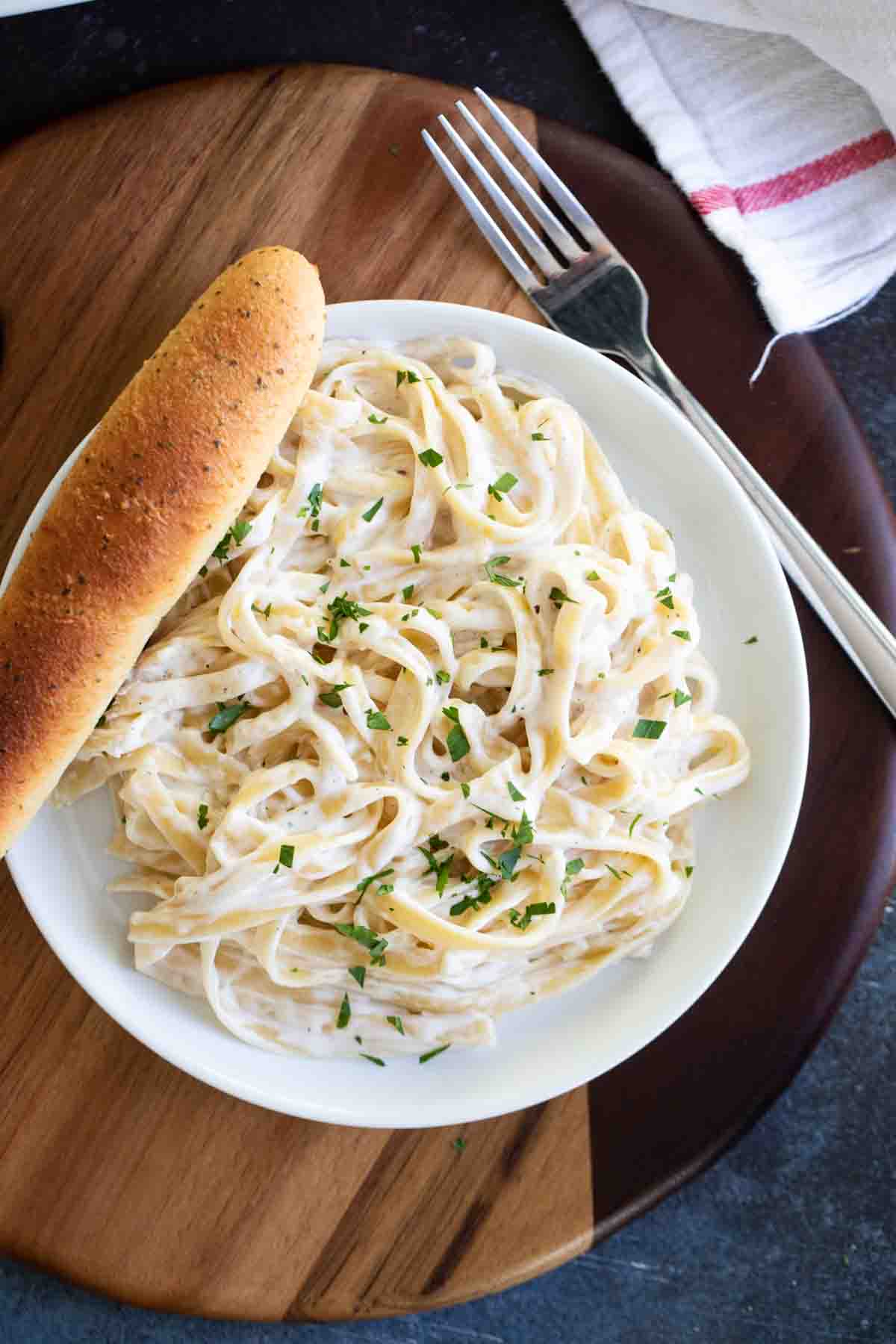 More Can't Miss Pasta Recipes
This Alfredo Pasta with Bacon is a more typical alfredo – it's indulgent and perfect for a date night in!
If you are looking for a recipe to impress, this Shrimp Alfredo is the one you need.
Add this Skillet Pasta with Sausage to your list of easy weeknight meals. It is a go-to of mine – it's on the table in 30 minutes!
It doesn't get more simple than this Parmesan Pasta – only 5 ingredients and it's done in under 30 minutes!
Super cheesy and a two thumbs up meal, this Penne Pasta Bake is super kid friendly.
One pan and done – this One Pan Pasta with Bacon and Peas is a five star rated recipe!
This Tuscan Pasta with Sausage only takes 30 minutes!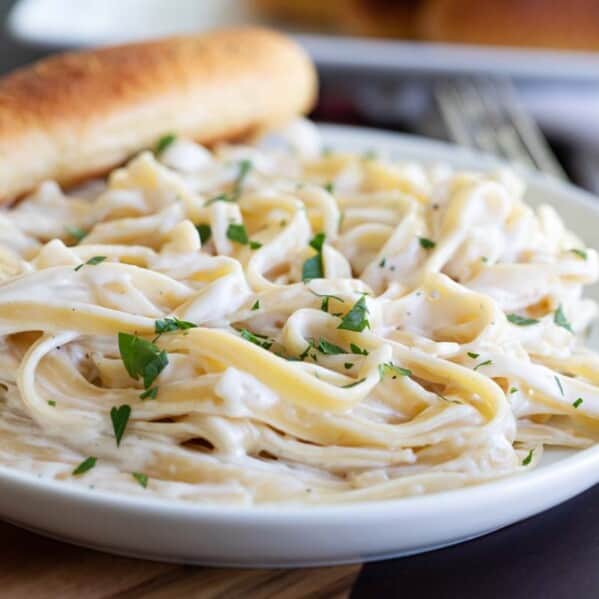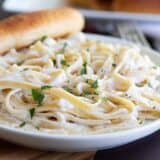 Easy Alfredo Sauce
---
Author:
Prep Time: 5 minutes
Cook Time: 15 minutes
Total Time: 20 minutes
Yield: 4 servings 1x
Category: Main Dish
Method: Stove Top
Cuisine: Italian
Description
If you are intimidated by making your own pasta sauce, this Easy Alfredo Sauce is for you! This sauce comes together in minutes and is basically fool proof!
.
---
Scale
Ingredients
12 oz cream cheese
1 1/4 cup milk
1/2 cup freshly grated Parmesan cheese
6 tablespoons butter
1/2 teaspoon garlic powder
1/2 teaspoon pepper
1 lb fettuccine noodles (or pasta of choice)
---
Instructions
In a pan, combine the cream cheese, milk, Parmesan, butter, garlic powder and pepper.
Over medium-low heat, heat the mixture until it all melts and comes together, whisking often. Keep warm.
If serving with fettuccini noodles, bring a large pot of water to a boil, then salt generously. Add the pasta, and cook until al dente.
Before draining the pasta, take a mug full of the pasta water and set is aside. Drain the pasta and return the pasta to the pot.
Pour the Alfredo sauce over the pasta, using the pasta water as needed to loosen the sauce, until the pasta is coated.
Serve immediately.
Recipe Notes:
If the pasta sits long after the sauce has been added, it will start to absorb the sauce and become quite thick. Add more pasta water, if needed, to loosen the sauce.
Nutrition information provided as an estimate only. Various brands and products can change the counts. Any nutritional information should be used as a general guide. Nutrition information includes the pasta.
Nutrition
Serving Size: 1/4 of recipe
Calories: 629
Sugar: 7 g
Sodium: 354 mg
Fat: 36 g
Saturated Fat: 21 g
Unsaturated Fat: 10 g
Trans Fat: 0 g
Carbohydrates: 63 g
Fiber: 3 g
Protein: 17 g
Cholesterol: 99 mg
Keywords: Easy Alfredo sauce, Alfredo sauce, pasta sauce, white sauce, pasta