It doesn't get easier than this Easy Focaccia Bread Recipe! This bread can be done in under 2 hours, with very little hands on time, making it doable any night of the week!
Whether a slice of Artisan Bread or French Bread with butter, you really can't go wrong with bread alongside your dinner, right? This Focaccia bread recipe is one of my favorites – especially because it is so easy!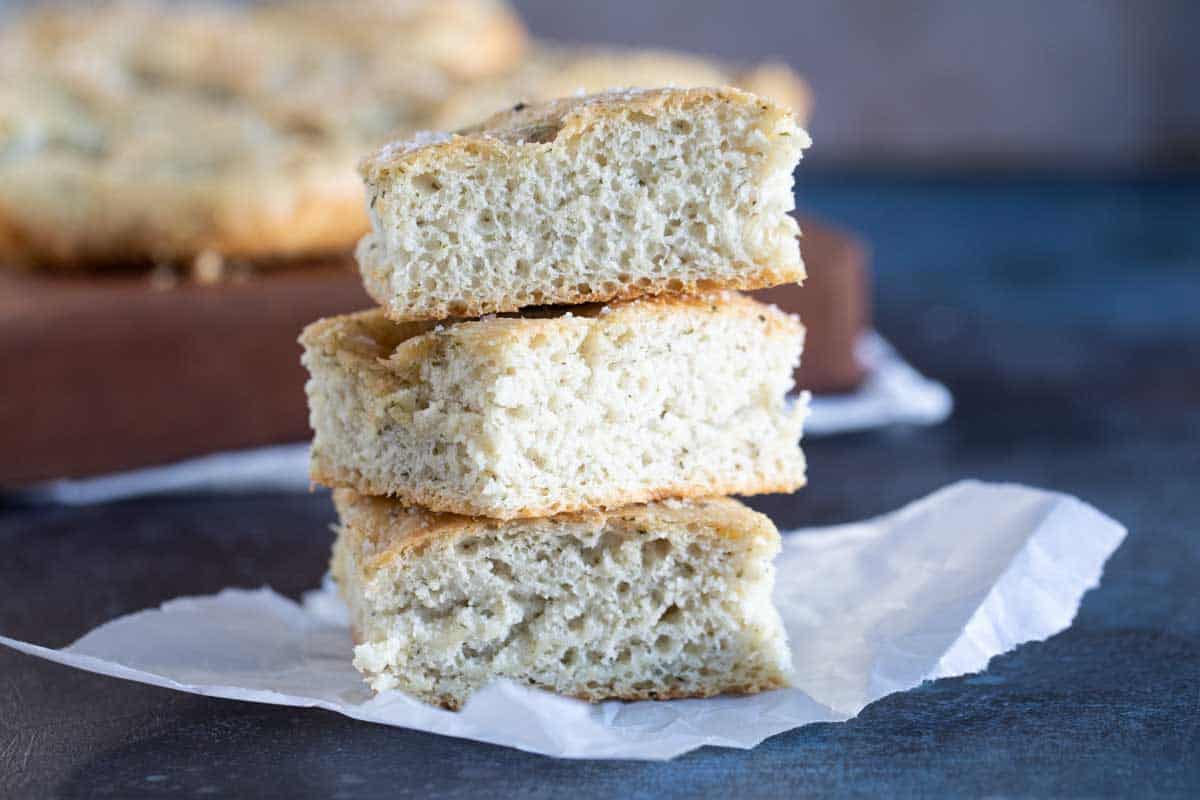 I am a carb lover, through and through. I was actually telling my husband just the other night that more than anything else, there is a satisfaction that comes with making bread. There is just something about taking such simple ingredients like flour, yeast and water, and turning those into something so amazing. And delicious.
I have been making this Easy Focaccia Bread Recipe for years because it is so easy, and it tastes amazing. It's the perfect bread to go alongside so many different meals. The texture is perfect, and it can easily be changed up by using different herbs. I'm sure you'll fall in love with this bread recipe as well!
What Is Focaccia?
Focaccia is an Italian bread that has a texture similar to pizza. It gets nice and crisp on the outside because of the oil coating the baking dish, with a somewhat chewy interior. Most of the time, focaccia is baked in a flat loaf, (it is widely known as a flatbread, so this makes sense), but you will also sometimes see it as a loaf.
Sometimes it is quite thin, one-half inch thick, and other times it is fluffy enough to cut in half to use as sandwich bread. This recipe falls in the middle. The finished bread has enough rise to it that you could cut it in half to use for sandwiches, but I like to cut it into squares and serve it alongside dinner.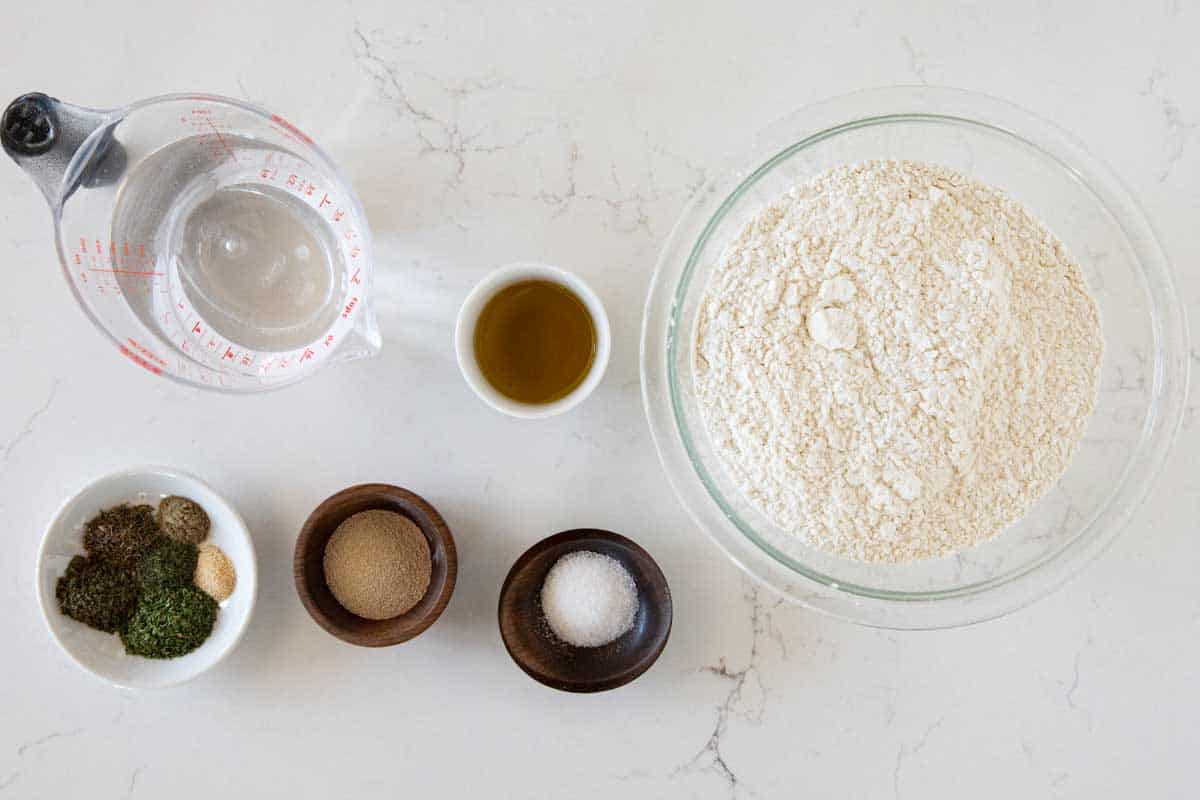 Ingredients
Water: You want to make sure the water is warm, 105ºF – 115ºF. If it is not warm enough, the bread will take longer to rise. If it is too hot, you risk killing the yeast.
Olive Oil: I use extra virgin olive oil. The oil in the pan is important so that you get that nice, crispy exterior. And while vegetable oil would probably work as a substitution, I wouldn't suggest using it. You get a lot of flavor from the olive oil.
Flour: I have always used all-purpose flour. Bread flour should work as a substitution, though.
Yeast: This recipe calls for instant yeast. If all you have is active yeast, I would just proof it in some of the warm water before adding the rest of the ingredients.
Salt: Don't skip it! I usually use sea salt or kosher salt.
Dried Herbs: I have included my favorites in the recipe card – a mix of garlic powder, parsley, basil, thyme, sage, and dill. I have used herbs de Provence before, as well, and that is a favorite. You really can get creative and use what you like. The same goes for the top of the bread. This time, I opted for a sprinkle of kosher salt, but I'll often add more herbs to the top.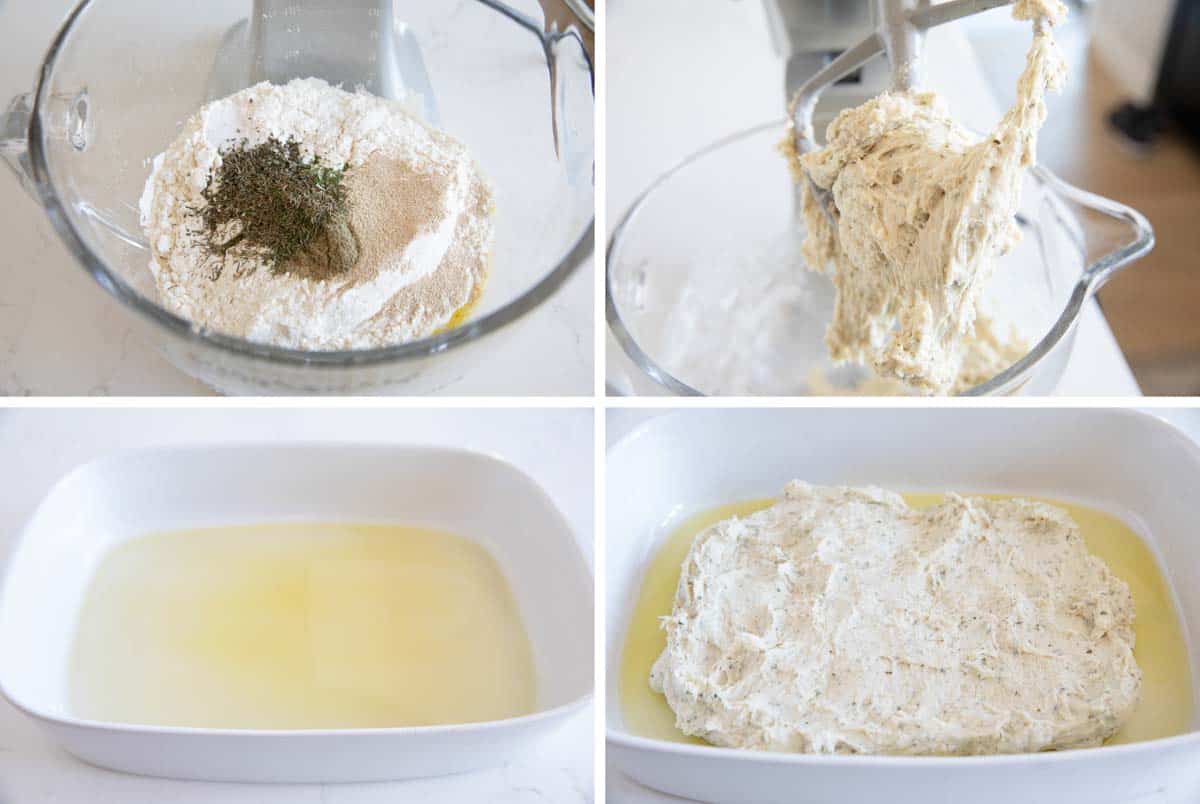 How to Make Focaccia Bread
1 – Start by combining the water, 3 tablespoons of the olive oil, flour, yeast, salt and herbs in the bowl of a stand mixer. You can also make this by hand, but just be aware that it is a pretty sticky dough.
2 – Mix the dough until it all comes together, about 1 minute. It will be sticky.
3 – Spread the remaining 2 tablespoons of olive oil in the bottom of a baking dish.
4 – Pour the dough out into the dish. If needed, use a spatula or clean fingers to press the dough to the sides of the pan as much as possible. It doesn't need to be perfect or completely fill the dish.
5 – Cover the dish and let the dough rise until it is nice and puffy. This should take about an hour.
6 – Using your fingers, press down on the dough, making indentations.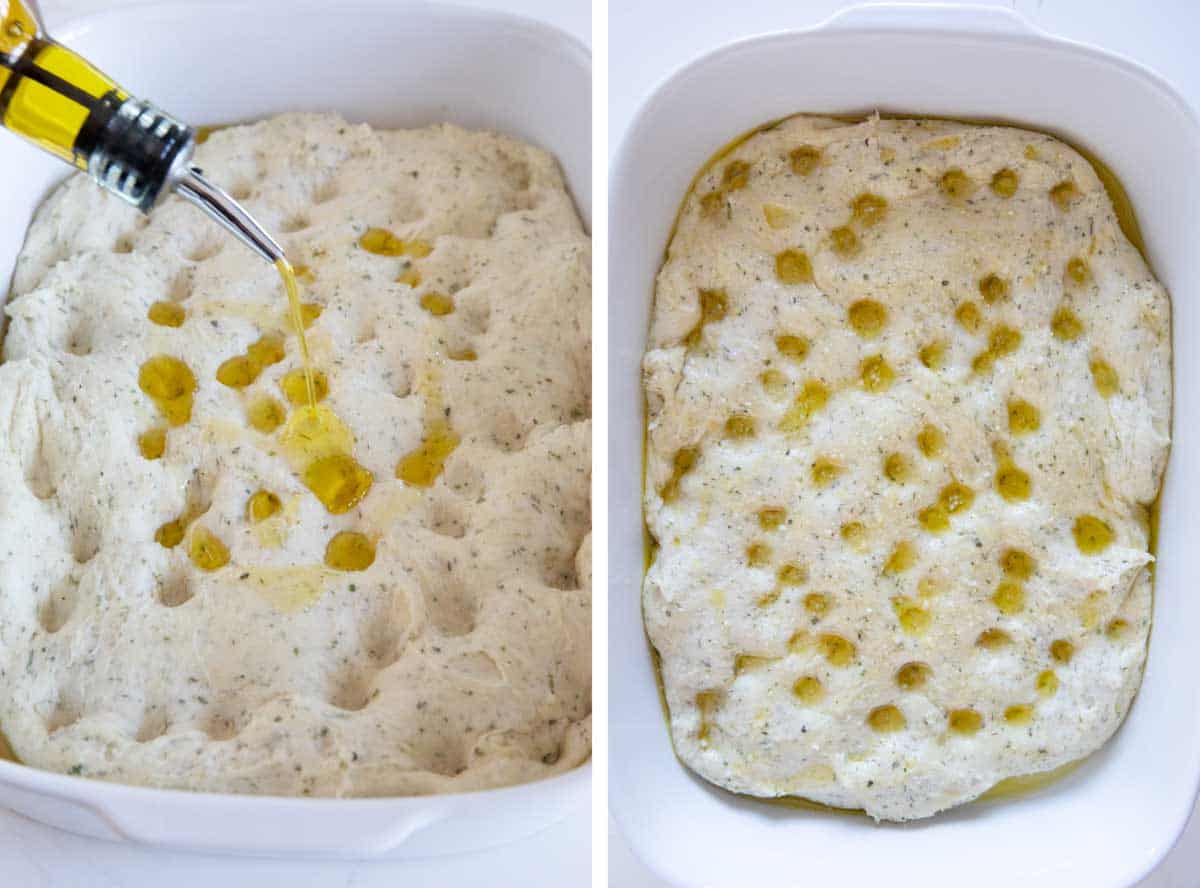 7 – Drizzle a light layer of olive oil over the loaf.
8 – If desired, you can sprinkle on some additional herbs, or coarse salt, like I did here. Bake the bread until it is golden brown. This should take about 35-40 minutes, but keep an eye on it, as ovens will often cook differently.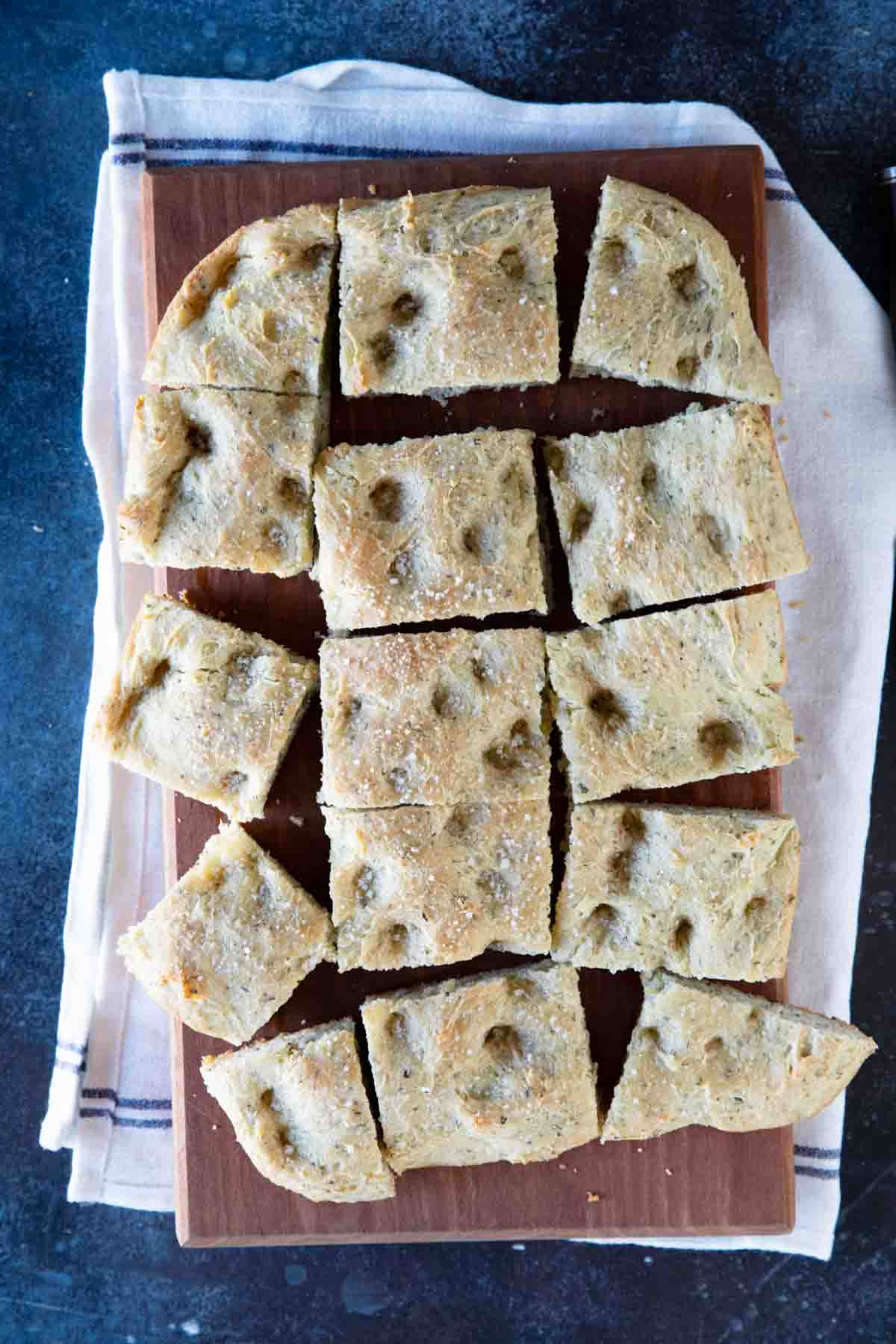 How to Serve Focaccia
This bread is great alongside many different meals, but some of my favorites are: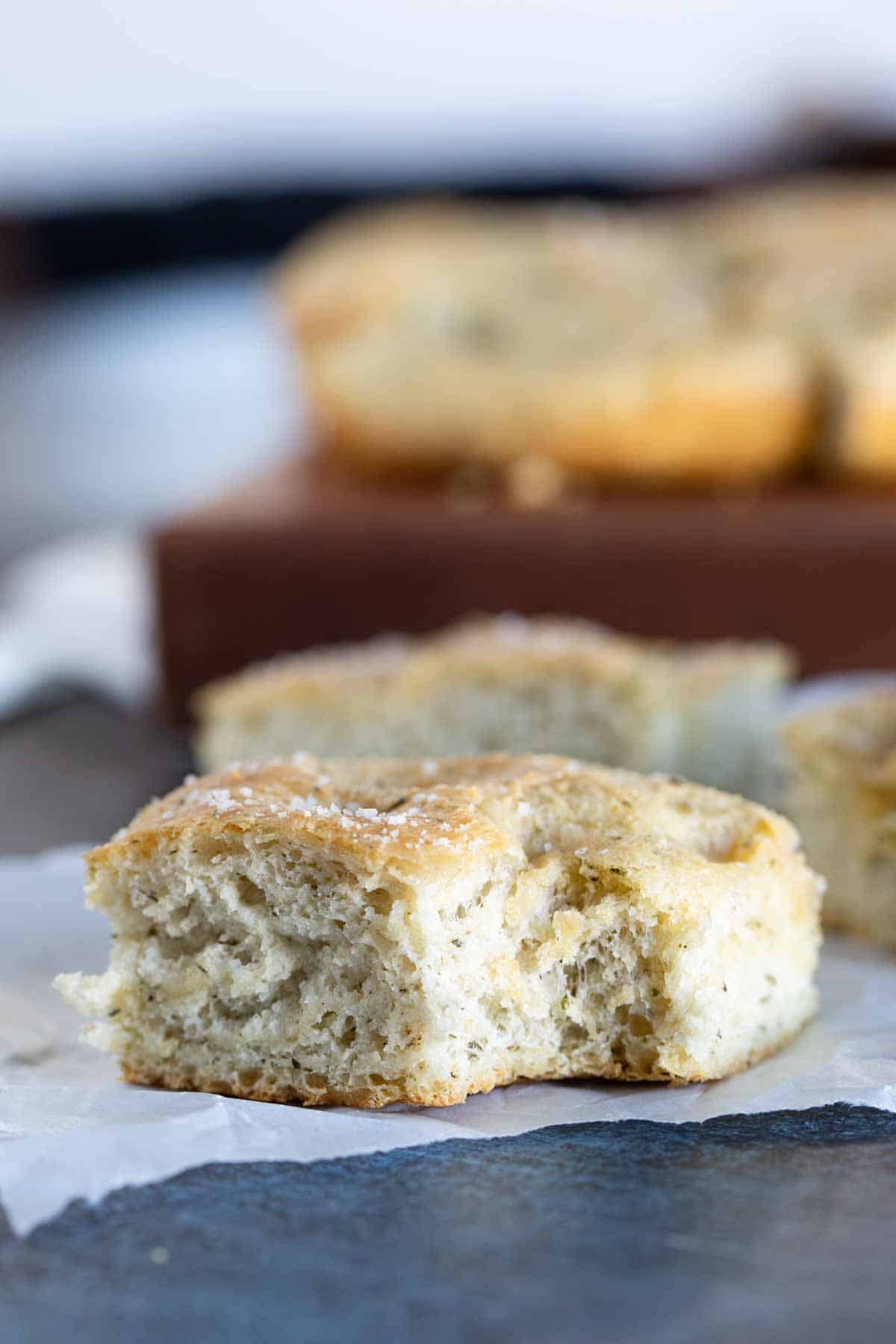 More Bread Recipes
Brioche Bread
White Bread Recipe
Dinner Roll Recipe
Lion House Rolls
Crescent Rolls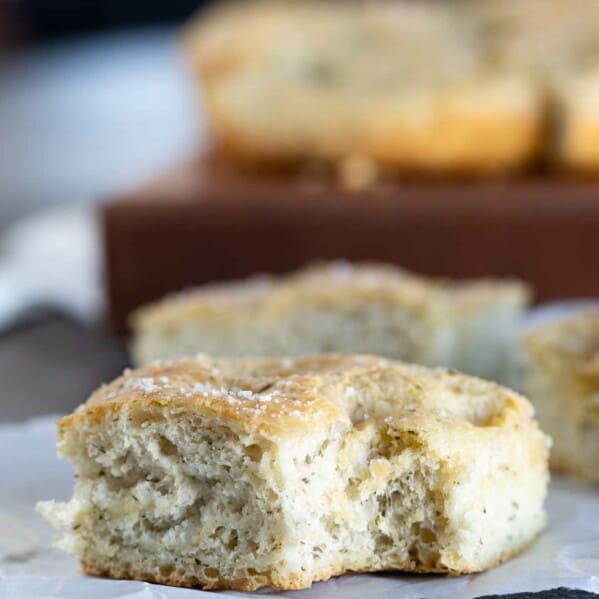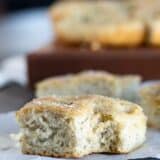 Focaccia Bread Recipe
---
Author:
Prep Time: 10 minutes
Rising Time: 1 hour
Cook Time: 40 minutes
Total Time: 2 hours
Yield: 15 servings 1x
Category: Bread
Method: Baked
Cuisine: Italian
Description
Want homemade bread on the table tonight? It doesn't get much easier than this Focaccia Bread! This bread can be done in 2 hours, with very little hands on time, making it doable any night of the week!
---
Scale
Ingredients
1 1/2 cups (340g) warm water
5 tablespoons (63g) extra-virgin olive oil, plus more for drizzling on top, divided
3 1/2 cups (420g) all-purpose flour
1 tablespoon (9g) instant yeast
1 1/4 teaspoons salt
1/4 teaspoon garlic powder
1 teaspoon dried parsley
1 teaspoon dried basil
1/2 teaspoon dried thyme
1/4 teaspoon dried sage
1/4 teaspoon dried dill
additional dried herbs, for sprinkling
---
Instructions
In the bowl of an electric mixer, combine the water, 3 tablespoons olive oil, salt, flour, yeast, garlic powder, dried parsley, basil, thyme, sage and dill.  Beat for 60 seconds.
Drizzle 2 tablespoons of extra-virgin olive oil in the bottom of a 9×13" baking dish.
Scoop the sticky batter into the baking dish. Use a spatula (or your fingers) to push the dough to the sides of the pan. Cover with a clean kitchen towel and allow the dough to rise in a warm spot until it is puffy, about 60 minutes.
While the dough is rising, preheat the oven to 375ºF.
Gently poke the top of the dough with your finger to make indents.  Drizzle the top lightly with olive oil, and sprinkle with additional dried herbs or coarse salt, if desired.
Bake the bread until it is golden brown, 35 to 40 minutes.
Remove the bread from the oven and let it sit for 5 minutes before turning it out onto a rack.  Serve the bread warm or at room temperature.
Recipe Notes:
Adapted from King Arthur Flour
SUBSTITUTIONS: You can get creative with the herbs. The herbs can be put in the dough, on top as it bakes, or both! The dried herb mixture can be substituted with 3 teaspoons of herbs of your choice. Bread flour can be used instead of all-purpose flour.
FREEZE: This baked bread can be frozen for layer. Make sure to wait until it has cooled, then wrap it tightly and store for up to 2 months.
STORE: I like to store the leftovers in a ziplock bag or another airtight container.
Nutrition information provided as an estimate only. Various brands and products can change the counts. Any nutritional information should be used as a general guide.
Nutrition
Serving Size: 1 piece
Calories: 132
Sugar: 0 g
Sodium: 194 mg
Fat: 3 g
Saturated Fat: 0 g
Unsaturated Fat: 2 g
Trans Fat: 0 g
Carbohydrates: 21 g
Fiber: 1 g
Protein: 3 g
Cholesterol: 0 mg
Keywords: focaccia, focaccia bread