It doesn't get easier than this Easy Focaccia Bread Recipe! This bread can be done in under 2 hours, with very little hands on time, making it doable any night of the week!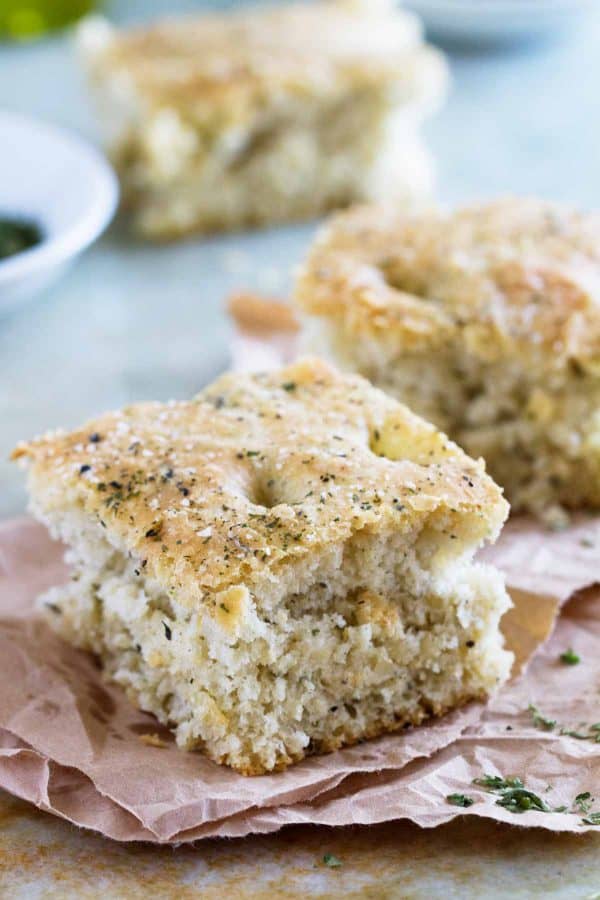 Originally posted April 13, 2009 – I am still a carb lover, through and through, just like I was back in 2009. I was actually telling my husband just the other night that more than anything else, there is a satisfaction that comes with making bread. There is just something about taking such simple ingredients like flour, yeast and water, and turning those into something so amazing. And delicious.
I have been making this Easy Focaccia Bread Recipe for years because it is so easy, and it tastes amazing. It's the perfect bread to go alongside so many different meals. The texture is perfect, and it can easily be changed up by using different herbs. I'm sure you'll fall in love with this bread recipe as well!
The original post from 2009 follows: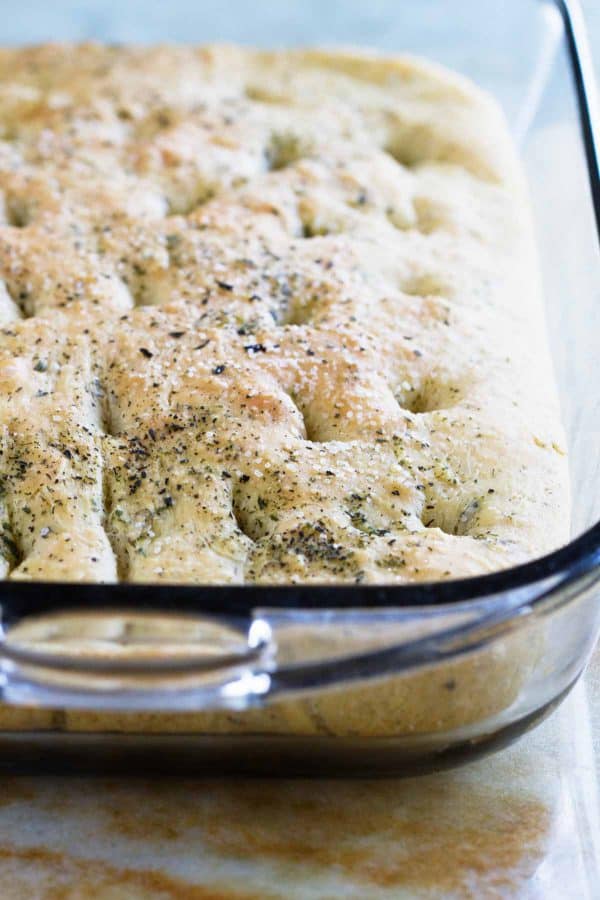 Last week I mentioned that if I could only eat one food, it would be cheese. Well, my second choice would be bread – and really, if I could just eat cheese and bread, then I'd be a very happy girl!! The biggest problem with being a bread lover – besides the fact that I'd probably weigh 1000 pounds if I ate as much of it as I'd like to – is that it usually takes a lot of time to make. Now that I'm a stay at home mom, I thought I'd have all the time in the world to bake and make bread, but most days, that is simply not the case.
Now, this bread isn't a "quick" bread, but it takes very little hands on time and is a cinch to make. And I love that it is very versatile – you can change up the herb mix to whatever you are feeling that day. In my bread, I used some herbs de provence and sprinkled the top with coarse sea salt and it was a lovely combination. This one will be a regular in our house!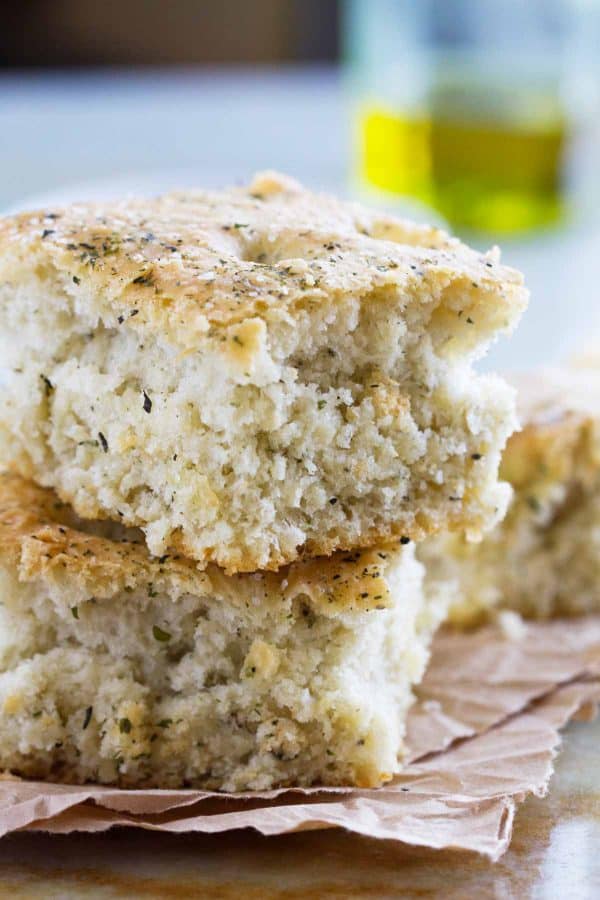 What to serve this Easy Focaccia Bread Recipe alongside:
One Pan Pasta with Bacon and Cheese
Balsamic Grilled Flank Steak
Chicken in Caper Cream Sauce
Creamy Artichoke Chicken
Gnocchi with Meat Sauce
Like what you see here? Make sure you are following Taste and Tell for more great recipes and ideas!!

Facebook ** Pinterest ** Twitter ** Instagram ** Google+
or you can subscribe to my newsletter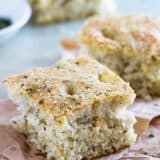 Easy Focaccia Bread Recipe
---
Prep Time: 10 minutes
Cook Time: 50 minutes
Total Time: 2 hours
Yield: 12 servings 1x
Category: Side Dish
Description
It doesn't get easier than this Easy Focaccia Bread Recipe! This bread can be done in under 2 hours, with very little hands on time, making it doable any night of the week!
---
Scale
Ingredients
1 1/2 cups warm water
3 tablespoons extra-virgin olive oil, plus more for drizzling
1 1/4 teaspoons salt
3 1/2 cups all-purpose flour
1 tablespoon instant yeast
1/4 teaspoon garlic powder
1 teaspoon dried parsley
1 teaspoon dried basil
1/2 teaspoon dried thyme
1/4 teaspoon dried sage
1/4 teaspoon dried dill
additional dried herbs, for sprinkling
---
Instructions
Spray a 9×13" baking dish with nonstick cooking spray.  Drizzle 1 to 2 tablespoons of extra-virgin olive oil in the bottom of the dish.
In the bowl of an electric mixer, combine the water, 3 tablespoons olive oil, salt, flour, yeast, garlic powder, dried parsley, basil, thyme, sage and dill.  Beat for 60 seconds.
Scoop the sticky batter into the prepared baking dish.  Cover with a clean kitchen towel and allow the dough to rise in a warm spot until it is puffy, about 60 minutes.
While the dough is rising, preheat the oven to 375ºF.
Gently poke the top of the dough with your finger to make indents.  Drizzle the top lightly with olive oil, and sprinkle with additional dried herbs, if desired.
Bake the bread until it is golden brown, 35 to 40 minutes.
Remove the bread from the oven and let it sit for 5 minutes before turning it out onto a rack.  Serve the bread warm or at room temperature.
Nutrition
Calories: 159
Sugar: 1 g
Fat: 4 g
Saturated Fat: 1 g
Unsaturated Fat: 3 g
Trans Fat: 0 g
Carbohydrates: 26 g
Fiber: 1 g
Protein: 4 g
Cholesterol: 0 mg