Cookies for breakfast? Yep! These Breakfast Cookies with Peanut Butter and Chocolate are a delicious way to wake up in the morning.
Looking for more healthy-ish breakfast ideas? Also check out these Oatmeal Muffins with Applesauce, this Smoothie Bowl with Berries and Coconut, Classic Bran Muffins, or Egg Muffins.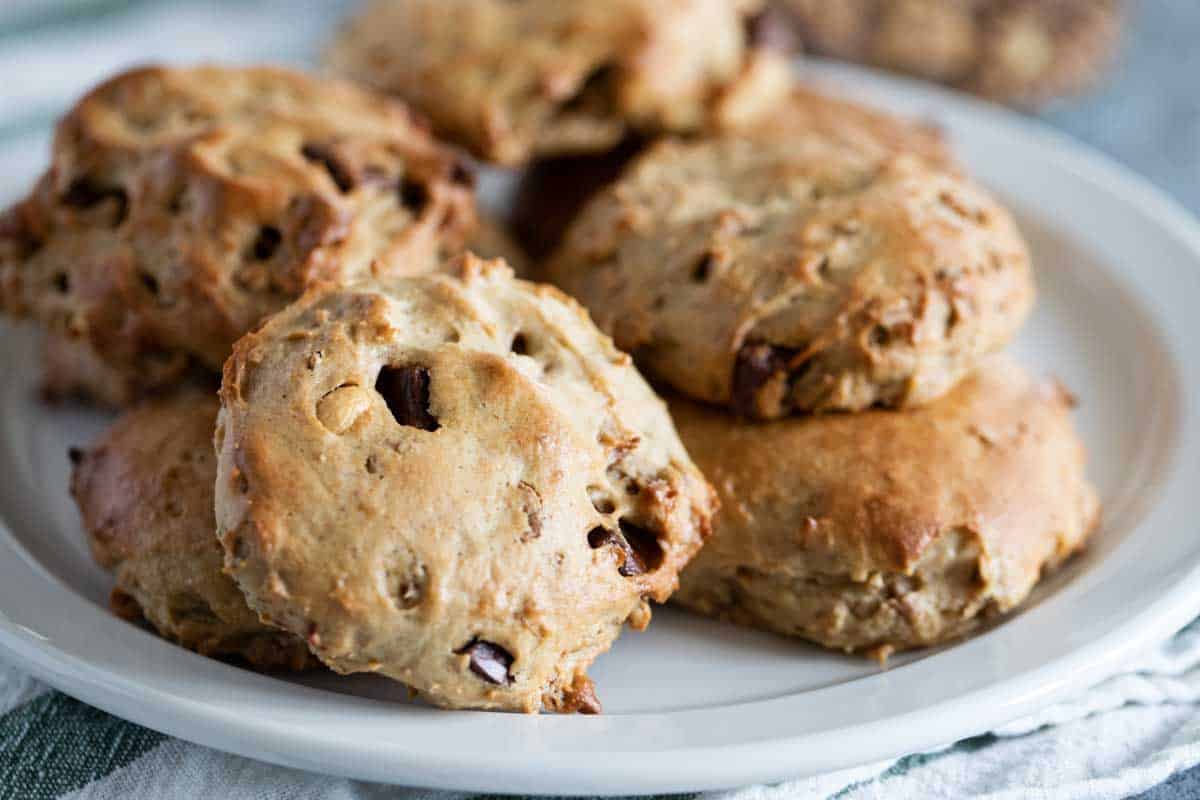 We tend to get into daytime food ruts in our house. Dinnertime isn't a problem, since I love trying new recipes often for dinner, but breakfast and lunch are a different story.
Lunch is usually peanut butter sandwiches. Or soup. Or peanut butter sandwiches again.
Breakfast, we usually go with eggs, yogurt, or cereal. The kids always want pancakes, but this mama is usually so tired in the morning that pancakes only happen about once a week.
So really, it's pretty boring. And with how much I love food, it really should never be boring.
So I'm always on the lookout for ways to make breakfast easier, while still keeping it somewhat healthful. Anything that is make ahead is always a big plus in my book.
Then I saw what could very well be a genius idea:
Breakfast cookies.
What? Cookies for breakfast? I was really intrigued, and I had to come up with my own version.
These aren't your typical cookies – so don't look for crispy edges and chewy centers. These are moist and soft and super hearty.
These also make it easy to grab a cookie for breakfast on the go. One cookie is the perfect portion size, and they make busy mornings a little easier.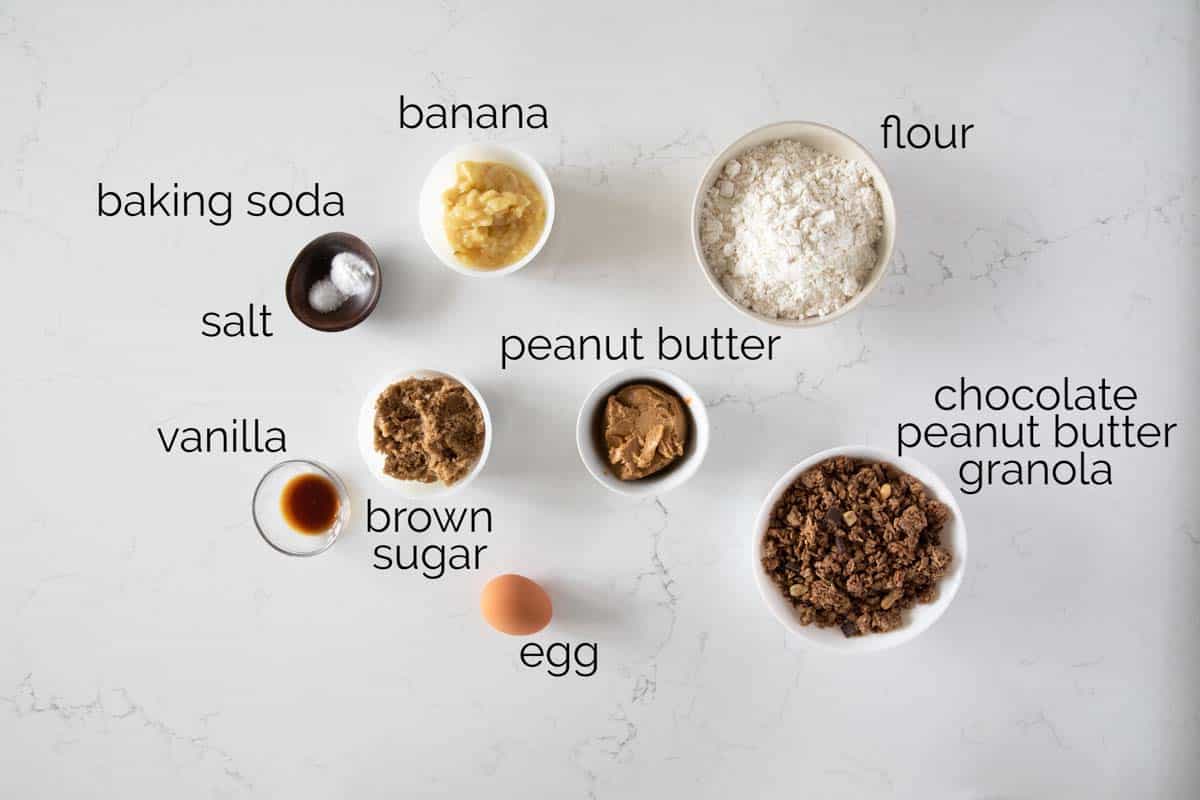 Ingredients
Peanut Butter: I like to use an all natural peanut butter with only peanuts listed in the ingredients.
Banana: The more ripe the banana, the more sweetness it will bring.
Brown Sugar: I used light brown sugar. You could probably use a sugar substitute to make these even more healthy, but I have not tested it.
Egg: I always use large eggs.
Vanilla: Real vanilla extract will give you the best results.
Flour: I have only tested this using all-purpose flour. But you could probably use half whole wheat, or use white whole wheat and they'd still be delicious!
Baking Soda: This is to give the cookies some lift.
Salt: Always important to balance flavors!
Granola: I used a chocolate peanut butter granola. You could certainly change this out for another flavor that goes well with peanut butter. I used Love Crunch Dark Chocolate and Peanut Butter granola. I loved that it had the chocolate chunks as well as peanuts.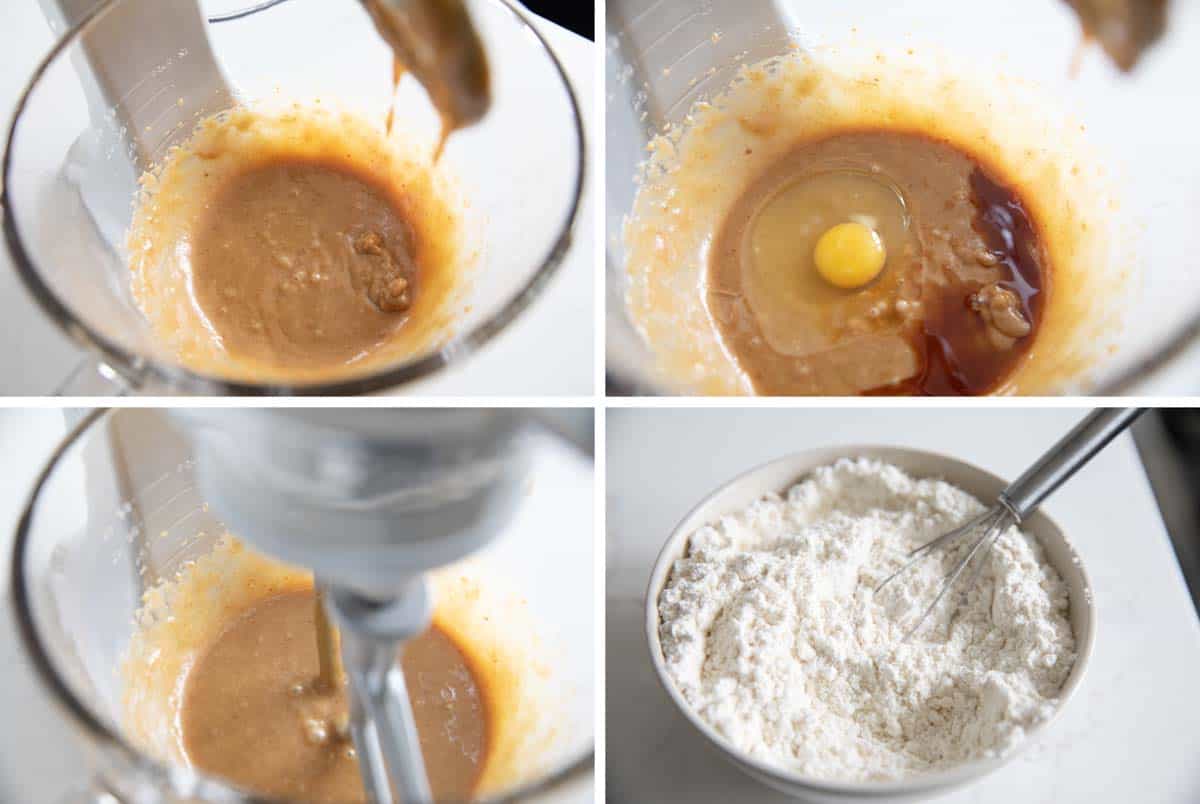 How to Make Breakfast Cookies
1: Beat together the peanut butter, banana, and brown sugar. You want to beat this pretty well – 2 to 3 minutes if you are using a mixer.
2: Add the egg and vanilla.
3: Beat well again, scraping down the sides of the bowl as needed.
4: I another bowl, whisk together the flour, baking soda, and salt.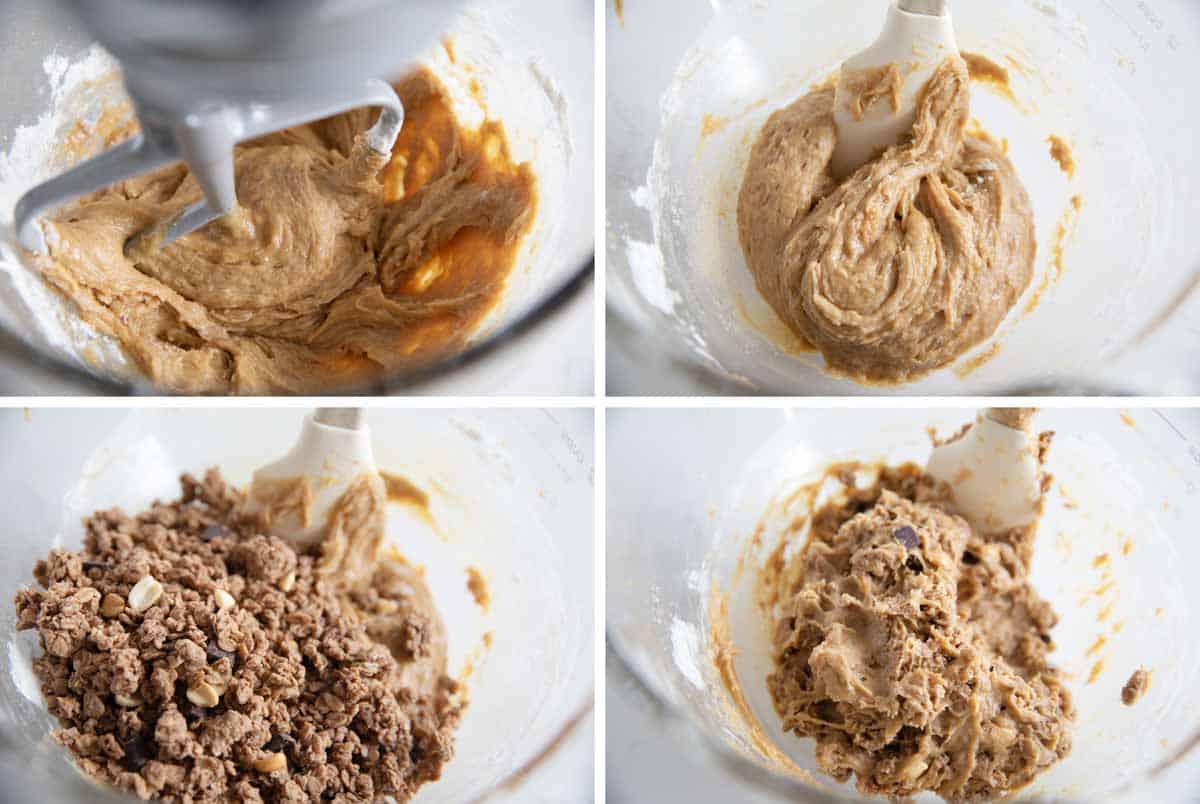 5: Add the flour mixture to the bowl.
6: Mix to combine, scraping down the bowl again. I like to make sure that everything on the bottom of the bowl gets mixed in well.
7: Add the granola.
8: Stir it all together.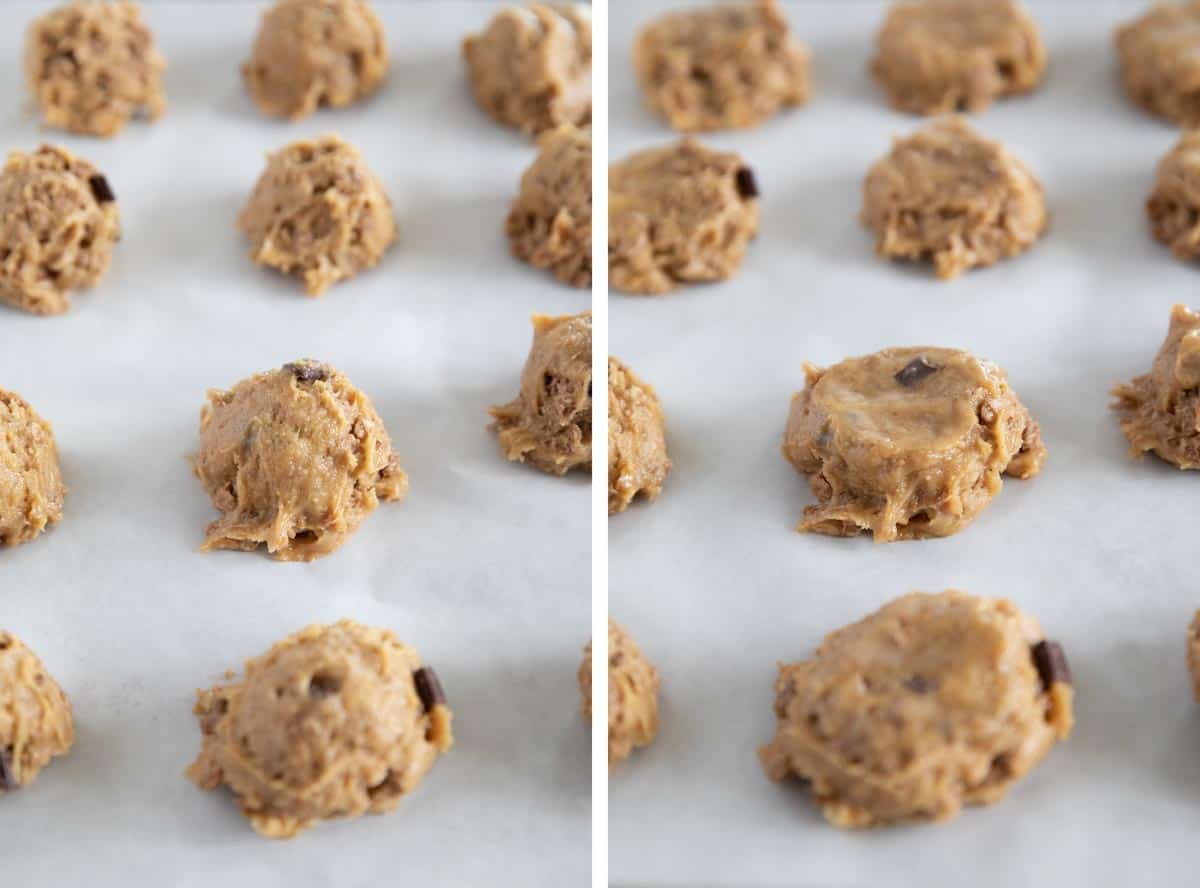 9: Use a large scoop to portion out the dough. It's a bit sticky, so a spring release scoop works the best.
10: Slightly flatten the top of each ball of cookie dough. I think this is easiest to do with slightly wet hands.
11: Bake the cookies until golden brown.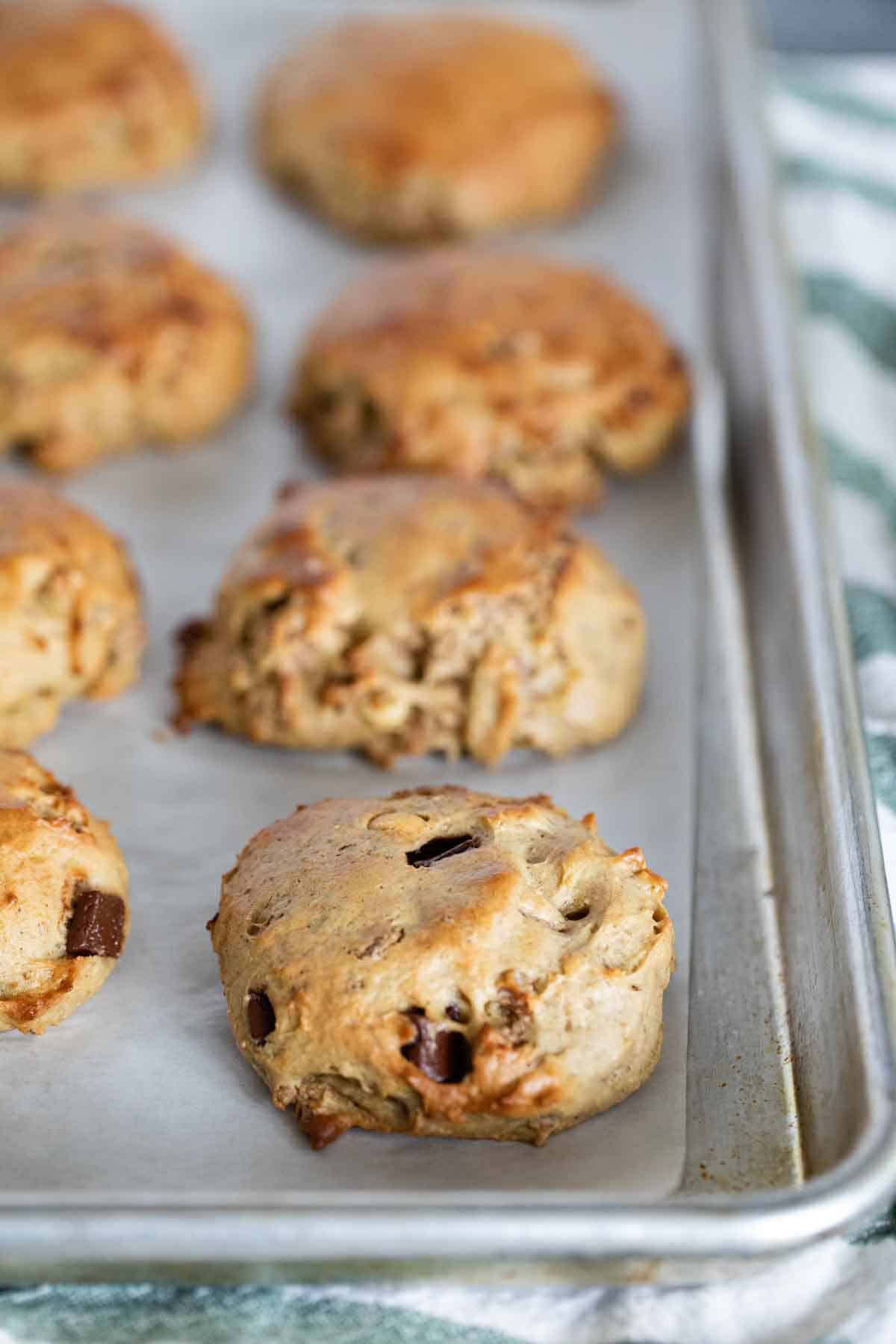 Tips and Tricks
These are big cookies. I used about 3 tablespoons of dough for each cookie. The dough doesn't spread when they bake, so you'll want to make sure you press them down slightly before baking. When I was testing the recipe the first time, I hadn't pressed the cookies down, but did when there were a few minutes of baking time left. This also worked perfectly, but it's easier to do it at the beginning so you don't forget.
The granola gives these cookies a very unique texture. If you have one when they are fresh, you'll get a little bit of crunch from the granola, but after being stored, it will become softer and you won't be able to distinguish it anymore. Both ways are delicious, but the texture will change some.
Sub out the peanut butter for almond butter or another butter of your choice.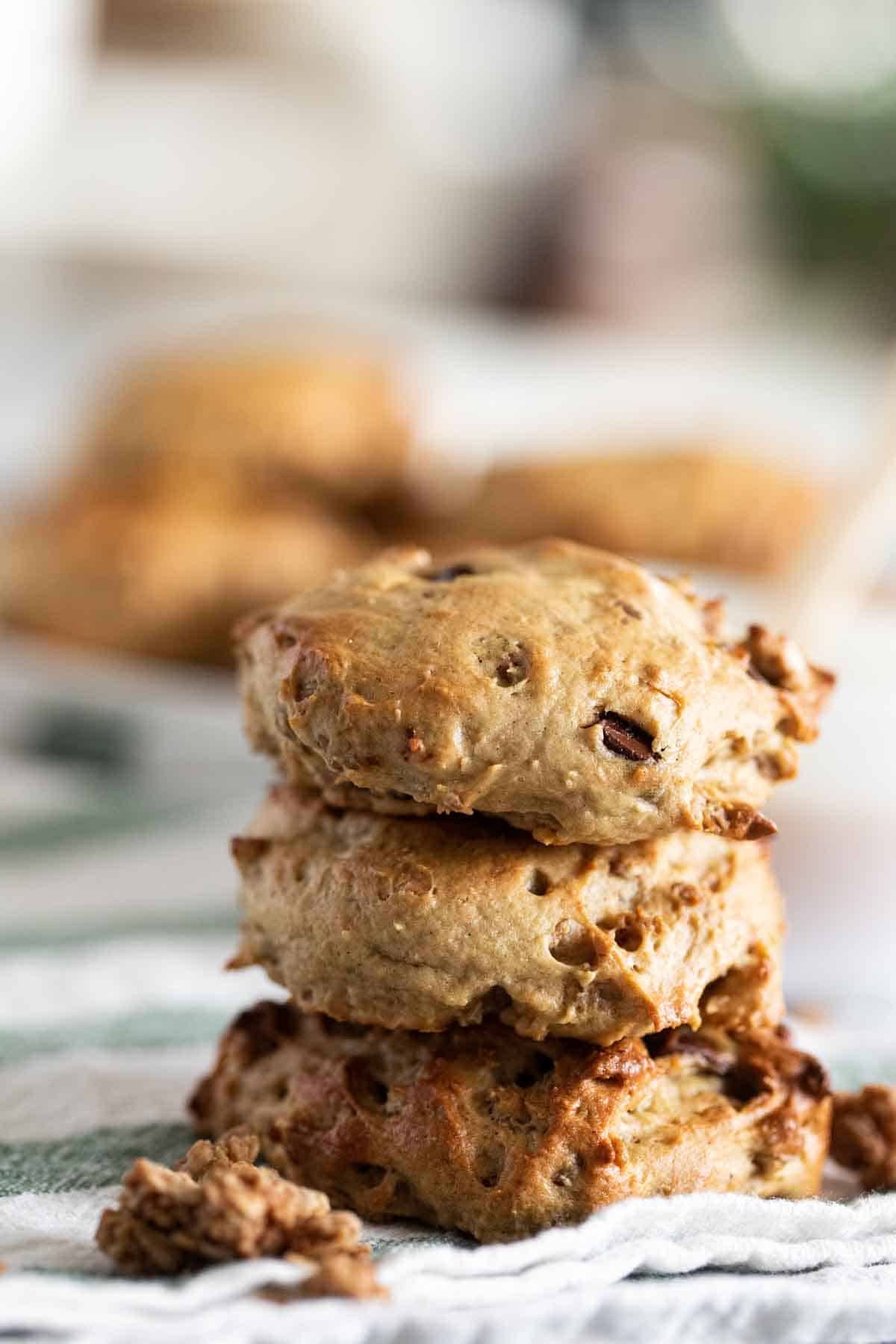 Storage and Freezing
Store any leftover cookies in an airtight container at room temperature. They will last several days.
Baked cookies can be frozen for up to 4 weeks. Make a batch, freeze the cookies, and take a cookie or two out at night and you'll have cookies thawed and ready for you in the morning. (If you do this, make sure and keep them covered so they don't dry out.)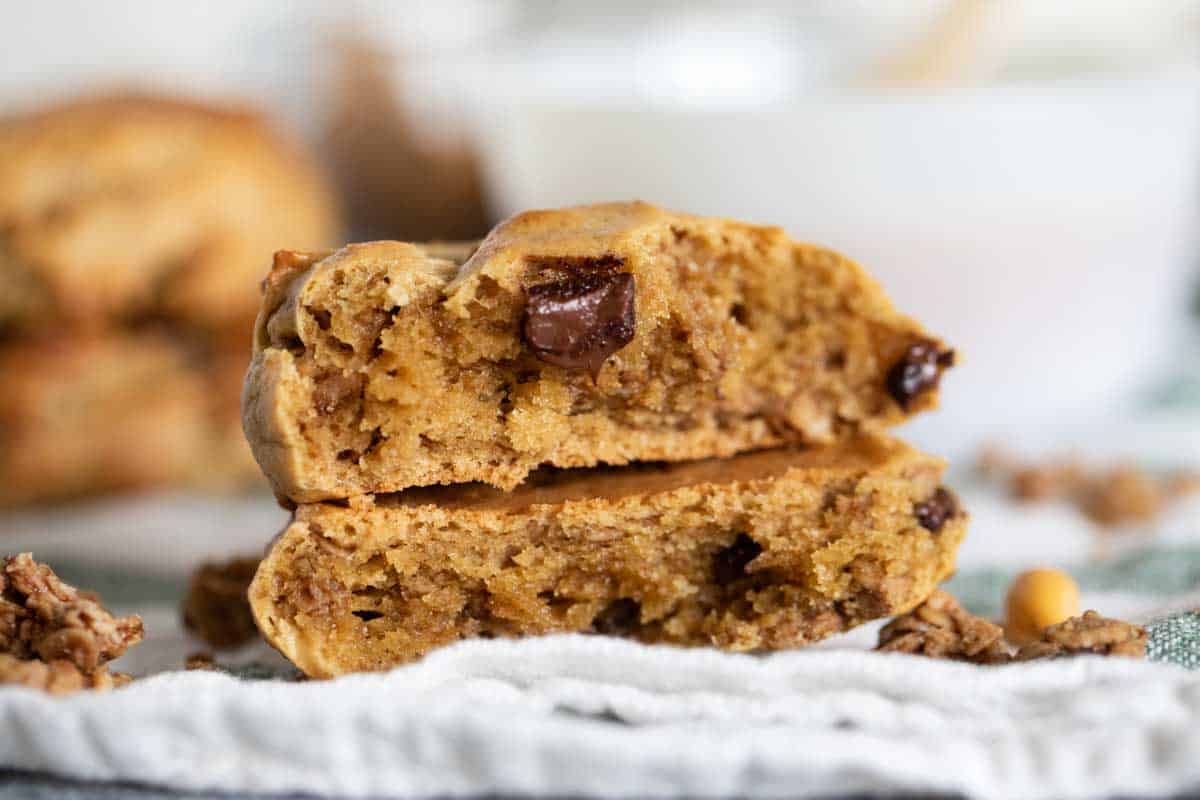 More Breakfast Ideas
Raspberry Overnight Oats
Banana Oat Bread
Peanut Butter, Coconut, and Banana Oatmeal
Peanut Butter Bran Muffin Recipe
Oatmeal Pancakes with Chocolate Chips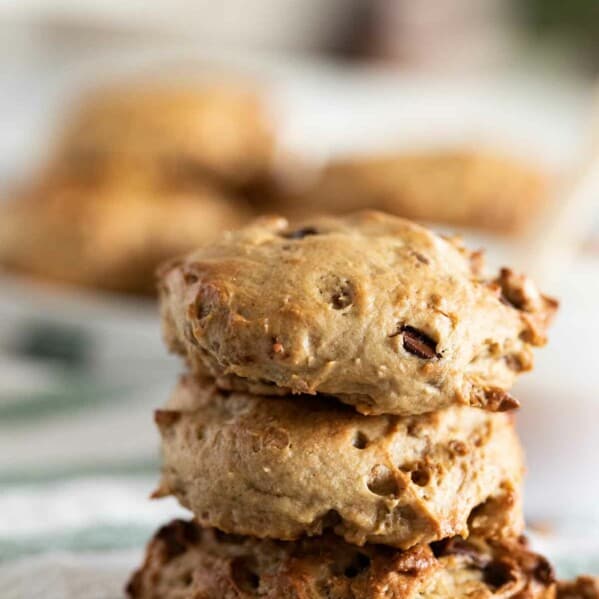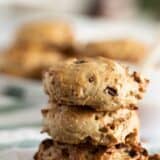 Breakfast Cookies with Peanut Butter and Chocolate
---
Author:
Prep Time: 15 minutes
Cook Time: 12 minutes
Total Time: 30 minutes
Yield: 12 cookies 1x
Category: Breakfast
Method: Baked
Cuisine: American
Description
Cookies for breakfast? Yep! These Breakfast Cookies with Peanut Butter and Chocolate are a delicious way to wake up in the morning.
---
Scale
Ingredients
1/2 cup (128 g) natural creamy peanut butter
1/2 cup (120 g) mashed, over-ripe banana (about 1 medium banana)
1/2 cup (107 g) packed light brown sugar
1 large egg
1 teaspoon vanilla extract
1 1/2 cups (180 g) all-purpose flour
1/2 teaspoon baking soda
1/4 teaspoon salt
2 cups (240 g) chocolate peanut butter granola
---
Instructions
Preheat the oven to 375ºF. Line a baking sheet with parchment or a silpat liner.
In a large bowl, or the bowl of a stand mixer, combine the peanut butter, banana, and brown sugar. Beat until smooth and combined, 2-3 minutes. Beat in the egg and vanilla extract, scraping down the sides of the bowl as needed.
In another bowl, whisk together the flour, baking soda, and salt. Add this into the creamed mixture and mix to combine. Stir in the granola.
Form the dough into balls of about 3 tablespoons of dough each. Place 2 inches apart on the prepared baking sheet. Use wet fingers to slightly flatten each ball of dough.
Bake until the cookies are just set, about 10-12 minutes. Let cool slightly before serving.
Recipe Notes:
Nutrition information provided as an estimate only. Various brands and products can change the counts. Any nutritional information should be used as a general guide.
Nutrition
Serving Size: 1 cookie
Calories: 262
Sugar: 6 g
Sodium: 141 mg
Fat: 9 g
Saturated Fat: 1 g
Unsaturated Fat: 0 g
Trans Fat: 0 g
Carbohydrates: 36 g
Fiber: 3 g
Protein: 7 g
Cholesterol: 16 mg
Keywords: Breakfast Cookies