Cookies for breakfast? Yep – with these Breakfast Cookies with Peanut Butter, Banana and Chocolate Granola are a delicious way to wake up in the morning!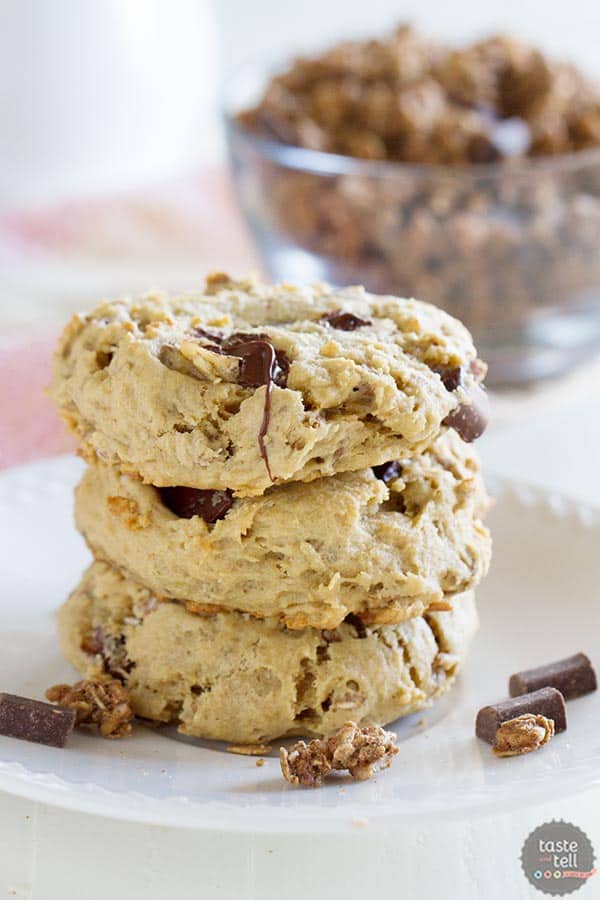 We tend to get into daytime food ruts in our house. Dinnertime isn't a problem, since I love trying new recipes often for dinner, but breakfast and lunch are a different story.
Lunch is usually peanut butter sandwiches. Or soup. Or peanut butter sandwiches again.
Breakfast, we usually go with oatmeal (for Abbi), yogurt (for Camden), and cereal (for Easton). They always want pancakes, but this mama is usually so tired in the morning that pancakes only happen about once a week.
So really, it's pretty boring. And with how much I love food, it really should never be boring.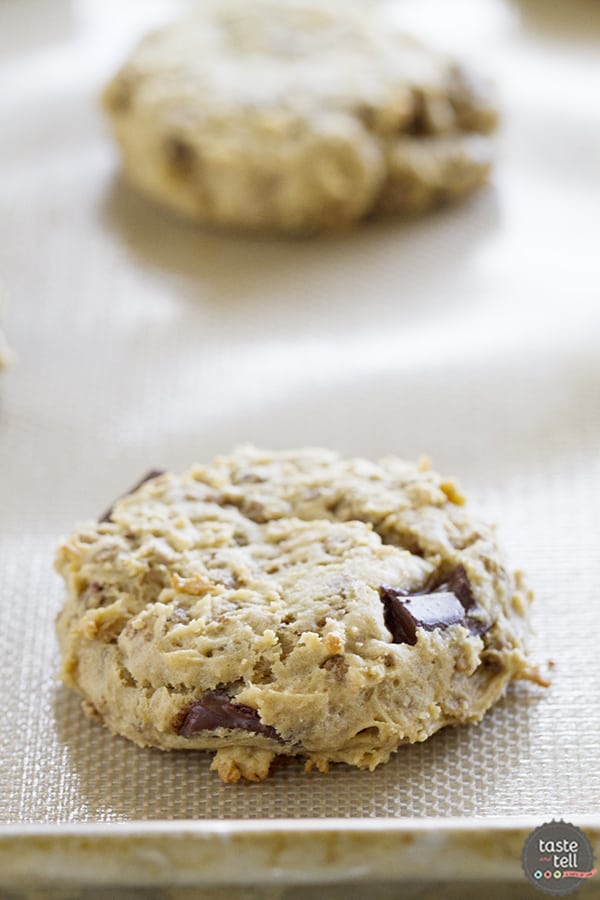 So I'm always on the lookout for ways to make breakfast easier, while still keeping it somewhat healthful. Anything that is make ahead is always a big plus in my book.
Then I started seeing this new phenomenon floating around the internet:
Breakfast cookies.
What? Cookies for breakfast? I was really intrigued, because I kid you not, every morning when I ask Camden what he wants for breakfast, he answers – cake!! So I could not wait until I could tell him that he could have a cookie for breakfast. I knew he was going to be blown away.
I knew I wanted to make some breakfast cookies. But I wasn't sure what flavor profile I wanted to go with. Until I tried the new granola flavors from Cascadian Farm. I knew right then that the granola was destined for breakfast cookies.






I have always loved Cascadian Farm, but I really fell in love with the company when I visited their home farm last fall. But it was after that trip that I became addicted to their granola. They sent me home with a bag of their Dark Chocolate Coconut Protein Granola, and I could not get enough of it. Ever since, we have always had a box or bag of Cascadian Farm granola on hand.
And now my new obsession is their new Chocolate Lover's Granola. Organic whole grain oats, crisp rice, and dark chocolate chunks. Yes, you read that correctly. Chunks of Fair Trade dark chocolate in your granola. Dreams coming true right here.
I also tried their new Peanut Butter Bliss granola as well. And really, it's hard to choose a favorite between the two. So when I went to the kitchen to make my breakfast cookies, I decided to combine the flavor profiles from both of the granolas. Plus, I had a few overripe bananas on the counter, so I thought that would be a delicious addition that would save me from having to add any oil or butter.
These aren't your typical cookies – so don't look for crispy edges and chewy centers. These are moist and soft and super hearty. I decided to go big or go home, and these are big cookies. I used about 3 tablespoons of dough for each cookie. The dough doesn't spread when they bake, so you'll want to make sure you press them down slightly before baking. When I was testing the recipe the first time, I hadn't pressed the cookies down, but did when there were a few minutes of baking time left. This also worked perfectly, but it's easier to do it at the beginning so you don't forget. 🙂
These also make it easy to grab a cookie for breakfast on the go. One cookie is the perfect portion size, and they make busy mornings a little easier.
Oh yeah – and surprising Camden with cookies for breakfast? It was pretty funny. I think the kids were all pretty confused at first, and then very excited. Now he asks for cookies every morning!!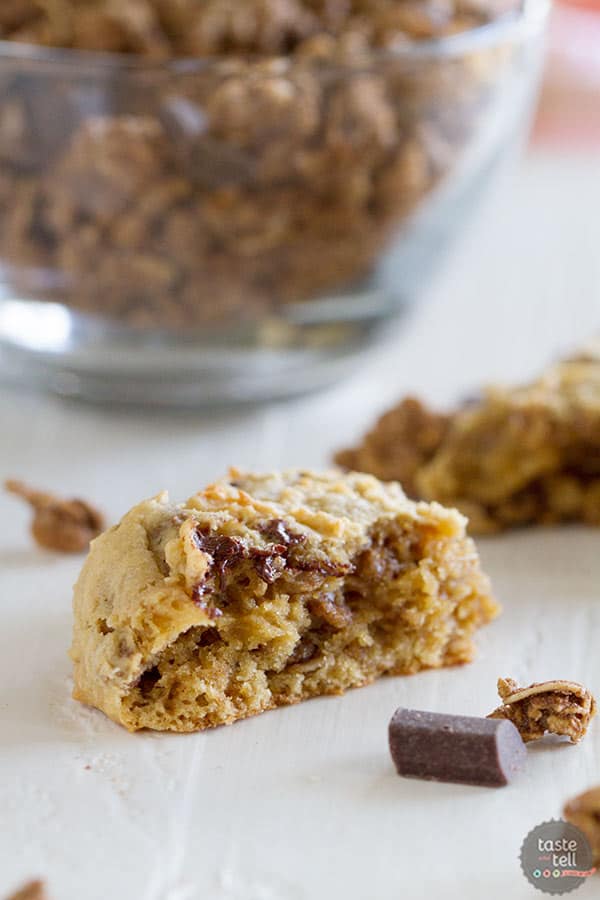 Like what you see here? Make sure you are following Taste and Tell for more great recipes and ideas!!

Facebook ** Pinterest ** Twitter ** Instagram ** Google+
or you can subscribe to my newsletter or Feedly or Bloglovin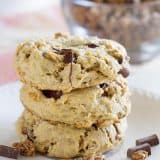 Breakfast Cookies with Peanut Butter, Banana and Chocolate Granola
---
Prep Time: 10 mins
Cook Time: 10 mins
Total Time: 20 mins
Yield: 12 cookies 1x
Description
Cookies for breakfast? Yep – with these Breakfast Cookies with Peanut Butter, Banana and Chocolate Granola are a delicious way to wake up in the morning!
---
Scale
Ingredients
1/2 cup natural creamy peanut butter
1/2 cup mashed overripe banana (about 1 medium banana)
1/2 cup packed light brown sugar
1 egg
1/2 teaspoon vanilla extract
1 1/2 cups all-purpose flour
1/2 teaspoon baking soda
1/4 teaspoon salt
---
Instructions
Preheat the oven to 375ºF. Line 2 baking sheets with parchment paper.
In a bowl, or the bowl of a stand mixer, combine the peanut butter, banana and brown sugar and beat until light and fluffy, 2-3 minutes. Beat in the egg and vanilla extract, scraping down the sides of the bowl as necessary.
In another bowl, combine the flour, baking soda and salt. Stir into the creamed mixture. Stir in the granola.
Form balls of dough, about 3 tablespoons each. Place at least 2 inches apart on the prepared baking sheets. Use the bottom of a measuring cup to slightly flatten each ball of dough.
Bake until the cookies are just set, about 10 minutes. (Do not over bake or the cookies will dry out.)
Nutrition
Serving Size: 1 cookie
Calories: 231
I am in a working relationship with Cascadian Farm, and this post has been sponsored. I'm so glad to be able to work with companies and organizations that I truly believe in. Thank you for supporting them, too.