A bread made rich with eggs and butter, this basic brioche recipe is light and perfect.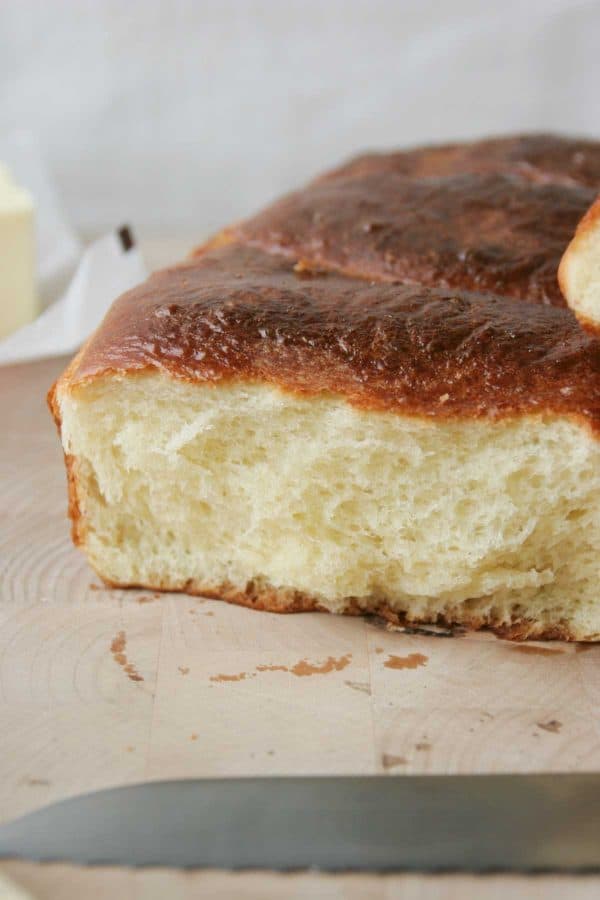 This was my first time making brioche, and it went into not really knowing what I was doing. But I always love a good adventure!
I really, really wanted to shape my brioche differently. I even went to the kitchen store to buy some molds to make brioche a tete – you know, the ones with the little ball on top of a round bread. Well, first of all, the girl at the kitchen store did not even know what I was talking about, but we did find what they called mini tart pans – they looked like the molds, but they were only about 1 1/2 inches across the top. They were very small, but for only 20 cents a piece, I figured I'd buy some and give it a try. Well, that didn't work – they were just too small for me to work with, so I made loaves instead.
In the book, Peter Reinhart gives 3 different versions of brioche – which he calls the rich man's brioche, middle class brioche, and poor man's brioche. The thing that makes each of these versions different is the amount of butter used, ranging from 2 cups to 1/4 cup. When I first decided to make brioche, I was going to go big and make the rich man's brioche. Then I read the recipe. When I took 2 cups of butter from the fridge, I quickly changed my mind. That's a lot of butter. And I was making this the same day I made the Daring Baker's challenge. So I decided to go with the middle class brioche, but of course, I wasn't paying attention when I started the sponge, and accidentally read the recipe for the rich man's brioche!! So I was going to go big after all.
Besides the shaping of this bread, I was actually quite surprised at how easy it was. With the help of a mixer, it comes together quite easily. And the taste?? I have never actually tasted brioche before, but it has always been on my list of things I want to try when I get the chance. Well, my chance came, and I took full advantage of it!! It was delicious! It is very buttery, like a croissant, and had a very light texture. I seriously could have eaten it all myself, and was afraid that I would – so I gave most of it away. I'm kicking myself for not making it on Saturday so I could make French toast or bread pudding with it on Sunday, but there is no time during the week for a big breakfast, so I will just have to make the brioche again one of these upcoming weekends!!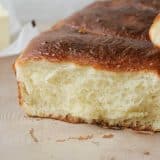 Brioche Recipe
---
Author:
Prep Time: 35 minutes
Cook Time: 50 minutes
Total Time: 9 hours
Yield: 2 large loaves 1x
Category: Bread
Method: Bake
Cuisine: French
Description
A bread made rich with eggs and butter, this basic brioche recipe is light and perfect.
---
Scale
Ingredients
Sponge
1/2 cup unbleached bread flour
1 tablespoon instant yeast
1/2 cup lukewarm whole milk
Dough
5 large eggs, slightly beaten
3 1/2 cups unbleached bread flour
2 1/2 tablespoons granulated sugar
1 1/2 teaspoons salt
2 cups unsalted butter, at room temperature
1 egg, whisked until frothy, for egg wash
---
Instructions
Sponge
Stir together the flour and yeast in a large mixing bowl. Stir in the milk until all the flour is hydrated. Cover with plastic wrap and ferment for 20 minutes, or until the sponge rises and then falls when you tap the bowl.
Dough
Add the eggs to the sponge and beat on medium speed with the paddle attachment until smooth. In a separate bowl, stir together the flour, sugar, and salt. Add to the sponge and eggs and mix for 2 minutes. Let rest for 5 minutes to allow the gluten to develop. Then, while mixing on medium, add in the butter one quarter at a time, allowing the butter to be fully assimilated before adding more. Continue to mix for about 6 minutes more. You will need to scrape down the sides of the bowl during this time. The dough will be very soft and smooth.
Line a sheet pan with parchment and mist lightly with spray oil. Transfer the dough to the sheet and spread it to form a large rectangle, about 6 inches by 8 inches. Mist the top with spray oil and cover the pan with plastic wrap. Put this in the refrigerator and chill at least 4 hours, preferably overnight.
Remove from the fridge and shape while very cold. If it warms up or softens, return it to the fridge. No matter what shape you do, only fill the molds or pans half way to allow for expansion during proofing.
Mist the top of the dough with spray oil and loosely cover with plastic wrap. Proof the dough until it nearly fills the molds or loaf pans, 1 1/2 to 2 hours. Gently brush the tops with egg wash. Cover the dough with plastic wrap that has been lightly misted with spray oil. Continue to proof for another 15 to 30 minutes.
Preheat the oven to 400F for petites brioches a tete, or 350F for larger shapes. Bake for 15 to 20 minutes for petites brioches a tete, or 35 to 50 minutes for larger shapes.
Remove the brioches from the pans as soon as they come out of the oven and cool on a rack for at least 20 minutes for small brioches and 1 hour for larger shapes before serving.