Perfect dinner rolls made with whole wheat flour and bread flour.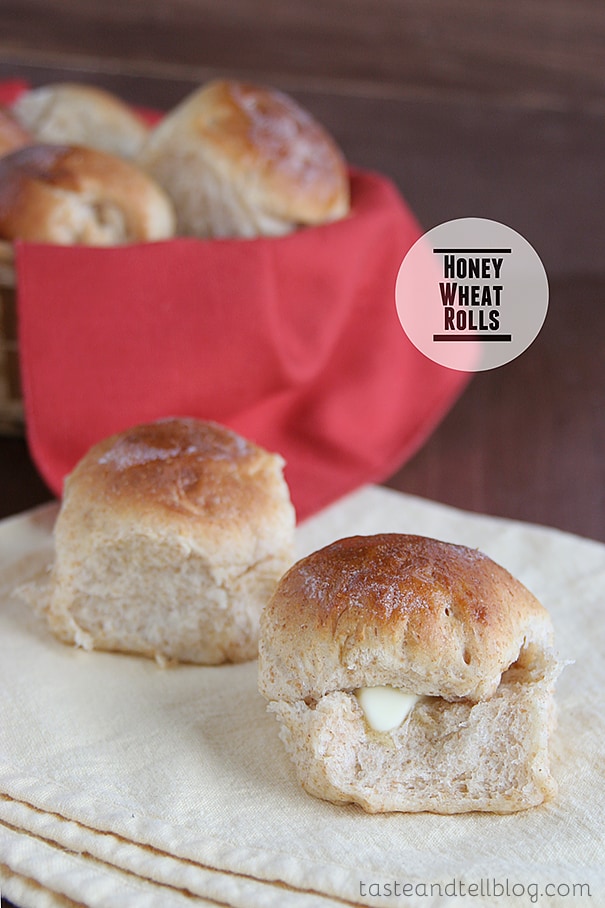 I'm not going to lie – my mom makes the best rolls.  Really.  So for the most part, there is no reason to mess with perfection.  But sometimes you need to give mom a break, right?  And instead of trying to replicate her yummy rolls, I thought I'd try something completely different.  Ok, maybe not way out there – you still want some sort of traditon for Thanksgiving, so we are sticking with having fluffy dinner rolls, but these are different because they are made with whole wheat flour, and some honey for a little bit of sweetness in the background.
Speaking of my mom and perfect rolls – I didn't really give her a break because she actually made these.  At one point, she thought that they were going to bomb because they weren't rising like she thought they should.  But they baked up just perfectly.  In fact, I was surprised at how light and fluffy they were.  I thought that they turned out just perfect.  And it never hurts that you don't feel as guilty going back for just one more because hey – they are made with whole wheat!! 🙂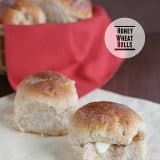 Honey Wheat Rolls
---
Prep Time: 10 minutes
Cook Time: 15 minutes
Total Time: 2 hours
Yield: 3 dozen rolls 1x
Description
Perfect dinner rolls made with whole wheat flour and bread flour. Evaporated milk brings richness to the rolls.
---
Scale
Ingredients
1 (.25 oz) package rapid rise yeast
1 teaspoon sugar
1/2 cup warm water
1 (12 oz) can evaporated milk
1/4 cup water
1/4 cup melted shortening
1/4 cup honey
2 teaspoons salt
2 cups whole wheat flour
3 cups bread flour
2 tablespoons butter
---
Instructions
Dissolve the yeast and sugar in the warm water.
In the bowl of a stand mixer, combine the milk, 1/4 cup water, shortening, honey, salt and whole wheat flour. Mix in the yeast mixture, and let sit for 15 minutes.
Add in the bread flour. Mix until the dough forms a ball. Knead the dough for 10 minutes. Place the dough in a buttered or oiled bowl, turn to coat, and cover with plastic wrap. Let rise until doubled, about 45 minutes.
Punch down the dough. Form into 36 rolls and place in buttered 9×13-inch pans. Cover with plastic wrap and let rise in a warm area until doubled, about 30 minutes.
Place a small pan of water in the bottom shelf of the oven. Preheat the oven to 375F. Bake the rolls until the tops are golden brown, about 12-15 minutes. Brush with the butter immediately out of the oven.
——————–
adapted from allrecipes.com
Want more roll ideas for your Thanksgiving table?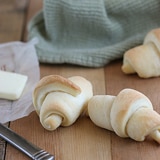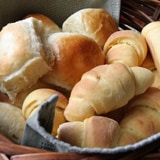 Lion House Rolls and Sweet Potato Rolls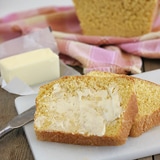 Around the Web:
Pumpkin Spice Rolls from Kirbie's Cravings
Mini Honeycomb Buns from Girl Versus Dough
Amazing Dinner Rolls from Cooking Classy