The Lion House Pantry in Salt Lake City,UT, is probably most widely known by their rolls, and you can make these Lion House Rolls at home, too!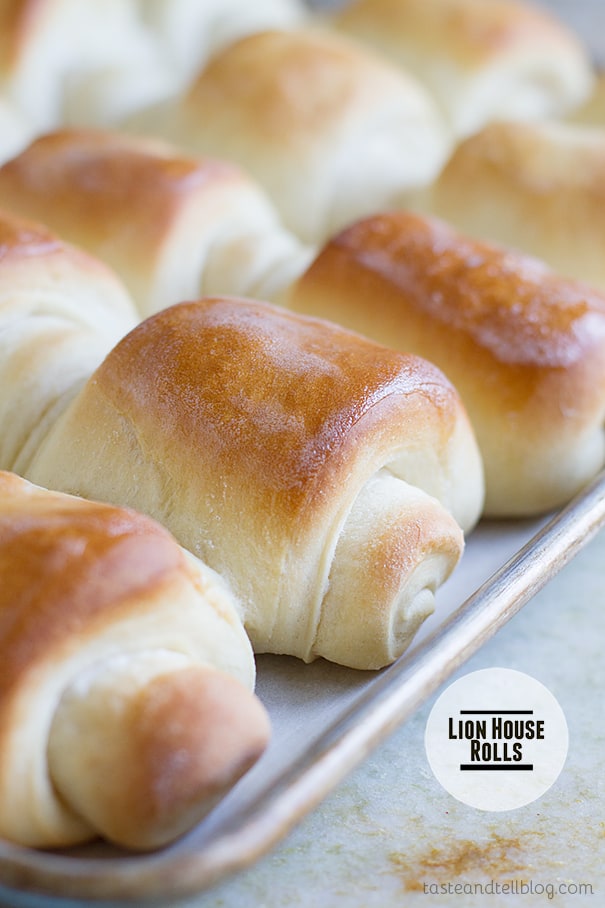 Photos and Recipe Updated April 2014



Originally published March 9, 2009 – This is probably my favorite roll recipe, and I've known for a long time that I needed to update this post with better photos and instructions. I originally got this recipe from on of the chefs at The Lion House Pantry Restaurant, but the instructions were not very detailed. So I have updated the recipe as well as added in a few step by step photos. For help in shaping the rolls, check out my video below.  These are perfect for holiday meals – so they'd make the perfect roll for your Easter celebrations!

As a food blogger, and I'm sure most of you can relate since you are reading about food, I love trying new recipes. And really, the majority of the time, this is a really good thing. Most recipes turn out good, or at least edible, and we never get sick of eating one thing over and over again. But sometimes it can be a bad thing. I can think of a few times when I was supposed to bring something to an event, whether it be a dinner with family or just bringing treats to work, where the recipe I made was a complete flop. Then I had to struggle at the last minute to come up with something else.
So what do you do when it comes to a major food holiday, like Thanksgiving or Christmas? Do you try out recipes weeks before, making sure that it is good enough to grace the holiday table?? I didn't. But luckily, these rolls turned out delicious!
Last Thanksgiving, (yes, this is how far behind I am in my recipes to blog!), I volunteered to bring the bread. A risky decision for me, because with bread, you never know how it's going to turn out. Especially when you are trying not one, but two new recipes. And a Thanksgiving table is just not complete without good bread, so the pressure was really on. I must have been having a good day, though, because both recipes came out wonderful. In fact, they were probably the best rolls I have ever made!! And they are both recipes that I will be making again in the future.
UPDATE – Find the Sweet Potato Buttermilk Crescent Roll recipe HERE.
Roll the dough into an 11×14-inch rectangle.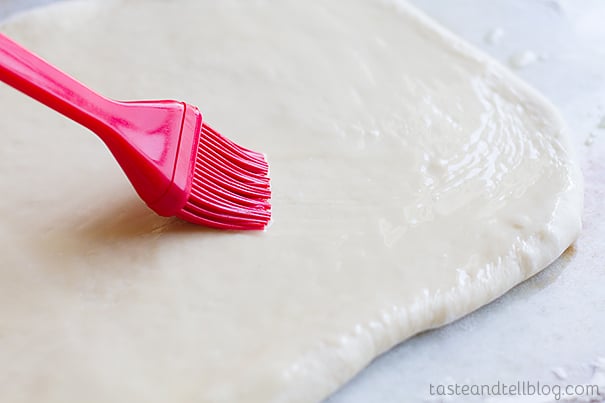 Brush the surface of the dough with melted butter.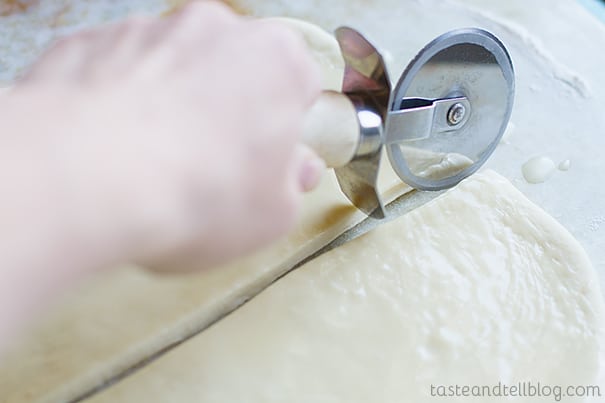 Cut the dough in half horizontally.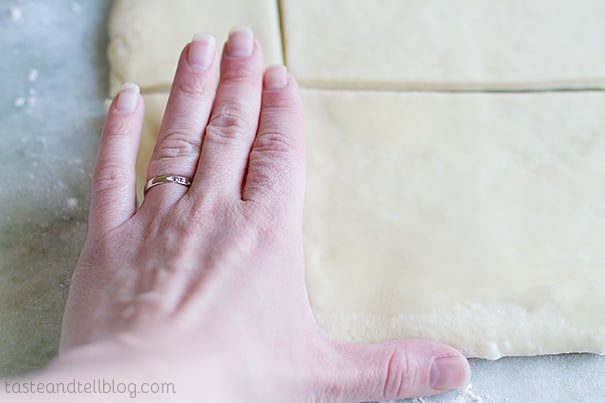 Cut into 2×4 rectangles.  You can use your hand as a guide for sizing.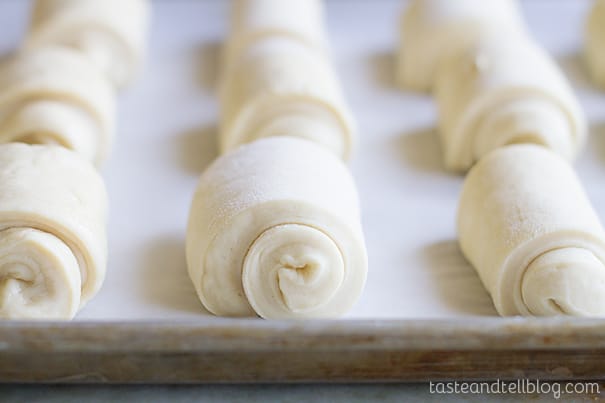 Roll the rectangles and place on your baking sheet with the tail ends resting on the sheet.  (Check out THIS video for help in shaping the rolls, if needed.)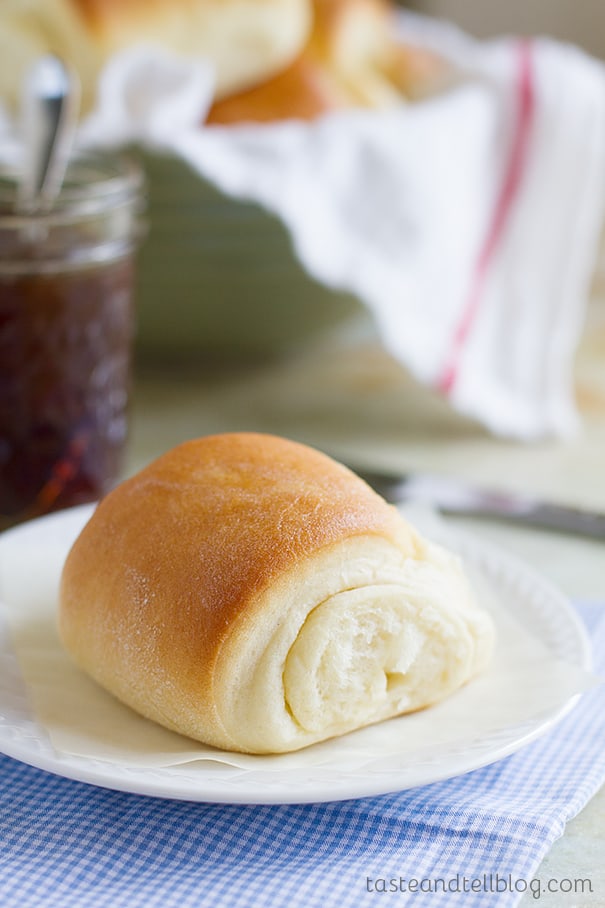 Watch how to make these Lion House Rolls here:
Like what you see here? Make sure you are following Taste and Tell for more great recipes and ideas!!

Facebook ** Pinterest ** Twitter ** Instagram ** Google+
or you can subscribe to my newsletter or Feedly or Bloglovin


Print
Lion House Rolls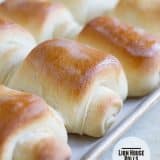 The Lion House Pantry in Salt Lake City,UT, is probably most widely known by their rolls, and you can make them at home, too!
Prep Time:

30 minutes

Cook Time:

20 minutes

Total Time:

2 hours 50 minutes

Yield:

about 2 1/2 dozen rolls
Ingredients
2 cups warm water
2/3 cup nonfat instant dry milk
2 tablespoons active dry yeast
1/4 cup sugar
2 teaspoons salt
1/3 cup butter, softened
1 egg
5-5 1/2 cups flour (you can use all-purpose or bread flour)
3 tablespoons butter, melted, plus softened butter for brushing on top after the rolls are baked
Instructions
In the bowl of a stand mixer, combine the water and the milk powder and stir to dissolve the milk. Add in the yeast and a tablespoon or so of the sugar and allow the yeast to bloom for 5-10 minutes. Add in the remaining sugar, salt, butter, egg and 2 cups of the flour.
Mix on low speed until all of the ingredients are wet, then mix on medium for 2 minutes. Stop the mixer and add 2 more cups of flour, mix on low until combined, then on medium for 2 minutes. The dough will be getting stiffer at this point. Continue adding flour, 1/2 cup at a time, until the dough is soft and tacky, but not sticky.
Place the dough in a greased bowl and turn to coat. Cover with plastic wrap and allow to rise in a warm spot until doubled in size.
Sprinkle a work surface lightly with flour. Divide the dough in half. Roll out one half of the dough into an 11×14-inch rectangle. Brush the top of the dough with half of the melted butter. Using a pizza cutter, cut the dough in half horizontally right down the center. Slice the dough into rectangles about 2×4″ big. If you hold your hand out so that your hand forms an "L" shape, it can help to be your guide for sizing.
Roll or flip the rectangles, buttered side in, and place on a greased baking pan with the end resting on the baking sheet. Repeat with the second half of the dough.
Cover with a towel or plastic wrap and allow to rise until doubled.
Preheat the oven to 375F. Uncover the rolls and bake until they are browned and cooked through, 15-20 minutes. Brush with softened or melted butter while they are still hot.
Notes
source: from a cooking class with a Lion House Pantry chef