Easy and made from spices and herbs you probably already have on hand, this Grilled Chicken Seasoning turns boring chicken into something special.
Make this chicken really stand out by serving it with my White BBQ Sauce or with homemade Chick Fil A Sauce for dipping!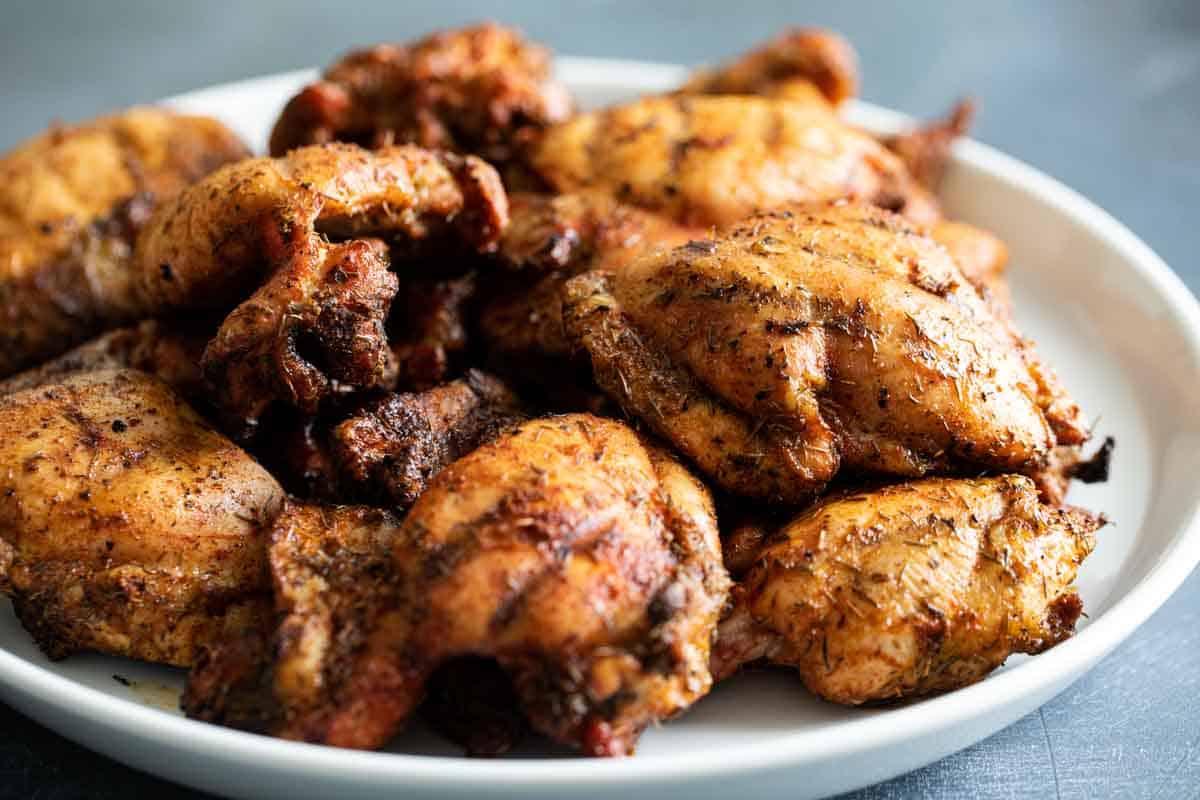 Just in time for barbecue season, this grilled chicken seasoning is one you'll want to keep in your back pocket! It's simple ingredient list can turn chicken into something spectacular.
One thing that I love the most about this chicken seasoning recipe is that I can make it from spices that I always have on hand. So I've leaned on this recipe more than once when I haven't wanted to go to the grocery store and needed to make dinner from what I had. It doesn't hurt that it makes for a super easy diner that doesn't require very much hands on time at all!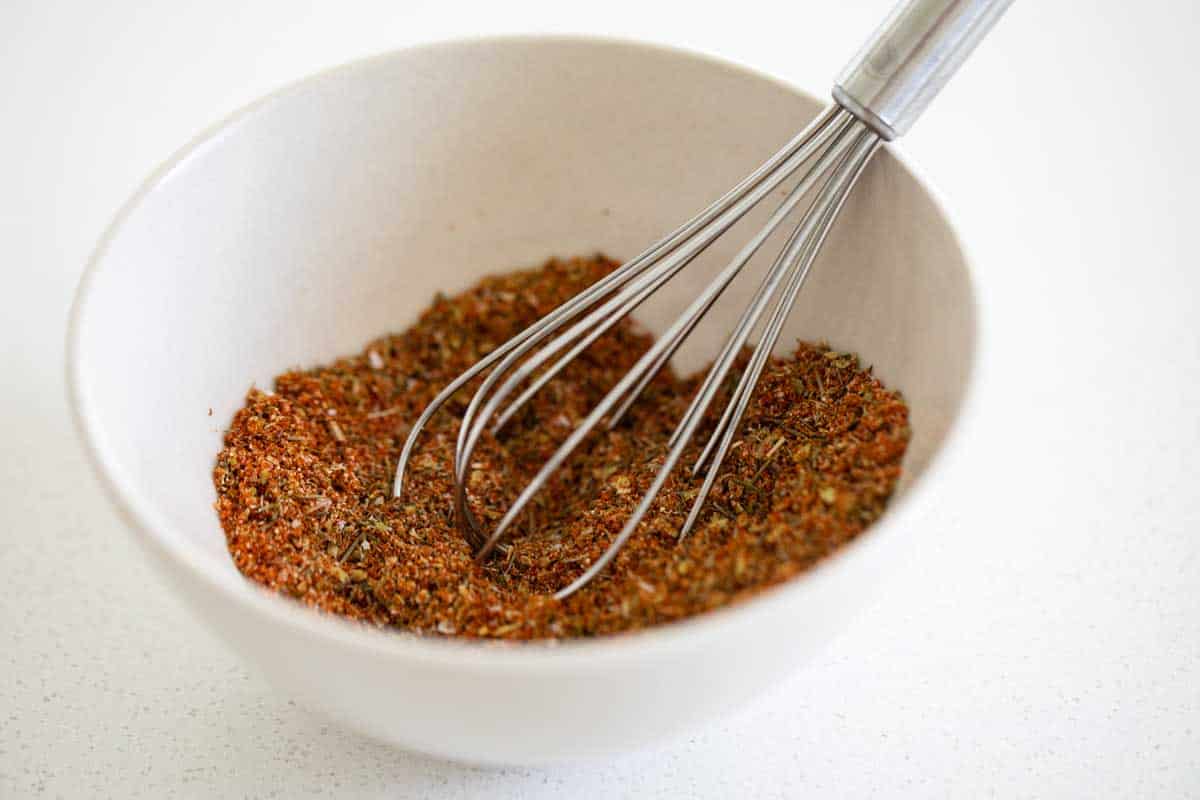 The Spices You'll Need
Keep in mind that this really is just a basic guideline and you can sub in your favorites, but I have been loving this mix just as is!
Dried Thyme – I usually use dried, but you can use fresh if you have it. If using fresh, you'll want to use 3 tablespoons instead of 1.
Dried Oregano – The same as the thyme above – if subbing in fresh, use 3 tablespoons. I would roughly chop it, as well.
Ground Cumin – This brings a smoky flavor that is a must for me!
Paprika – I have been a smoked paprika addict lately, so I will sometimes use smoked paprika instead of plain paprika. But both are delicious!
Onion Powder – This gives a lot of flavor.
Salt – I use kosher salt – not table salt.
Pepper – I like freshly ground pepper, but regular pepper will work here. Especially if you aren't using all of the seasoning and saving some for later.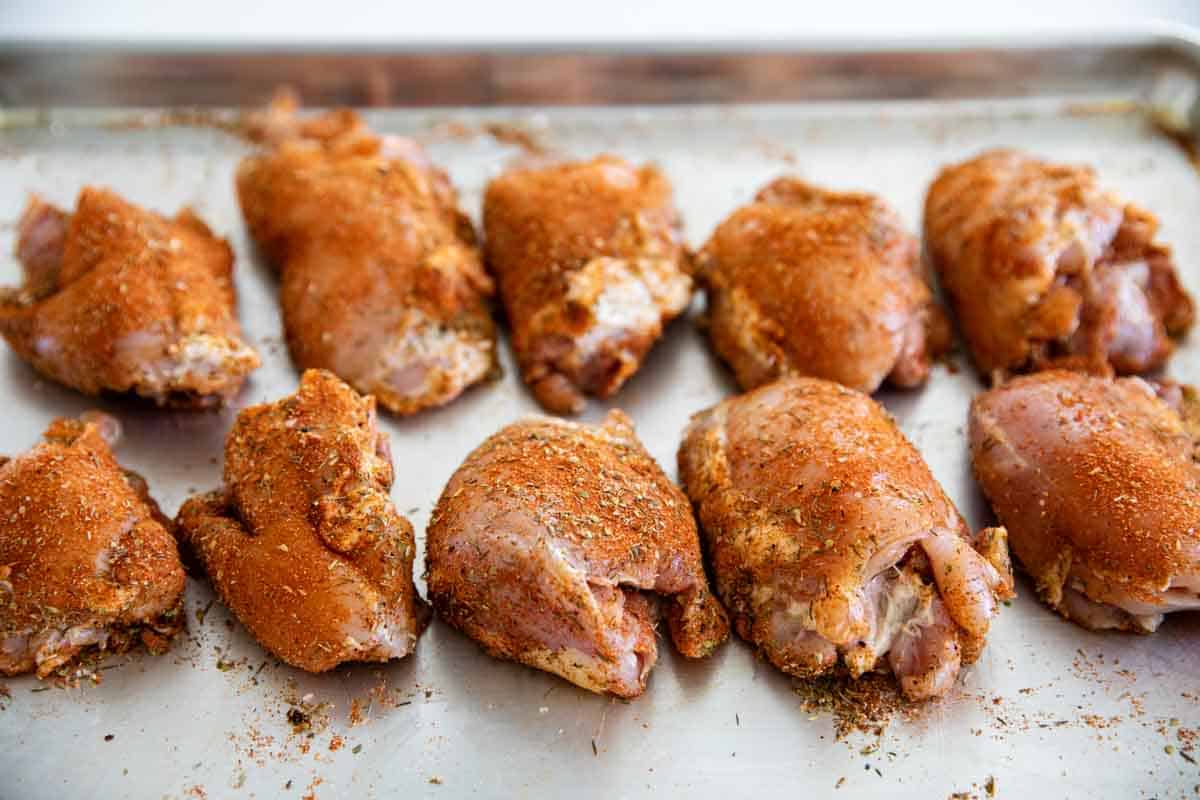 How to Use This Chicken Seasoning
Making the seasoning mix is as simple as combining all of the herbs and spices and mixing well.
The recipe below is for using the chicken seasoning on chicken thighs and grilling them, but really, this is a great multi-purpose seasoning mix. Feel free to bake your chicken, or cook it however you'd like.
For the grilled chicken thighs, I like to lay it on a baking sheet and sprinkle both sides with the seasoning. Once it is evenly covered with the spice mixture, place the chicken in a ziplock bag or a container with a lid.
Refrigerate! I like to refrigerate a minimum of 1 hour, but 4 hours is my sweet spot!
Grill the chicken, turning it a time or two until it is cooked through.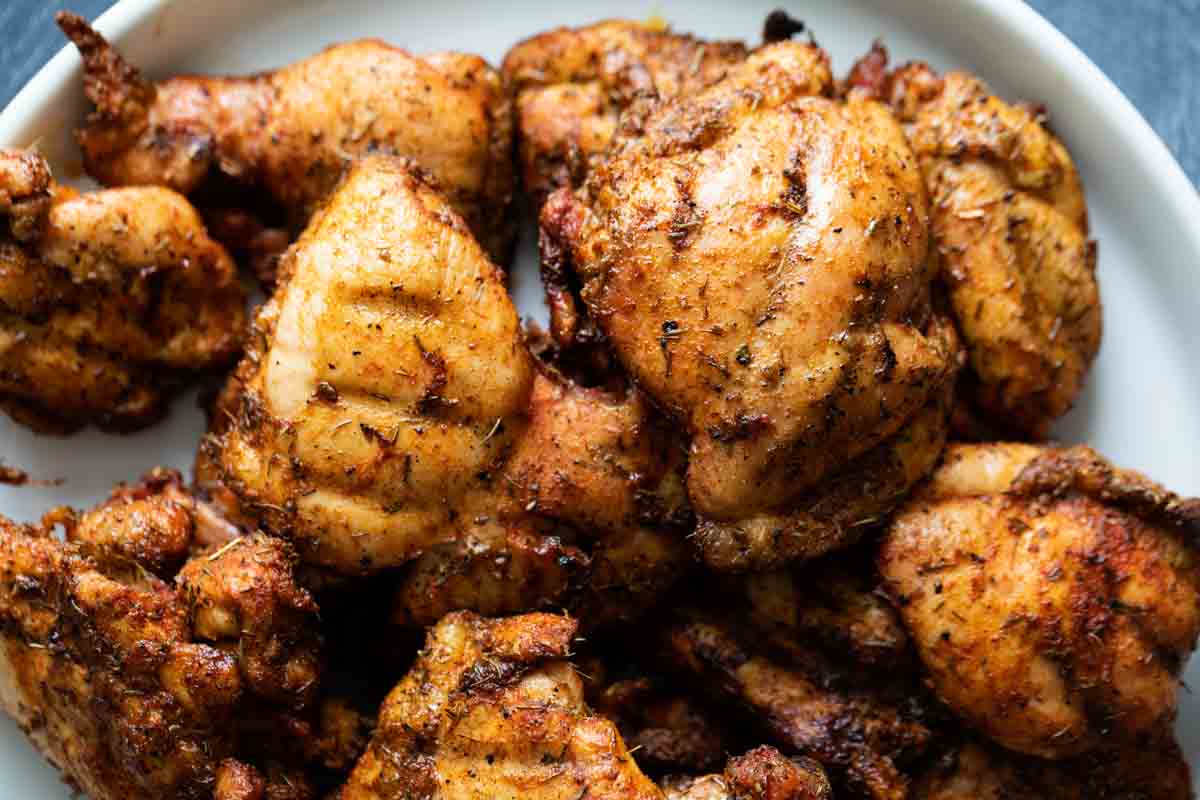 Tips and Tricks
If you aren't going to use all of the spice mixture, you can store it in an airtight container for up to 1-2 years. They will technically not go bad, but the mixture will lose potency over time – especially the herbs.
I prefer boneless, skinless chicken thighs for grilling, but you can sub in whatever is your favorite. Even bone in chicken would be great. And you could even use this on pork or beef – it really is a great all-around spice mixture.
If you want to skip a step, you can place your raw chicken in a bag, add the seasoning mix, seal the bag and shake to combine. I like to sprinkle it over the chicken to make sure it is coated evenly, but there's nothing wrong with taking a shortcut!
I think 1-4 hours is the perfect time for letting this mixture sit on the chicken, but you can leave it longer. You can even use it right before grilling, and not let it sit at all. But I think the flavor is best when it has a chance to "marinate" into the chicken.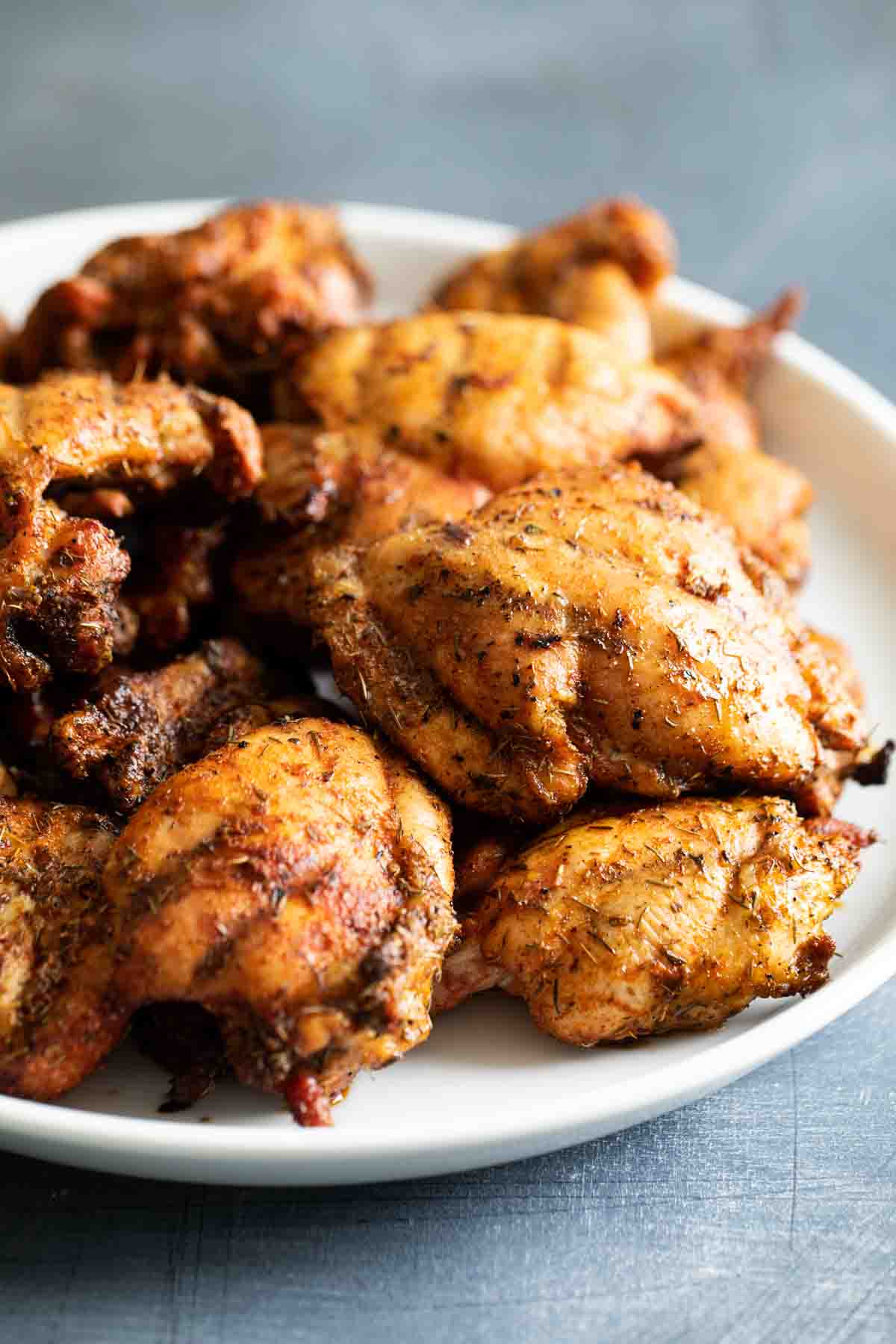 More Grilled Chicken Recipes
Bacon Wrapped Teriyaki Chicken Skewers
Huli Huli Chicken
Grilled Brown Sugar Mustard Chicken
Honey Soy Chicken
Rosemary Ranch Chicken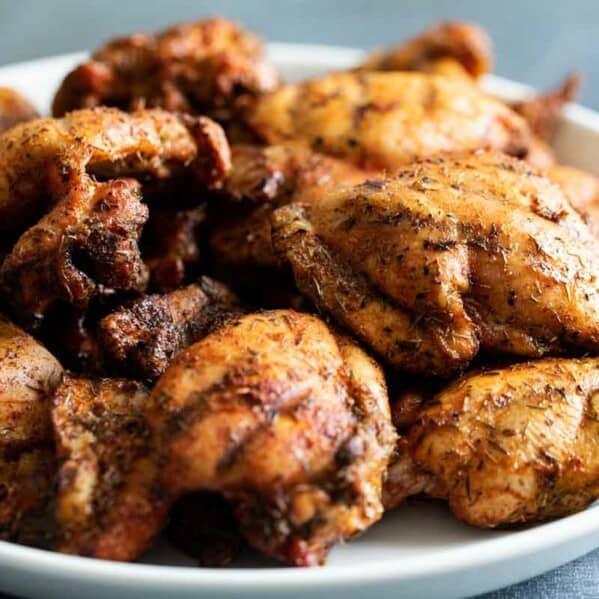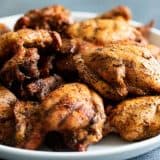 Grilled Chicken Seasoning
---
Author:
Prep Time: 5 mins
Cook Time: 20 mins
Total Time: 1 hour 25 mins
Yield: 6 servings 1x
Category: Main Dish
Method: Grilled
Cuisine: American
Description
Easy and made from spices and herbs you probably already have on hand, this Grilled Chicken Seasoning turns boring chicken into something special.
---
Scale
Ingredients
1 tablespoon dried thyme
1 tablespoon dried oregano
1 tablespoon ground cumin
1 tablespoon paprika
1 teaspoon onion powder
1/2 teaspoon salt
1/2 teaspoon pepper
3 lbs boneless, skinless chicken (I like to use thighs)
---
Instructions
In a small bowl, combine the thyme, oregano, cumin, paprika, onion powder, salt and pepper.
Lay the chicken on a large plate or baking dish and sprinkle seasoning on both sides, covering completely. Transfer to a ziplock bag.
Refrigerate the chicken for at least 1 hour, but preferably 4 hours.
Preheat the grill to medium-high.
Grill the chicken until it reaches 165ºF, turning a few times, if desired.
Recipe Notes:
Nutrition information provided is an estimate only. Various brands and products can change the counts. Any nutritional information should be used as a general guideline. Nutrition information is calculated using boneless, skinless chicken thighs.
Nutrition
Serving Size: approx 2 chicken thighs
Calories: 332
Sugar: 0 g
Sodium: 407 mg
Fat: 16 g
Saturated Fat: 4 g
Unsaturated Fat: 0 g
Trans Fat: 0 g
Carbohydrates: 2 g
Fiber: 1 g
Protein: 45 g
Cholesterol: 210 mg
Keywords: grilled chicken seasoning, chicken seasoning, seasoning mix