Soft homemade crescent rolls are filled with 3 different types of cheese. These Cheesy Crescent Rolls are perfect for a holiday dinner.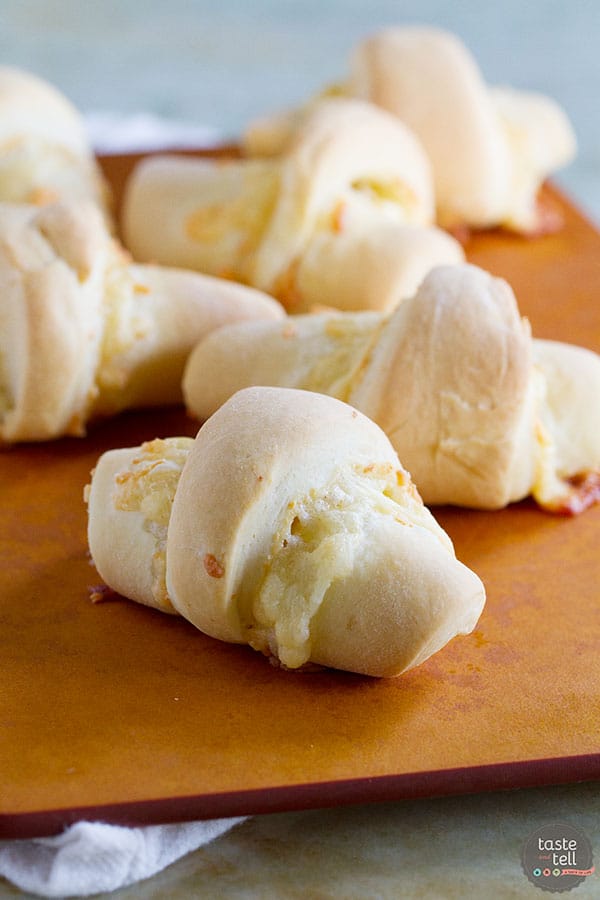 I have been a bread making machine lately. I don't know what has come over me. In the span of two weeks, I made Grandma's French Bread, a potato bread recipe, Sweet Potato Cinnamon Rolls, and these Cheesy Crescent Rolls.
Now, I love making bread. And there is little better than homemade bread. But I don't normally make that much, because, well – I simply have no self control when it comes to bread.
Especially homemade.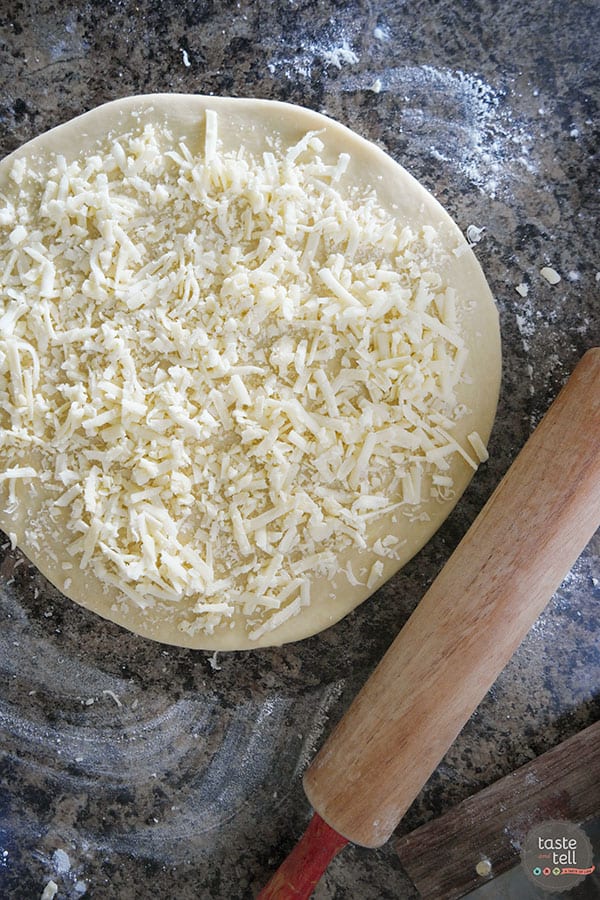 But it's all in the name of research, right? Because Thanksgiving is right around the corner, and you can't try a new roll recipe the morning of Thanksgiving. You need something that you know will be good.
And these rolls are good.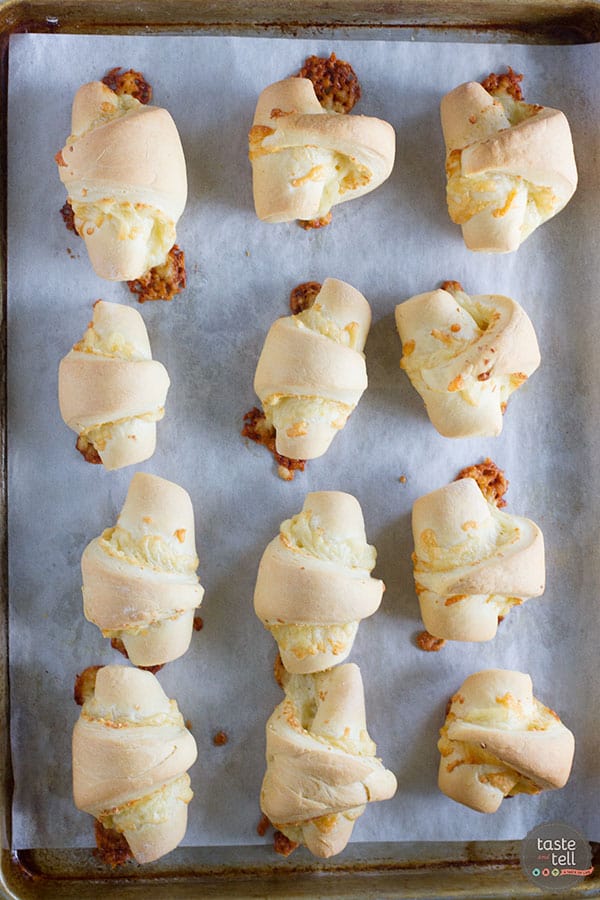 But would you expect less when you take a crescent roll and stuff it with cheese? And not only just cheese, but 3 kinds of cheese. Parmesan, havarti and cheddar. Yum times 3.
This dough is very easy to work with. And it makes 24 rolls, which is a good amount of rolls – perfect for a holiday. And I'm sure it would double easily as well, because let's face it – 24 rolls won't cut it when it comes to my family. 🙂
Carbs forever. It's my new mantra. 🙂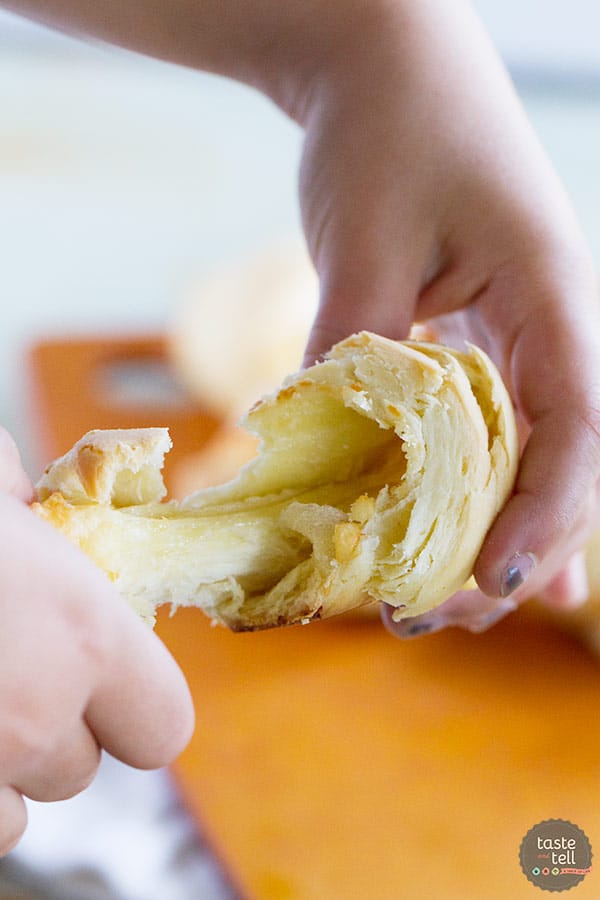 Like what you see here? Make sure you are following Taste and Tell for more recipes and ideas!
Facebook | Pinterest | Instagram | Twitter | Google+ | Weekly Newsletter | Feedly | Bloglovin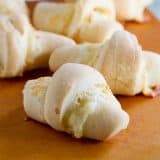 Cheesy Crescent Rolls
---
Prep Time: 3 hours 15 mins
Cook Time: 25 mins
Total Time: 3 hours 40 mins
Yield: 24 rolls 1x
Description
Soft homemade crescent rolls are filled with 3 different types of cheese. These Cheesy Crescent Rolls are perfect for a holiday dinner.
---
Scale
Ingredients
1/2 cup milk
1/2 cup water
3 tablespoons sugar
1 (0.25 oz) package active dry yeast (2 1/4 teaspoons)
4 1/4 to 4 1/2 cups all-purpose flour
6 tablespoons unsalted butter, at room temperature
1 1/2 teaspoons kosher salt
3 eggs, lightly beaten, divided
1/3 cup grated Parmesan cheese
1 cup grated Havarti cheese (about 4 oz)
1 cup grated sharp white cheddar cheese (about 4 oz)
---
Instructions
Combine the milk and water and heat until very warm (110ºF). Pour into the bowl of a stand mixer fitted with the dough hook. Add the sugar, yeast and 1 cup of the flour. Mix until combined but still lumpy. Let the mixture stand until it is very bubbly, about 30 minutes.
Add the butter, salt and 2 more cups of flour to the mixture Mix on medium speed until smooth and elastic, about 3 minutes. Mix in 2 of the eggs until combined. Scrape the bottom and sides of the mixer bowl as needed. Continue to add flour until the dough is smooth. The dough should be just slightly sticky.
Lightly oil a large bowl. Scrape the dough out into the bowl, the turn the dough to coat in the oil. Cover the bowl with plastic wrap and place in a warm area. Let the dough rise until doubled, about 2 hours.
Lightly coat 2 baking sheets with parchment paper or a silpat liner. Lightly flour a counter, then turn the dough out. Divide the dough in half, and set one half aside. Roll the dough into a 12-inch round circle, about 1/4-inch thick. Brush the dough with half of the remaining beaten egg. Sprinkle on half of the parmesan, havarti and cheddar cheese, leaving a 1-inch border around the outside. Lightly press the cheese into the dough with your hands.
Use a pizza cutter to cut the circle into 12 wedges. Starting on the wide end, roll each wedge up. Place the rolls on a prepared baking sheet, bending the crescents lightly to form the crescent shape. Lightly spray a piece of plastic wrap and lay over the top of the baking sheet. Repeat with the second half of ingredients.
Let the rolls stand until they are puffy, about 45 minutes.
Preheat the oven to 375ºF, placing the racks in the upper third and lower third of the oven. Remove the plastic wrap from the rolls and bake, switching and rotating the baking sheets halfway through, until the rolls are golden brown, about 25 minutes. Cool the rolls on the baking sheets for 5 minutes before removing to a cooling rack to cool completely.
Don't miss a thing! Follow me on Pinterest to see what I'm pinning!
Visit Taste and Tell's profile on Pinterest.