Yeah, yeah.  I know.  On Tuesday, I showed you a no-brainer slow cooker recipe.  And today, I have another no-brainer recipe.  Pretty soon here, we might just have to re-name my blog – The Easiest Recipes Ever Blog.
But really, with the craziness of my life lately, I wouldn't mind that new blog title.  Because most nights, that is exactly what is happening around here.  Easy.  Super easy.
That is actually why I am showing you this recipe.  This is one of our go-to meals.  I'm sure you all have one or two of those recipes in your back pocket.  The ones that you can always make at a moments notice.  The ones that you always have the ingredients on hand for.  I love this one because there are only 5 ingredients, and you can seriously have this on the table in 15 minutes.  Well, maybe 18, depending on how fast you can get your water to a boil!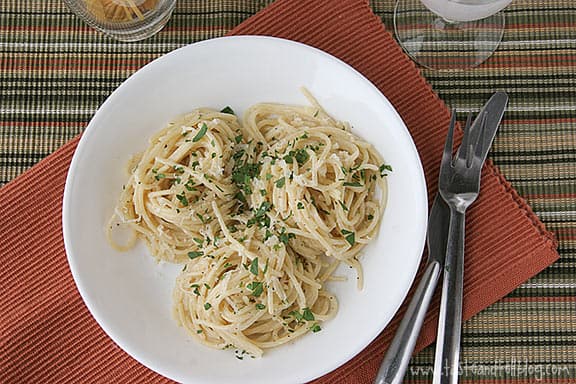 You know what else I love about this recipe?  Both of my kids love it.  Both of my kids will eat it.  And want more.  With Abbi, that is a miracle in and of itself.  (I'm learning that Easton will eat anything I put in front of him.  I hope he is always like this!)
The key to the success of this recipe is the tossing of the hot pasta with the half and half and the parmesan.  (You want the real stuff here, not the kind in the green can.  If you use that, you'll probably end up with clumps of cheese.)  When you've got everything together, use a pair of tongs and toss, toss, toss the pasta.  At first, it won't seem like much is happening, but after a minute or two, a glossy, delicious sauce is formed.  It really is super easy, and you'll find yourself wanting to coat your pasta like this all of the time.  To make it a little bit richer, you can always add in a pat or two of butter, too.  Not necessary, but delicious!
What is your favorite go-to meal?



Print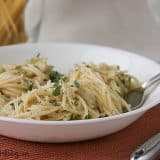 Easy Parmesan Pasta
Cook Time:

12 minutes

Total Time:

15 minutes

Yield:

4 servings
---
Description
My go-to pasta dinner – only 5 ingredients, and 15 minutes to the table!!
---
Ingredients
12 oz. dry spaghetti
1 cup half and half
3/4 cup freshly grated parmesan cheese
salt and pepper to taste
fresh parsley
---
Instructions
Bring a large pot of water to a boil. Add the pasta and cook until just short of al dente. Reserve a mug full of the pasta water, and drain.
Return the pasta to the pot. Add in the half and half and the parmesan cheese. Toss the spaghetti and the half and half and cheese with a pair of tongs for several minutes, until the liquid is absorbed and a silky sauce has formed. If it seems too dry, add some of the reserved pasta water. Season to taste with salt and pepper.
Serve topped with chopped fresh parsley and additional parmesan, if desired