This easy Dinner Roll Recipe is perfect for a weeknight, but good enough for a holiday! Soft and tender, you won't be able to stop with one!
This is by far my most made dinner roll recipe. I love that the recipe makes just enough for my family, and that I don't have to spend all day making them. But if you're looking for a homemade roll that is just as delicious, try these Lion House Rolls. Or for something a little bit different, these Sweet Potato Buttermilk Crescent Rolls are always a hit!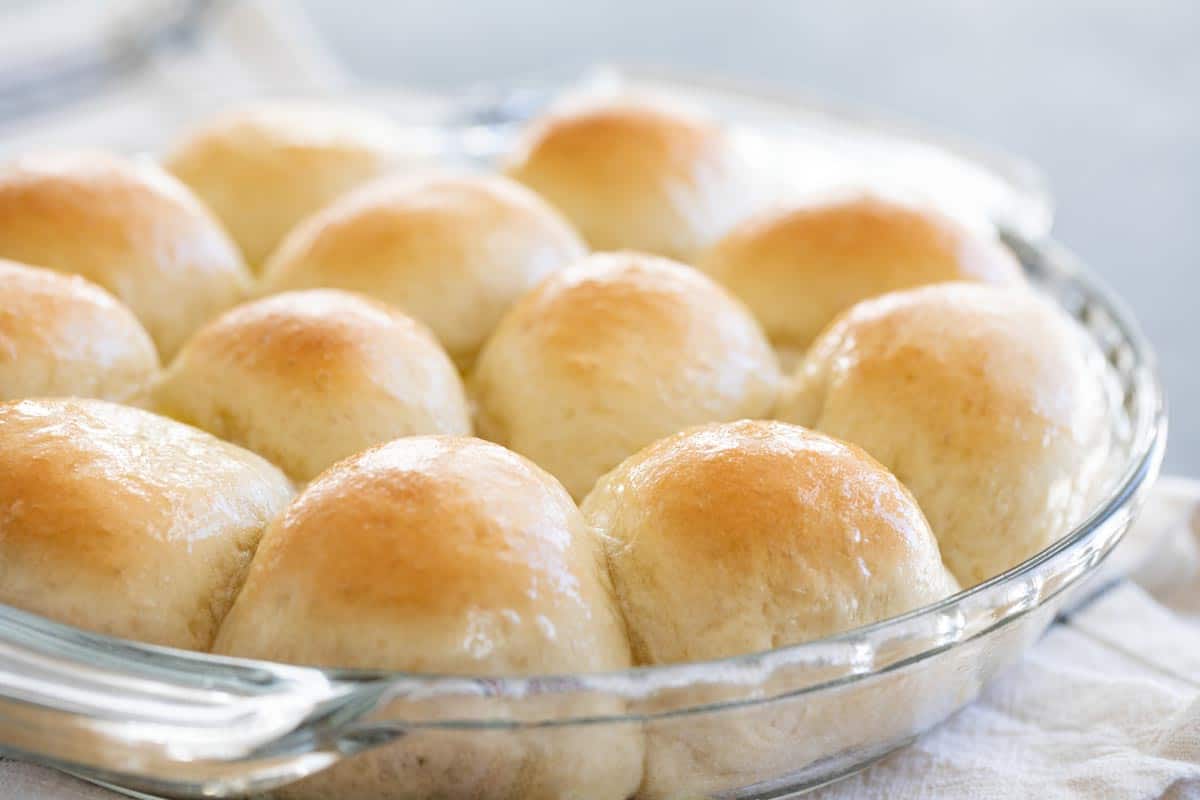 Easy Dinner Rolls
If there is one thing that makes my mouth water every single time, it is homemade rolls.
I have been making versions of this dinner roll recipe for quite awhile now. They are light and fluffy and have great flavor. And the dough is a dream to work with. I have made plenty of homemade rolls in my life, but none ever come out as consistently and as light and fluffy as these easy dinner rolls.
I also love that this recipe only makes 12 rolls, which is perfect for my little family. But you can easily double the recipe if you are cooking for a crowd.
These dinner rolls are definitely a family favorite. My husband is not a big bread eater at all. In fact, he usually doesn't touch the bread when I make it. But these rolls? I made them on a Sunday morning for dinner that night, but my husband ate 3 of them right after church. The rolls were completely gone before dinner was finished that night, and kids and the hubby were still asking for more. I think I can say these easy dinner rolls are a hit!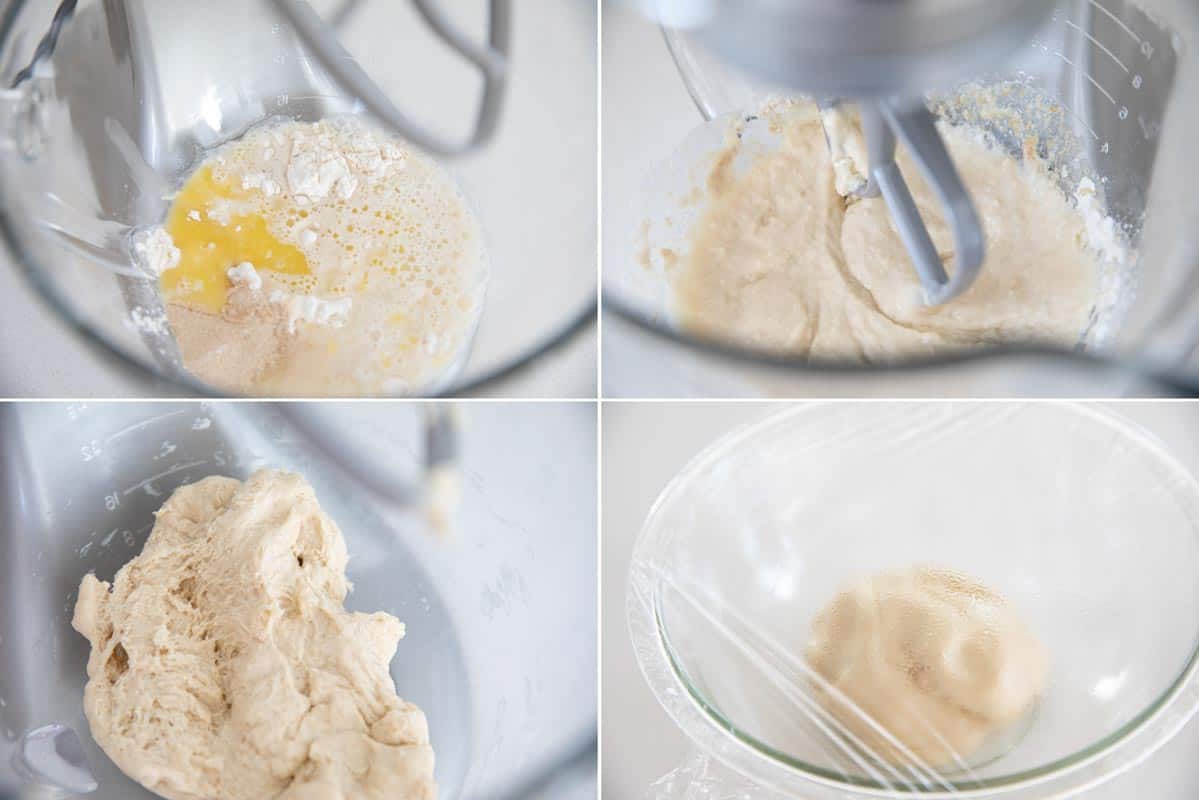 How to Make Them
Start by combining 1 cup of the flour, the sugar, the yeast, and the water. Melt 2 tablespoons of the butter, and add that to the mix.
Mix it all until it is combined.
Start adding in more of the flour until the dough is not overly sticky, but still tacky. It should be just pulling away from the sides of the bowl at this point.
Grease a bowl and place the dough in the bowl. Cover it to let it rise until doubled.

Once it has doubled in size, punch it down.
Take the dough from the bowl and divide it into 12 equal pieces.
Roll or pinch the dough into balls and place in a greased pie dish – 9 around the edge and 3 in the middle.
Cover the dish and allow the rolls to rise until they are doubled again.

Bake until golden brown, then brush with the remaining tablespoon of butter as soon as they come out of the oven!
Tips and Tricks for Perfect Dinner Rolls
You don't have to use a mixer! This can totally be done by hand. In fact, I think it's great to be able to feel the dough so that you don't add too much flour.
Too much flour equals dense rolls. Start small, and add the flour in small increments. You don't want the dough too sticky because then you won't be able to form it into rolls, but the dough should still be tacky.
You can use active dry yeast instead of instant yeast. I would suggest dissolving the yeast in the water for a few minutes to activate it before starting to add the additional ingredients, though.
If I'm making these for my family, I'll just cut the dough into 12 pieces, but if making for company, I'll usually weigh the dough to make sure each roll is the same size.
This recipe can be doubled. You'll want to just use 2 pie dishes. Bake time may be different if you try to bake them in a different type of dish.
We literally never have leftovers when I make these, but if you do, store them in a ziplock bag to keep them fresh.
How to Freeze Dinner Rolls
The rolls can also be frozen! Here are 2 different ways to freeze the rolls.
The first way is to make the rolls up until you have shaped the rolls, before the second rise. After shaping the rolls, place them on a baking sheet an inch or two apart, then transfer the baking sheet to the freezer. Once the rolls are frozen, transfer to a freezer safe container and freeze up to a month. When ready to use them, take the from the freezer and put into your pie dish. Cover and thaw in the refrigerator overnight, then take them from the refrigerator and let them rise until doubled before baking.
The second way is to fully make the rolls from start to finish. Let the rolls cool completely, then cover tightly with foil. Before serving, remove from the freezer and allow the rolls to thaw at room temperature overnight. You can heat them up in the oven (for about 10-15 minutes at your oven's lowest temperature) before serving, if desired.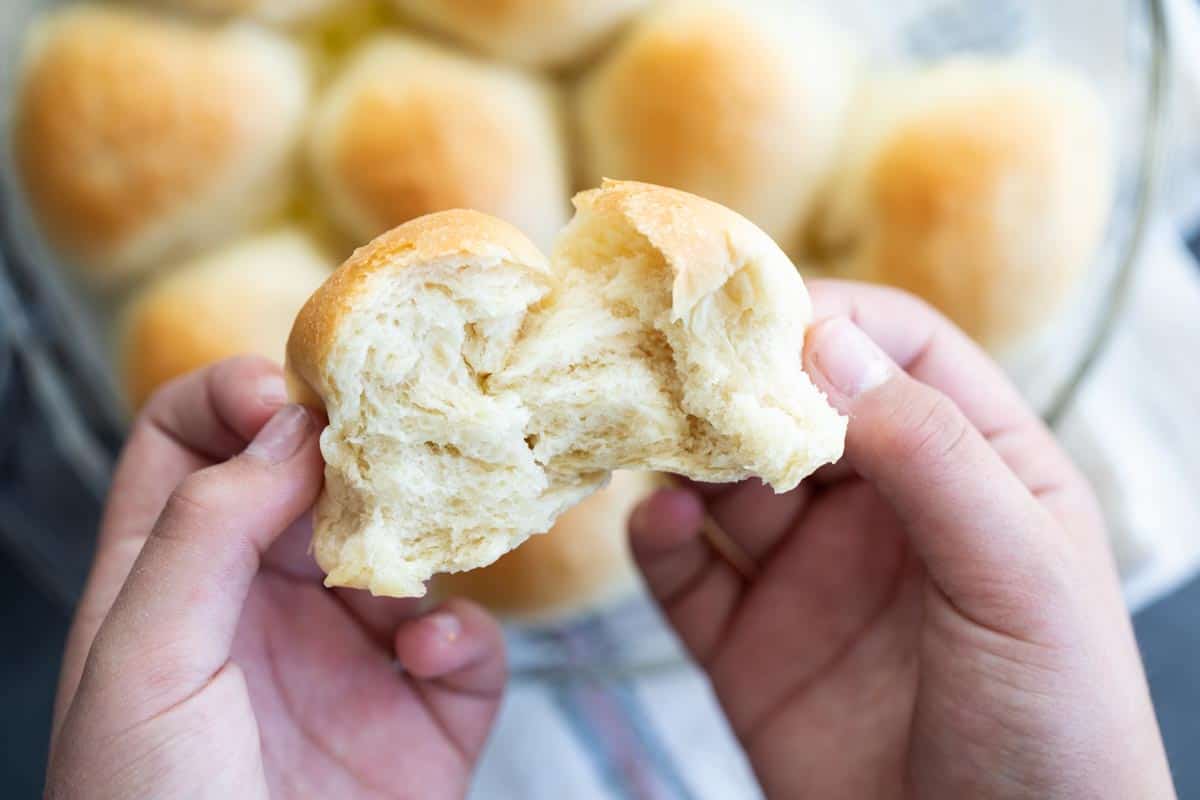 More Favorite Bread Recipes
White Bread Recipe
Red Lobster Cheddar Biscuits
Easy French Bread Recipe
Focaccia Bread Recipe
Honey Wheat Rolls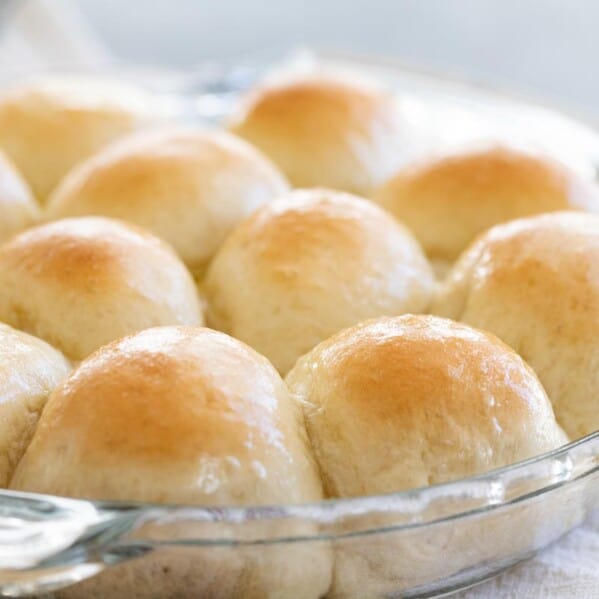 Dinner Roll Recipe
---
Author:
Prep Time: 20 mins
Cook Time: 15 mins
Total Time: 2 hours
Yield: 12 rolls 1x
Category: Bread
Method: Baked
Cuisine: American
Description
This easy Dinner Roll Recipe is perfect for a weeknight, but good enough for a holiday! Soft and tender, you won't be able to stop with one!
---
Scale
Ingredients
2 – 2 1/2 cups all-purpose flour
1 tablespoon sugar
2 1/4 teaspoons instant dry yeast (1 pkg)
1/2 teaspoon salt
3/4 cup warm water
3 tablespoons butter, divided
---
Instructions
In the bowl of a stand mixer, combine 1 cup of the flour, the sugar, yeast, salt and water.
Melt 2 tablespoons of the butter and add that to the mixer bowl. Mix everything until combined and smooth.
Continue to add in flour until the dough is tacky, but not sticky, and starts to pull away from the sides of the bowl.
Place the dough in a greased bowl and cover. Allow to double in size, about 45 minutes.
Spray a 9-inch pie dish with nonstick cooking spray.
Punch down the dough, then divide into 12 equal portions. Form each of the portions into a roll and place in the prepared dish, 9 around the outside and 3 in the middle.
Cover and allow to rise until doubled again, about 30 minutes.
Preheat the oven to 350ºF.
Uncover the rolls and bake until the tops are golden, about 14-15 minutes.
Remove the rolls from the oven and brush the remaining tablespoon of butter over the tops of the rolls.
Recipe Notes:
Nutrition information provided as an estimate only. Various brands and products can change the counts. Any nutritional information should only be used as a general guideline.
Nutrition
Serving Size: 1 roll
Calories: 121
Sugar: 1 g
Sodium: 97 mg
Fat: 3 g
Saturated Fat: 2 g
Unsaturated Fat: 1 g
Trans Fat: 0 g
Carbohydrates: 19 g
Fiber: 1 g
Protein: 3 g
Cholesterol: 8 mg
Keywords: Dinner roll recipe, dinner rolls, easy rolls, easy dinner rolls