These Easy Dinner Rolls are so easy to make – they are perfect for a weeknight, but good enough for a holiday!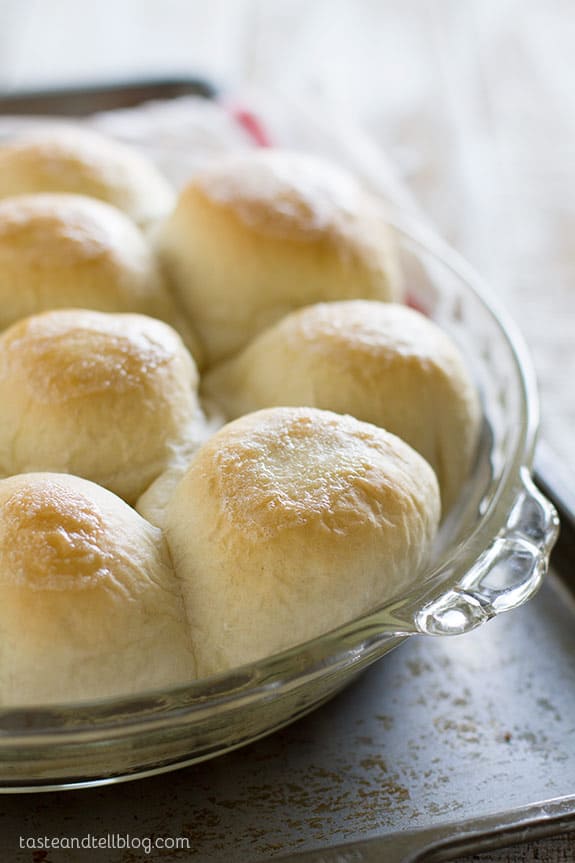 This post has been created in partnership with Challenge Butter.



This time of year, we are all getting caught up in holiday preparations. I know the text messages have been flying between my mom, my siblings and I about the plans for the day and what each of us will be contributing. You get online and you are bombarded with pies and sweet potato casseroles and turkeys that belong on the cover of a magazine.
But one thing that is easy to overlook is that not everyone is as blessed.
This year, Challenge Butter has teamed up with UNICEF to bring awareness to the childhood malnutrition crisis. And as an ambassador for Challenge Butter, I'm so excited that I get to share this holiday awareness campaign with all of you. And there is an easy way for all of you to help, as well, with just the click of a mouse!

Did you know that nearly 3 million young lives are lost each year due to malnutrition? Malnutrition is not merely a result of too little food, but of a combination of factors: insufficient protein, energy and micronutrients, frequent infections or disease, poor care and feeding practices, etc. Undernutrition puts children at greater risk of dying from common infections, increases the frequency and severity of such infections, and contributes to delayed recovery. Poor nutrition in the first 1,000 days of a child's life can also lead to stunted growth, which is irreversible damage to a child's body and brain, and is associated with impaired cognitive ability and reduced school and work performance.
But malnutrition is treatable and can be prevented. That's where all of you come in!
For every recipe pinned from Challenge's "Pin a Recipe, Feed a Child" pinterest board, it will donate a meal to UNICEF to give to a child in need. Challenge has provided UNICEF with ready-to-use therapeutic foods (RUTF), including dairy-based pastes, and powders for the severely malnourished and was the first U.S. food company approved to provide RUTF products for the Caribbean, Central America and Asia, and has been involved in developing and providing humanitarian aid products for more than 20 years.
All it takes is a pin and you can give a child a chance at childhood!
The "Pin a Recipe, Feed a Child" Pinterest board has pins from a group of great food bloggers, all bringing you recipes that will be perfect for your holiday tables. So head over and pin away!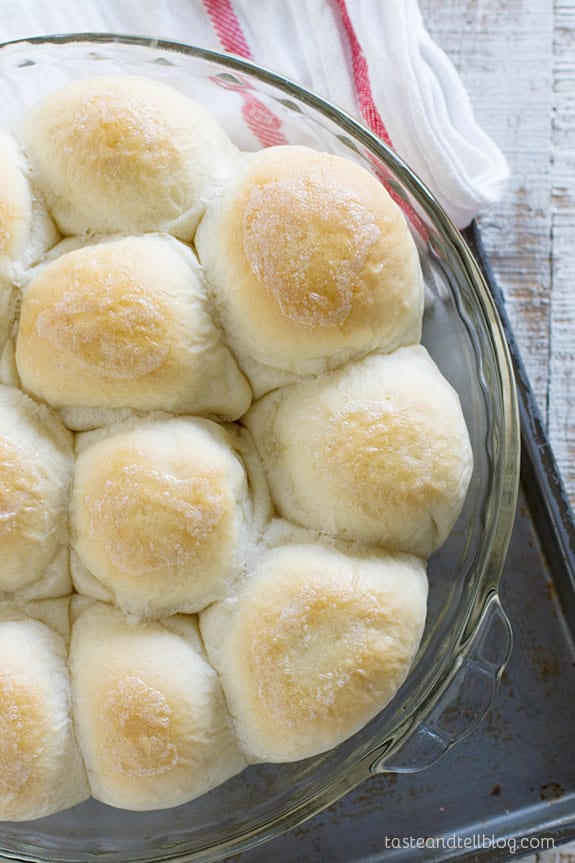 I decided that I wanted to bring these Easy Dinner Rolls, because you can't have Thanksgiving dinner without homemade rolls. It's a rule.
I have been making versions of these rolls for quite awhile now. They are light and fluffy and have great flavor from the addition of Challenge Butter in the rolls. And the dough is a dream to work with. I have made plenty of homemade rolls in my life, but none ever come out as consistently and as light and fluffy as these easy dinner rolls.
I also love that this recipe only makes 12 rolls, which is perfect for my little family. But you can easily double the recipe if you are cooking for a crowd.
These Easy Dinner Rolls are definitely a family favorite. My husband is not a big bread eater at all. In fact, he usually doesn't touch the bread when I make it. But these rolls? I made them on a Sunday morning for dinner that night, but my husband ate 3 of them right after church. The rolls were completely gone before dinner was finished that night, and kids and the hubby were still asking for more. I think I can say these easy dinner rolls are a hit!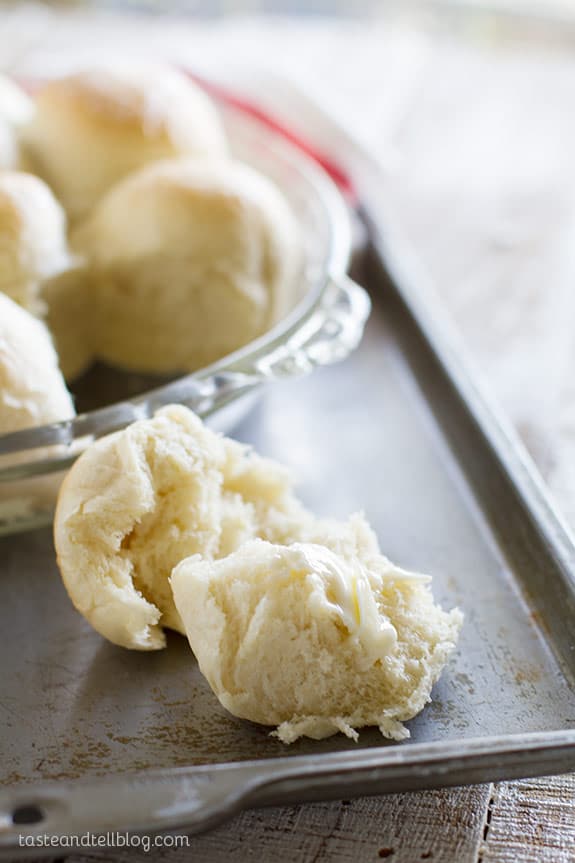 Like what you see here? Make sure you are following Taste and Tell for more great recipes and ideas!!

Facebook ** Pinterest ** Twitter ** Instagram ** Google+
or you can subscribe to my newsletter or Feedly or Bloglovin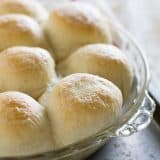 Easy Dinner Rolls
---
Author:
Prep Time: 20 mins
Cook Time: 15 mins
Total Time: 1 hr 50 mins
Yield: 12 rolls 1x
Description
These Easy Dinner Rolls are so easy to make – they are perfect for a weeknight, but good enough for a holiday!
---
Scale
Ingredients
2 – 2 1/2 cups all-purpose flour
1 tablespoon sugar
2 1/4 teaspoons active dry yeast (1 pkg)
1/2 teaspoon salt
3/4 cup warm water
3 tablespoons Challenge Butter, divided
---
Instructions
In the bowl of a stand mixer, combine 1 cup of the flour, the sugar, yeast, salt and water. Melt 2 tablespoons of the butter and add that to the mixture. Mix everything until combined and smooth. Continue to add in flour until the dough is tacky, but not sticky, and it starts to pull away from the sides of the bowl.
Switch to the hook attachment and knead until smooth, 4-6 minutes. Alternately, turn the dough out onto a lightly floured surface and knead by hand.
Place the dough in a greased bowl and cover. Allow to rise until doubled in size, about 45 minutes.
Punch down the dough, then divide into 12 equal portions. Spray a 9-inch pie dish with cooking spray. Form each of the portions into a roll and place in the prepared dish, 9 around the outside and 3 in the middle. Cover and allow to rise until doubled again, about 30 minutes.
Preheat the oven to 350ºF. Bake the rolls until they are golden on the tops, 14-15 minutes.
Remove the rolls from the oven and brush the remaining tablespoon of butter over the tops of the rolls.
I am in a working relationship with Challenge Butter, and this post has been sponsored. I'm so glad to be able to work with companies and organizations that I truly believe in. Thank you for supporting them, too.