It has happened to all of us. Dinner time rolls around, and there you are – standing in front of the refrigerator or pantry, wondering what to make. You have a hungry family waiting, and no menu plan. What are you to do?
The good news is that with a few pantry staples on hand, you can usually pull something together pretty easily. You would think that because I am a food blogger and talk about food all day, that dinner is always perfectly planned at my house and on the table at 5:30 on the dot. But in reality, it's so much different than that. Especially when I have a lot of assignments due and I've been in the kitchen cooking all day long. More often than not, I'm that girl who finds herself in front of the fridge, wondering what to make.
I have come up with a few tips that have saved dinnertime for my family on more than one occasion. Perdue Chicken challenged me to come up with Ten Tips to K.I.S.S – Keep It Simply Smart. Dinnertime can definitely be made simple and easy by having the right things in your fridge, freezer and pantry. Here are my Top Ten items to keep on hand that will make dinnertime a breeze.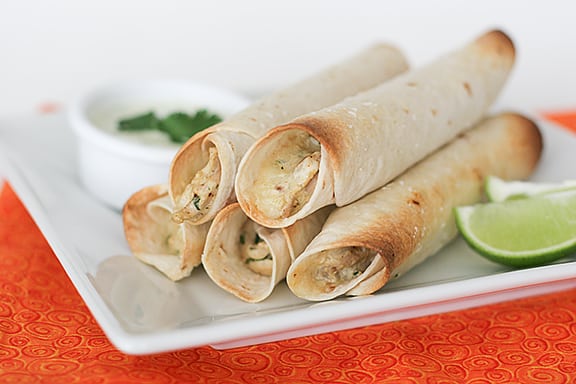 1 – Frozen Shredded Chicken
I recently did a post with 24 ways to use frozen chicken. And I learned that not everyone knows that you can freeze cooked, shredded chicken. This is a must have in my kitchen. Not only does it save you on those nights when you don't know what to make, but it also saves you tons of time when you are in a dinnertime crunch. (Pictured – Baked Creamy Chicken Taquitos)
2 – Frozen Cooked Ground Beef
Along the same lines, you can also freeze cooked ground beef. Season some up with taco seasoning to keep on hand for easy taco night. Or keep it plain to throw into a different recipe. For a lighter option, try swapping ground beef for ground chicken.
(Pictured – Ramen Vegetable Beef Skillet)
3 – Beans
I always have several different kinds of canned beans on hand. They can be used to beef up other recipes, or they can be the star of the show. You can also cook dried beans and then keep them in the freezer, but my freezer is much to small. So canned beans have a permanent place in my pantry. (Pictured – Grilled Corn and Black Bean Salad)
4 – Tortillas
When all else fails, quesadillas are always an easy dinner option!! (Pictured – Sweet Potato-Chicken Quesadillas)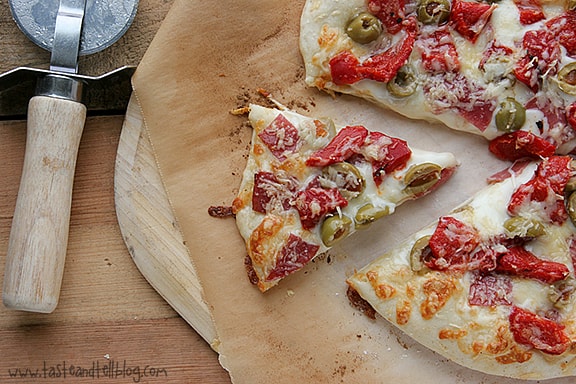 5 – Pizza Dough
My favorite pizza dough can be kept in the fridge for up to 14 days, so we almost always have some in the refrigerator. It's definitely easy to throw together when time is short or when you don't know what else to make. If you want to keep it really simple, you can buy refrigerated pizza dough that you can keep in your fridge for emergencies. (Pictured – Antipasto Pizza)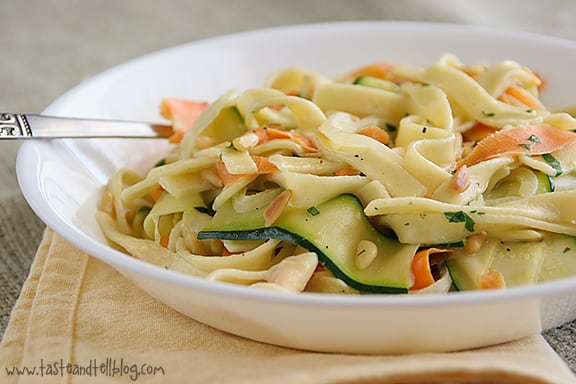 6 – Pasta
Pasta can be the most simple dinner. You can make a sauce to go with it, or even simply serving it with butter and a bit of Parmesan cheese is a hit at our house. Pasta is a weekly thing for us – and is also perfect for quick lunches! (Pictured – Vegetable Ribbon Pasta)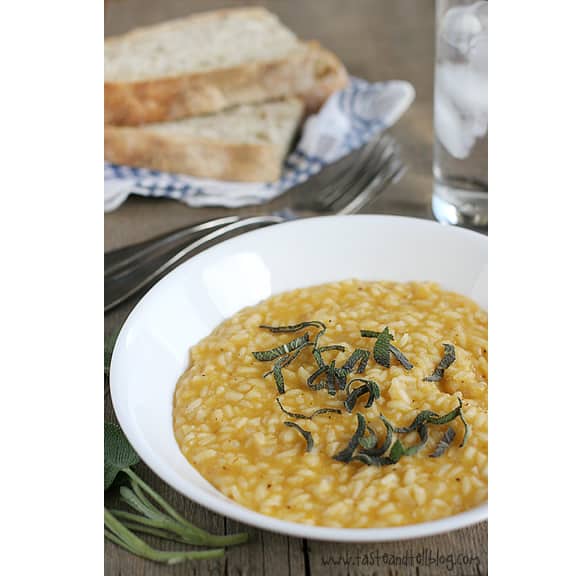 7 – Rice & Grains
Rice or grains (like quinoa or barley) can help to bulk up a dinner, or they can be the main star. While risotto seems intimidating to some, it's actually one of the easiest things to make. It just takes the patience to stir for about 30 minutes! (Pictured – Butternut Squash Risotto)
8 – Canned Salmon or Tuna
When you don't have the time to thaw that chicken breast in your freezer, a can of tuna is an easy, fast way to whip up a meal. (Pictured – French Style Tuna Melts)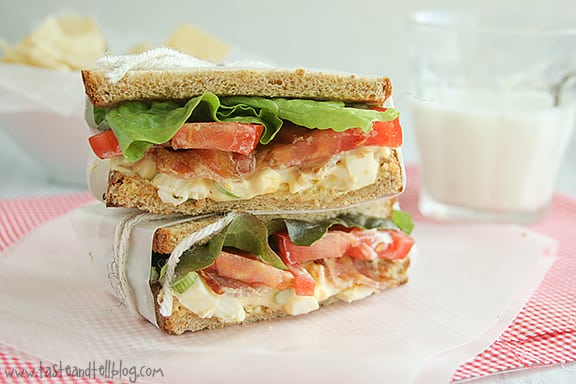 9 – Bread
We never go without bread on hand. Whether for lunch or for dinner, there is probably at least one sandwich made in our house daily. Everything from peanut butter and jelly to paninis – you can almost always pull something together to make it a sandwich night! (Pictured – Egg Salad BLTs)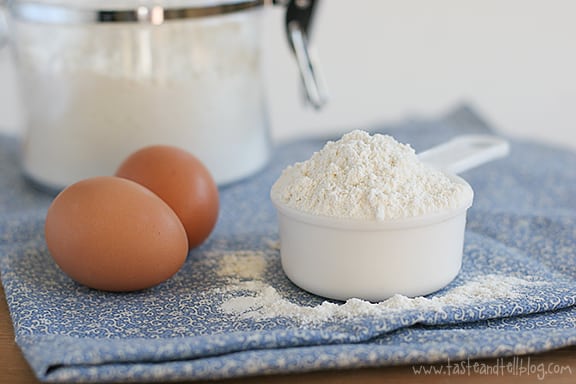 10 – Pancake Mix
Whether homemade or store bought, when all else fails, do breakfast for dinner!! (Pictured – Homemade Pancake Mix)
——————-

THE GIVEAWAY
How do you Keep It Simply Smart in the kitchen when it comes to dinner time? Tell me about it in the comments for the chance to win a $100 Cooking.com gift card!
Sweepstakes Rules:
NO PURCHASE NECESSARY
No duplicate comments.
You may receive (2) total entries by selecting from the following entry methods:
a) Leave a comment in response to the sweepstakes prompt on this post
b) Tweet (public message) about this promotion; including exactly the following unique term in your tweet message: "#SweepstakesEntry"; and leave the URL to that tweet in a comment on this post
c) Blog about this promotion, including a disclosure that you are receiving a sweepstakes entry in exchange for writing the blog post, and leave the URL to that post in a comment on this post
d) For those with no Twitter or blog, read the official rules to learn about an alternate form of entry.
This giveaway is open to US Residents age 18 or older. Winners will be selected via random draw, and will be notified by e-mail. Winners will have 72 hours to claim the prize, or an alternative winner will be selected.
The Official Rules are available here.
This sweepstakes runs from 7/23/12 – 8/23/12
Be sure to visit the Perdue Simply Smart Chicken brand page on BlogHer.com where you can read other bloggers' reviews and find more chances to win!
Like the PERDUE® SIMPLY SMART® Facebook page where you'll find product info, recipes, and other tips from bloggers.