Creamy on the inside and toasty on the outside, this will end up being your favorite Grilled Cheese Sandwich! You are only minutes away from this elevated childhood favorite.
We love a good sandwich! Also try out these elevated sandwiches: Monte Cristo Sandwich, Club Sandwich, or Cucumber Sandwiches.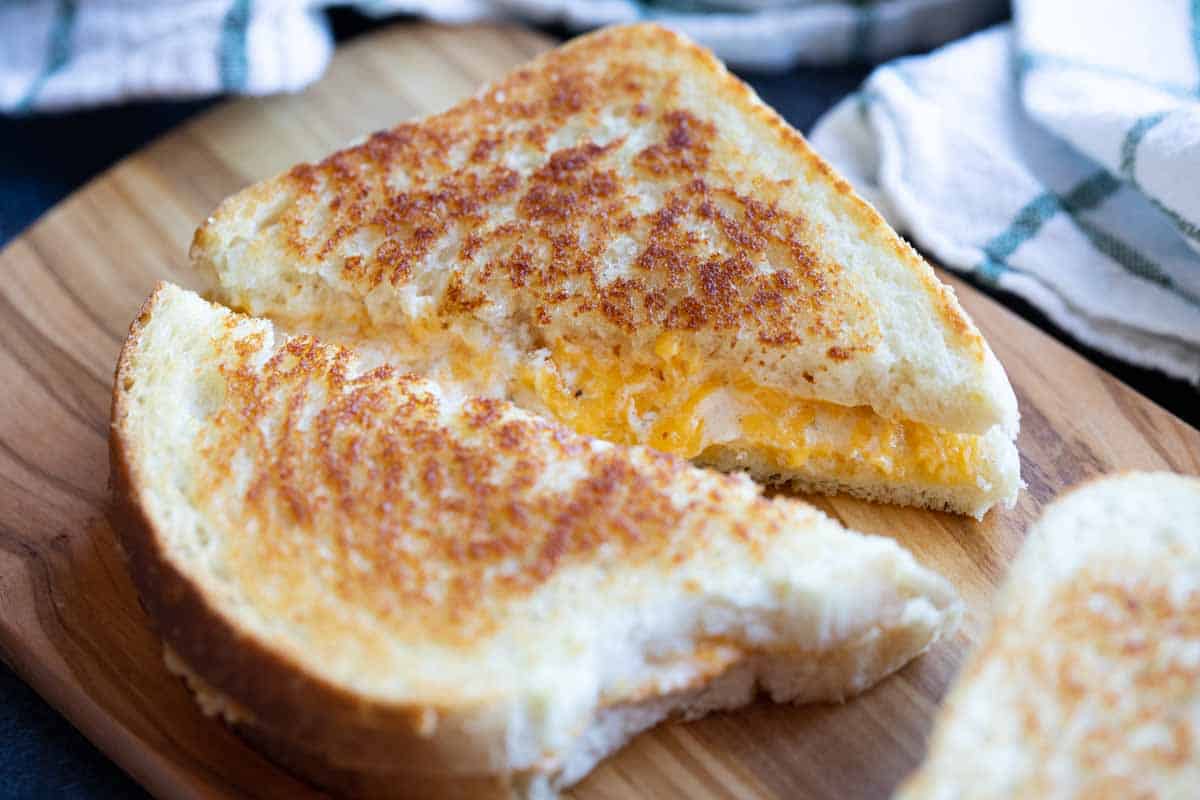 I know what you're thinking:
Do I really need a recipe for a grilled cheese sandwich?
I'm here to tell you the answer is YES!
Because this isn't your everyday, run of the mill grilled cheese sandwich. This is a step above.
Back in 2001, I took my one and only trip to Europe. We spent the majority of our time in and around Paris, but one day, we rented a car and headed up to Normandy to see the D-Day beaches. On our way, we stopped in a little town called Bayeux, and this quickly because my favorite stop in France.
I wasn't into food back then like I am now, so the trip definitely was not centered around food. In fact, we mainly survived on panini and crepes bought on the street. I can only remember going to a few restaurants. One of these restaurants was in Bayeux, and I won't ever forget that meal. It wasn't a fancy restaurant, and we were mostly scared of ordering anything too French, so my sisters and I each ordered a grilled cheese sandwich and my sister's boyfriend ordered some sausages. We had a really good laugh when the sausages came out and they were just a couple of good old American hot dogs!!
But those grilled cheese sandwiches – simply the best I have ever had in my life. I wish I would have thought to take a picture or try to figure out what was in them, but I just sat there and savored every bite.
To this day, I don't know what was in that sandwich that made it so special. I'm guessing it was just some fancy French cheese.
And while my version of a grilled cheese sandwich isn't the same as that French sandwich, I do have to say it's pretty amazing. And indulgent. And so much better than a slice of American cheese slapped between 2 slices of bread.
Ingredients:
Cheese: The starring ingredient! There isn't a hard and fast rule about what kind of cheese you need, you'll really just want a cheese that melts easily. I usually use sharp cheddar, because I like the bold flavor, but my kids prefer a medium cheddar. You can even use Monterey Jack or Gruyere.
Sour Cream: This is the secret ingredient. Don't skip it!
Dijon Mustard: For some reason, the mustard brings in that "French" element for me, but you can totally leave it out. My kids don't love it, but I do!
Salt and Pepper: I only add a small amount of salt, but I like a lot of pepper.
Bread: I will usually just use a good quality white bread, but this can be any bread you like for your grilled cheese sandwich.
Butter: I use butter on the outside of my sandwich. You can also use mayonnaise, which is what my daughter loves the most.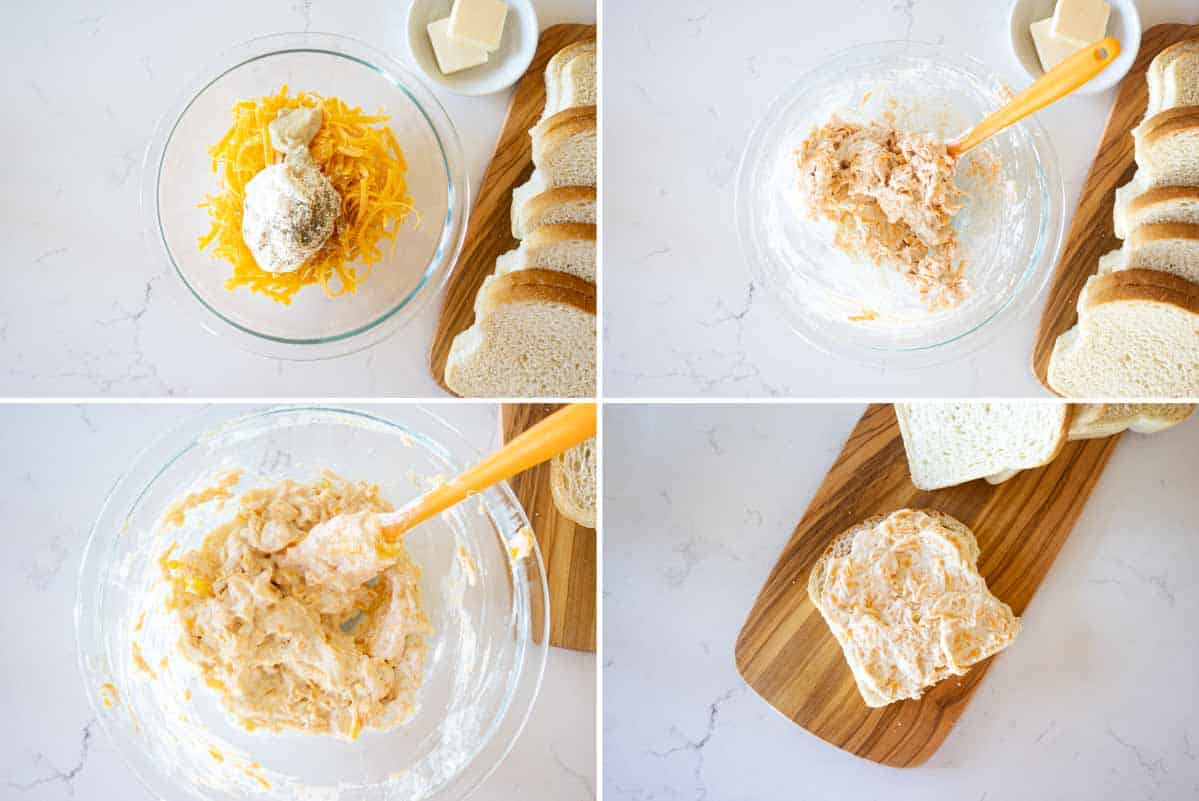 How to Make Grilled Cheese Sandwiches
COMBINE the cheese, sour cream, mustard, salt and pepper.
STIR until it is all combined.
MICROWAVE the mixture for 30-45 seconds.
SPREAD the butter on the outsides of the bread. Divide the cheese filling evenly between 4 slices of bread, then top with another slice of bread.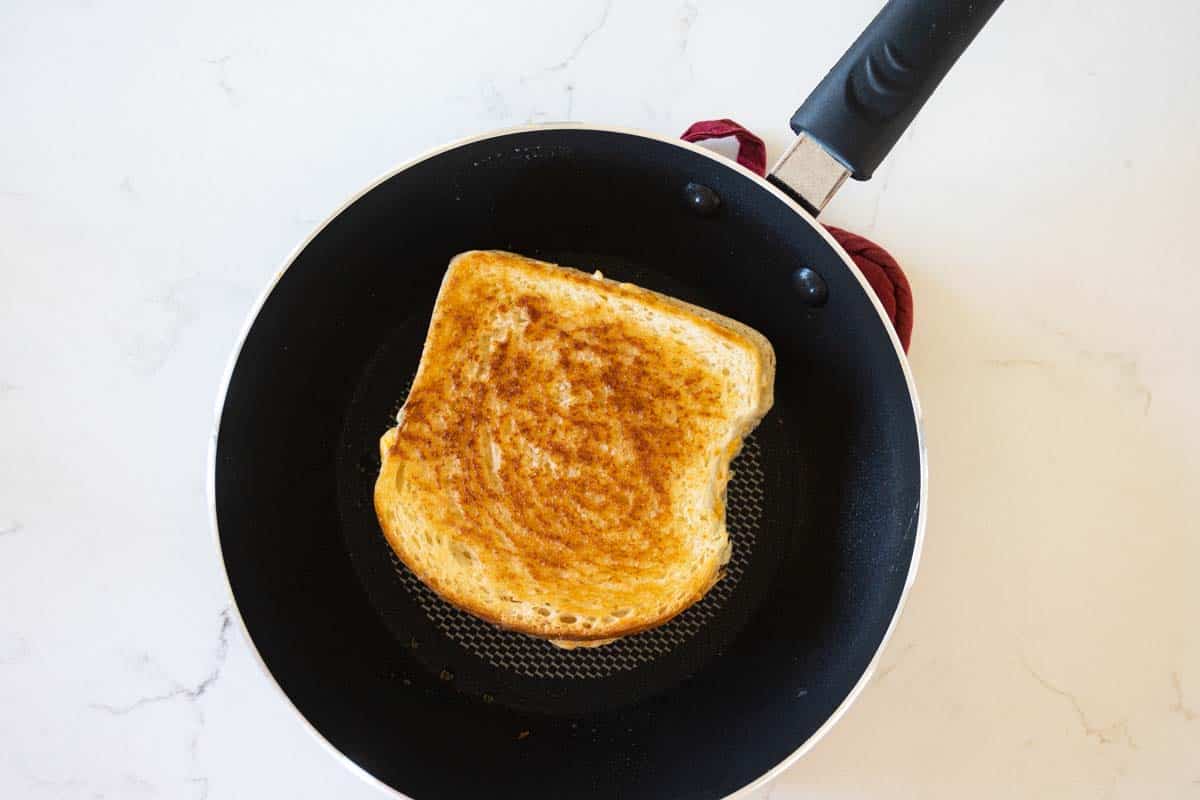 TOAST the sandwiches in a skillet with a lid until both sides are toasted and the cheese is fully melted.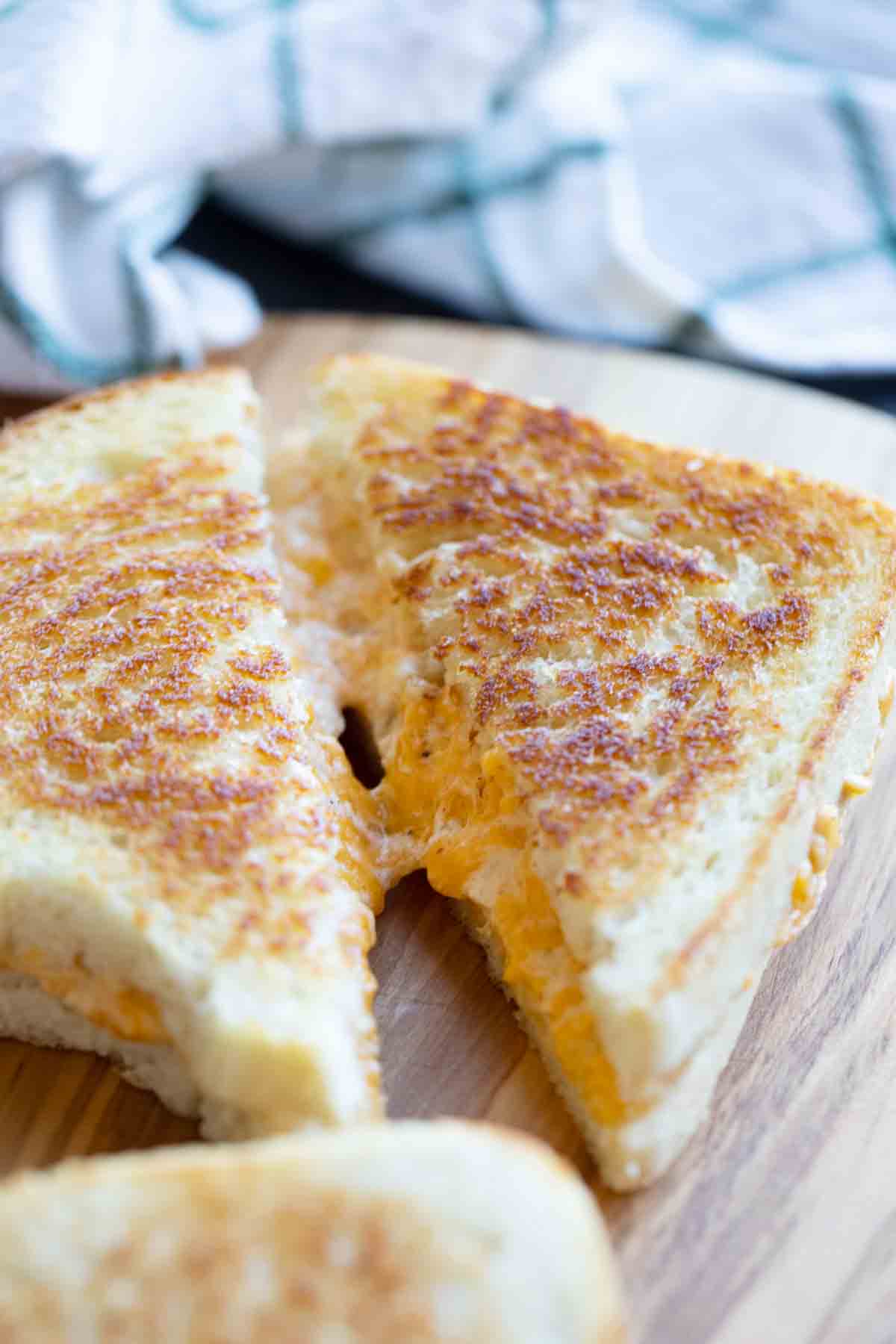 Tips and Tricks
I had been making this recipe for years, and my only complaint about the original recipe posted here was that the cheese was never fully melted. And then I heated up some leftovers to make a sandwich for lunch, and by microwaving the filling for a few seconds before grilling the sandwich, I got that melted, gooey center that I was looking for. So if you skip that step, you'll most likely end up with cheese that hasn't fully melted.
The filling can be made ahead of time, and then sandwiches can be made on demand. I like to make up a batch and then have it ready if someone wants a grilled cheese for lunch, it's easy. Just refrigerate the filling for up to 5 days.
If your cheese isn't melting all the way, you can microwave the filling longer, or turn the temperature down on the stove just a bit and cook the sandwich for longer.
I like to make these in a small skillet that has a lid. You can use a larger skillet, as well, but I wouldn't recommend this recipe on a griddle because you wouldn't be able to put a lid over the sandwich to help melt the cheese.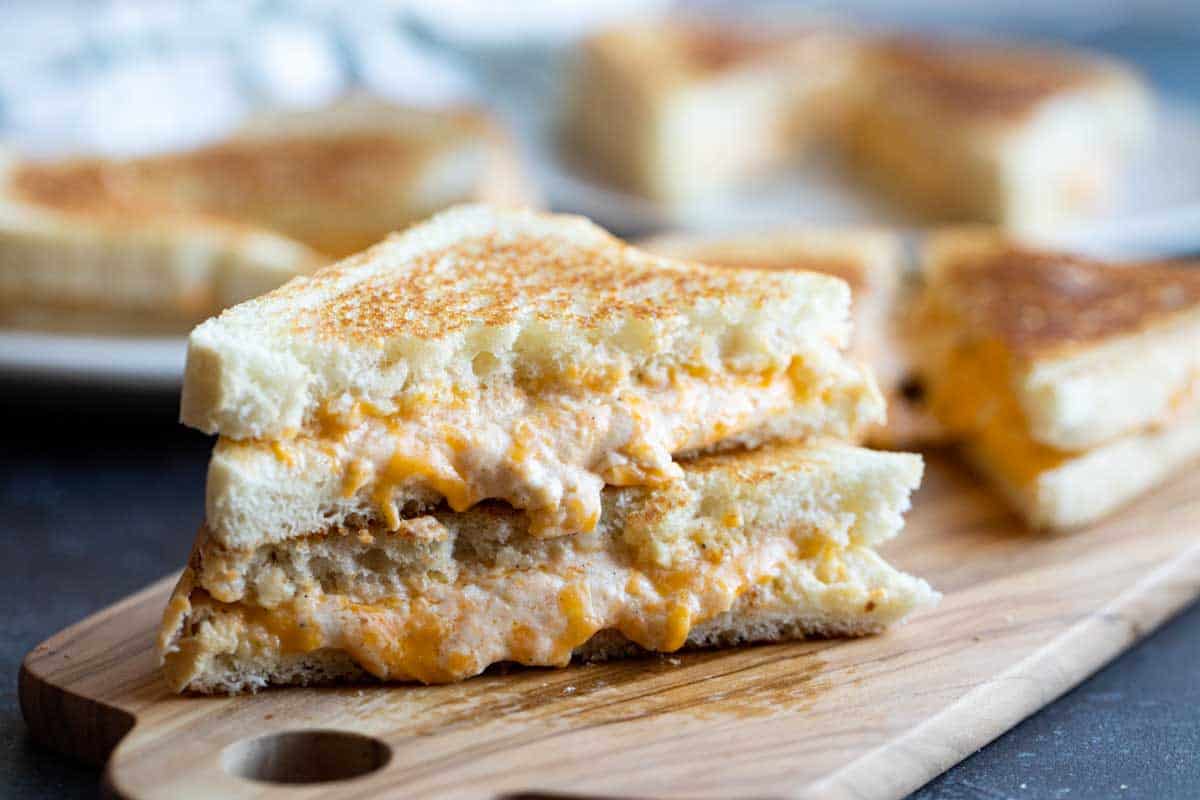 Love Cheese? You'll Love These Cheesy Recipes
Crock Pot Cheeseburger Soup
Broccoli Cheese Soup
Creamy Mac and Cheese
Cheesy Garlic Bread
Cream Cheese Chicken Enchiladas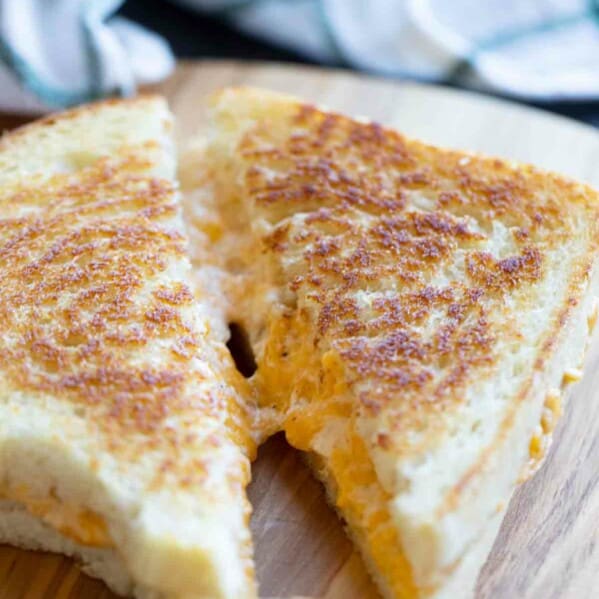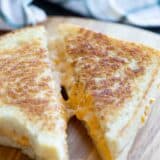 Grilled Cheese Sandwich
---
Author:
Prep Time: 10 minutes
Cook Time: 10 minutes
Total Time: 20 minutes
Yield: 4 servings 1x
Category: Main dish
Method: Stove Top
Cuisine: American
Description
Creamy on the inside and toasty on the outside, this will end up being your favorite Grilled Cheese Sandwich! You are only minutes away from this elevated childhood favorite.
---
Scale
Ingredients
1 1/2 cups grated cheddar cheese
1/3 cup sour cream
1 tablespoon Dijon mustard
Salt and pepper
8 slices of bread
2 tablespoons butter, softened
---
Instructions
In a small, microwave safe bowl, combine the cheese, sour cream, and Dijon mustard. Season to taste with salt and pepper.
Microwave the mixture for 30-45 seconds, just until warmed through and melting on the edges. It won't be melted all the way. Stir to combined.
Lay the pieces of bread out and spread 1/4 tablespoon of butter on one side of each bread. Turn 4 slices over, and divide the cheese mixture between the 4 slices. Place another slice of bread on top, buttered side out, making 4 sandwiches.
Heat a skillet over medium heat. (This works best if you either do the sandwiches in a skillet with a lid, so either do them one at a time in a smaller skillet, or you can do them all at the same time if you have a skillet that fits them all.)
Cover the pan with a lid, and cook until the first side is toasted. Gently flip and cook, with the pan covered, until the second is toasted and the cheese is melty.
Let the sandwich sit for 2-3 minutes before slicing and serving.
Recipe Notes:
adapted from: Modern Classics: Book 1
Nutrition information provided as an estimate only. Various brands and products can change the counts. Any nutritional information should be used as a general guide.
Nutrition
Serving Size: 1 sandwich
Calories: 367
Sugar: 3 g
Sodium: 769 mg
Fat: 17 g
Saturated Fat: 10 g
Unsaturated Fat: 3 g
Trans Fat: 0 g
Carbohydrates: 41 g
Fiber: 2 g
Protein: 11 g
Cholesterol: 33 mg
Keywords: grilled cheese sandwich, toasted cheese sandwich, grilled cheese