These Homemade Chicken Nuggets may be a favorite of the kids, but they are so good that the adults will want to hoard them all!
Feeding a houseful of kids and need more family friendly dinner ideas? Also check out my Creamy Mac and Cheese, Homemade Fish Sticks, or Crispy Ranch Chicken Sticks with Ranch BBQ Dipping Sauce.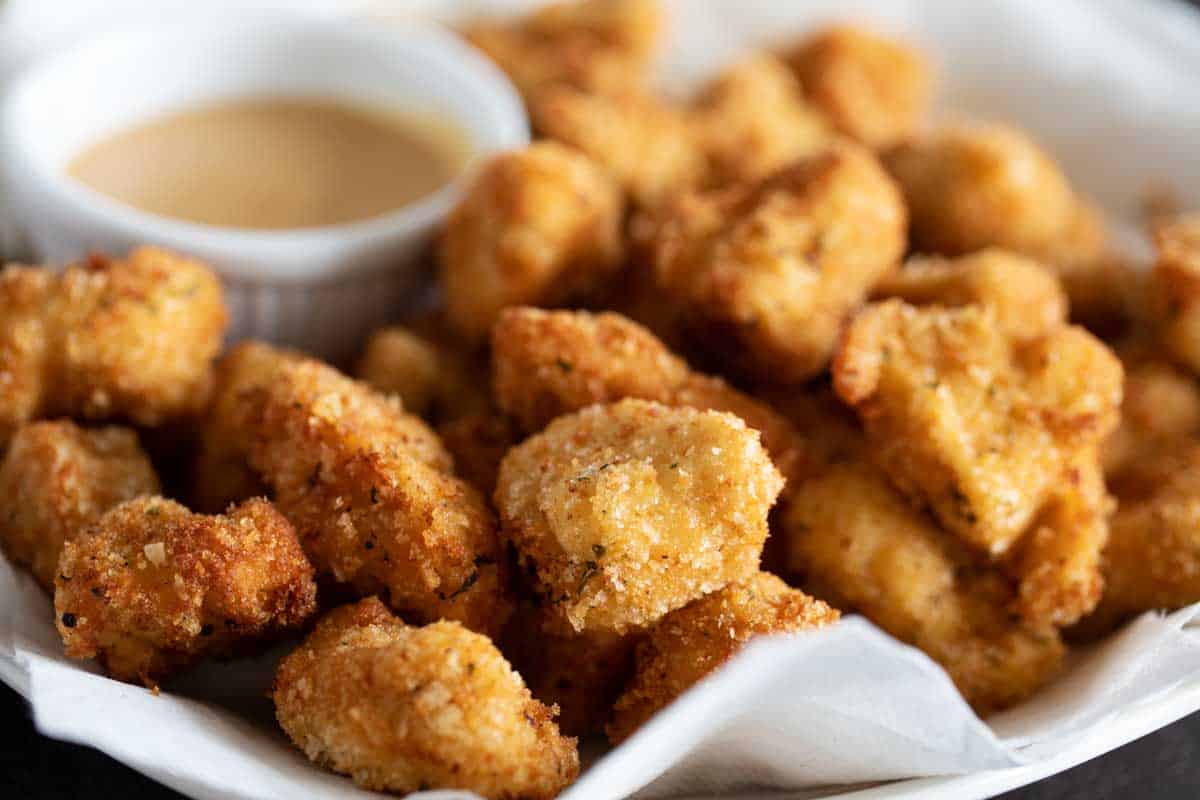 They are not just for kids! Homemade Chicken Nuggets are a dinner that the whole family can enjoy. In fact, I think I actually ate more of these than my kids did!
Make up a batch and serve them with some homemade Chick Fil A Sauce, and you'll have dinner done in less time than it would take to hit up the drive through. And it's always so much better knowing exactly what is going into your food!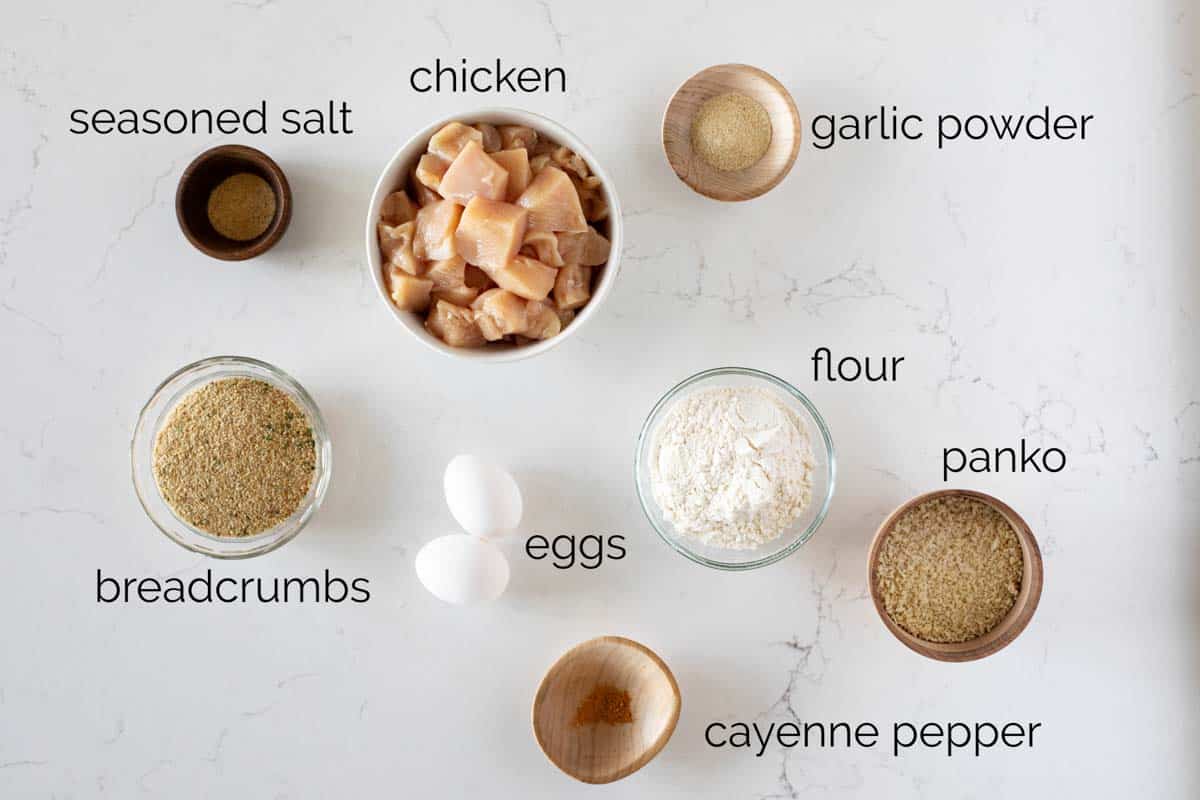 Ingredients
Flour: The flour will coat the chicken and give the eggs something to stick to.
Seasoned Salt: You can also just use salt, but I like the flavor of the seasoned salt in this recipe.
Chicken: I use boneless, skinless chicken breasts. You could also use chicken thighs, but I think breasts work well here.
Eggs: This will act as the binding to keep the outer coating on the nuggets.
Seasoned Breadcrumbs: If you don't have seasoned breadcrumbs, you can use regular breadcrumbs and add in some Italian seasoning.
Panko Breadcrumbs: I like the mixture of regular breadcrumbs and panko breadcrumbs. You get a nice crunch without too much breading.
Garlic Powder: The garlic powder adds in some extra flavor.
Cayenne Pepper: This adds in just a bit of heat. Just a dash – you don't want them spicy!
Oil: This is for frying the chicken nuggets. You'll want a neutral oil, like vegetable or avocado oil.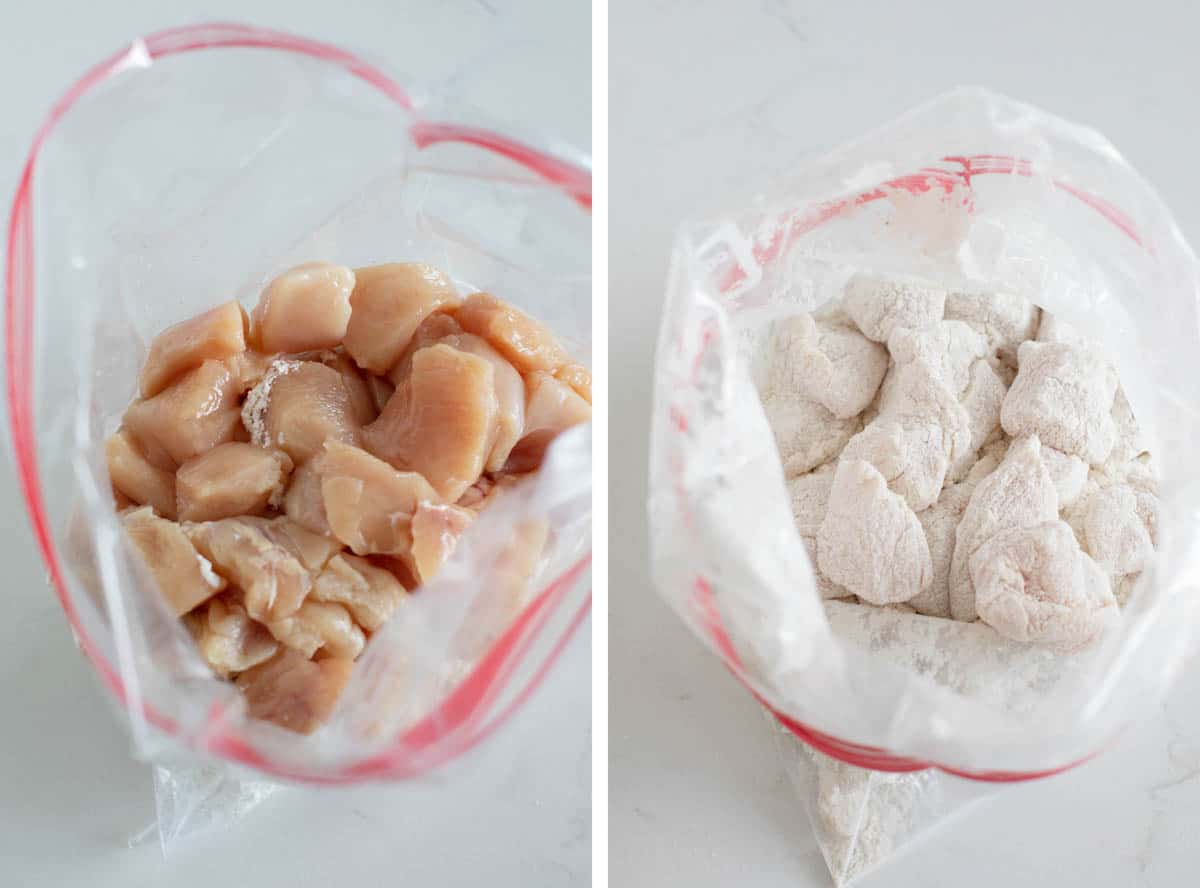 How to Make Homemade Chicken Nuggets
1: Combine the flour and the seasoned salt in a large ziplock bag. Season to taste with pepper. Add the chicken.
2: Close the back and shake until the chicken is coated with the flour mixture. Make sure that none of the pieces are sticking together.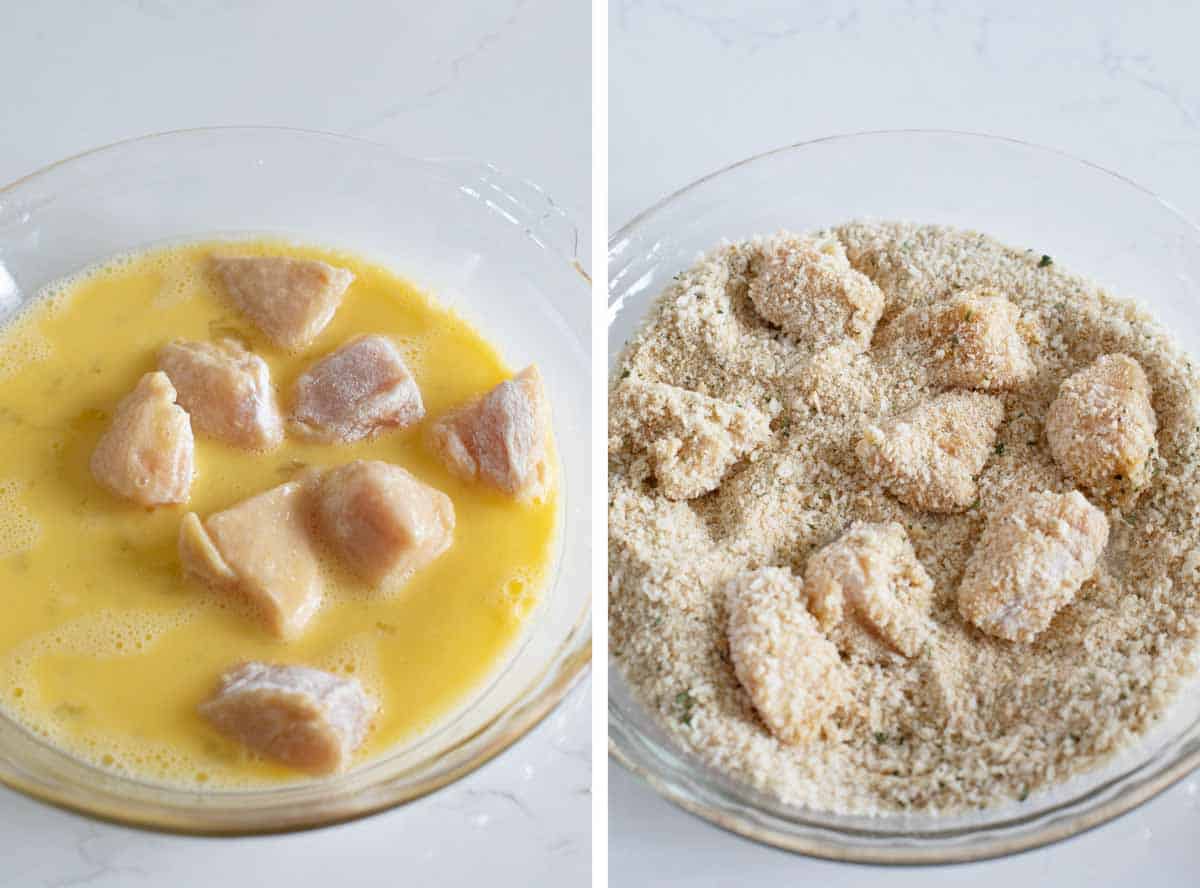 3: Working in batches, dip the chicken into the egg mixture, coating completely.
4: Then take the chicken and place in the breadcrumb mixture. Make sure all sides of the chicken pieces are covered in the breadcrumb coating.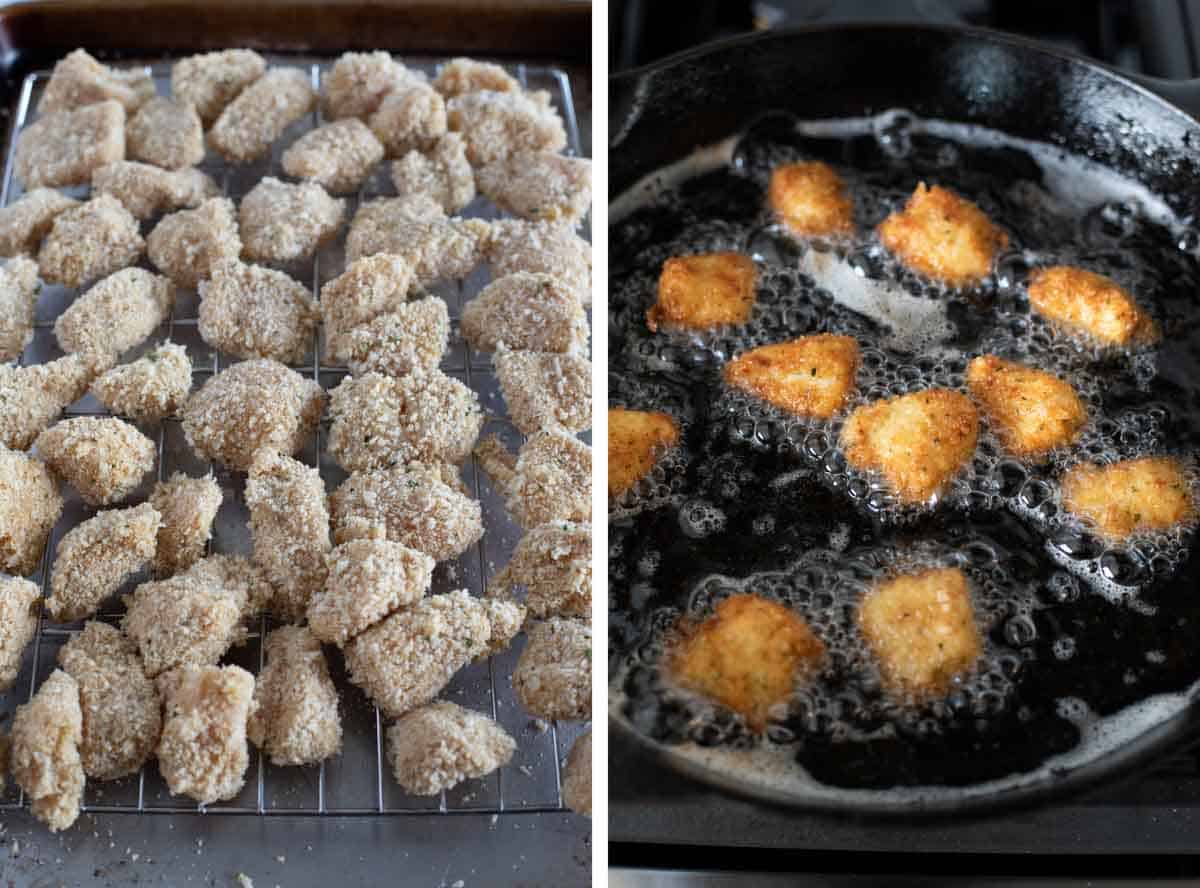 5: Continue until all of the chicken has been coated.
6: Again working in batches, fry the chicken until it is golden brown on all sides.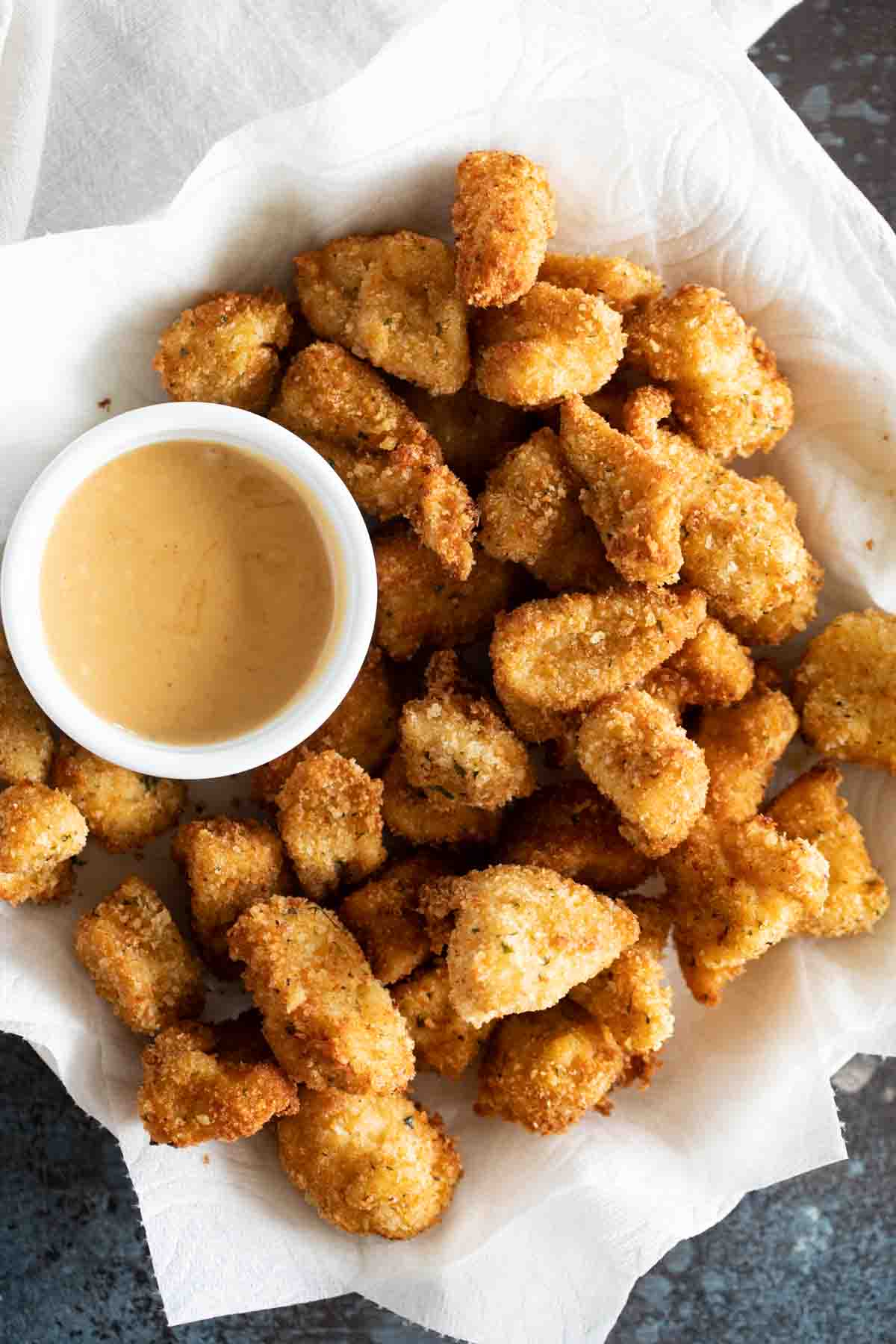 Storing and Reheating
These chicken nuggets are definitely best eaten when fresh. But if you have any leftovers, store them in a container in the refrigerator.
The best way to reheat the chicken nuggets is in an air fryer. Preheat the air fryer to 350ºF, then cook the nuggets for 3-5 minutes, just until heated through.
You could also reheat these in the oven, but they may dry out.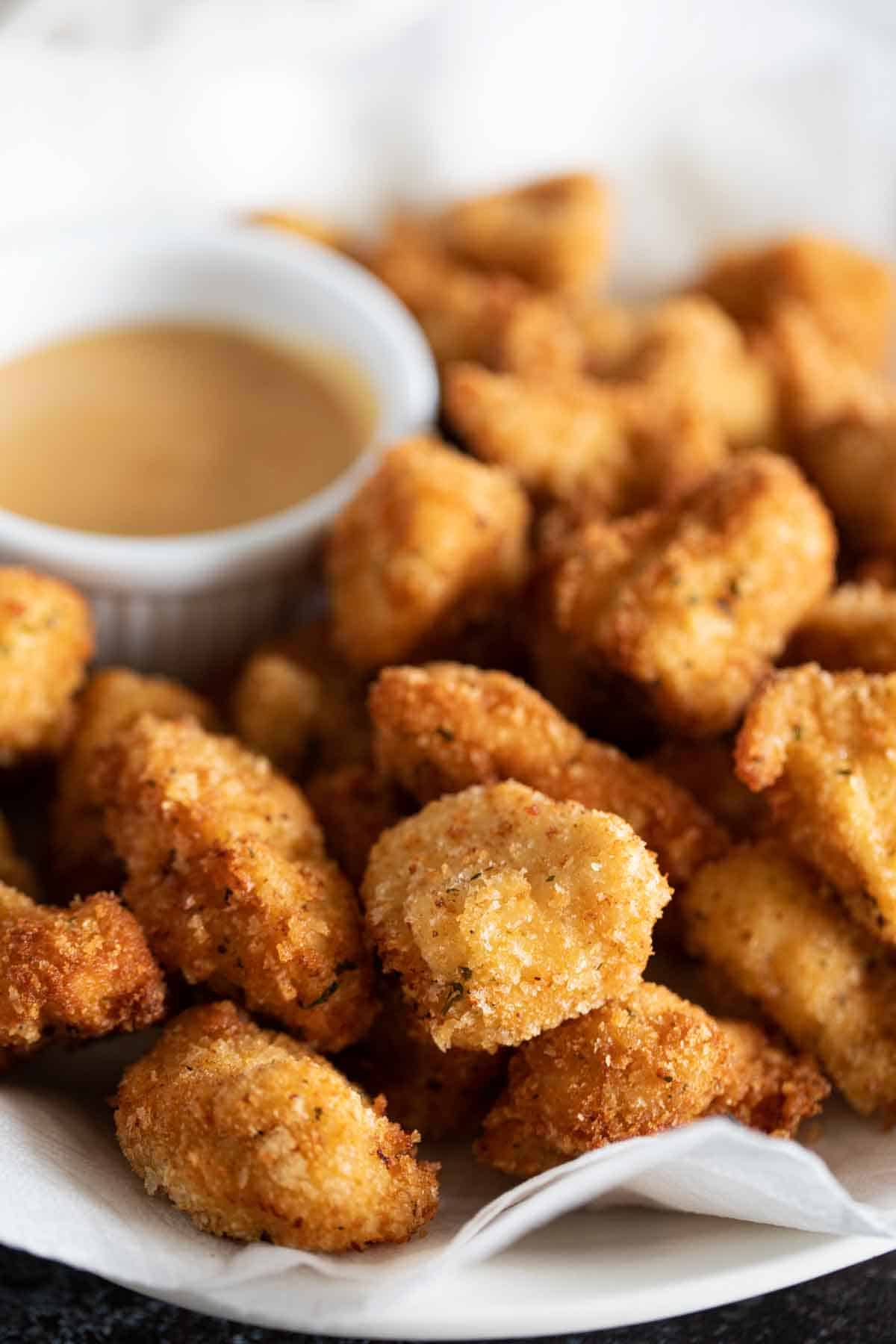 How to Freeze Homemade Chicken Nuggets
These can easily be frozen for later, as well!
To freeze, cook the nuggets as indicated in the recipe. Let them cool completely, then lay on a baking sheet in a single layer. Place the baking sheet in the freezer and freeze until completely frozen, then transfer the nuggets to a freezer safe container or bag. Freeze up to 3 months.
When you are ready to enjoy the chicken nuggets, cook in them in the oven at 400ºF for 10-15 minutes, or in an air fryer for 10 minutes from frozen.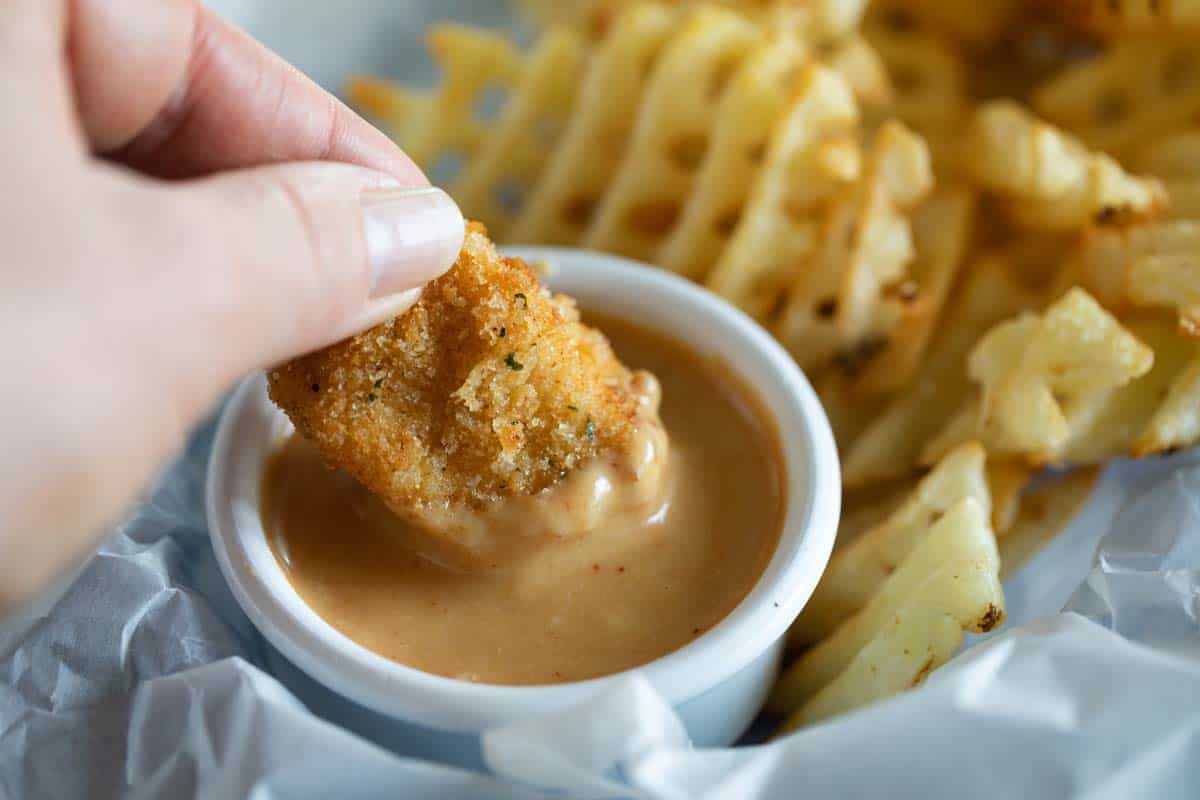 More Family Friendly Chicken Recipes
Teriyaki Chicken Bowls
Poppy Seed Chicken
Orange Chicken
Huli Huli Chicken
Chicken a la King
Sweet and Sour Chicken Recipe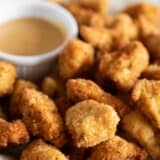 Homemade Chicken Nuggets
---
Author:
Prep Time: 20 minutes
Cook Time: 20 minutes
Total Time: 40 minutes
Yield: 6 servings 1x
Category: Main Dish
Method: Stove Top
Cuisine: American
Description
These Homemade Chicken Nuggets may be a favorite of the kids, but they are so good that the adults will want to hoard them all! 
---
Scale
Ingredients
3/4 cup all-purpose flour
2 teaspoons seasoned salt
Pepper, to taste
1 1/2 pounds boneless, skinless chicken breast, cut into bite-sized pieces
2 large eggs
3/4 cup seasoned breadcrumbs
3/4 cup panko breadcrumbs
1 teaspoon garlic powder
Pinch of cayenne pepper
Oil, for frying
---
Instructions
In a large ziplock bag, combine the flour, seasoned salt, and pepper. Add the chicken, close the top, and toss to coat the chicken in the flour, making sure that the pieces of chicken don't stick together.
Place the eggs in a shallow bowl and whisk to break them up.
In another shallow bowl, combine the seasoned breadcrumbs and the panko breadcrumbs with the garlic powder and cayenne pepper.
Working in batches, remove the chicken pieces from the ziplock bag, shaking off any excess flour. Dip them into the egg, then into the breadcrumb mixture, making sure to coat each piece well.
Transfer to a cooling rack while you finish coating all of the chicken pieces.
Add enough oil to a large skillet to go about 1-inch deep. Heat until hot, about 350ºF.
Again working in batches, fry the chicken until golden brown and cooked through, turning each pieces a few times.
Transfer to a paper towel lined plate and continue until all of the chicken has been cooked.
Recipe Notes:
Nutrition information provided as an estimate only. Various brands and products can change the counts. Any nutritional information should be used as a general guide. Nutrition has been calculated estimating 1/2 cup of vegetable oil.
Keywords: Homemade chicken nuggets, chicken nuggets recipe, chicken nugget recipe, how to make chicken nuggets