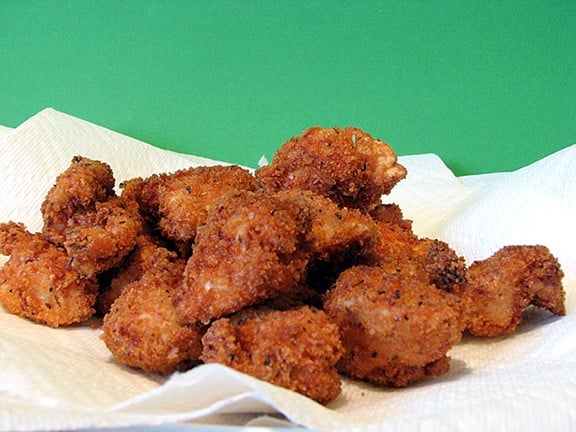 I can't believe I'm posting about these just a couple days after I talked about trying to be good. Well, in my defense, these might be fried, but I have read in several places that frying is not as unhealthy as once thought – as long as the oil is hot enough. If the oil is not hot enough, more of it soaks into the food. And now that I say this, I can't find anywhere that backs up my claim, but I swear I've read it before. (But then again, maybe I need to stop believing everything I read!!)
Fall is the perfect time for comfort food, and quick food as well. With it getting dark so early, if I don't have dinner done by 6pm, I feel like we are eating really late. So digging through the freezer one day, I told my husband his choices were between chicken and salmon, and he suggested chicken nuggets.
There is not really a recipe for these. I just cut the chicken into bite sized pieces, dipped in flour, then dipped in a milk/egg combination. Then into Panko with some dried seasonings for the coating. I am a Panko convert. If you haven't tried it – do!! I rarely use breadcrumbs anymore. I have a mini fryer, so I used it for these, but you could easily bake them as well. Serve with an array of dipping sauces, and dinner is done!!