An easy steak stir fry recipe with onions and red peppers. Fresh orange zest makes this stir fry recipe pleasantly different.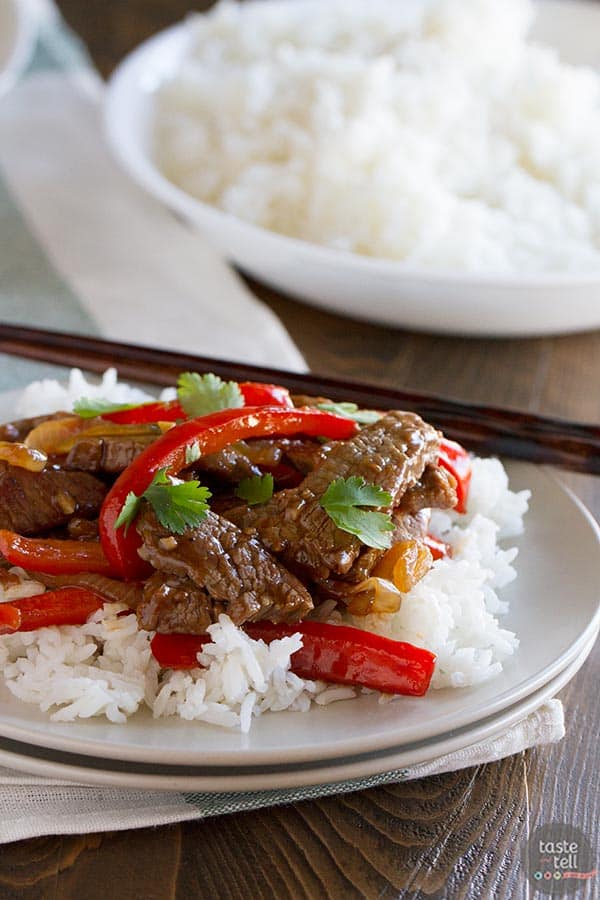 The life of a food blogger is a funny one. When I first started blogging, which feels like decades ago, the game was very different. You make something for dinner, and right before eating, or hey, right at the dinner table – you get out your camera and click. 3 or 4 photos – maybe 10 or 12 if you are feeling really into it, and you were done. No fancy staging, no props, no proper lighting. (Ha – I remember getting a lamp out from the bedroom once because it was so dark and I felt pretty fancy!!)
But yes – the early days of my blog definitely depict that time. And no – I will not link through to a bad photo, because I have made it my blog mission to remake and rephotograph every single one of those old posts to at least make them look edible!!



In today's blog world, the photo is almost as important as the food. And I totally get it. We eat with our eyes first. I mean, who is going to want to make a recipe that looks like a pile of mush on a plate? And I have really grown to love and get excited about the photography part of blogging.
So when winter comes around, you hear all kinds of grumbles on the food blogging front. Less daylight, earlier sunsets, more cloudy/rainy/snowy days that make this job all kinds of difficult. We make our meal plans based on the weather reports. I'm not even kidding. (Wish I was!)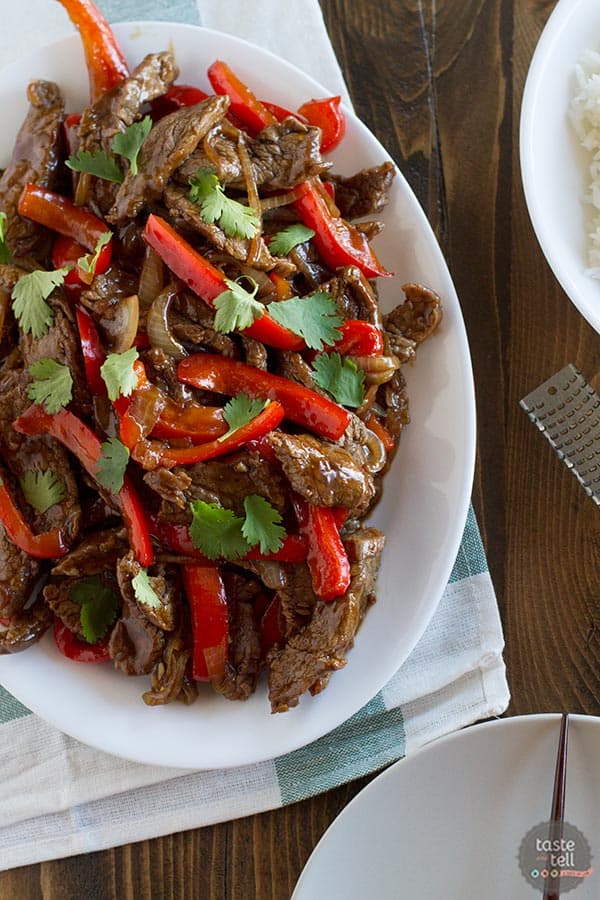 So in the wintertime, I do what I have to do and dinner (if it's something I need to photograph) gets made in the morning/early afternoon. So on these days, dinner is usually done by 2pm, and then just reheated when it's actually time to eat.
At first, I hated it. But to tell you the truth, I'm kind of digging it this year. Maybe it's because my kids are a little bit older, and I seriously think they get crazier at dinnertime now than when they were babies. But seriously – dinner is done and cleaned up before the actual dinnertime even comes around. Besides maybe throwing together a salad or steaming some veggies, all my work is finished. I don't have to worry about juggling cooking/cleaning with homework, baths, or any other parts of the nighttime routine.
I might adopt this cook-dinner-by-2pm thing year round!!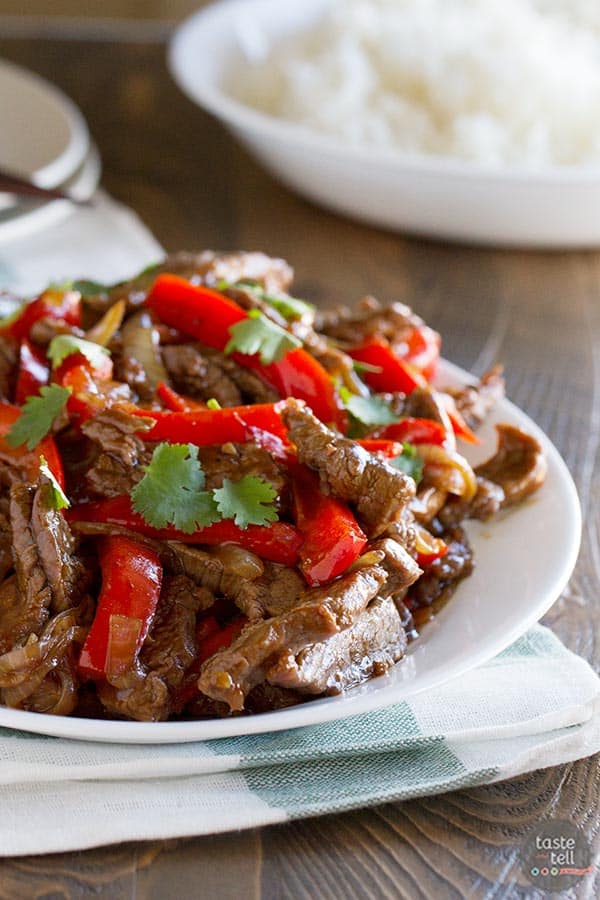 This Steak Stir Fry Recipe with Peppers is the perfect dinner recipe – whether you are making it ahead or just looking for an easy dinner idea. We served this steak stir fry recipe over rice, but you could always do brown rice or quinoa to make it a little healthier.
The sauce on this recipe has a bit of orange zest, which I was actually quite excited about. Especially once I tasted it. That orange zest brings the most delicious brightness to the dish. It definitely adds a good punch of orange flavor, so if you aren't a fan of orange, I would suggest leaving it out. But I absolutely loved the flavor it brought to the dish.
I would say I'm pretty much obsessed with this Steak Stir Fry Recipe with Peppers!!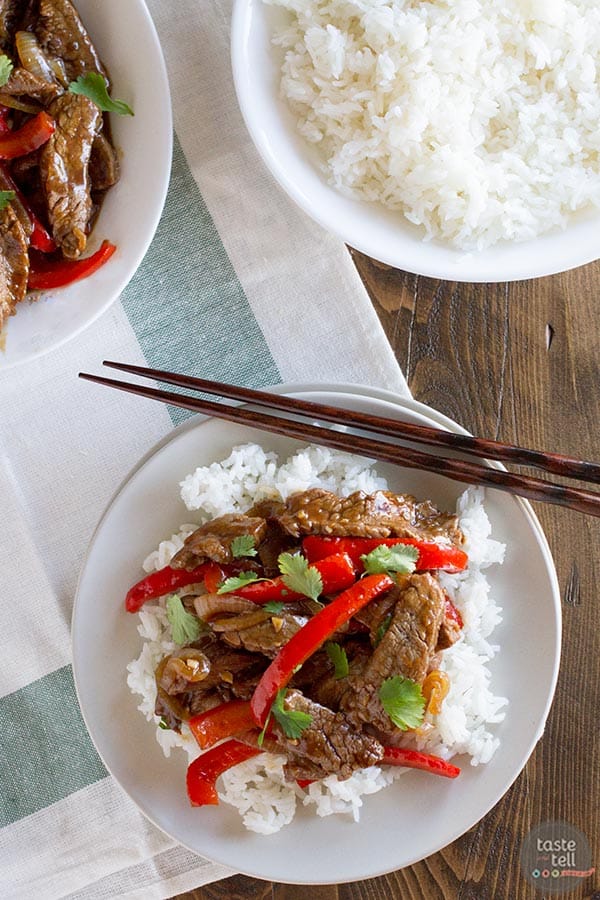 Like what you see here? Make sure you are following Taste and Tell for more great recipes and ideas!!

Facebook ** Pinterest ** Twitter ** Instagram ** Google+
or you can subscribe to my newsletter or Feedly or Bloglovin


Print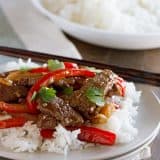 Steak Stir Fry Recipe with Peppers
Prep Time:

15 mins

Cook Time:

25 mins

Total Time:

40 mins

Yield:

4 servings
---
Description
An easy steak stir fry recipe with onions and red peppers. Fresh orange zest makes this stir fry recipe pleasantly different.
---
Ingredients
1/4 cup rice vinegar
1/4 cup low sodium soy sauce
1 teaspoon grated orange zest
3 tablespoons sugar
1 teaspoon plus 1 tablespoon cornstarch
1 1/4 lbs flank steak, cut across the grain into thin strips
salt and pepper
2 tablespoons peanut oil or vegetable oil
1 medium yellow onion, thinly sliced
2 medium red peppers, seeded and thinly sliced
2 cloves garlic, minced
1 tablespoon grated or minced fresh ginger
fresh cilantro
2 cups cooked rice, for serving
---
Instructions
In a small bowl, combine the rice vinegar, soy sauce, orange zest, sugar and 1 teaspoon of the cornstarch. Set aside
Place the steak in another bowl. Season with salt and pepper, then add the remaining 1 tablespoon of cornstarch and stir to coat the meat.
In a large wok or skillet, heat the oil over high. Add the steak, working in batches if needed, and stir fry until browned but just short of being cooked through, about 2 minutes. Transfer the meat to a plate, then add in the onion, peppers, garlic and ginger. Stir fry until the vegetables are just tender about 5 minutes. Add the steak back into the vegetables and cook for an additional minute.
Pour the sauce mixture over the meat and vegetables and cook until it has thickened, 2-3 minutes.
Garnish the stir fry with cilantro and serve over rice.
---