These family friendly Crispy Fish Sticks will be a hit with both the kids and the adults. This recipe is a hit with only 5 ingredients and only 210 calories per serving.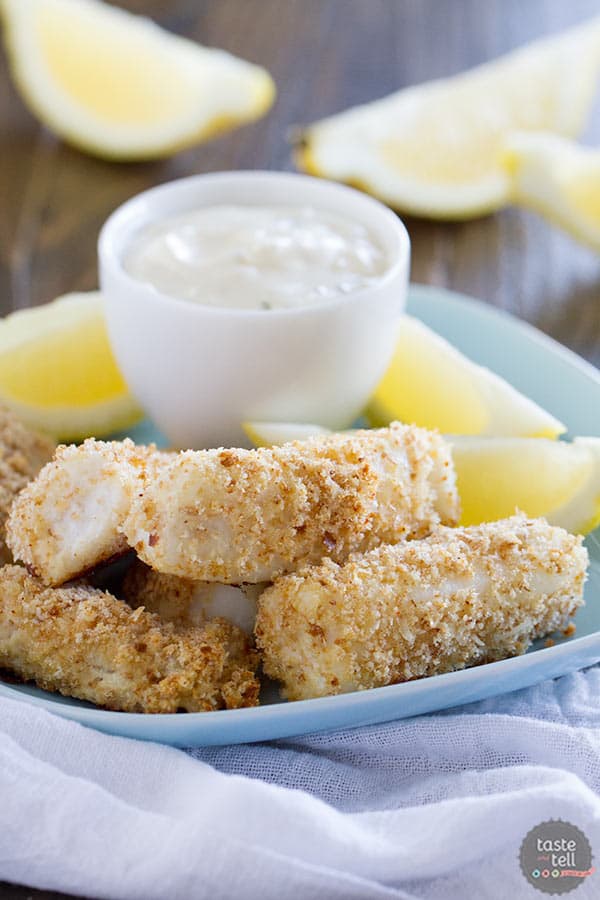 Looking at my cookbook collection, you would definitely think that my tastes in cooking are quite eclectic. I have pretty much everything. From small batch baking to cooking for a crowd. More formal (aka fancy) food cookbooks, to everyday recipes cookbooks. Super indulgent cookbooks to lighter cooking cookbooks. And at the rate I've been adding cookbooks to my collection lately, that wide variety of topics is only going to grow.

But as much as I love to bake up a batch of cupcakes with mile-high frosting, for everyday eating, I have been building up my collection of "better for you" cookbooks. I don't call them diet, because I'm not a diet kind of person. But filling my meals with better for you ingredients? I'm all about that.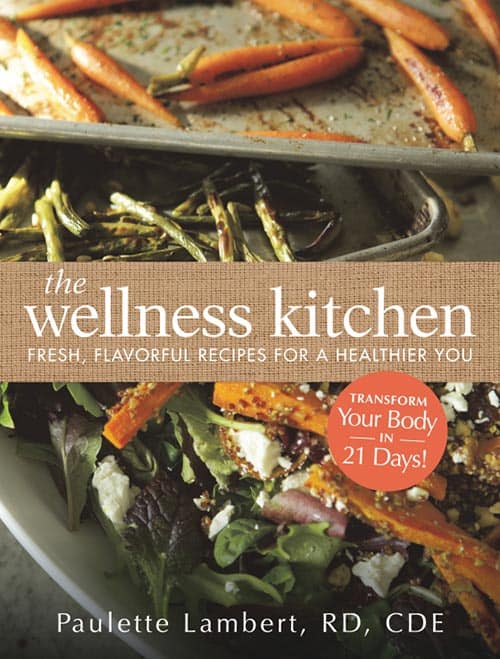 Which is why I'm really excited to be sharing today's cookbook review with you all. The Wellness Kitchen by Paulette Lambert RD, CDE. I think the thing I love the most about this cookbook is that all of the recipes seem very fresh. And it's another one of those cookbooks that is full of food that is so appealing that it hardly feels like it's a "better for you" cookbook.
If you like to have a plan, there are also several meal plans in the cookbook. Everything from a 1300 calorie meal plan to a 2000 calorie meal plan. Sometimes it's easier to just have everything spelled out for you, and these menu plans are really helpful.
Here are the details:
Number of Photos: Lots. There is photo of the majority of the recipes in the book, although they aren't all full page photos. But they are big enough to give you a good idea of how the finished dish looks.
Difficulty Level of Recipes: Easy. The majority of the recipes have short ingredient lists and short instructions. Which means easy!!
Availability of Ingredients: Easy. Like I mentioned above, these recipes are very fresh, which also means that you aren't looking for lots of specialty ingredients. Most of these recipes will keep you heavily in the produce department!!
Other Recipes I Want to Try:
Blueberry Banana Bran Muffins
Spinach-Stuffed Mushrooms
Grilled Naan with Herbs and Feta
Thai Grilled Shrimp
Chicken Tinga Mini Tostadas
Banana Chocolate Cream Tart
Buy The Wellness Kitchen on Amazon.
With the variety and amount of food that I make for my family, you would think that I had children that were the best eaters. But it's kind of the complete opposite. I have one that will eat most everything (just partially, though), one that is just picky and would rather go to time out than to have to eat his dinner, and one that will pick at his dinner but rarely eats enough to qualify as an actual meal.
Which is why I am now calling these fish sticks a miracle food. My child who will not eat anything? He ate an entire serving of these. I don't think I've ever been able to get him to touch fish before, and if it's not pizza or pancakes, he's just not interested. But he loved these fish sticks.
In fact, the whole family did. My kids had never actually had fish sticks until I made these. I was a little nervous that they would all turn away, but they were loved by all. We didn't have a crumb leftover after dinner. I think that tells you just how popular these were!!
I think we found another great recipe that would be perfect for the dinnertime rotation!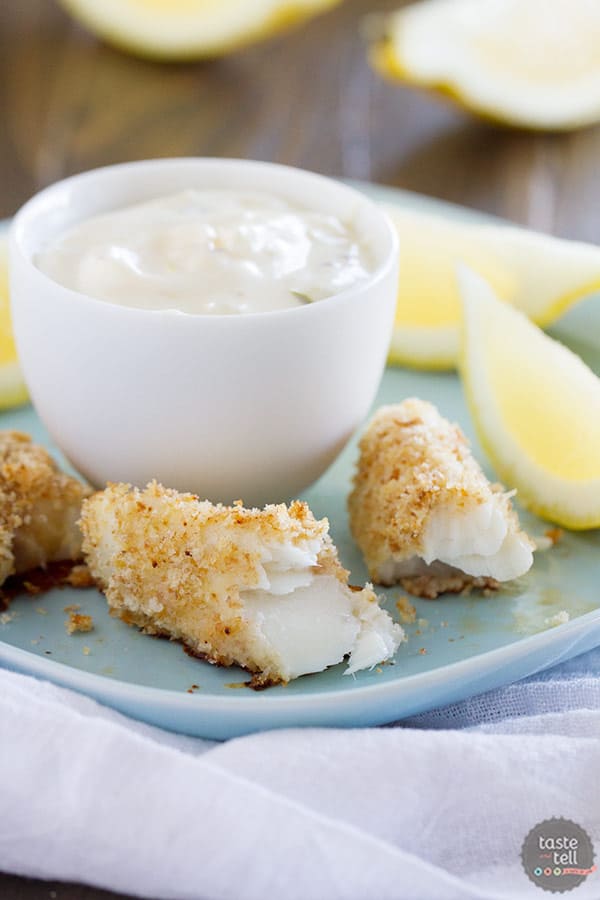 Like what you see here? Make sure you are following Taste and Tell for more great recipes and ideas!!

Facebook ** Pinterest ** Twitter ** Instagram ** Google+
or you can subscribe to my newsletter or Feedly or Bloglovin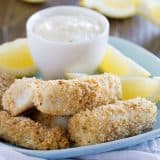 Crispy Fish Sticks
---
Author:
Prep Time: 15 mins
Cook Time: 20 mins
Total Time: 35 mins
Yield: 4 servings 1x
Description
These family friendly Crispy Fish Sticks will be a hit with both the kids and the adults. This recipe is a hit with only 5 ingredients and only 210 calories per serving.
---
Scale
Ingredients
3/4 cup fresh bread crumbs (from 2 slices of whole-grain bread processed in a food processor or blender)
1/4 cup grated Parmesan cheese
dash of chili powder
1 pound cod, cut into strips*
1 egg, beaten
1 lemon, cut into wedges
---
Instructions
Preheat the oven to 375ºF. Spray a baking sheet with nonstick cooking spray.
In a shallow bowl, combine the bread crumbs, Parmesan and chili powder. Place the egg in another shallow bowl. Dip each of the strips of fish into the egg and then into the bread crumb mixture. Place the strips on the baking sheet, being careful to not overcrowd. Spray the fish with nonstick cooking spray.
Bake for 20 minutes, or until brown and crispy. Serve with the lemon wedges.
Recipe Notes:
Very slightly adapted from The Wellness Kitchen
*I used pollock instead of cod, since I couldn't find any cod at my grocery store.
**I received a copy of this book from the publisher for review, but all opinions are my own, as always! This post contains affiliate links. If you purchase an item from Amazon from the link Taste and Tell receives a small commission. Thank you for supporting Taste and Tell through your purchases!**