These family friendly Fish Sticks will be a hit with both the kids and the adults. This recipe is a hit with only 5 ingredients and can be made in 30 minutes.
A blast from the past! We love childhood favorites – like these Fish Sticks, Tuna Casserole, or Chicken Nuggets. You can't go wrong with any of them!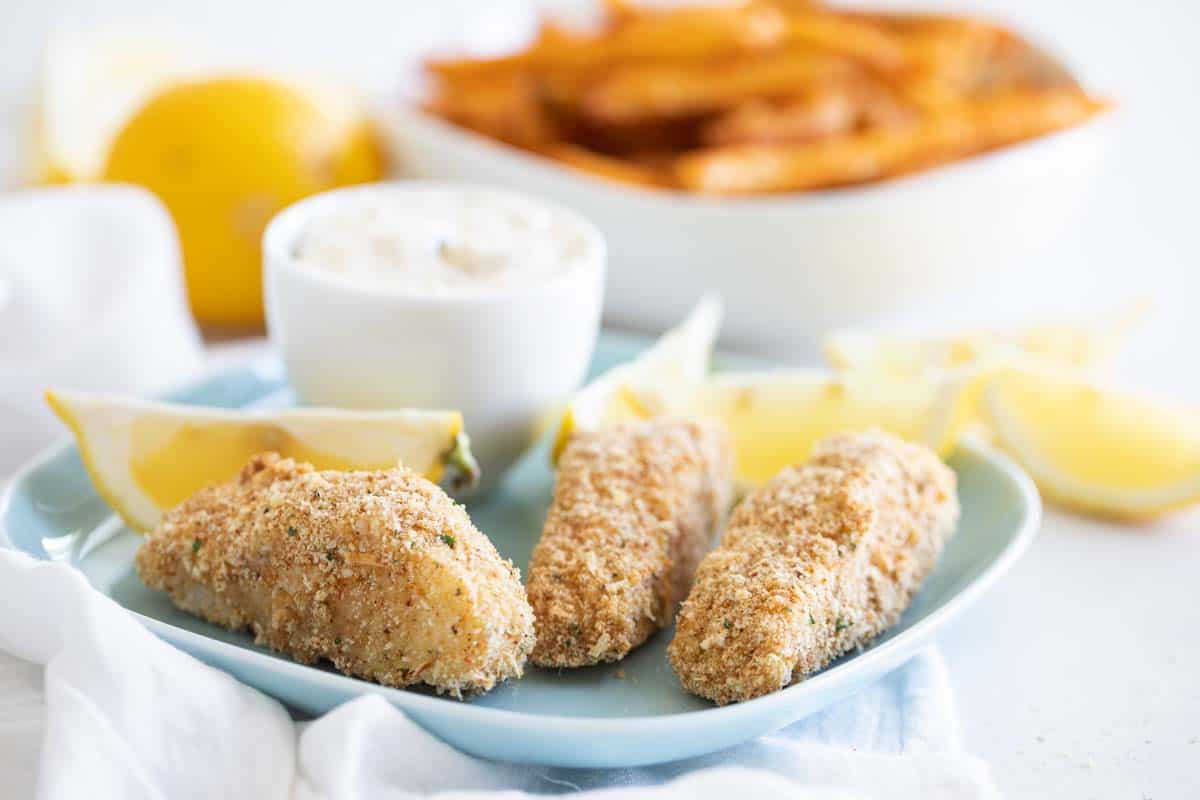 Great For Kids and Adults
With the variety and amount of food that I make for my family, you would think that I had children that were the best eaters. But it's kind of the complete opposite. I have one that will eat most everything (just partially, though), one that is just picky and would rather go to time out than to have to eat his dinner, and one that will pick at his dinner but rarely eats enough to qualify as an actual meal.
Which is why I am now calling these fish sticks a miracle food. My child who will not eat anything? He ate an entire serving of these. I don't think I've ever been able to get him to touch fish before, and if it's not pizza or pancakes, he's just not interested. But he loved these fish sticks.
In fact, the whole family did. My kids had never actually had fish sticks until I made these. I was a little nervous that they would all turn away, but they were loved by all. We didn't have a crumb leftover after dinner. I think that tells you just how popular these were!!
I think we found another great recipe that would be perfect for the dinnertime rotation!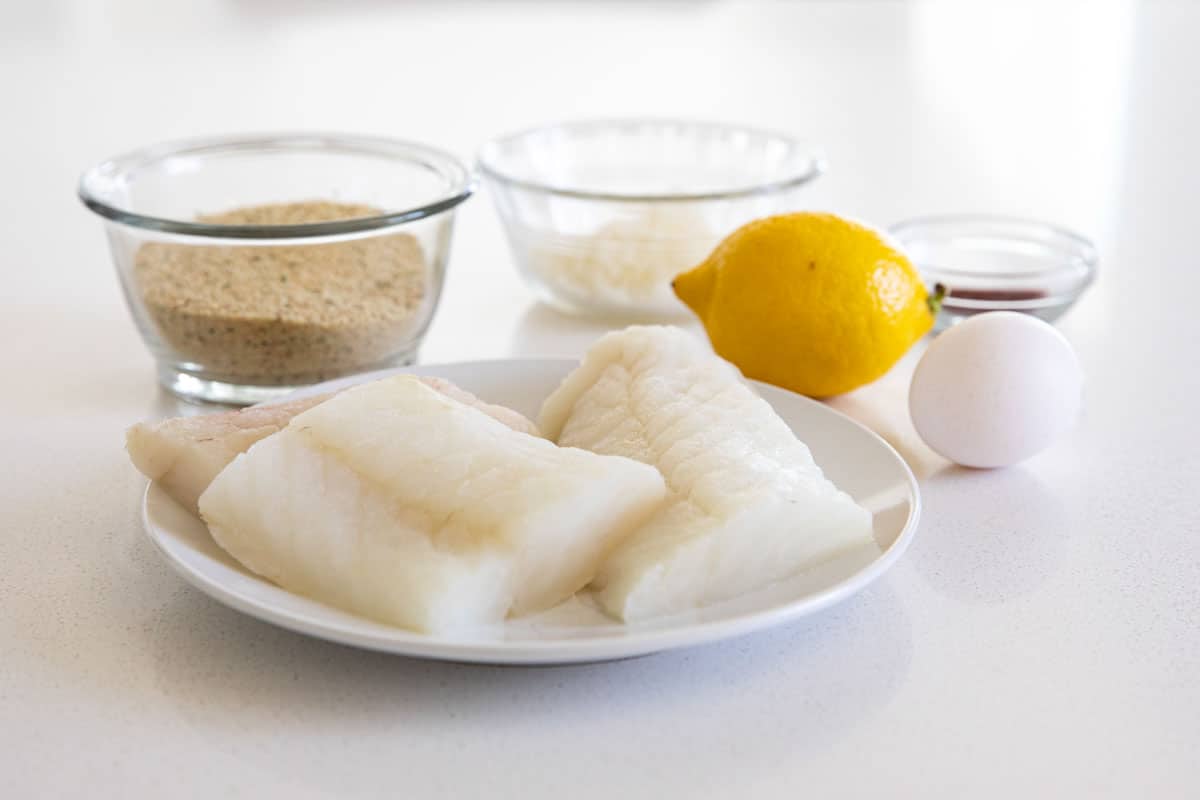 What You'll Need
The ingredient list is short and easy!
Italian Bread Crumbs: You could use plain bread crumbs as well.
Parmesan Cheese: I used freshly grated. You really could use the powdered kind, as well, but I like fresh.
Chili Powder: Just a dash for a little extra flavor. These are not spicy at all.
Cod: I like cod when I can find it (and when it's not terribly expensive.) Any other firm white fish would work, though.
Egg: This is your binder to keep the bread crumbs on the fish.
Lemon Wedges: Lemon and fish go together like peanut butter and jelly!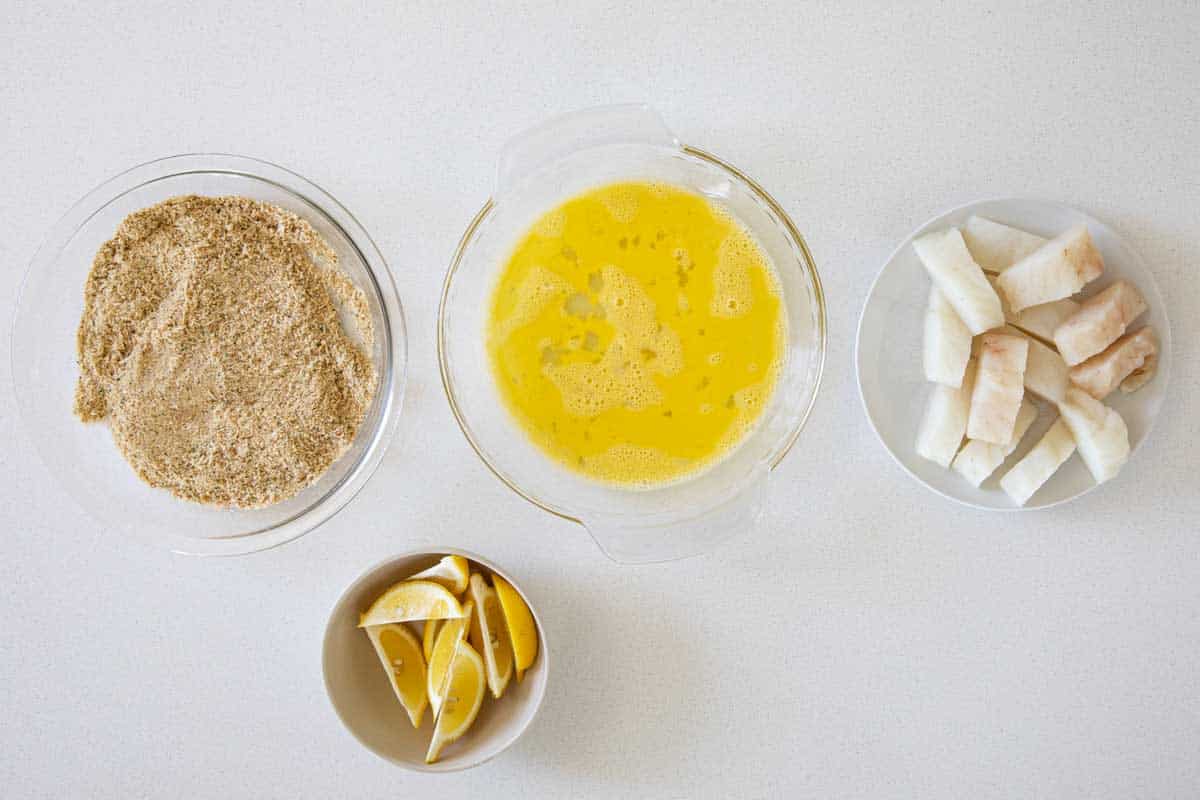 How to Make Fish Sticks
These fish sticks can be in the oven in 10 minutes and on the table in 30 minutes!
Start by combining your bread crumbs, cheese and chili powder in one shallow bowl. I like to use a pie dish.
In a second bowl or pie dish, combine your egg with a couple teaspoons of water.
Then take your fish and cut it into "sticks".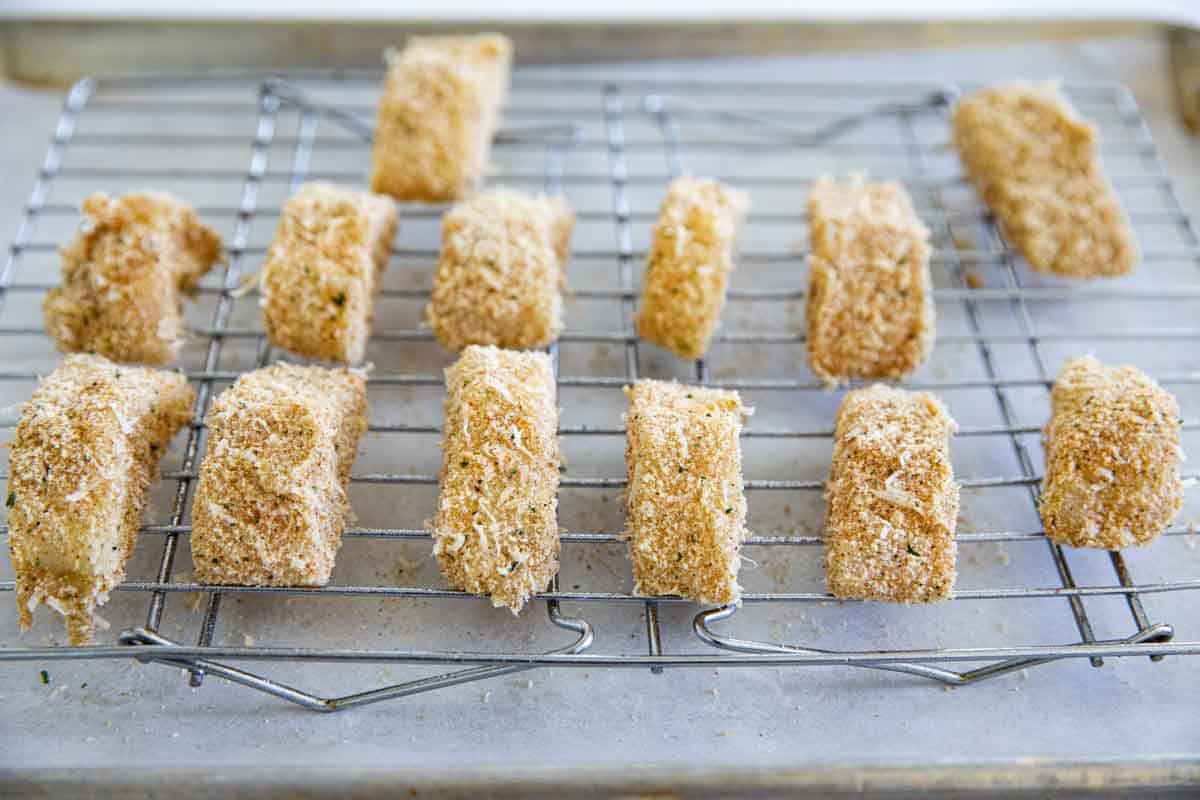 Take one piece of fish and dip it in the egg, then into the bread crumb mixture. Place them on a cooling rack that is over a baking sheet. Continue with all of the fish.
Bake them until they are golden brown and cooked through.
I like to serve them with freshly squeezed lemon and tartar sauce.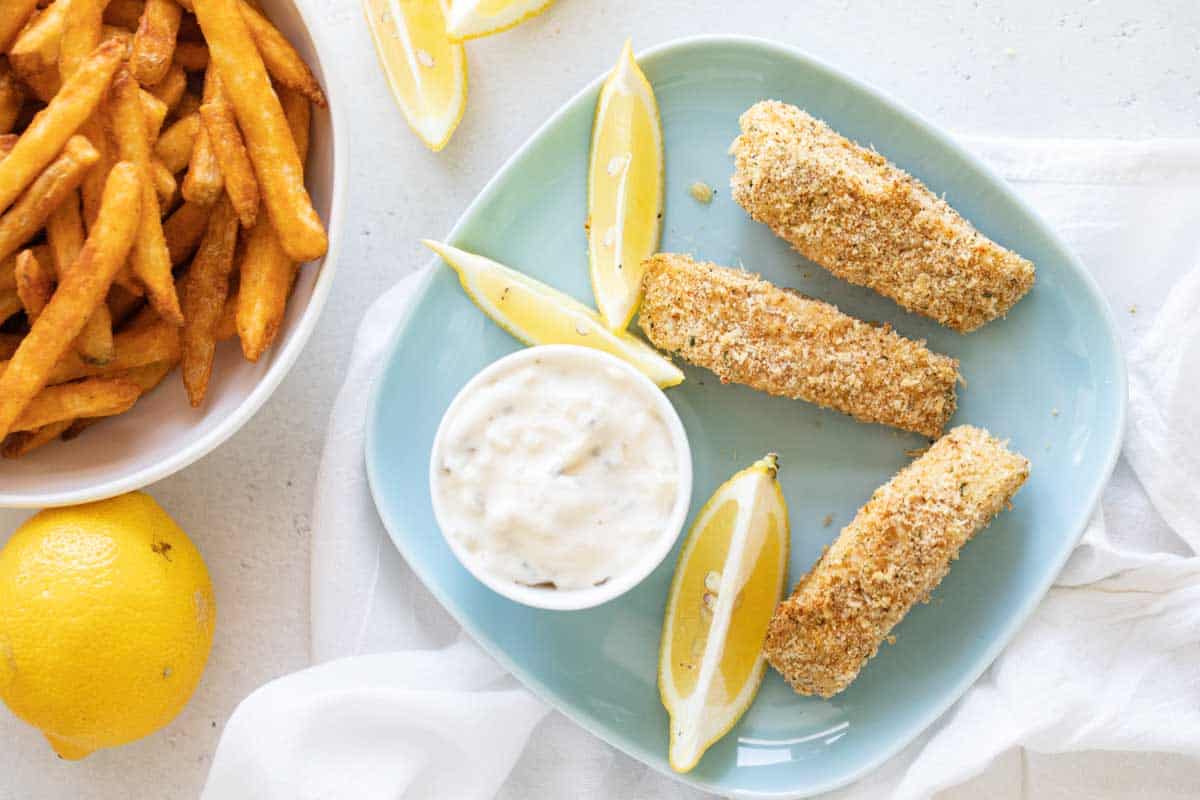 Tips and Tricks
You can use fresh bread crumbs instead of store bought, if desired. They are super easy to make – just place a couple of slices of bread in a food processor or blender and process until you have crumbs. You can add spices or just use them as is.
I like to bake these on a cooling rack over a baking sheet, but you can also just put them straight onto the baking sheet.
Like with all fish recipes, don't over-bake these. You'll know that they are done when the bread crumbs have browned and if the fish flakes. I actually like to take them out just short of when they flake super easily and let the residual heat keep cooking them.
You can flip the fish sticks halfway through, if desired, to ensure they stay crispy on all sides.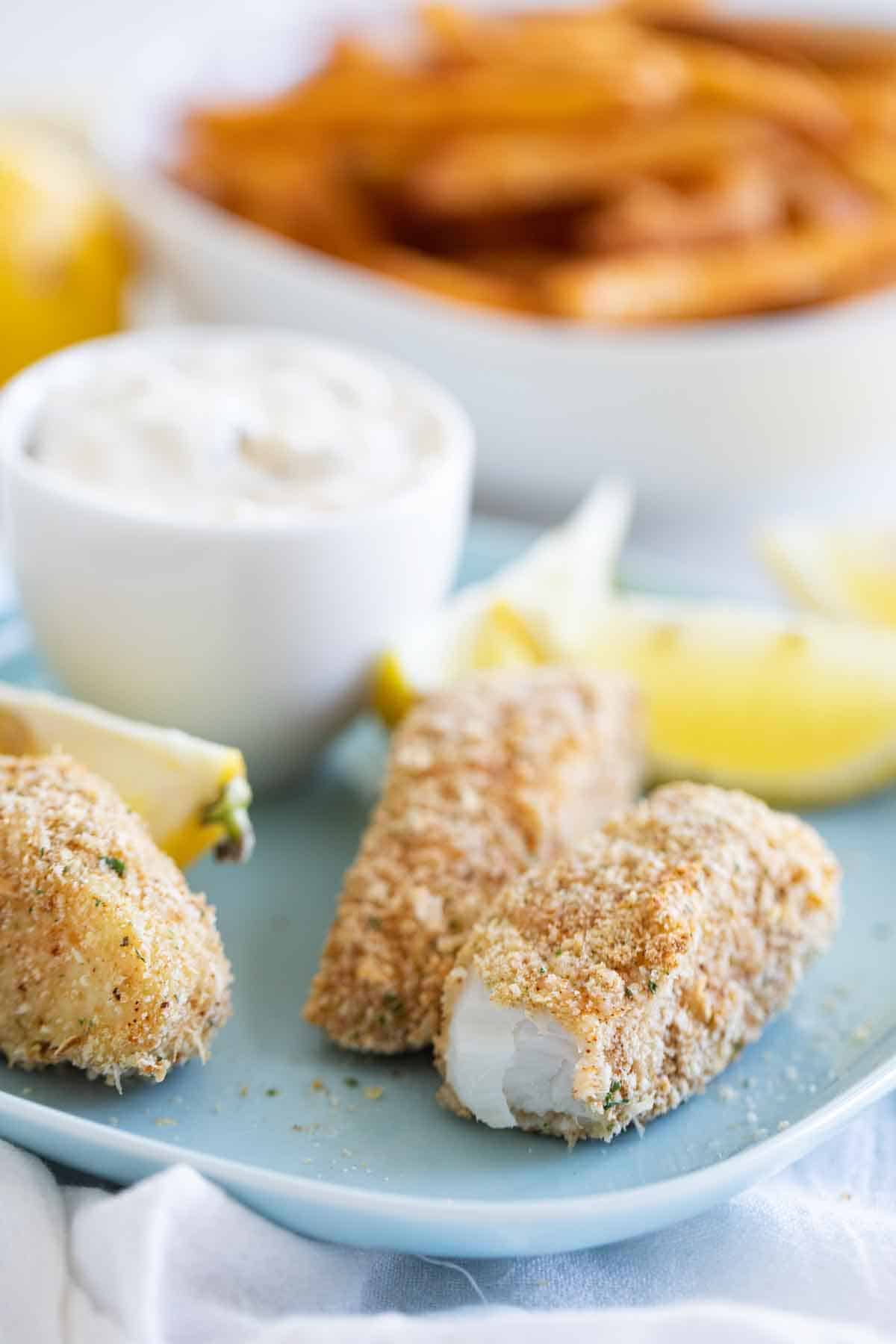 More Favorite Fish Recipes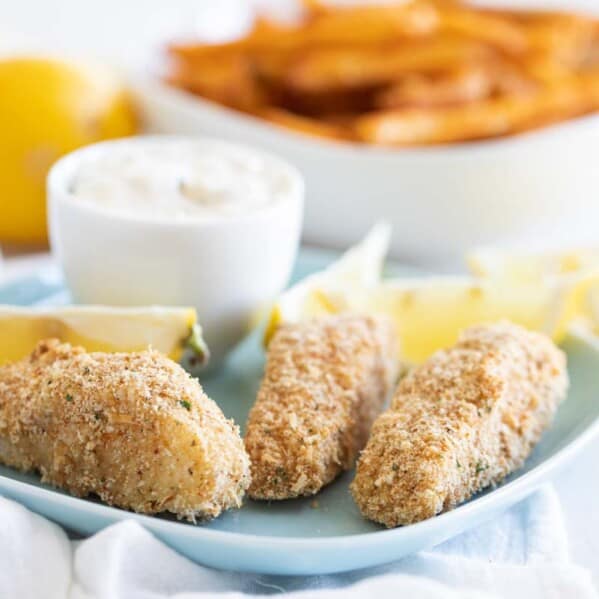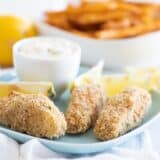 Fish Sticks
---
Author:
Prep Time: 10 minutes
Cook Time: 20 minutes
Total Time: 30 minutes
Yield: 4 servings 1x
Category: Main Dish
Method: Baked American
Description
These family friendly Crispy Fish Sticks will be a hit with both the kids and the adults. This recipe is a hit with only 5 ingredients and only 210 calories per serving.
---
Scale
Ingredients
1/2 cup Italian bread crumbs*
3 tablespoons grated Parmesan cheese
dash of chili powder
1 pound cod, cut into strips**
1 egg, beaten
1 lemon, cut into wedges
---
Instructions
Preheat the oven to 375ºF.  Spray a baking sheet with nonstick cooking spray or place a cooling rack on a baking sheet and spray with nonstick cooking spray.
In a shallow bowl, combine the bread crumbs, Parmesan and chili powder.  Place the egg in another shallow bowl. Add a teaspoon or two of water to the egg and beat together.
Dip each of the strips of fish into the egg and then into the bread crumb mixture.  Place the strips on the baking sheet, being careful to not overcrowd.  Spray the fish with nonstick cooking spray.
Bake for 20 minutes, or until brown and crispy.  Serve with the lemon wedges.
Recipe Notes:
*You can also use fresh bread crumbs by processing 2 slices of bread in a food processor or blender.
**You can use any firm, white fish.
Adapted from The Wellness Kitchen
Nutrition information provided as an estimate only. Various brands and products can change the counts. Any nutritional information should be used as a general guide.
Nutrition
Serving Size: 1/4 of recipe
Calories: 156
Sugar: 0 g
Sodium: 715 mg
Fat: 6 g
Saturated Fat: 1 g
Unsaturated Fat: 1 g
Trans Fat: 0 g
Carbohydrates: 9 g
Fiber: 0 g
Protein: 18 g
Cholesterol: 110 mg
Keywords: fish sticks, fish, kid friendly, dinner