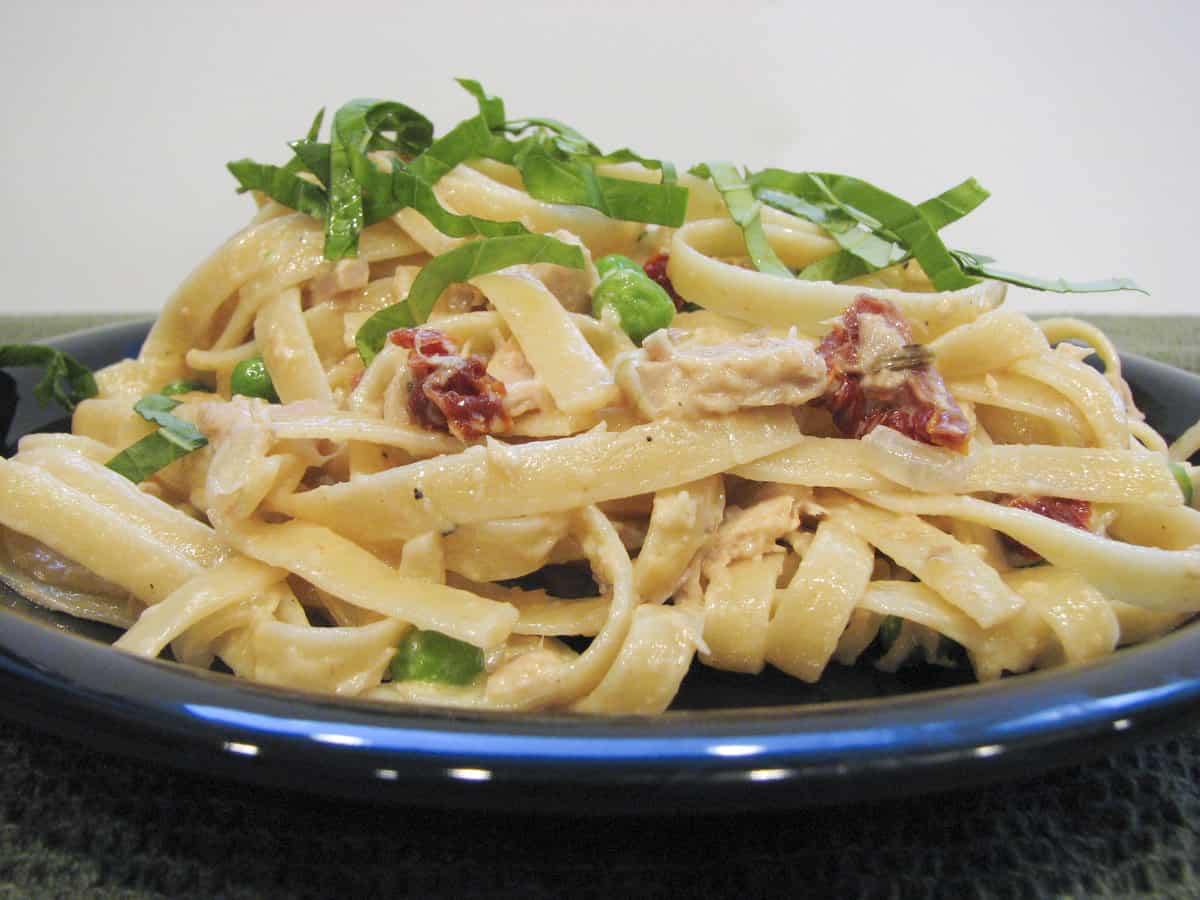 Three years ago, I don't think you would have ever caught my husband watching anything food related on tv. It's not that he doesn't like or enjoy food or cooking (he is actually a great cook, especially on the bbq), I just think that maybe it wasn't "macho" enough for him. But ever since he met me, I think he is slowly becoming addicted to watching the Food Network, or Top Chef (which I know he is addicted to it like I am, but he would never admit that!) He's more likely to watch an episode of Iron Chef than than an actual show that shows how to make something, but every once in awhile, he will be flipping through the channels and someone is making something that looks good to him. More than a few of our dinners have been inspired by something being made on the Food Network. That is where this recipe came from. One evening, he was casually channel surfing and stopped to watch a dish that Rachael Ray was making. I know that many people have a dislike for Rachael Ray, but I have already outed myself that I am a fan. I also would go as far as saying that, although I haven't made a lot of her recipes, I have been happy with the majority that I have made, which makes her successful in my mind. And yes, this recipe can be made in well under 30 minutes!! I think that I already had dinner planned for the night, but I went into the computer and pulled up the recipe for this "renovated" tuna casserole recipe to save for another day. The thing that drew me to it was that it takes ingredients that I always have at home, so this was a gre
at "go-to" recipe for me. It took me a few weeks until I actually made it, but I'm glad I did. Although it was not lick your plate clean good, it was tasty and Josh even went back for seconds. It also kept well for leftovers, which is always good for us since there are only the two of us. The only changes I would make would be to cut back on the amount of pasta, as it can be a little bit dry, and I would have added extra peas. I was also really excited to use some basil from my garden – it is finally starting to flourish!! I am submitting this recipe to Presto Pasta Nights hosted by Ruth of Once Upon a Feast.
Renaissance of Tuna Casserole
from 30 Minute Meals
Salt
1 pound fettuccine
3 tablespoons extra-virgin olive oil, 3 turns of the pan
4 cloves garlic, finely chopped
1 small onion, chopped
2 (6-ounce) cans Italian tuna in water or oil, drained
1/2 cup tender sun-dried tomatoes, thinly sliced, available in small pouches in produce department
1/2 cup dry white wine, a couple of turns of the pan
1/2 cup heavy cream, a couple of turns of the pan
Black pepper
1/2 cup frozen peas, a couple of handfuls
Couple handfuls grated Parmigiano-Reggiano
1 cup fresh basil, about 20 leaves, shredded
Place pasta water on to boil. Salt water then add pasta and cook to al dente.
While pasta cooks, heat a deep skillet over medium heat with extra-virgin olive oil. Saute garlic and onions until tender, 4 to 5 minutes. Add tuna and sun-dried tomatoes and stir to heat through, another 1 to 2 minutes. Add wine and cook it down a minute then add cream and season sauce with salt and pepper. Toss hot pasta and peas with sauce and cheese. Serve on dinner plates and top with shredded basil.