Cupcakes are topped with a creamy, tart lemon buttercream perfect for lemon lovers.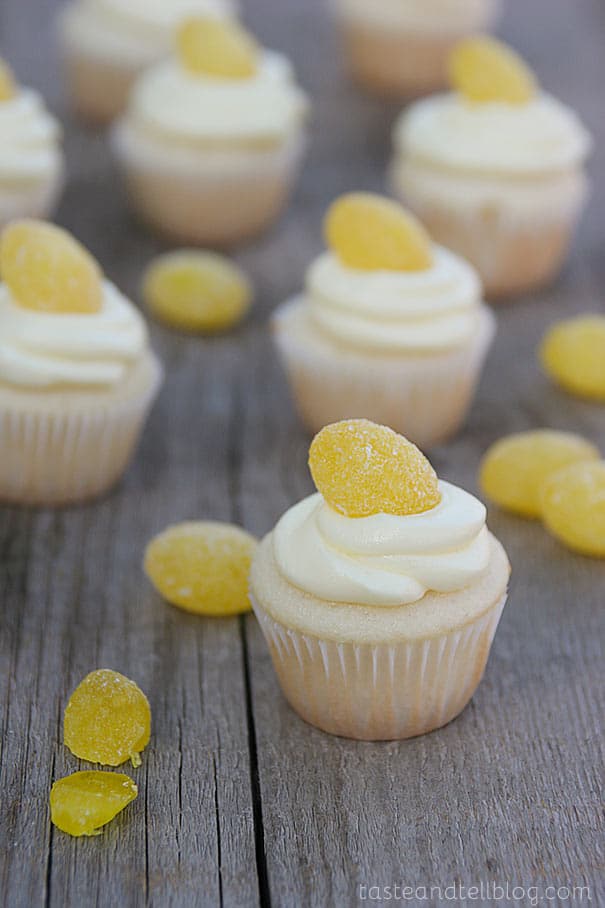 Photo updated September 2012
When I started blogging a little over a year ago, my first time participating in a food blogging event was for LiveSTRONG day– hosted by Barbara at winosandfoodies. So when the event came around again this year, I knew I had to participate again – as this event really is for a good cause.
I've been lucky to not have anyone close to me afflicted with cancer. It is such a horrible disease that effects the lives of so many – whether you have gone through it yourself or been close to someone that has. There are so many stories going around food blogs right now because of this event, and I have cried multiple times reading of people's struggles and triumphs. Even though I haven't been personally affected, I still wanted to participate and show my support for such a great even.
Last year, I featured the Lemon Sauce my mom made growing up. This year, I bring you more lemon, but this time, in the form of cupcakes. I made these for a co-worker's last day, and they were a huge hit. Even the girl that was leaving – who never eats sweets – helped herself to quite a few of these!!
The night before, I wasn't in the mood to do anything elaborate or super time consuming. I knew that mini cupcakes get eaten at work, so I settled on a white cupcake with a lemon buttercream. I guess I'm getting a little bit more confident in my baking skills, because I just threw the buttercream together without a recipe. I know it's not a difficult thing to do, but I am usually such a recipe follower! I'm glad I wrote down the recipe, though, because this is one I will use again!!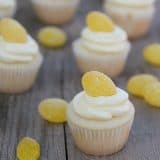 Lemon Buttercream
---
Prep Time: 10 mins
Total Time: 10 mins
Yield: enough for 24 cupcakes 1x
Description
An easy buttercream with a tart lemon flavor.
---
Scale
Ingredients
1/2 cup butter
1/8 teaspoon salt
3 tablespoons fresh lemon juice
1 teaspoon lemon extract
3–4 cups powdered sugar
---
Instructions
Cream butter. Add salt, lemon juice and extract. Add in powdered sugar, half a cup at a time, until you reach your desired consistency.
And don't forget to check out the round up at Barbara's blog. This one will be especially fun, as she is also holding a photography contest. The round up will be posted on May 13th.