A classic comfort meal, this Beef Tips and Gravy cooks pieces of beef in a homemade gravy until it is super tender and flavorful. Serve over mashed potatoes, rice or noodles for the perfect Sunday supper that the whole family will go crazy over.
When the weather starts to cool down, I'm all about the comfort food recipes! Some other favorites are this Classic Homemade Beef Stew Recipe, Salisbury Steak, and Chicken Pot Pie.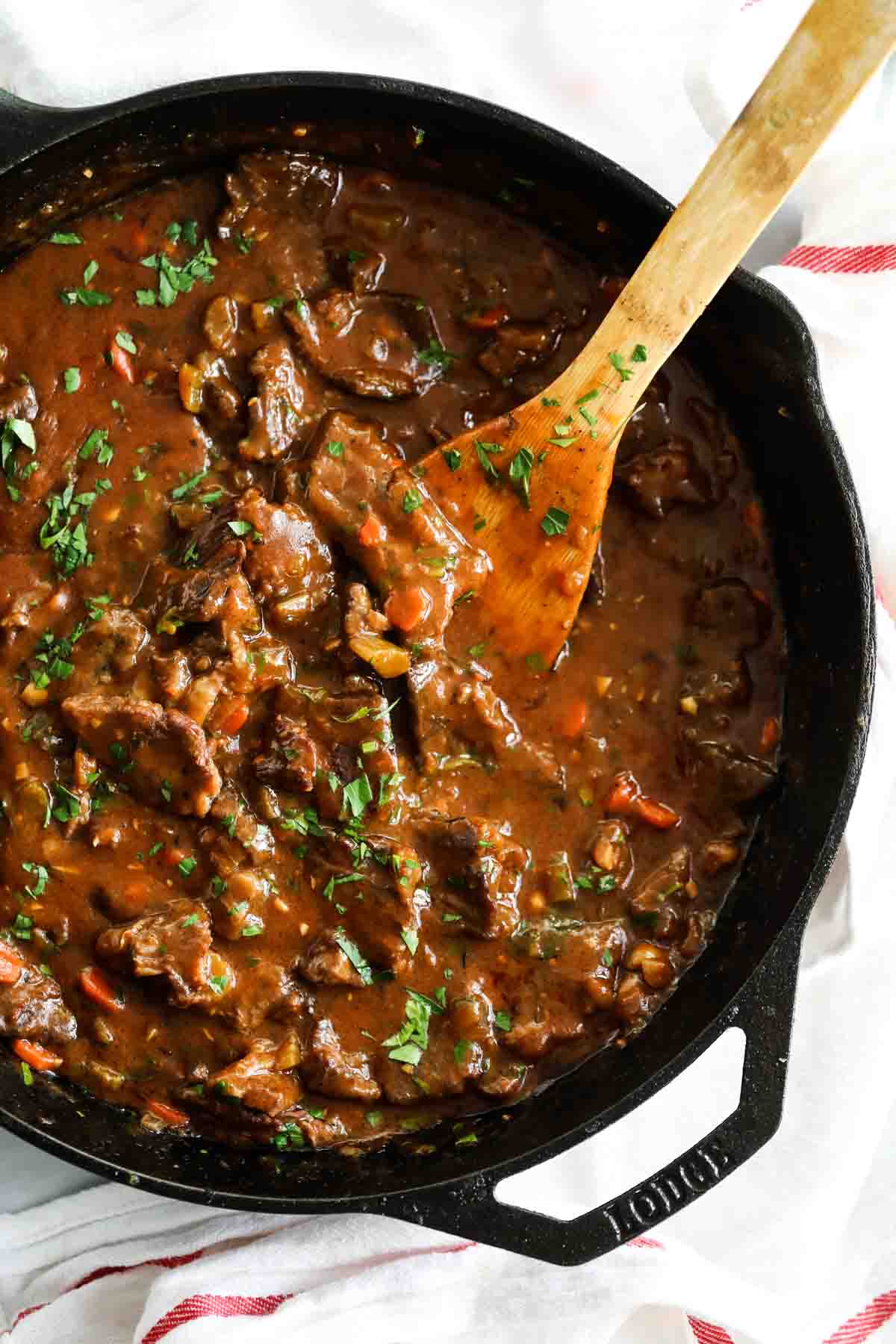 Trying a new recipe isn't anything new for me. I go through a lot of recipes. Some make it onto the blog here, some get tested time and time again and I can never get the quite right, some I make and vow to never make again (haha) and some are just a one-time dinner.
And while I stand behind every recipe I post here on Taste and Tell, every once in awhile I come across a recipe that I think is the best thing that has come out of my kitchen for awhile.
This Beef Tips and Gravy is one of those recipes.
The night we had this for dinner, my husband wasn't with us for dinnertime. But after, when he went to eat, I sat closely by, waiting to see if he loved it as much as I did.
Happily, the love was mutual and we both agreed that this was a five star meal.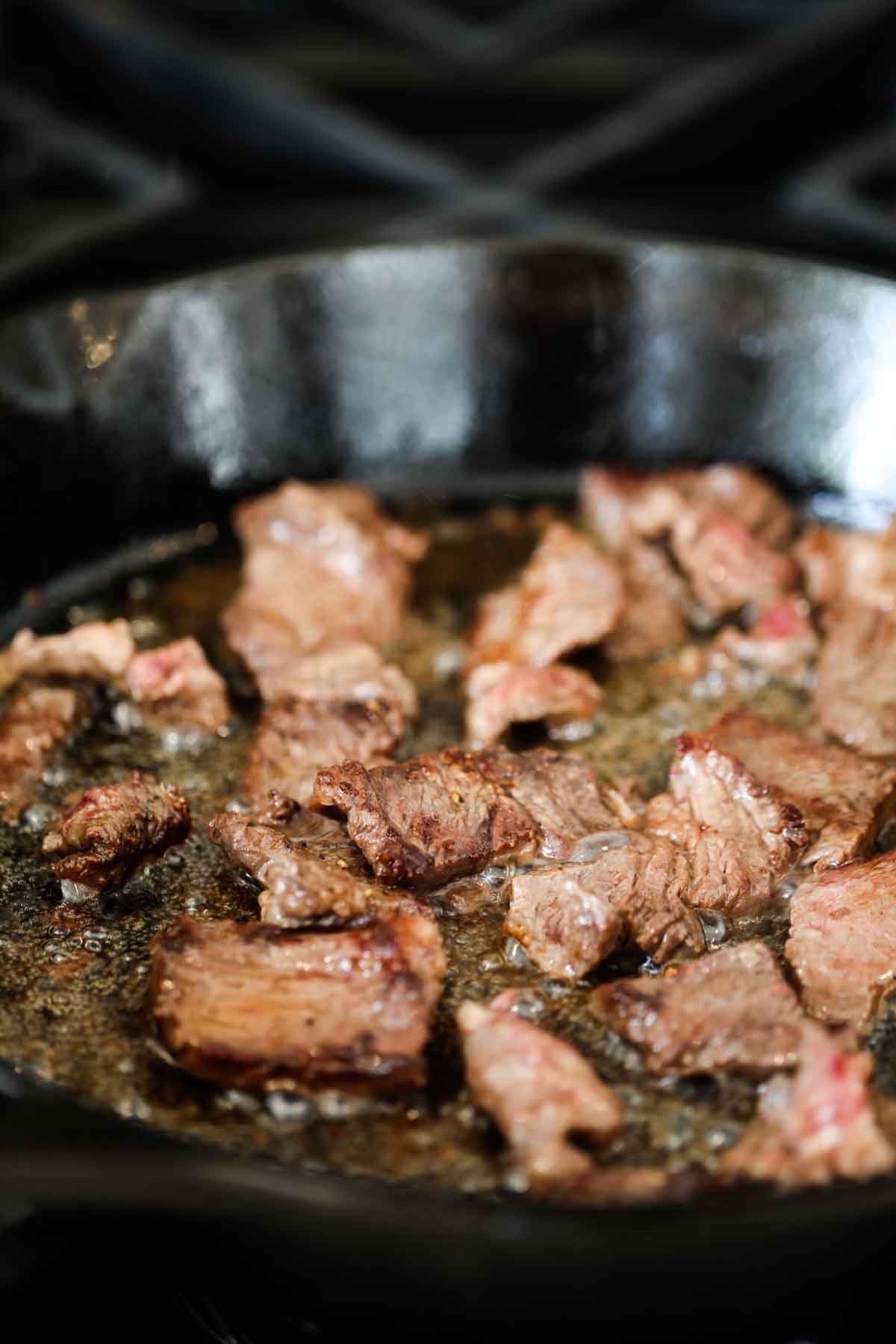 What are beef tips?
I had to ask myself this same question, because I didn't really know, either.
So technically, beef tips are pieces that come from the tenderloin that is cut too small for a tenderloin steak.
So why do so many beef tips recipes call for stew meat?
I will admit that I don't really know the actual answer, but my assumption is that Beef Tips was a recipe that was originally created to use those extra pieces of the tenderloin, but became popular and people started using other cuts of beef instead of just the leftover pieces of tenderloin.
Today, we know it as a dish that has super tender chunks of beef that have been slow simmered in a delicious gravy.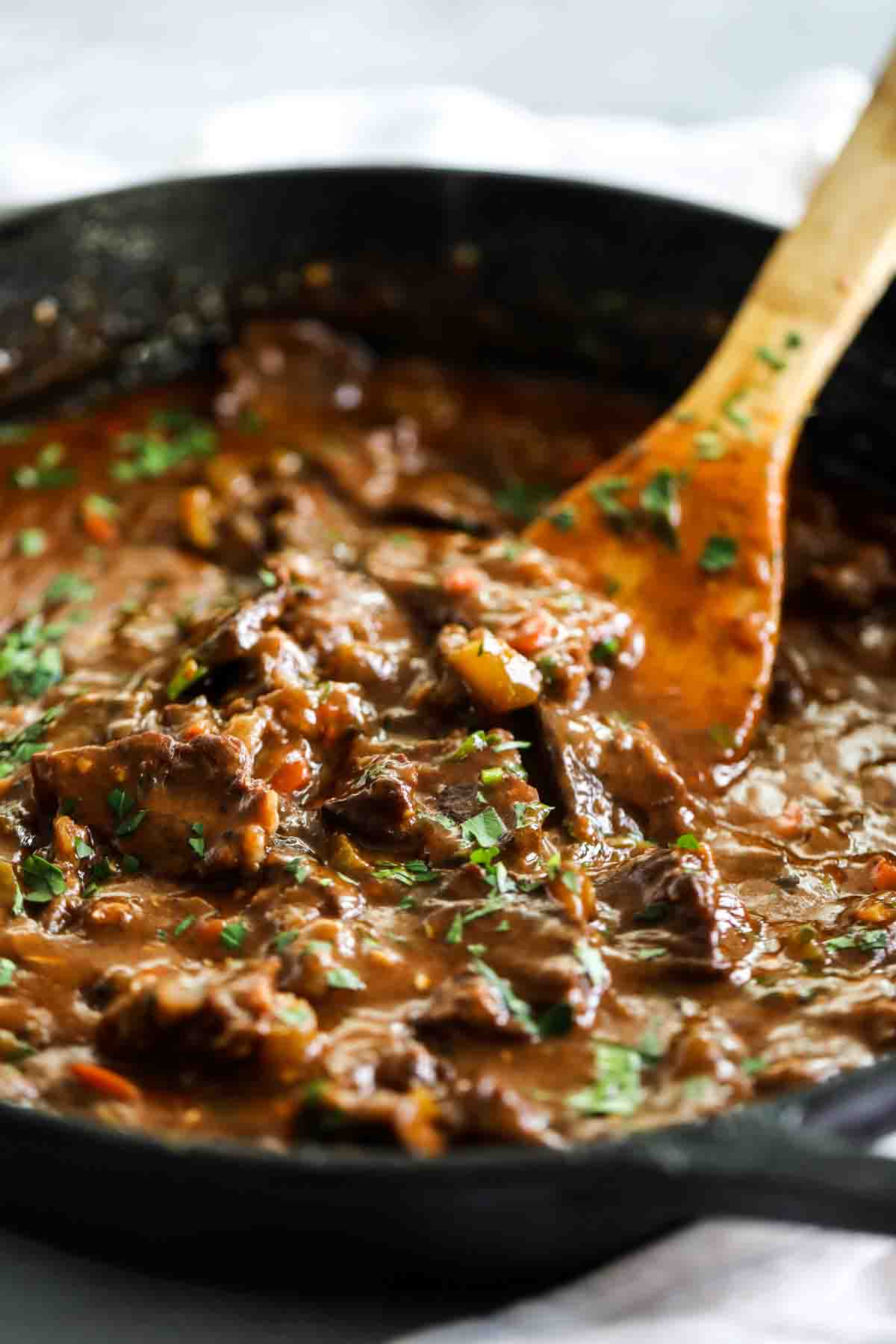 Ingredients
Beef Chuck Roast – I like to use chuck roast because I find it's the most tender.
Salt and Pepper
Vegetable oil – for browning the meat and cooking the vegetables.
Onion, Celery, Carrot and Garlic – the best combination!
Tomato Paste – you'll only need 2 tablespoons, so I love to buy it in a tube because it makes storing the leftovers easy.
Flour – this will thicken your gravy.
Beef Stock – I always have beef broth on hand, but I specifically bought beef stock for this recipe since I wanted that rich flavor.
Bay Leaf, Thyme and Parsley – these are used to flavor the gravy.
Red Wine Vinegar – the vinegar helps to balance the flavors and is a little secret weapon that I need to remember to use more often!
More Parsley – to bring in a bit of a fresh element at the end.
How to Make Beef Tips and Gravy
Start by cutting your beef into bite-sized pieces. I make them about 1-2 inches long and 1/4-inch thick. Then season it well with salt and pepper.
Working with about half of the beef at a time, brown the pieces in a hot cast iron skillet with vegetable oil.
When the beef is browned, remove it all from the skillet to a bowl and add more vegetable oil. Cook the vegetables in the oil until they are softened.
Add the tomato paste and cook through, then add the flour and cook until it is incorporated.
Add the stock to the skillet and bring it to a boil, making sure you are scraping all of the browned bits from the bottom of the skillet.
Return the beef and any juices to the skillet, then add the bay leaf, thyme and parsley. Cover the skillet and simmer until the sauce is thickened and the beef is super tender.
Remove the bay leaf, thyme and parsley.
Stir in the vinegar and the chopped parsley.
Frequently Asked Questions
What cut of beef do you use for beef tips and gravy?
You can really use any cut of beef that you want to – from tenderloin to sirloin to chuck roast. And while you could use the stew meat that is already cut from the supermarket, I would suggest that you buy a chuck roast and cut it yourself. Not only is it more economical, but you will also know exactly what you are getting.
I use a chuck roast for this recipe, and find that it has the perfect amount of fat and become so incredibly tender after braising in the cast iron skillet.
What do you serve beef tips with?
My favorite way to serve beef tips is over mashed potatoes. But you can also serve it over rice or noodles – egg noodles are perfect.
How do you make tough beef tips tender?
The secret here is a low, slow cook. This is not a meal you can have on the table in 30 minutes. A few tips, though – make sure you cut your meat against the grain, and also make sure you're pieces aren't too big.
Can you make beef tips in the slow cooker?
I have not tested this recipe in the slow cooker myself, but I have had readers make this successfully in the crockpot.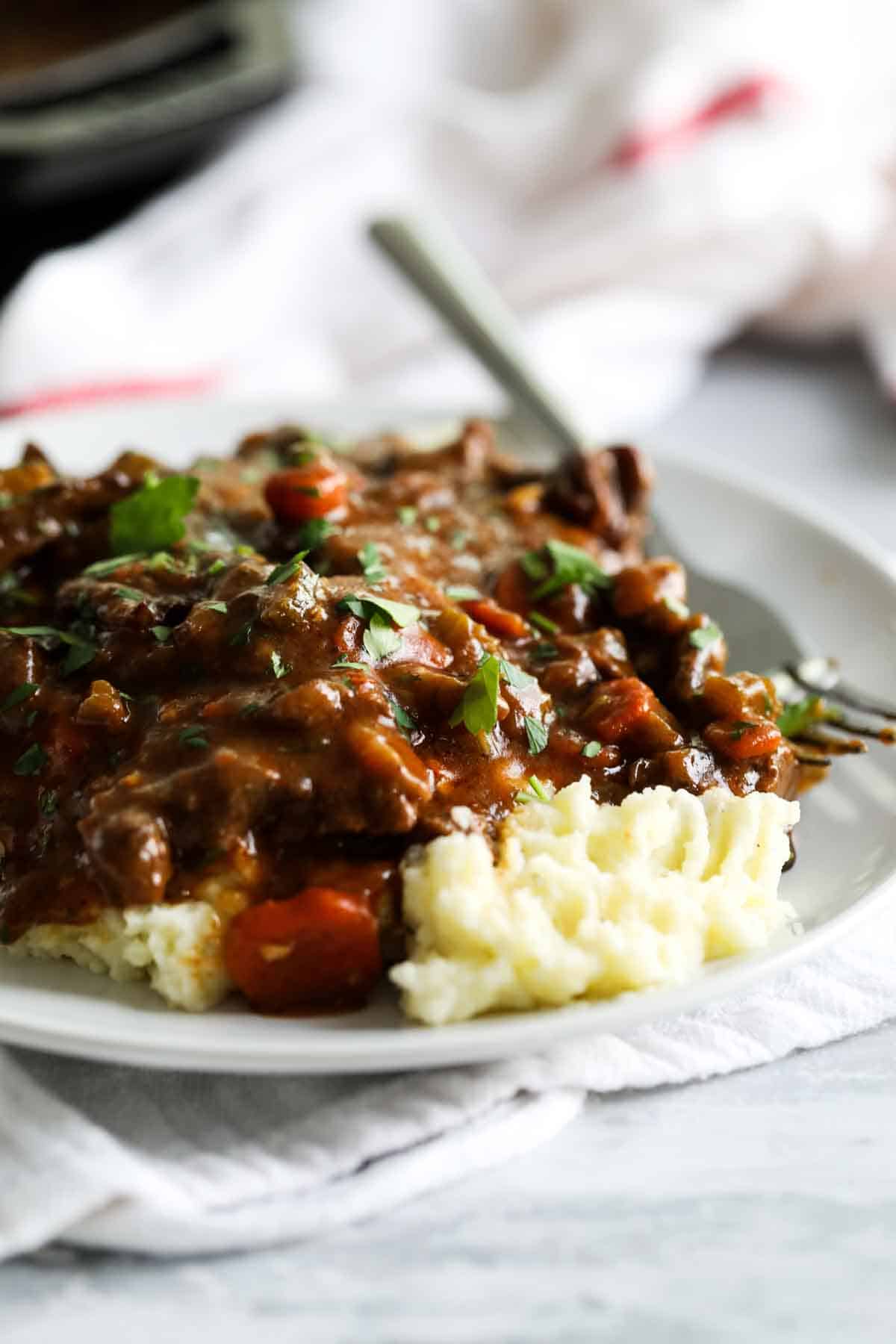 More Comfort Food Recipes
One Pot Ground Beef Stroganoff
Biscuits and Sausage Gravy
Chicken a la King
Braised Country Style Ribs
Crock Pot Chili
Traditional Meatloaf Recipe with Brown Sugar and Ketchup Glaze
Poppy Seed Chicken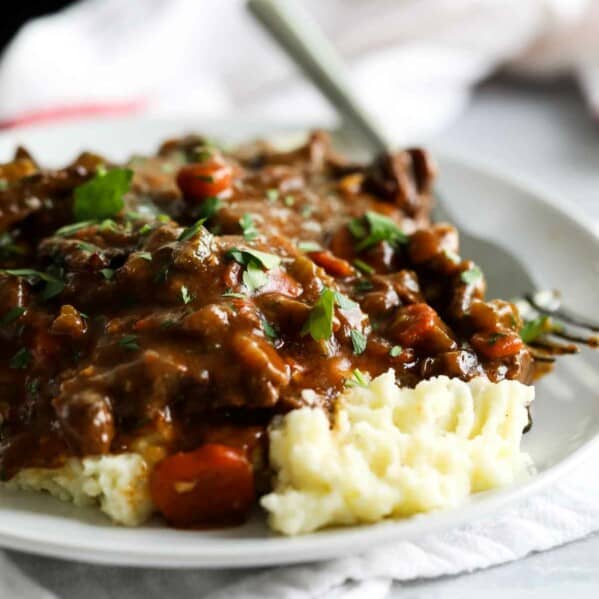 Beef Tips and Gravy
---
Author:
Prep Time: 15 mins
Cook Time: 3 hours
Total Time: 3 hours 15 mins
Yield: 6 servings 1x
Category: Main Dish
Method: Stove Top
Cuisine: American
Description
A classic comfort meal, this Beef Tips and Gravy cooks pieces of beef in a homemade gravy until it is super tender and flavorful. Serve over mashed potatoes, rice or noodles for the perfect Sunday supper that the whole family will go crazy over.
---
Scale
Ingredients
2 lbs boneless beef chuck
Kosher salt
Ground pepper
1/4 cup vegetable oil, divided
1 yellow onion, diced
2 stalks of celery, diced
1 carrot, diced
4 cloves garlic, minced
2 tablespoons tomato paste
1/4 cup all-purpose flour
3 cups beef stock*
1 bay leaf
3 sprigs of thyme
3 stems of Italian parsley
1 tablespoon red wine vinegar
3 tablespoons minced Italian parsley
---
Instructions
Cut the beef chuck into small strips, about 1 to 2-inches in length and 1/4-inch thick. Season generously with salt and pepper.
Preheat a large cast iron skillet over medium-high heat. Add 2 tablespoons of the oil and swirl to coat the skillet. Add half of the beef and cook, turning halfway through, until browned on both sides, 5-6 minutes. Use a slotted spoon to remove the beef from the skillet into a bowl, then sear the remaining half of the beef.
Decrease the heat to medium and add the remaining 2 tablespoons of oil. Add the onion and cook until it starts to soften, then add the celery and carrot and continue to cook, stirring often, until softened, about 5 minutes. Add the garlic and cook for 30 seconds, then stir in the tomato paste.
Add the flour and stir through, until no dry flour remains.
Slowly start whisking in the beef stock. Bring to a boil, stirring constantly and scraping up all of the browned bits from the bottom of the skillet.
Reduce the heat to medium-low. Return the beef to the skillet, along with any juices that have accumulated. Add the bay leaf, thyme, and stems of parsley. Put a lid on the skillet and simmer, stirring occasionally, until the sauce has thickened and the beef is tender, 2 1/4 to 2 1/2 hours. If needed, cook uncovered the last half hour to get to your desired thickness.
Discard the bay leaf, thyme and parsley stems.
Stir in the red wine vinegar and minced parsley. Season to taste with salt and pepper.
Serve hot.
Recipe Notes:
Very slightly adapted from Not Your Mother's Cast Iron Skillet Cookbook
*I usually just have beef broth on hand, but did specifically buy beef stock for this recipe. You could probably still use beef broth, but I liked the extra richness the stock brings.
Nutrition information provided as an estimate only. Various brands and products can change the counts. Any nutritional information should only be used as a general guideline.
Nutrition
Serving Size: 1/6 of recipe
Calories: 478
Sugar: 2 g
Sodium: 520 mg
Fat: 35 g
Saturated Fat: 12 g
Unsaturated Fat: 8 g
Trans Fat: 0 g
Carbohydrates: 8 g
Fiber: 1 g
Protein: 32 g
Cholesterol: 94 mg
Keywords: beef tips, beef tips recipe, beef tips and gravy