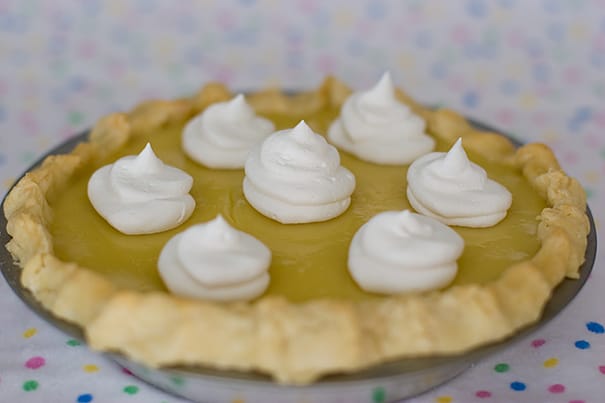 For some reason, I have been really wanting to make a pie lately. Maybe it's because I can finally feel a sense of fall in the air, and that mixed with the smell of pies baking in the oven really makes it feel like the holiday season to me. (Which I'm so excited for this year – I'm sure it's going to be a whole new experience with a little one around!) And then when I found a frozen pie crust in the freezer, I knew I just had to bake a pie. I saw the pie crust thawing, then looked over and saw some bananas heading towards too ripe, and headed straight to my Cookbook of the Month – The Joy of Cooking – and hoped that there was a banana cream pie recipe. And there was!
This recipe really gave me a run for my money. It almost didn't happen. The first step says that the mixture should be thick in 10 minutes. Didn't happen for me. After about 20 minutes, I figured that it should be good and I continued on. Then I put the final mixture back on the stove to thicken up again, and again, no thickening. I cooked and cooked and cooked, and then I had a crying baby who was waiting for her dinner, so I decided it had to be good enough and maybe it just needed to thicken up a bit in the fridge. So into the fridge it went.
Baby fed and about an hour later, I look at the mixture in the fridge. Still completely liquid. I knew that something was wrong. It tasted really good, and I wished I would have had an ice cream bowl frozen in the freezer and I would have turned it into ice cream. But no such luck. And instead of throwing it out and having nothing from the cookbook to show this week, I decided to throw it back on the stove. I stuck it in a pan over low heat, and walked away. I don't even know how much later it was, but I walked back in to find a wonderfully thickened cream! I was so happy, even though it was a bit lumpy from not stirring it while it was on the heat.
The final pie was actually quite delicious. It's pretty sweet, so a small slice will do, but it was really good. Good thing it was good, otherwise all that work and worry would have been for nothing!
I really don't know how to rate this recipe. Based on the recipe alone, I thought it was horrible. But after messing with it, it ended up quite tasty. So since I don't know if I should rate on the recipe or on the taste, I'll combine to two to come up with a score!!
Recipe Rating: 3 out of 5
**The recipe listed below is from the book, but if you do try it and have issues, don't say I didn't warn you!!
Banana Cream Pie
adapted from The Joy of Cooking
A baked pie shell
2/3 cup sugar
1/2 cup all-purpose flour
1/2 teaspoon salt
2 cups milk
3 egg yolks
2 tablespoons butter
2 teaspoons vanilla
2 ripe bananas
whipped cream, for topping
In the top of a double boiler with boiling water, combine the sugar, flour and salt. Add in the milk and stir to combine. Cook for 10 minutes or until thickened.
Once thickened, remove from heat. In another bowl, slightly beat the egg yolks. Stirring well, pour half of the hot mixture into the eggs. When smooth, return the eggs to the rest of the hot mixture and return to the double boiler. Cook until thickened.
When thick, remove from heat and add the butter and vanilla. Cool slightly.
Peel and thinly slice the bananas. Place them in the bottom of the baked pie shell. Pour the filling over the bananas. Refrigerated until set up. Serve with whipped cream.