The perfect peach pie for any occasion. This Sour Cream Peach Pie has a sour cream and peach based filling that is topped with lots of streusel topping.
I'm definitely a fan of a pie with a streusel topping – like this Sour Cream Peach Pie! You can also try this Strawberry Crumble Pie or this Pumpkin Cheesecake Pie.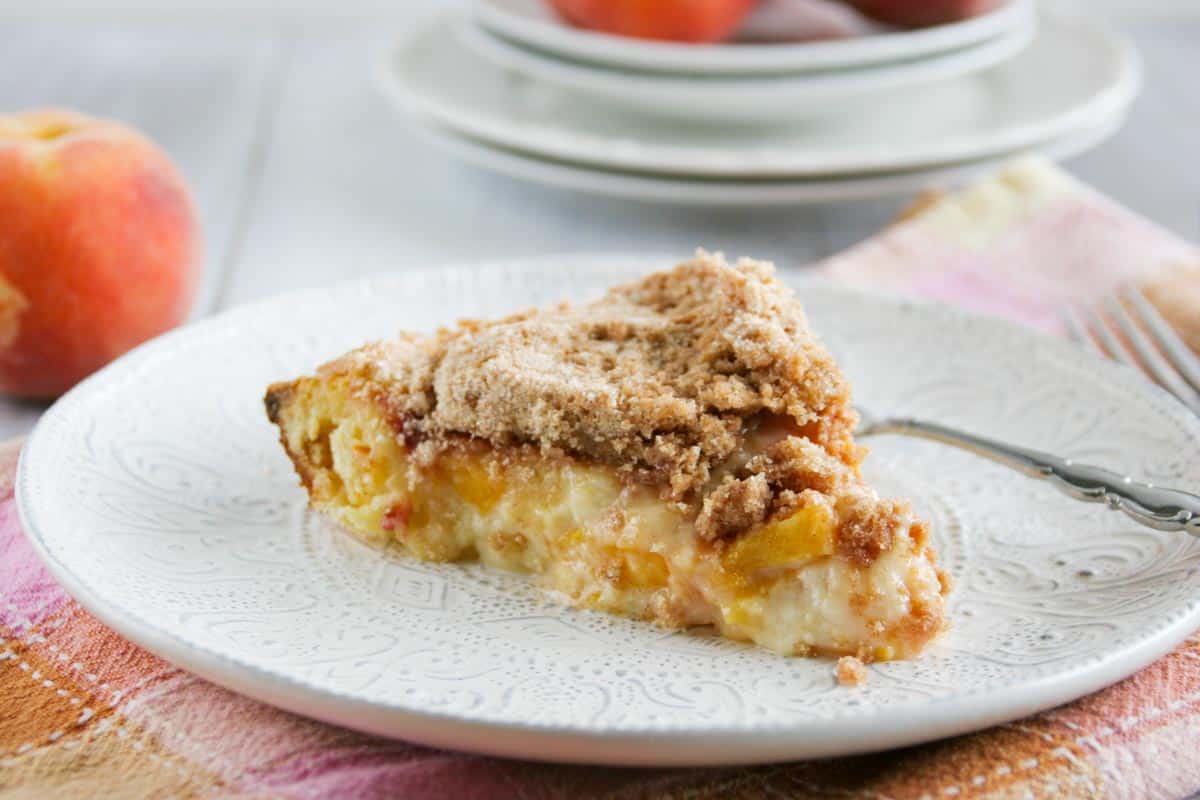 Sour Cream Peach Pie
If you've been following me for awhile, you will know that I am a little bit obsessed with peach season. Without a doubt, peaches are the produce that I most look forward to every year. I cannot get enough of them. Last year, I did a whole peach themed week, and even though I don't have that many peach recipes for you this year, you will definitely be getting a few of them.
Starting with this pie. You see, I had been craving a peach pie for weeks. Weeks before I saw any of the beautiful Utah peaches hit the stands. So you can bet that one of the first things I did when I did get my hands on some peaches was make a pie!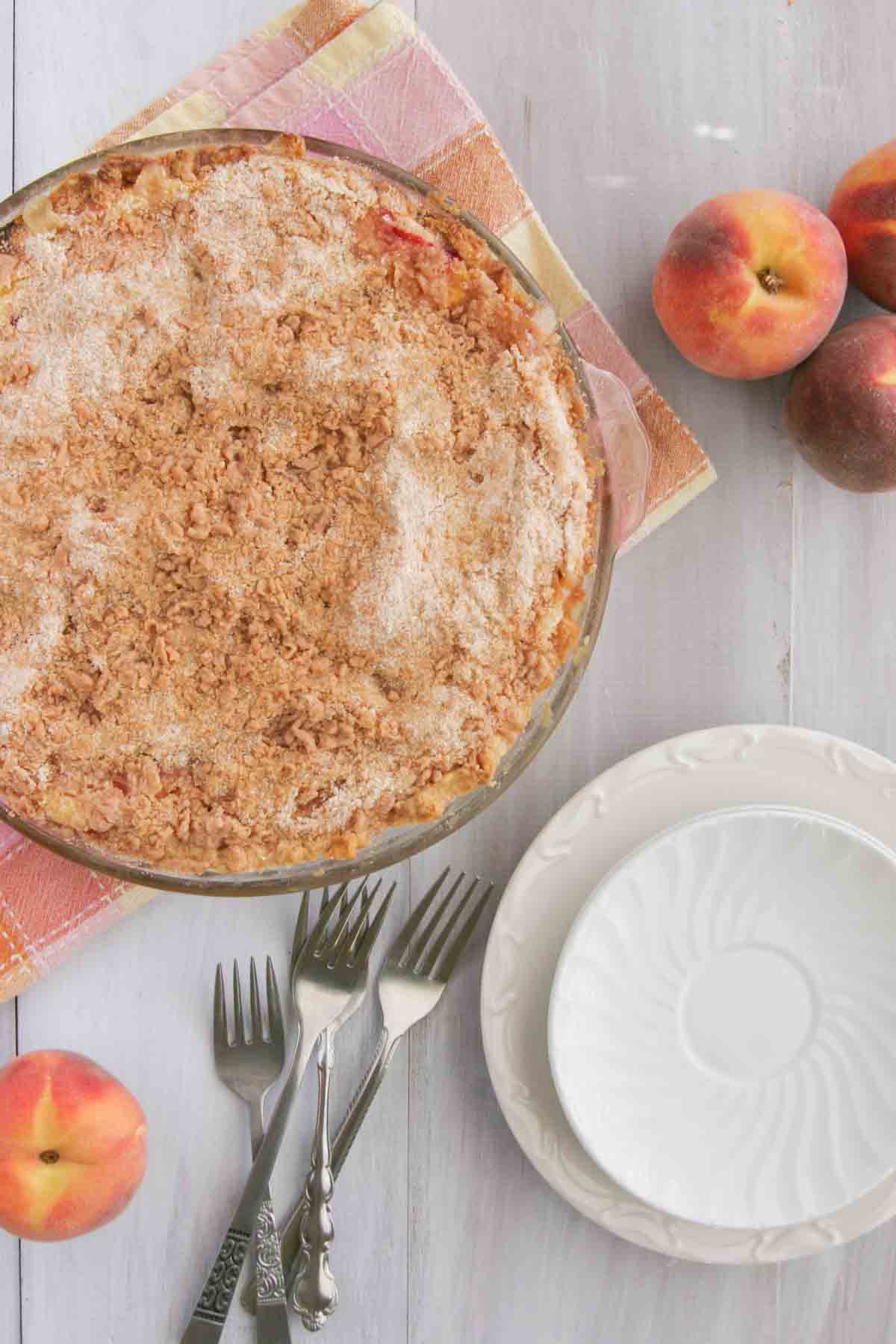 I didn't want to go with a straight up peach pie.  I wanted to change it up a little bit, but to still keep true to a peach pie so that the peach flavor would shine.  And I immediately thought of one of my all-time favorite pies – Sour Cream Apple Pie.  I had never had a sour cream peach pie, but I know they are fairly common, so I thought I'd give it a try.
And let me tell you – my beloved apple pie might have a contender for my favorite pie. This pie was so good. So good. So good, in fact, that my husband and I polished it off in 3 days. By ourselves. I'd be lying if I didn't say that I was sad to see the empty pan in the sink. I'm pretty sure that this pie will become a yearly favorite in our house!
This Sour Cream Peach Pie is sure to become a favorite of yours, too!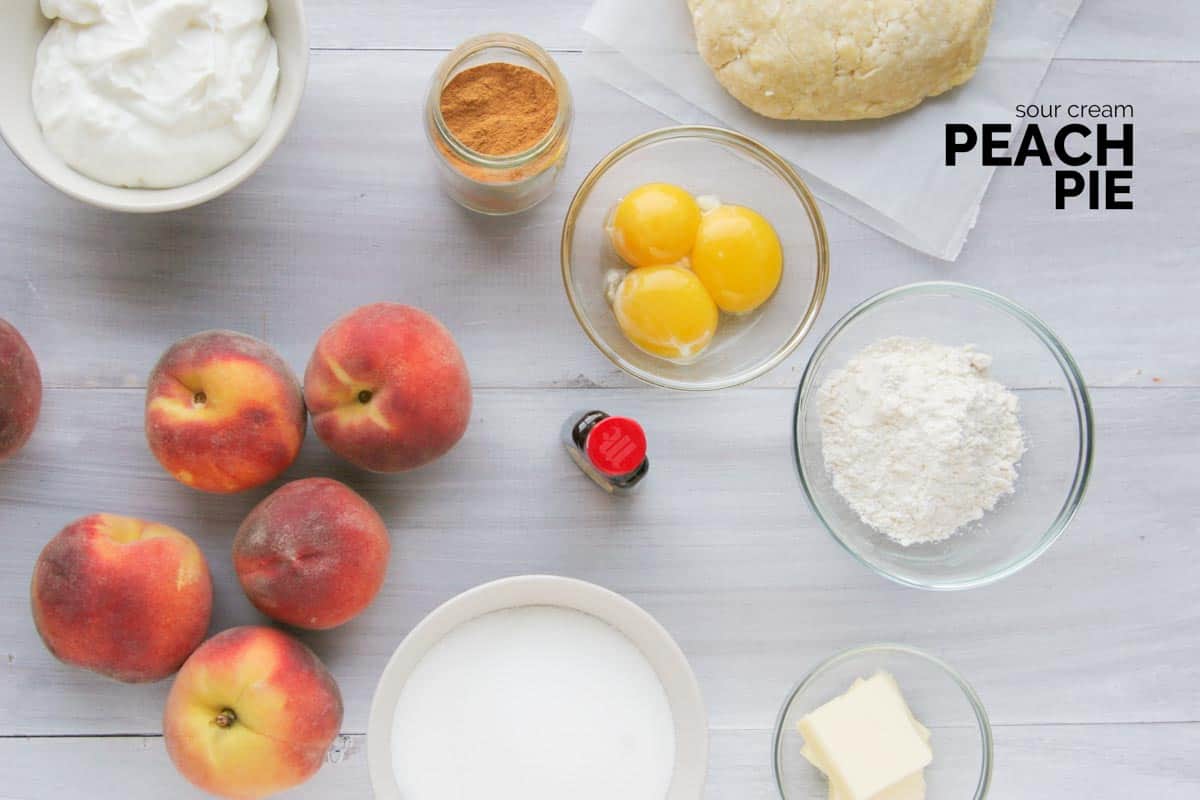 What You'll Need
This pie is pretty straight forward. Here is what you'll need:
Pie Crust – this one is my favorite.
Sugar – Regular, granulated sugar is what you'll need.
Sour Cream – I use full fat for this pie.
Egg Yolks – Go ahead and save those egg whites for something else – like this Pavlova.
Flour – I use unbleached white flour.
Almond Extract – you can use vanilla if you have an allergy, but the almond extract really makes this pie special.
Peaches – You want them peeled and sliced. Make sure they are ripe for maximum flavor.
Sugar, flour, cinnamon and butter – for the streusel topping. These are pretty typical ingredients.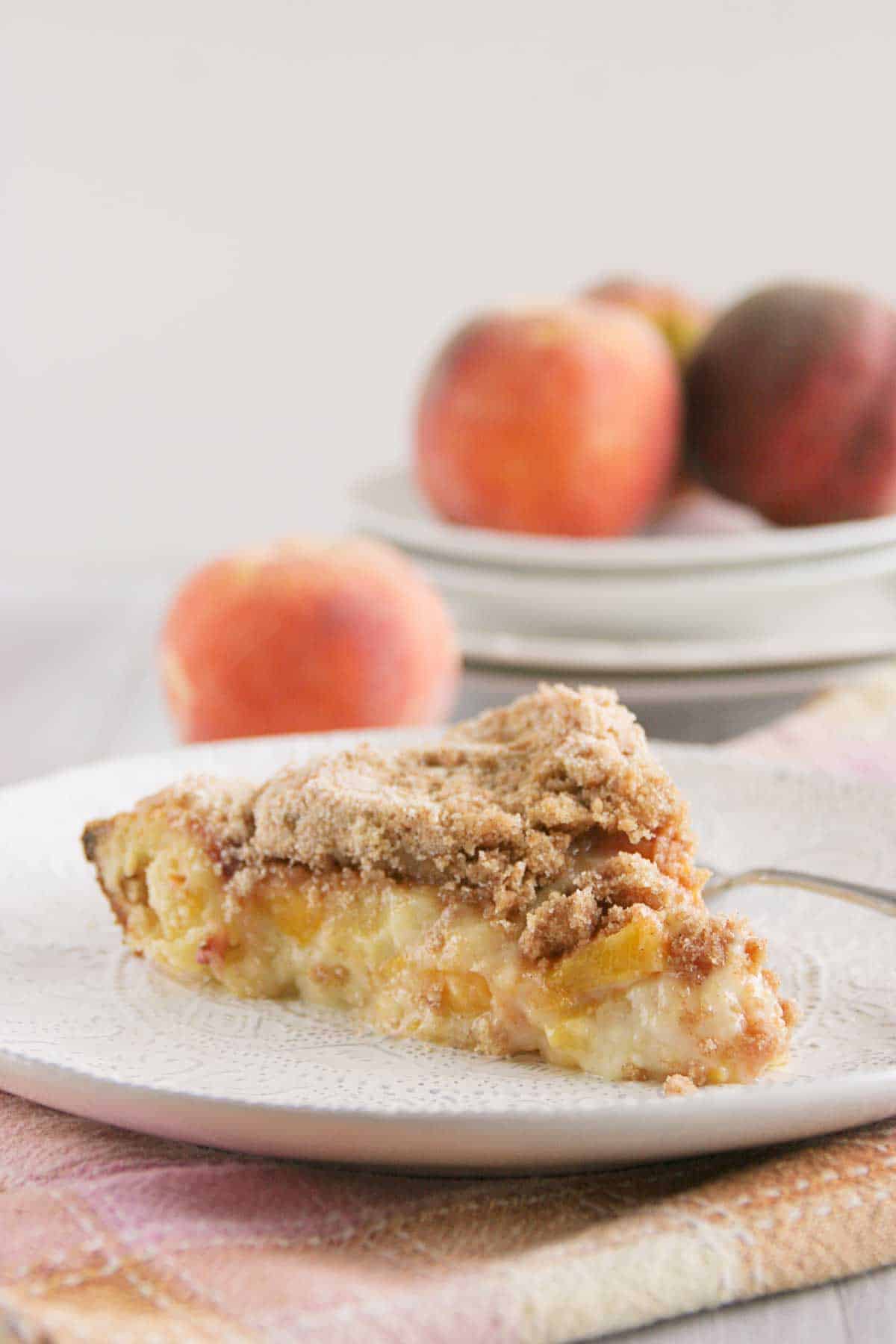 More Pie Recipes:
Key Lime Pie
Cherry and Blueberry Cream Pie
Lemon Cream Pie
Caribbean Truffle Pie
Peach Melba Pie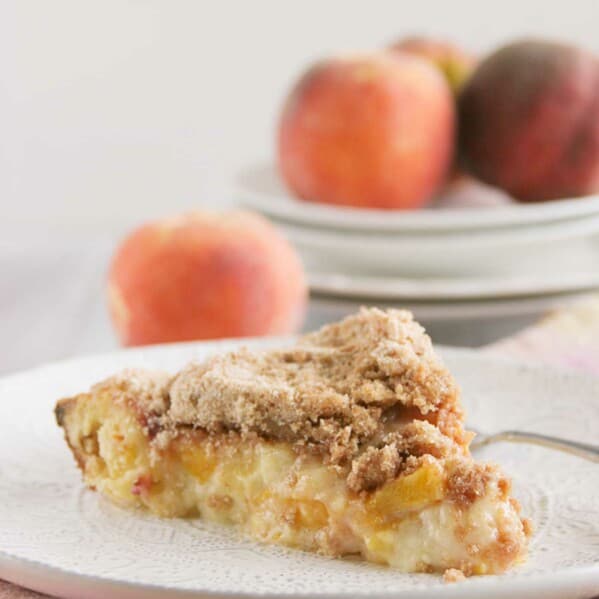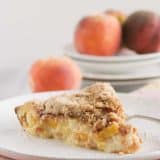 Sour Cream Peach Pie
---
Author:
Prep Time: 30 minutes
Cook Time: 1 hour
Total Time: 2 hours
Yield: 8 servings 1x
Category: Dessert
Method: Bake
Cuisine: American
Description
The perfect peach pie for any occasion. A sour cream and peach based filling is topped with lots of streusel topping.
---
Scale
Ingredients
Filling
1 cup sugar
1 cup sour cream
3 egg yolks
1/4 cup flour
1 teaspoon almond extract
4 cups peeled, sliced peaches
Streusel Topping
2/3 cup sugar
2/3 cup flour
2 teaspoons cinnamon
4 tablespoons butter
---
Instructions
Preheat the oven to 400F.
Roll out the crust and place it in a 9-inch pie dish. Prick generously with a fork. Spray a piece of foil with nonstick cooking spray and place over the crust and weight with pie weights or dried beans. Bake in the oven for 10 minutes. Remove the weights and the foil and return the crust to the oven for an additional 5 minutes. Remove.
Meanwhile, in a large bowl, mix together the sugar, sour cream, egg yolks, flour and almond extract. Fold in the peaches. Pour the filling into the pie crust and return to the oven. Bake for 30 minutes.
Make the streusel topping: In a medium bowl, add the sugar, flour, and cinnamon. Using a pastry cutter or a fork, cut in the butter until it resembles pea-sized pieces or smaller.
Remove the pie from the oven and sprinkle the streusel topping over it evenly. Return to the oven and bake an additional 10-20 minutes, or until the topping is browned. If needed, cover the edges of the pie with foil to prevent over-browning.
Keywords: sour cream peach pie