Coconut lovers won't be able to get enough of this Coconut Custard Pie – it is super thick, creamy, and full of coconut flavor.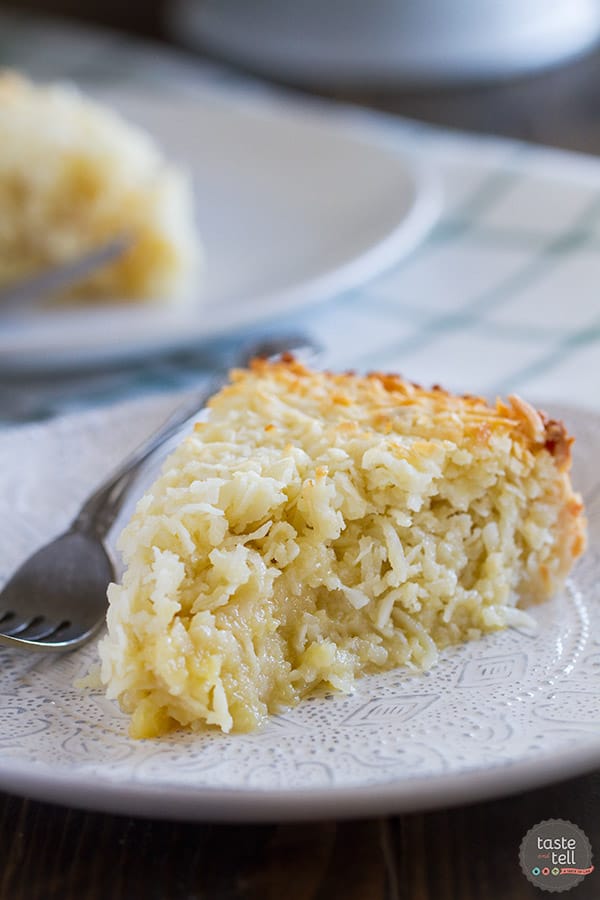 Yum

Are you all sick of cookbook reviews yet? Haha! But happy day – I may have left it for the last day of the year, but this is cookbook review #52 for the year. My one and only goal here is complete. As much as I love cookbooks, and as much as I love doing cookbook reviews, I'm kind of excited to slow down a little now!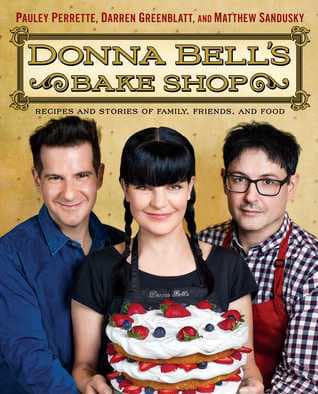 But #52 is a fun one. I actually heard about this book – Donna Bell's Bake Shop – when I was watching the Rachael Ray Show and Pauley Perrette was on, talking about this book. I used to watch NCIS, so I was already a Pauley Perrette fan, but had no idea that she owned a bakery with 2 of her best friends.
But since I love to bake, and I'm always looking for good baking books, I added this one to my list, and it somehow jumped into my Amazon cart a little while back. I don't know how that happened! It is a fun book, filled with some great baking recipes. There are lots of old time favorites, like chocolate chip cookies and lemon bars, but plenty of new recipes that I want to try, like Cinnamon Almond Cranberry Coffee Cake and Apple Filled Sweet Biscuits with Homemade Caramel Sauce. I'm excited to try more from this book.
Here are the details:
Number of Photos: Many. Most of the recipes have photos. There are also lots of personal and lifestyle photos throughout the book, telling of the history and story of the bakeshop behind the book.
Difficulty Level of Recipes: Medium. I only say medium because they are baking recipes, but as far as baking goes, they are pretty easy. I think if you are somewhat comfortable with baking, you won't have a hard time at all with this book.
Availability of Ingredients: Easy. Lots of flour, sugar and butter and other ingredients that should be readily available.
Other recipes I want to try:
Cheddar Pimento Biscuits
Blueberry-Filled Sweet Biscuits with Vanilla Sauce
Zucchini Walnut Bread
Cinnamon Scones with Maple Glaze
Peach Muffin Streusel
Maple Walnut Pie Bars
Southern Cherry Chess Bars
Butter Pecan Cake with Buttercream Frosting
Buy Donna Bell's Bake Shop on Amazon.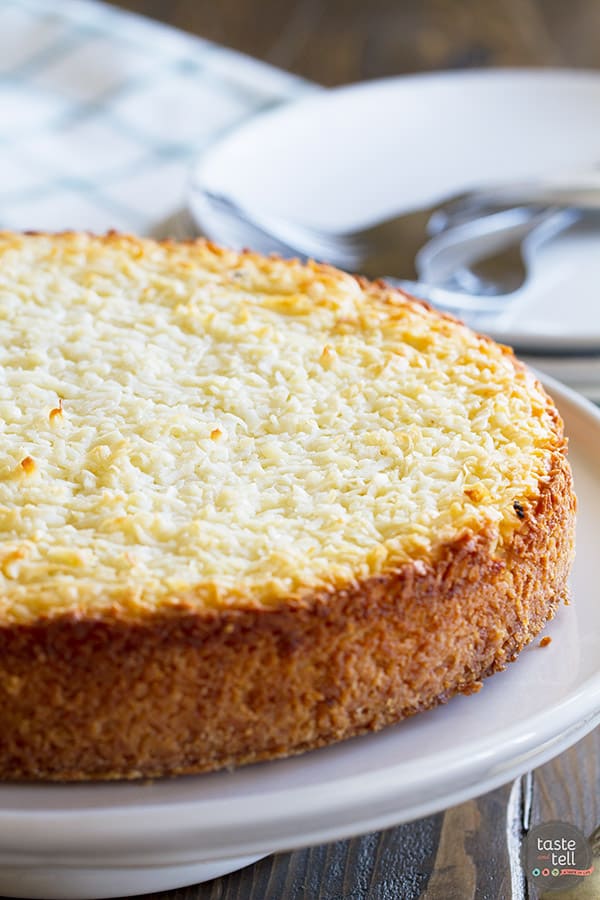 I can't resist coconut, so when I saw the recipe for this Coconut Custard Pie, I just had to try it. It's not your typical pie, as it's made in a springform pan, so it almost felt like a cake/pie hybrid to me. No matter what you call it, though – it's delicious!! This Coconut Custard Pie is SO full of coconut flavor – there is no missing it here! Not only is there loads of shredded coconut, but you also have cream of coconut and coconut extract. The crust is not a typical pie crust – it is a shortbread crust that was awesome. The bottom of the crust did get a little soggy and you couldn't distinguish it as much as the sides, but I looked forward to eating the sides with the crispy crust. The center is creamy and kind of gooey and pretty much awesome.
If you are a coconut lover, this Coconut Custard Pie is definitely for you!!
Have a very happy new year, and I'm so excited to share so much more in 2016!!!



Like what you see here? Make sure you are following Taste and Tell for more recipes and ideas!
Facebook | Pinterest | Instagram | Twitter | Google+ | Weekly Newsletter | Feedly | Bloglovin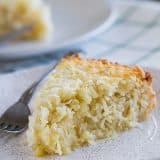 Coconut Custard Pie
---
Author:
Prep Time: 15 mins
Cook Time: 90 mins
Total Time: 1 hour 45 mins
Yield: 8 servings 1x
Description
Coconut lovers won't be able to get enough of this Coconut Custard Pie – it is super thick, creamy, and full of coconut flavor.
---
Scale
Ingredients
Shortbread Crust
1 cup all-purpose flour
1/2 cup granulated sugar
1/2 teaspoon kosher salt
1/2 cup cold unsalted butter, cut into small pieces
Coconut Filling
1/4 cup unsalted butter
6 large eggs
1 1/2 cups granulated sugar
1 cup milk (whole recommended)
1 cup sweetened cream of coconut (such as Coco Loco)
2 teaspoons vanilla extract
2 teaspoons coconut extract
4 cups sweetened flaked coconut
1/4 cup all-purpose flour
1 teaspoon kosher salt
---
Instructions
Preheat the oven to 350ºF. Spray a 9-inch springform pan with cooking spray.
Make the shortbread crust: Place the flour, sugar and salt in a food processor fitted with the steel blade and pulse to combine. Add the butter and continue to pulse until the mixture resembles coarse crumbs. (To make by hand, whisk the flour, sugar and salt in a large bowl. Add the butter and quickly press between your fingers, breaking up the butter, until the mixture resembles coarse crumbs.)
Pour the crust into the prepared pan and press firmly onto the bottom and 1 inch up the sides of the pan.
Melt the butter in a small saucepan or in a small bowl in the microwave. Let the butter cool.
In a large bowl, lightly whisk the eggs. Add the sugar and whisk to combine. Add the cooled melted butter, milk, cream of coconut, vanilla extract and coconut extract. Stir in the coconut, flour and salt. Pour the mixture over the crust. Cover the pan tightly with foil and place the pan on a baking sheet.
Bake in the preheated oven until the center of the pie is almost set, but still a little jiggly, about 75 minutes. Remove the foil and continue to bake until the pie is golden brown and firm to the touch in the center, 10 to 15 additional minutes.
Cool the pie for 5 minutes, then run a knife around the edges of the pie, unlatch the pan and remove the sides. Let the pie cool for 30 minutes, then cover and cool in the refrigerator overnight.
Useful Products for this Recipe:
Don't miss a thing! Follow me on Pinterest to see what I'm pinning!
Visit Taste and Tell's profile on Pinterest.