Coconut Cream Pie – a creamy coconut pie with a cookie crust and fresh whipped cream.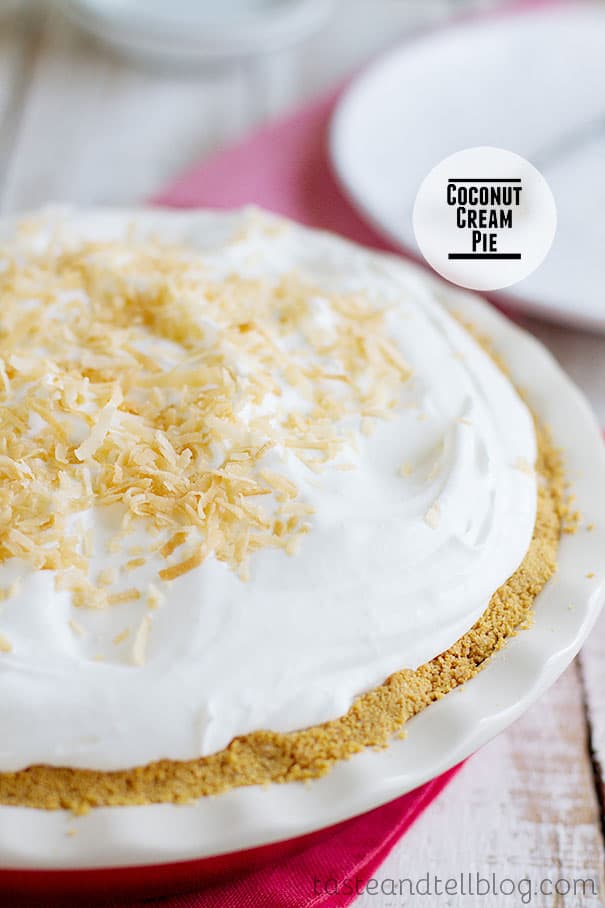 I don't know if I'm just totally off my game lately or if I've become more of a perfectionist, but I have been having to remake what seems like all of my recipes lately. I have some that need changes that I'm still working on. Some, like this pie, I just couldn't wait to get right, so I set to testing until it was right.
The life of a food blogger is a funny one.
Where else would you find multiple pies in the spare refrigerator, along with leftover cheesecake, dinner from last night, plus 4 quarts of cream and 3 dozen eggs? All I can say is thank goodness for that extra refrigerator!!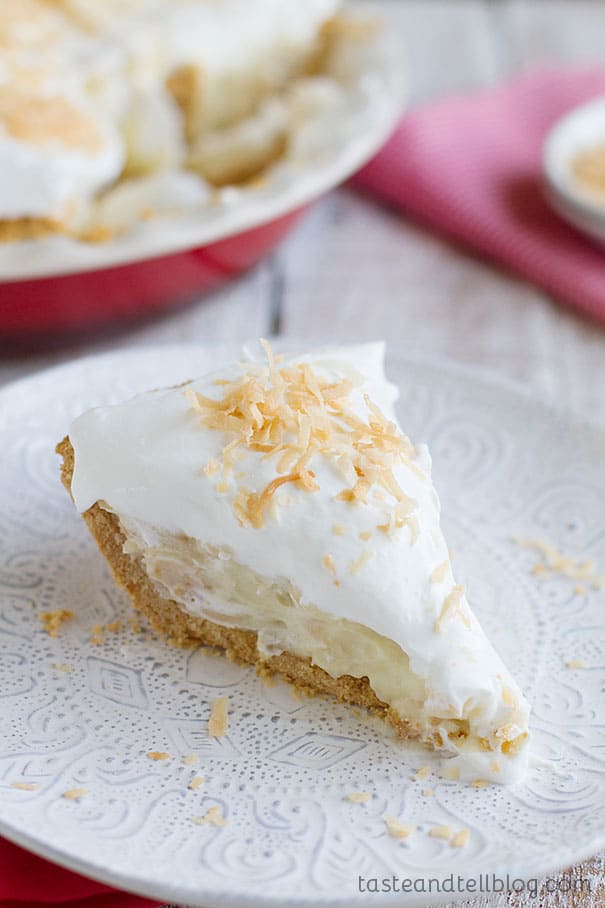 I got the idea stuck in my head several weeks ago that I wanted to make a Coconut Cream Pie for Easter. As a pie lover, I couldn't believe that I had never actually even made a coconut cream pie before. But I love pie for Easter, I love coconut for Easter, so combining the two only made sense.
I went with a pretty traditional recipe, but instead of a regular crust, I decided that since I love the Lemon Cheesecake that I remade recently, I'd steal the idea of the animal cracker crust, but pair it with my pie.
Oh. My. Goodness.
I love coconut cream pie, but I think the crust was my favorite part of this pie. Sweet and buttery and with lots of animal cracker flavor. The pie wasn't so shabby, either. 🙂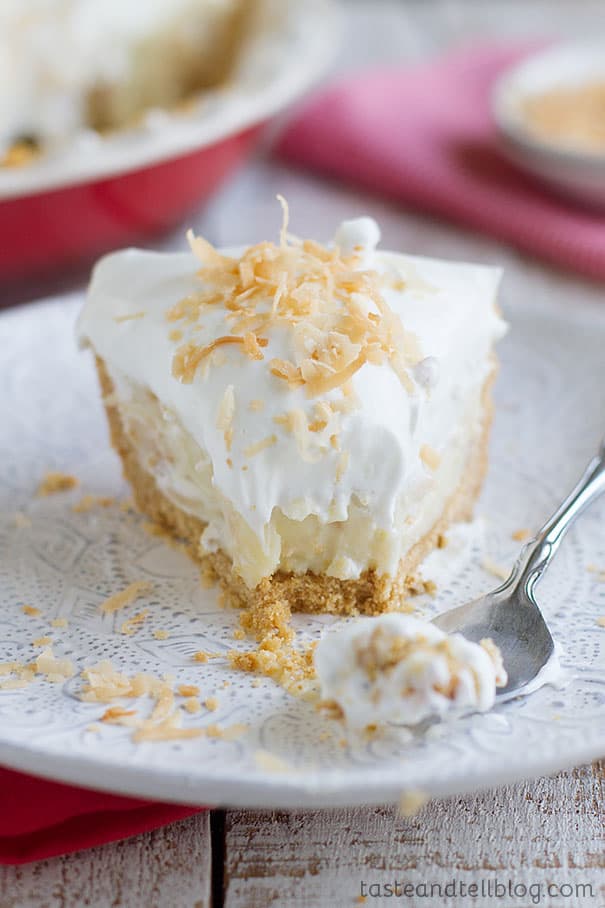 Like what you see here? Make sure you are following Taste and Tell for more great recipes and ideas!!

Facebook ** Pinterest ** Twitter ** Instagram ** Google+
or you can subscribe to my newsletter or Feedly or Bloglovin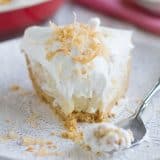 Coconut Cream Pie
---
Prep Time: 20 mins
Cook Time: 30 mins
Total Time: 50 mins
Yield: 1 9-inch pie 1x
Description
A creamy coconut pie with a cookie crust and fresh whipped cream.
---
Scale
Ingredients
Crust:
4 cups animal crackers
2 tablespoons sugar
1/4 teaspoon salt
1/2 cup melted butter
1 egg
Coconut Filling:
1 cup sweetened, shredded coconut
1 1/4 cups heavy cream
1 (13.66 oz) can coconut milk
2 eggs plus 1 egg yolk, lightly beaten
3/4 cup sugar
1/4 cup flour
1/4 teaspoon salt
1 teaspoon vanilla extract
Whipped Topping:
2 cups heavy cream
1/4 cup sugar
---
Instructions
Make the Crust:
Preheat the oven to 350°F.
Place the animal crackers in a food processor and pulse until fine crumbs are formed. Add in the sugar and salt and pulse a few more times to combine. In a steady stream, pour in the butter while the food processor is running. Continue to pulse until combined.
Pour the crumbs into a deep dish pie dish, and press the crumbs against the bottom and up the sides of the dish. Press the crumbs in firmly, using a cup if necessary.
Bake the crust until it starts to get golden, 15 minutes. Remove from the oven. In a small bowl, beat the egg with a splash of water. Very gently brush the egg on the bottom and sides of the crust. (You may need to dab it on if you find that the crust is crumbling when you try to brush the egg on.) Return the crust to the oven and bake an additional 3 minutes. Remove and let the crust cool completely.
Make the Pie:
Place the coconut on a baking sheet and bake in the oven, stirring every 1-2 minutes, until toasted, 6-8 minutes. Remove from the oven to cool.
In a large saucepan, combine the cream, coconut milk, eggs, sugar, flour and salt. Whisk until smooth. Place over medium heat and cook, stirring frequently, until it comes to a boil. Let it cook at a boil for 1-2 minutes, then remove from the heat and stir in the vanilla extract. Stir in 3/4 cup of the toasted coconut, then pour into the crust. Refrigerate until set up, about 4 hours.
Make the Whipped Topping:
Beat the cream until it starts to thicken, then slowly add the sugar. Continue to beat until you have stiff peaks. Spread the cream over the top of the pie, and top with the remaining 1/4 cup of toasted coconut.
More Holiday Worthy Pies: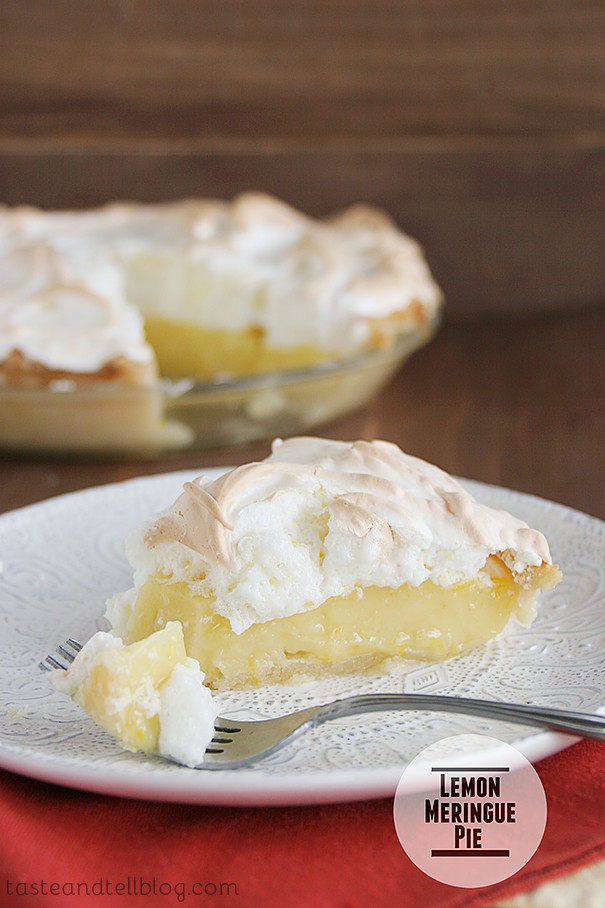 Lemon Meringue Pie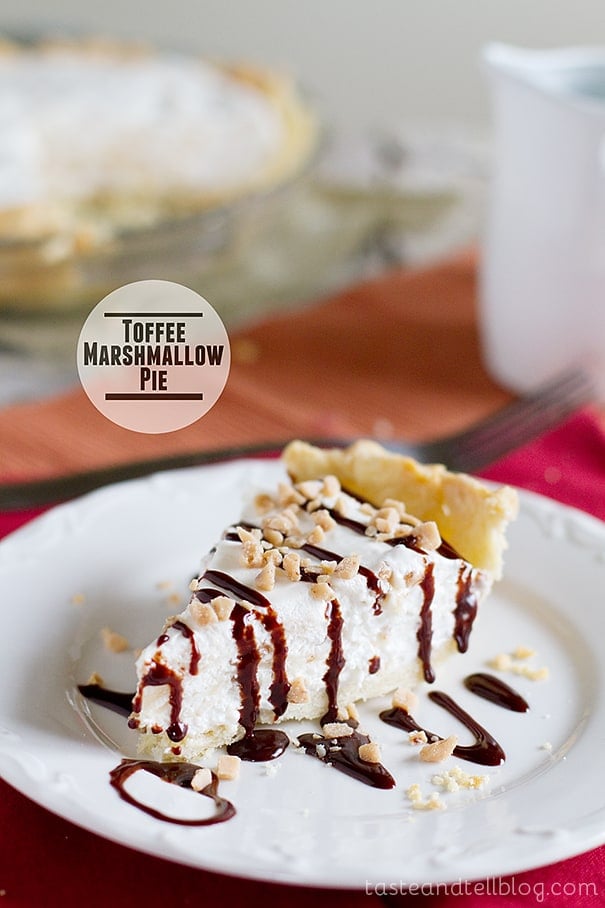 Toffee Marshmallow Pie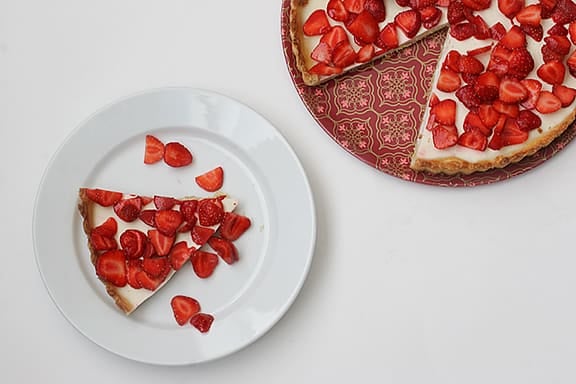 Strawberries-and-Cream Tart
Around the Web:
Sweet Charity Pie from Sweet Treats and More
No Bake Strawberry Lemon Cookie Pie from Life, Love and Sugar
Dark Chocolate Cream Pie from Chocolate, Chocolate and More