Creamy and rich with just the right amount of zing, this Key Lime Pie is simply the best! You're only a few ingredients away from this American classic.
If you love key lime, make sure to also try this Instant Pot Key Lime Cheesecake and these Baked Key Lime Pie Donuts.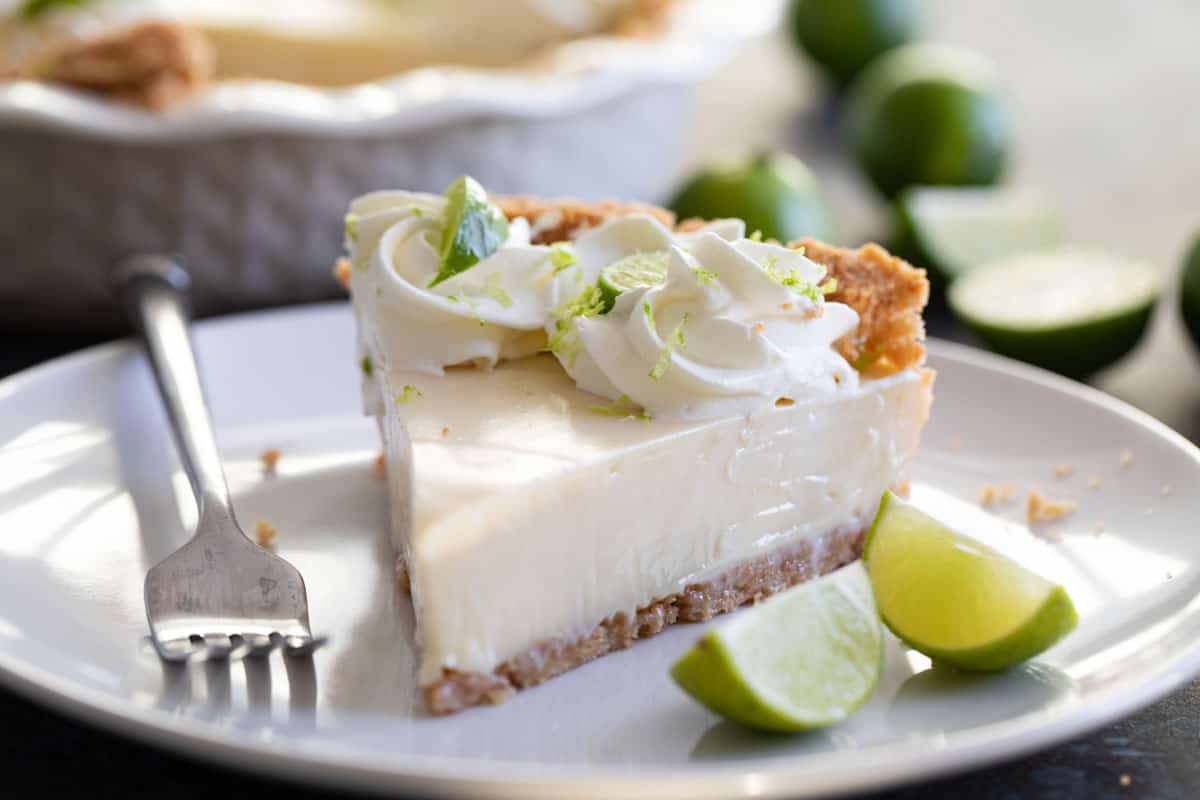 Years ago, I went on a cruise that took me to Key West. Of all of the exciting ports, Key West was probably my favorite stop.
Key West is part of the Florida Keys, a group of islands south of the tip of Florida. The water is the most amazing color of blue, and I even saw some dolphins swimming next to a boat ride I took there.
While on the island, we just had to taste of authentic Key Lime Pie, and I enjoyed every last bite of it. I can't remember the name of the shop where we bought the pie from now, but it was the cutest shop with everything key lime – from candy to drinks to pie.
Since Key West is so far away for me, though, it's a good thing that you can make Key Lime Pie at home!!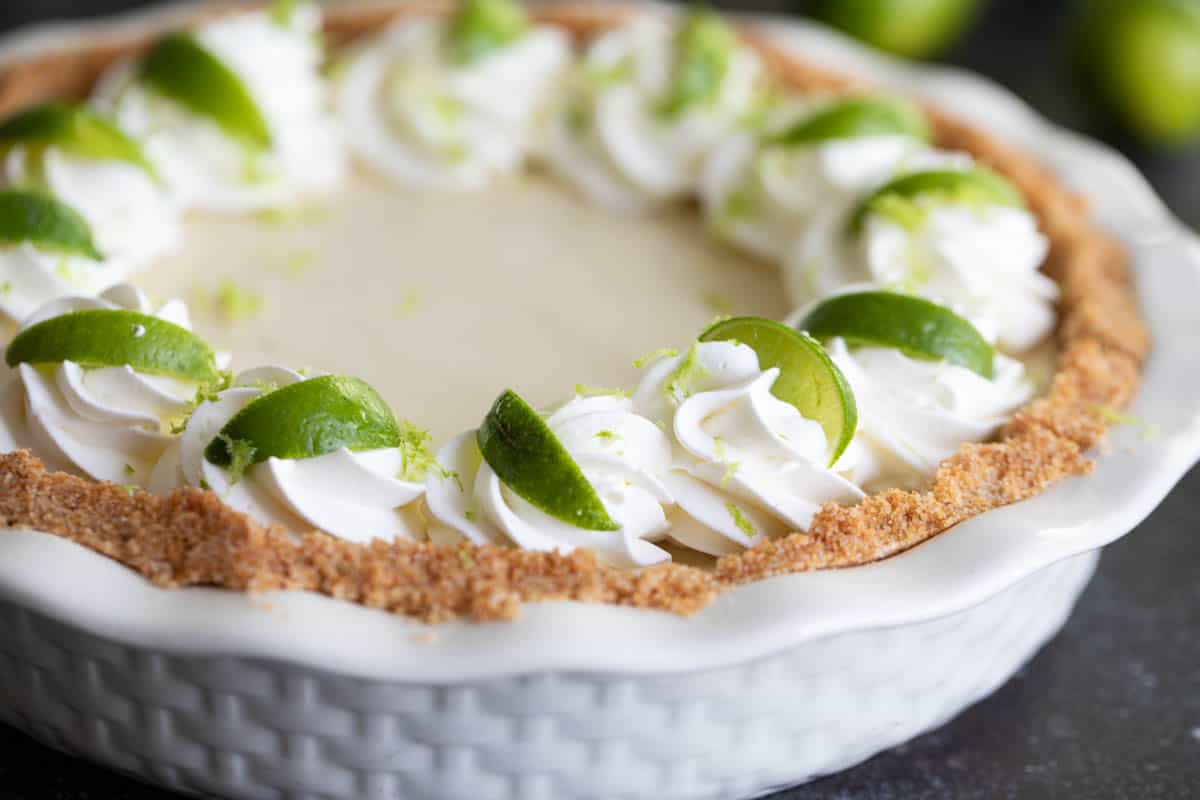 What is Key Lime Pie
Key Lime Pie originated in the Florida Keys. The actual origin is debated, but it most likely was created in the early 20th century.
The traditional recipe uses key lime juice, egg yolks, and sweetened condensed milk. That early version was never baked – a chemical reaction between the lime juice and the protein from the yolks and the condensed milk would thicken the pie, creating it's well-known creamy texture. Today, the pies that contain egg yolks are usually cooked because of the danger or eating raw eggs.
While I do love key lime pie that is made with egg yolks, I find that this version with just lime juice and zest, sweetened condensed milk and sour cream is easier and just as good.
The Difference Between Limes and Key Limes
And now you may be asking – what are key limes? And can I use just regular limes for this pie?
Key Limes, which are naturalized through the Florida Keys, are much smaller in size with a more tart flavor and a thinner skin. The juice is actually yellow in color, which (along with the traditional egg yolks) is why key lime pie is yellow instead of green.
Many grocery stores these days will carry key limes. But if you look closely, you'll see that many of those come from Mexico. There is a debate whether or not they are as good as the key limes that actually come from Florida. Since I live so far away from Florida, all I have are the Mexican key limes.
You can also purchase key lime juice pretty easily. There is a brand that comes out of Florida. I do always try for fresh juice whenever possible, though, as I find that bottled juice will never taste as fresh. But it does take time and effort to juice that many limes!
So can you use juice from regular Persian limes instead of Key Limes? Most substitution guides call for substituting a mix of lemon and lime juice for key lime juice, using equal amounts of lemon and lime to equal how much you need in the recipe.
Ingredients
Graham Crackers: For a traditional key lime pie, I like to use regular honey graham crackers.
Sugar: The sugar will sweeten up the crust.
Butter: Salted or unsalted butter will work just fine here.
Sweetened Condensed Milk: Make sure you are using sweetened condensed milk, not evaporated milk. I know they get mixed up sometimes. But the sweetened condensed milk not only gives the pie its sweetness, but it also gives it its texture and helps the pie to set up.
Key Lime Juice and Zest: We talked about both of these up above.
Sour Cream: The sour cream helps to keep the pie nice and creamy. Don't worry – you don't taste the sour cream in the final pie!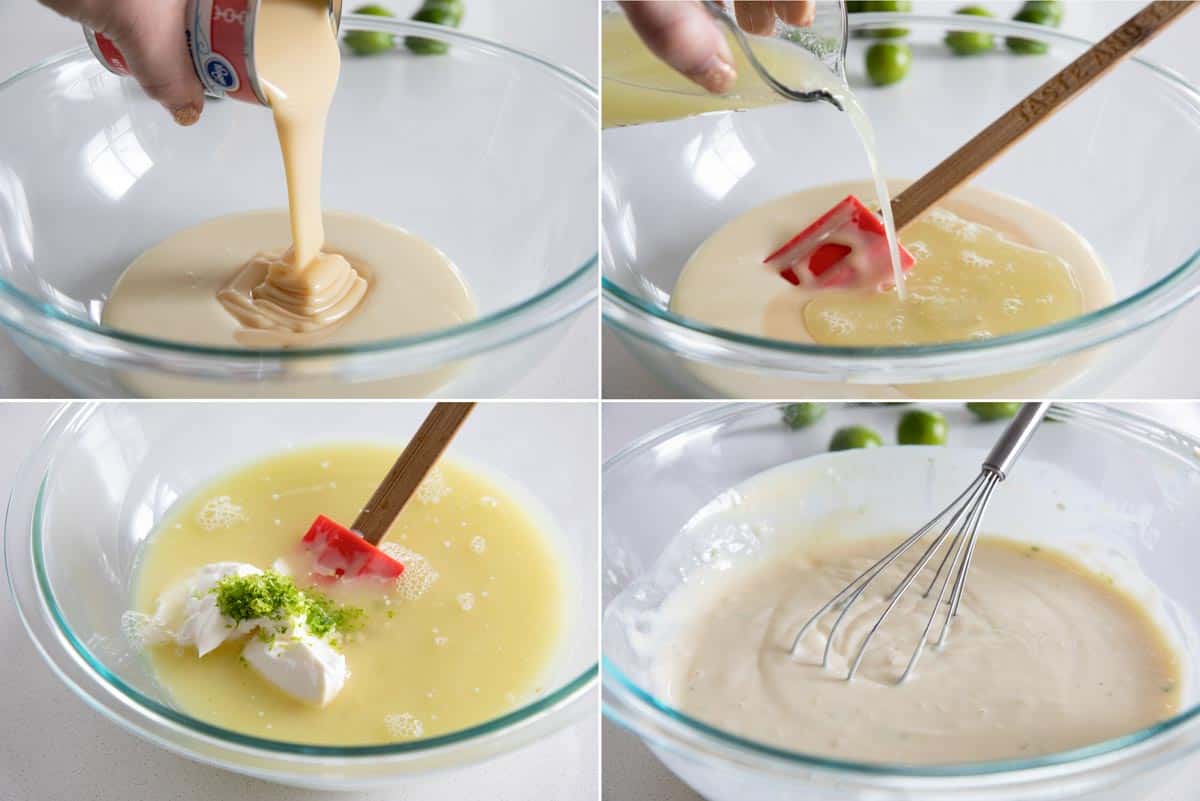 How to Make Key Lime Pie
1: Start by making the crust with graham cracker crumbs, sugar and butter. Let the crust cool.
2: To make the filling, combine the sweetened condensed milk, lime juice, sour cream and lime zest.
3: Stir it all together until fully combined.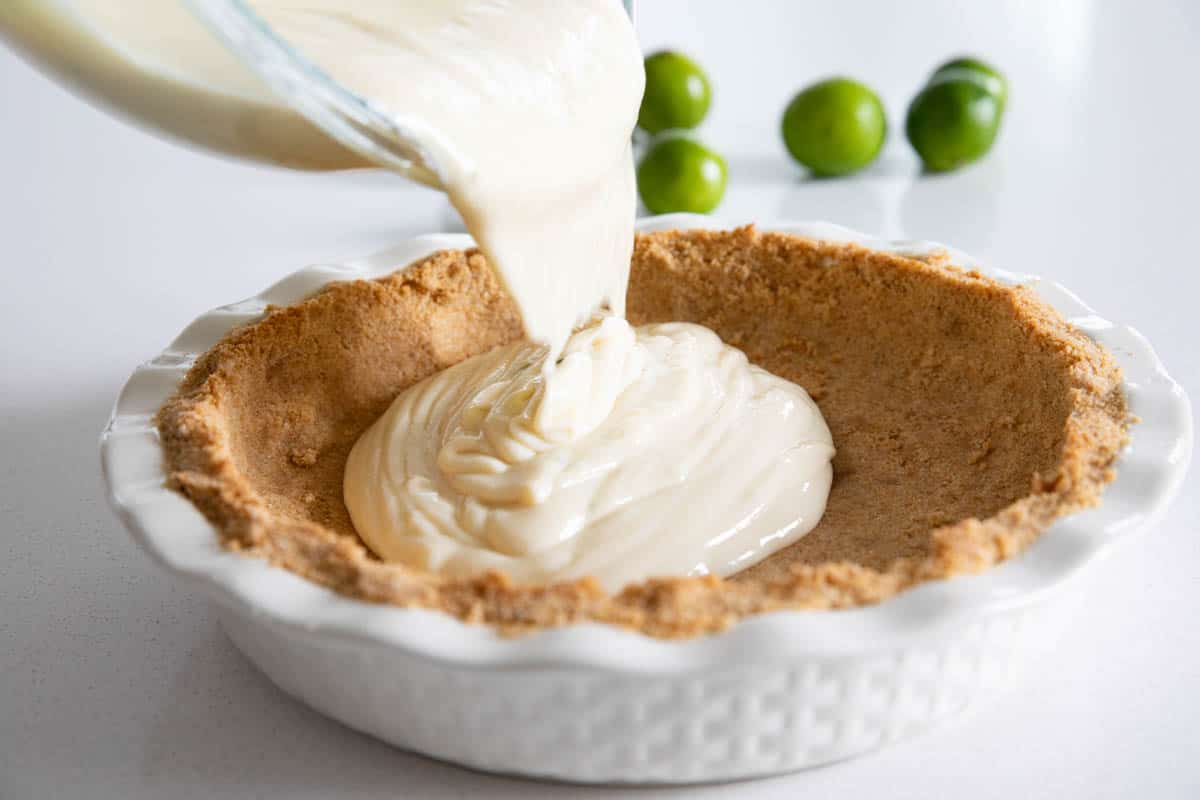 4: Pour the filing into the crust and bake just until the filling is almost set.
5: Let the pie cool, then refrigerate for at least 4 hours.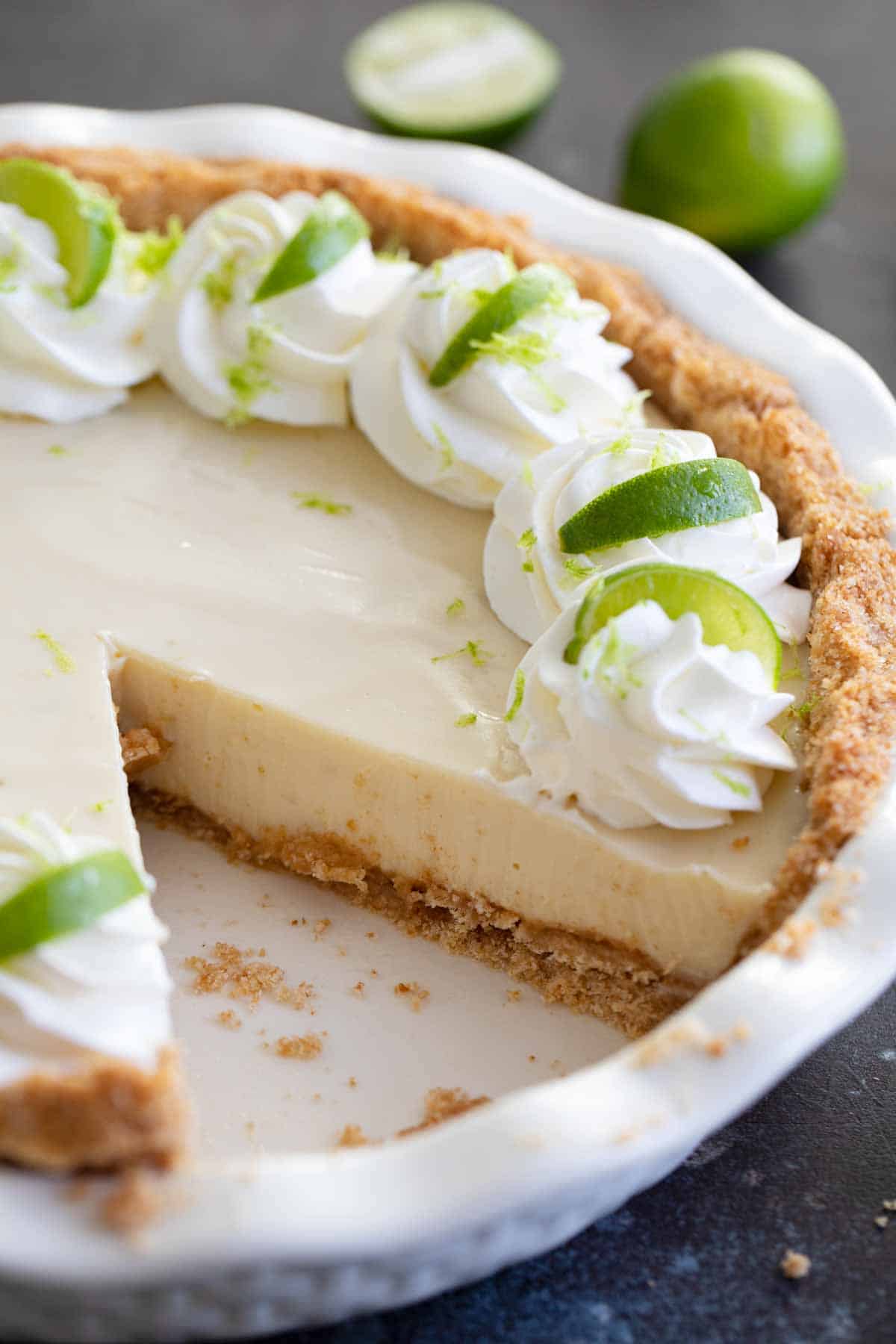 Tips and Tricks
You can use a premade graham cracker crust, but I find the few minutes it takes to make one from scratch is totally worth it.
Like I mentioned above, you can also use bottled key lime juice, but I prefer fresh.
The key lime zest adds a ton of flavor, but it can also add bitterness. If you want less bitterness, you can cut back on the amount of zest added.
You don't need to bake this pie very long, just long enough for it to set up. 10 minutes should be all you need. The pie will be mostly set, but will still jiggle a bit in the center.
Make sure you refrigerate the pie for at least 4 hours, but overnight is best.
I like to top mine with freshly whipped cream. You can also put a meringue on top of this pie, as well.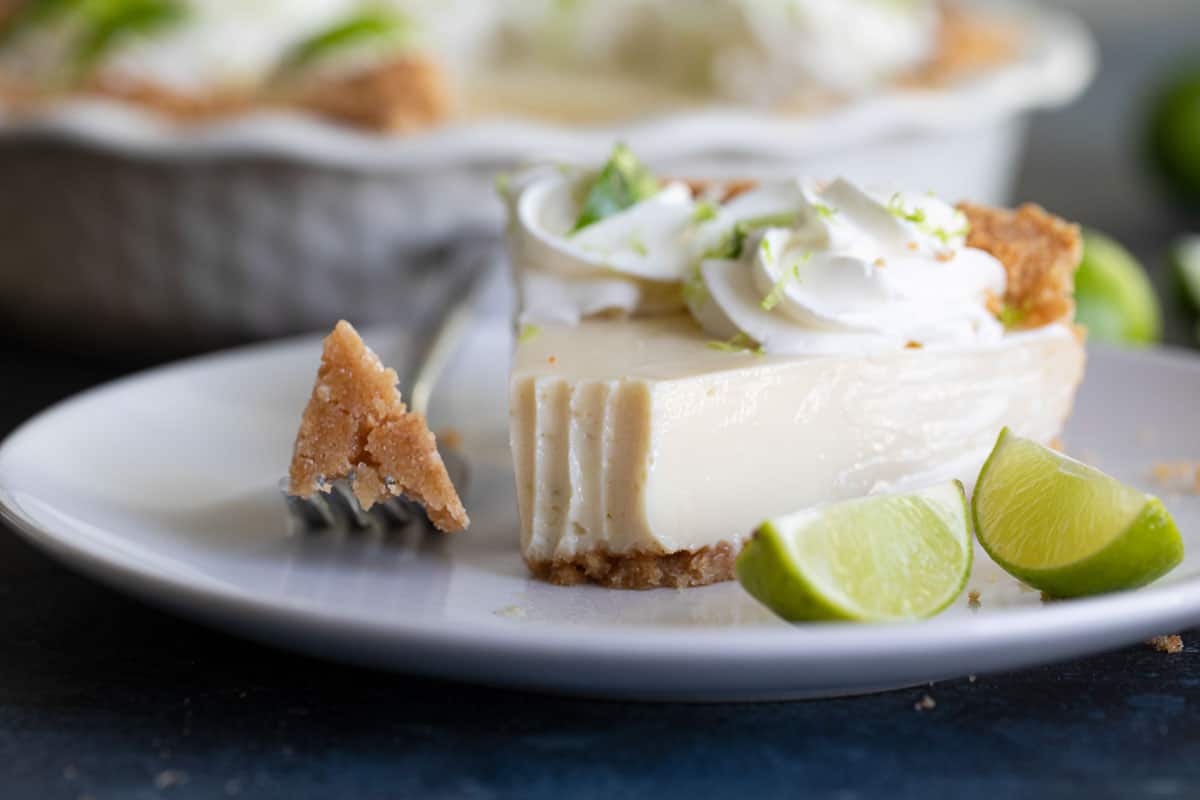 More Pie Recipes
Chocolate Cream Pie
Classic Pecan Pie
Lemon Cream Pie
Sour Cream Apple Pie
Coconut Cream Pie
Things You'll Need For This Key Lime Pie
If you are using fresh limes, you'll need a juicer. I just have a super simple, inexpensive hand juicer. But one of these manual juicers would work great, too.
I like using a deep dish pie dish for this pie. You could most likely use a regular pie dish, but I like to make sure I have plenty of space so it won't overflow.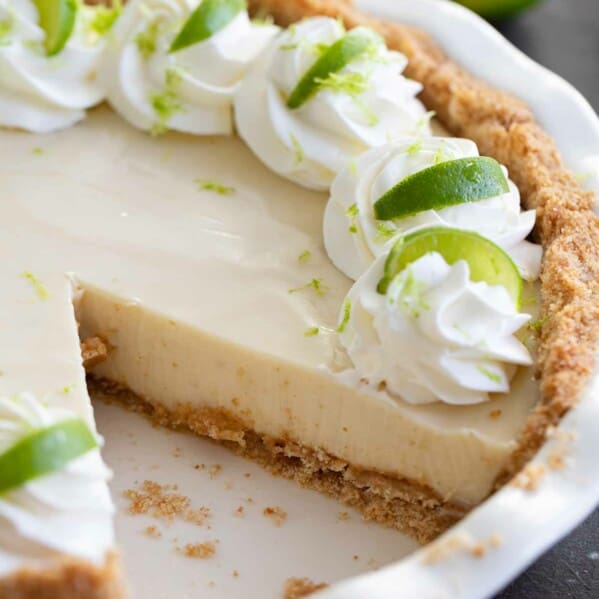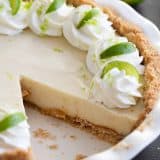 Key Lime Pie
---
Author:
Prep Time: 15 minutes
Cook Time: 17 minutes
Total Time: 4 hours 32 minutes
Yield: 8 servings 1x
Category: Dessert
Method: Bake
Cuisine: American
Description
Creamy and rich with just the right amount of zing, this Key Lime Pie is simply the best! You're only a few ingredients away from this American classic.
---
Scale
Ingredients
Crust:
1 1/2 cups graham cracker crumbs
1/3 cup sugar
6 tablespoons butter, melted
Pie:
2 cans (14 oz each) sweetened condensed milk
3/4 cup key lime juice
1/2 cup sour cream
1 1/2 teaspoons key lime zest
Whipped cream, optional
---
Instructions
Preheat the oven to 350ºF.
In a large bowl, combine the graham cracker crumbs, sugar and butter. Stir until the mixture is combined and has a sandy texture.
Pour the mixture into a deep-dish pie pan. Press the crumbs evenly along the bottom and up the sides of the dish. (I like to use a flat bottomed cup or measuring cup to make sure the crumbs are firmly pressed in and even.)
Bake the crust in the preheated oven for 7 minutes. Remove and allow to cool.
In a large bowl, whisk together the sweetened condensed milk, lime juice, sour cream and lime zest until smooth.
Pour the filling into the cooled graham cracker crust. Smooth out the top.
Return the pie to the oven to bake for an additional 10 minutes, or until just set.
Allow the pie to come to room temperature before covering and refrigerating until completely chilled, several hours or overnight.
Served topped with whipped cream, if desired.
Recipe Notes:
Nutrition information provided as an estimate only. Various brands and products can change the counts. Any nutritional information should only be used as a general guideline. Nutrition information does not include any optional ingredients.
Nutrition
Serving Size: 1 slice
Calories: 533
Sugar: 67 g
Sodium: 243 mg
Fat: 20 g
Saturated Fat: 13 g
Unsaturated Fat: 3 g
Trans Fat: 0 g
Carbohydrates: 77 g
Fiber: 1 g
Protein: 9 g
Cholesterol: 48 mg
Keywords: key lime pie, key lime pie recipe, pie, key lime, lime dessert