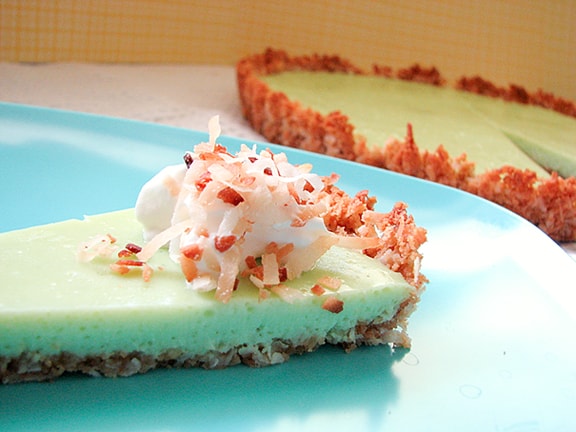 A few years ago, I went on a cruise that took me to Key West. Of all of the exciting my favorite spot. Key West is part of the Florida Keys, a group of islands south of the tip of Florida. The water is the most amazing color of blue, and I even saw some dolphins swimming next to a boat ride I took there. While on the island, we just had to taste of authentic Key Lime Pie, and I enjoyed every last bite of it. I can't remember the name of the shop where we bought the pie from now, but it was the cutest shop with everything key lime – from candy to drinks to pie.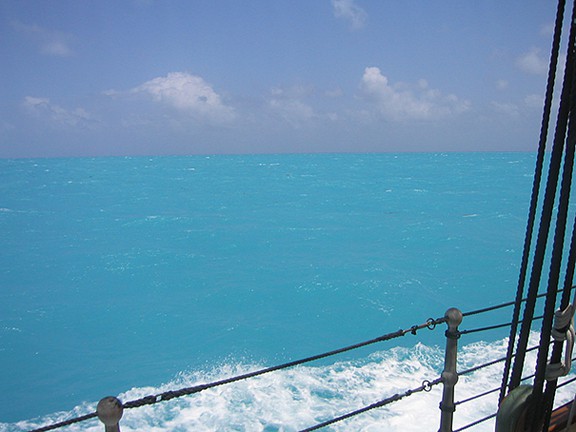 I have been craving key lime pie ever since seeing Andrea's pie at Andrea's Recipes. I have never taken part in Sugar High Friday. (So many blogging events and so little time!) But when I saw that the theme this time around was Tropical Paradise, (hosted by Mary at Alpineberry) I knew it would be the perfect opportunity to get my key lime fix. Thank goodness I was really in a baking mood yesterday, because I am cutting it a little close for the deadline. Andrea said that she has a hard time finding Key limes – and I don't know why, but they are always at the grocery store here (which is odd considering I can't usually find anything here!!) So I stopped at the store on my way home and picked up 2 bags, each weighing 1 pound each. I was even more surprised to see that the key limes were cheaper than the regular limes – only $1.79 a pound! (I'm wondering if they really are key limes, though….I always thought they were called key limes because they were grown in Florida, but these were grown in Mexico. Hmmmm……)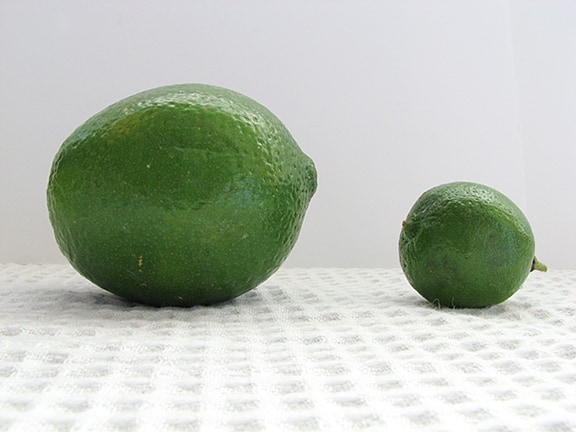 For anyone who has never seen a key lime before, I took a picture of a key lime compared to a regular lime. My regular lime was only about 3 inches across, so this shows just how small they are. The key lime has a stronger flavor than the normal lime which gives the key lime pie that extra kick.
Because my last tart was such a success, I decided to make this into a tart instead of a pie, and to bring in some coconut to make it even more tropical. My husband wanted a chocolate crust, but I went against his wishes, thinking the chocolate would take away from the lime. I kind of winged it on the crust, but it turned out great. It is a little too crumbly, but it brings the perfect amount of coconutty-ness that I was looking for. I was going to use Nilla Wafers instead of graham crackers, but I realized when I got home that I didn't have any, but the graham crackers worked well. I followed Andrea's recipe for the filling. I only made one change. I read through a few recipes online, and most commented about how the filling will be yellow instead of green, as the juice from the key lime is more yellow. But the key lime pie I had in Key West was green, and I wanted a green tart! So the only change I made was to add a little bit of green food coloring to get that lime green color.
I served each slice with a bit of whipped cream and some toasted coconut, and it was the perfect dessert to help me with my key lime craving. But I still have almost a pound of key limes left – I'm might end up making a pie to go with my tart!!
Key Lime Tart
CRUST
1 cup sweetened coconut
1 cup graham cracker crumbs
1/4 cup melted butter
Combine all ingredients and press into a tart pan. Bake at 350F for 5 minutes.
FILLING
from Andrea's Recipes
3 egg yolks
1 1/2 teaspoons lime zest
1 (14 oz.) can sweetened condensed milk
2/3 cup key lime juice
In the bowl of the stand mixer, whip the egg yolks and lime zest at high speed until fluffy, about 5 minutes. Slowly add the condensed milk and continue to whip until thick, about 3 or 4 minutes. Reduce the mixer speed to low and slowly add the lime juice, mixing just until combined. The mixture will start to thicken as soon as you add the lime juice. Pour the mixture into the crust. Bake for 10 minutes at 350F or just until set. Cool on a wire rack, and then refrigerate.