My basic pie crust that I have been using for years. Flavorful and flaky – just like a pie crust should be!
I have been trying to decide for quite some time if I would even blog this recipe. Share it with you. Because let's face it – it's just a pie crust. And in this world of blogs and online recipes, it's probably the 1,657,008 pie crust recipe to hit the net. But after thinking about it, I decided it was a must.
When I first started blogging (what feels like eons ago,) my blog was very different. I was an Allrecipes addict, and loved the fact that you could go onto a recipe and tell everyone what you thought of that recipe. Changes you made, changes you might make in the future… it was all there. And when I happened across a food blog one day, the addiction was immediate. It was like allrecipes, but a lot more information. And these beautiful photos accompanied the blog posts that I would read.
When I first started my blog, it was more like my own online allrecipes – my online journal of the recipes I had tried. I shared it all – the good, the bad and the ugly. I shared pretty much every recipe that came out of my kitchen.
Today, it's different. I love, love, love blogging and the blogging community, but sometimes it seems to be more about the new, best thing. There is almost this underlying, unspoken rule that if it's been done before, you'd better not do it again. And while I'm all for coming up with new and inventive recipes, this draw to be "different" sometimes takes me away from the basics. But let's face it – without the basics, we are lost. I also sometimes forget that 98% of you reading aren't food bloggers. And that you aren't necessarily looking for some grand interpretation of a recipe. You want something real. Something that you can produce in your own kitchen. Something that your family and friends will love.
This recipe is exactly that. I have tried so many different pie crust recipes, it's ridiculous. But every single time, I come back to this recipe. It's basically a family recipe, a version used by my grandma, then my mom, and now me. I have changed it up a little bit after finding what works best for me (half butter instead of all shortening, par-baking the crust with weights).
Since we are knee-deep in holiday planning (I'm looking at you, uber organized Facebook fans), I figured this would be the perfect time to share my pie crust recipe with you. Because let's face it – the pie is more important than the turkey. At least I think it is! 🙂

Print
Basic Pie Crust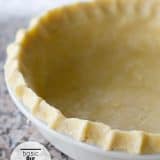 My basic pie crust that I have been using for years. Flavorful and flaky – just like a pie crust should be!
Prep Time:

15 minutes

Cook Time:

30 minutes

Total Time:

2 hours

Yield:

2 pie crusts
Ingredients
2 1/2 cups all-purpose flour
1 teaspoon salt
dash of sugar
1/2 cup vegetable shortening
1/2 cup cold butter
1 egg
1/4 cup water
1 tablespoon vinegar
Instructions
Whisk together the flour, salt and sugar in a medium bowl. With a pastry cutter, cut the shortening and butter into the flour mixture until the mixture resembles coarse meal, with pea sized pieces of butter.
Lightly beat the egg, then add it to the water and vinegar. Add the water to the dry ingredients and mix just until the dough comes together. Divide in half, then form into 2 discs. Wrap in plastic wrap and refrigerate until cold, at least 30 minutes.
Once chilled, remove one disc at a time and roll out into a 12-inch circle. (I like to do this between 2 sheets of waxed paper so that I don't have to flour the work surface.) Transfer the dough to a 9-inch pie dish. Trim the edges and crimp. Poke the bottom of the pie crust with a fork several times.
For a fully baked crust: Preheat oven to 350F. Line the pie crust with parchment paper. Fill with pie weights or dried beans, about half to 2/3 full. Bake for 20 minutes. Remove from the oven and carefully remove the paper and weights. Return the crust to the oven and bake an additional 10 minutes or until golden brown.
Notes
*This recipe makes 2 crusts, but is hard to half since it only calls for one egg. If not using both crusts, you can freeze the second crust until needed.
Pie recipes to use that pie crust with!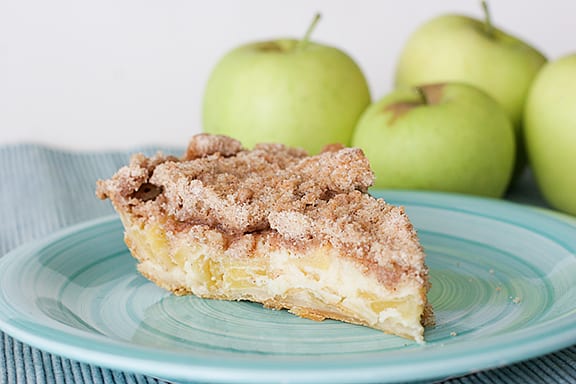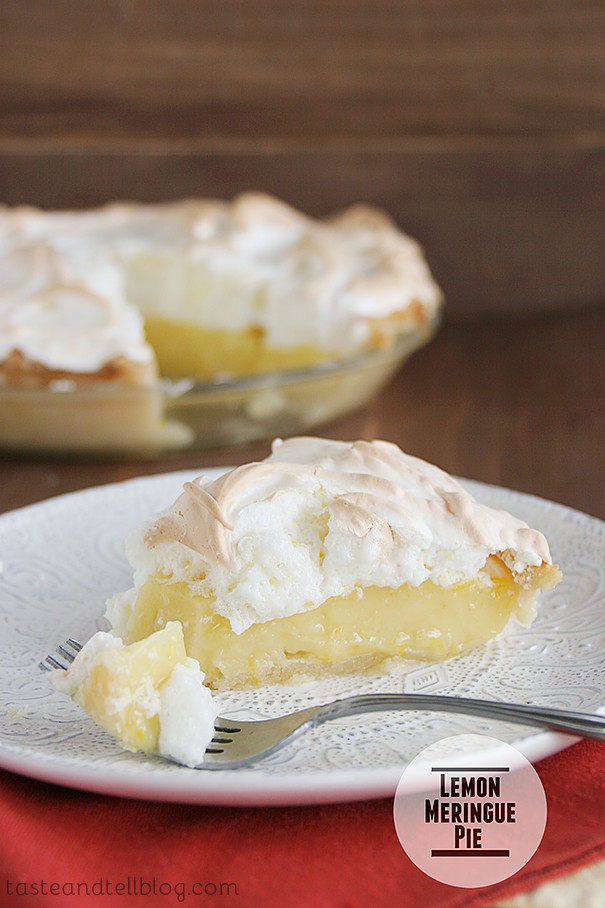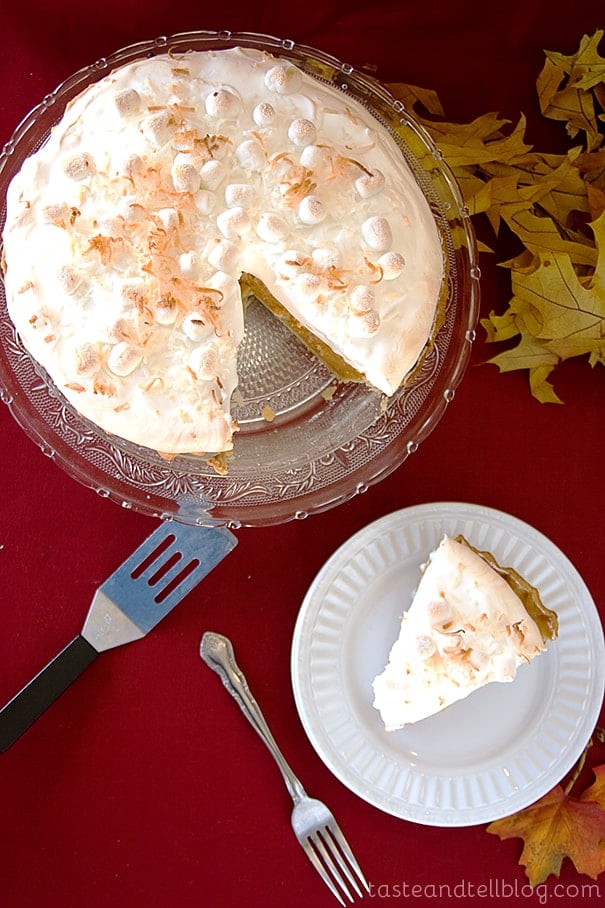 Sweet Potato Coconut Pie with Marshmallow Meringue
Around the Web:
Dutch Apple Pie from A Spicy Perspective
Old Fashioned Raspberry Pie from Sweet Basil
Classic Pecan Pie from Barbara Bakes