Rich, creamy and silky, this Chocolate Cream Pie is a chocolate lovers dream! A creamy chocolate filling is topped with whipped cream in this easy, crowd pleasing pie.
Chocolate Cream Pie
I am officially declaring it pie season.
Now that's the way to start a Monday, am I right? But really, I have waxed poetic about my love of pie here on Taste and Tell, but I haven't been so great at making pie lately. And while Thanksgiving is really all about the pie, there are still plenty of occasions for pie coming up. Not that we need a special occasion. Any day is a good day for pie.
My daughter was complaining about being bored one day, I told her to grab a few cookbooks and look through them, and I'd let her decide what pie to bake. She seriously took over an hour, going through and looking at pictures and reading titles. She made a list, complete with page numbers so we could find the pies easier.
I have decided that I should do this more often, as she eventually chose this Chocolate Cream Pie. I've said it before, but while I do like chocolate, it is not usually the first choice on my list. I tend to go for something fruity or lemony. So I'm glad that she chose this pie to switch things up for me!
This Chocolate Cream Pie is definitely a chocolate lover's dream come true. It is very rich and chocolatey, and smooth and creamy. I can see why it's called a dream pie, because it really is dreamy!!
Everyone needs a good chocolate pie in their arsenal, and I think I've found mine!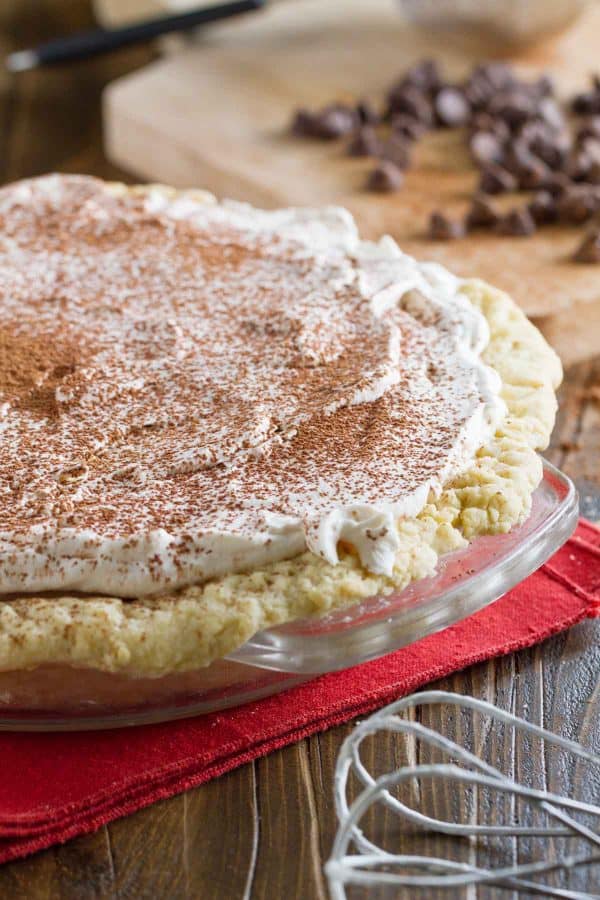 Some Notes about this Chocolate Cream Pie
I use my favorite Basic Pie Crust Recipe for this pie.
The key to this pie is patience. It's an easy pie to make, but it does take some time. Make sure you give yourself enough time to cool down the filling, then the pie needs to hang out in the refrigerator for at least 6 hours, preferably overnight. This means it's a great pie to make the night before a holiday, though, which frees you up on the day you need it!
Even with the whipped cream on the top, this pie will hold up for leftovers as well. Covered, it should be good for a few days. I just cover it with plastic wrap and keep it in the refrigerator.
See how to make a Chocolate Cream Pie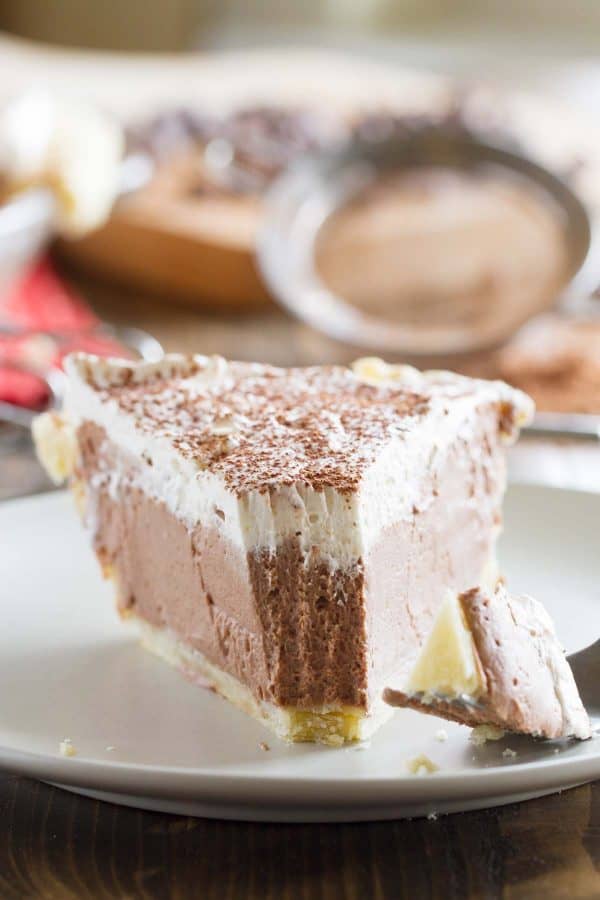 Other favorite pie recipes
Classic Pecan Pie Recipe
Coconut Cream Pie
Taffy Apple Cheesecake Pie
Raspberry Banana Pie Recipe
Pumpkin and Butter Pecan Ice Cream Pie
Tools Used to Make this Chocolate Cream Pie
Any standard pie dish should work for this recipe.
A whisk is really important as you want to make sure everything gets fully combined.
I love to use my KitchenAid hand mixer to beat the cream.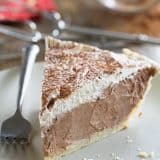 Chocolate Cream Pie
---
Author:
Prep Time: 30 mins
Cook Time: 10 mins
Total Time: 9 hours 40 mins
Yield: 8 servings 1x
Category: Dessert
Method: Bake
Cuisine: American
Description
Rich, creamy and silky, this Chocolate Cream Pie is a chocolate lovers dream! A creamy chocolate filling is topped with whipped cream in this easy, crowd pleasing pie.
---
Scale
Ingredients
1/2 cup sugar
1/4 cup cornstarch
1/8 teaspoon salt
1 cup milk
1 cup semi-sweet chocolate chips
2 egg yolks, slightly beaten
3 oz cream cheese, softened
2 cups heavy whipping cream, divided
1 1/2 teaspoons vanilla extract, divided
1 fully baked pie crust, cooled
---
Instructions
In a medium saucepan, combine the sugar, cornstarch and salt. Slowly whisk in the milk. Add the chocolate chips and egg yolks. Turn the heat on to medium and cook, stirring constantly, until the mixture is thickened. Remove the pan from the heat and add in the cream cheese. Whisk until the cream cheese is melted and fully incorporated. Cover the surface of the mixture with a piece of plastic wrap. Refrigerate just until cooled, about 1 hour.
Once the filling is cooled, place 1 1/4 cups of the cream in a large bowl with 1 teaspoon of the vanilla extract. Beat until soft peaks form. Fold the whipped cream into the chocolate filling. Pour the filling into the cooled pie crust, cover and refrigerate for 6 to 8 hours, or overnight.
When ready to serve the pie, combine the remaining 3/4 cup cream and 1/2 teaspoon of vanilla extract in a large bowl. Beat until stiff peaks form. Spread the whipped cream over the top of the pie. If desired, sprinkle the top of the pie with cocoa powder, add shaved chocolate, or just leave it as is!
Recipe Notes:
slightly adapted from Pillsbury Best of the Bake Off
Nutrition information provided as an estimate only. Various brands and products can change the counts.
Nutrition
Serving Size: 1 slice
Calories: 574
Sugar: 32 g
Sodium: 246 mg
Fat: 41 g
Saturated Fat: 24 g
Unsaturated Fat: 12 g
Trans Fat: 0 g
Carbohydrates: 50 g
Fiber: 2 g
Protein: 4 g
Cholesterol: 147 mg
Originally Published November 30, 2015