Rich, creamy and silky, this Chocolate Dream Pie is a chocolate lovers dream! A creamy chocolate filling is topped with whipped cream in this easy, crowd pleasing pie.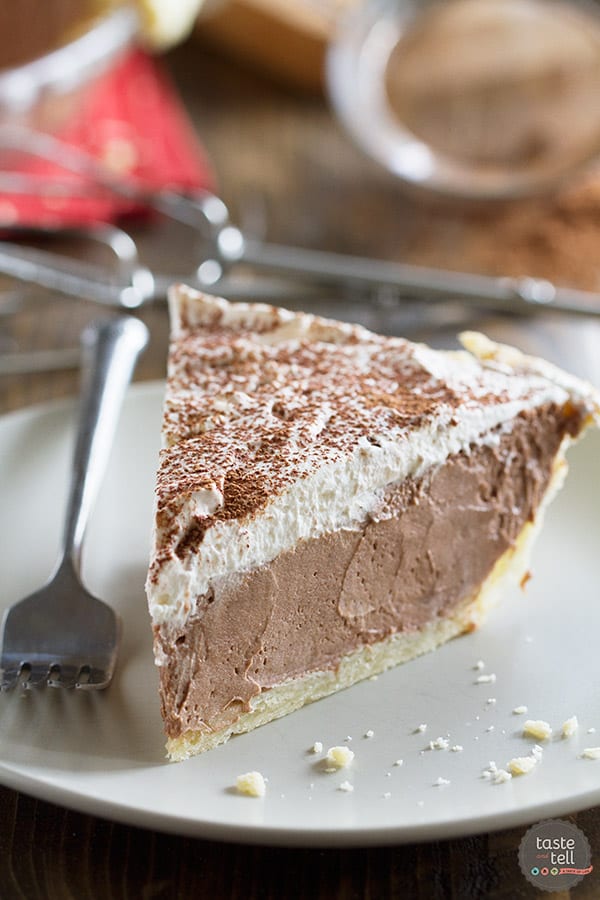 I am officially declaring it pie season.
Now that's the way to start a Monday, am I right? But really, I have waxed poetic about my love of pie here on Taste and Tell, but I haven't been so great at making pie lately. And while Thanksgiving is really all about the pie, there are still plenty of occasions for pie coming up. Not that we need a special occasion. Any day is a good day for pie.
For Thanksgiving, I decided to make one old pie recipe and one new recipe. As my daughter was complaining about being bored one day, I told her to grab a few cookbooks and look through them, and I'd let her decide what that new pie would be. She seriously took over an hour, going through and looking at pictures and reading titles. She made a list, complete with page numbers so we could find the pies easier.
I have decided that I should do this more often, as she eventually chose this Chocolate Dream Pie. I've said it before, but while I do like chocolate, it is not usually the first choice on my list. I tend to go for something fruity or lemony. So I'm glad that she chose this pie to switch things up for me!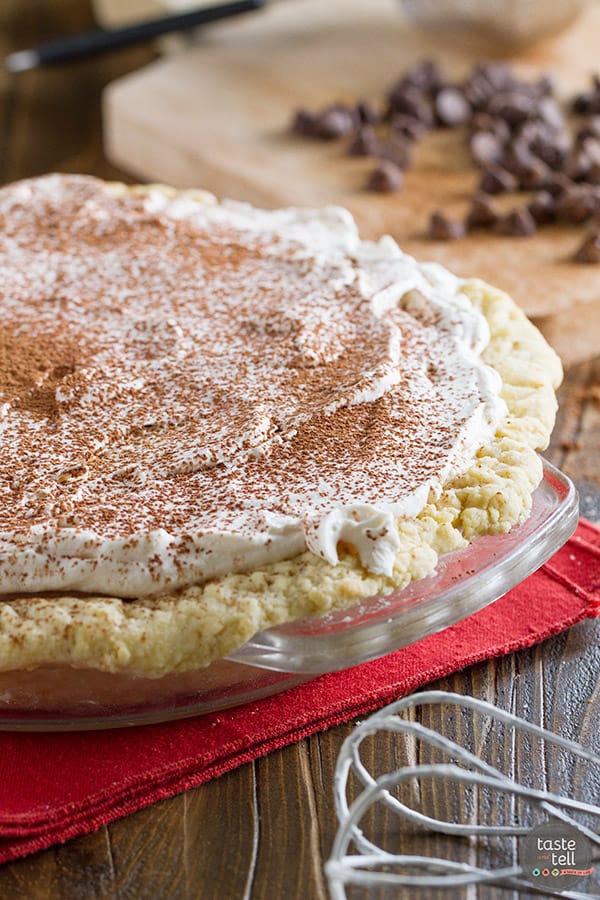 This Chocolate Dream Pie is definitely a chocolate lover's dream come true. It is very rich and chocolatey, and smooth and creamy. I can see why it's called a dream pie, because it really is dreamy!!
I used my favorite pie crust, which makes a super flaky, tasty crust. Then you make a pudding-like filling that is lightened with whipped cream. An extra addition of whipped cream on top, and you are in business!!
This pie was better than I was even expecting. Even though we had 15 pies on Thanksgiving, I still went back for another bite of this Chocolate Dream Pie. Everyone needs a good chocolate pie in their arsenal, and I think I've found mine!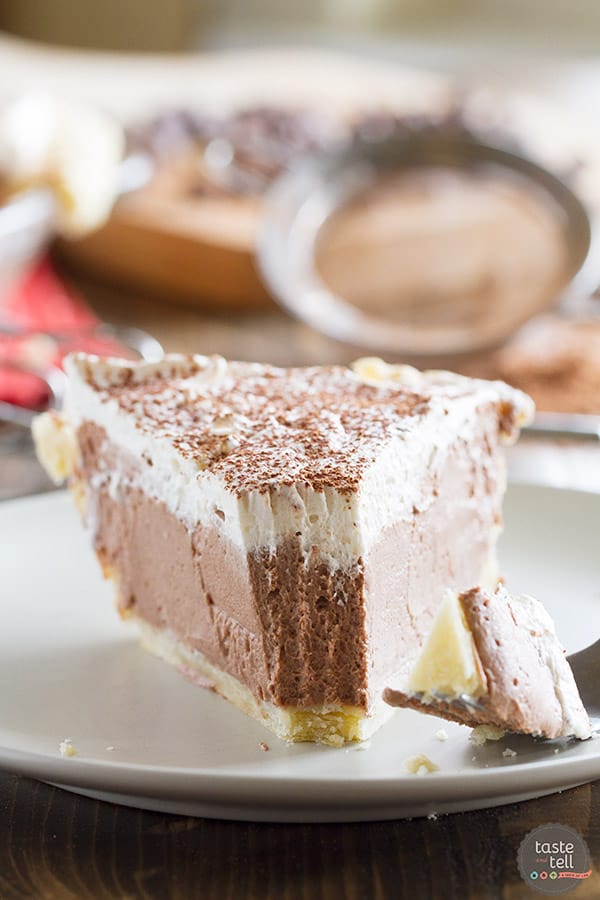 Like what you see here? Make sure you are following Taste and Tell for more recipes and ideas!
Facebook | Pinterest | Instagram | Twitter | Google+ | Weekly Newsletter | Feedly | Bloglovin
Print
Chocolate Dream Pie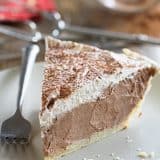 Rich, creamy and silky, this Chocolate Dream Pie is a chocolate lovers dream! A creamy chocolate filling is topped with whipped cream in this easy, crowd pleasing pie.
Prep Time:

25 mins

Cook Time:

10 mins

Total Time:

35 mins

Yield:

10 servings
Ingredients
1/2 cup sugar
1/4 cup cornstarch
1/8 teaspoon salt
1 cup milk
1 cup semi-sweet chocolate chips
2 egg yolks, slightly beaten
3 oz cream cheese, softened
2 cups heavy whipping cream, divided
1 1/2 teaspoons vanilla extract, divided
1 fully baked pie crust, cooled
Instructions
In a medium saucepan, combine the sugar, cornstarch and salt. Slowly whisk in the milk. Add the chocolate chips and egg yolks. Turn the heat on to medium and cook, stirring constantly, until the mixture is thickened. Remove the pan from the heat and add in the cream cheese. Whisk until the cream cheese is melted and fully incorporated. Cover the surface of the mixture with a piece of plastic wrap. Refrigerate just until cooled, about 1 hour.
Once the filling is cooled, place 1 1/4 cups of the cream in a large bowl with 1 teaspoon of the vanilla extract. Beat until soft peaks form. Fold the whipped cream into the chocolate filling. Pour the filling into the cooled pie crust, cover and refrigerate for 6 to 8 hours, or overnight.
When ready to serve the pie, combine the remaining 3/4 cup cream and 1/2 teaspoon of vanilla extract in a large bowl. Beat until stiff peaks form. Spread the whipped cream over the top of the pie. If desired, sprinkle the top of the pie with cocoa powder, add shaved chocolate, or just leave it as is!
Don't miss a thing! Follow me on Pinterest to see what I'm pinning!
Visit Taste and Tell's profile on Pinterest.


Bring on the pies! More pie recipes to celebrate the season: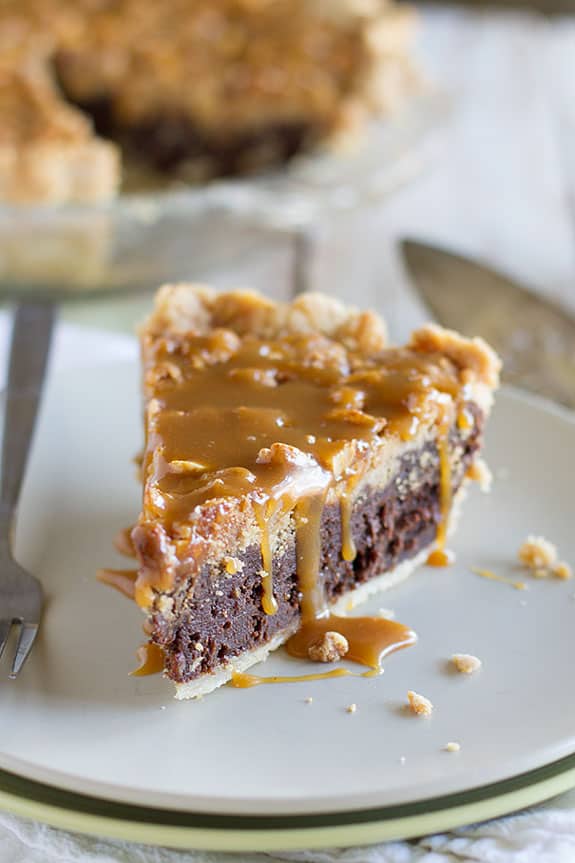 Peanut Butter Fudge Pie with Salted Peanut Butter Caramel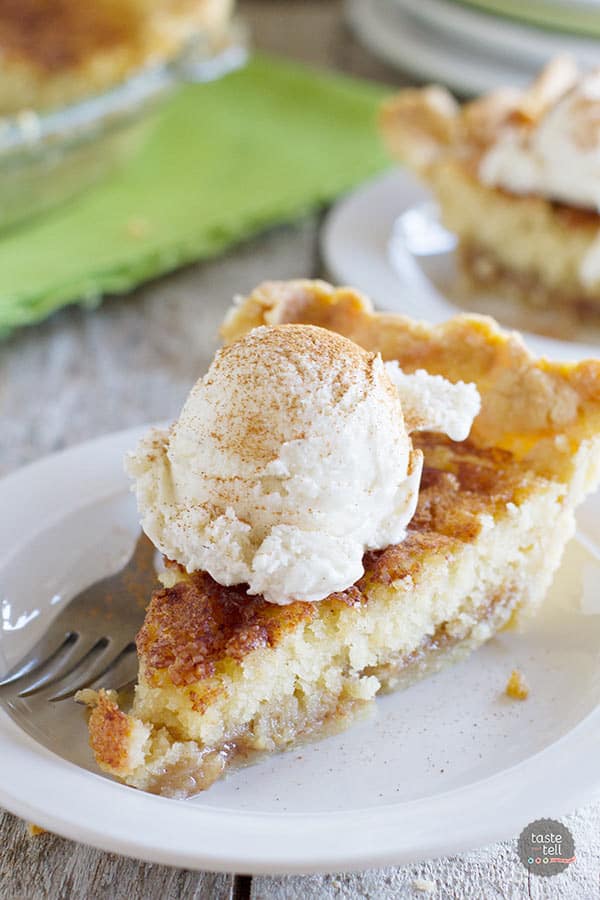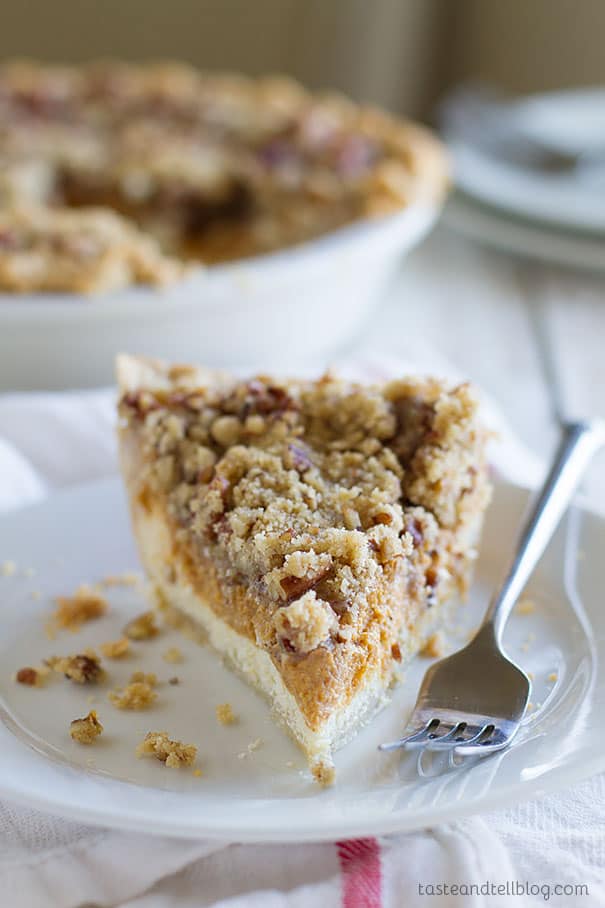 Around the Web:
Chocolate Peanut Butter Pudding Pie from Handle the Heat
S'mores Brownie Pie from Sally's Baking Addiction
Old Fashioned Coconut Custard Pie from Beyond Frosting