A creamy maple filling is topped with whipped cream and sugared almonds in this Maple Cream Pie Recipe that can easily be made without any refined sugar. It is sweet and silky and simply delicious.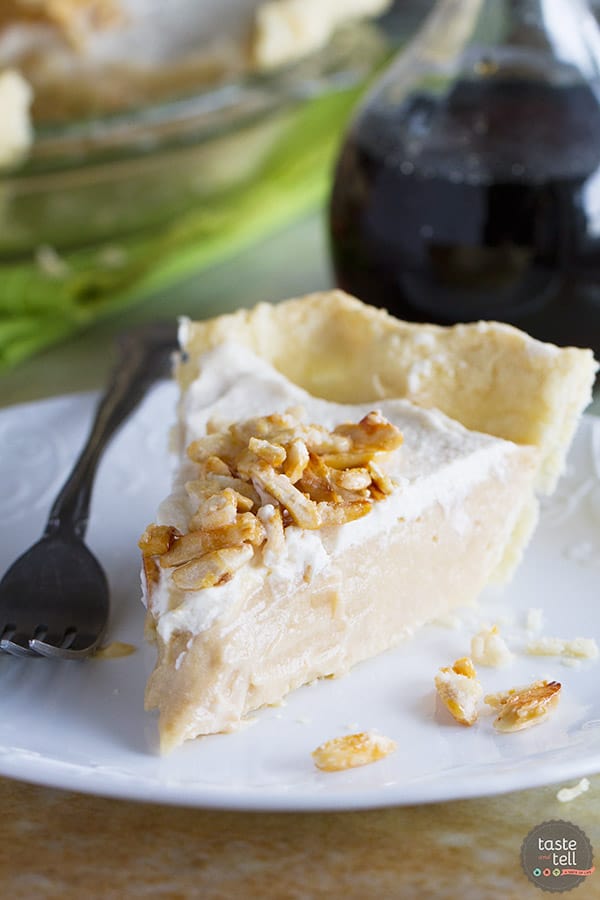 Yum

It's turning into dessert central around here!!
I don't normally go this crazy on the desserts, but seeing that Christmas is this week, and not only is there a Christmas meal to plan and make, but I've also got to get in all of my sweets before the end of the year. 🙂 I've actually been wanting to share this pie for a few weeks now, but sometimes, I'm an unorganized mess. I usually try to sit down after I make something and type up the final recipe. Sometimes I don't have time, but I'll keep my notes, and as long as I write it out within a few days, I'm good.
But sometimes, I completely lose those notes and am left with a delicious pie, photographs of that delicious pie, but no pie recipe.
I was pretty sure I knew the basic recipe, but I wanted to make sure that the recipe was right, so I waited until I had some time this past weekend to remake the recipe.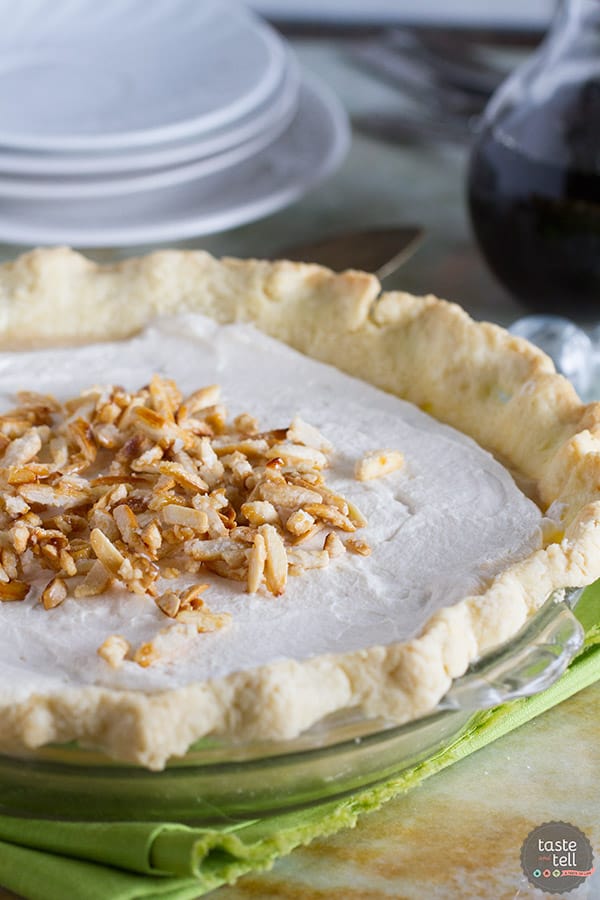 I haven't always been a maple fan. In fact, I didn't grow up eating real maple syrup – we always had pancake syrup (that my mom usually made). So that's all I knew. But sometime in the last few years, maple has become one of my favorite flavors. So I knew this Maple Cream Pie Recipe would be a hit.
This pie is silky and creamy and has just the right amount of maple flavor. I ended up adding a bit of maple extract to up the maple flavor, but if you want something more subtle, you can leave it out. I also decided to sweeten the cream with a little bit of powdered sugar, but if you want to make this refined sugar free, you can definitely leave it out.
And since I'm a texture person, I knew I needed something with a crunch to add to the top of the pie. And sugared almonds sounded like the perfect answer. Again, if you want to make this sugar free, you can either leave the almonds off the pie, or just add regular toasted almonds.
This Maple Cream Pie Recipe just may need to become a regular around here!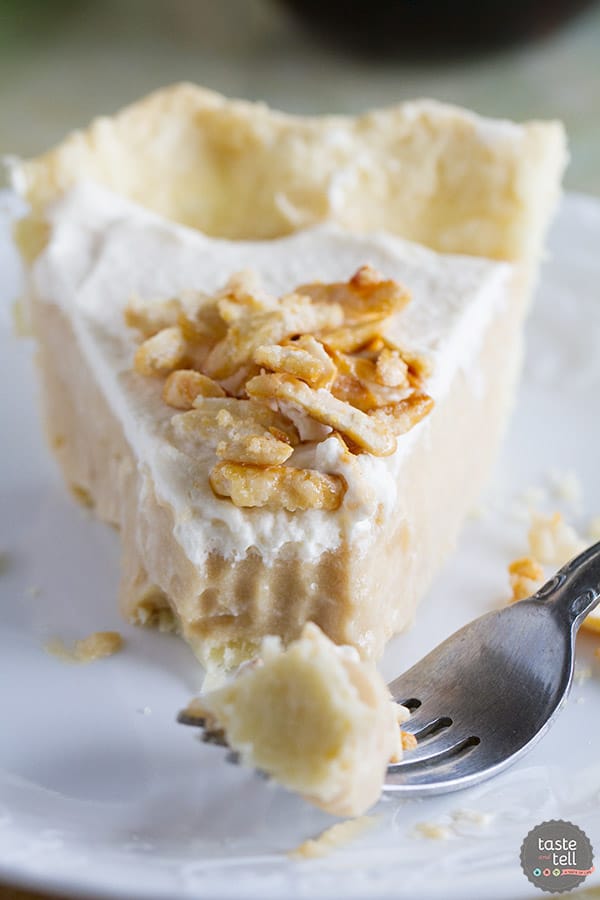 Like what you see here? Make sure you are following Taste and Tell for more recipes and ideas!
Facebook | Pinterest | Instagram | Twitter | Google+ | Weekly Newsletter | Feedly | Bloglovin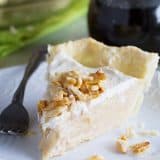 Maple Cream Pie Recipe
---
Author:
Prep Time: 30 mins
Total Time: 30 mins
Yield: 8-10 servings 1x
Description
A creamy maple filling is topped with whipped cream and sugared almonds in this Maple Cream Pie Recipe that can easily be made without any refined sugar. It is sweet and silky and simply delicious.
---
Scale
Ingredients
1/4 cup cornstarch
1/4 teaspoon salt
1 3/4 cups milk, divided
3/4 cup plus 1 tablespoon pure maple syrup, divided
2 egg yolks
2 tablespoons butter, cut into cubes
1/2 teaspoon maple extract
1 cup heavy whipping cream
2 tablespoons powdered sugar (optional)
1 fully baked pie crust, cooled
1/2 cup slivered almonds
3 tablespoons sugar
---
Instructions
In a large saucepan, whisk together the cornstarch and the salt. Slowly whisk in 1/2 cup of the milk. Whisk in the rest of the milk and 3/4 cup of maple syrup. Cook over medium heat until thickened, then reduce the heat and continue to cook for 2 minutes, stirring constantly.
Turn off the heat, then slowly whisk in some of the hot mixture into the egg yolks, whisking constantly. Stir the egg mixture back into the saucepan and return the pan to the heat, cooking and stirring constantly for 2 more minutes. Turn off the heat and whisk in the cubes of butter, one at a time, until fully incorporated and melted. Stir in the maple extract. Let the mixture come to room temperature.
Whip the whipping cream until it starts to thicken, then slowly add in the powdered sugar (if using). Continue to whip until soft peaks form. When the pudding mixture is just at room temperature, fold in 3/4 cup of the whipped cream. Pour the pudding into the baked pie crust.
Stir the remaining 1 tablespoon of maple syrup into the remaining cream and spread over the top of the pudding. Refrigerate the pie for a few hours or overnight.
To make the almonds, combine the almonds and the sugar in a skillet over medium heat. Cook, stirring constantly, until the sugar is melted and coats the almonds. Pour out onto a sheet of waxed paper into a single layer. Allow the almonds to cool completely, then break up the almonds.
Just before serving, top the pie with the sugared almonds.
Recipe Notes:
PREP TIME DOES NOT INCLUDE REFRIGERATION TIME.
adapted from Taste of Home
Don't miss a thing! Follow me on Pinterest to see what I'm pinning!
Visit Taste and Tell's profile on Pinterest.


More Pie Favorites: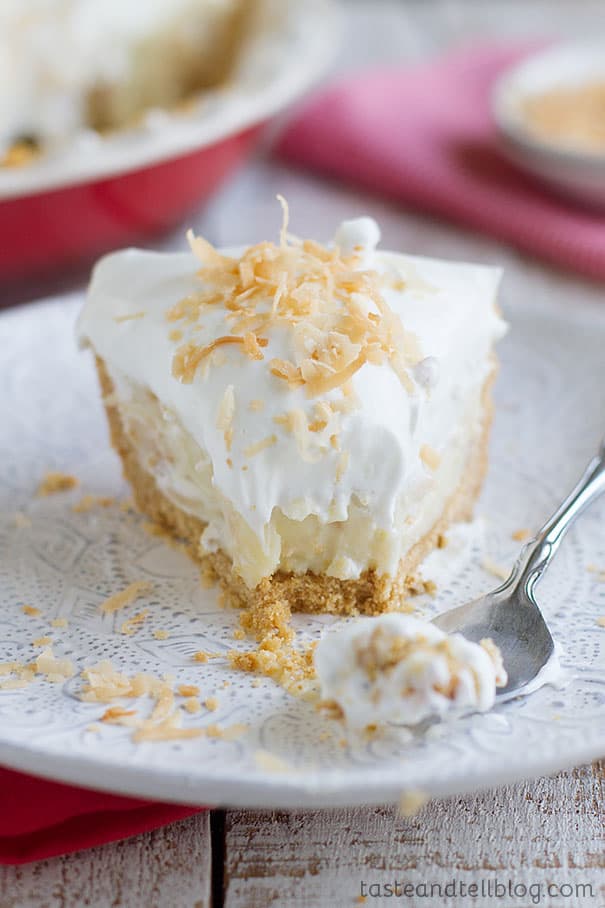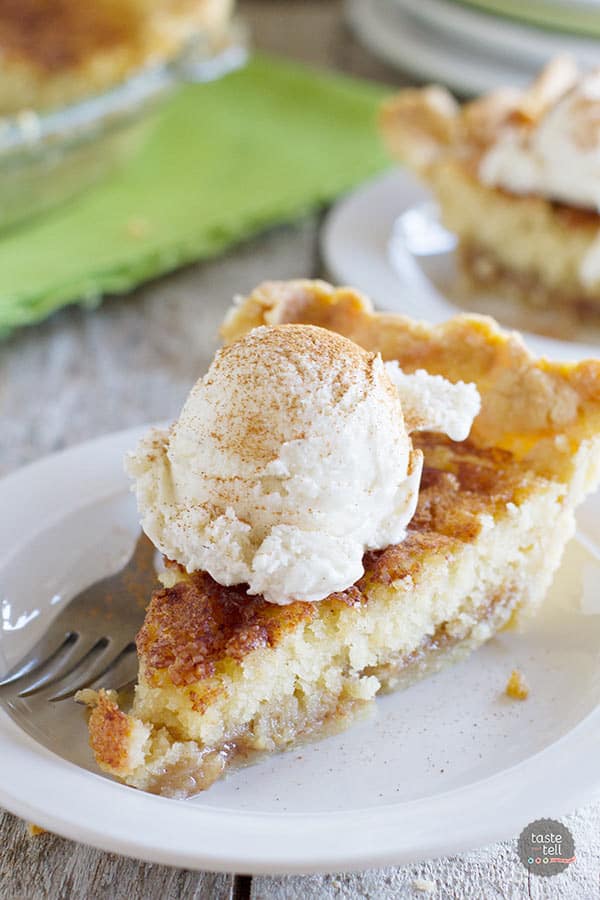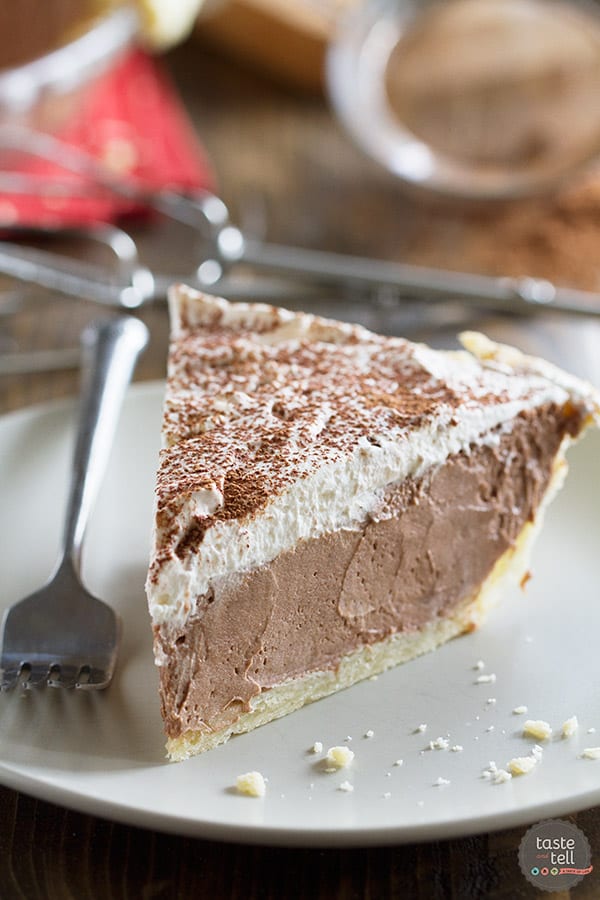 Around the Web:
Streusel-Topped Sweet Potato Pie from Fake Ginger
Coconut Banana Cream Pie from Lemons for Lulu
No Bake Peanut Butter Lover's Pie from Brown Eyed Baker