Take your pie game up a step with this Sweet Potato Pie with Marshmallow Coconut Meringue. A rich, smooth sweet potato pie is topped with a tall marshmallow meringue. A bit of coconut tops off this show stopping pie recipe.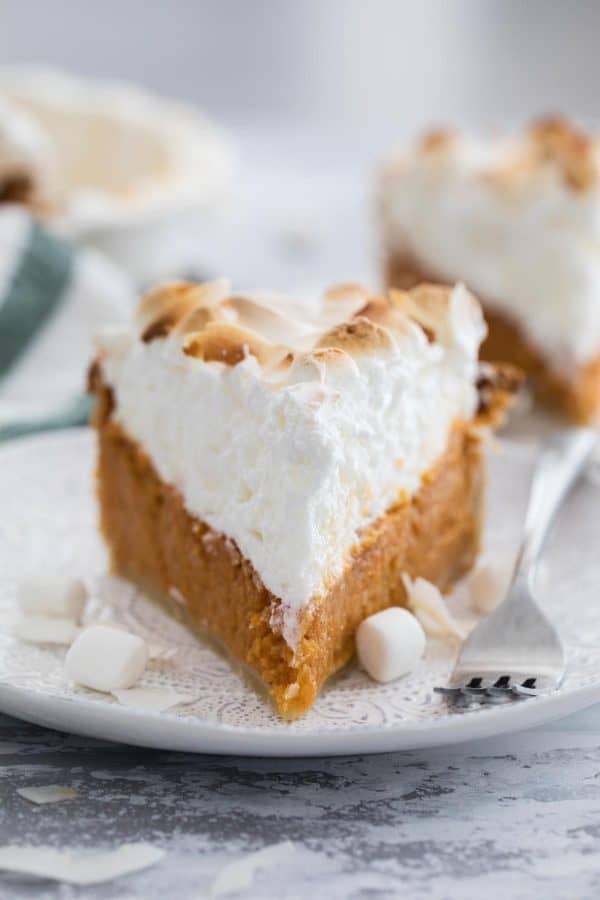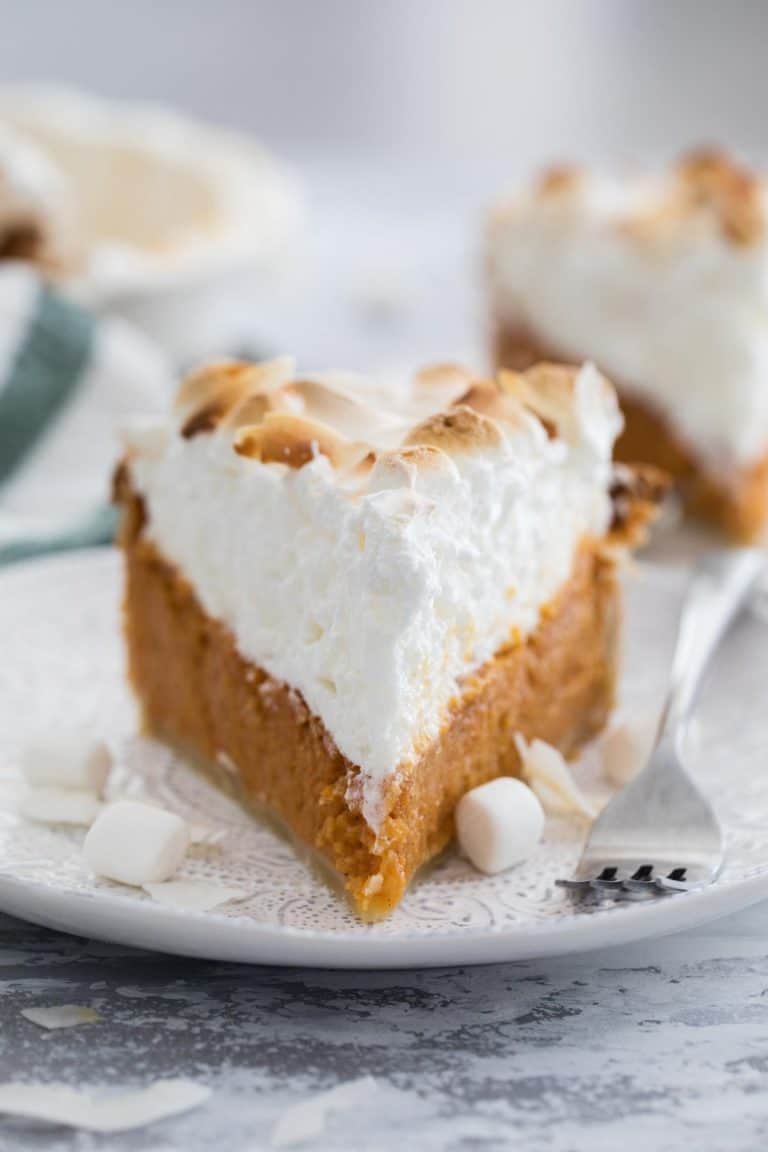 I always start complaining when the weather starts to cool down. Winter isn't my favorite. But there is a bright light through all of the cold. Fall and winter foods are my favorite.
Especially when I can officially say it is pie season.
I have talked about this before numerous times, but my family knows how to do Thanksgiving. Of course the meal is wonderful. Delicious. Perfect. But dessert? Completely insane in all the right ways.
Here's the thing – we all love pie. So we all make pie. And some years, we end up with more pies than people.
I've had this Sweet Potato Pie with Marshmallow Coconut Meringue on my blog for a few years now, but the photos weren't doing it any justice. So I decided to remake it. But the problem was that there were some things about the recipe that I wasn't totally loving. So I went back to the drawing board and came back with this pie. (If you are looking for the original recipe that was posted here, you can find that here.)
If you are a pumpkin pie fan, this Sweet Potato Pie recipe would be a great way to change things up a bit. I'm totally in love with this pie, and the meringue especially.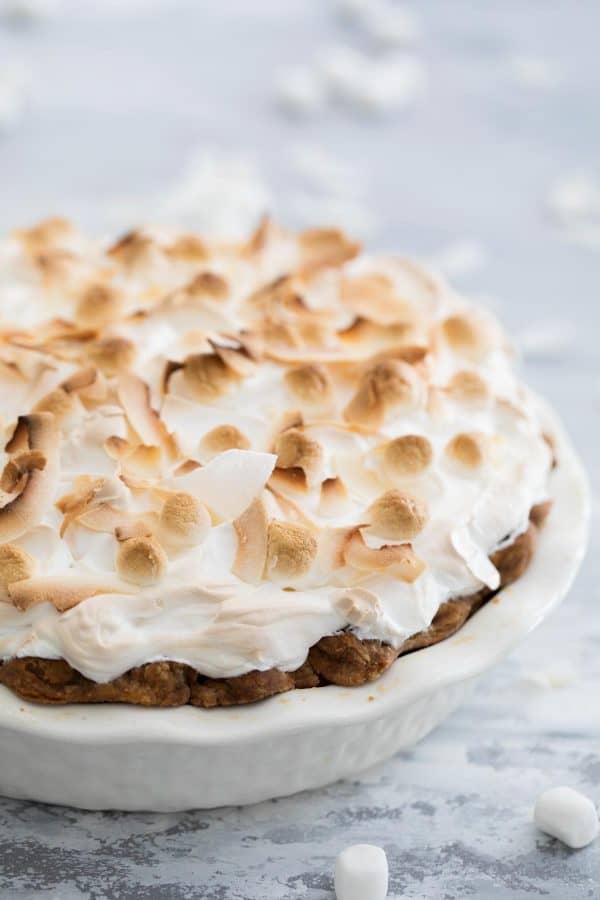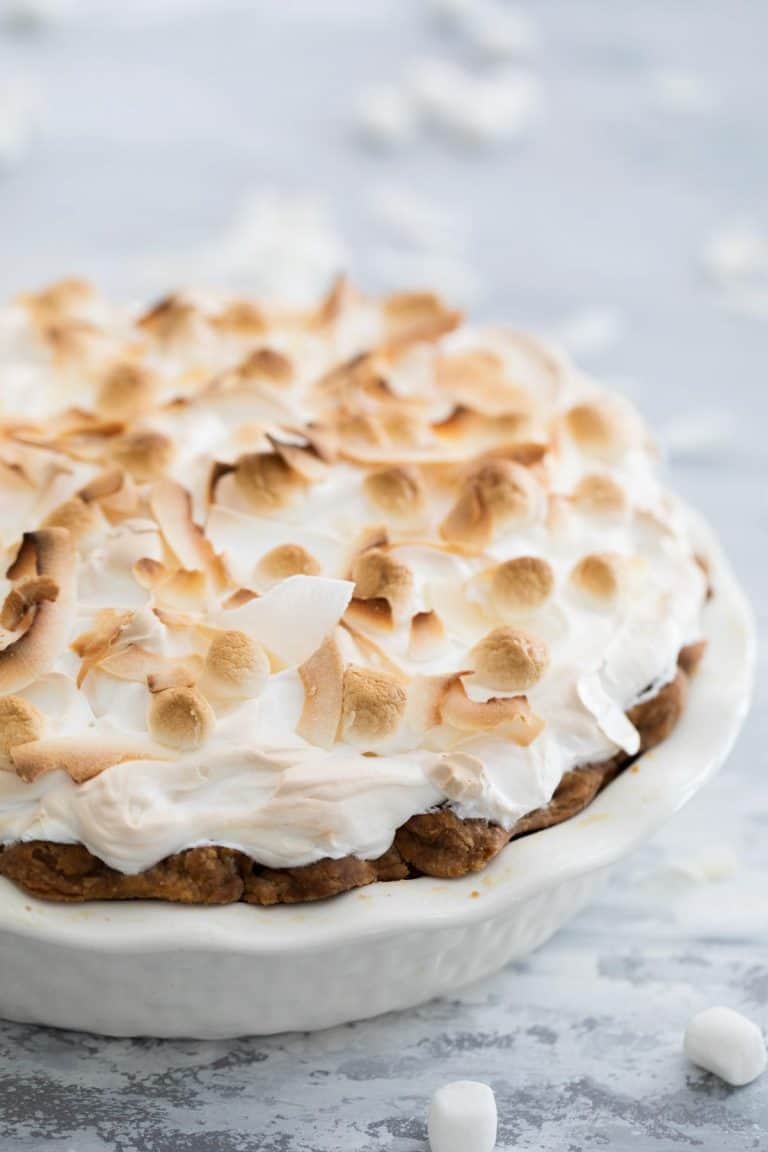 Ingredients in Sweet Potato Pie
This pie has a pie crust, the sweet potato pie filling, and the meringue. Here is what you need.
unbaked pie crust
mashed sweet potatoes
butter
sugar
coconut milk
eggs
vanilla
nutmeg
cinnamon
Egg whites
cream of tartar
marshmallow creme
miniature marshmallows
coconut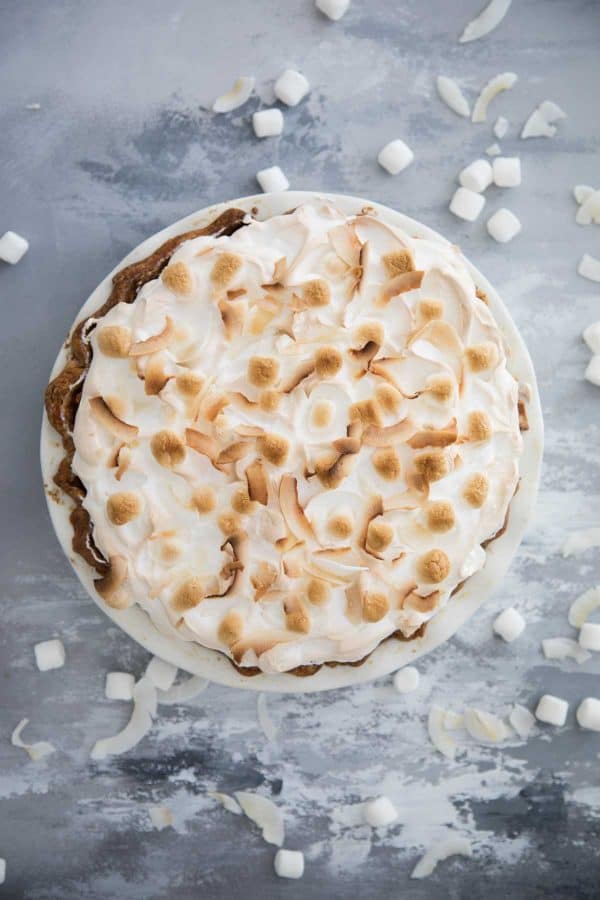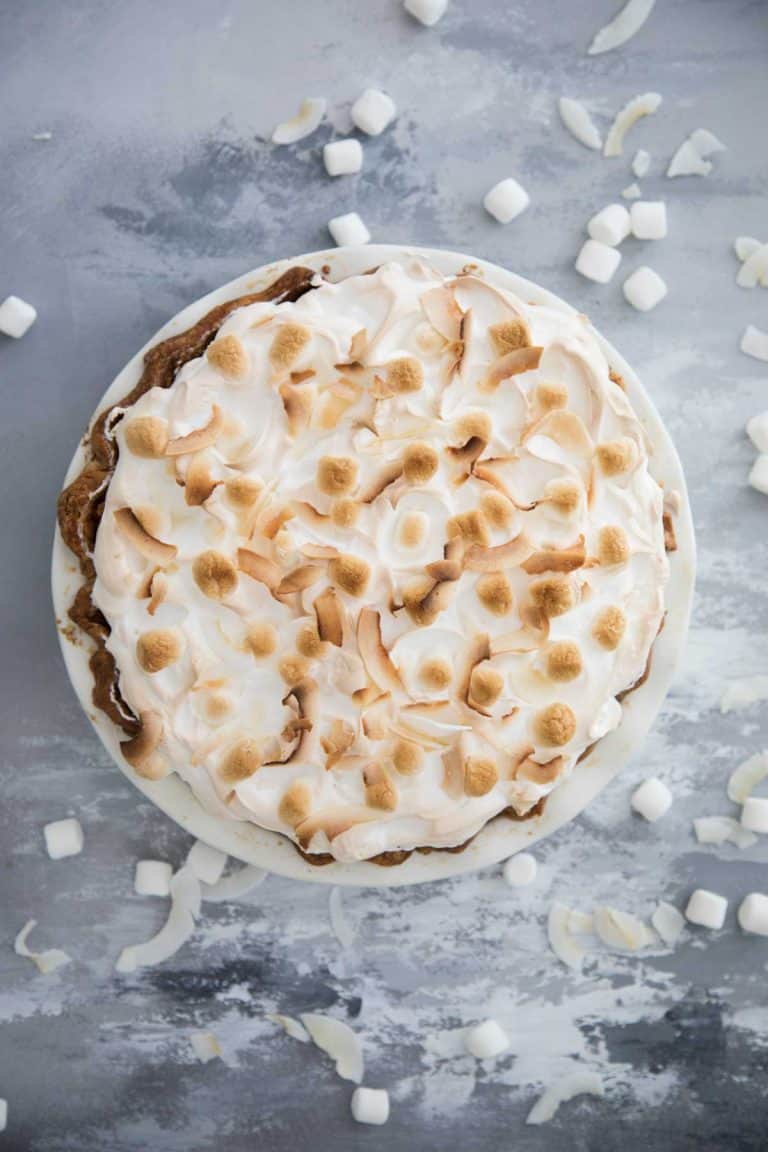 How to Make Sweet Potato Pie
To make this Sweet Potato Pie, start by par-baking crust. Then you fill it with a sweet potato mixture. I like to cover the edges of the pie with a pie crust shield from the beginning because this pie will be in the oven for quite awhile and the edges will get overly brown if you don't cover it from the beginning. Bake the pie until the filling is cooked through.
Once the pie is almost finished baking, prepare the meringue. The meringue will go on the pie when it has just come out of the oven.
Then you wait!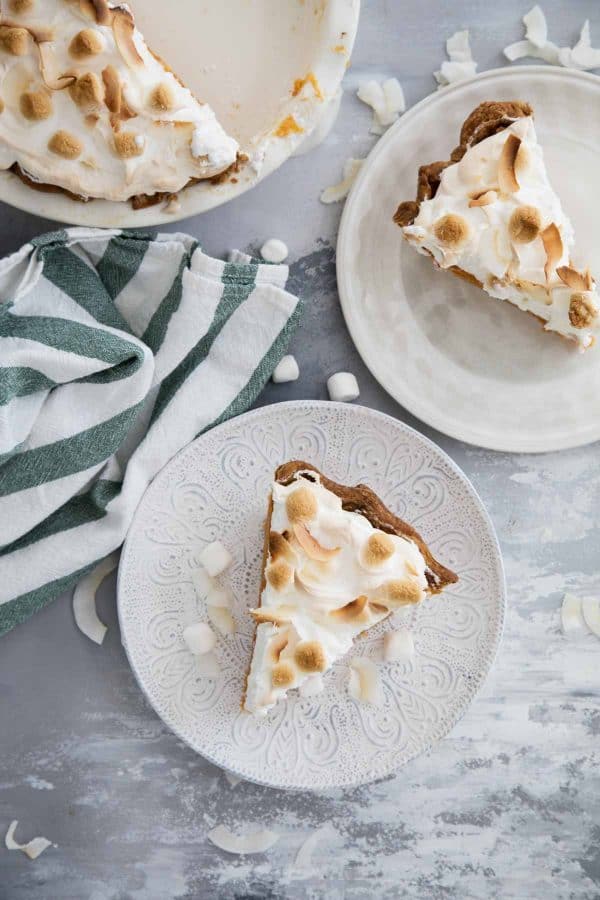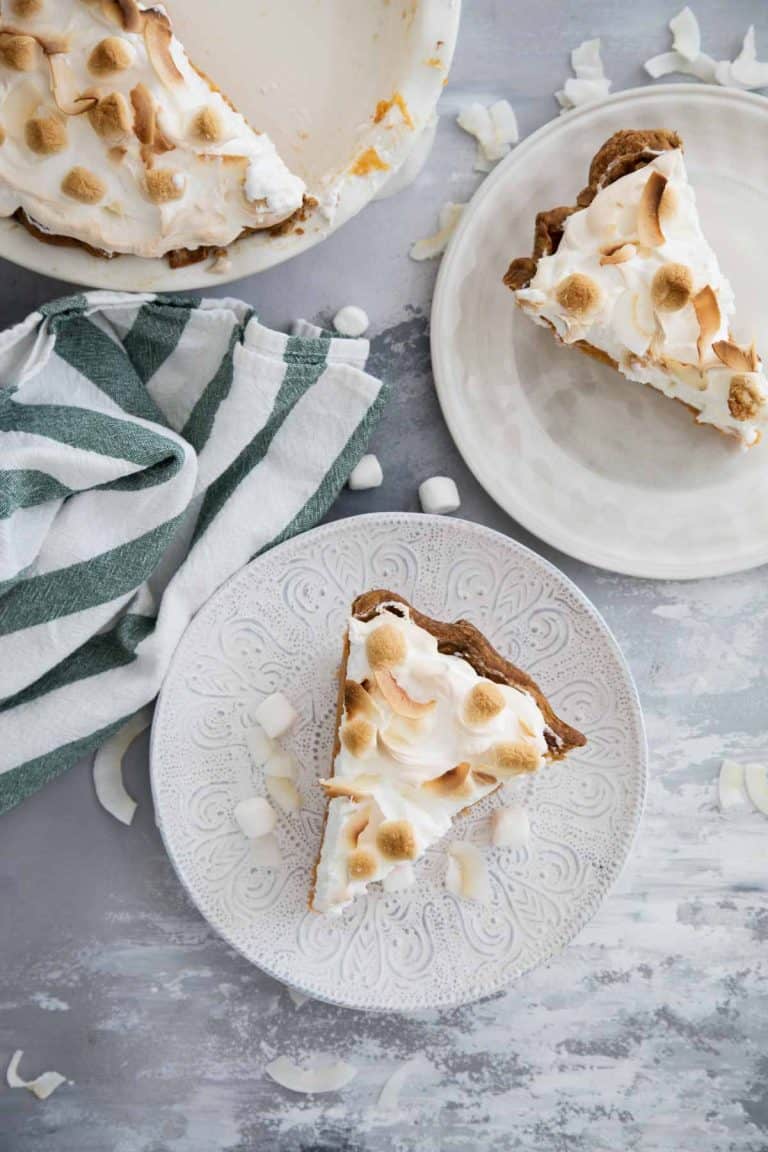 Tips for Making this Sweet Potato Pie Recipe
You can mash the potatoes by hand, but I prefer to beat them with a hand mixer to ensure the mixture is smooth.
When it comes to meringue, my mom taught me an invaluable lesson. She said that when you think you've beat it long enough, beat it even longer. After following her advice, I ended up with the best meringue I had ever made before.
You can store any leftovers in the refrigerator. It is hard to cover because of the meringue but you'll want to cover it the best that you can.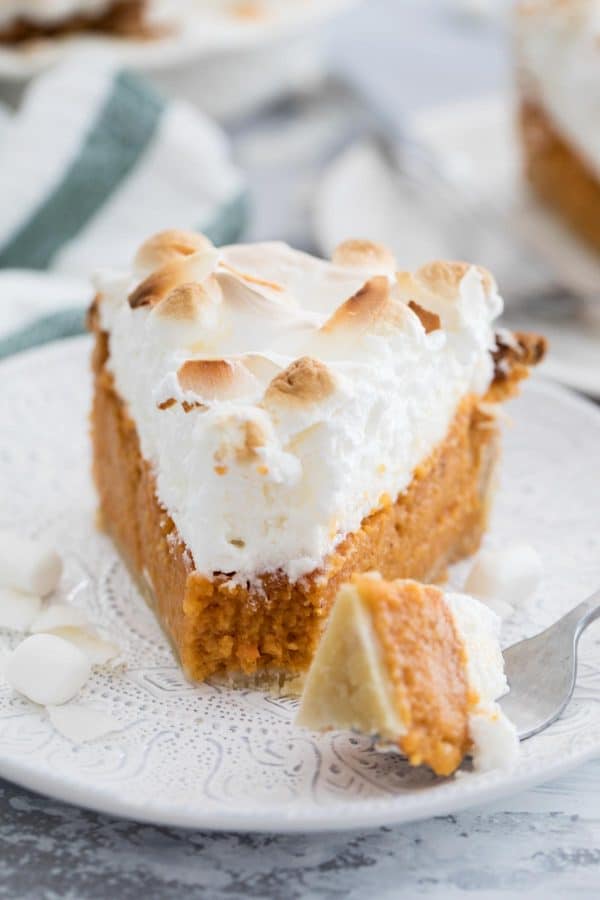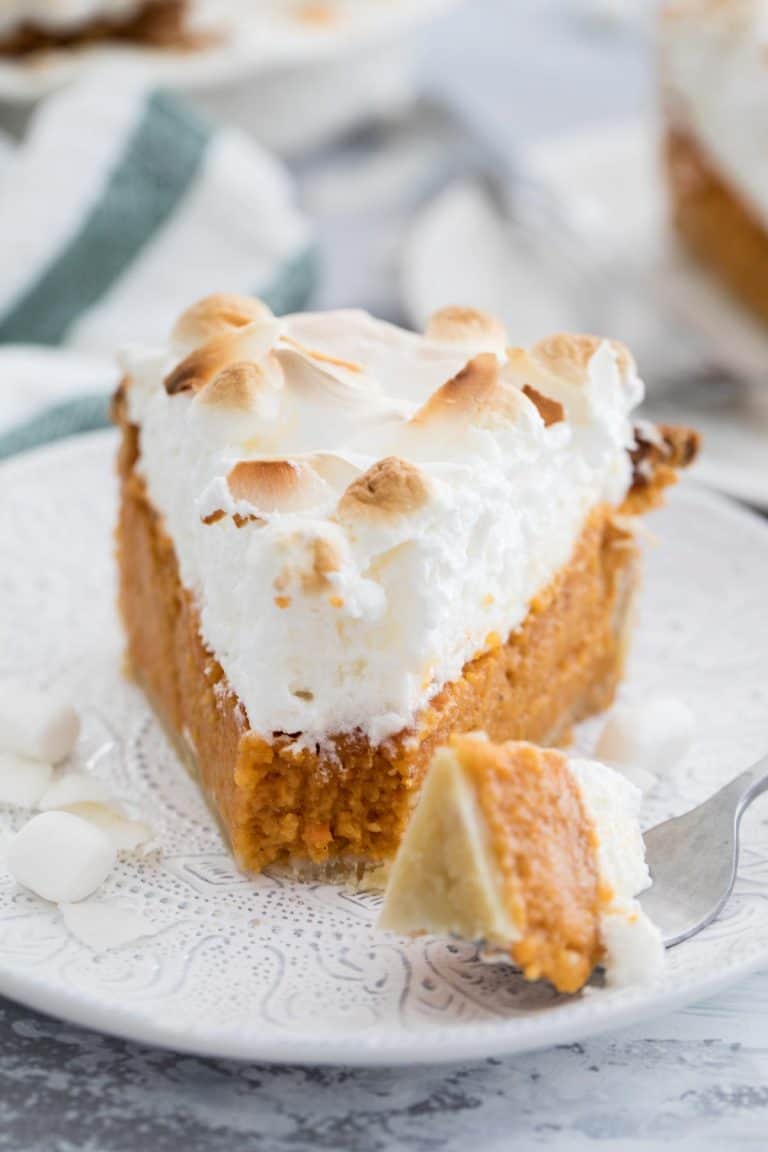 More Holiday Pies
Chocolate Cream Pie
Classic Pecan Pie Recipe
Taffy Apple Cheesecake Pie
Coconut Cream Pie
Pumpkin Cheesecake Pie
Tools Similar to Those Used in This Post:
You should be able to use a regular pie dish, but I like to use a deep dish pie dish so that none of the filling comes out.
You'll definitely need a mixer to make the meringue. You can use a hand mixer or a stand mixer. The stand mixer is definitely easier, but both will work!
When I'm making pie, I always put my pie dish on a sheet pan so that if it drips or falls, it just lands on the baking sheet instead of in the oven. Also, it makes it easier to get the pie in and out of the oven.
Sweet Potato Pie with Marshmallow Coconut Meringue
---
Author:
Prep Time: 30 mins
Cook Time: 1 hour 20 mins
Total Time: 7 hours
Yield: 8 servings 1x
Category: Dessert
Method: Bake
Cuisine: American
Description
Take your pie game up a step with this Sweet Potato Pie with Marshmallow Coconut Meringue. A rich, smooth sweet potato pie is topped with a tall marshmallow meringue. A bit of coconut tops off this show stopping pie recipe.
---
Scale
Ingredients
Pie:
1 pie crust, unbaked
2 cups mashed sweet potatoes
1/2 cup butter, mostly melted
1 cup granulated sugar
1/2 cup coconut milk*
2 eggs
1 teaspoon vanilla extract
1/2 teaspoon ground nutmeg
1/2 teaspoon ground cinnamon
Meringue:
4 egg whites
1/4 teaspoon cream of tartar
1/2 cup granulated sugar
1 (7 oz) jar marshmallow creme
1/2 cup miniature marshmallows
1/4 cup coconut (sweetened or unsweetened)
---
Instructions
Preheat the oven to 350ºF. 
Roll out the pie crust and place in a 9-inch pie plate. Place a sheet of parchment paper over the crust and fill the center with pie weights or dried beans. Blind bake the crust in the oven for 15 minutes, then remove from the oven.
In a large bowl, beat together the sweet potatoes, butter, sugar, coconut milk, eggs, vanilla, nutmeg and cinnamon until smooth.
Pour the pie filling into the partially baked crust. Cover the edges of the pie with a pie crust shield or with foil. Place the pie back into the oven and bake until a knife inserted into the center of the pie comes out clean, about 50 minutes.
When the pie is almost done baking, prepare the meringue.  In a medium bowl (or the bowl of a stand mixer) beat the egg whites and the cream of tartar until soft peaks form. While still beating, start adding the sugar slowly, 1 tablespoon at a time. Continue to beat until stiff peaks form. Continue beating until the mixture is smooth, shiny, thick and marshmallow-like.
Place the marshmallow creme in a medium bowl. Add 1/3 of the beaten egg white mixture and stir it in completely. Add the remaining egg mixture and fold into the marshmallow creme.
When the pie is finished, remove from the oven and spread the meringue on top, making sure to spread the meringue to the crust.  Top with the marshmallows and coconut. Return the pie to the oven and bake until the meringue is browned, about 12 minutes.
Remove the pie from the oven and allow it to cool for 1 hour, the refrigerate for at least 4 hours but preferably overnight.
Recipe Notes:
originally adapted from Taste of Home
*For this recipe, you need full fat coconut milk that comes in a can, not coconut milk beverage that comes in a carton. The coconut milk will separate while in the can. For an easy way to re-combine the milk, I like to transfer it all to a food processor or blender and then blend until smooth.
Nutrition information provided as an estimate only. Various brands and products can change the counts. Any nutritional information should only be used as a general guideline.
Nutrition
Serving Size: 1/8 of pie
Calories: 513
Sugar: 50 g
Sodium: 258 mg
Fat: 23 g
Saturated Fat: 14 g
Unsaturated Fat: 7 g
Trans Fat: 0 g
Carbohydrates: 71 g
Fiber: 1 g
Protein: 4 g
Cholesterol: 82 mg