Sweet Potato Pie steps it up a bit in this version with a coconut twist. A marshmallow meringue tops it off to make it the perfect Thanksgiving dessert!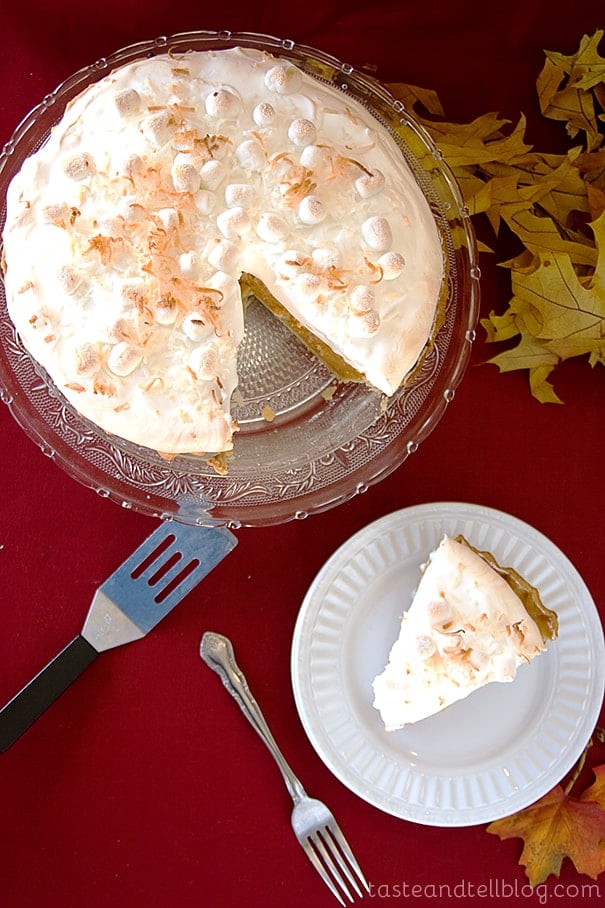 I learned something very interesting last night.

People are scared of pie.
Well, not necessarily scared of pie itself. But of making pie. Specifically, of making pie crust.
I went to a church activity with my mom last night. They were talking about Thanksgiving recipes, and did a few demonstrations. The first was preparing a turkey. I sat and listened to conversations going on around me, (yes, I am that eavesdropper!), and most comments were about how this method worked for them, or how she likes to use turkey bags, and she likes to brine her turkey. Everyone seemed pretty ok with the idea of cooking the big bird for the holiday.
Then my mom got up to teach the portion about how to make a pie crust. She asked how many people make pie crusts on a regular basis. 4 people raised their hands. And I was one of those 4. In a room full of about 30-40 women. My mom talked about how easy it is, and how it's almost just as easy as buying one from the store. But people were terrified. For some reason, I found it so interesting that people are more intimidated by pie crust than they are of cooking a turkey.
How do you feel about pie crust? Are you comfortable, or terrified?
Regardless if you like to make your own crust or use the refrigerated kind, this pie is one that you don't want to skip over. I came across the recipe while flipping through the pages of a magazine at my grandma's house a couple of weeks ago, and I haven't been able to get it out of my mind since. If you've already made your menu for Thanksgiving next week, I highly suggest that you make room for one more pie, because this one is just that good. I knew it sounded good, but I was in love with the first bite. In fact, don't tell, but I ate 1 1/2 pieces for lunch yesterday. I just couldn't stop myself!!
A few hints. The recipe has you put the meringue on a hot pie. Most meringue pies say to do this, but I'll admit that I don't always follow that rule. So I thought I'd be ok with this one. I wanted to bake the pie the night before, and then do the meringue in the morning so that I'd have time to photograph it before it was too dark. Doing it all in the same day would have meant starting at 4am so that I didn't miss the light, and I get too little sleep already these days. So, I put the meringue on a cold pie. When I cut into the pie, the middle of the meringue was still a little soft, and not the prettiest. And that's when I realized that one reason you are probably supposed to put the meringue on a hot pie is for the heat to help to cook through the meringue. I really think I'll be making this pie for Thanksgiving next week, so I'll make sure and do meringue on a hot pie! But really, that didn't even distract from how much I really liked this pie.
And as luck would have it, TidyMom is currently holding her 3rd Annual Pie Party! Talk about good timing!
Come join Love the Pie with TidyMom sponsored by Cherokee USA, Le Creuset, Wilton, Bags by Bloom and  Harvard Common Press
I'll be submitting this pie, and probably be enjoying a slice for breakfast, too!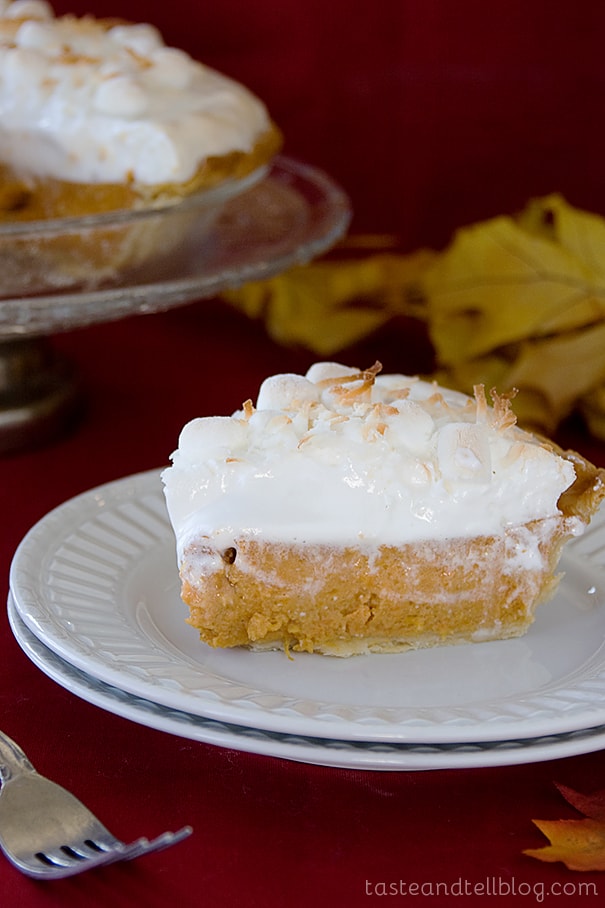 Sweet Potato Coconut Pie with Marshmallow Meringue
Sweet Potato Pie steps it up a bit in this version with a coconut twist. A marshmallow meringue tops it off to make it the perfect Thanksgiving dessert!
Ingredients
Filling
1 cup coconut milk
¾ cup brown sugar
¼ cup cream cheese, softened
2 cups mashed sweet potatoes
3 eggs, slightly beaten
2 teaspoons lemon juice
1½ teaspoons vanilla
¼ teaspoon salt
¼ teaspoon ground cinnamon
Marshmallow Meringue
4 egg whites
¼ teaspoon cream of tartar
½ cup sugar
1 7-ounce jar marshmallow creme
½ cup miniature marshmallows
¼ cup coconut
Instructions
Preheat the oven to 425F.
Prepare your pie crust. Roll out and place in a pie dish, fluting the edges. Prick the bottom of the crust with a fork. Line the uncooked pastry with aluminum foil, then weight down with pie weights or dried beans. Bake the crust in the preheated oven for 8 minutes. Remove the weights and foil, and return the crust to the oven for 5 more minutes. Remove from the oven and let cool on a wire rack.
Reduce the oven temperature to 325F.
To make the filling: In a small saucepan, combine the coconut milk, brown sugar and cream cheese. Cook over medium heat until smooth. Transfer to a large bowl and let cool for 5 minutes. Whisk in the mashed sweet potatoes, eggs, lemon juice, vanilla, salt and cinnamon. Pour into the prepared crust.
Place the pie in the oven and cook until the filling is set, 50-60 minutes. Cover the crust with foil the last 15 minutes to prevent over-browning.
Meanwhile, prepare the meringue. In a medium bowl, beat the egg whites and cream of tartar until soft peaks form. Gradually add the sugar, 1 tablespoon at a time, until stiff peaks form and the sugar is completely dissolved.
In another bowl, stir ⅓ of the egg whites into the marshmallow creme. Fold in the remaining egg white mixture.
When the pie is cooked through, remove from the oven and top with the meringue, making sure the meringue goes all the way to the edges. Sprinkle with the marshmallows and coconut.
Return to the oven and bake until the meringue has lightly browned, 12-15 minutes. Cool on a wire rack for 1 hour, then refrigerate for at least 3 hours.
-----------------------------
Recipe slightly adapted from Taste of Home
————————-
More sweet potato pie ideas:
Barbecued Sweet Potato Pie from Patio Daddio BBQ
Buttermilk Sweet Potato Pie from Sugar Punk
Korean Sweet Potato Pie from Week of Menus