Sweet, tart and creamy, this Caribbean Truffle Pie is filled with lemon, lime and coconut flavors – the best of the tropics!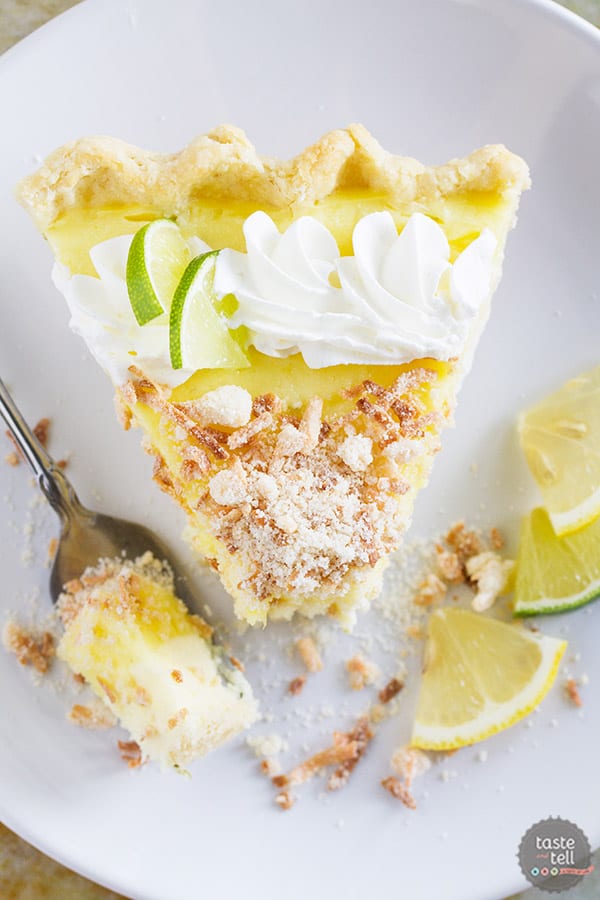 Yum

I have officially declared 2016 The Year of The Pie.
Maybe it's because I have a thing for setting one food goal each year. Or maybe it's because I just really like pie. Either way, this is happening.
Last year's goal was 52 cookbooks. I stuffed so many of them in at the end, but I made it. I started the year off thinking one a week would be easy, but as it turns out, sometimes my schedule doesn't work out how I intend for it to.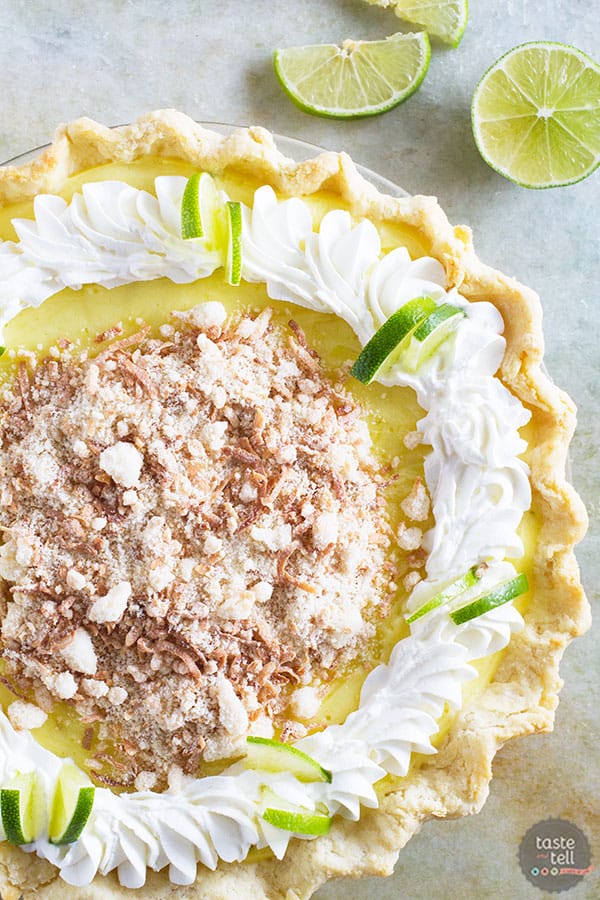 So I'm not going to be crazy and try to do one a week (too late for that, anyway!), but I will be posting one new pie a month. 12 pies throughout the year? Totally doable.
And since the lovely Rachael from La Fuji Mama pointed out to me the other day that National Pie Day is tomorrow, I just had to post this Caribbean Truffle Pie in time for you all to make it to celebrate. Because if you can't celebrate on National Pie Day, you must not be capable of celebrating. 😉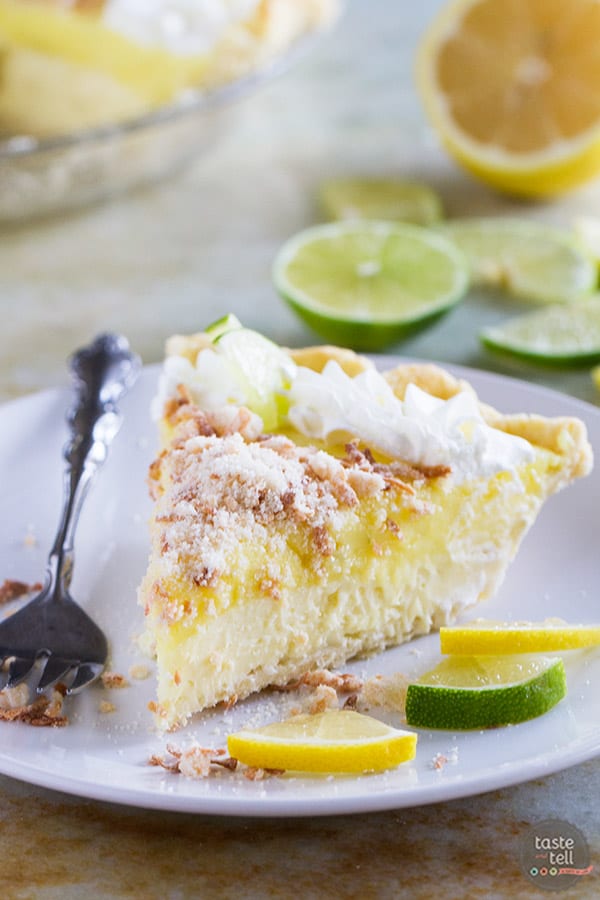 Since I am kicking off the Year of the Pie right now, I thought I'd do it with one of my very favorite pies – this Caribbean Truffle Pie. I started making it a few years ago, and it is still one of my very, very favorites. How it hasn't landed on this blog before now is a mystery to me!
If offered a slice of cake or a slice of pie, I would choose the pie every time. And if I was given the choice to choose between chocolate and lemon, it would hands down be lemon every time. Let's just say that I have a bit of a citrus obsession. This pie combines a little bit of lemon, a little bit of lime, and a little bit of coconut to make a pie that is irresistible. And let's just say that it's perfect for this time of year – a little something to brighten up the dreary January days!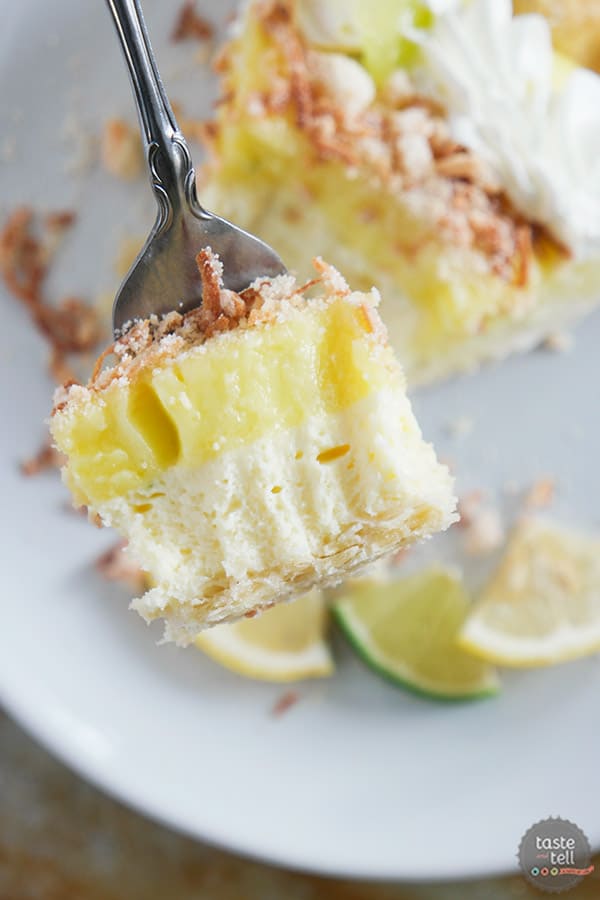 Like what you see here? Make sure you are following Taste and Tell for more recipes and ideas!
Facebook | Pinterest | Instagram | Twitter | Google+ | Weekly Newsletter | Feedly | Bloglovin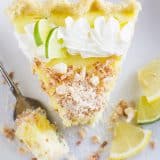 Caribbean Truffle Pie
---
Author:
Prep Time: 20 mins
Cook Time: 18 mins
Total Time: 38 mins
Yield: 8 servings 1x
Description
Sweet, tart and creamy, this Caribbean Truffle Pie is filled with lemon, lime and coconut flavors – the best of the tropics!
---
Scale
Ingredients
Crust
2 tablespoons sweetened, shredded coconut
Streusel Topping
1/4 cup all-purpose flour
1/4 cup sugar
1 tablespoon butter
1/4 cup sweetened, shredded coconut
Filling
1 (2.9 oz) package lemon pudding and pie filling (not instant)
1/2 cup sugar
3 tablespoons fresh lime juice
2 egg yolks
2 cups water
1 teaspoon grated lime zest
1 cup white chocolate chips
1 (8 oz) package cream cheese, at room temperature
6 tablespoons sour cream
Topping
1/2 cup heavy whipping cream
2 teaspoons powdered sugar
---
Instructions
Preheat the oven to 450ºF. Roll the pie crust out and press into a 9-inch pie dish. Sprinkle the coconut over the bottom of the dish and gently press into the dough. Prick the crust generously with a fork. Bake the crust until golden brown, 9-11 minutes. Remove from the oven to cool. Reduce the oven heat to 425ºF.
In a small bowl, combine the flour and sugar. Cut the butter into the mixture with a fork or a pastry cutter until the mixture resembles coarse crumbs. Stir in the coconut. Spread the mixture out onto a baking sheet. Bake until light golden brown, stirring every minute, for 4 to 8 minutes.
In a medium saucepan, combine the pudding mix, sugar, lime juice, and egg yolks. Whisk together to combine. Whisk in the water. Place the mixture over medium heat and cook until it comes to a boil, stirring constantly. Remove from the heat and add the lime zest.
In a small bowl, pour 1/2 cup of the pudding mixture over the white chocolate chips. Stir the mixture until the white chocolate chips have melted.
In another bowl, beat the cream cheese until light and fluffy. Add the white chocolate chip mixture and beat until smooth. Spread the mixture into the bottom of the pie crust.
Stir the sour cream into the remaining pudding mixture. Spread the mixture over the cream cheese layer. Cover with a piece of plastic wrap and refrigerate at least 2 hours, up to overnight.
When ready to serve, place the cream in a small bowl and beat until it starts to thicken. Add the powdered sugar, then continue to beat until stiff peaks form. Pipe the whipped cream around the edge of the pie. Pile the reserved streusel in the middle. Garnish with lime slices, if desired.
Useful Products for this Recipe:
Don't miss a thing! Follow me on Pinterest to see what I'm pinning!
Visit Taste and Tell's profile on Pinterest.


More Pie for the Year of the Pie!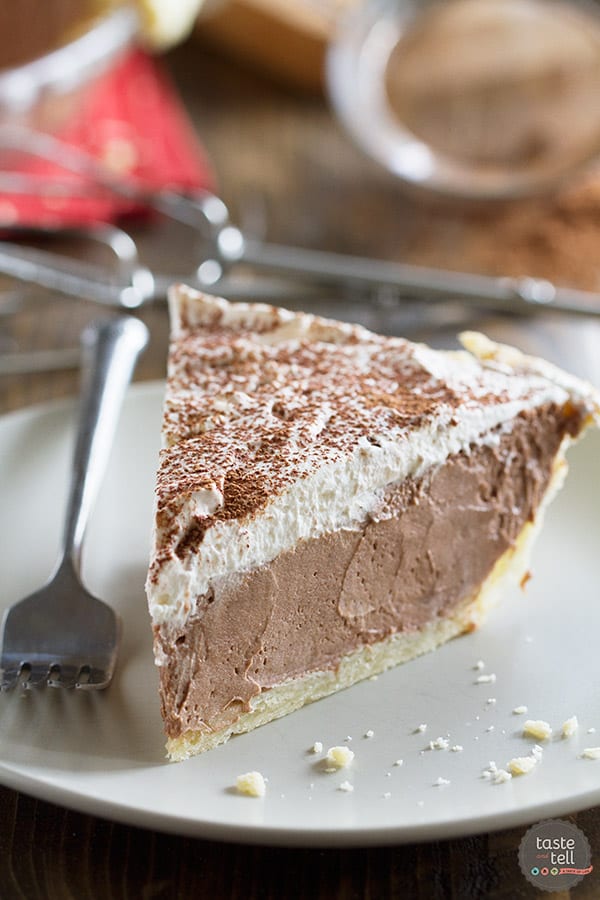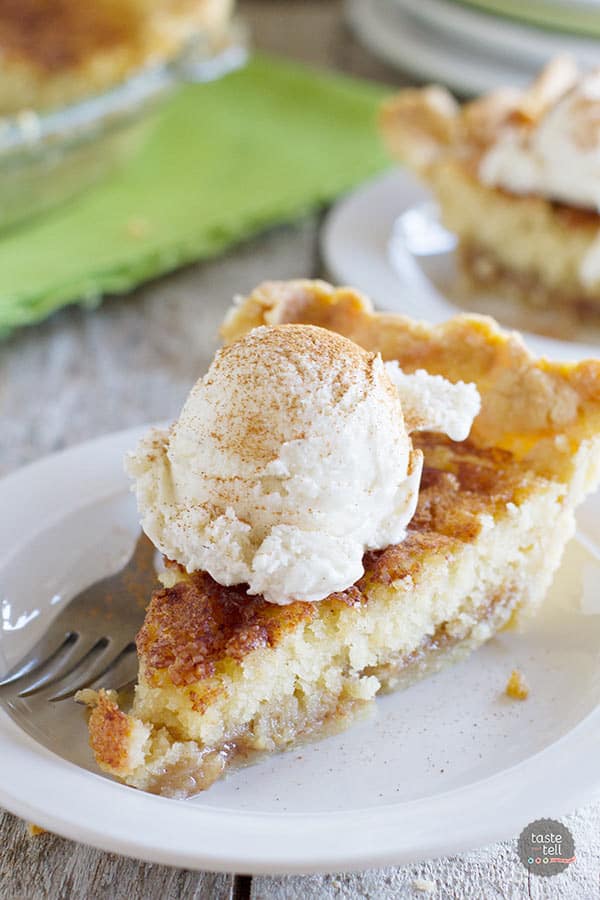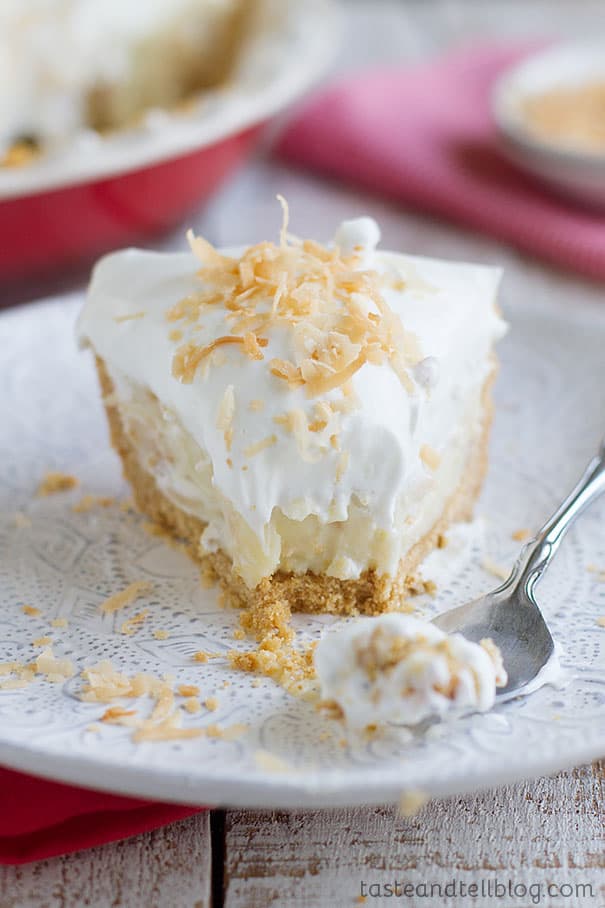 Around the Web:
Caramel Apple Streusel Pie from Handle the Heat
Peanut Butter Mousse Pie from Shugary Sweets
Blueberry Custard Pie from The Girl Who Ate Everything