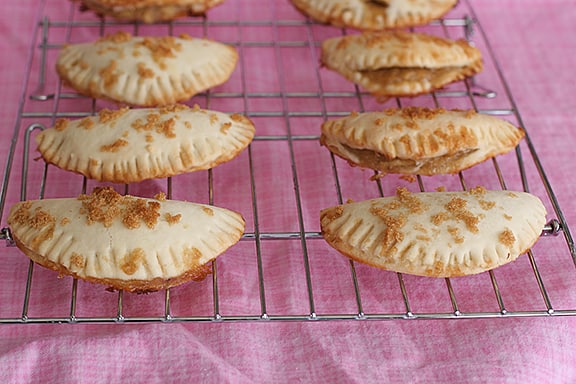 I just have to tell you how much I love this cookbook already.  Like I mentioned yesterday, I haven't felt quite like myself lately.  I'm ready for this baby to come, and my energy is lacking.  And making a dessert when you have no energy is not the easiest feat.  Along comes this cookbook.  4 ingredients equals super easy (and delicious!) desserts!!  This one took no more than 15 minutes to put together, and the end result was delicious!!  They are definitely best when they are still warm from the oven, but even later, they were still good.  They are the perfect size for a wonderful little sweet treat.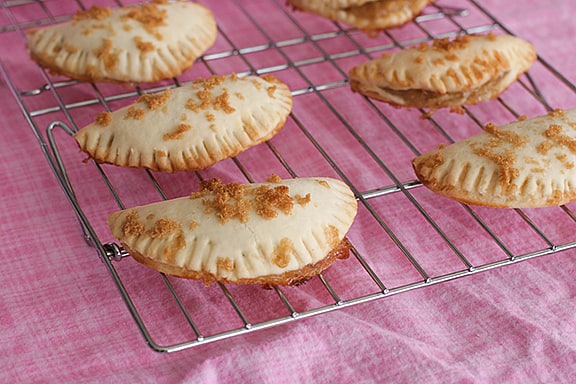 Banana-Brown Sugar Pie Pockets
from Desserts 4 Today
serves 8
1 medium banana, very ripe
2 tablespoons firmly packed brown sugar, divided
1/2 teaspoon pure vanilla extract
1 sheet premade pie dough
Heat the oven to 400F.  Line 1 large cookie sheet with a nonstick liner.
In a small bowl, mash the banana, 1 tablespoon of the brown sugar, and the vanilla with a fork until blended.
Carefully unfold or unroll the pie dough.  Using a 4-inch round cookie cutter, cut out 5 rounds.  Peel away the scraps and pile them together.  Using a rolling pin, roll the dough to a 1/4-inch thickness.  Cut out 3 more rounds.
Place about a tablespoon of the banana filling on the center of each round.  Using your finger, brush the edge of the dough wtih water.  Fold half of the odugh over the filling to form a half-moon shaped turnover.  Using the tines of a fork, press the curved edge to seal tightly.
Arrange the pie pockets on the prepared cookie sheet, about 2 inches apart.  Brush the tops with some water or spritz with cooking spray and sprinkle evenly with the remaining brown sugar.  Bake until the pastry is puffed and browned, about 20 minutes.  Serve warm.