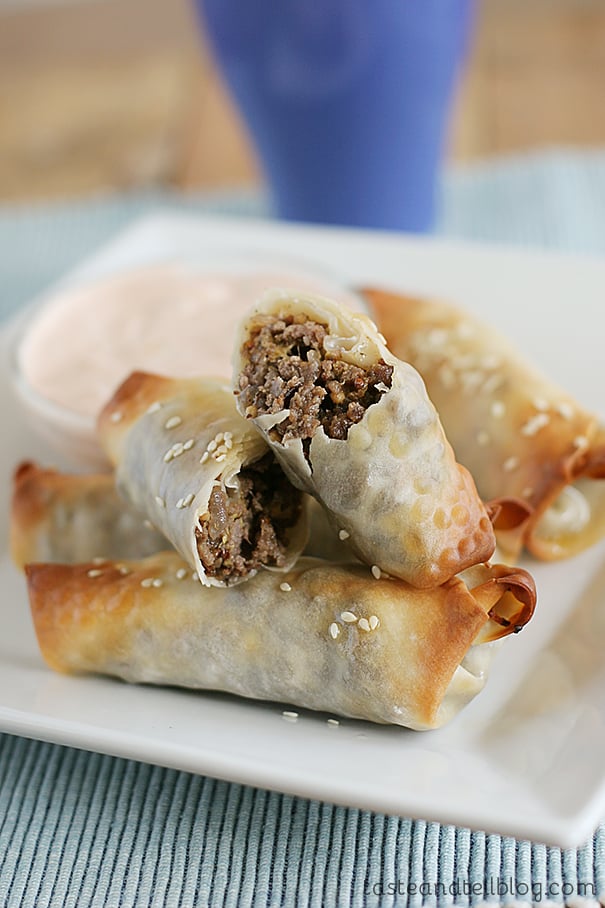 My first memory of egg rolls wasn't until I was in high school. We had an open campus, so we'd all pack into cars at lunchtime and head out for lunch – mostly to the local fast food restaurants. Most of us didn't have a lot of money, (we were high school students working for minimum wage for the most part), so the majority of the time, we went somewhere really cheap – like Wendy's or Taco Bell. But if we ever really wanted to splurge, we'd go to a local grocery store that sold Chinese food. It wasn't cheap for a high school student's budget, but boy – did we think it was good! One of my favorite things was always the egg rolls.
Today, I'm no stranger to egg rolls. (And is it egg rolls or eggrolls? Rachael Ray spelled it eggrolls, but every time I type it as one word, the spell check is telling me I'm spelling it wrong…) I've made the traditional rolls, and I love them. But I have come to the conclusion that you can pretty much put anything in an egg roll wrapper and it will be good. Of course you have your traditional egg rolls. And there is one of my favorites – Southwestern Egg Rolls.  How about Buffalo Chicken Rolls?  Throw some pie filling into an eggroll wrapper and you have a delicious dessert. Really – is there anything that wouldn't be good in a wrapper? When I saw this episode of the Rachael Ray Show, all she had to do was say Cheeseburger Egg rolls, and I knew this was another egg roll recipe I wanted to try!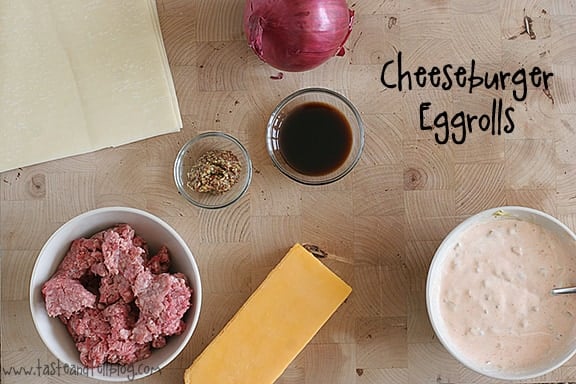 There is nothing complicated about this recipe.  A simple mixture of ground beef, onions, cheese and a few things to flavor them up are rolled into an egg roll wrapper, and to make them a little more "figure friendly", they are baked instead of fried.  I'm sure they would be delicious fried, but seriously – baking them makes them nice and crispy, and I don't even miss the fried.
Serve these up at the next tailgaiting party, or do what I did and serve them for dinner.  Either way, they are delicious, and a fun way to get that cheeseburger fix!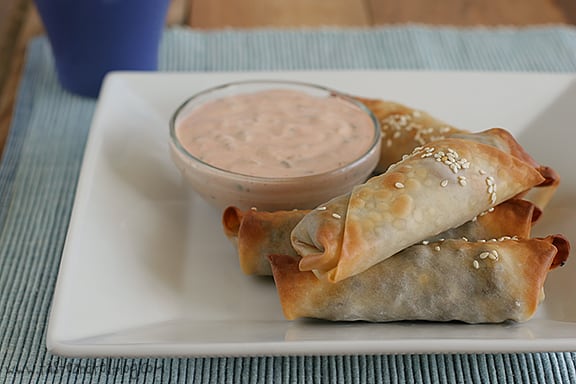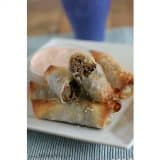 Cheeseburger Eggrolls
---
Prep Time: 20 minutes
Cook Time: 25 minutes
Total Time: 45 minutes
Yield: about 15 eggrolls 1x
Description
Eaten as an appetizer, main dish, or as a tailgating food, these Cheeseburger Eggrolls are a different way to get your cheeseburger fix!
---
Scale
Ingredients
extra virgin olive oil, for drizzling
1/2 small red onion, chopped
3/4 pound ground beef
salt and pepper
1 cup grated sharp cheddar cheese
1 tablespoon Worcestershire sauce
1 tablespoon grainy Dijon mustard
12–14 eggroll wrappers
water
cooking spray
sesame seeds
Russian Dressing Dipper
1 cup sour cream
2 rounded tablespoons pickle relish
1/4 cup ketchup
salt and pepper, to taste
---
Instructions
Heat the oven to 375F. Place a cooling rack on top of a baking sheet; set aside.
Heat the olive oil in a large saute pan. Add the onions and let sweat. Add the ground beef and cook, breaking up into small pieces as it cooks. Season with salt and pepper. Cook until no longer pink. Drain, if needed, and set aside to cool. Once the meat is cool, add in the cheese, Worcestershire sauce and mustard.
To make the eggrolls, brush all 4 edges of an eggroll wrapper with water. Place 1/3 cup of the meat mixture on the center of the wrapper. Fold 2 corners into the center, then wrap the other corner to the next, rolling to make a long skinny roll. Place on the prepared baking sheet, repeating until all the filling has been used. Spray the rolls with cooking spray and then sprinkle with sesame seeds.
Bake in the preheated oven for 20-25 minutes, or until lightly browned.
To make the Russian Dressing Dipper:
Mix all ingredients in a medium bowl and season to taste with salt and pepper. Serve with the Cheeseburger Eggrolls.
—————————
From The Rachael Ray Show
—————————-
Want more eggroll ideas?
Cookie Dough Eggrolls from Pennies on a Platter
Turkey Egg Rolls from White on Rice Couple
Vietnamese Egg Rolls from A Cup of Mai