Serve them as an appetizer, main dish, or for tailgating – these Cheeseburger Eggrolls are a fun way to get your cheeseburger fix! Served with an easy Russian dressing, both kids and adults will love this egg roll twist.
I love a good appetizer, and these Cheeseburger Eggrolls make a perfect appetizer! For even more, try these Crockpot BBQ Grape Jelly Meatballs, Sausage Stuffed Mushrooms, or Spinach Artichoke Dip.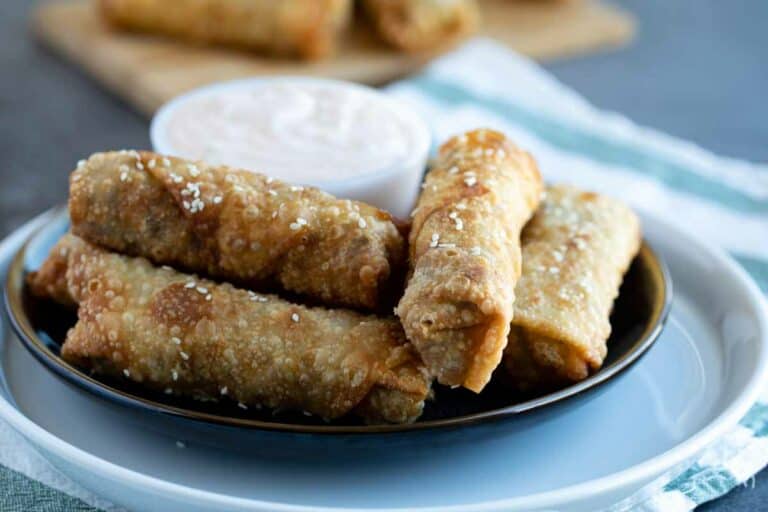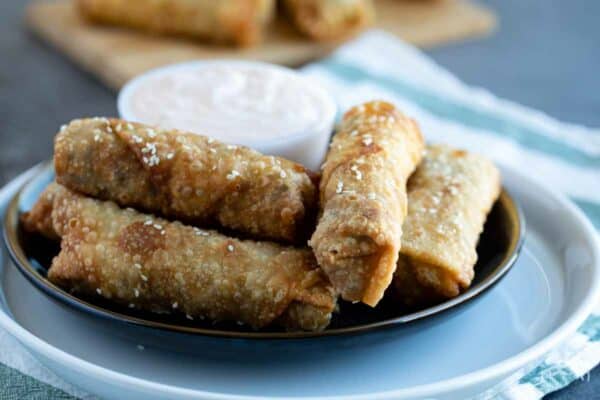 I have come to the conclusion that you can pretty much put anything in an egg roll wrapper and it will be good. Of course you have your traditional Egg Roll recipe. And there is one of my favorites – Southwestern Egg Rolls. Or Avocado Egg Rolls, Macaroni and Cheese Egg Rolls, or Buffalo Chicken Rolls. Throw some pie filling into an eggroll wrapper and you have a delicious dessert. Really – is there anything that wouldn't be good in a wrapper?
There is nothing complicated about these Cheeseburger Egg Rolls. A simple mixture of ground beef, onions, cheese and a few things to flavor them up are rolled into an egg roll wrapper and then fried.
Serve these up at the next tailgaiting party, or do what I did and serve them for dinner. Either way, they are delicious, and a fun way to get that cheeseburger fix!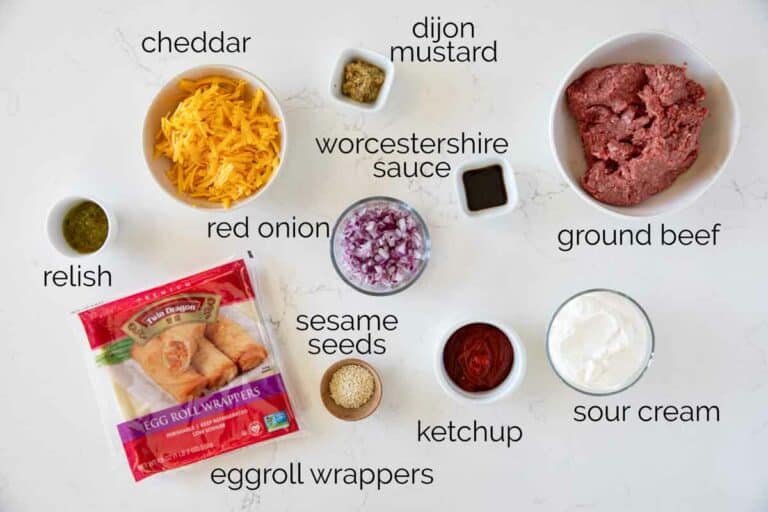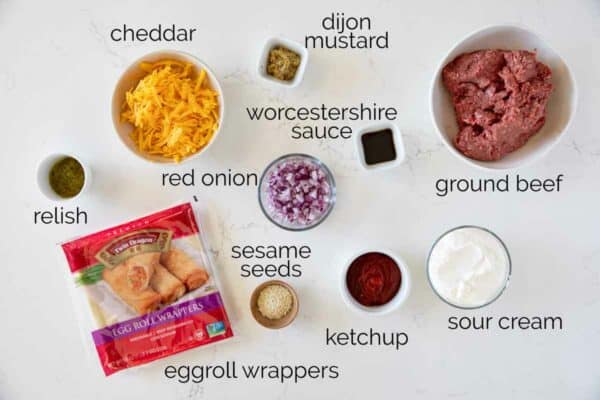 Ingredients
There are two components -the eggrolls and the dipping sauce. You can always choose just to dip them in whatever you want, but I love this easy dip that is similar to a Russian dressing.
For the Dip:
Sour Cream: I have only tested this using full fat sour cream, but reduced fat should work just fine.
Ketchup: I will sometimes add a little more ketchup than the recipe calls for because I really like the flavor.
Relish: I use a sweet pickle relish.
For the Eggrolls:
Oil: You'll need oil for cooking the onions as well as for frying the egg rolls. I like to use olive oil to cook the onions, then vegetable oil for frying them. But feel free to swap in another oil of your choice.
Onion: I like to use a red onion here, but a yellow or white onion would work just fine.
Ground Beef: If you don't use a lean ground beef, you'll want to make sure you drain off any fat. You could also use ground turkey or ground chicken.
Cheese: I use sharp cheddar cheese because it gives you the most flavor.
Worcestershire Sauce: This is a secret ingredient to give you an extra layer of flavor.
Mustard: I use a grainy Dijon mustard. Regular Dijon would work as well. If you want to use regular yellow mustard, I would cut the amount in half.
Egg Roll Wrappers: You can find these pretty easily in the refrigerated section at the grocery store. Just make sure to keep them covered when not using, as they will dry out if you leave them out.
Sesame Seeds: You can always leave the sesame seeds off, but I think they are a fun touch.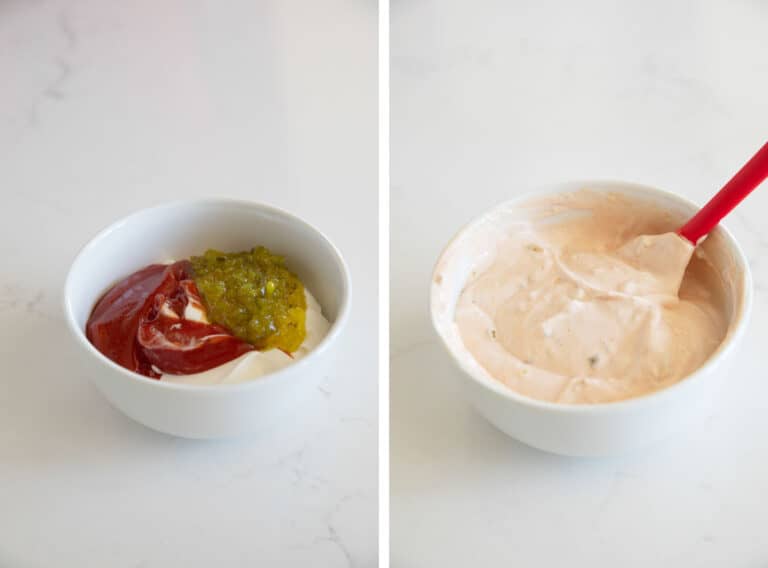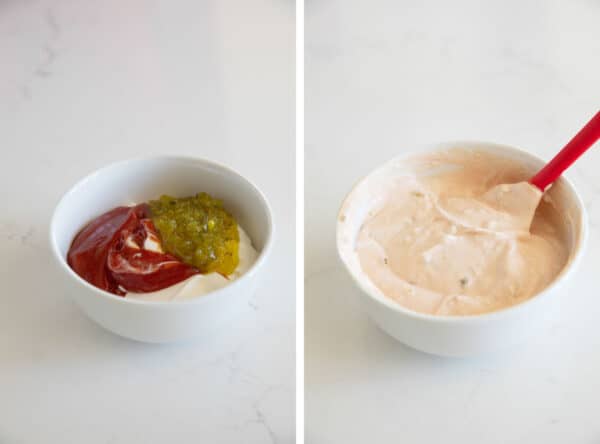 How to Make Cheeseburger Eggrolls
Start by making the dip – simply mix together all of the dip ingredients, the refrigerate until you are ready to serve the eggrolls.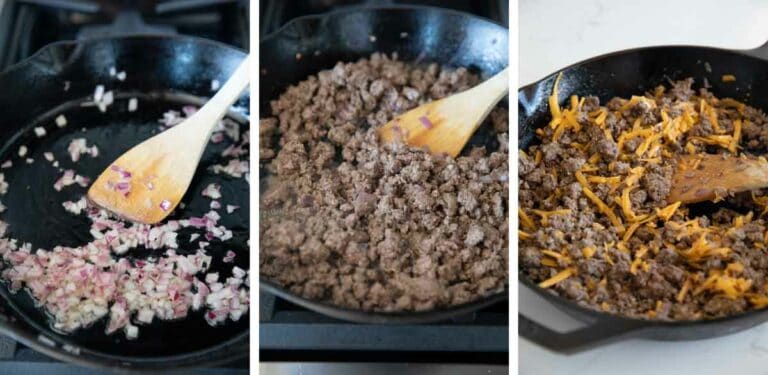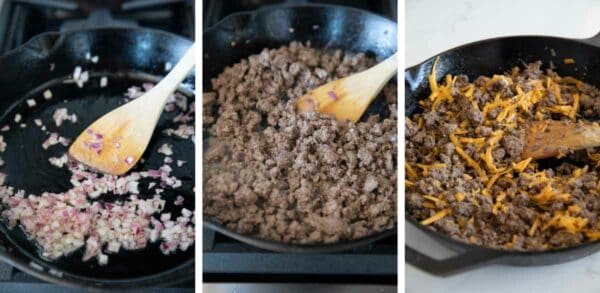 Next make your filling. Start by softening the onion in the oil in a large skillet, then add the ground beef, breaking it up as it cooks. Once it is browned and cooked through, remove from the heat.
Let it cool for a bit before stirring in the Worcestershire sauce, mustard, and cheese.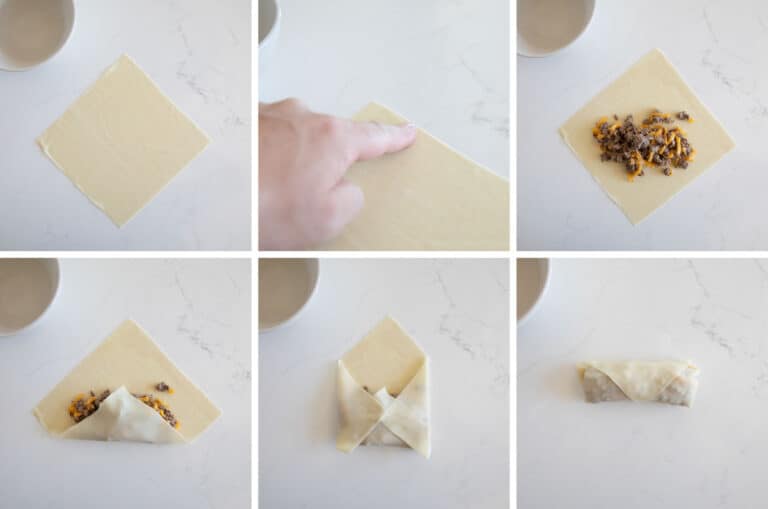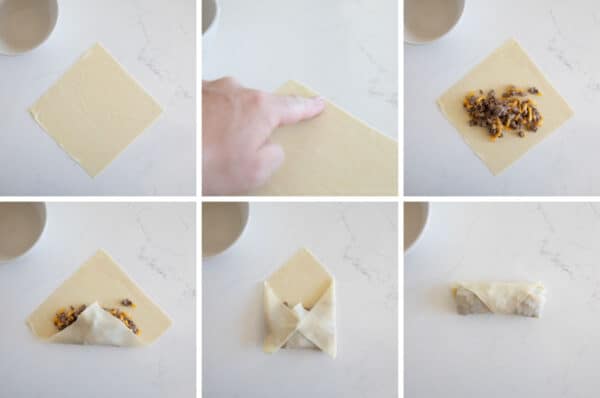 To wrap the egg rolls, start with one wrapper placed on the counter in a diamond shape.
Wet the top corner. I will actually wet the top two edges to make sure it all adheres nicely.
Place about 1/3 cup of the filling in the center of the wrapper.
Start wrapping the eggroll by folding up the bottom point.
Fold in the sides – it will look kind of like an envelope at this point.
Last is the tuck and roll. Tuck the filling in the middle tightly while wrapping it around to seal the last corner. Since it is wet it should stick to itself pretty easily.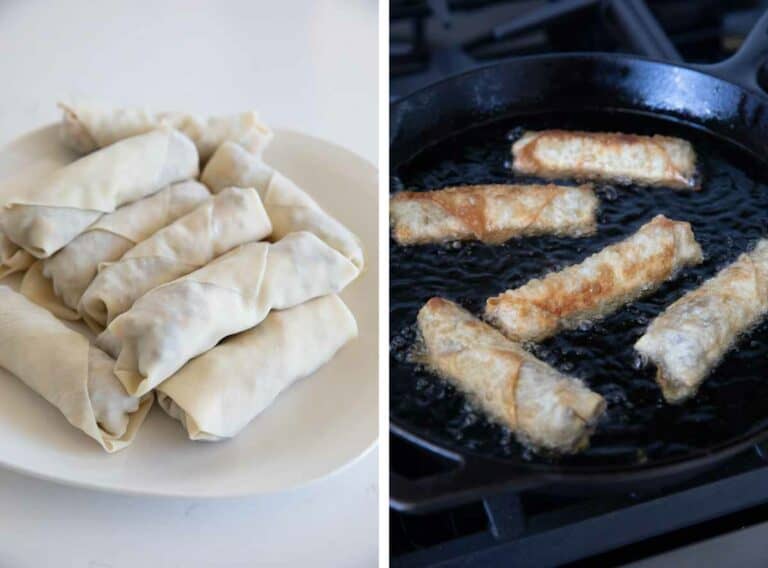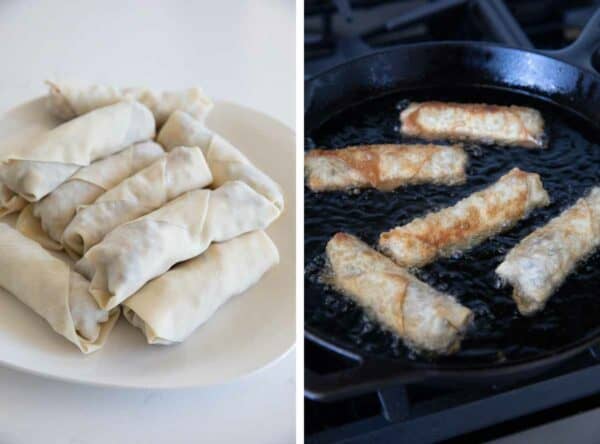 Repeat with the remaining wrappers and the remaining filling.
Heat about an inch of oil in a heavy skillet or in a Dutch oven. Once hot (around 350ºF) fry the egg rolls in batches, flipping them over to cook both sides evenly. The inside is already cooked, so you only need to cook them until they are golden brown.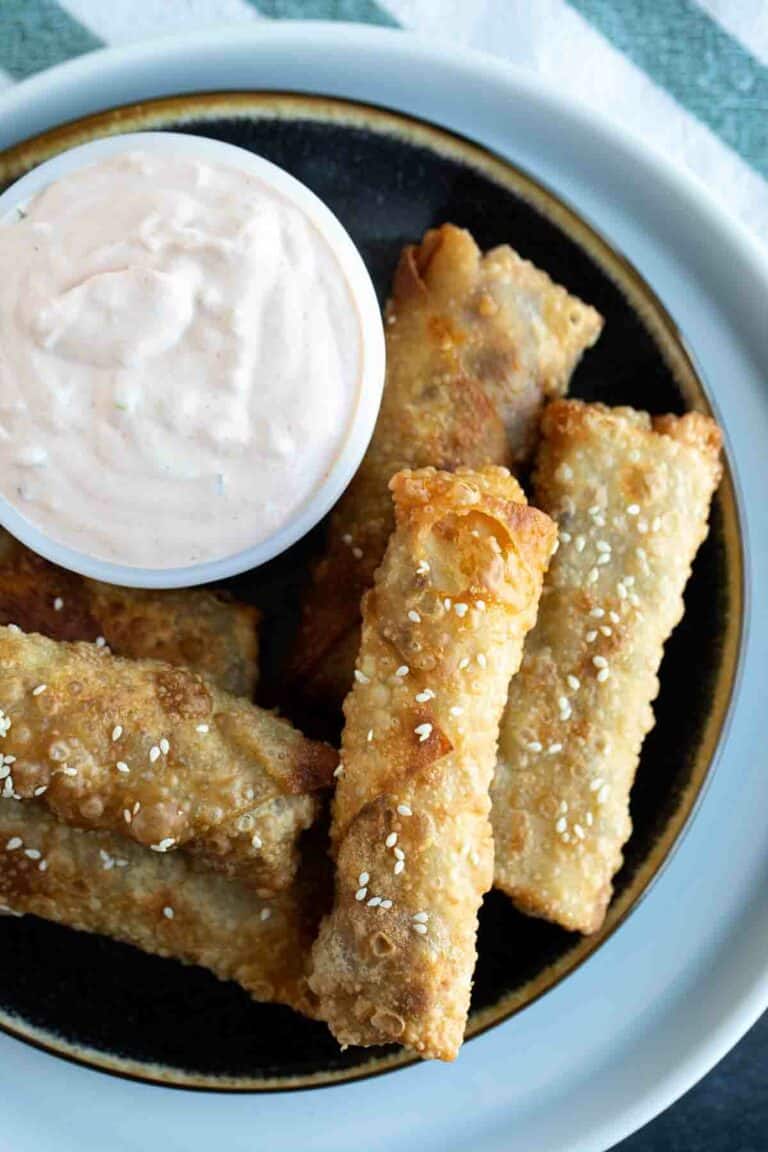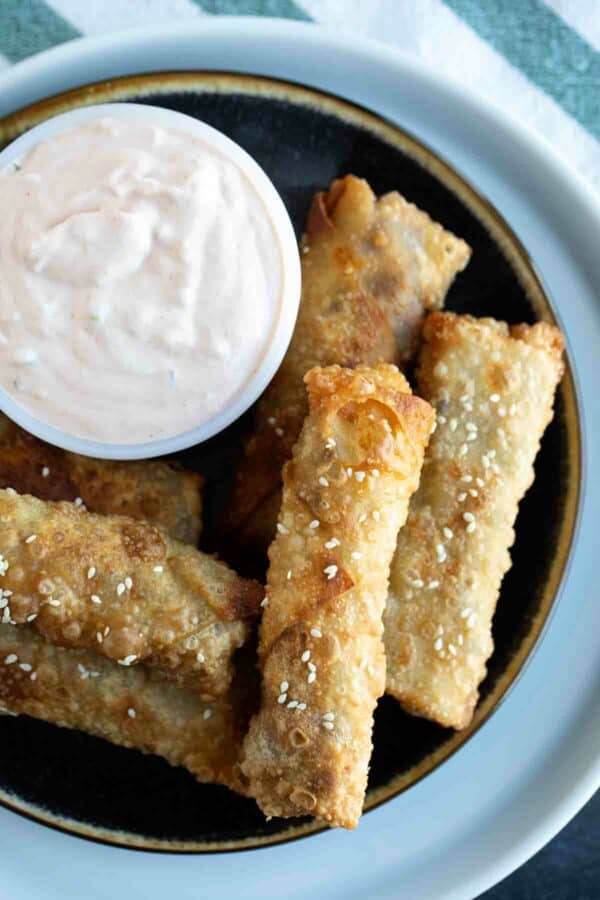 Tips and Tricks
Don't crowd the pan as they are frying. Cook in batches as needed.
If you are adding the sesame seeds, add them right as the eggroll comes out of the oil or they won't stick.
This makes quite a bit of the dipping sauce, so if you aren't big dippers, feel free to cut it in half.
You want to serve these warm. If not serving right away, place them on a cooling rack over a baking sheet and place in a 150º – 200ºF oven to keep them warm.
Make them your own – make bacon cheeseburger egg rolls by adding bacon. Or add chopped pickles or more cheese.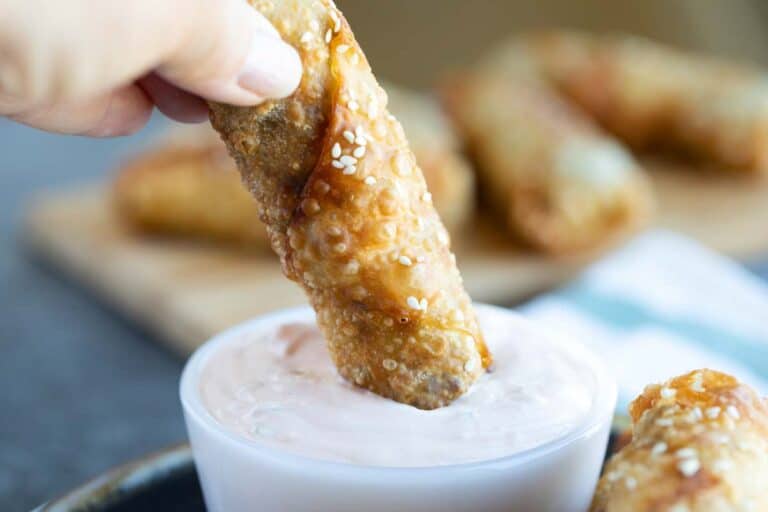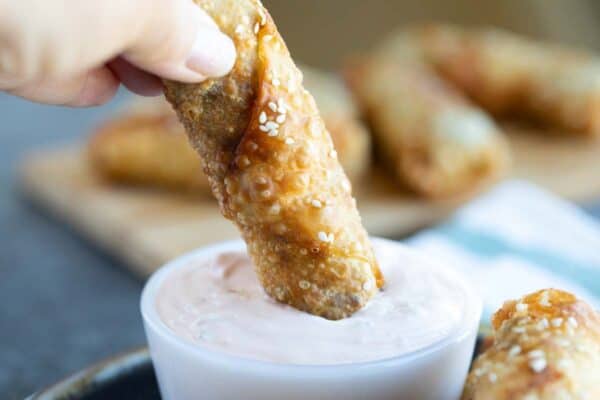 Alternate Cooking Methods
Not into frying? You can also bake these cheeseburger eggrolls or cook them in an air fryer.
Baking:
To bake the egg rolls, prepare the rolls completely, but instead of frying, place the rolls on a cooling rack over a baking sheet. Spray with nonstick cooking spray, then sprinkle with the sesame seeds. Bake at 375ºF for 20-25 minutes.
Air Fryer:
Prepare the eggrolls, then brush the outsides with oil. Place in the basket of an air fryer. You don't want them to be touching, so cook in batches, if needed. Cook on 375ºF for about 12 minutes, flipping the rolls halfway through the cook time.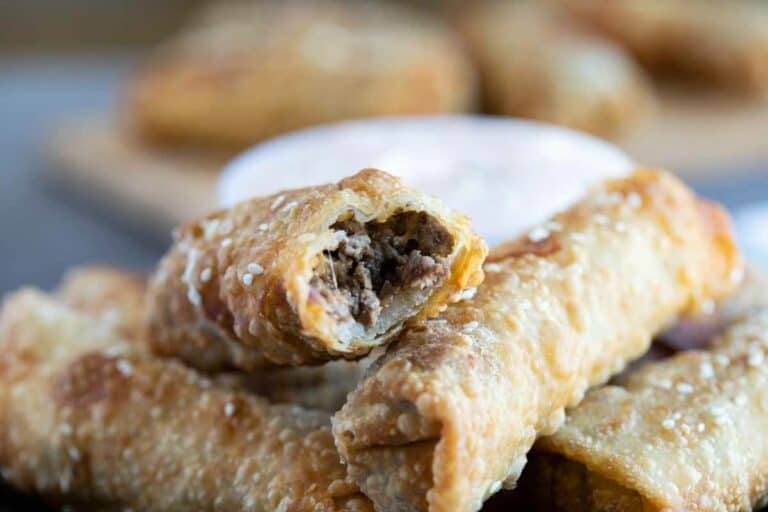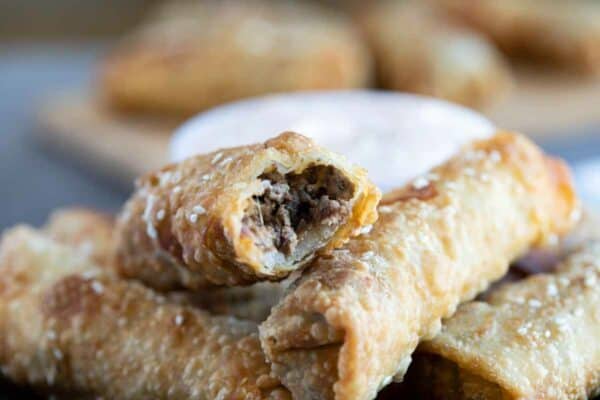 More Fun Appetizer Recipes
The Best Deviled Egg Recipe
Cheese Ball Recipe
BLT Dip
Buffalo Chicken Egg Rolls
Sausage Stuffed Jalapenos
Roasted Red Pepper Hummus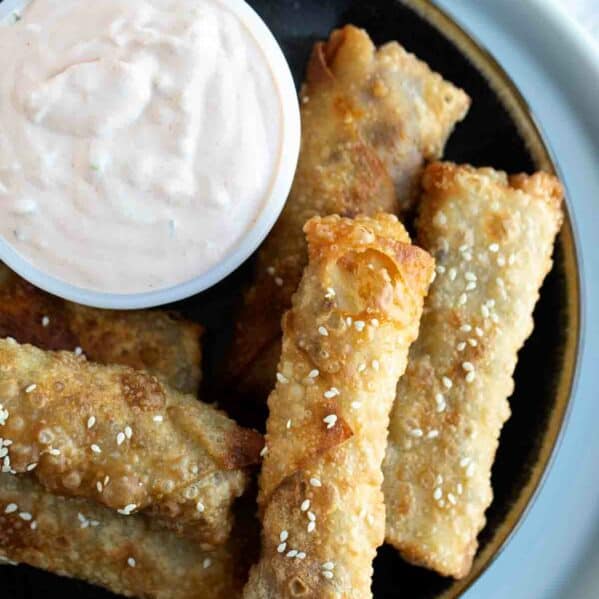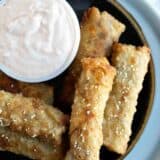 Cheeseburger Eggrolls
---
Author:
Prep Time: 20 minutes
Cook Time: 15 minutes
Total Time: 40 minutes
Yield: 10 eggrolls 1x
Category: Appetizer
Method: Stove Top
Cuisine: American
Description
Serve them as an appetizer, main dish, or for tailgating – these Cheeseburger Eggrolls are a fun way to get your cheeseburger fix! Served with an easy Russian dressing, both kids and adults will love this egg roll twist.
---
Scale
Ingredients
1 cup sour cream
1/4 cup ketchup
2 tablespoons pickle relish
1 tablespoon extra virgin olive oil
1/2 cup chopped red onion
1 pound ground beef
Salt and pepper
1 cup grated sharp cheddar cheese
1 tablespoon Worcestershire sauce
1 tablespoon grainy dijon mustard
Vegetable oil, for frying
10 eggroll wrappers
1 tablespoon sesame seeds
---
Instructions
For the dipping sauce, combine the sour cream, ketchup, and relish. Season to taste with salt and pepper. Refrigerate until needed.
Heat the olive oil in a large skillet over medium-high heat. Add the onion and cook until softened, about 5 minutes.
Add the ground beef to the skillet and continue to cook, breaking up the beef, until cooked through and no longer pink. Drain, if needed. Set aside to cool slightly, then stir in the cheese, the Worcestershire sauce and the mustard.
In another skillet, heat about 1 inch of oil until about 350ºF.
Working with one eggroll wrapper at a time, lay the wrapper on a surface like a diamond, with one point going toward you and one going away. Using a finger dipped in water, wet the edges of the top two sides of the wrapper. (This will act as the glue to keep it all together.)
Take about 1/3 cup of the ground beef mixture and place in the bottom third of the wrapper. Take the bottom point and wrap it up over the filling, followed by the sides. Then roll the wrapper the rest of the way, sealing the point of the last edge over the center of the egg roll. 
Continue until all 10 eggrolls are prepared.
When the oil is hot, carefully drop the rolls into the oil, working in batches if needed. Cook until golden on one side, about 3 minutes, then turn and cook the second side.
Remove to a paper towel lined plate and immediately sprinkle with some of the sesame seeds.
Recipe Notes:
The eggrolls can also be baked if you don't want to fry them. Prepare the eggrolls, then place them on a cooling rack over a baking sheet. Spray with nonstick cooking oil, sprinkle with the sesame seeds, then bake in a 375ºF oven for 20-25 minutes, or until lightly browned.
Nutrition information provided as an estimate only. Various brands and products can change the counts. Any nutritional information should be used as a general guide.
The nutritional value for the frying oil is based on a retention of 10% after cooking. Cooking time and temperature can cause this number to change.
Adapted from The Rachael Ray Show
Nutrition
Serving Size: 1 eggroll plus sauce
Calories: 289
Sugar: 3 g
Sodium: 412 mg
Fat: 18 g
Saturated Fat: 7 g
Unsaturated Fat: 5 g
Trans Fat: 0 g
Carbohydrates: 18 g
Fiber: 0 g
Protein: 15 g
Cholesterol: 54 mg
Keywords: cheeseburger eggrolls