Cheeseburger meets Tex-Mex meets taco night in these taco spiced cheeseburgers that are served taco style.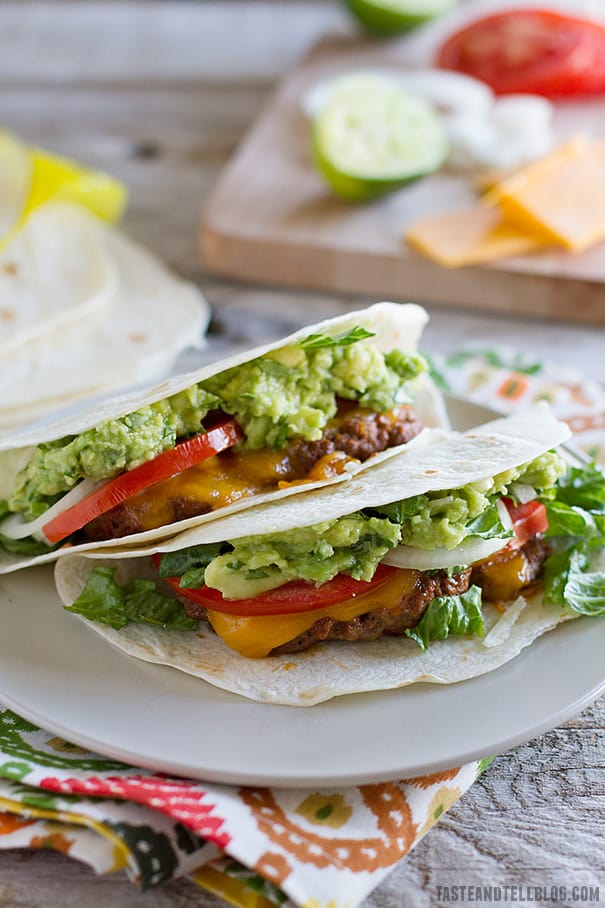 When I first started blogging, I didn't have any kids. And now I have 3. So my kids have grown up only knowing their mom as a blogger. They know that mom is always taking pictures of the food before we eat, and that they will rarely get the same dinner twice.
But one thing I am loving is that my kids are growing up seeing my passion – my love of cooking. When I first had Abbi, I could imagine cooking with her and teaching her and sharing that love of cooking with her. And now that she is getting older, I'm so happy that she shows so much interest in being in the kitchen with me.

I try to let her get into the kitchen with me a couple times a week to make dinner. Not only is it a great way to teach her skills that she will need her whole life, but when kids are involved in picking out food and helping to prepare it, they are more likely to eat it. Anything that will help my kids to eat is something that I will be doing!!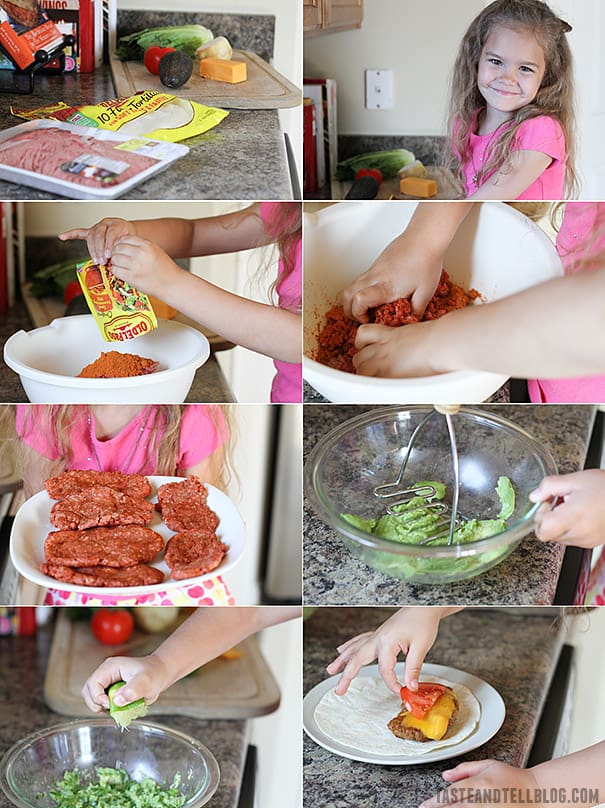 Well, Abbi loves taco night, and she loves cheeseburgers, so we got together one night and decided to cook dinner together, combining both of those loves. Abbi was able to do a lot of the prep work herself, which made her pretty happy. And you should have seen how proud she was when her dad got home and she told him that she made dinner!!
This 30-minute meal is super easy and packed with flavor. Ground beef is simply seasoned with our favorite taco seasoning from Old El Paso. Then the meat is shaped into patties and grilled. They are then topped with cheese and then served in Old El Paso flour tortillas. As if that wasn't enough, they are also served with a simple homemade guacamole, sliced onions and tomatoes and lettuce. This is definitely the best mix of taco night and burger night!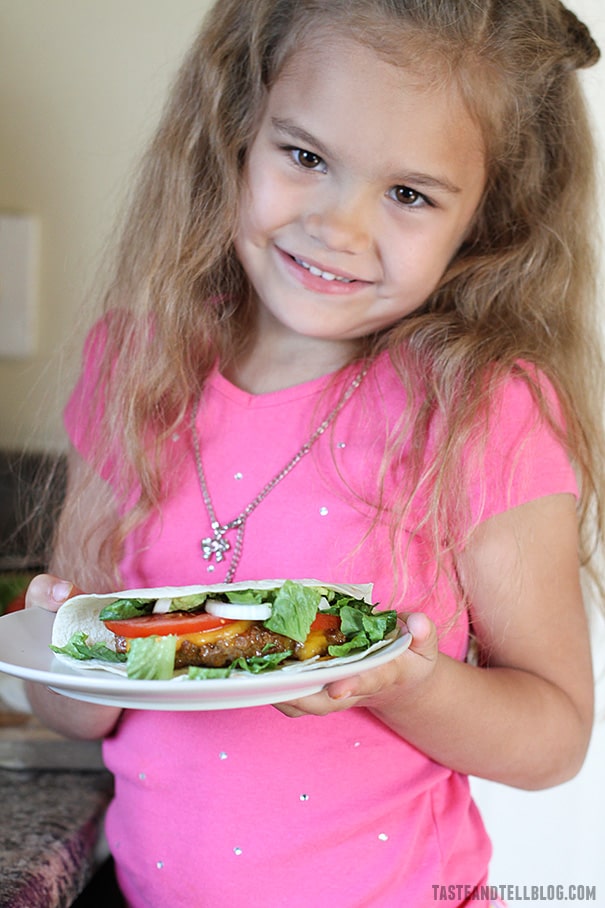 Like what you see here? Make sure you are following Taste and Tell for more great recipes and ideas!!

Facebook ** Pinterest ** Twitter ** Instagram ** Google+
or you can subscribe to my newsletter or Feedly or Bloglovin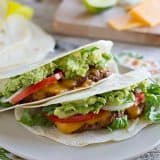 Tex-Mex Cheeseburger Tacos
---
Prep Time: 15 minutes
Cook Time: 10 minutes
Total Time: 30 minutes
Yield: 4 servings, 2 tacos each 1x
Description
Cheeseburger meets Tex-Mex meets taco night in these taco spiced cheeseburgers that are served taco style.
---
Scale
Ingredients
1 lb ground beef
1 (1 oz) package Old El Paso Taco Seasoning
8 slices cheddar cheese, about 2 oz
1 large avocado, pit removed peeled
1 green onion, thinly sliced
1 tablespoon chopped cilantro
juice from 1/2 lime
salt
8 Old El Paso Soft Taco Tortillas
sliced tomatoes
sliced onions
shredded lettuce
---
Instructions
In a large bowl, combine the ground beef and taco seasoning. Divide the mixture into 8 equal portions and shape each into a long, thin oval, about the length of the tortillas.
Heat a grill pan over medium heat and lightly oil. Cook the patties on the grill pan until cooked to your desired doneness, flipping once. Once flipped, add a slice of cheese to the top to allow to melt while it finishes cooking.
Meanwhile, make the guacamole: In a bowl, mash the avocado. Stir in the green onion, cilantro and lime juice. Season to taste with salt.
To assemble the tacos, add a cheeseburger to each tortilla. Top with tomatoes, onions, lettuce and guacamole. Fold over to serve.
I am in a working relationship with Old El Paso, and this post has been sponsored. I'm so glad to be able to work with companies and organizations that I truly believe in. Thank you for supporting them, too.